Whether you are looking Easter party treats for a casual celebration celebration at home or a get-together at a friend's house and you would like to bring fun snacks for the kids to enjoy, these ideas will inspire you to get creative in the kitchen!
Easter Crescent Wreaths
Make these adorable Easter nests using refrigerated crescent dough sheet you can find at your local supermarket. In less than 12 minutes these Easter crescent wreaths will be ready for you decorate. Pipe buttercream frosting of your choice and finish them off with mini chocolate eggs, such as Cadbury.
Carrot Popcorn Treat Bags
Using ice cream cones wrapped in adorable carrot wrapper and filled with caramel or cheddar popcorn, you can create the cutest Easter popcorn treats for the kids. To make it resemble a carrot, place ice cream cone (wrapped) in clear plastic goodie bag, tie with ribbon and add the "stem" made using tissue paper.
Peeps Lemon Bars
These lemon bars with buttery shortbread crust and creamy lemon filling are must if you kids love sweet and tart desserts. Whether you are baking from scratch or using a box mix, a sweet presentation is going to take your Easter dessert to the next level. Simply sprinkle the lemon bars with powdered sugar, then decorate them with peeps marshmallows and mini chocolate eggs in pastel colors.
Spring Pink Deviled Eggs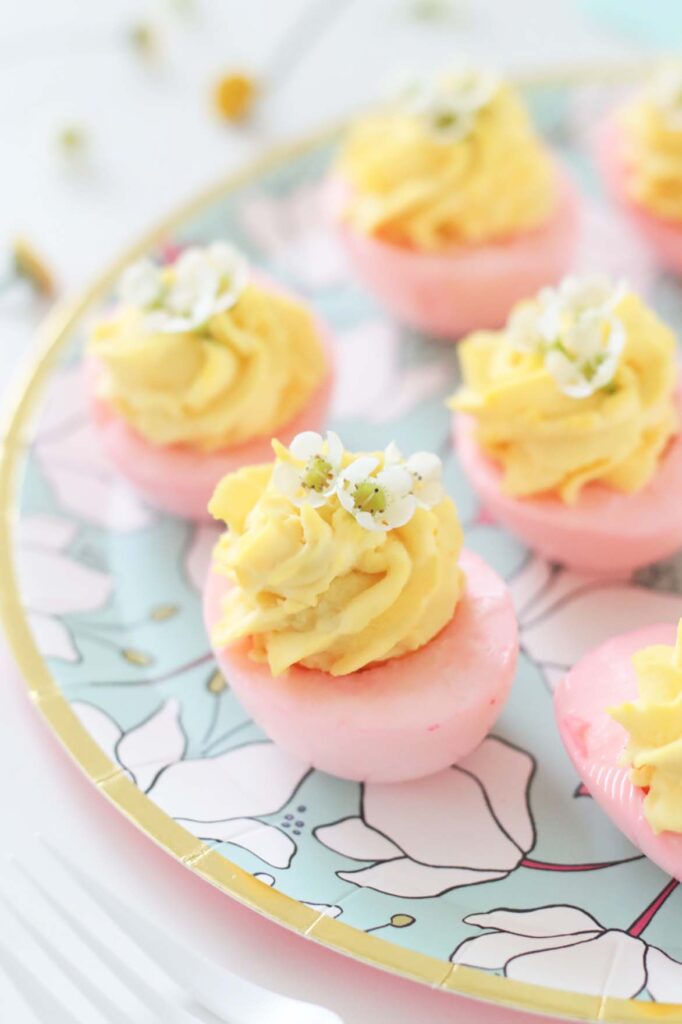 Add a little bit of charm to your Spring entertaining with spring inspired pink deviled eggs. To tint your hard-boiled eggs in pink, you can use beet juice or plant-based food coloring to achieve the pink you desire. Once you add the filling, use edible flowers for an extra spring touch.
Easter Bunny Gourmet White Chocolate Brigadeiros + Free Printabl
Peeps Sugar Cookie Cups
Whip up a batch of sugar cookie cups and get them ready for your Easter celebration by decorating them with delicious frosting, coconut flakes, speckled jelly beans and peeps marshmallows. The kids will be raving about them!
Bunny White Chocolate Brigadeiros
Have you heard of Brigadeiros? They are Brazilian "fudge" balls made with condensed milk and gourmet chocolate (powder and bars). Make gourmet white chocolate brigadeiros rolled in grated coconut, then spruce them up with printable bunny ears. They would make such a darling gift for Easter!
Easter Chocolate Dipped Ice Cream Cone Treat
If you are entertaining a large group of kids for Easter, opt for fun and inexpensive treats that are easy to whip up. To create these Easter chocolate dipped ice cream cone treats, all you need is melted chocolate, sprinkles, mini chocolate eggs and sugar ice cream cones.
Yellow Chick Deviled Eggs
Take your deviled eggs to the next level with this cute yellow chick deviled egg idea. Use a cookie scoop to place the filling onto the egg, then place the "shell" (smaller egg half) on top. Use sprinkles for the eyes and a piece of carrot cut into a tiny triangle. They make the perfect idea for an Easter brunch or picnic.
Mini Flower Passion Fruit Tarts
It's amazing what you can do with a flower cookie cutter and store bought pie dough, isn't it? These beauties can be made in no time. Baked in a mini muffin baking sheet then filled with a creamy passion fruit mousse. For the filling, you can make it according to your preference. Just have fun with these flower shaped pies for your next Spring celebration.
Easter Bunny Cheese Balls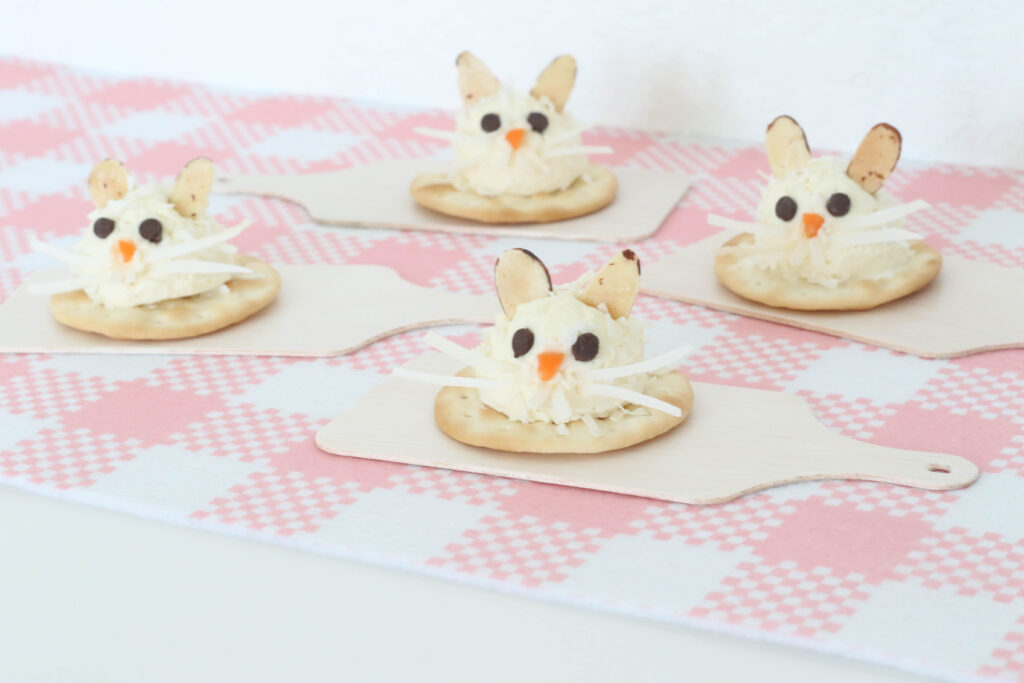 Get the kids excited with their own cheese and cracker board. Blend a block of cream cheese in a food processor until creamy. Place a dollop of cream cheese on cracker using a cookie scoop, sprinkle the cheese ball with shredded coconut, then add eyes (mini chocolate chips), teeth and whiskers (coconut flakes), ears (slivered almonds) and nose (carrot cut into tiny triangles). Have extra crackers as the bunny cheese ball has enough spread for for 3-4 crackers.
Enjoy the Spring Season
Create the sweetest memories by baking something delicious in the kitchen, planning a memorable Spring party, such as a this Whimsical Butterfly Party or making adorable Easter Bunny Baskets with the kids.