This post might contain affiliate links. Please read our full disclosure. All opinions stated are based on my own experience.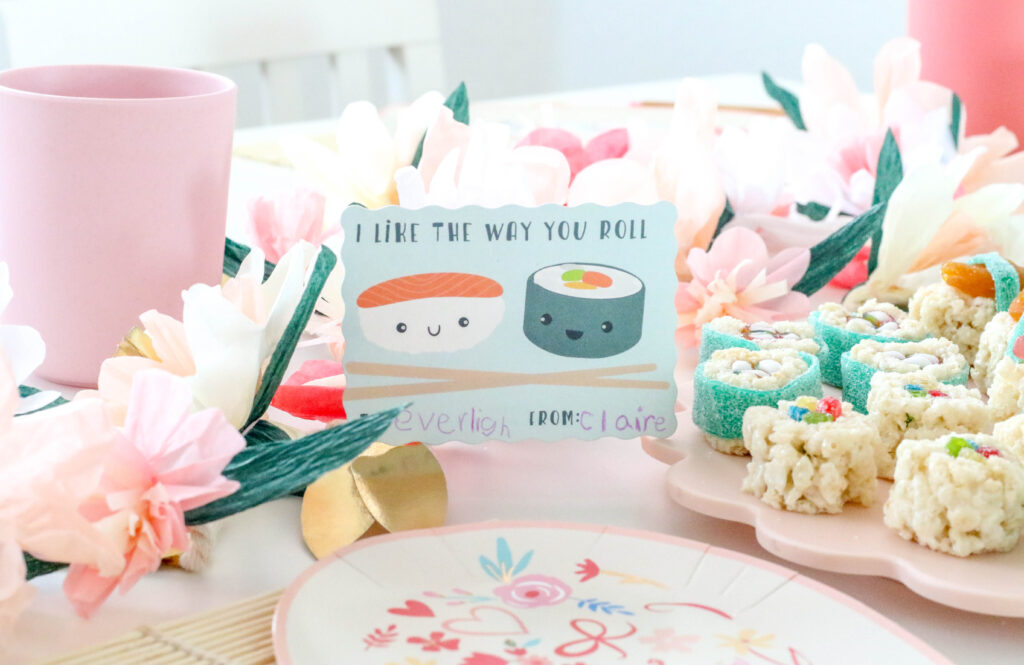 These kids sushi party ideas are fun and sweet. From DIY sushi candy treats to cherry blossom paper lanterns and fans, consider these fun sushi party ideas if you are planning a celebration for a sushi lover in your life.
Make Sushi Treats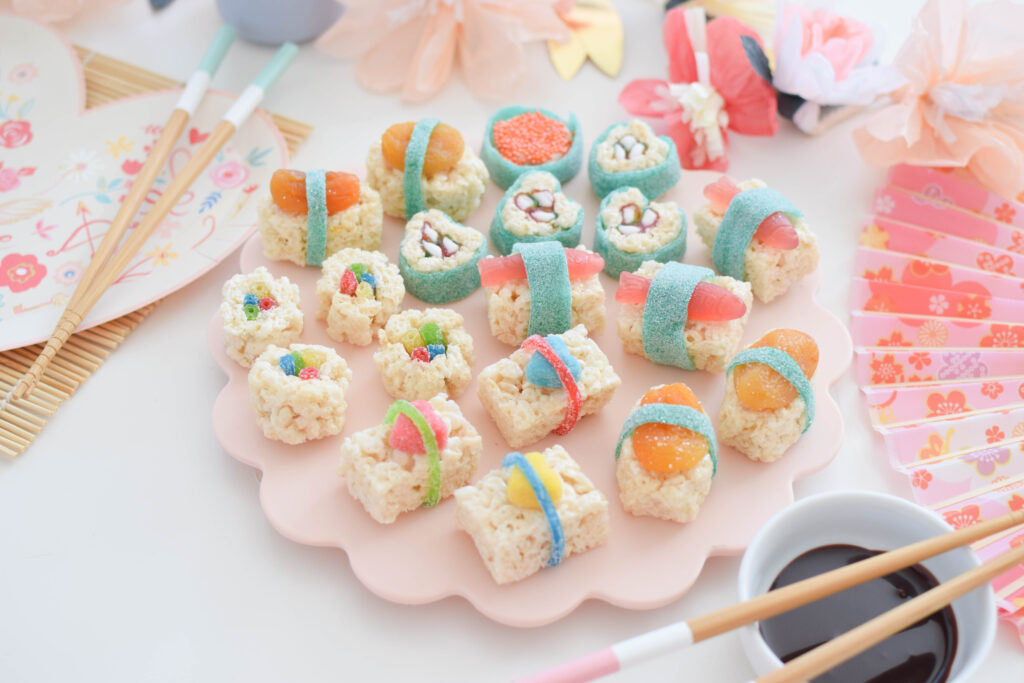 If you are not a big fan of real sushi, good news, you can make sushi candy with no raw fish at sight. Using rice crispy treats, sour belts, dry apricots and a variety of gummies, you can create the cutest sushi treats. You can even make heart-shaped sushi or use heart gummies to carry out the Valentine's Day theme.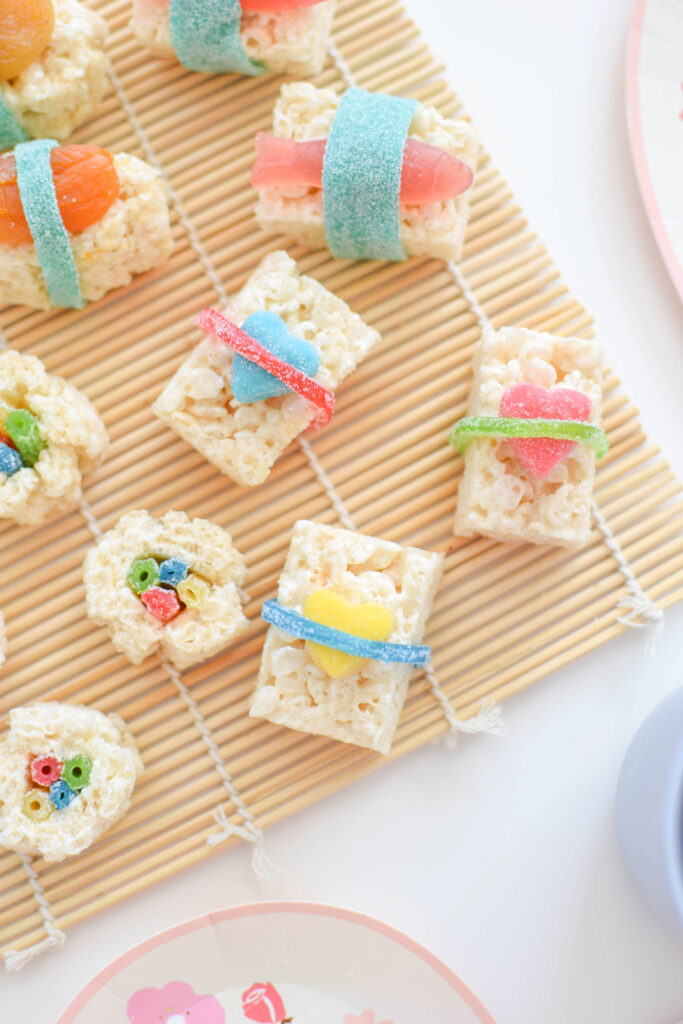 For salmon sushi, you can use dried apricots. For tuna sushi, you can use fish gummies. For eel sushi, you can use gummy worms.
For the "soy sauce"? Use chocolate fudge syrup for extra sweetness. Display your sushi treats on a bamboo rolling mat for a cute presentation.
Watch our Instagram Reels to see the step-by-step to create these adorable sushi treats.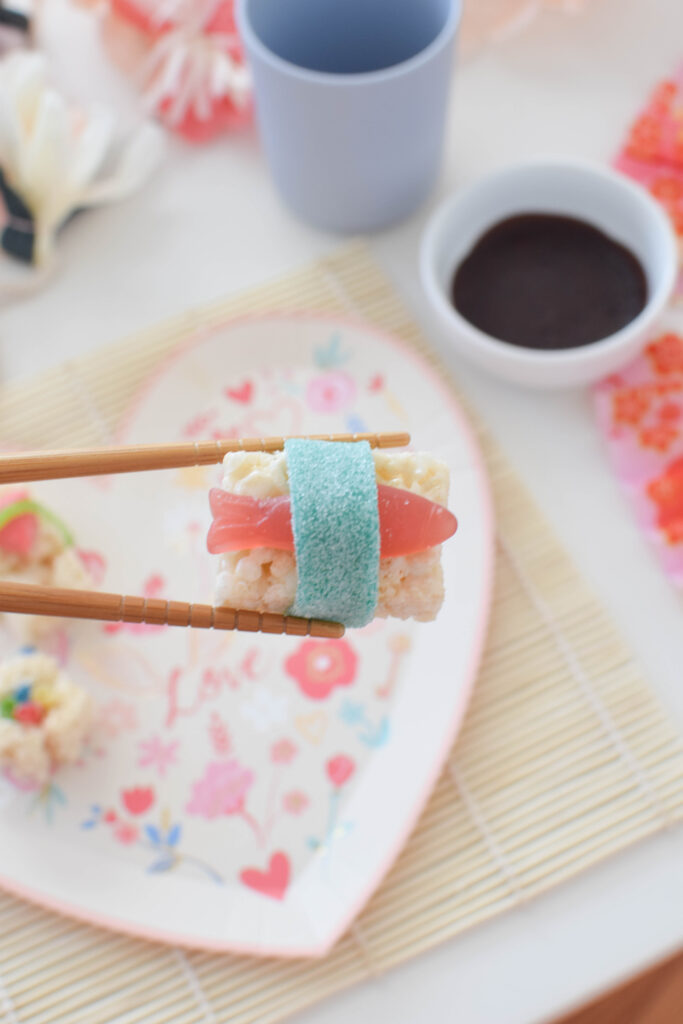 Set Up The Cutest Tablescape
The use of sushi rolling mats as placemats and coordinating chopsticks replacing kids' utensils are clever ideas to bring the theme to life. You can add texture and soft pop of colors by incorporating a paper flower garland into your table set up.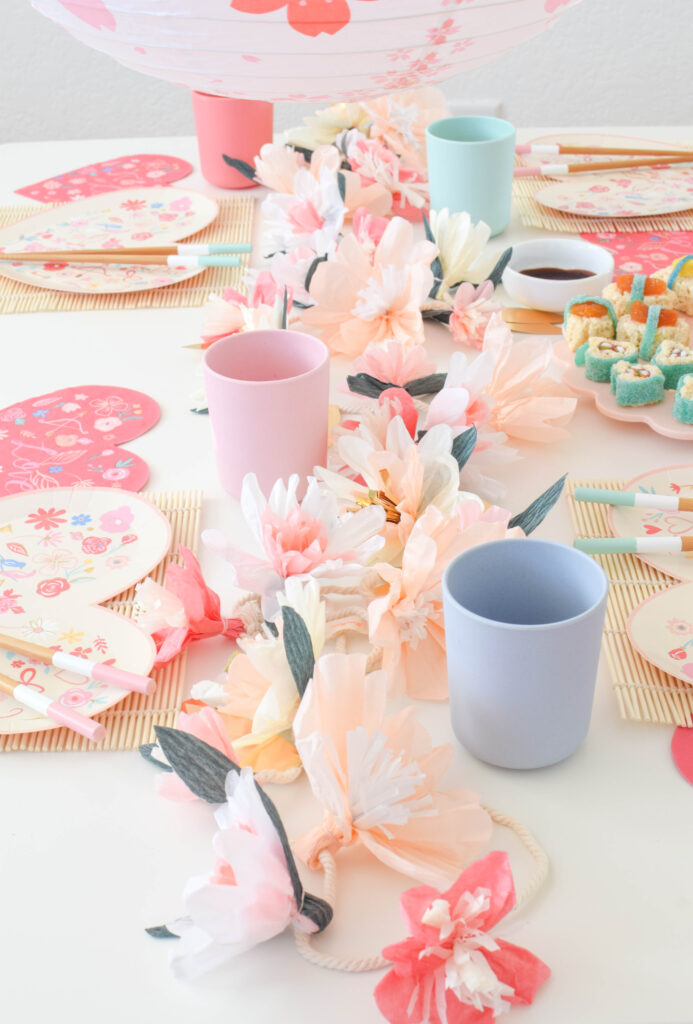 Incorporate Japanese Inspired Decorations
Add character to your party by hanging cherry blossom lanterns and paper fans from the ceiling. These are decorations you might have to purchase online as they are not easy to find at local party stores. Plan ahead to make sure your supplies arrive in time for your celebration.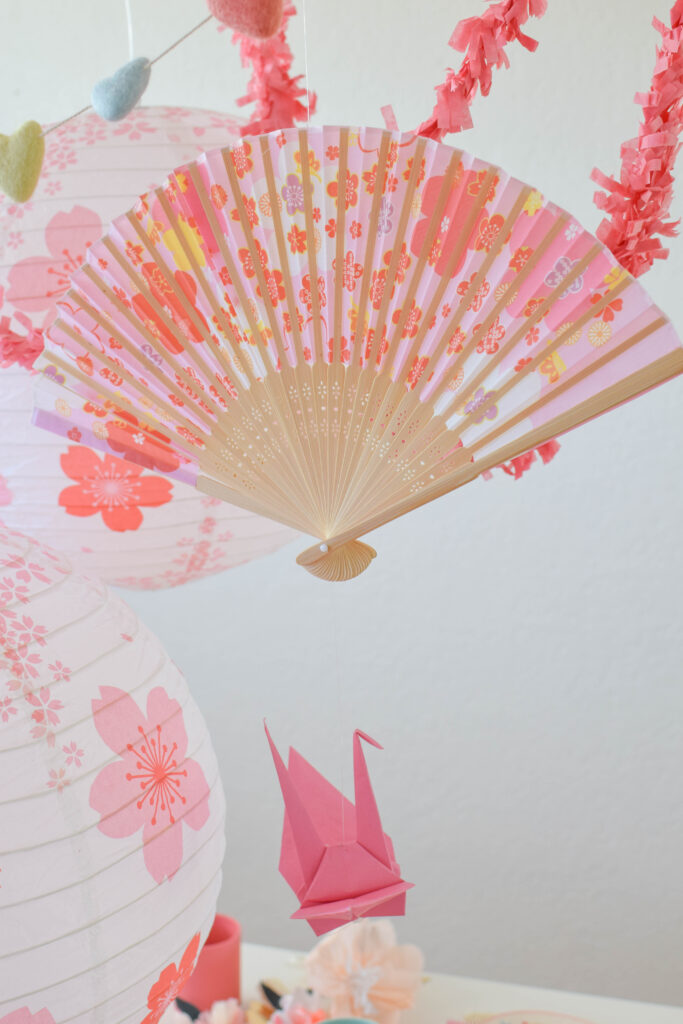 For extra fun, incorporate pink festooning and a coordinating felt heart garland to complete the look and add interesting visual to your set up.
Don't Forget The Valentine's Day Cards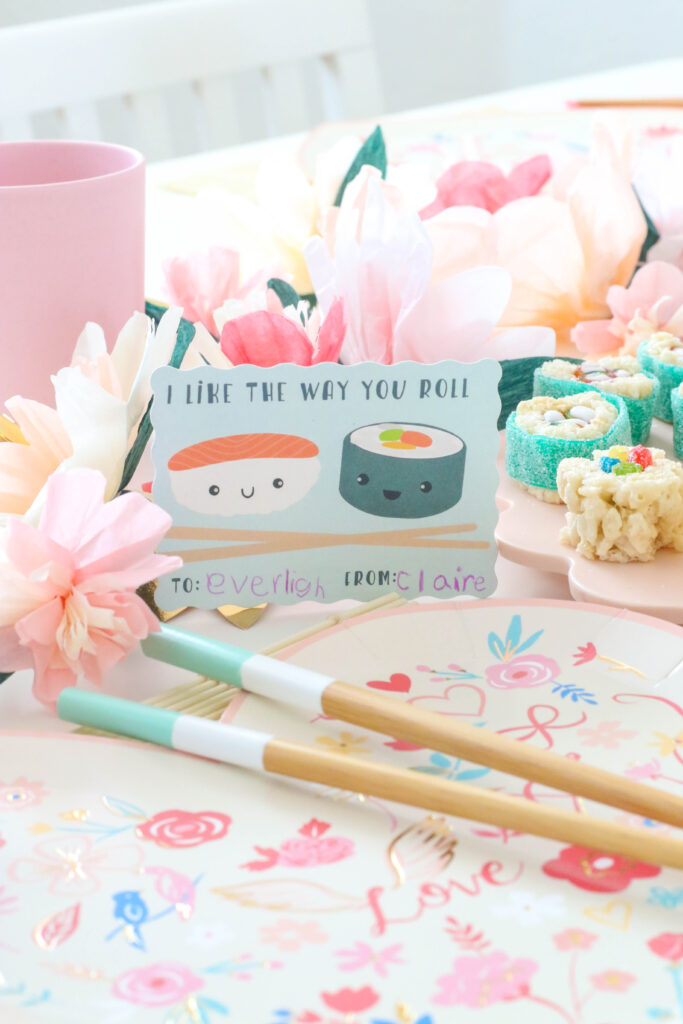 A Valentine's Day card will complement your take-home party favors. Send the little guests home with a few sushi candies in a box or treat bag. You can save a few cards and make extra treats for your child's school Valentines. You can shop this precious 'I like the way you roll' on Minted.
Plan an Origami Activity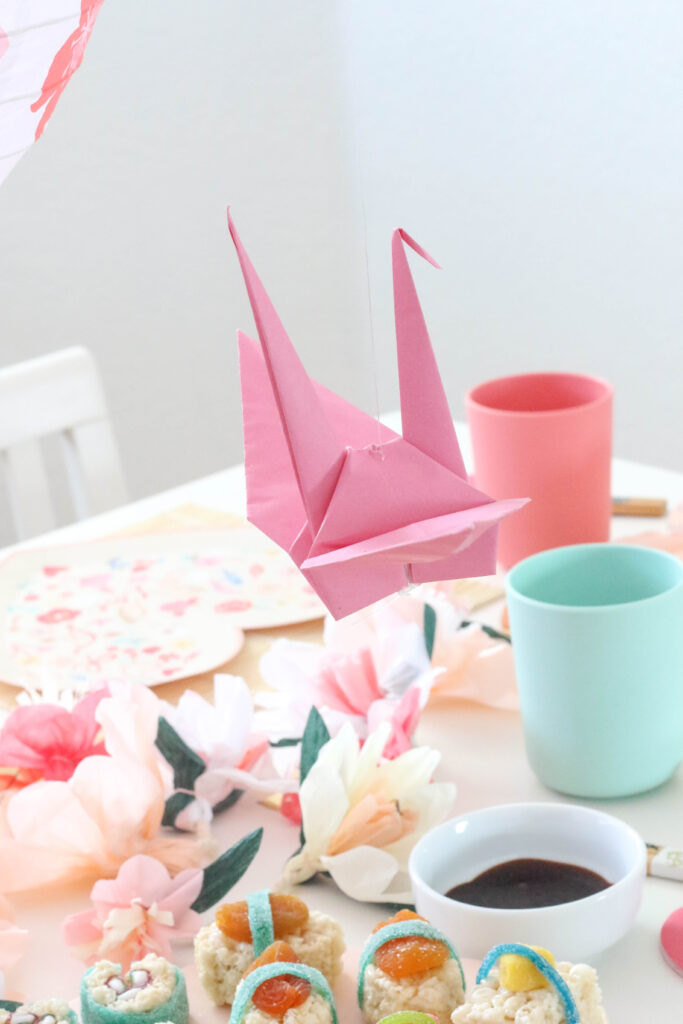 If your child is interested in the art of Japanese origami, plan a make-your-own origami activity. Set out origami essentials, such as kami paper, rulers, and pencils. And remember the rules of pure origami: there's no use of glue or sticky tape.
Make a Bento Lunch Box
No sushi party is complete without a bento lunch box. The kids will be thrilled to have their party food served in such a creative way. Nigiri (rice cake) can be easily made using sushi rice and a nigiri mold. If you have adventurous eaters in attendance, you can mix Furikake (Japanese rice seasoning) into the rice before filling up the nigiri mold. For extra fun, use a nori cutter for adding smiley faces to your nigiris and mini cookie cutters to cut veggies, such as carrots and cucumbers to complete your bento presentation.
Create a Sushi Roll Crayon Holder
Using faux leather and felt, you can create fun sushi crayon holders as take-home party favors. Simply cut a piece of faux leather (nori sheet) and a piece of white felt (rice), both in the same size 4hx8w. On a flat surface, layer leather and felt, the white felt being the inner layer, then add about 12 crayons. Roll them up to form a sushi roll. Secure the roll tightly with ribbon to keep the crayons in place. Attach a favor tag or Valentine's Day card to complete the favor. The faux leather can be found in the ribbon section and white felt in the kids craft aisle. *This idea was inspired by one of Fiskars' projects, but it's no longer available on their site.
Soy Much Fun
I hope you feel inspired by our sushi party ideas. I had soy much fun planning the details! Be sure to check out our other fun Valentine's Day party themes:
Vendor Credits
Paper flower garland, pink tissue festooning, heart plates and cups: Bon + Co Party Studio