This post might contain affiliate links. Please read our full disclosure. All opinions stated are based on my own experience.
If you have a little magician at home, these fantastic magic themed birthday party ideas will make your party shine. From an eye-catching magic show party backdrop to adorable treats, such as rabbit donut holes and chocolate magic wands, these ideas will help plan a terrific birthday celebration for any age.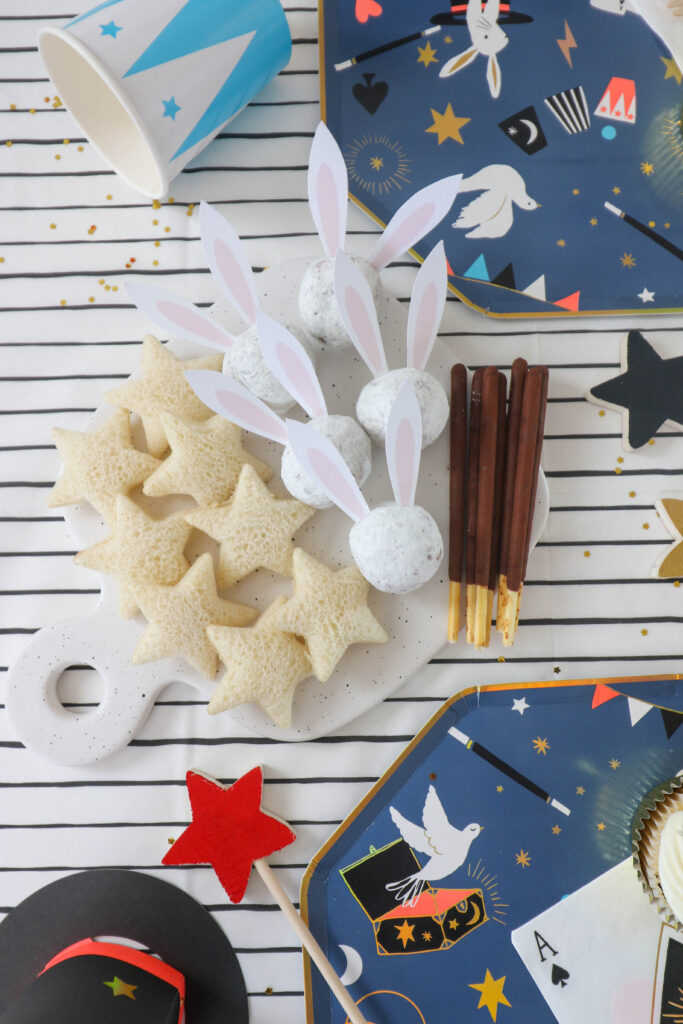 To make your magic themed party planning a breeze, opt for a complete magic party box that contains everything you need to bring this unique party theme to life. All you need to do is add food and entertainment!
Establish the Magic Birthday Theme with a Fun Party Invitation
A unique magic party invitation establishes the theme and prompts excitement in your guests. It's important to select a design that reflects the style of you event and provides the necessary information so the guests know what to expect. Be sure to specify the dress code and if the guests should expect any type of entertainment and activities, such as a magic show or balloon twisting.
Set the Magic Themed Party Scene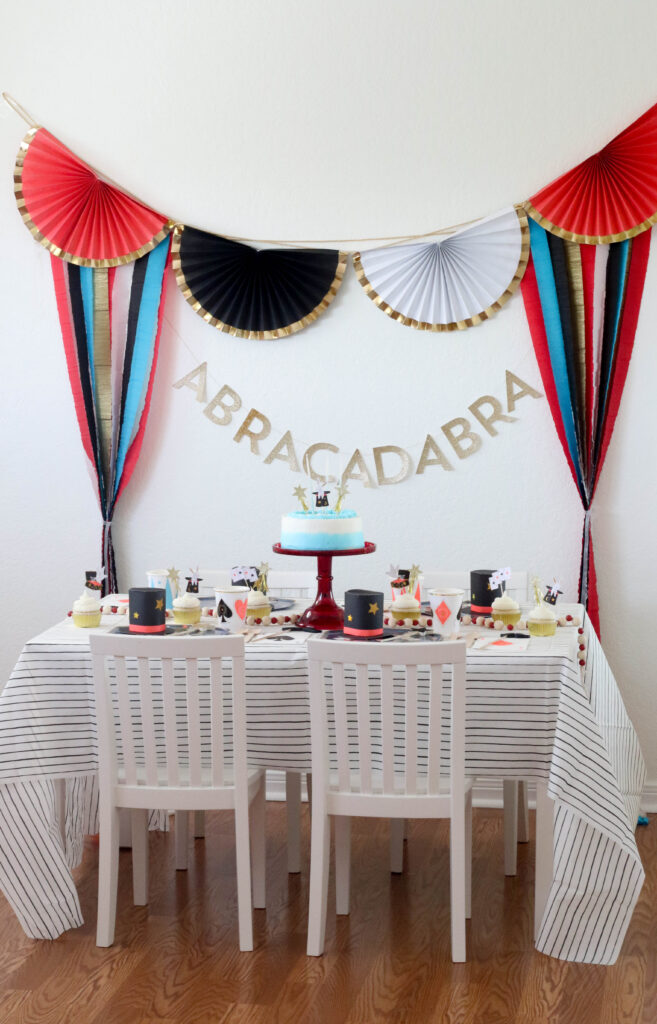 Festive streamers to resemble stage curtains, half pin-wheels and a glitter gold abracadabra party banner will set the scene and transport the kids to an exciting magic show.
Poof! Just like magic, my little boy turned 3 this past weekend, so it was the perfect excuse to celebrate at home with our family of 5!
Magic Themed Birthday Party Tablescape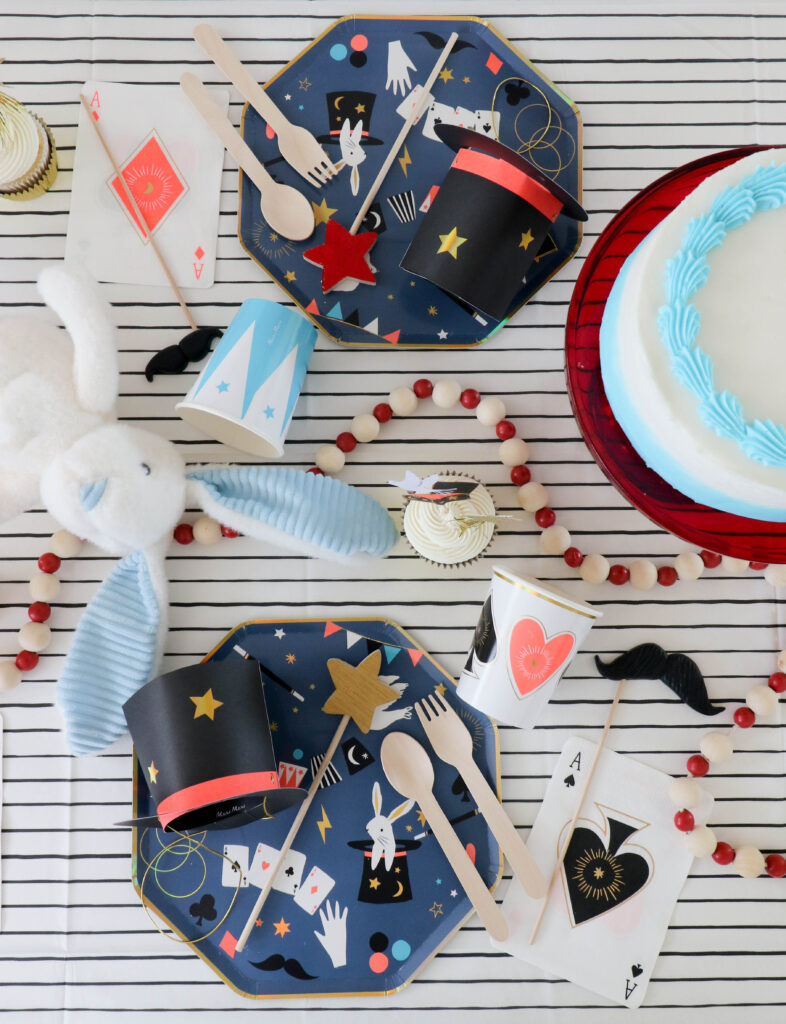 Magic themed party supplies, such as paper plates and cups, ace cards napkins and other fun elements, such as a rabbit, magic wands, magician whiskers, and top hats for each place setting complete the look for a fantastic kids table.
Decorate a Magic Themed Birthday Cake
For a casual magic birthday celebration at home, spruce up a simple buttercream cake with magic themed toppers and tall birthday candles in coordinating color.
Create Magic Inspired Cupcakes
Whether you are purchasing store bought cupcakes or making them from scratch, you can quickly get your cupcakes party-ready for the celebration by adorning them with magic themed cupcake toppers.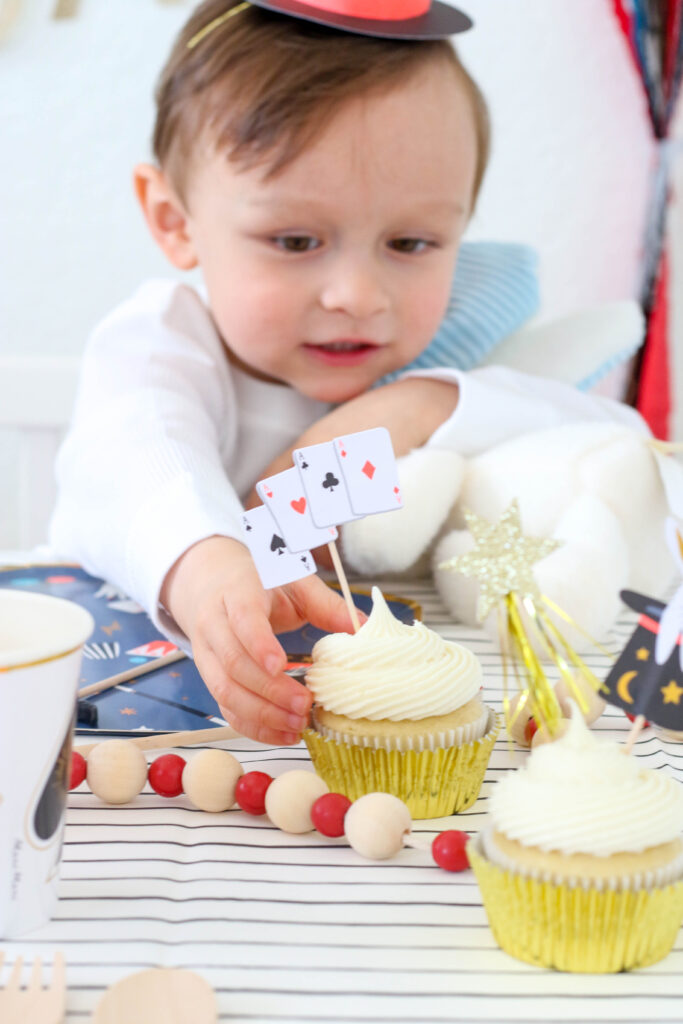 Add more texture by adding not only one but two cupcake toppers to make your sweets extra festive.
Serve Magic Inspired Snacks
Build a magic inspired snack board featuring star shaped mini peanut butter and jelly pocket sandwiches using bread and a star-shaped cookie cutter, rabbit donut holes using printable bunny ears and dark chocolate pocky as magic wands.
Plan a Magic Themed Craft Activity
Keep the kids happy and entertained with a fun activity fit for little magicians. Have a craft kit the kids can use to paint and create magic wands and build their own magician whiskers. Add a special touch with printable Stay Magical Party Tags for the ultimate magic party craft kit.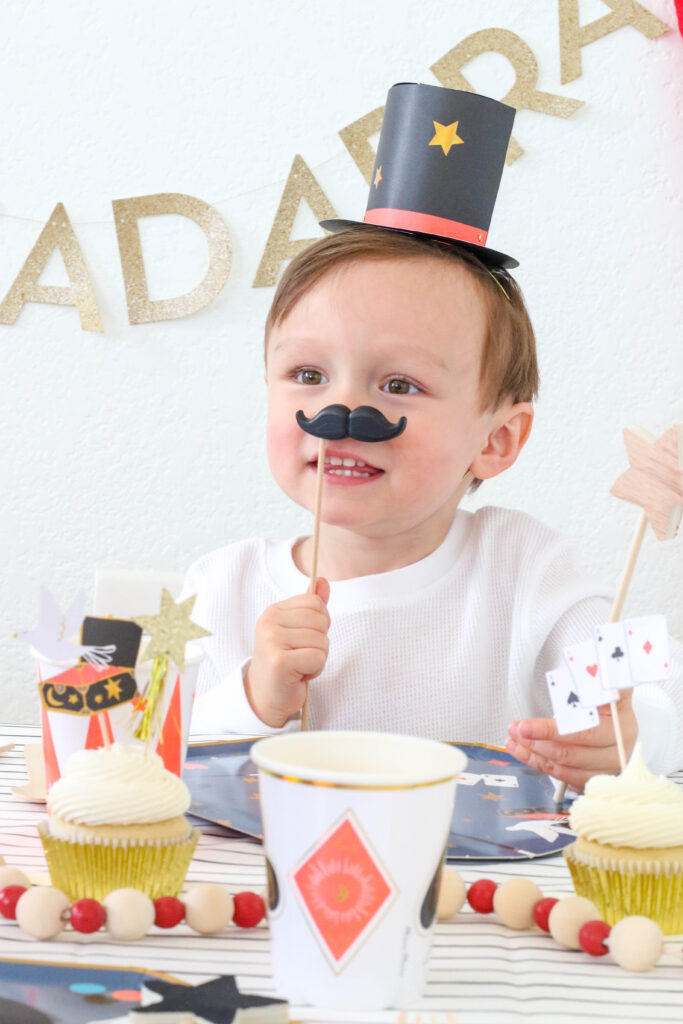 Magic Themed Party Favors
Send guests home with something edible. For fun and unique magic themed party favors, simply dress up powdered sugar donuts with printable bunny ears along with "magic wands" (pocky). Place them in magic themed favor bags or cups.
Stay Magical
To complete your magic themed party, be sure to include other magic party ideas, such as magician party games, a fun popsicle stick magician's hat craft or a homemade magic kit that's perfect for kids of any age.
Styling, Photography and Printables:
Andressa Hara of Twinkle Twinkle Little Party
Magic Party Box: Boxx My Party