Hello, friends!
Cinco de Mayo is approaching and I am getting excited! Who's with me? To help you plan and celebrate this fun holiday, I am showing you how you can throw a Cactus Fiesta Party!

A Cactus Entertaining Line by Better Homes and Gardens was the inspiration for this little set up. It's sold at Walmart. No, this is not sponsored. I just want to share with you where I purchased these fun cactus plates, cups and tray. I am in love! My family will definitely be using them throughout Spring and Summer.
I also purchased guacamole serving bowls. I am planning to serve Tortilla soup in them for Cinco de Mayo. How fun is that?



PARTY DECOR IDEA
I incorporated once again a DIY balloon garland. I used 5″ pink, lime green & clear balloons. I filled the clear ones with matching shredded paper (leftover from Easter), but you can use confetti instead.

I found mini cacti at Michael's and painted the pots to match my color scheme.



SWEETS
Incorporate a simple buttercream cake and decorate it to match your theme.
I used one of my mini cacti, removed it from the pot to use it as a cake topper. It's made out of Styrofoam, so I inserted toothpicks to easily place it on my cake. I loved the fact it didn't add too much weight to it. I finished the look by adding a fresh pink flower.




I had to make some brigadeiros once again! And they are Margarita Brigadeiros! Yes, Margarita Brigadeiros! They are super delicious and just perfect for Cinco de Mayo! I simply topped vanilla cupcakes with our Margarita Brigadeiros for a fun presentation!
GET THE RECIPE FOR THE MARGARITA BRIGADEIROS HERE.


FUN DIY IDEA – 'Maraca' Balloons
I had filled some balloons with shredded paper for my garland when my 3-year-old daughter grabbed one and started to shake it around the house. I immediately had the idea of using them as maracas as well. Good thing I had all the supplies from my Halloween Ghost Balloon Wand Tutorial.


To recreate them you will need the following supplies:
5″ balloons
Shredded paper (to mimic the noise of a maraca)
Balloon sticks
Balloon cups
Paper straws
Clear Tape
Curly ribbon (optional)
DIRECTIONS:
Using a mini funnel, fill up the balloon with shredded paper.
Attach the balloon stick to the cup.
Blow up the balloon and attach it to the cup.
Insert a paper straw through the balloon stick and secure it with tape.
Finish the look by adding fun curly ribbon.
Last but not least….
PINK GRAPEFRUIT MARGARITAS
You can make pink lemonade for the kids and these Pink Grapefruit Margaritas for the adults! Easy, refreshing and delicious!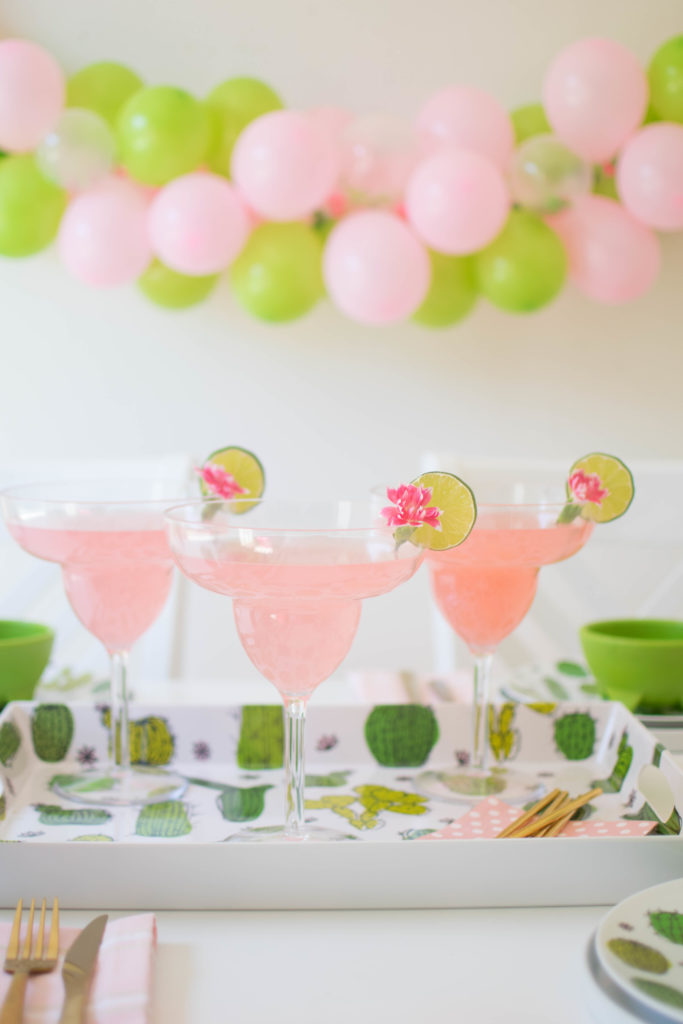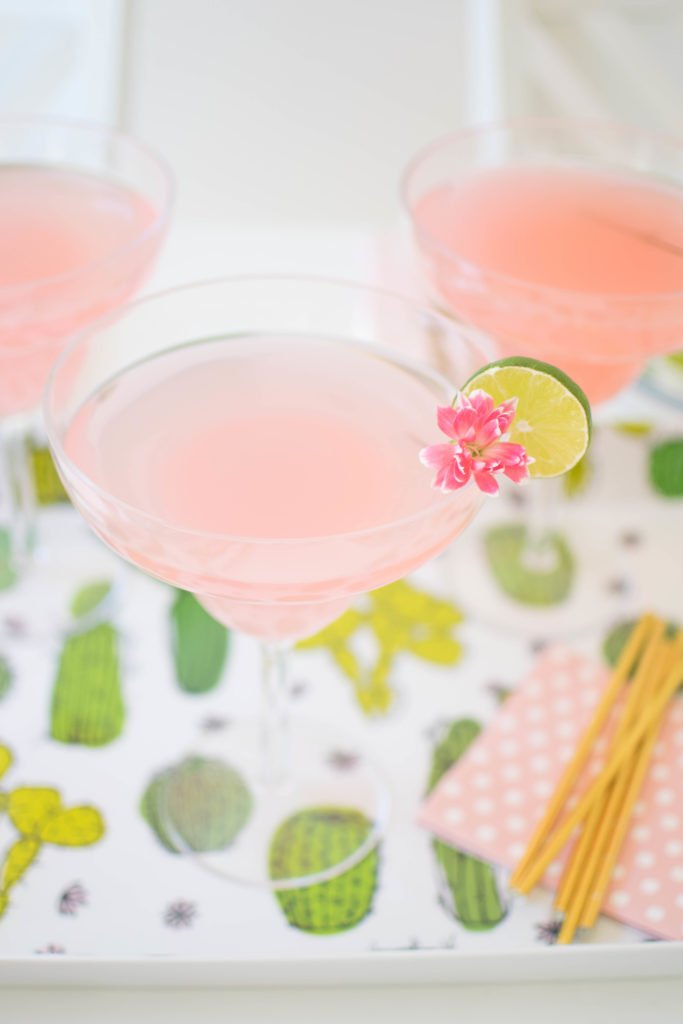 I hope you enjoyed these fun Cactus Party Ideas!
Styling and Photography: Andressa Hara of Twinkle Twinkle Little Party
See this adorable Succulent & Cactus Planting Party submission!
PIN FOR LATER