Hello, friends!
I can't believe we are only a week away from Easter? Really? Where did the time go?
Facebook memories reminded me I still haven't taken my little ones for an Easter Egg Hunt! It's our first Easter here in San Antonio and I can't believe we've been here for 8 months already! Can someone freeze the time for a little while so I can catch up with everything?
Anyway, I am here to share with you a few easy steps on how to host a lovely Spring Tea Party. I was inspired by a Macaron Cake DIY tutorial I have pinned and immediately thought it would be such a cute idea for a tea party!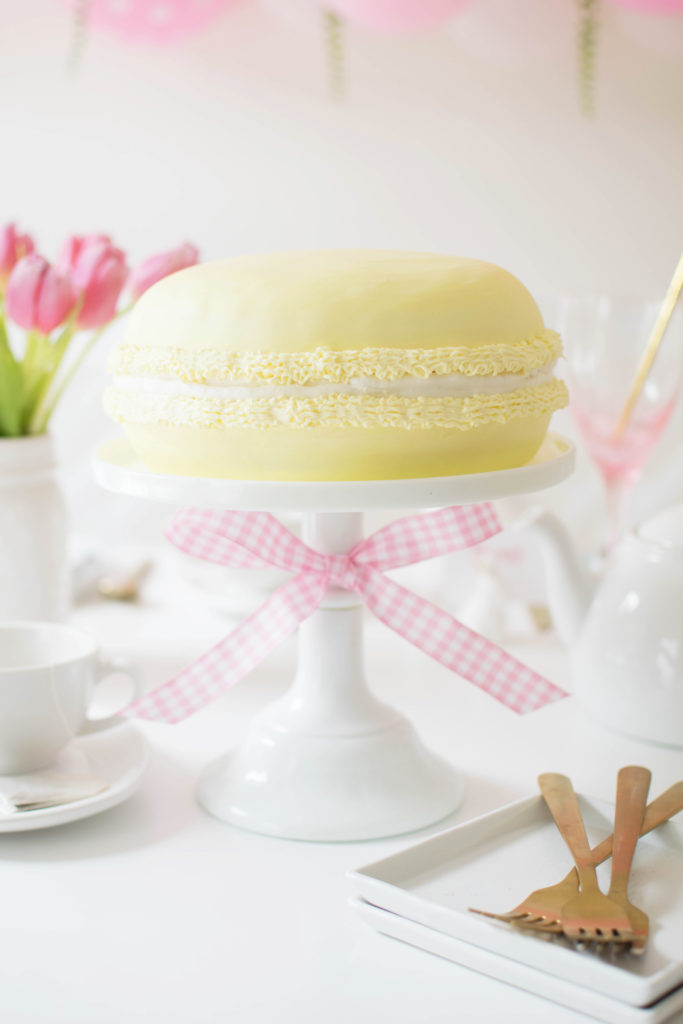 Isn't it just adorable? I simply displayed my macaron cake on my favorite white cake pedestal and finished the look with a pink gingham bow. I simply adore gingham! I think it should be used all year long, not only in Spring. Who agrees?
For this little tea party set up, I simply used what I had in my inventory – plates, glasses, vases, teacups, teapot and a cute white ceramic bunny I purchased at Home Goods last year.
To complete the décor, I incorporated a DIY balloon garland and fresh pink tulips from my local supermarket.
Balloon garlands are so trendy at the moment. It's not a quick project, but it's so worth it. If you would like to do your own, I suggest you to do it a day in advance. No helium required and the garland lasts for days! Select different shades and sizes. I normally mix 9″ and 5″ sizes.
For this one, I added some foliage for more of a spring feel!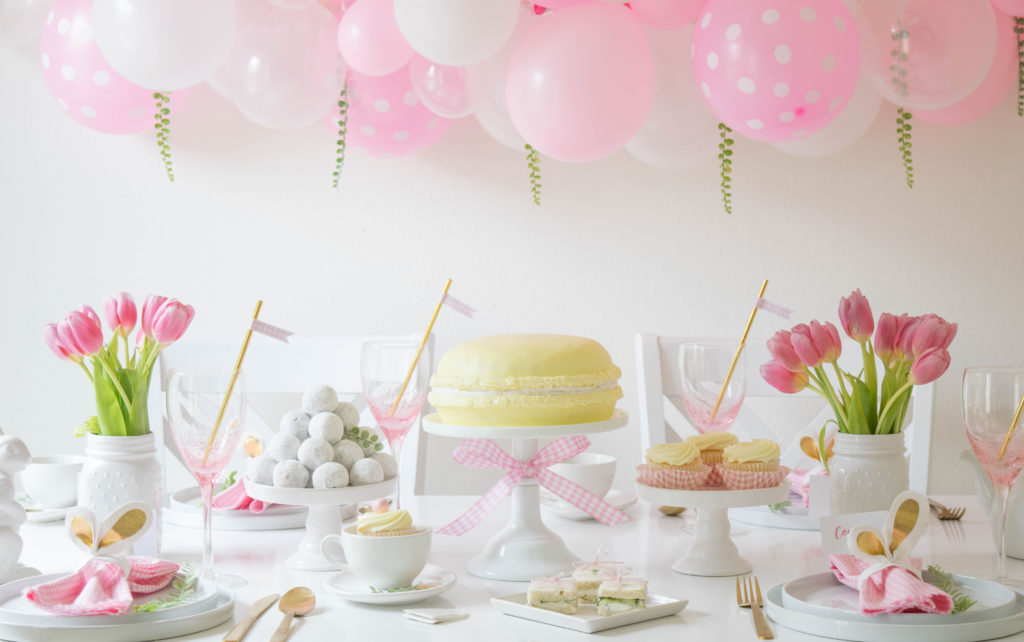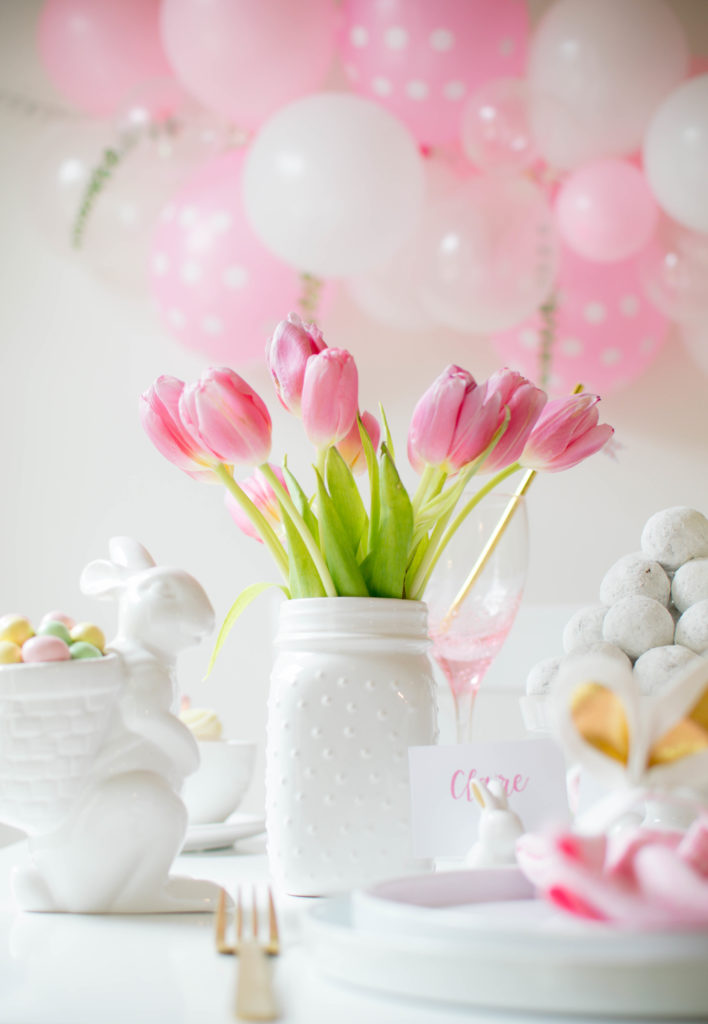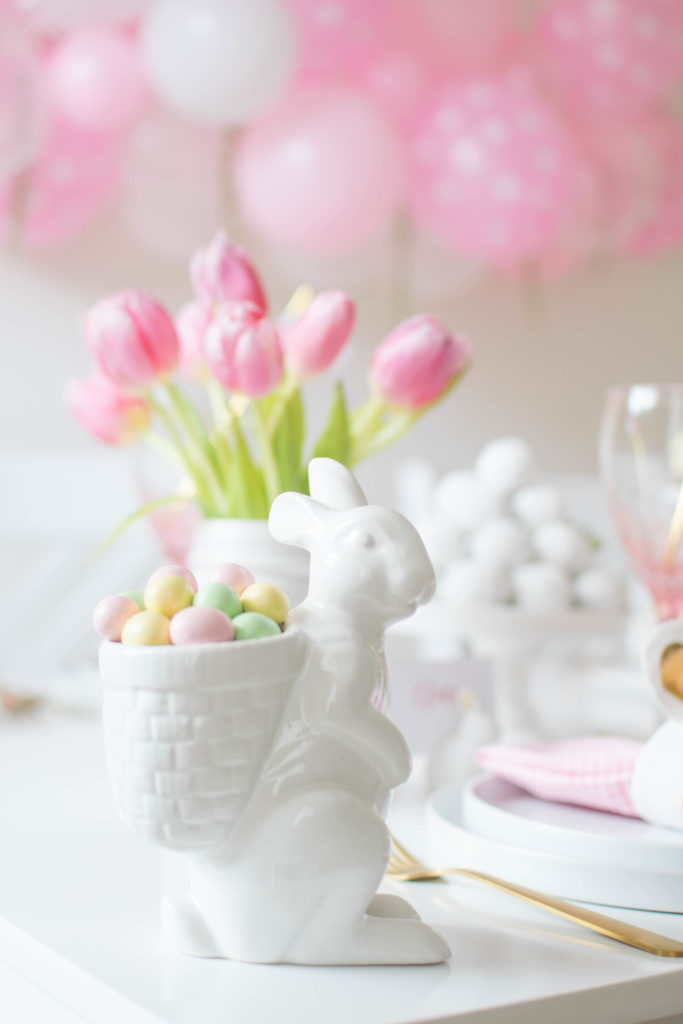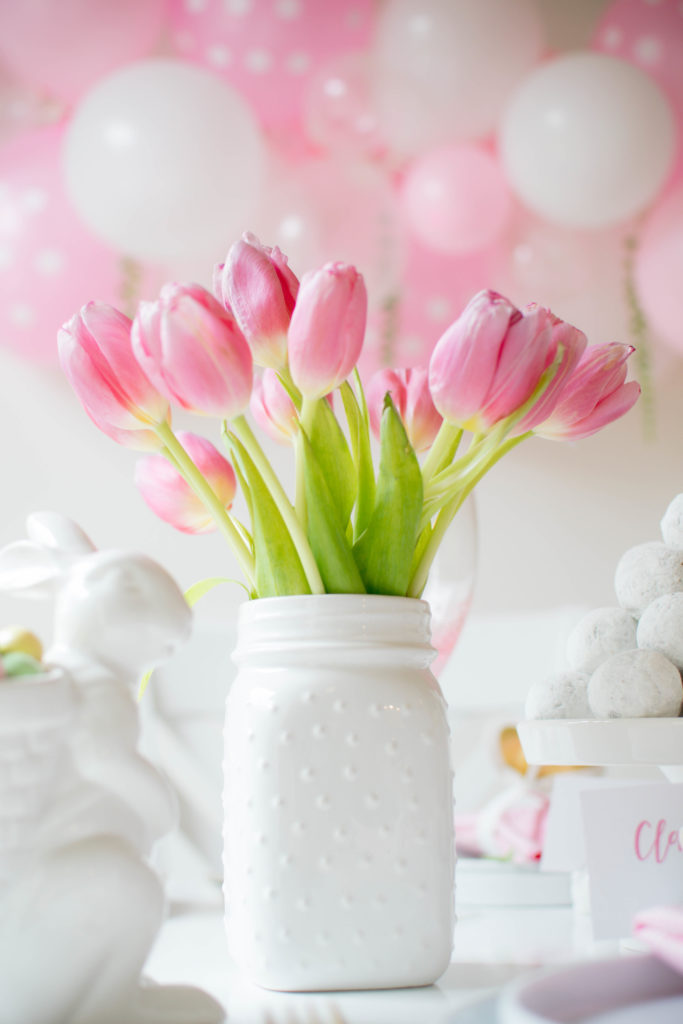 PLACE SETTING IDEA
I incorporated my modern white plates and gold utensils. For a pop of color, I used pink gingham fabric napkins with bunny ear holders I found at Target dollar spot.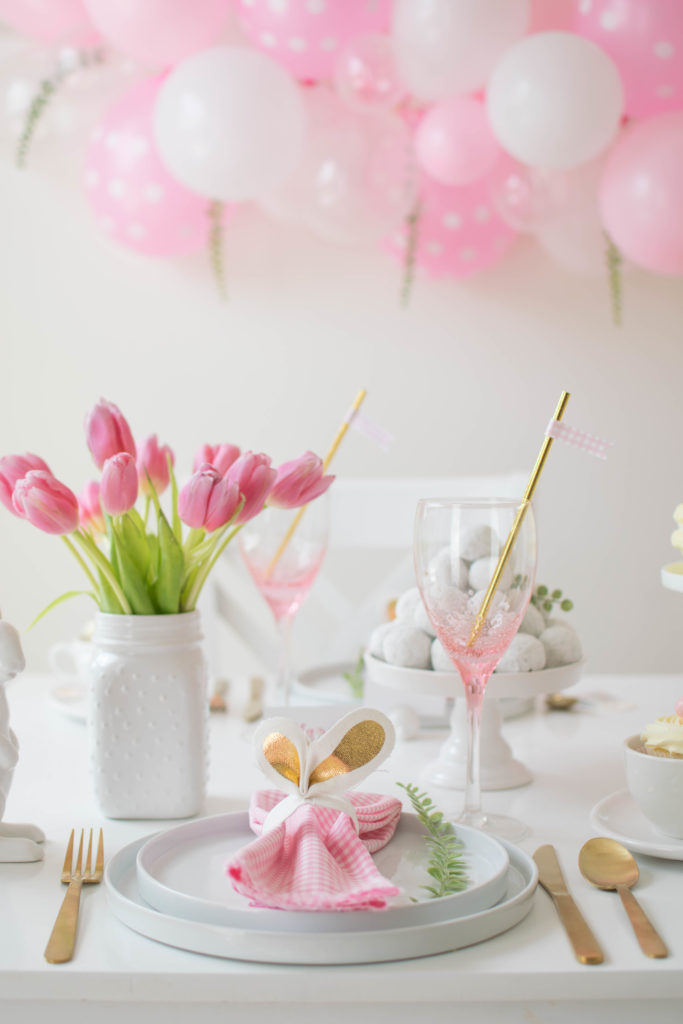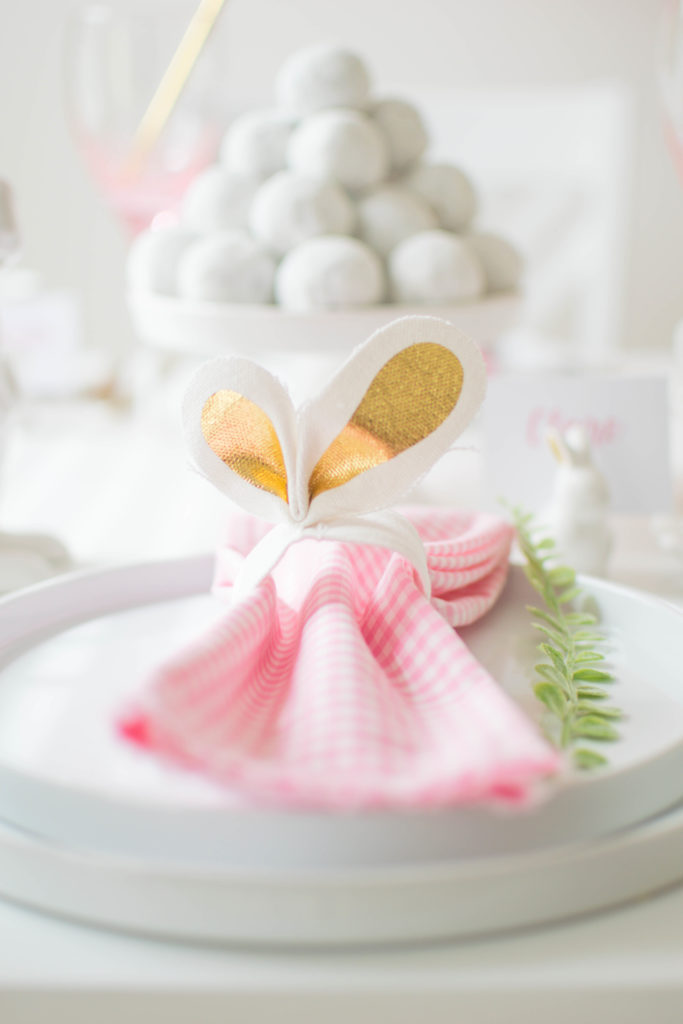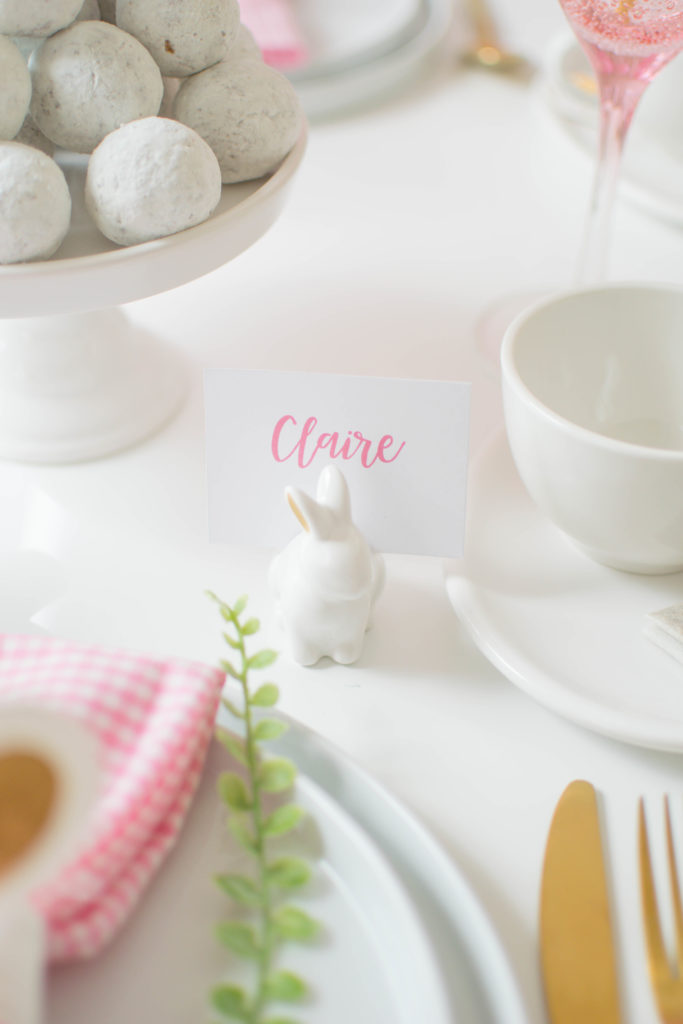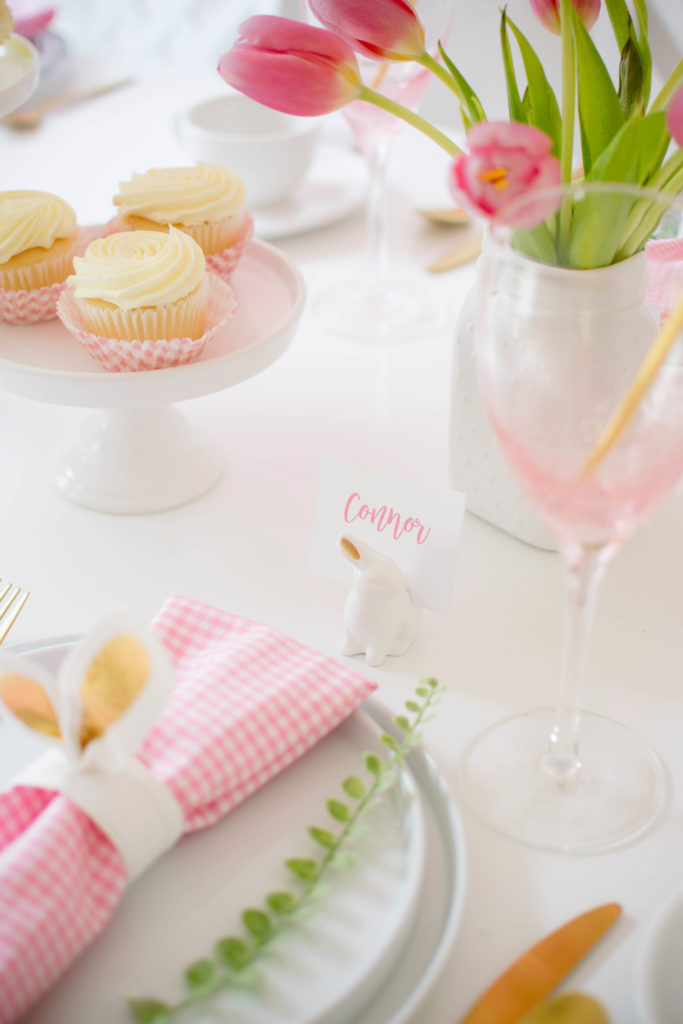 FOOD
For last minute set ups, keeping the menu simple is the way to go. If you are running out of time, consider ordering from your local bakery and maybe make at home 1-2 easy dishes of your choice.
There's no tea party without tea cookies and cucumber dill sandwiches.
I purchased these delicious flower shaped wheat free/gluten free cookies at the supermarket and simply made sandwich cookies using a little bit of pink frosting for a cute presentation. You can use fillings of your preference, such as almond butter, fruit jam or preserves.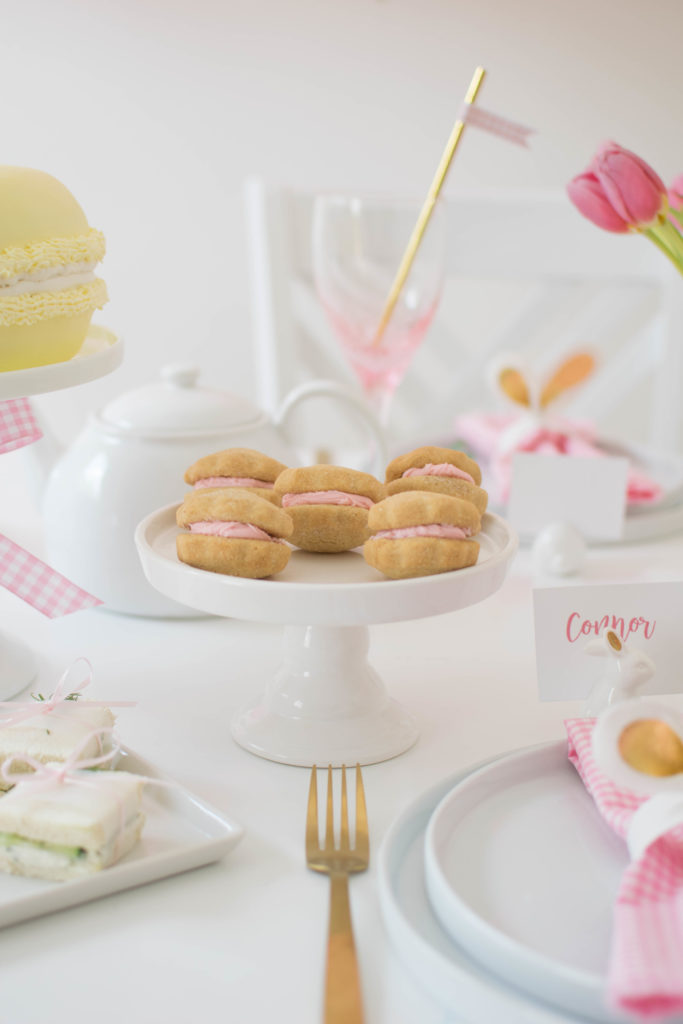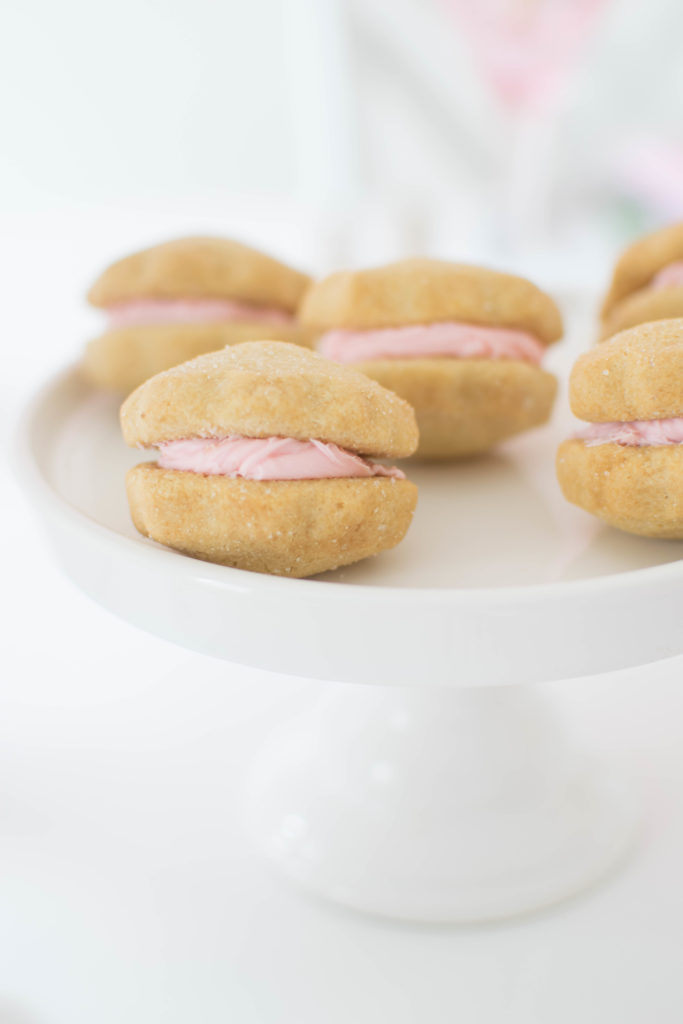 To make these delicious cucumber and lemony dill tea sandwiches, it will only take you about 10 min and a few easy ingredients. For a pretty presentation, you can wrap the mini sandwiches in wax paper and thin ribbon.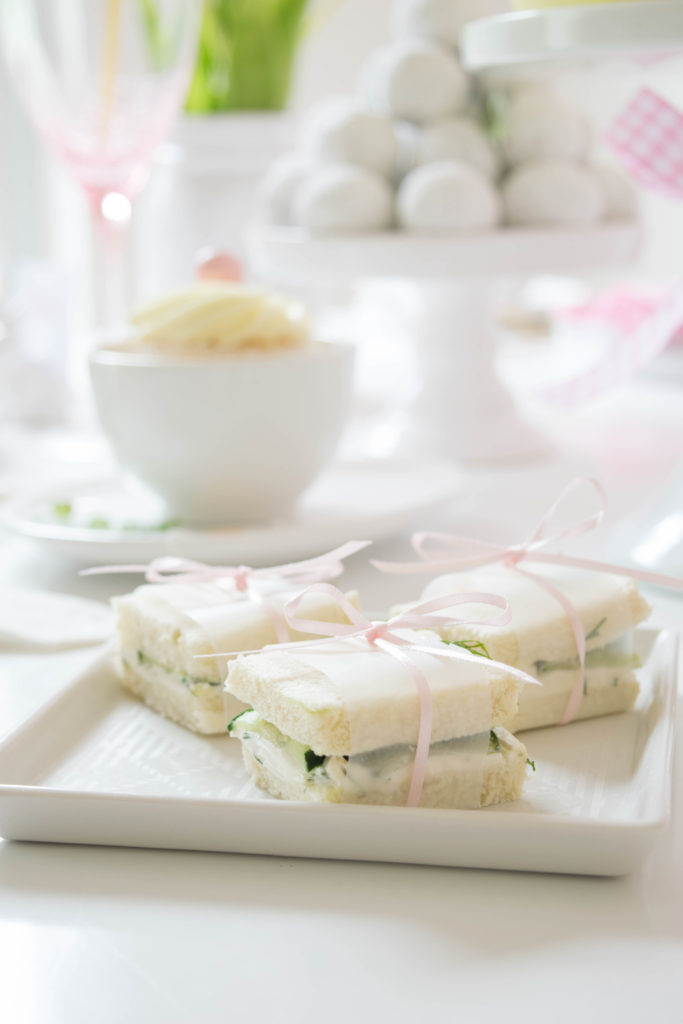 Cucumber and Lemony Dill Cream Cheese Tea Sandwiches
Via Food Network
Ingredients
Directions
In a small bowl, combine the cream cheese, fresh dill, lemon zest, and lemon juice. Season the mixture with salt and pepper.
Lay the slices of bread on your work service and distribute the cream cheese evenly among each slice, spreading into a thin layer. Arrange the cucumber slices in rows over 3 slices of the bread. Top with the remaining bread, and cut into quarters so there are 4 pieces from each sandwich. Serve immediately.
*Can cut off the bread crusts, if desired.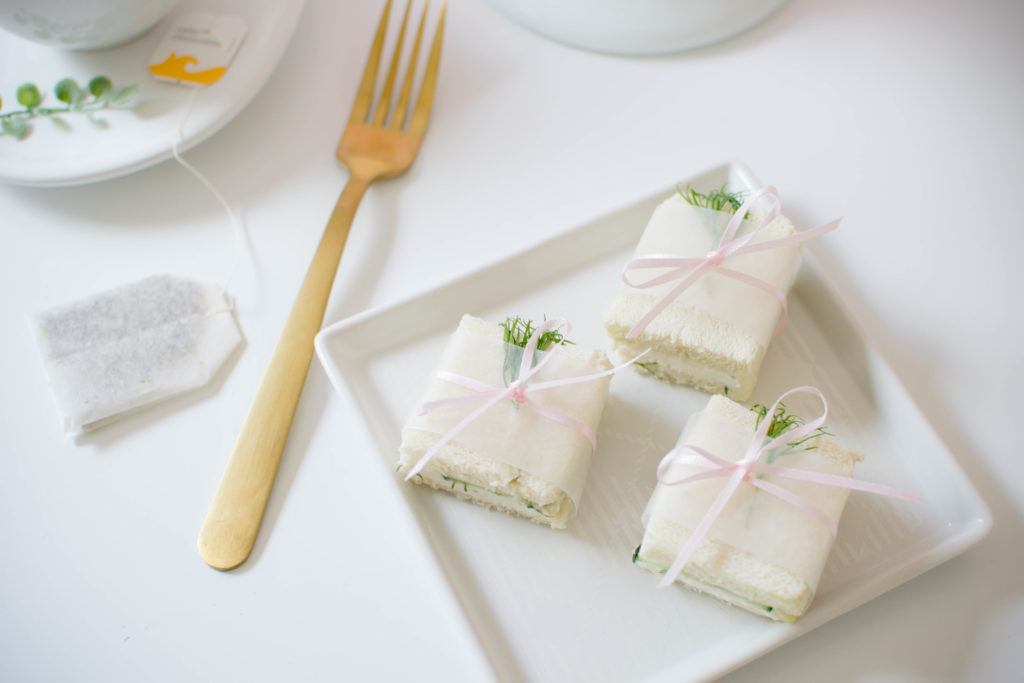 In addition, I also arranged powdered sugar donut holes on a small dessert stand forming a tower. Donut holes are the perfect bite-sized treats to go with your tea as well. Not to mention you can find them at any supermarket at any time.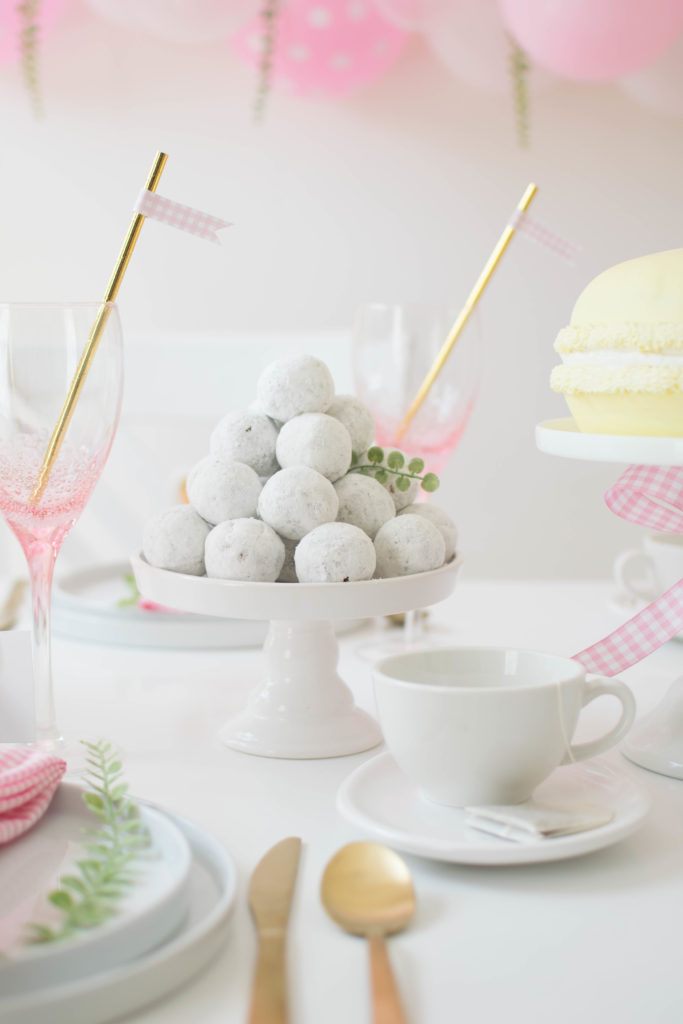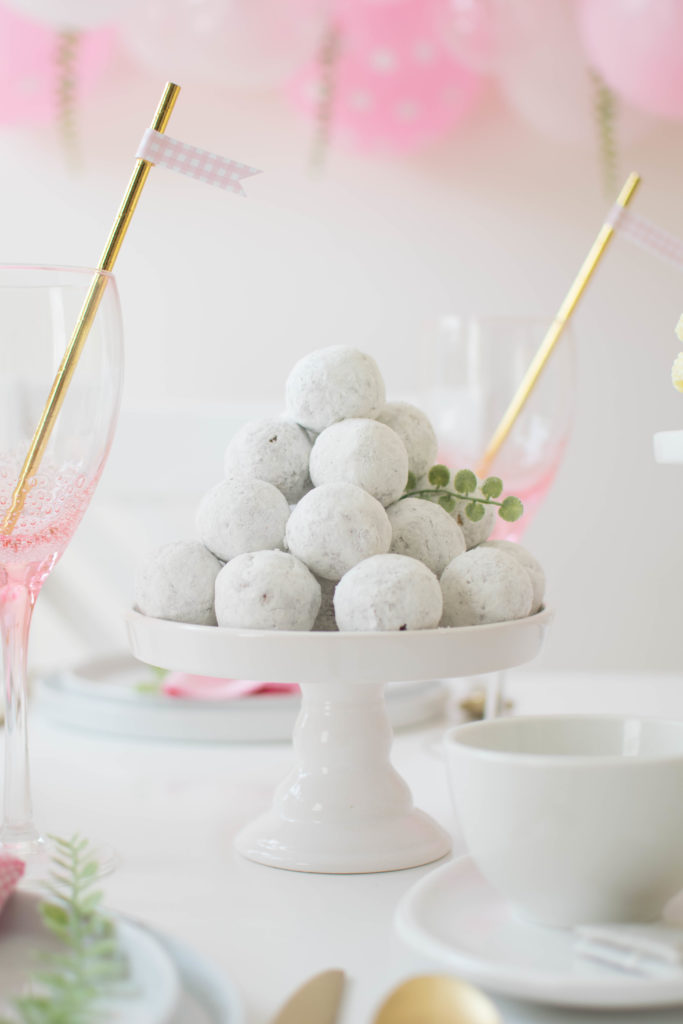 Cupcakes are also a great idea to have on hand if you have little ones at the party. And you can have them to coordinate with your color scheme.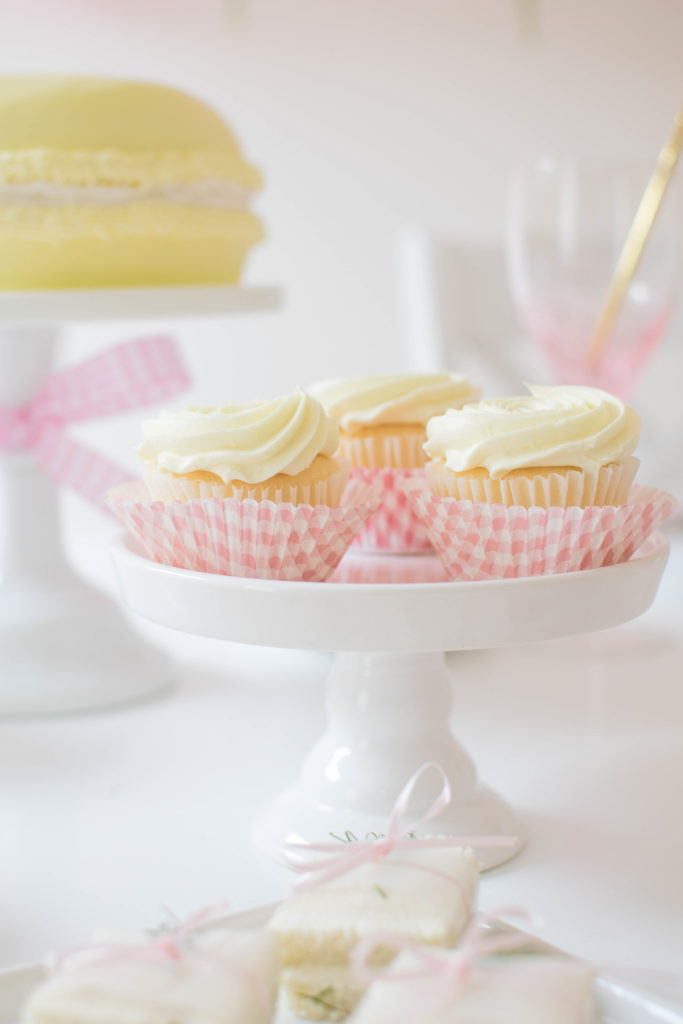 TIP: To perfectly match the theme, you can display the cupcakes in teacups and top them with mini chocolate eggs.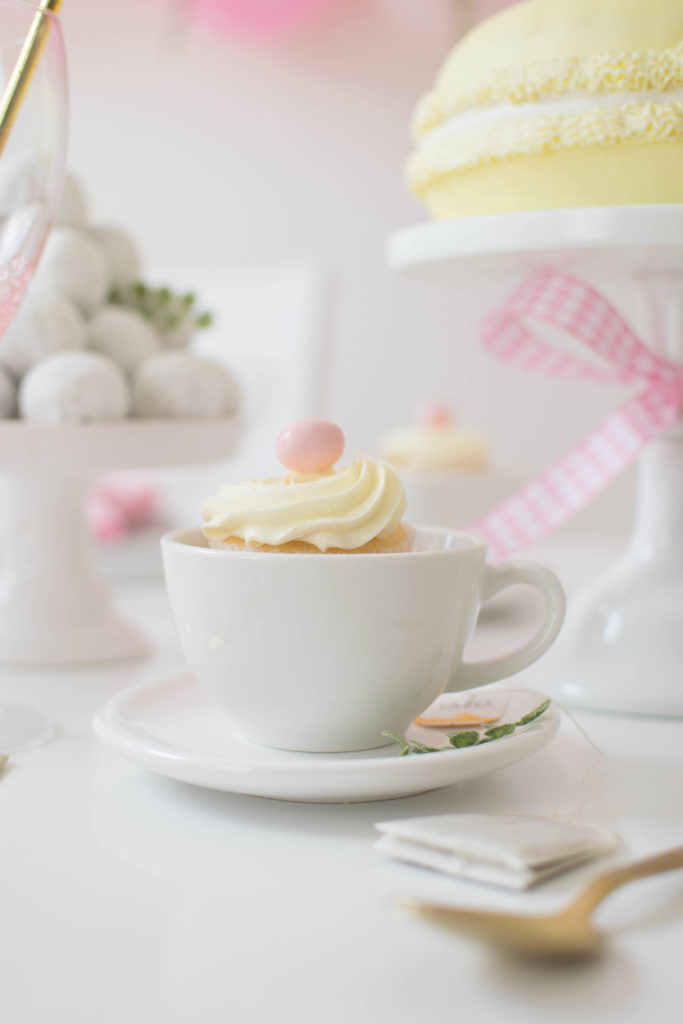 I found mini egg shaped plates at Target. They were perfect for my teacups!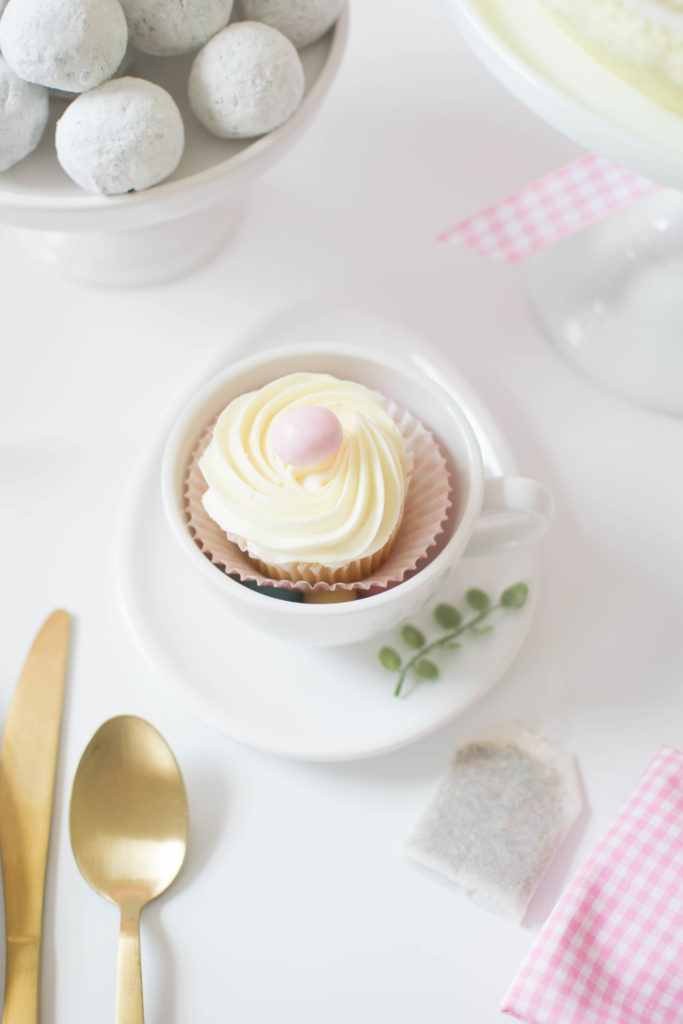 And of course, the giant macaron cake!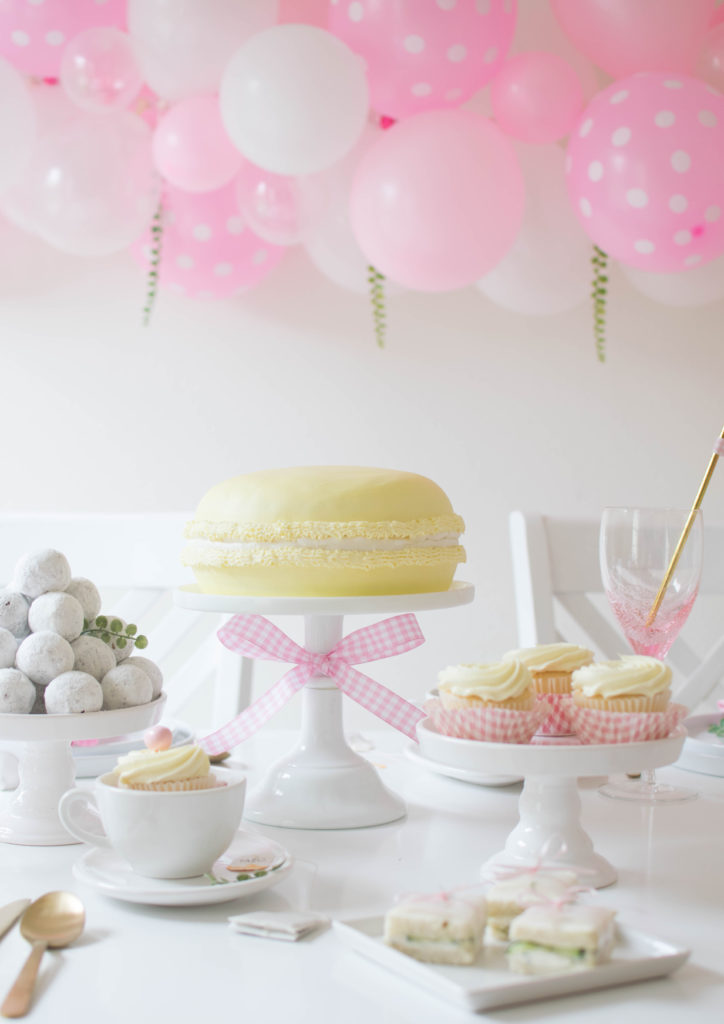 If you would like to give it a try and make your own just follow the steps below:
1. Bake a cake in a round cake pan. Allow to cool completely. *I used a 8″ pan.
2. Using a sharp knife, cut your cake in half. Note: The domed part will be the top of your 'macaron'.
3. Color enough buttercream (color of your choice) to frost both halves.
4. Using a spatula, frost top and bottom. Allow to harden.
5. Place the bottom half on a cake plate. Using a piping bag, add a generous amount of white buttercream to the top of the bottom half of the cake. Allow to harden.
6. Place the top half of your cake on top of the white buttercream sandwiching them together.
6. To recreate 'macaron' edges, pipe buttercream on the edges of both halves, then use a fork to swirl the buttercream to achieve the look of a macaron shell.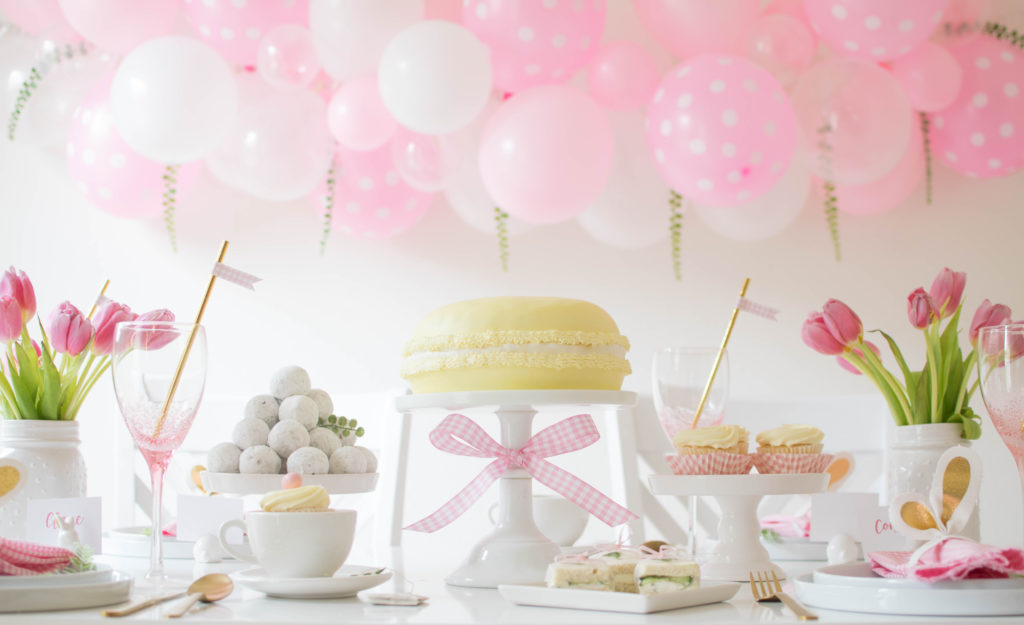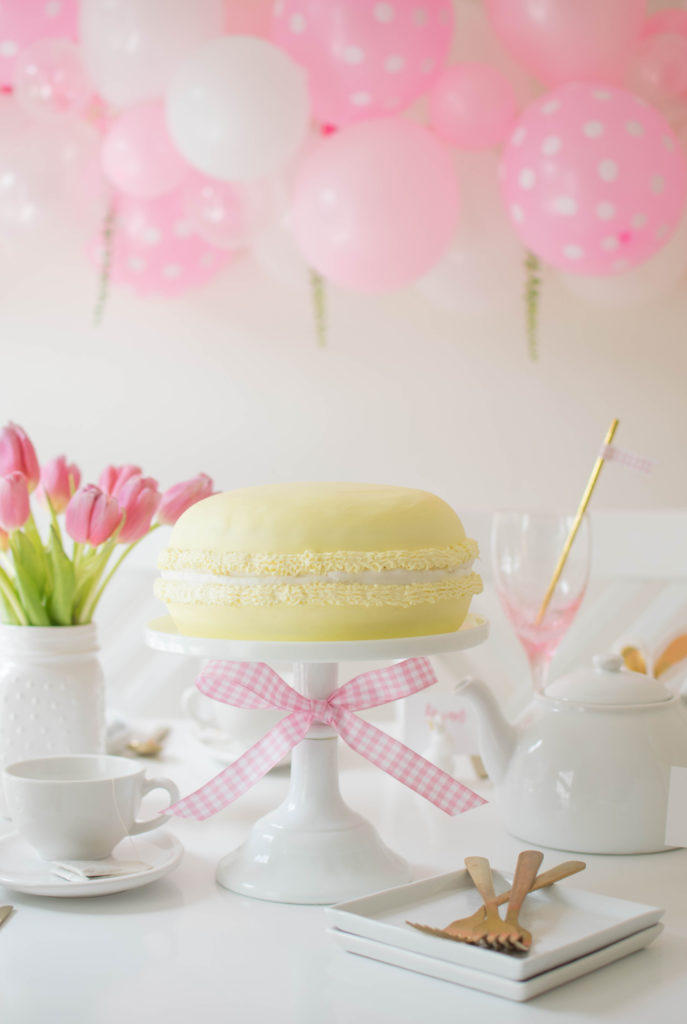 I hope you enjoyed these Spring/ Easter ideas!
Happy Easter, friends!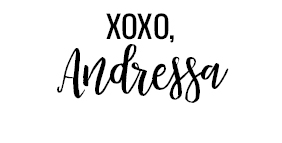 Styling and Photography: Andressa Hara of Twinkle Twinkle Little Party