Whether you are planning a taco themed party or a fun fiesta to celebrate Cinco de Mayo, these festive kids taco party ideas are easy to recreate and will add extra excitement to your event.
From delicious homemade mini tacos to an adorable handprint cactus craft, these ideas will help you plan a spe-taco-lar fiesta for the kids!
Create a Festive DIY Papel Picado Banner
No fiesta is complete without a papel picado banner. You can easily find wonderful paper picado banners online. If you are feeling extra crafty, you can make your own using a cutting machine and a svg file of your choice. For our papel picado banner, I used neon paper in different colors to complement our balloon garland and create a bright and festive party backdrop.
Incorporate Taco Themed Plates
Set up a festive tablescape for your fiesta taco party by mixing and match solid and taco truck plates. Complement the look with coordinating wooden cutlery, cups and avocado napkins. If you are planning on assigning seats, terracotta name tags will add a unique touch to your place settings.
Make Mini Homemade Crunchy Tacos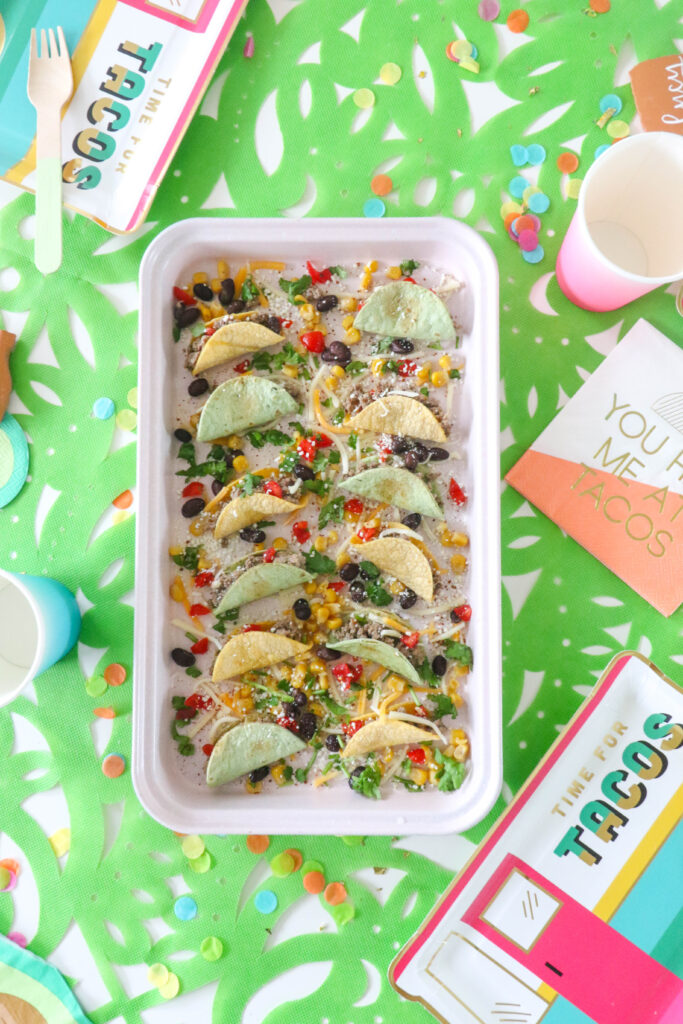 These mini homemade are my kids' obsession. I make them weekly. This time around, I took my tacos to the next level by making them bite-sized to create a delightful taco platter.
Ingredients:
For the Mini Taco Shells
Large Spinach and Corn Tortillas
4″ Round Cookie Cutter
Cooking spray
For the Taco Filling
Cooked Ground Beef or Shredded Chicken, seasoned to your liking
Shredded Mexican Cheese Blend
Cotija Cheese
Sweet Corn, drained
Black Beans, rinsed and drained
Diced tomatoes
Fresh Cilantro
Diced Avocado (optional)
Queso or Sour Cream (optional)
Directions:
Preheat oven to 375˚ F
Stack 2-3 large tortillas on a flat surface and use a 4″ round cookie cutter to cut out small tortillas.
Brush tortillas with cooking spray and place them in the microwave for 10-15 seconds.
Coat the back of a muffin baking sheet with cooking spray. Place mini tortilla rounds in between the sections to create taco shells.
Bake tortillas in the oven for 8 minutes or until the edges start to get slightly browned. Allow them to cool completely before transferring to a platter.
Fill taco shells with ground beef and cheese. Arrange them on a platter with the other toppings. Enjoy!
Serve Delicious Conchas
Pan dulce (concha) is a sweet and delicious Mexican bread. It's soft on the inside and crunchy on the outside. In San Antonio, we can easily find pan dulce at our local supermarkets and bakeries. If you can't find them near you, there are a few authentic Concha recipes online you can try.
For you taco party, have a few conches stacked on a dessert stand or bag them for your guests to enjoy at home for breakfast.
Make Cactus Shaped Tortilla Chips
To add extra excitement, use a cactus cookie cutter to make themed tortilla chips for your taco party or Cinco de Mayo celebration.
Ingredients:
Large Spinach Tortillas
Cactus Cookie Cutter
Olive Oil
Sea Salt
Directions:
Preheat oven to 375˚ F.
Line a baking sheet with parchment paper.
Cut cacti shapes out of spinach tortillas.
Arrange cactus tortillas on prepared baking sheet.
Brush them with olive oil and sprinkle with sea salt.
Bake cactus tortillas for about 10 minutes or until they get slightly browned.
Incorporate Fiesta Themed Balloons
Add a festive flair to your fiesta with themed foil balloons. For a taco party, we opted for a jumbo avocado and margarita (the adults deserve some love, too) balloons.
Foil balloons make wonderful party decorations. You can incorporate them into your event to quickly bring a party theme to life.
Spruce up Cupcakes with Papel picado Toppers
Cupcakes are always a great idea. Get your cupcakes Cinco de Mayo ready by using colorful cupcake liners to match your bright and festive party decor and adorn them with papel picado cupcake toppers for extra fun.
Plan a Handprint Cactus Craft
Planning a fun craft or party activity is essential to keep the kids entertained and get the party going. This adorable handprint cactus craft are super fun to create and require very few supplies. My three kids absolutely loved the final result. My youngest turned 3 years old last April. He needed assistance from beginning to end but he was absolutely so thrilled to participate.
Supplies Needed:
White Cardstock
Paint (colors of your choice)
Markers (colors of your choice)
Scissors
Glue or Tape
Instructions:
Coat the palm of your child's hand using a paintbrush and green paint.
Stamp your child's hand onto white cardstock. Allow to dry completely before the next step.
While the handprint cactus is drying, print terra-cotta pot printable on white cardstock. Cut it out and set aside.
Cut the handprint cactus out and add spines (thorns) using black or dark green markers.
Add flowers using pink marker.
Attach terracotta pot to the handprint cactus using glue or tape.
Send Guests Home with Taco Favors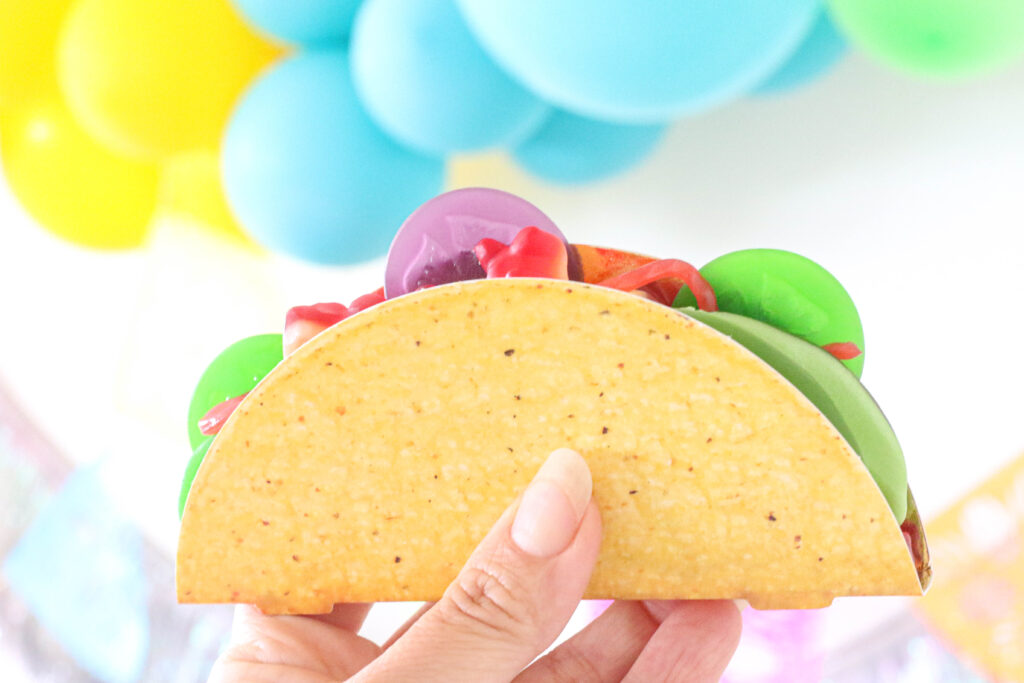 If you are looking for fun and unique party favors, consider visiting a great candy shop near you. I found this taco party favor idea and my kids absolutely absolutely loved it! They are gummy candies in a taco-like wrapper. How fun is that? Great party favor idea for a taco party!
Taco About a Party!
Give your guests something to "taco" about. If the parents are joining in on the fun, whip up something exciting to drink. These Pink Pomegranate Margaritas look pretty and super refreshing. Perfect idea to complement your bite-size tacos and cactus tortilla chips. And if time permits, plan a few Mexican Fiesta Party Games and Activities for the kids and adults!
Partware, Balloons and Cake Stand: