This post is sponsored by Disney-Hyperion.
Hello, friends!
I am so excited to partner up with Disney-Hyperion once again to celebrate 10 years of Elephant & Piggie Book Series and the newest release in the Elephant and Piggie Like Reading! series, The Good for Nothing Button by Charise Mericle Harper.
I fell in love with Mo Willems' work when my first child was still a baby. I purchased the 'Don't Let the Pigeon Drive the Bus' seven years ago and it's still one of our favorites! We also adore the books from Elephant & Piggie series! I was thrilled to celebrate 10 years of this wonderful series with Mo and Disney Books! Of course we had to throw a party!
I decorated a simple table for the kids while my husband was out at the playground with them. When they came back home and saw the party set up, they recognized the characters right away when they saw the hanging lanterns! So cute!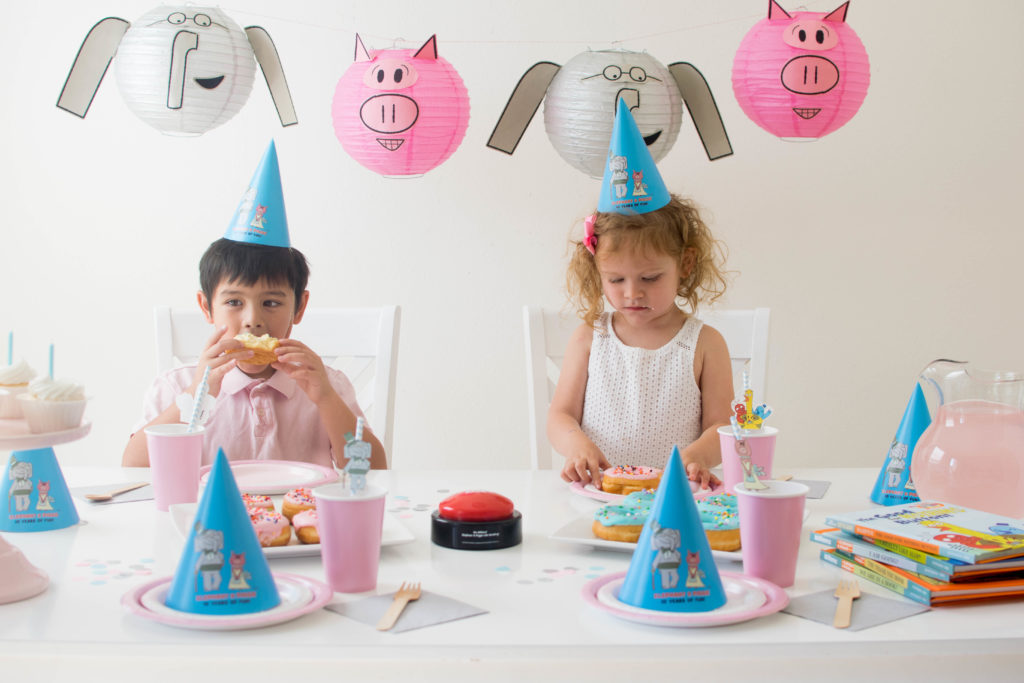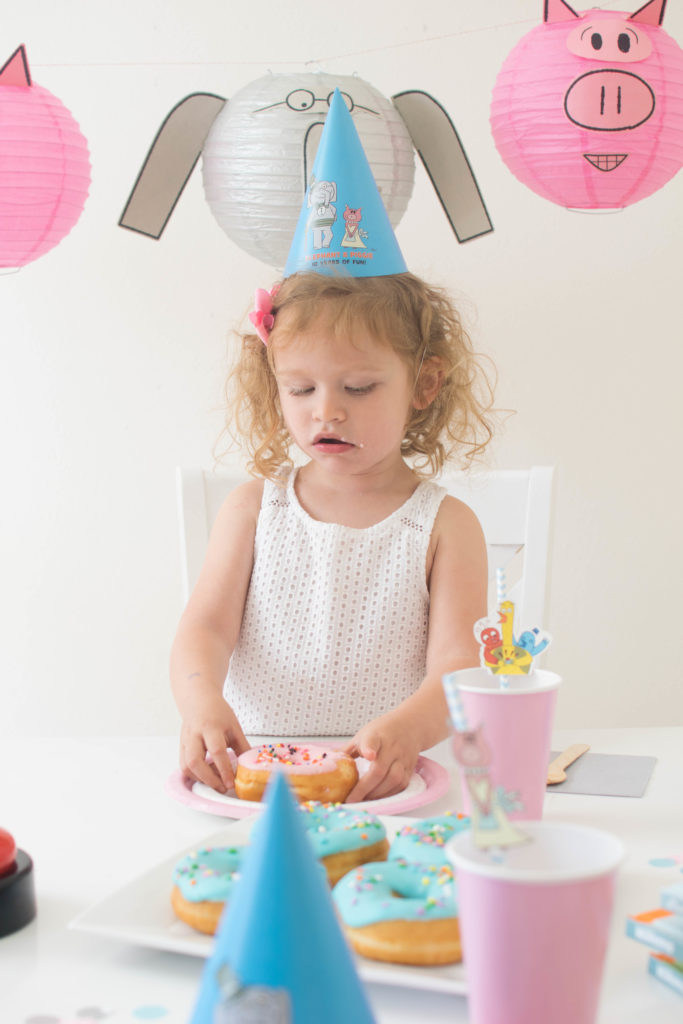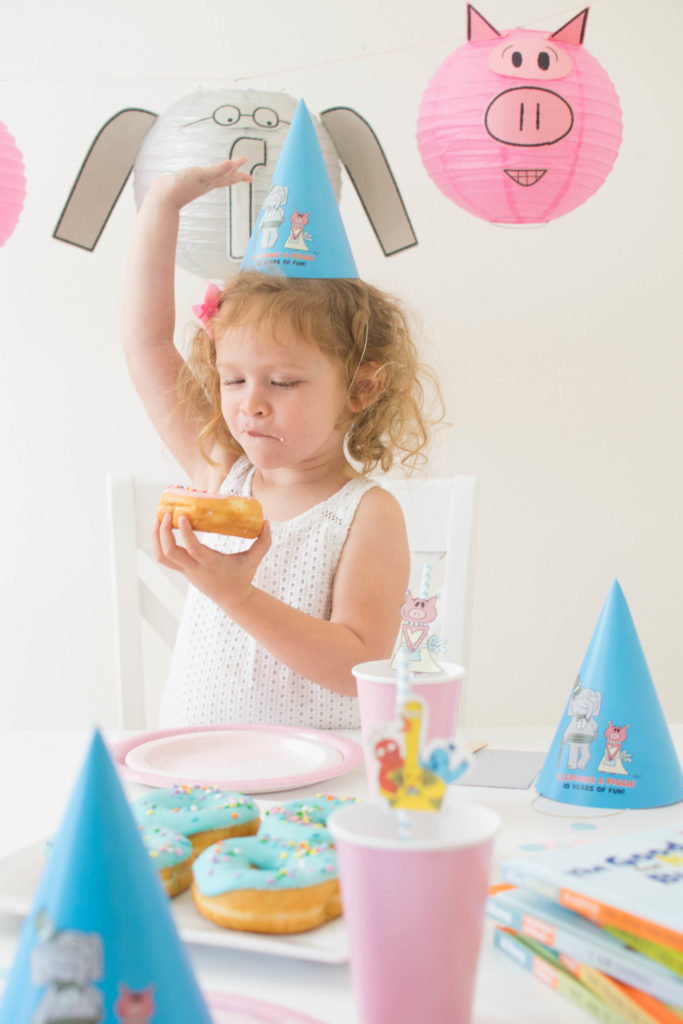 Pink lemonade, yummy donuts and simple cupcakes were just enough to brighten up their day!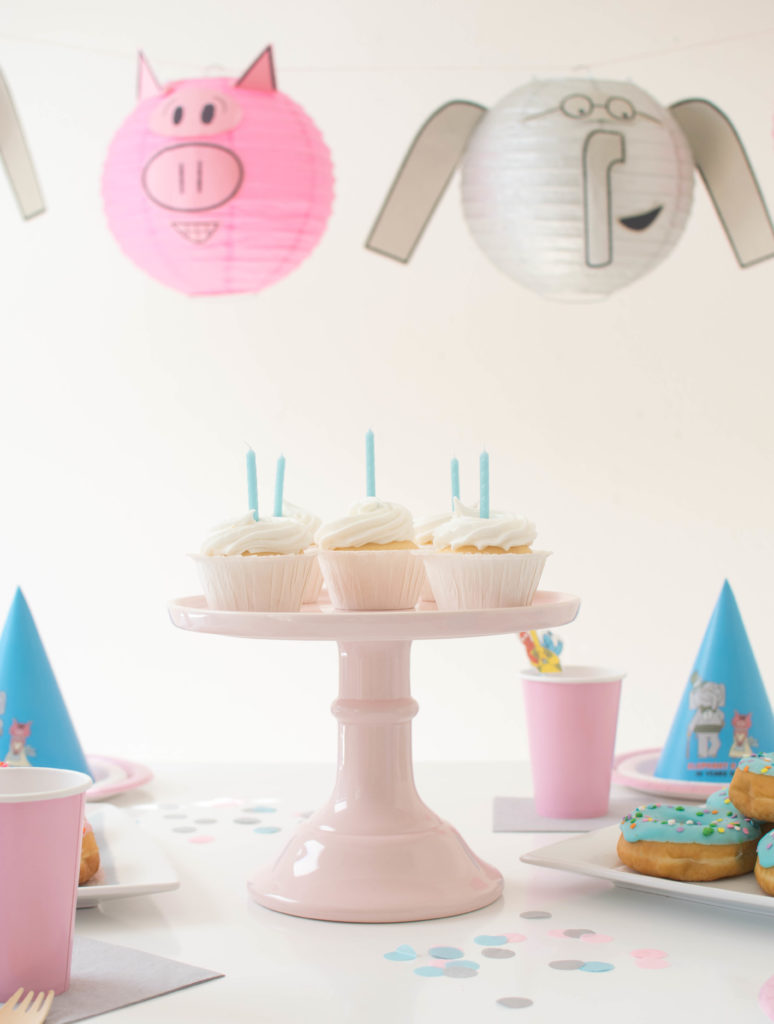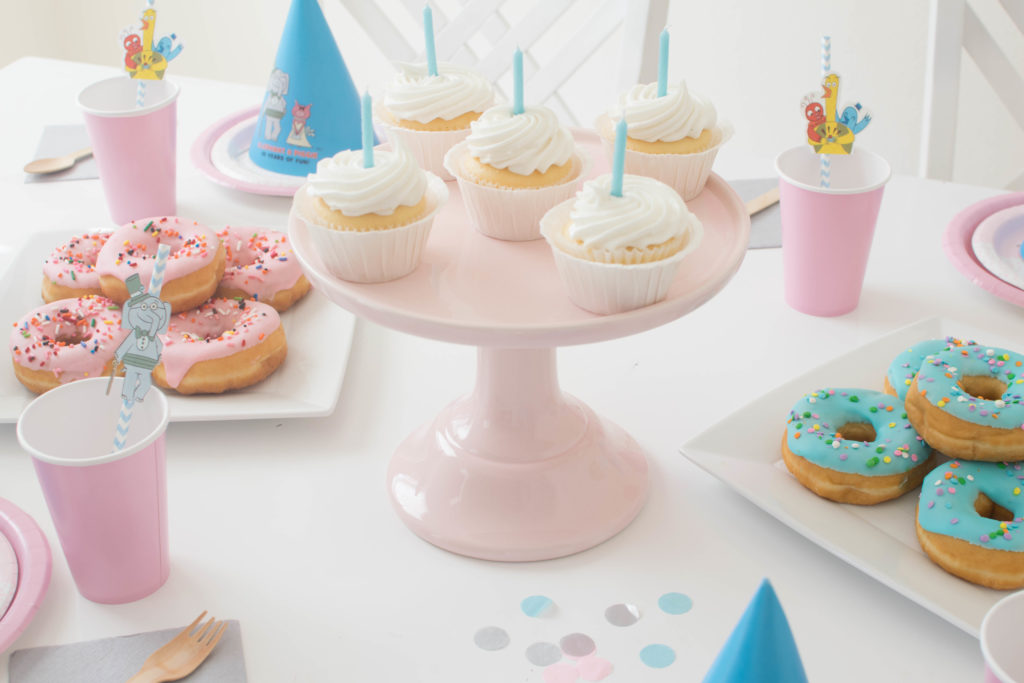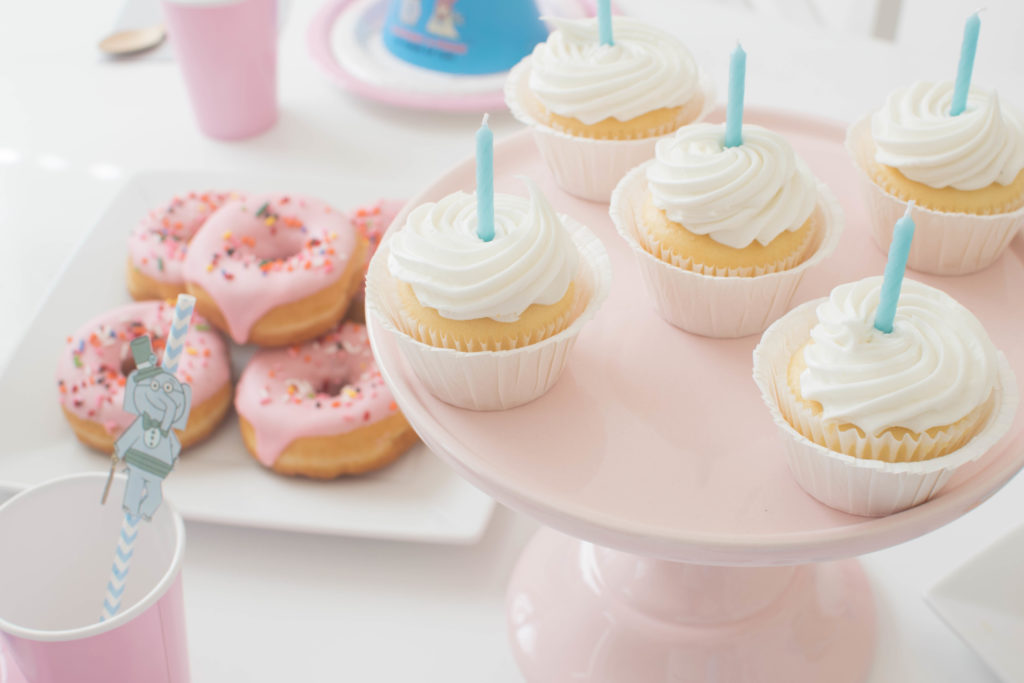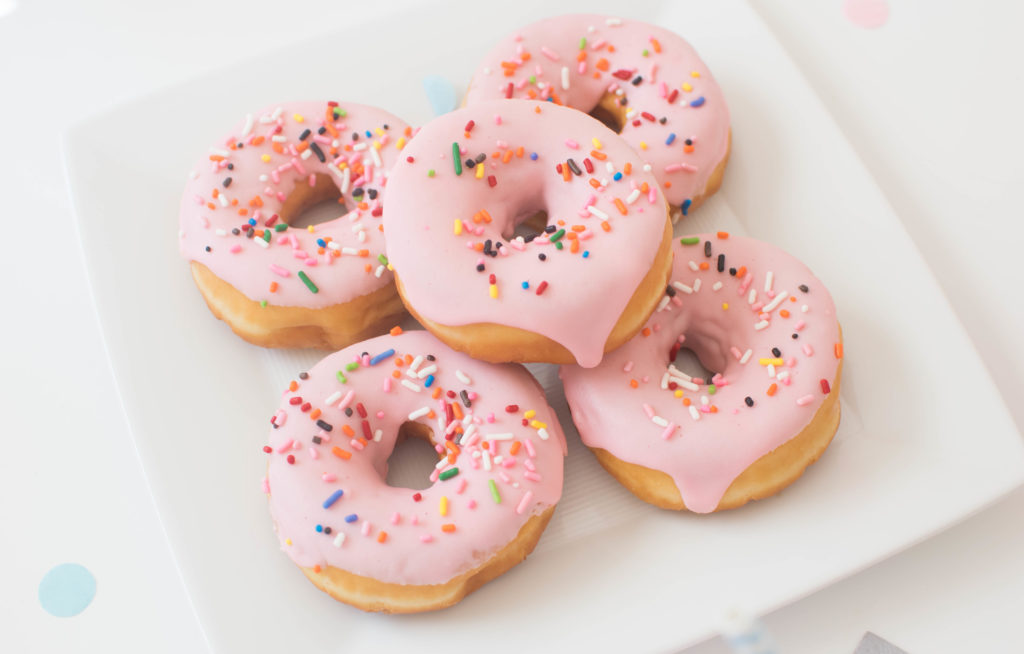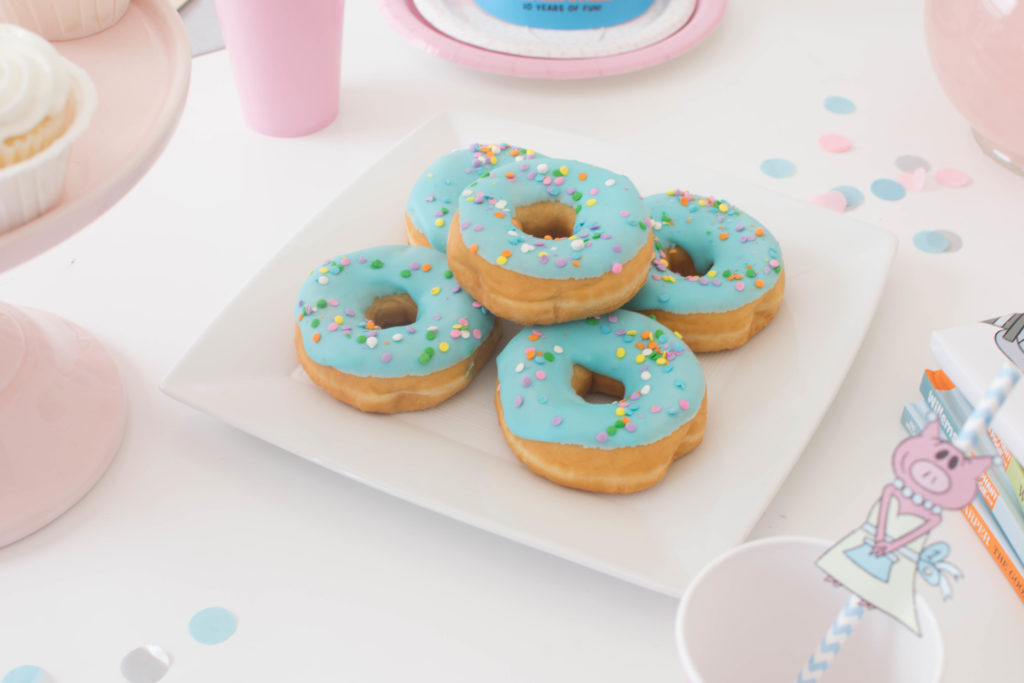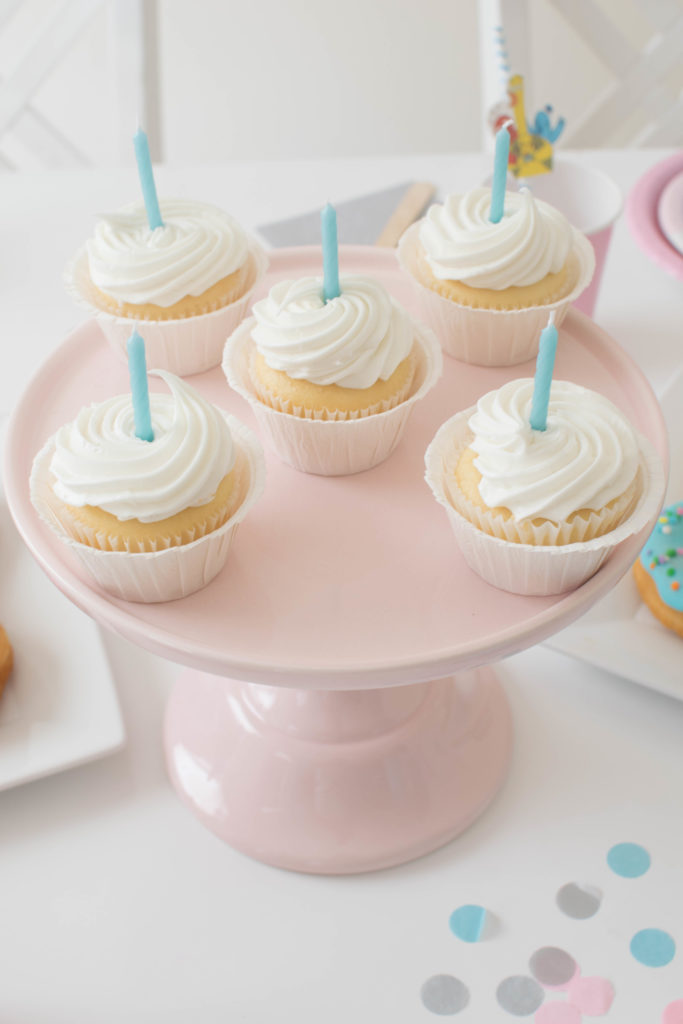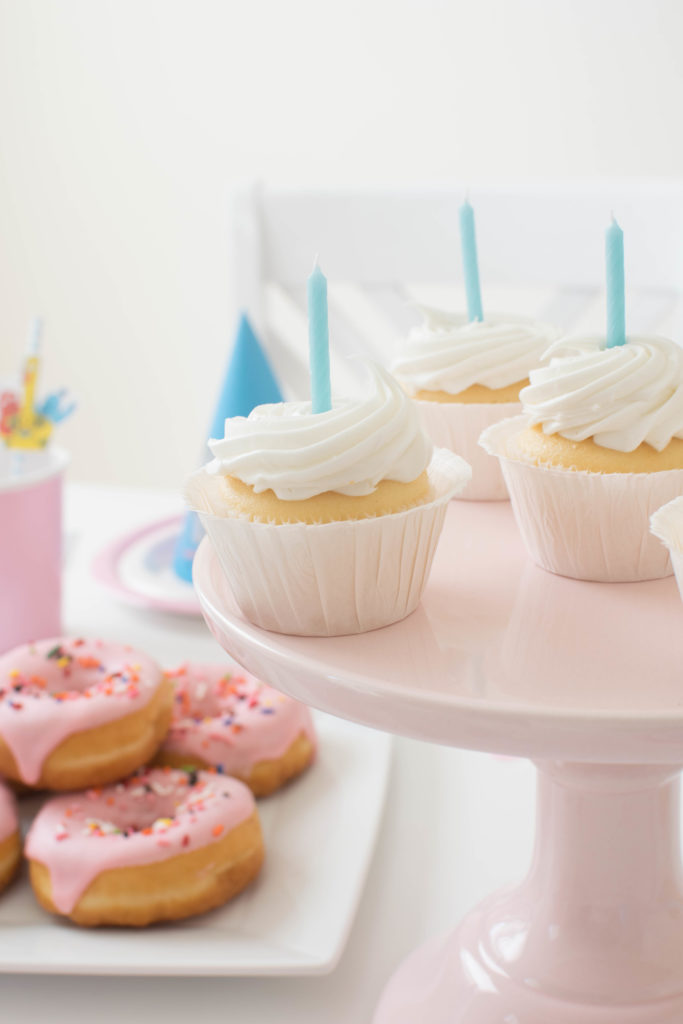 Elephant & Piggie hanging lanterns, party hats and straws added such a fun touch to this little set up. The kids fell in love with them!
I had a blast putting these lanterns together. Aren't they just the cutest? You can make your own as well. Just follow the instructions here!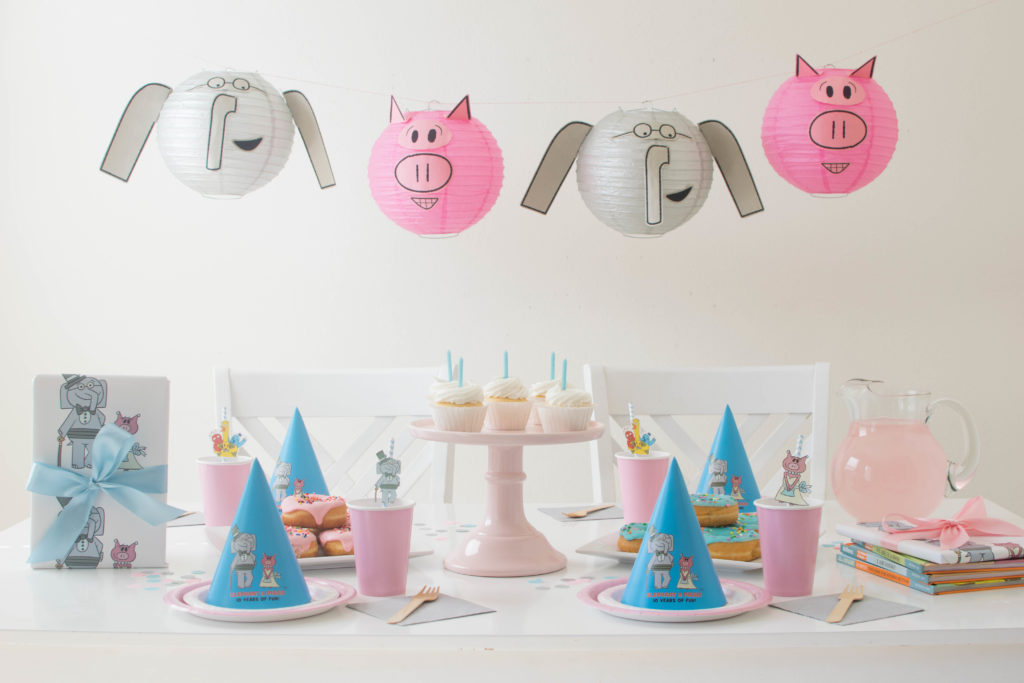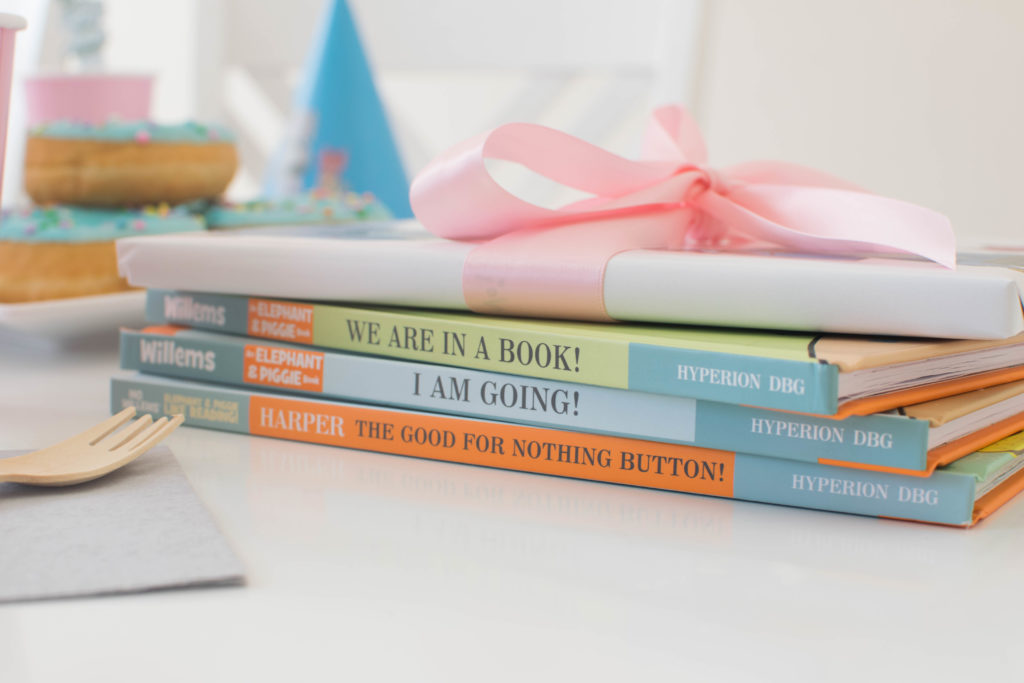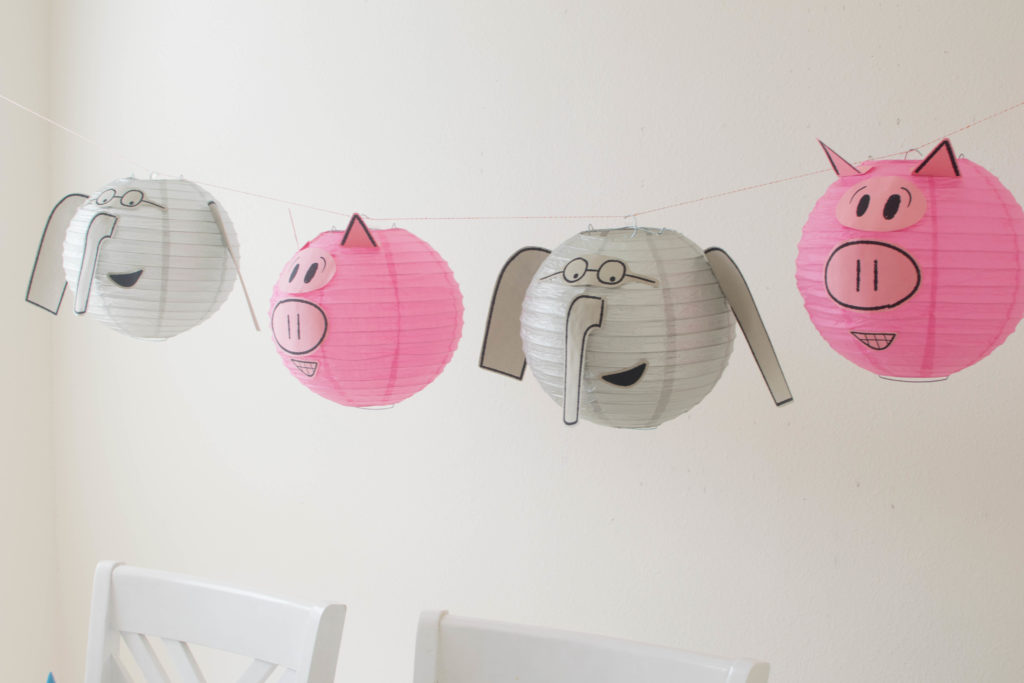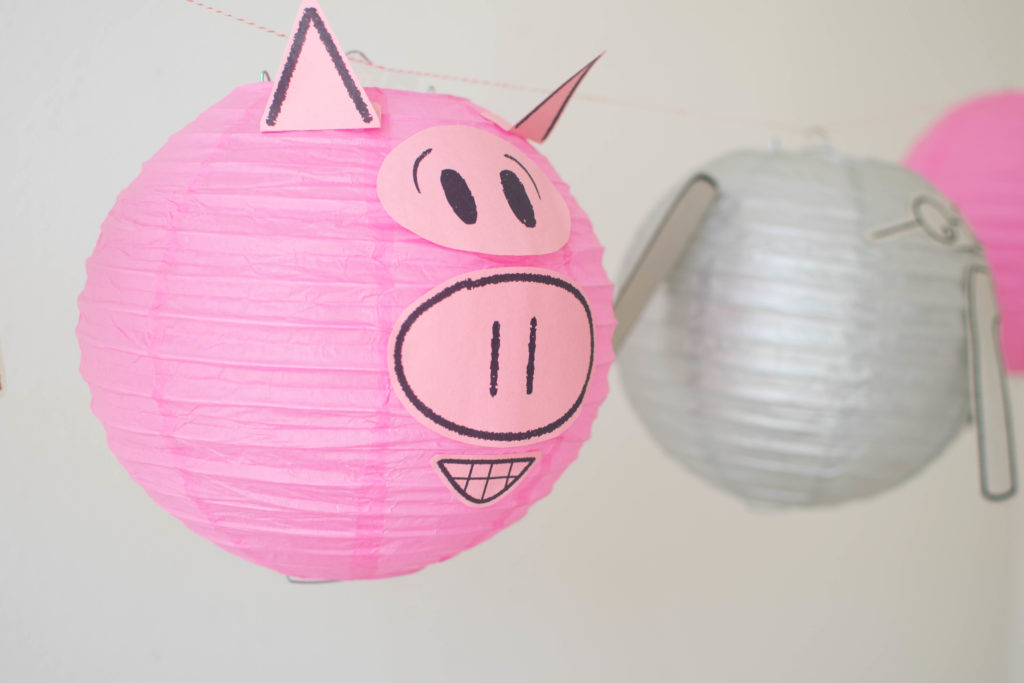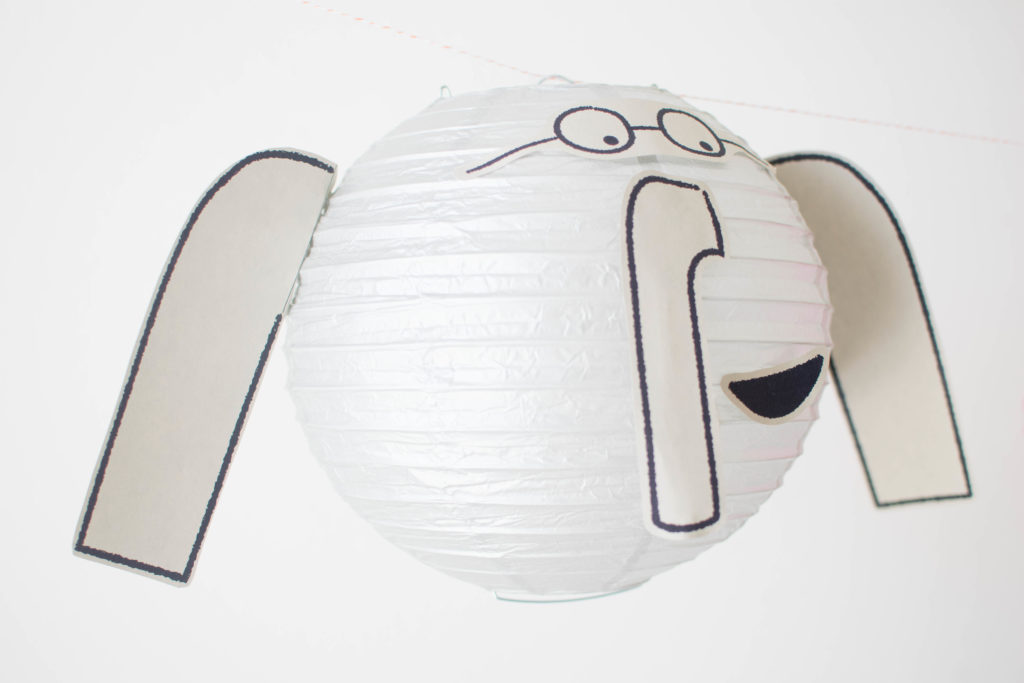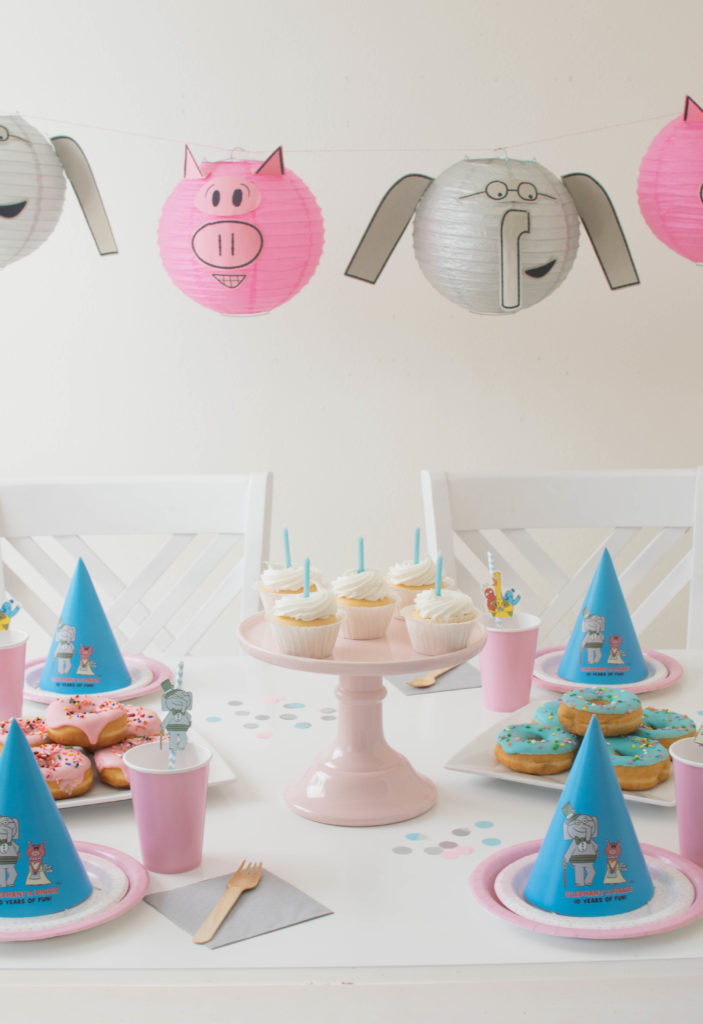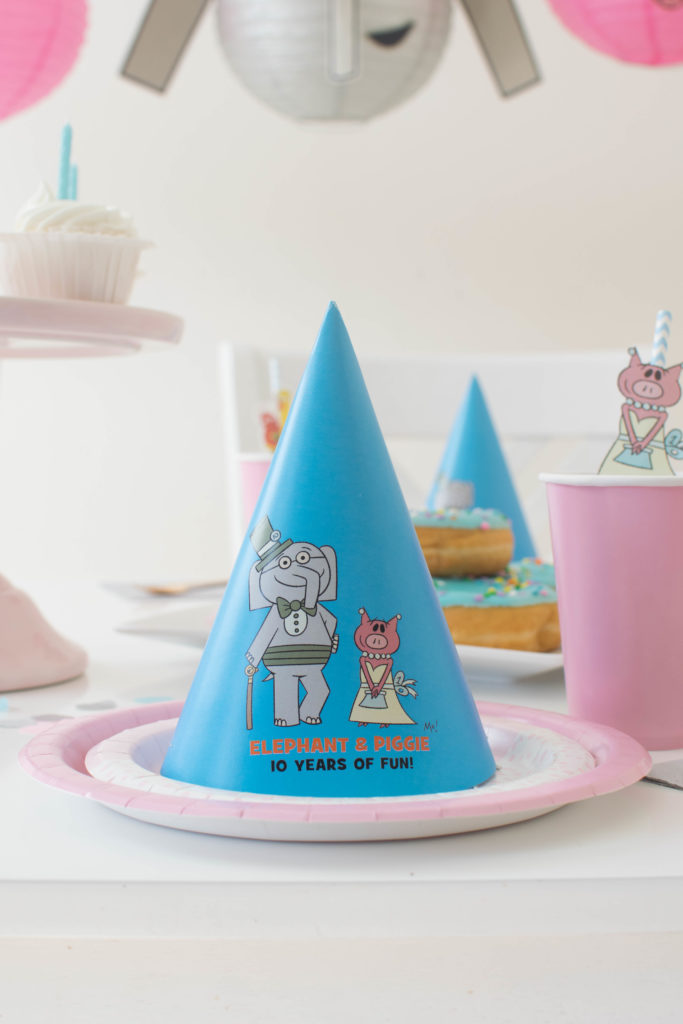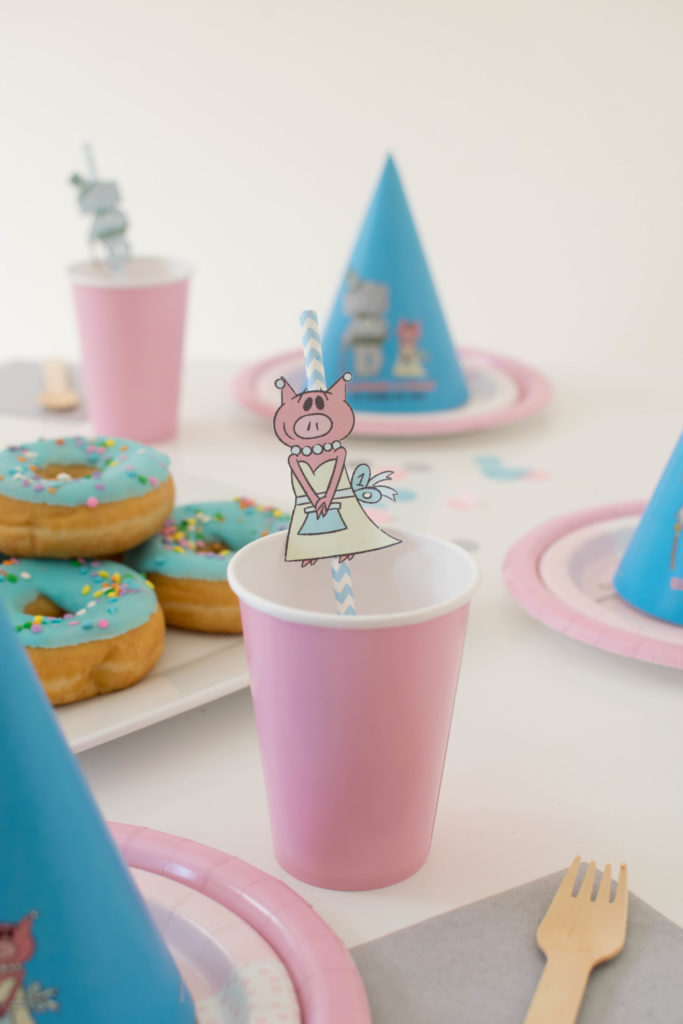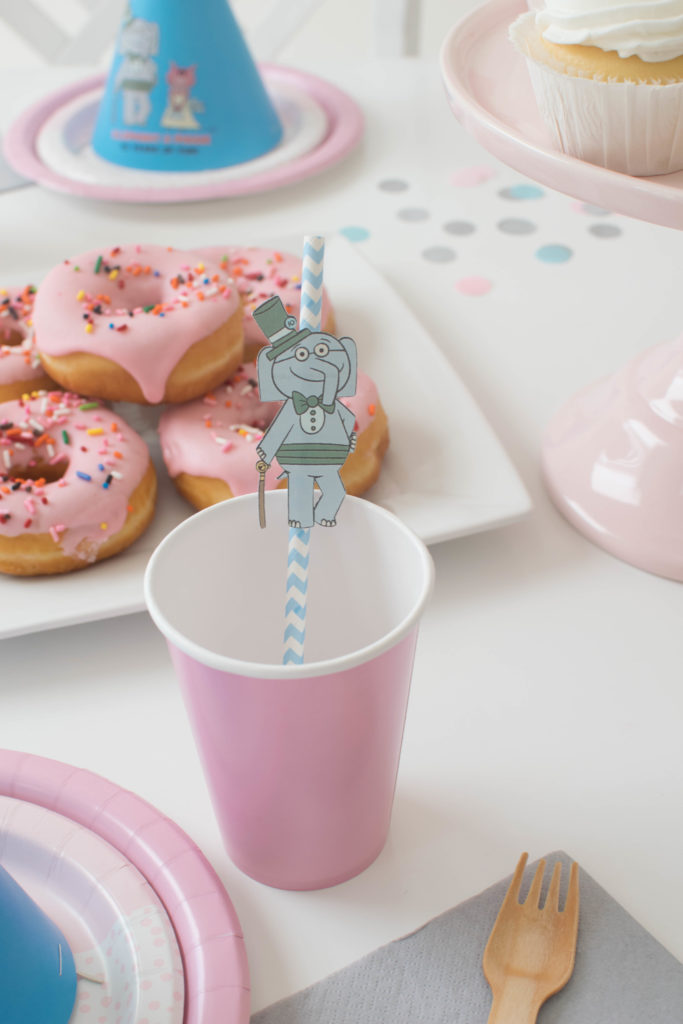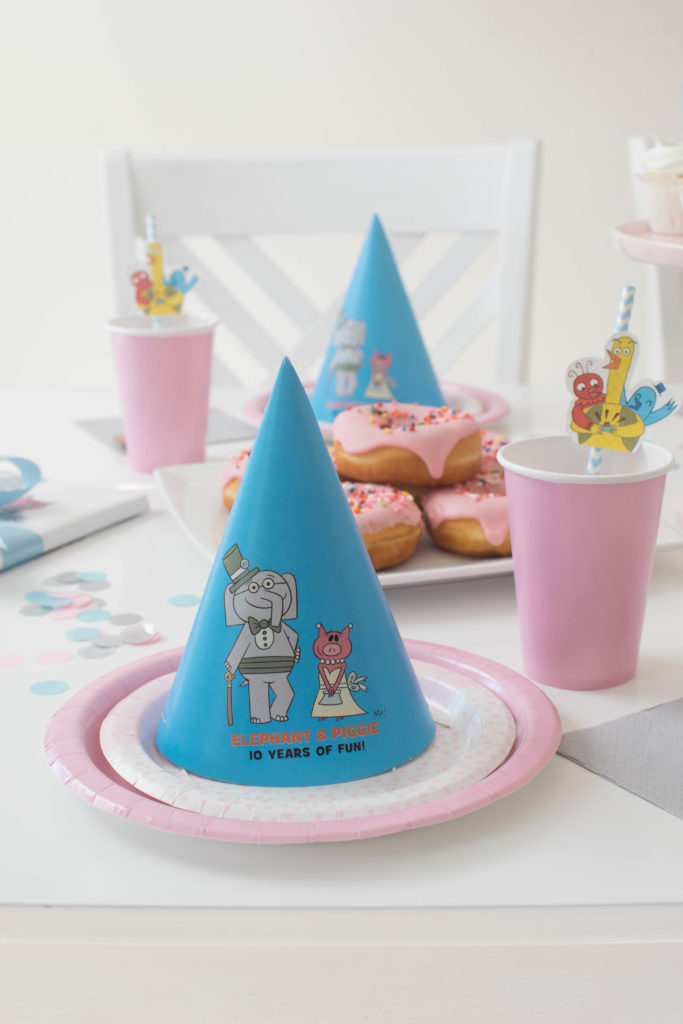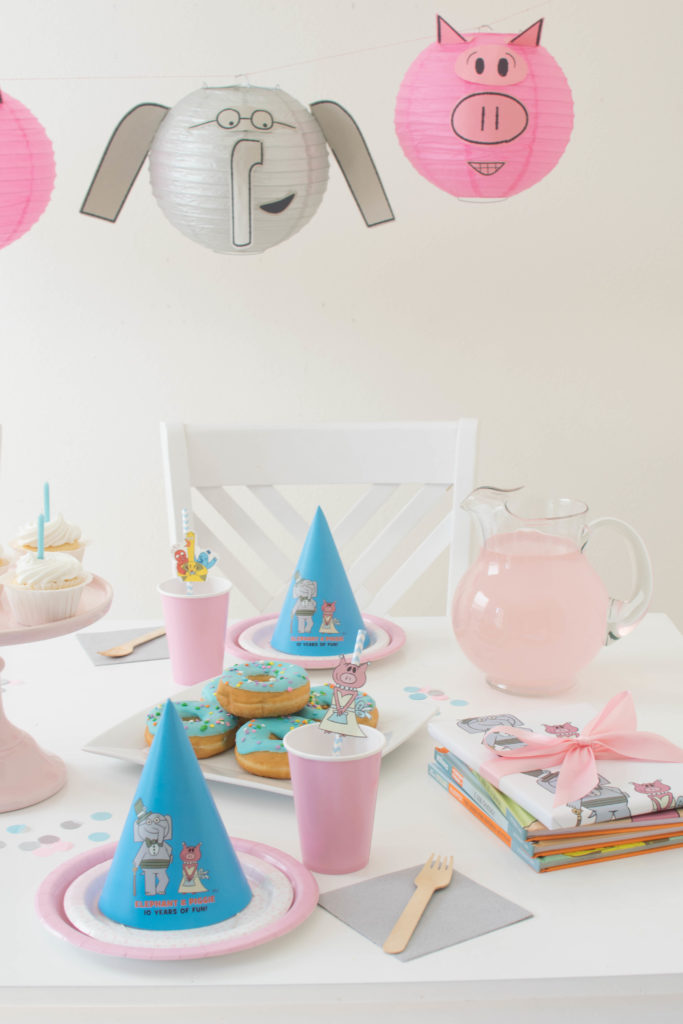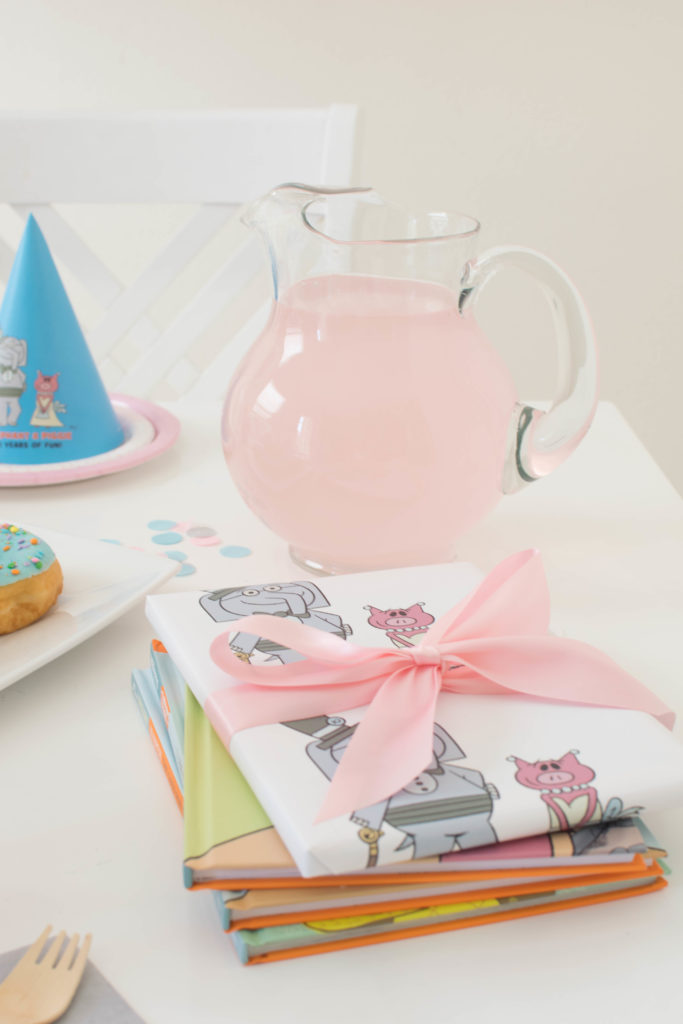 I neatly wrapped a new book for each of one of them using the adorable Elephant & Piggie gift wrapping paper. How adorable is it? I seriously can't stand all this cuteness!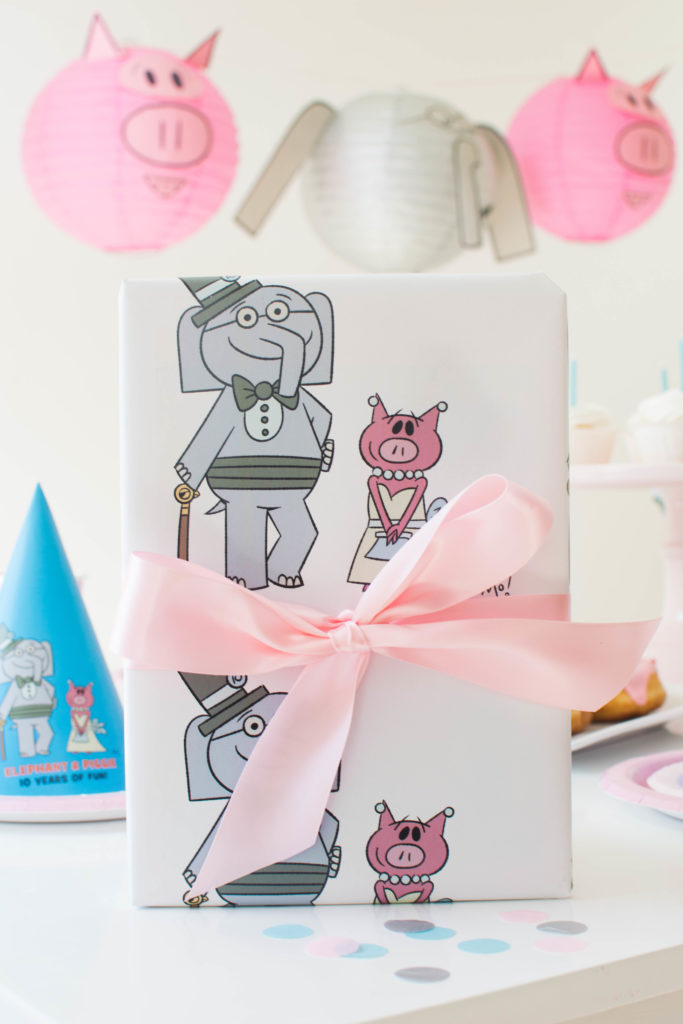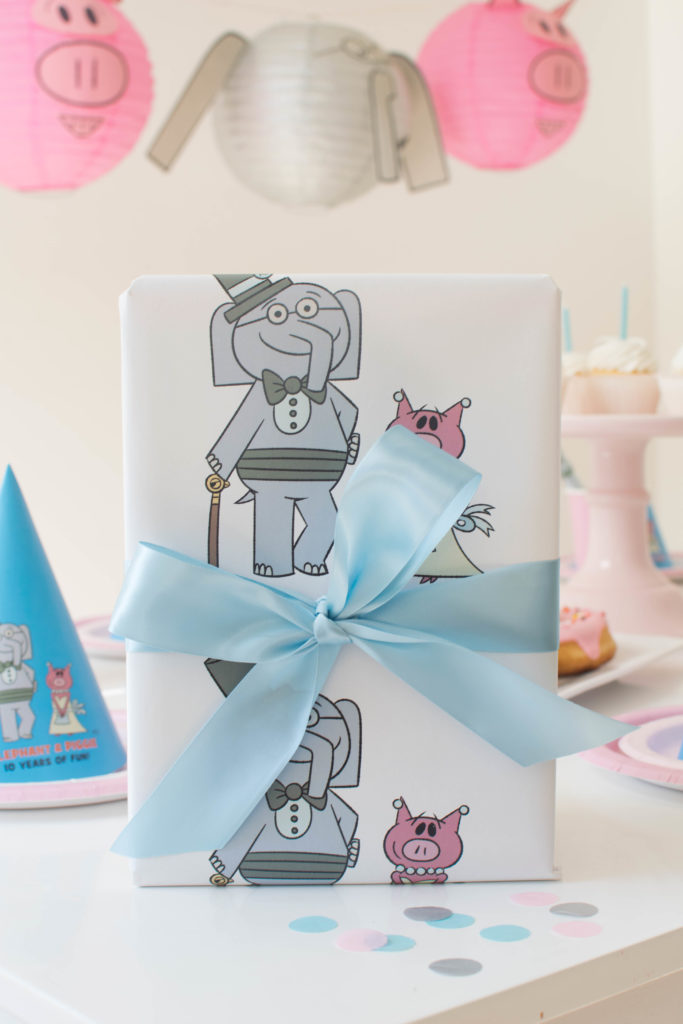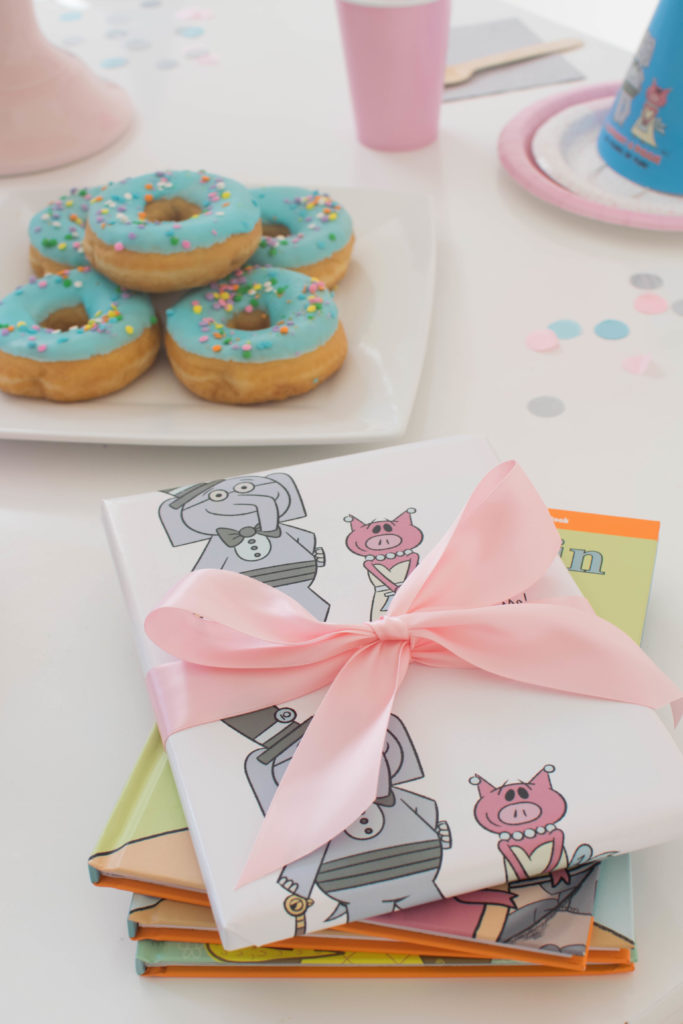 They were SO excited and couldn't wait to unwrap their new gifts!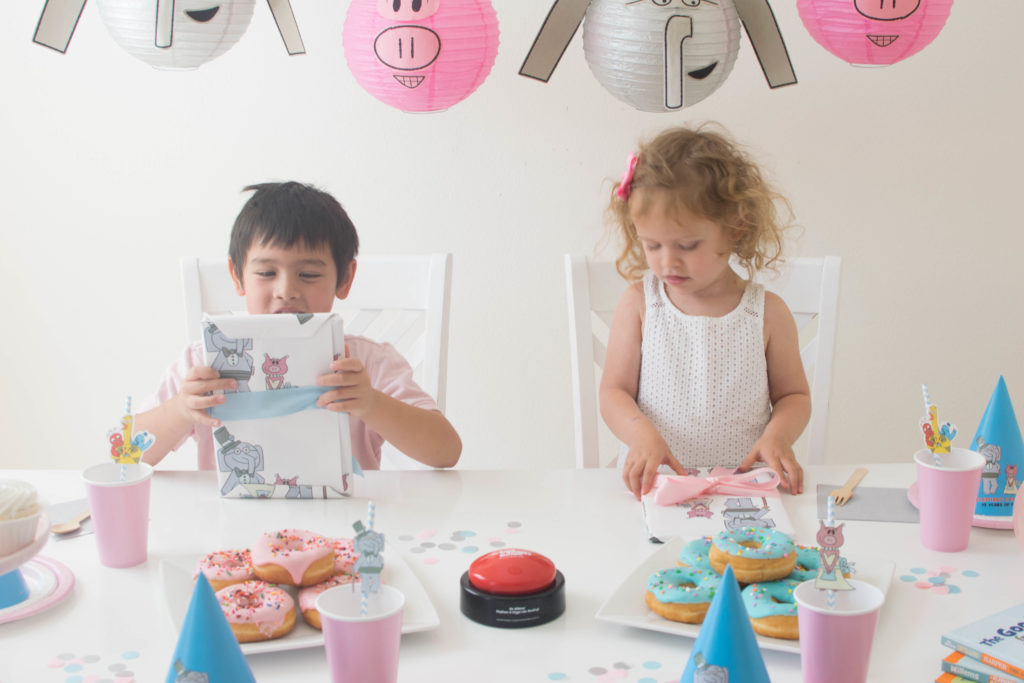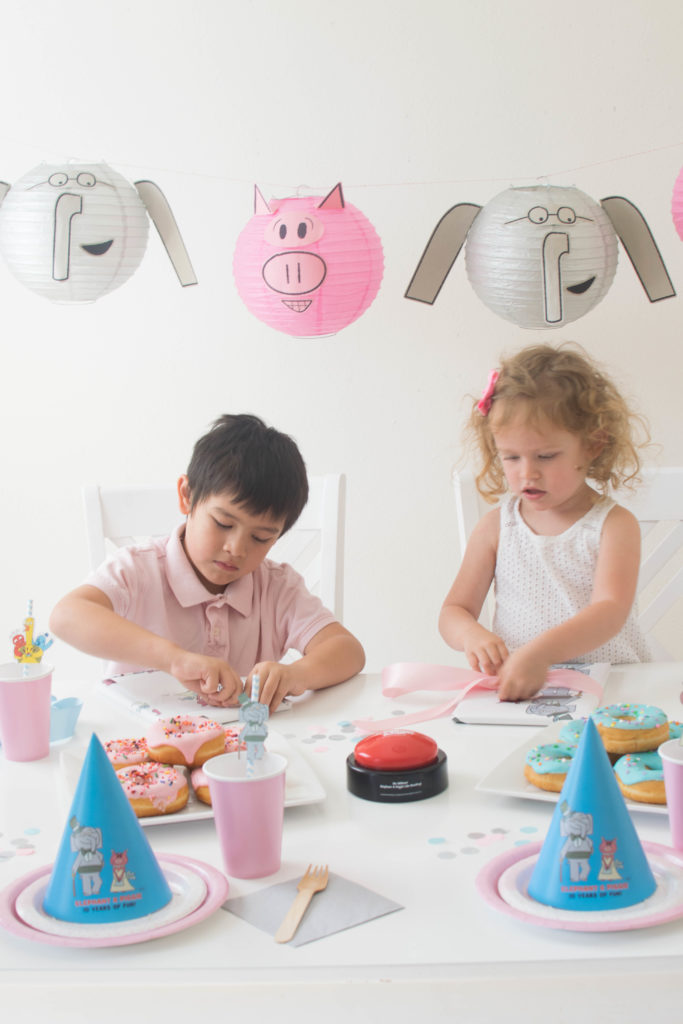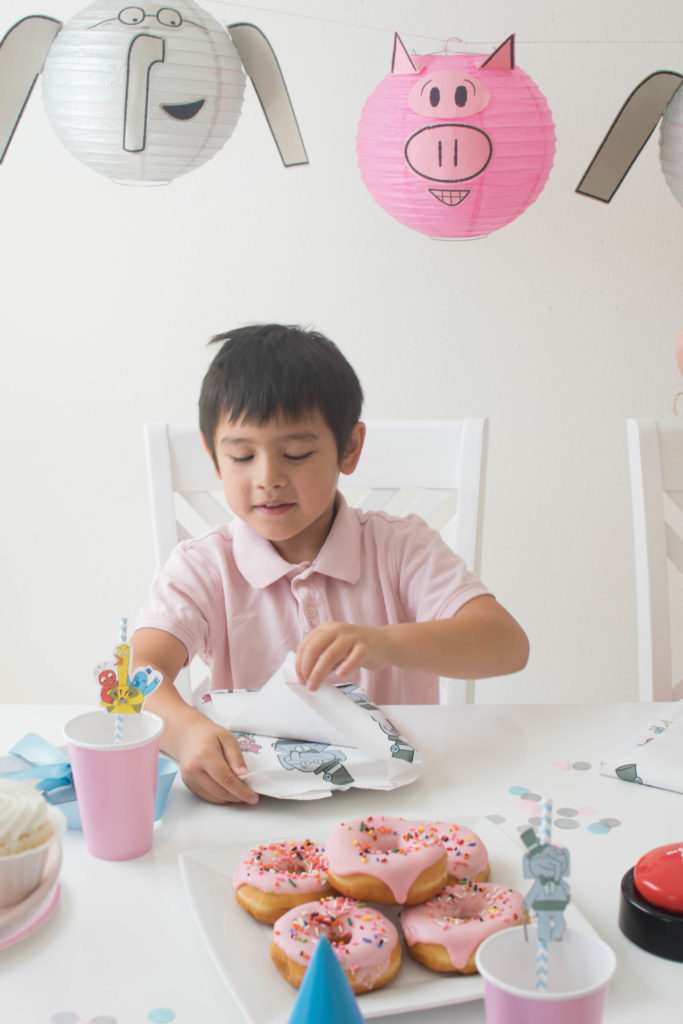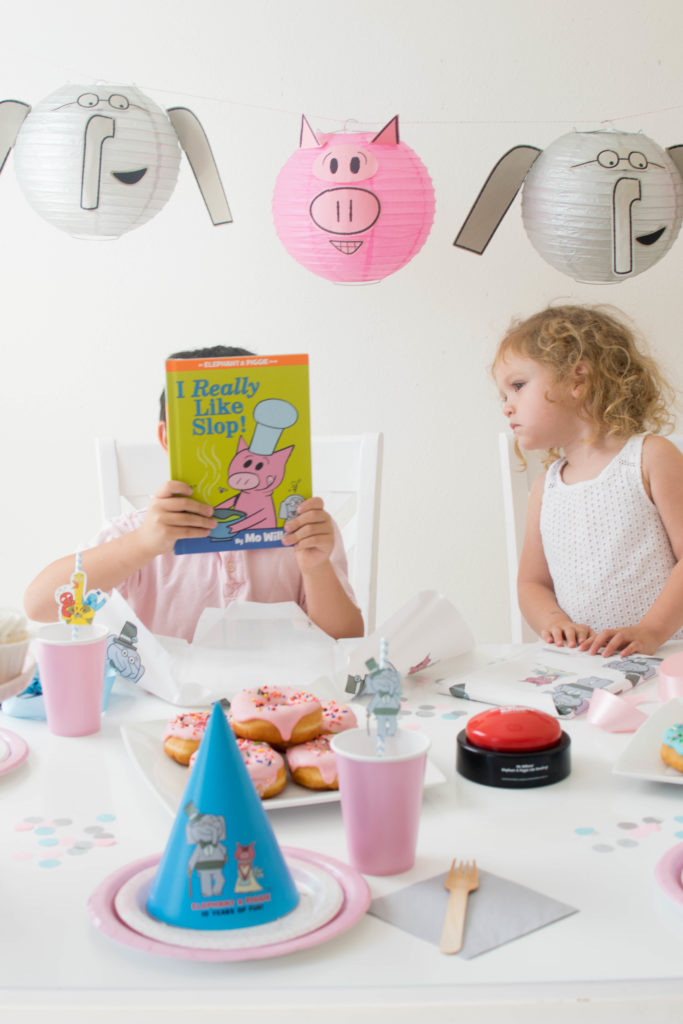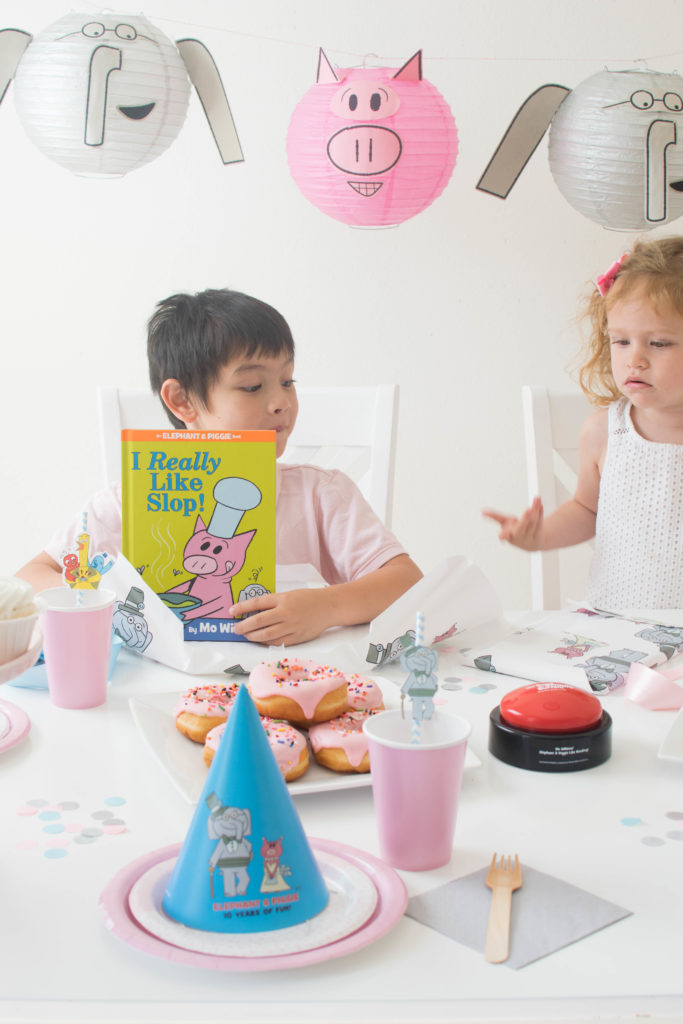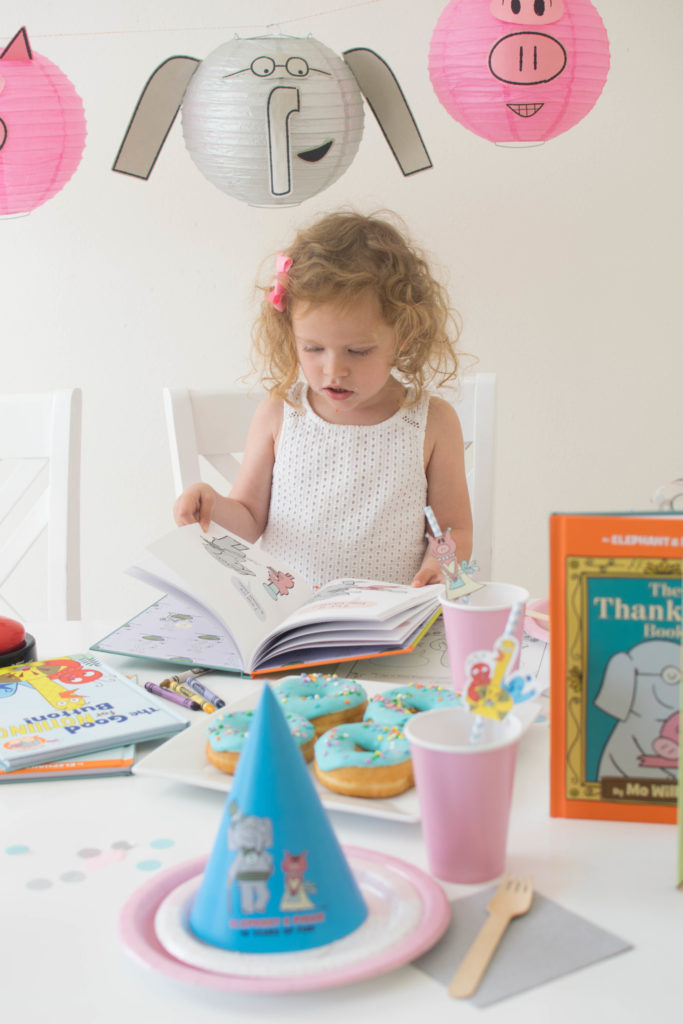 We are happy to add 'The Good for Nothing Button' book and our own good for nothing button the kids don't seem to get tired of pushing! (laughs)
Yellow Bird has a button. It does . . . nothing! It is a good for nothing button.
Red Bird and Blue Bird are excited to try the button. But when they press it, they discover that the button makes them happy. Happy is something! A flabbergasted Yellow Bird insists the button does nothing. But it sure does seem to be making him mad. Mad is something!
The hilarious debate that follows takes readers on an emotional roller coaster that pokes at the power of imaginative play.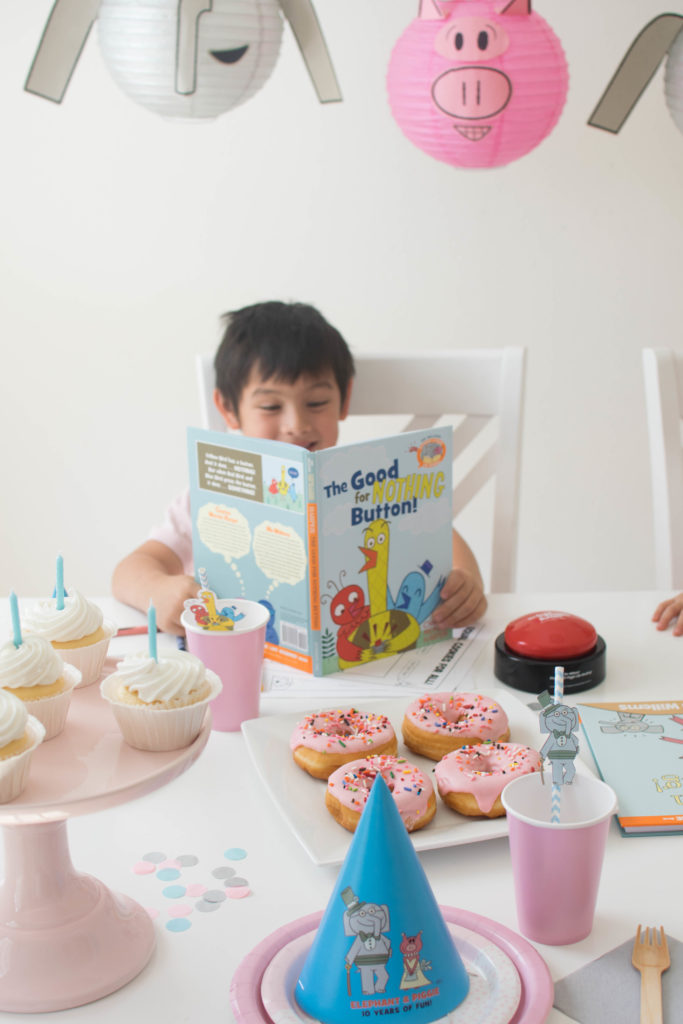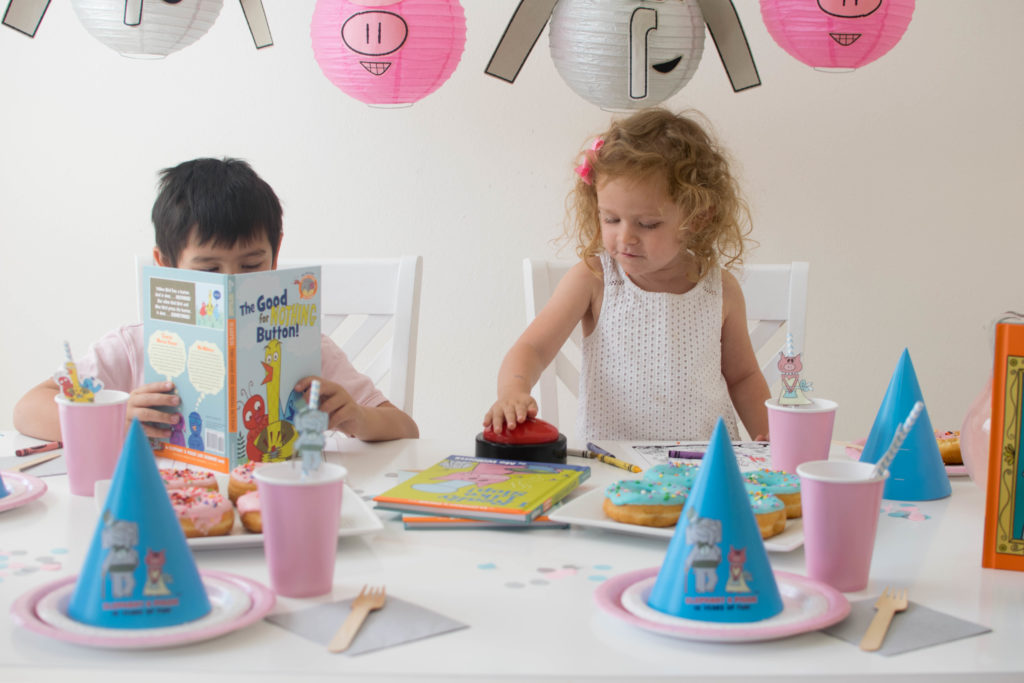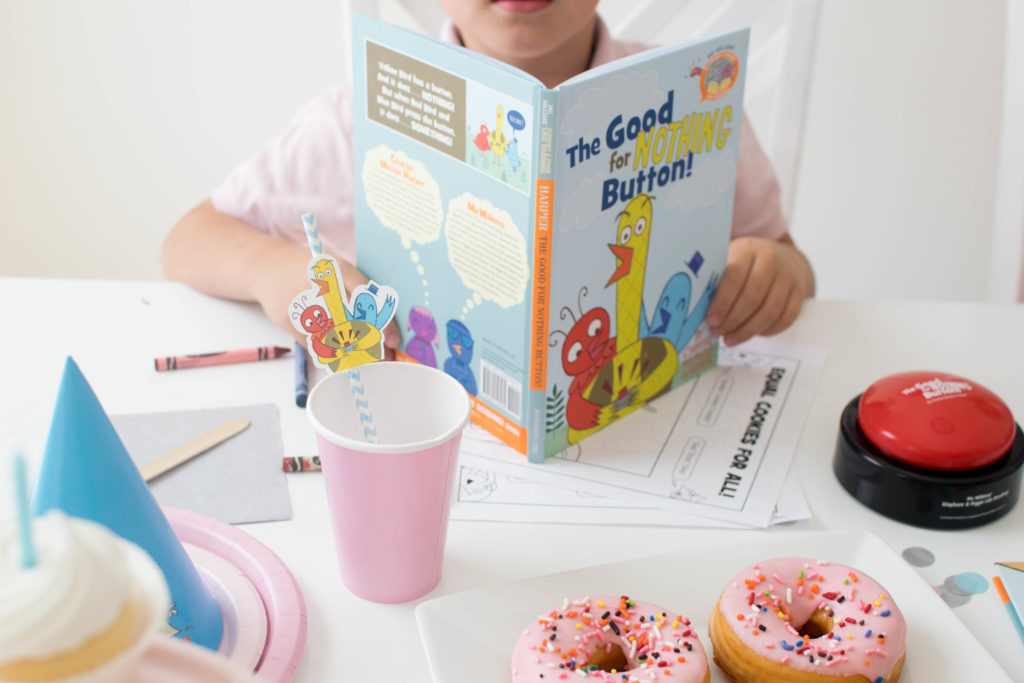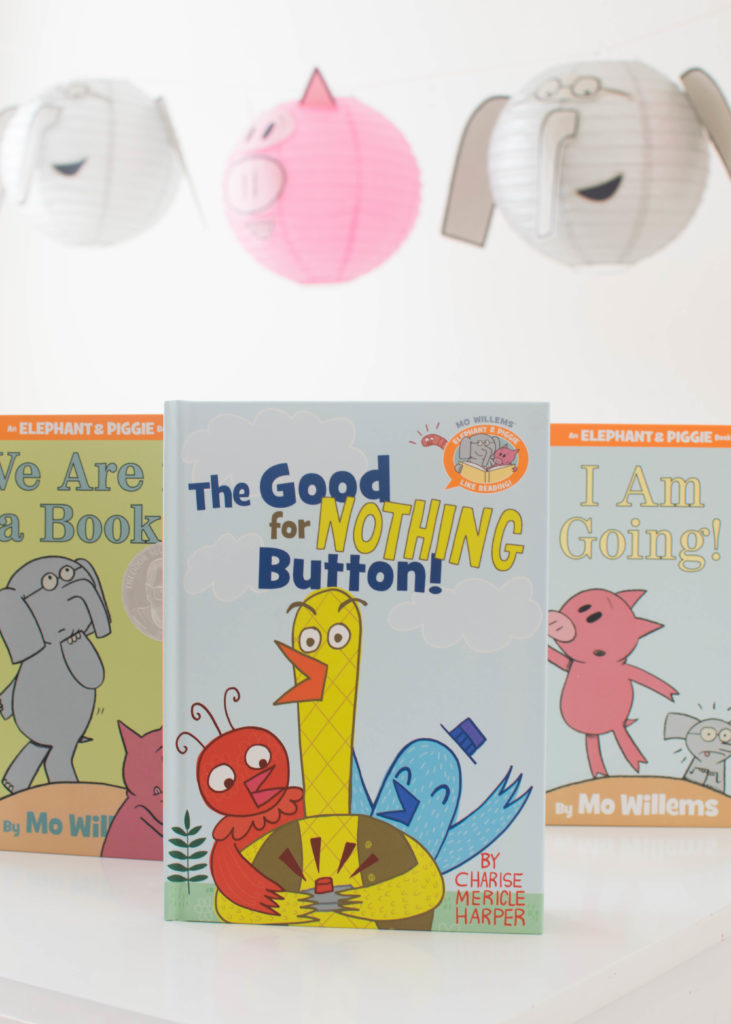 After enjoying some delicious donuts, they had fun coloring! You can download all the fun coloring pages here!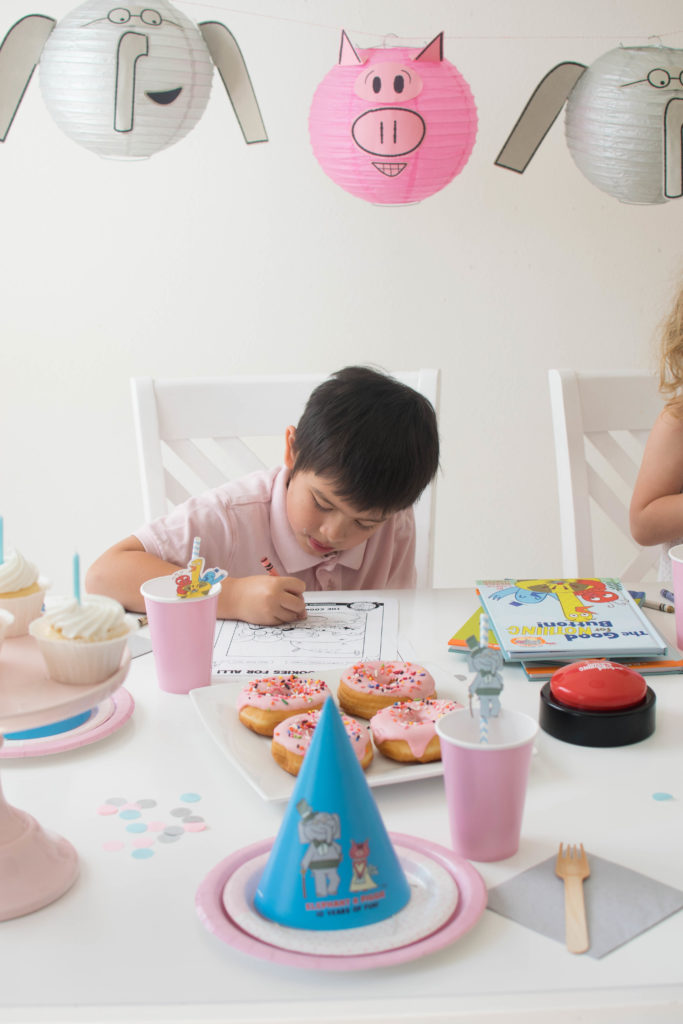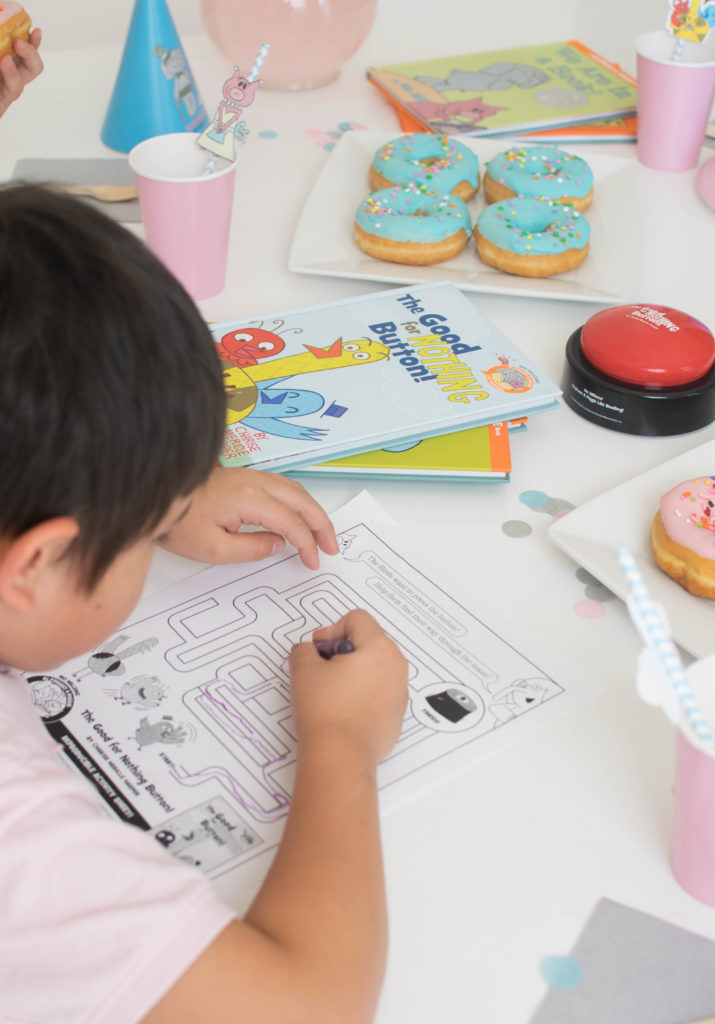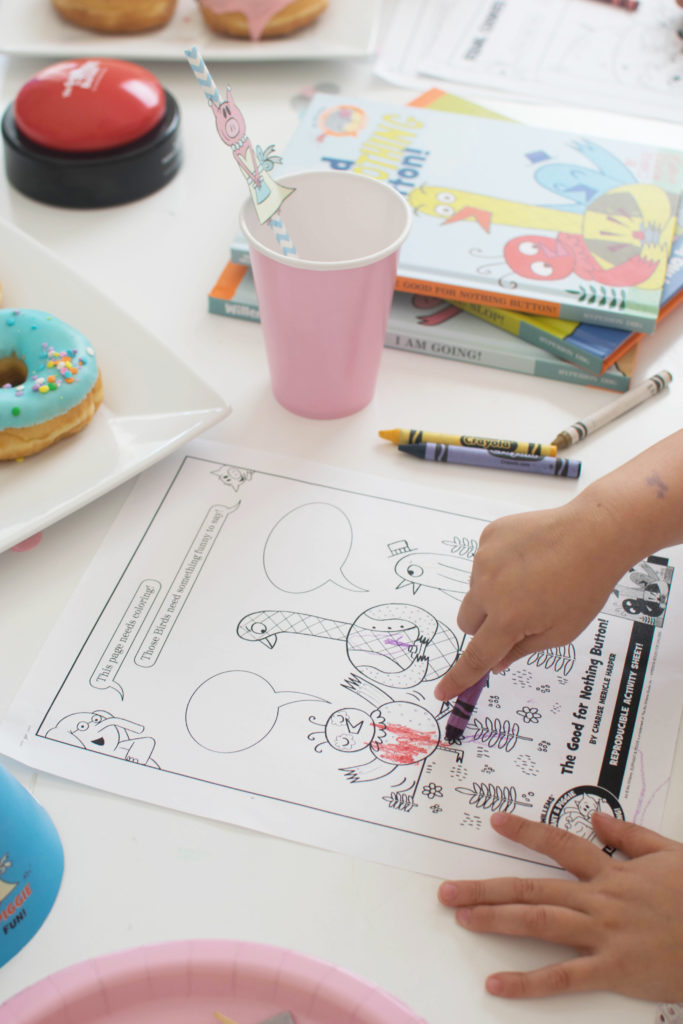 We also had fun playing with Elephant & Piggie stress balls and tattoos!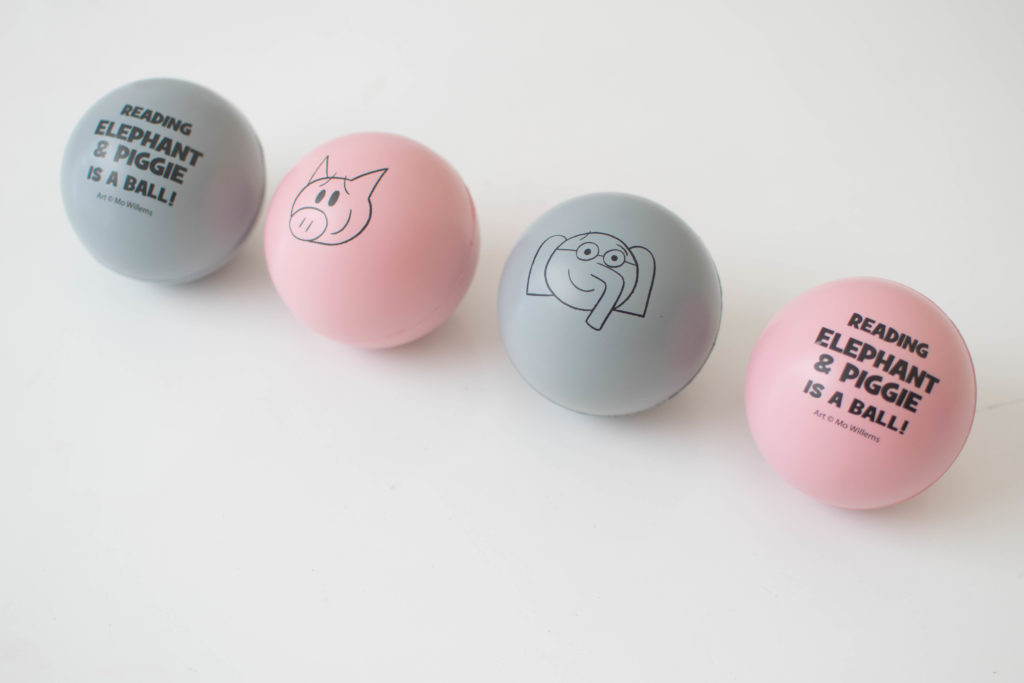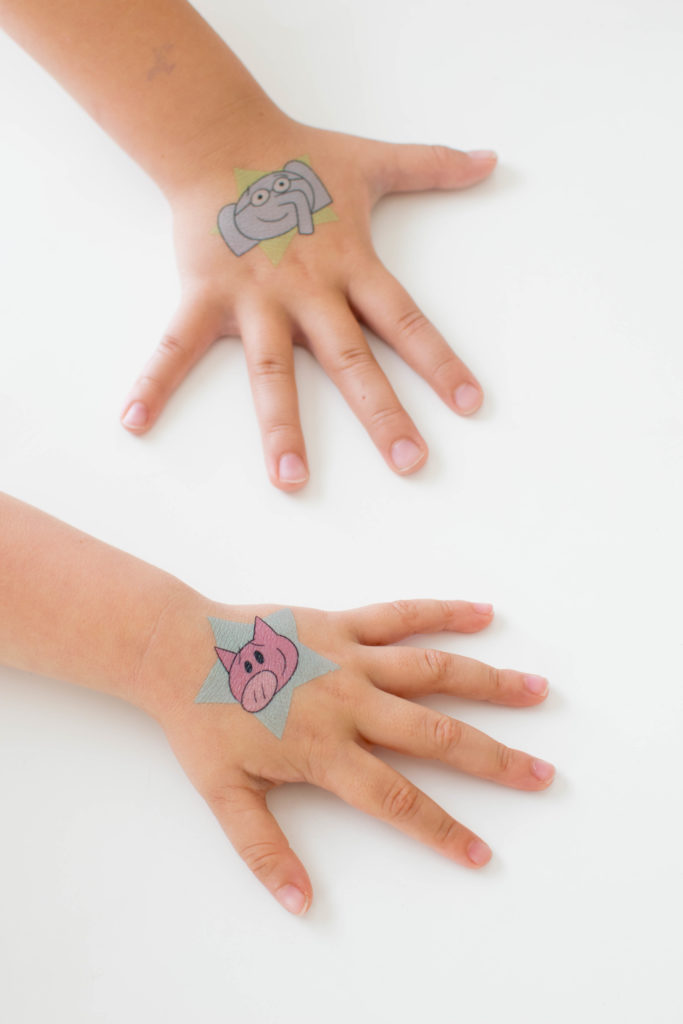 As you can tell, we had a lot of fun! We absolutely love Elephant & Piggie books! How about you? Which ones are your favorites?
Here's a list of the books we love:
There is a Bird on Your Head
Can I Play Too?
I am Invited to a Party
Elephants Cannot Dance
Should I Share My Ice Cream?
Let's Go for a Drive
I Am Going!
I Really Like Slop!
The Thank You Book
Waiting Is Not Easy
To celebrate 10 Years of Fun with Elephant & Piggie, we are giving away super fun prizes to ONE lucky winner!
One (1) winner will receive:
The Good for Nothing Button
4 books from the Elephant & Piggie series
Plus Elephant & Piggie stress balls and temporary tattoos!
To enter, head over to our Instagram page and let us know which book (or books) is your favorite from the Elephant & Piggie series!
The contest starts Monday, May 15th at 9:30 p.m. CT and ends Wednesday, May 17th AT 10:30 p.m. CT
Giveaway open to US addresses only.
Prizing provided by Disney-Hyperion.
Good luck, friends!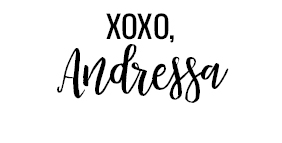 PIN FOR LATER