This post is sponsored by KiwiCo.
Hello, friends!
I am so thrilled to partner with KiwiCo to share a few ideas on how to host a STEAM related playdate/party for the kids! KiwiCo introduces kids to Science, Technology, Engineering, Art and Math (STEAM) with hands-on projects delivered each month, and they have 5 different lines for kids 0-16! My children received the Koala Crate and Tinker Crate. The Koala Crate (3-4 years) gives preschoolers exposure to new materials, tools, techniques, and concepts that encourage hands-on learning and fun. The Tinker Crate (9-16 years) builds creative problem-solving skill and fosters critical thinking.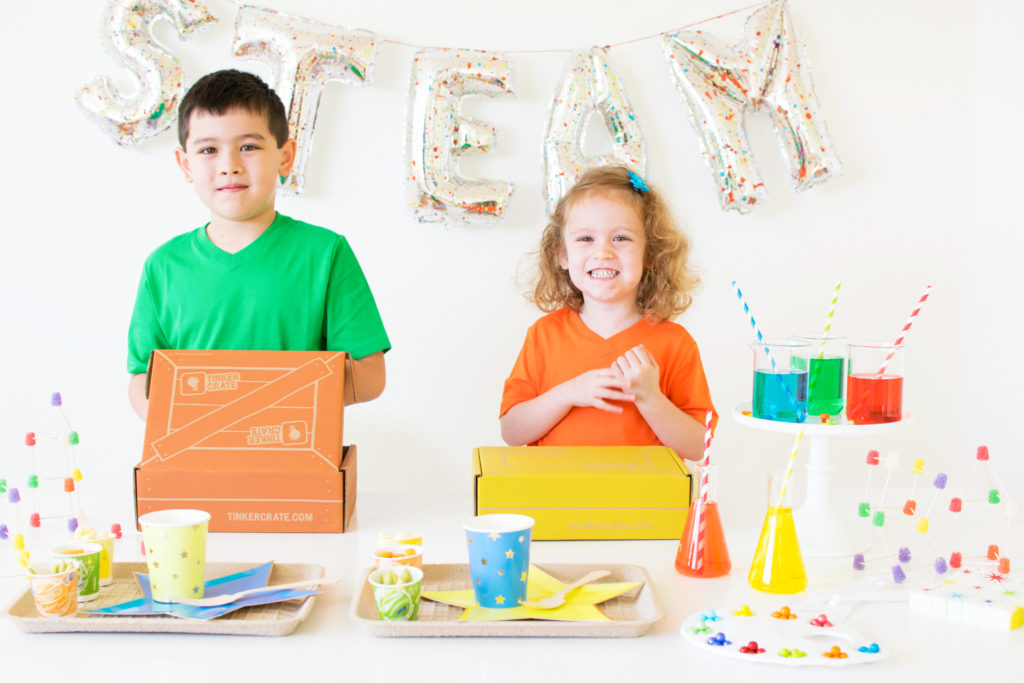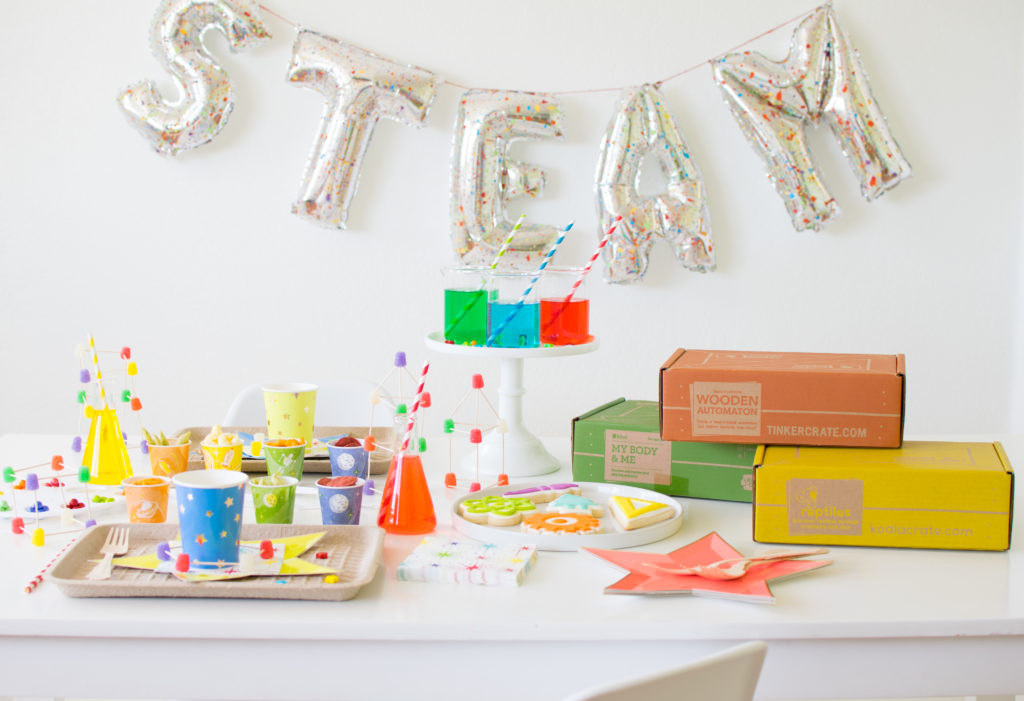 Why am I so excited about this partnership? My boy is STEAM obsessed and his little sister, who turned four about 3 months ago, is following in her big brother's footsteps. She started Pre-School Robotics at her Montessori School this year and she's learned so much! She absolutely loves her classes! Having said that, when I told them mommy was going to work with KiwiCo they squealed with delight. We have been exploring their site for a long time and we simply love their crates! I don't know about you but I am sure some mamas out there can relate. When I try to get ideas online, I feel discouraged by the amount of supplies I need to gather to do one single project. Who's with me? It's so hard sometimes, mamas! I love how KiwiCo makes STEAM projects easy, engaging and fun! Everything comes in one box. I truly think the idea of STEAM crates is simply brilliant! Before fully committing to a STEAM party, YOU CAN TRY KIWICO FOR FREE HERE!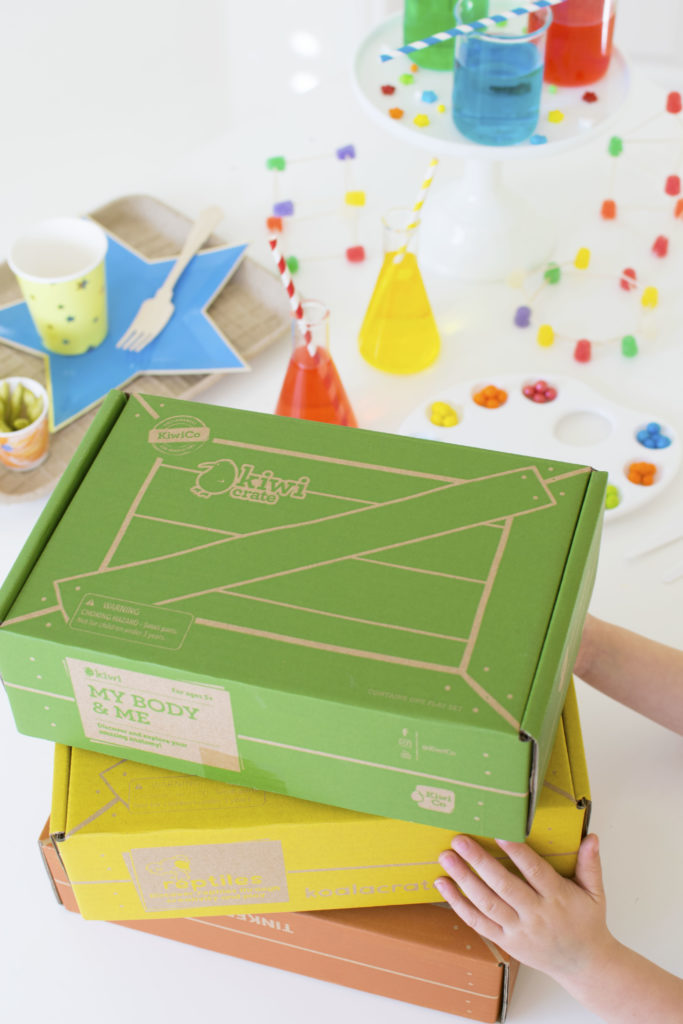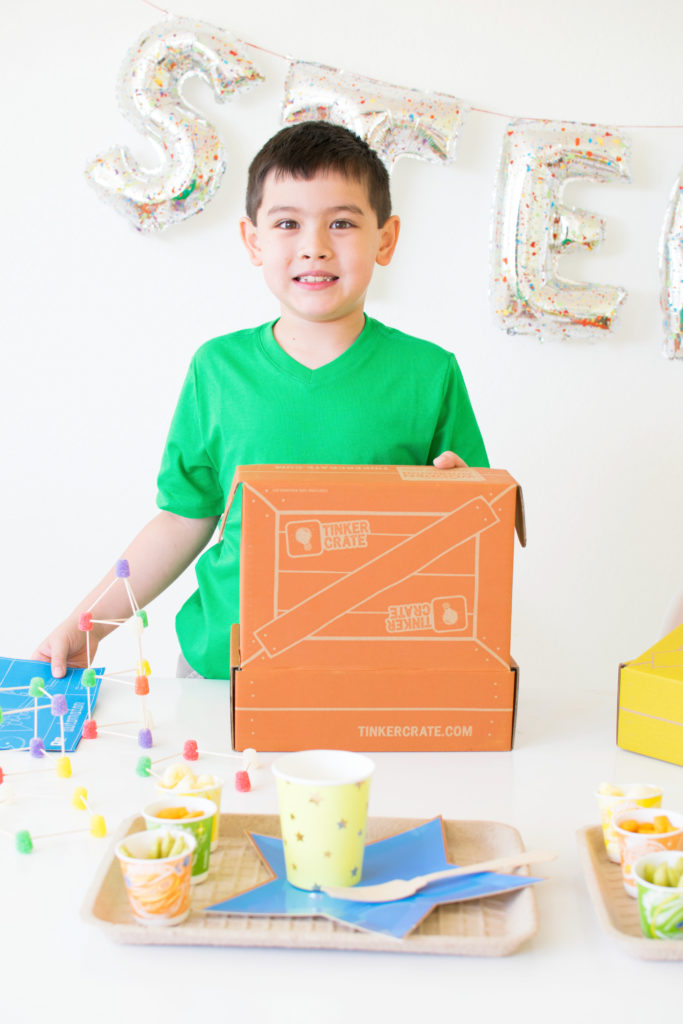 It's unreal the school year is coming to an end next month? This year is flying by!! Summer will be here before we know it, so I truly hope you find this post helpful and feel inspired to use some of our ideas when you start searching for fun and engaging activities to make Summer memorable for your little ones!
How about hosting a STEAM play date/party for the kids? I hosted our first and my kids said it was the best day ever! Our play time was a long yet a fun one! We started right after breakfast at 9 a.m. and it didn't end until almost 1 p.m. Hours of fun! Why so long? I thought it would be fun for them to help me make a few decorations, so before we started on the crates, we worked on a few small projects we could use for our party set up, such as:
colorful drink solutions for our beakers
engineering structures using gumdrops and toothpicks
fun decorated cupcakes
candies displayed in artist palette
DIY PARTY DECOR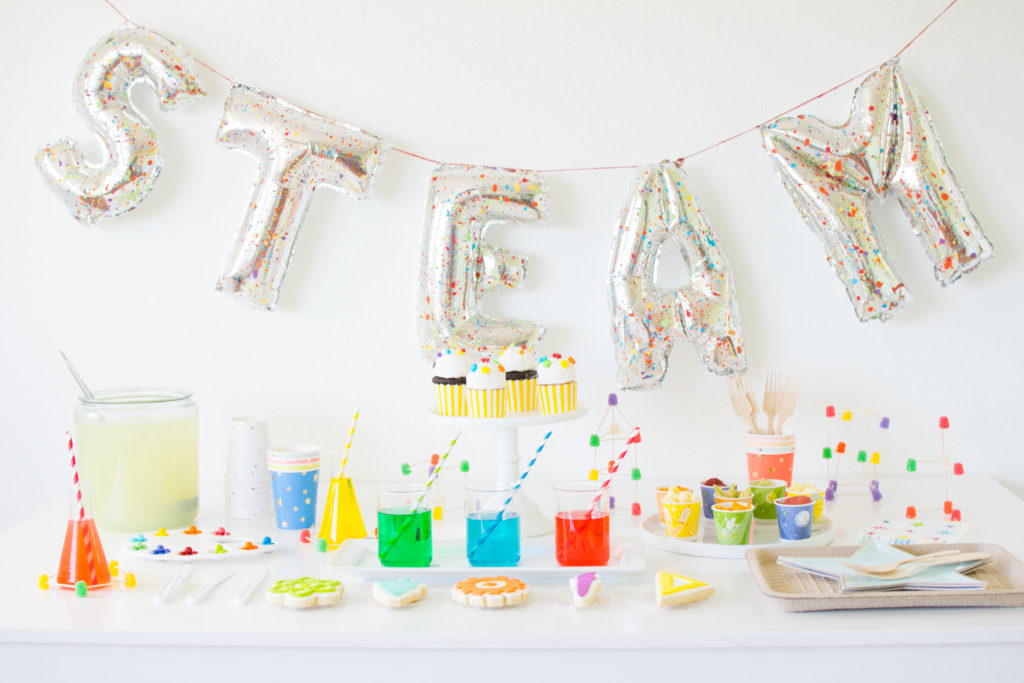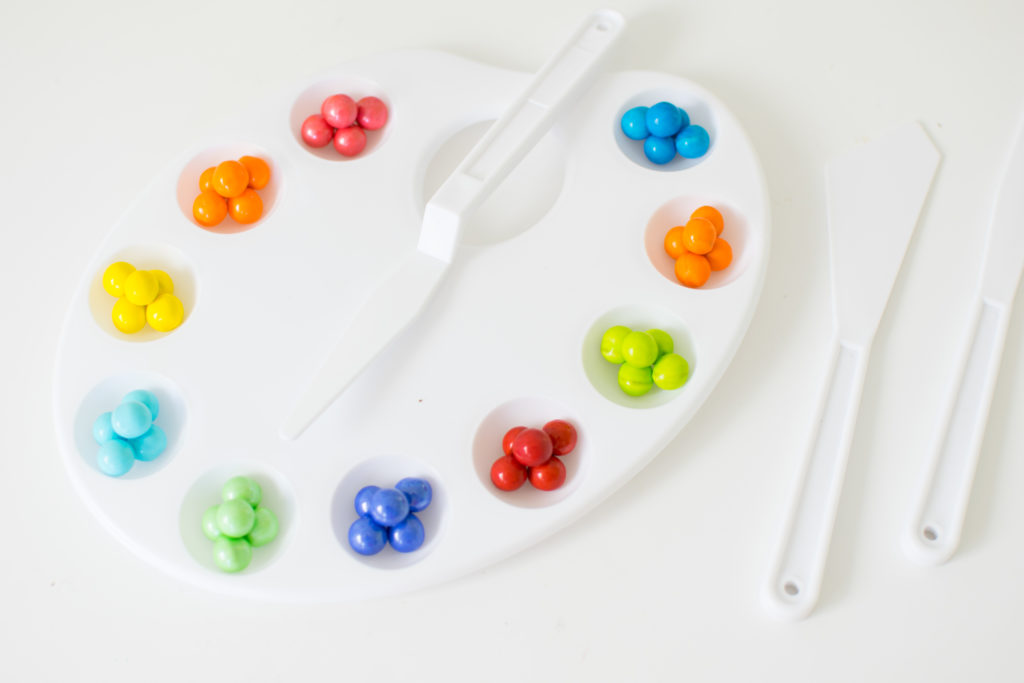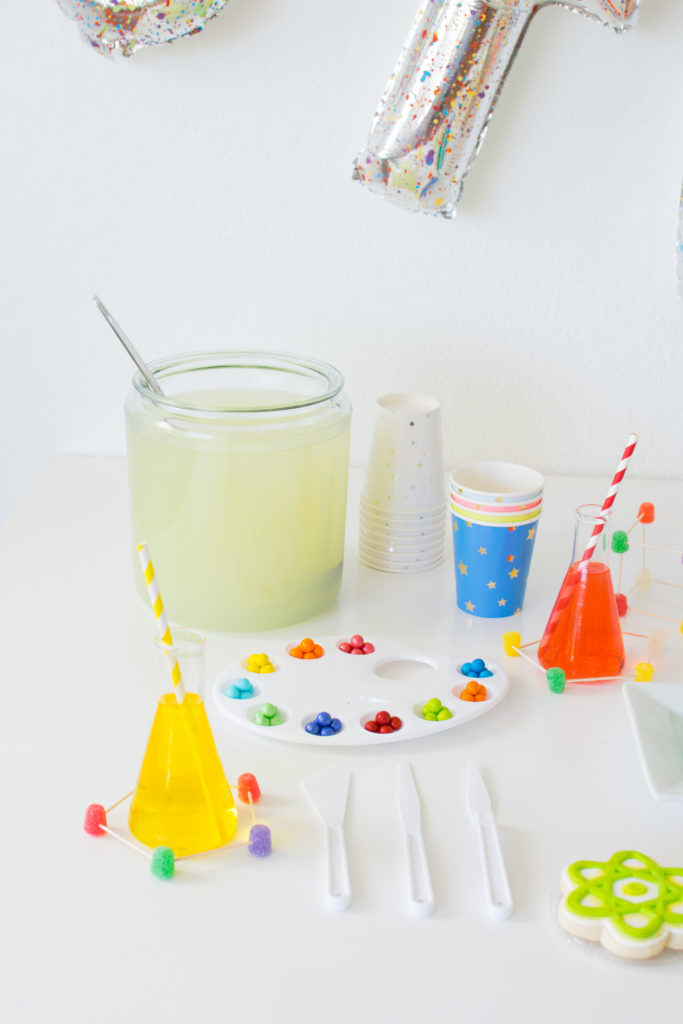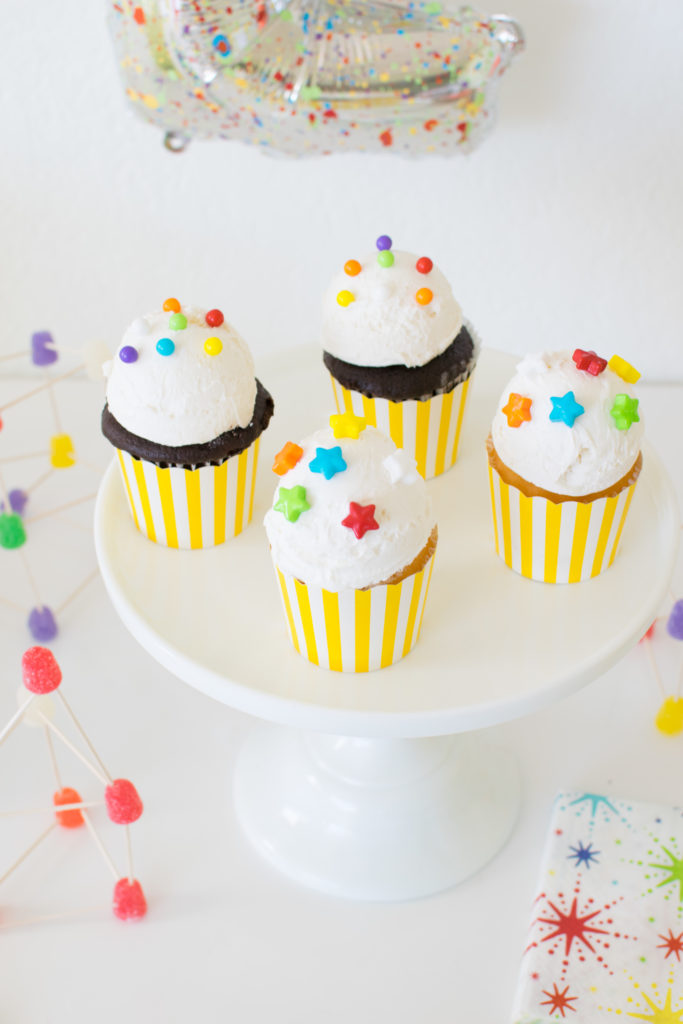 For a fun backdrop, I splatter painted Mylar balloons. It's a super fun project, however, you need to start a day ahead for them to dry completely. We did our balloons the night before!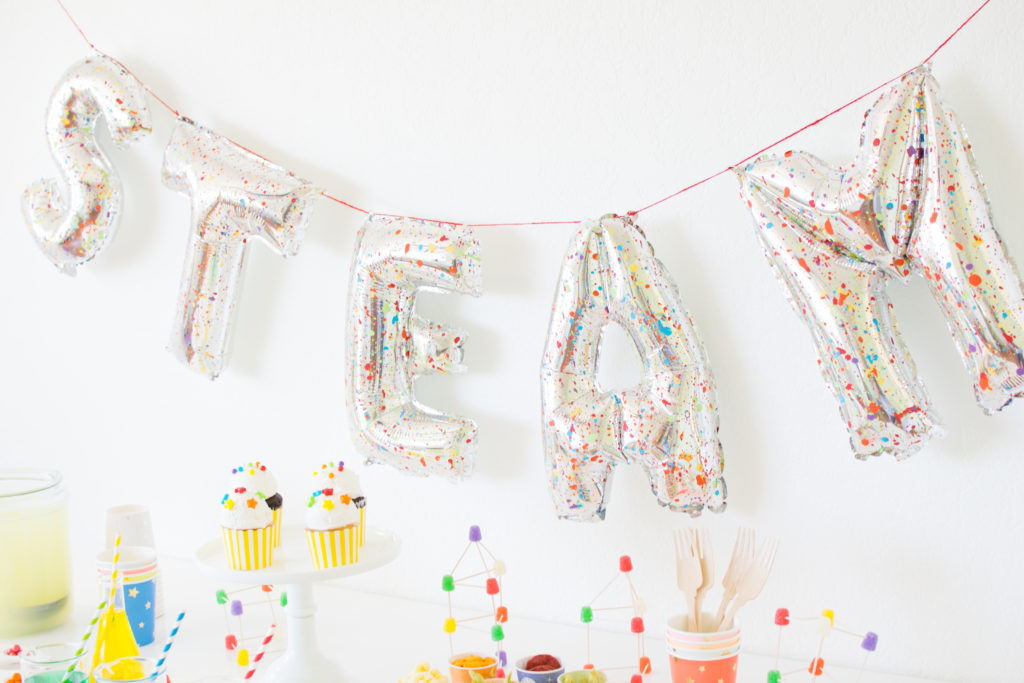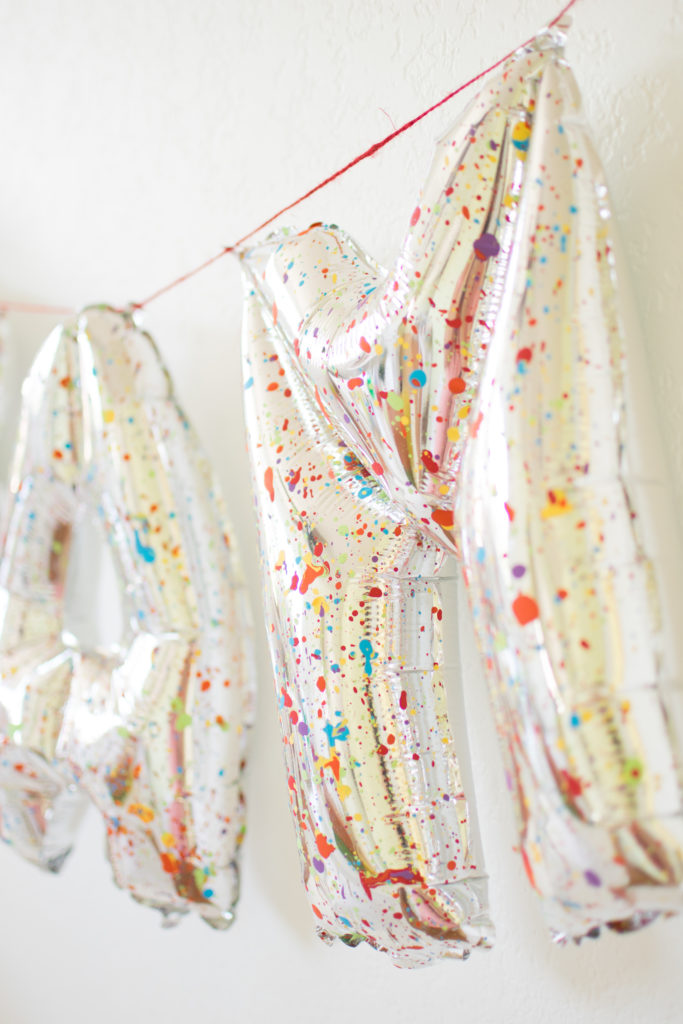 CLICK HERE TO MAKE YOUR OWN SPLATTER PAINTED BALLOONS
PARTY SNACKS
I kept it easy by serving fun store bought snacks in mini cups, such as peas, cheese puffs, peanut crackers, beet chips and cheese rockets.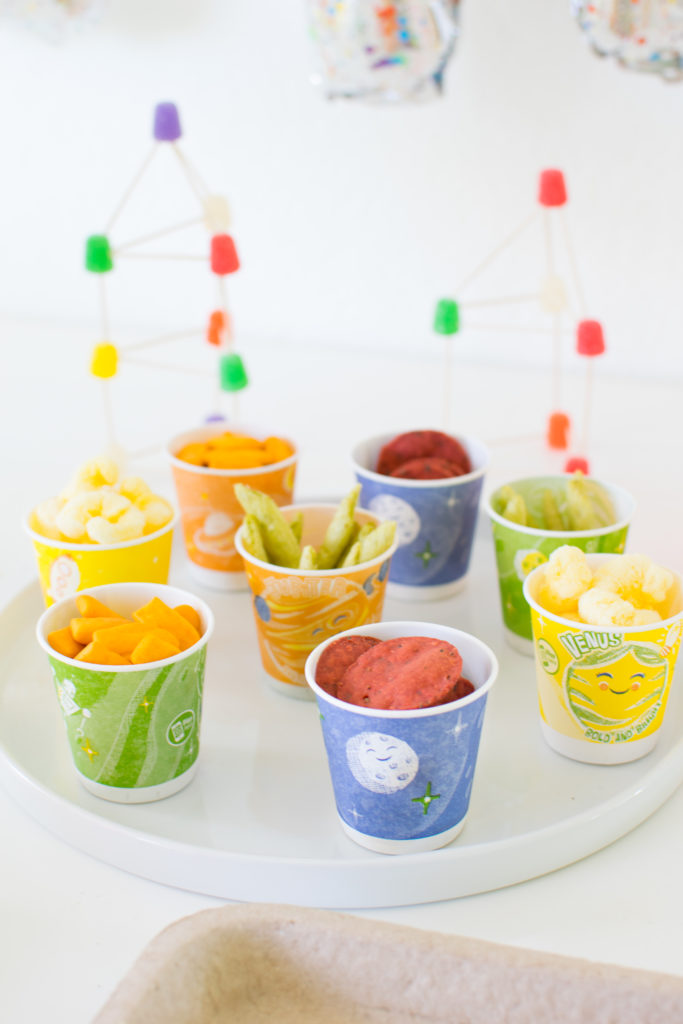 We also incorporated special custom treats – STEAM decorated cookies to represent all 5 subjects: Science, Technology, Engineering, Arts and Math.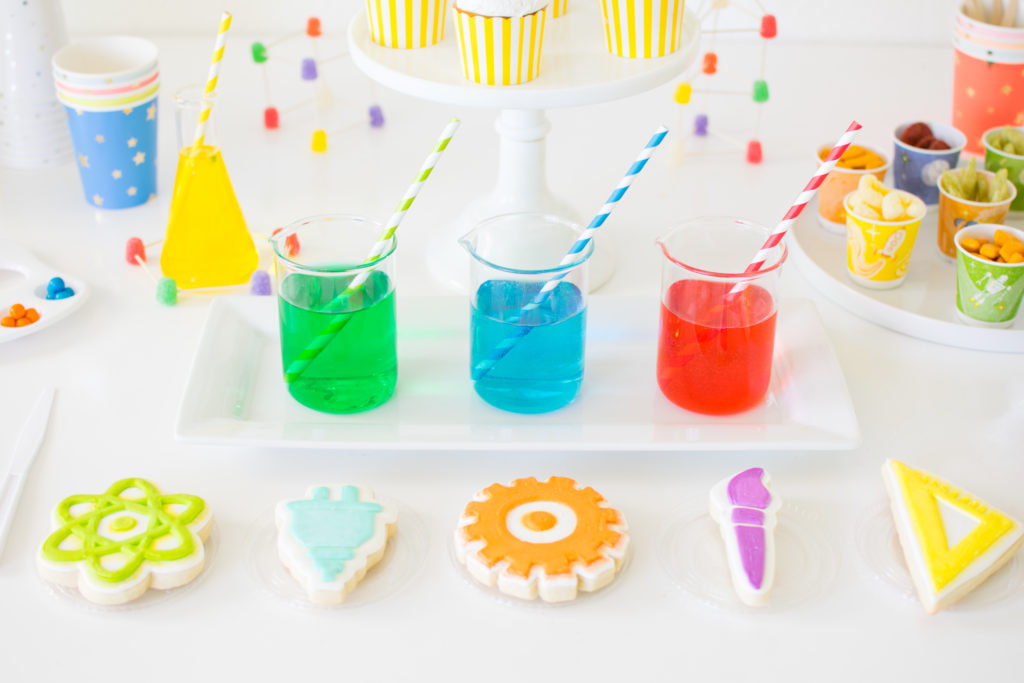 STEAM ACTIVITIES
Time for the most exciting part of the play date – activities! The kids couldn't wait to get their hands on their crates!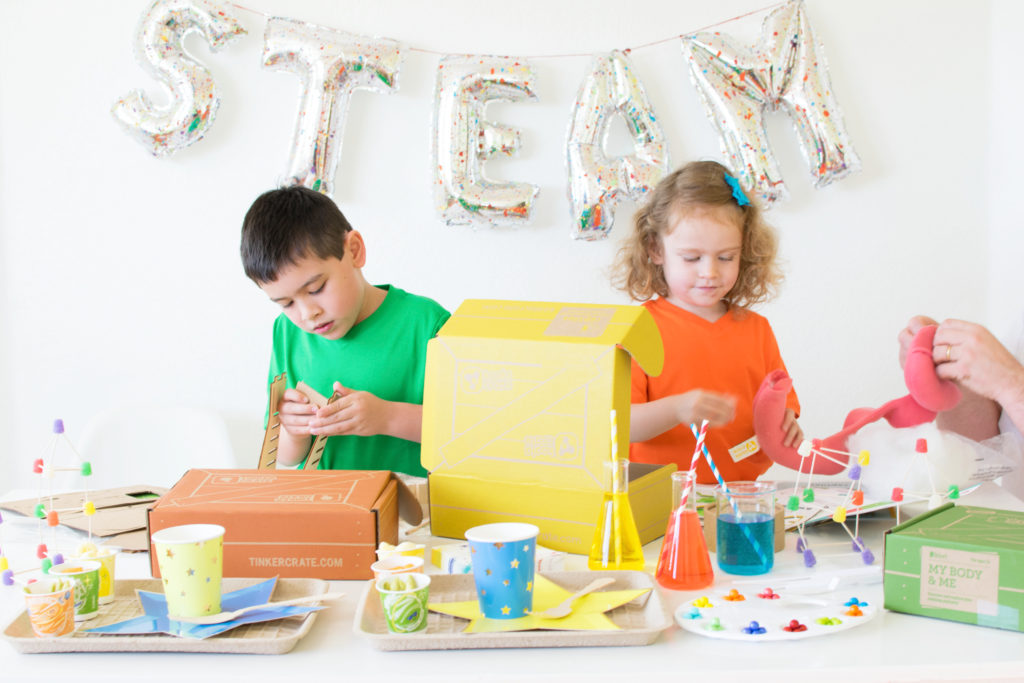 My boy worked on his Tinker Crate (Science and Engineering), which was absolutely perfect for him! They are his favorite subjects in addition to Math. He was thrilled to create his own hand-cranked automation and explore machines that move!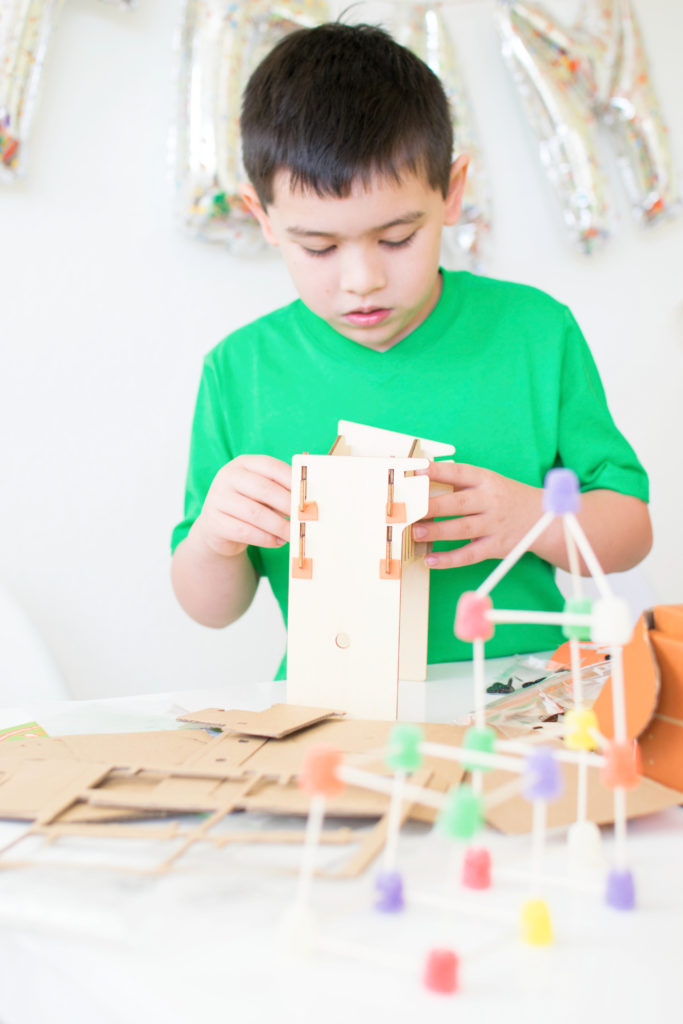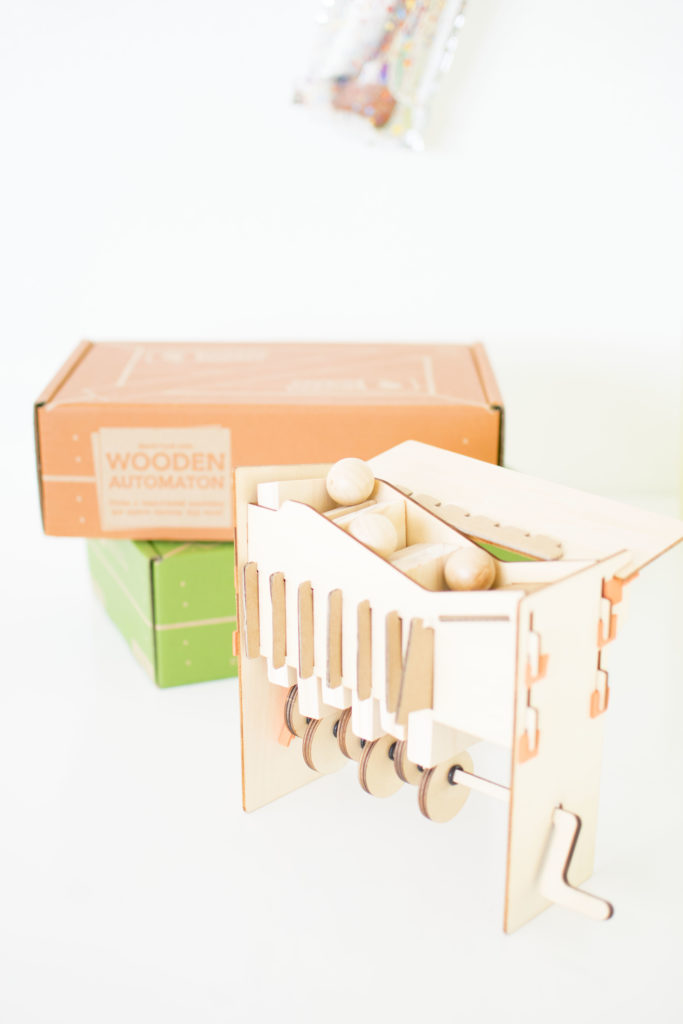 Little C worked on her Koala Crate, which includes three age appropriate creative projects. She discovered reptiles by creating her own stuffed snake friend and turtle box and color-changing chameleon.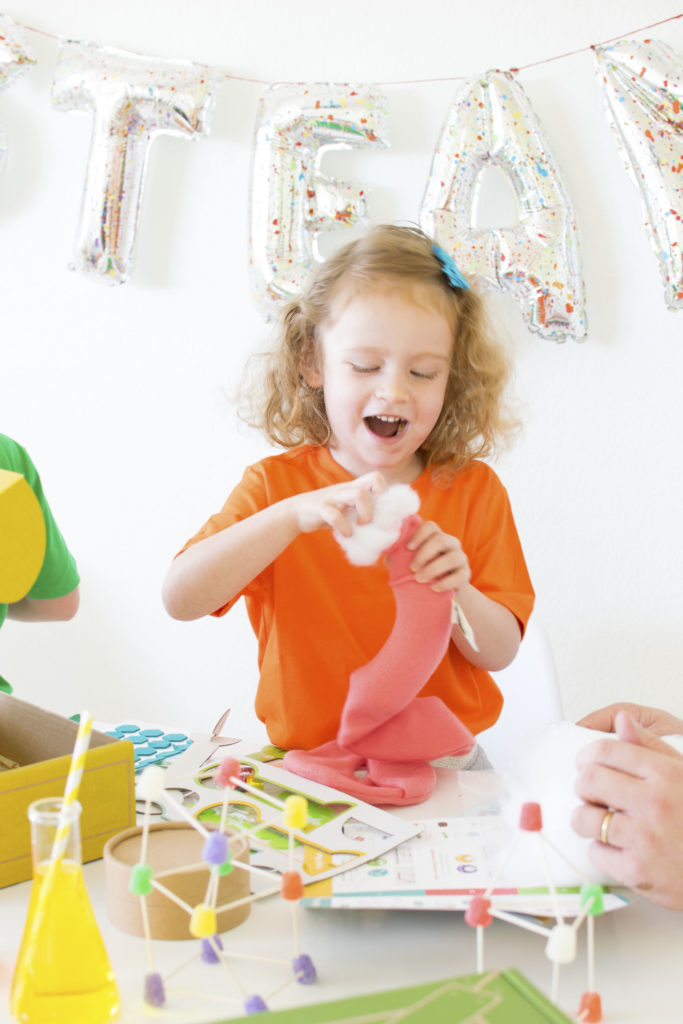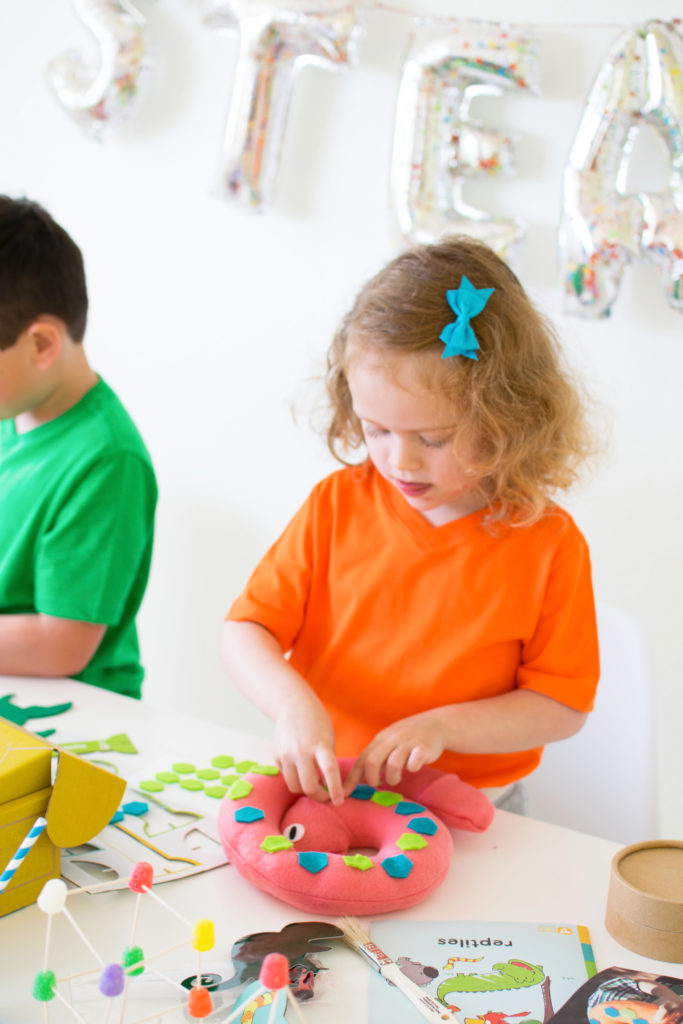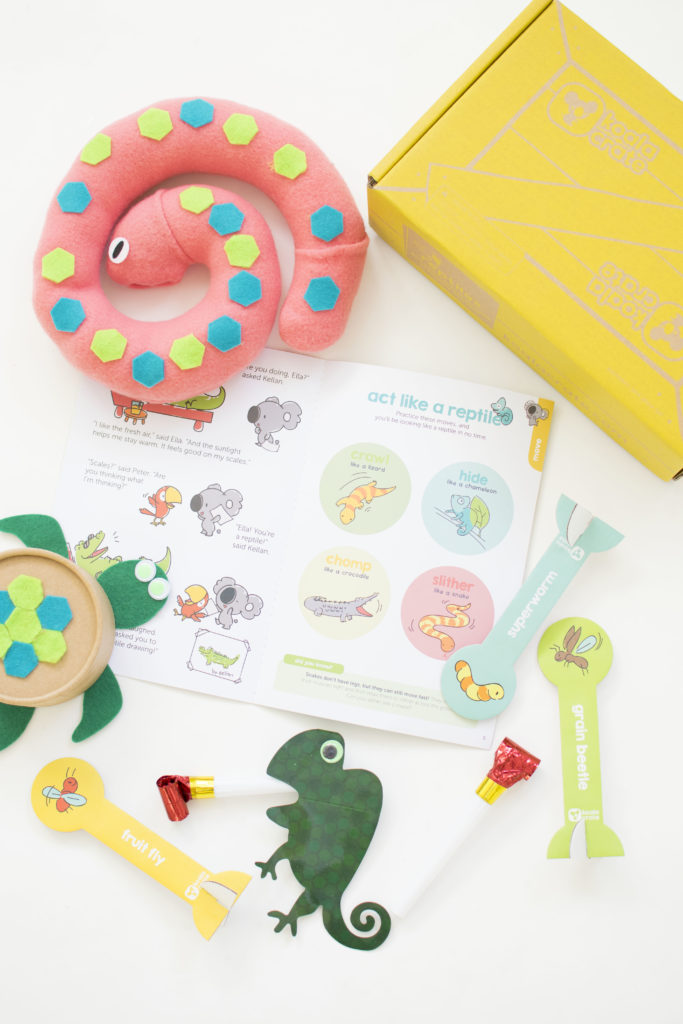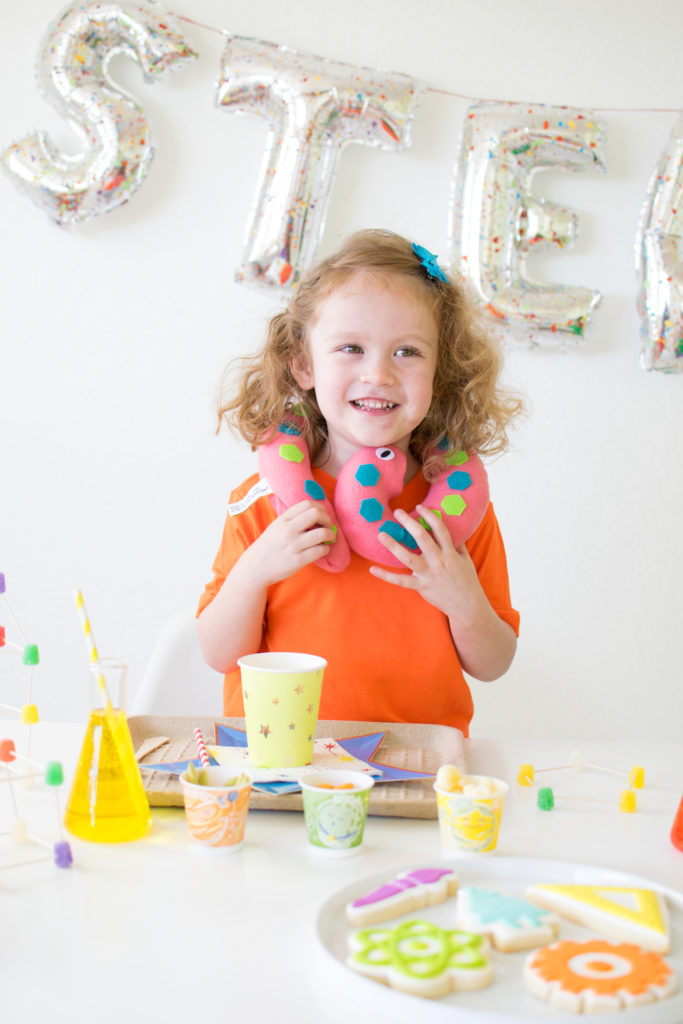 To say they had a blast is an understatement. Not to mention my husband and I learned a lot, too! Hello! Where were all these fun things when we were this age?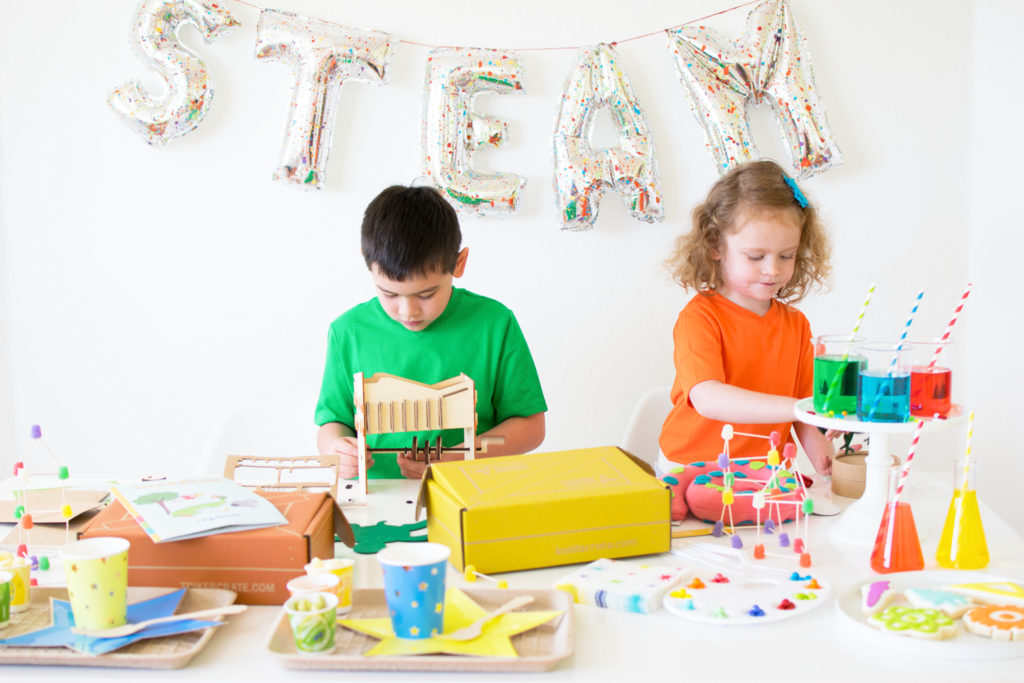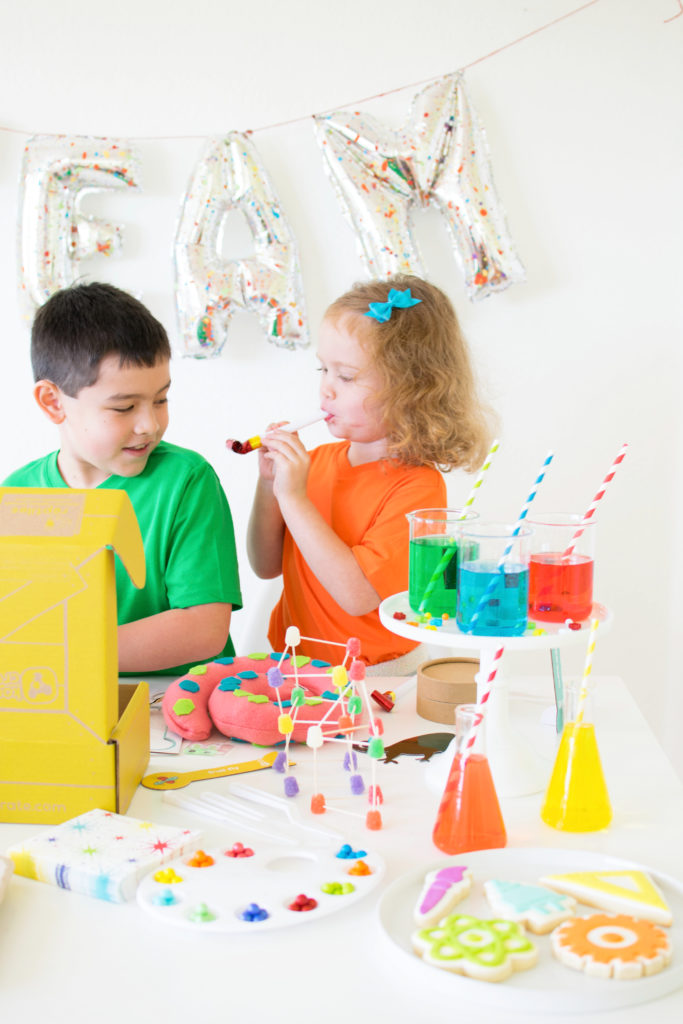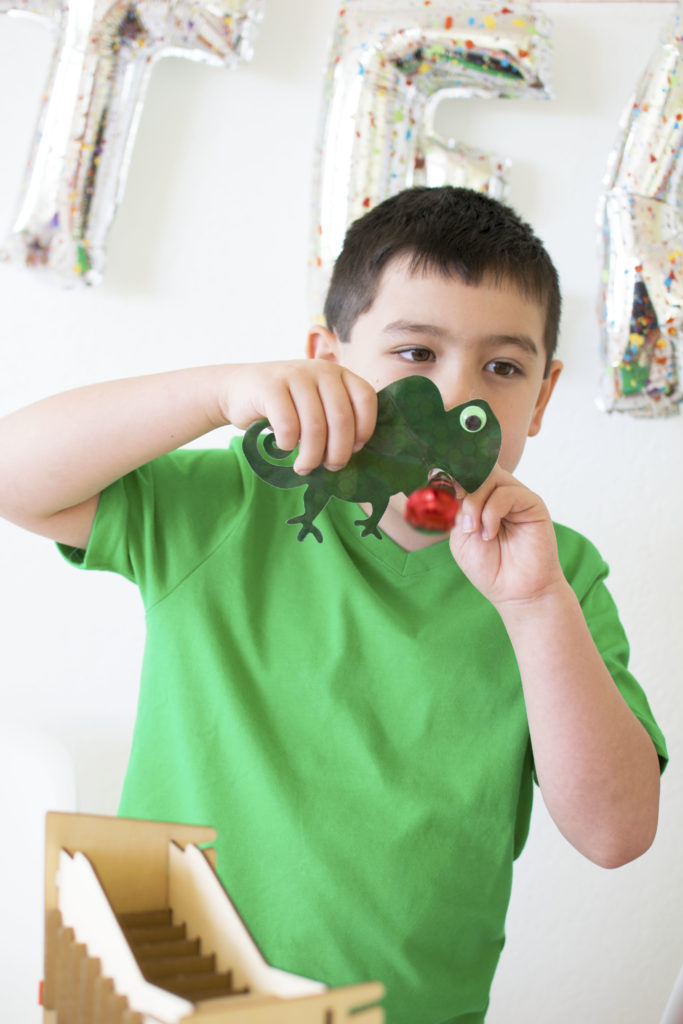 SNACK TIME
I set up a snack area for them to enjoy a few snacks after all the fun working on their crates! As I have mentioned, I put together mini snack cups and they also got to choose between cupcakes and sugar cookies!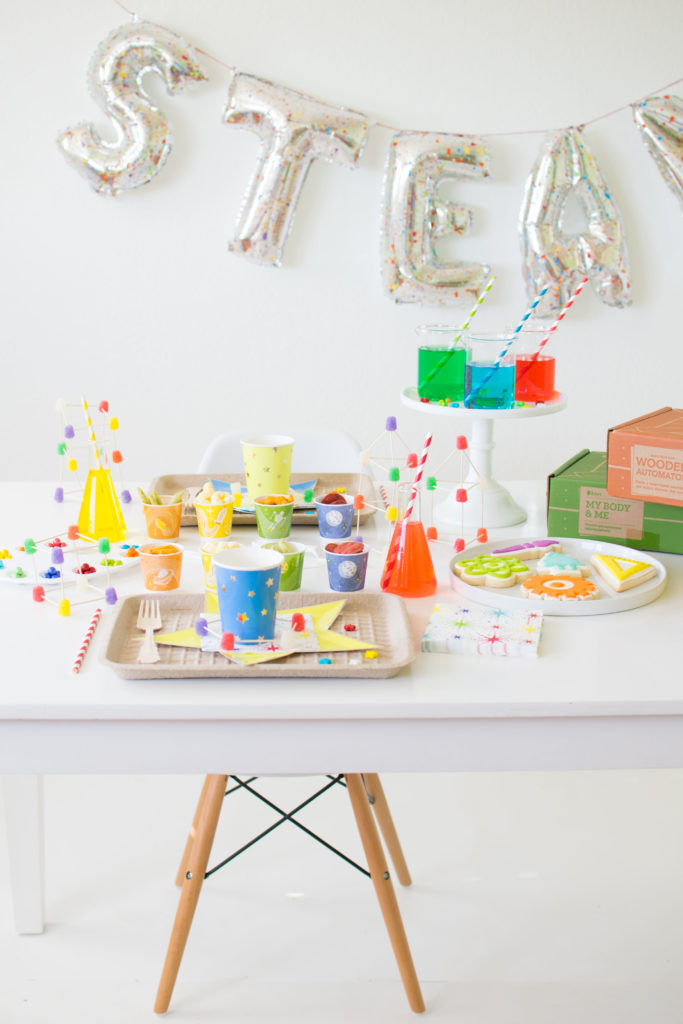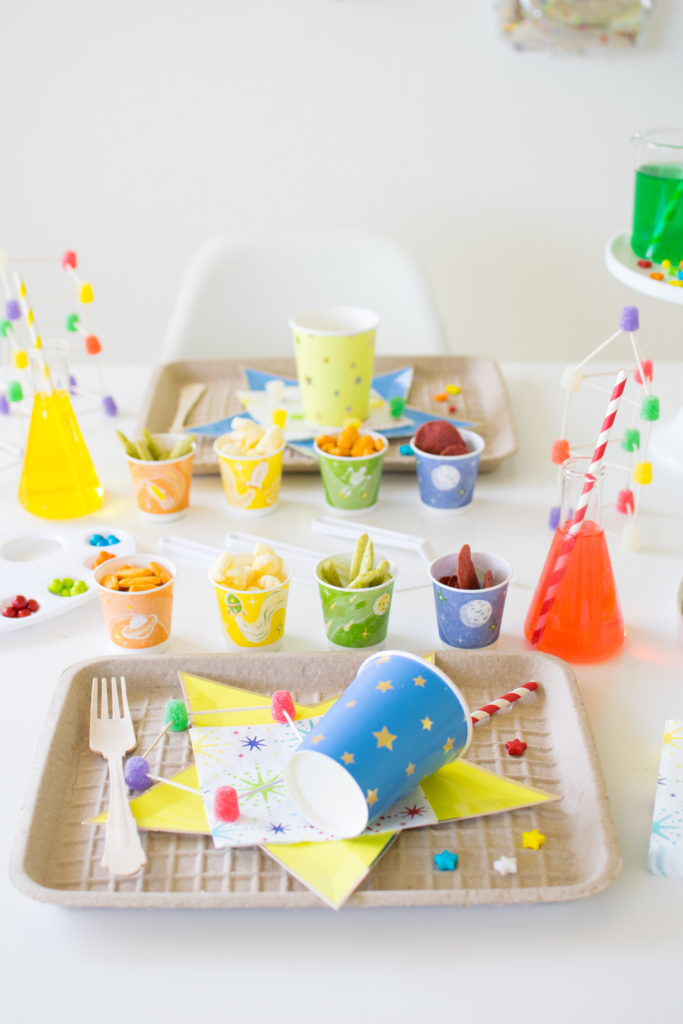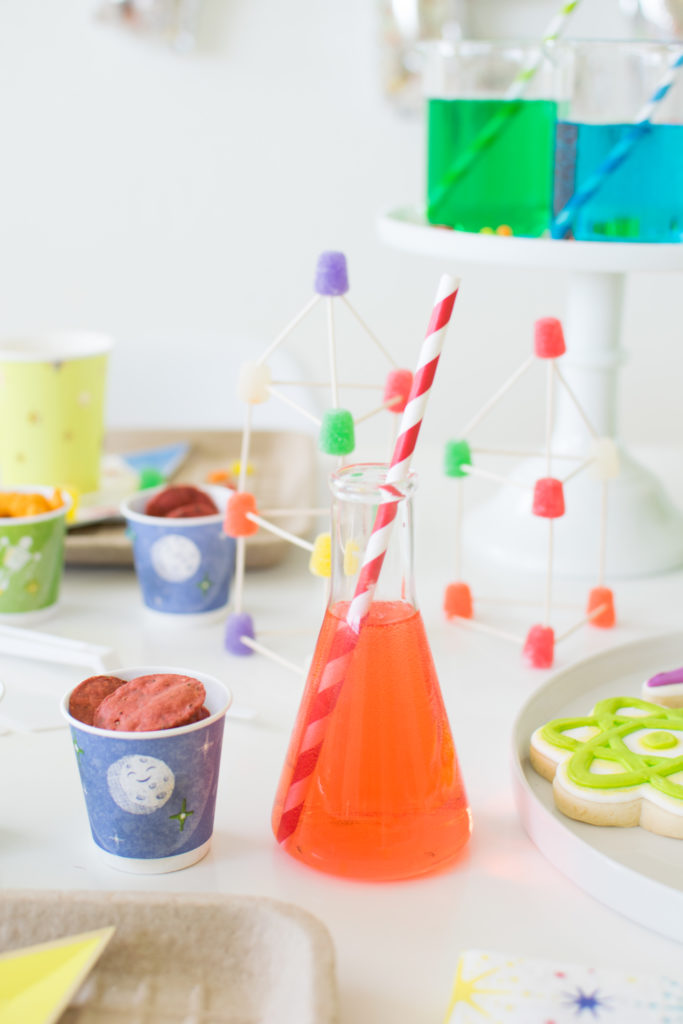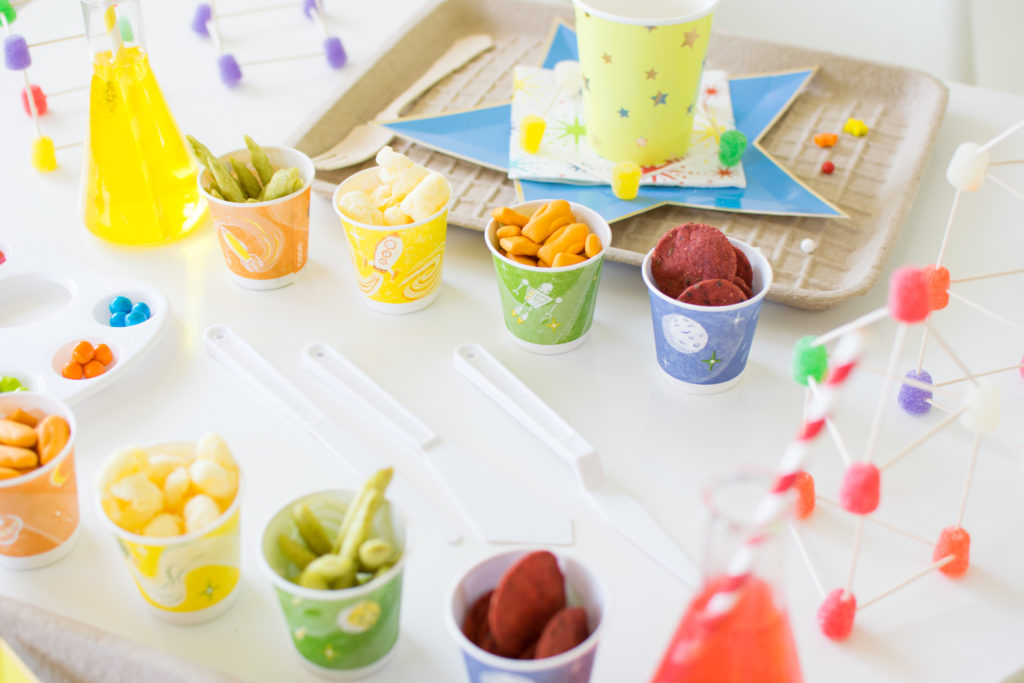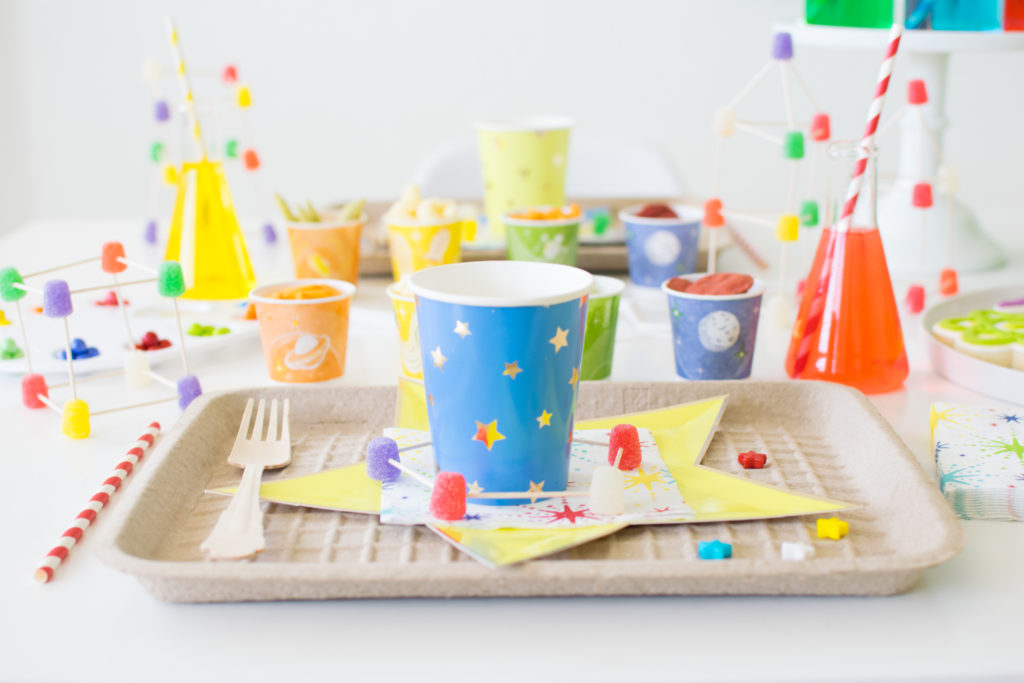 I decorated the snack station with their own creations – engineering structures they made using gumdrops and toothpicks. Such a fun activity for the kids!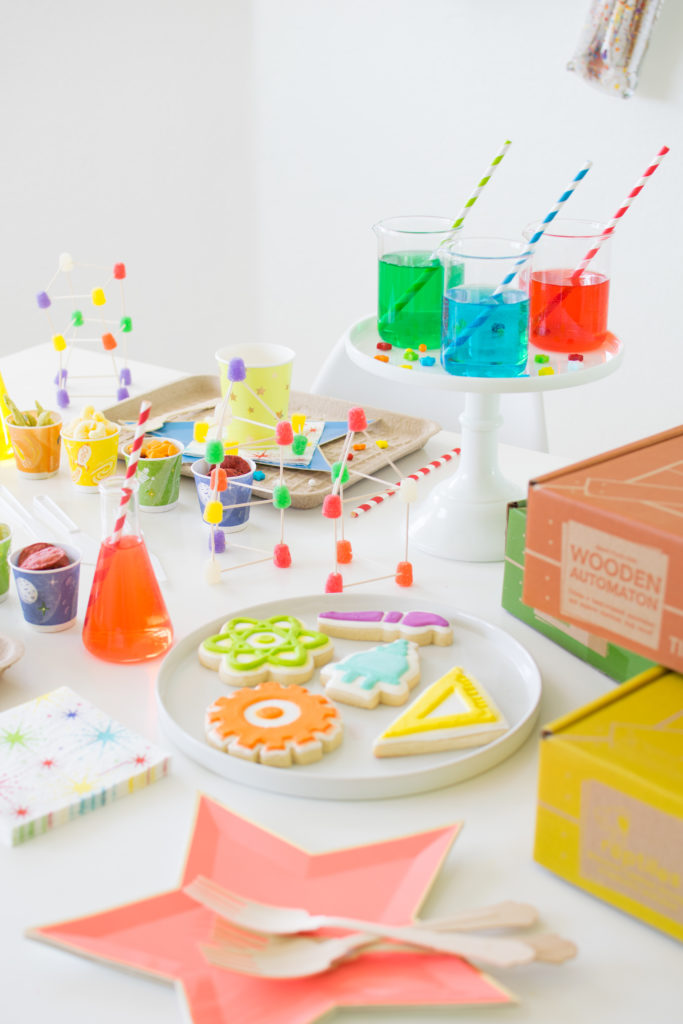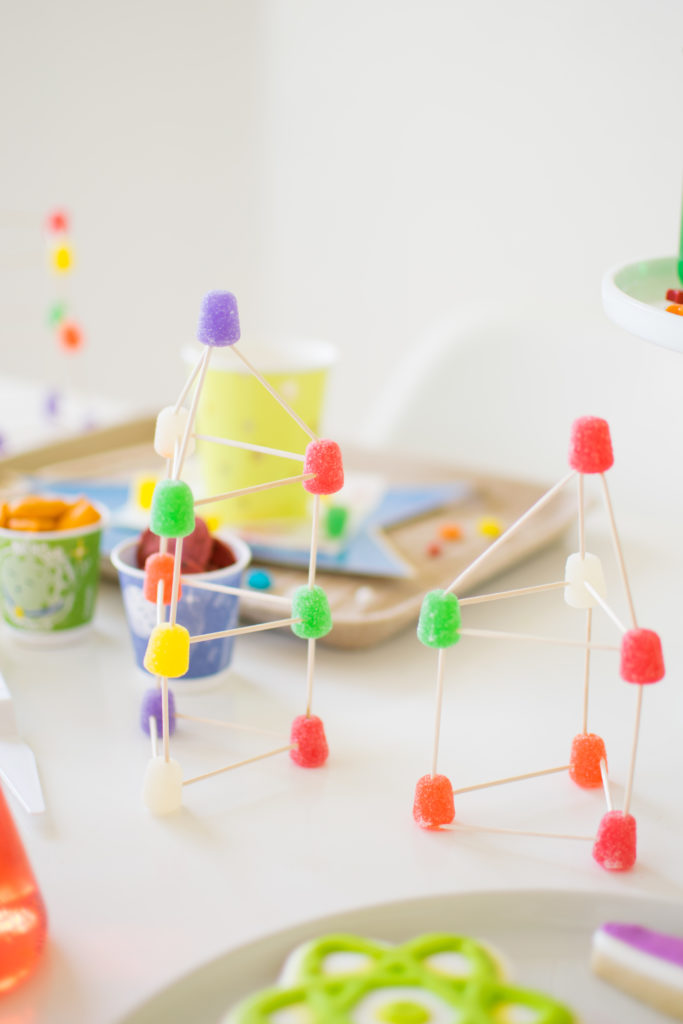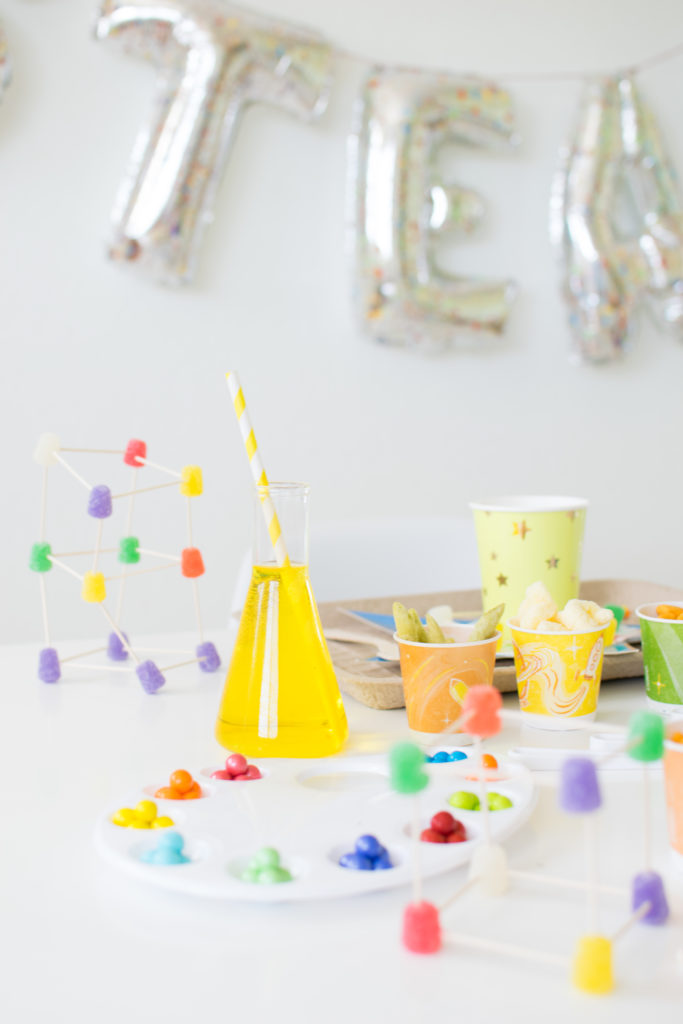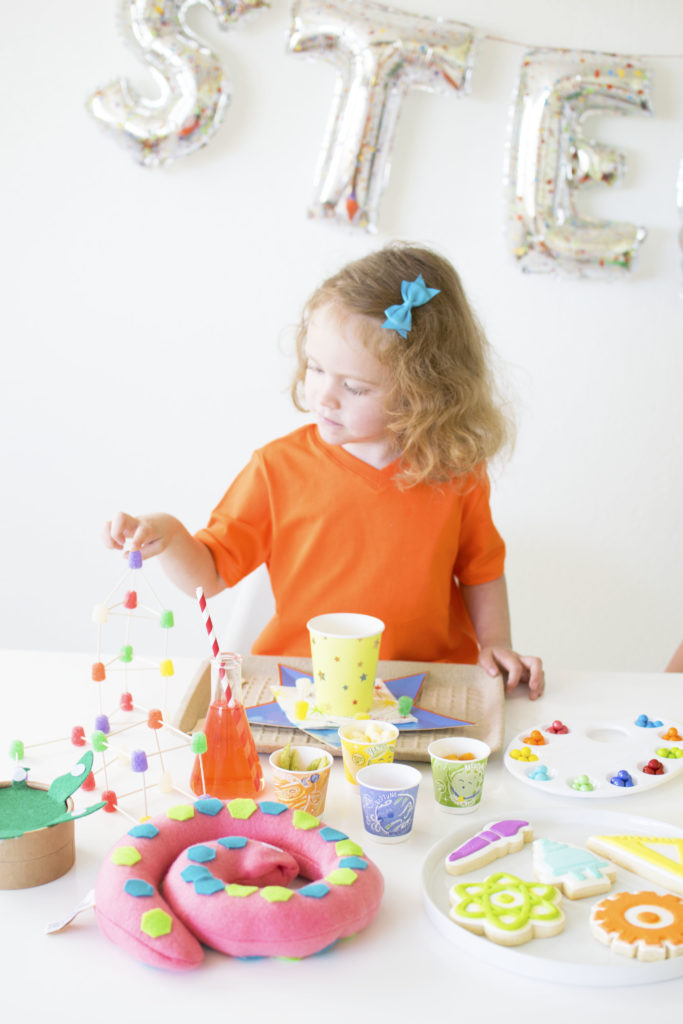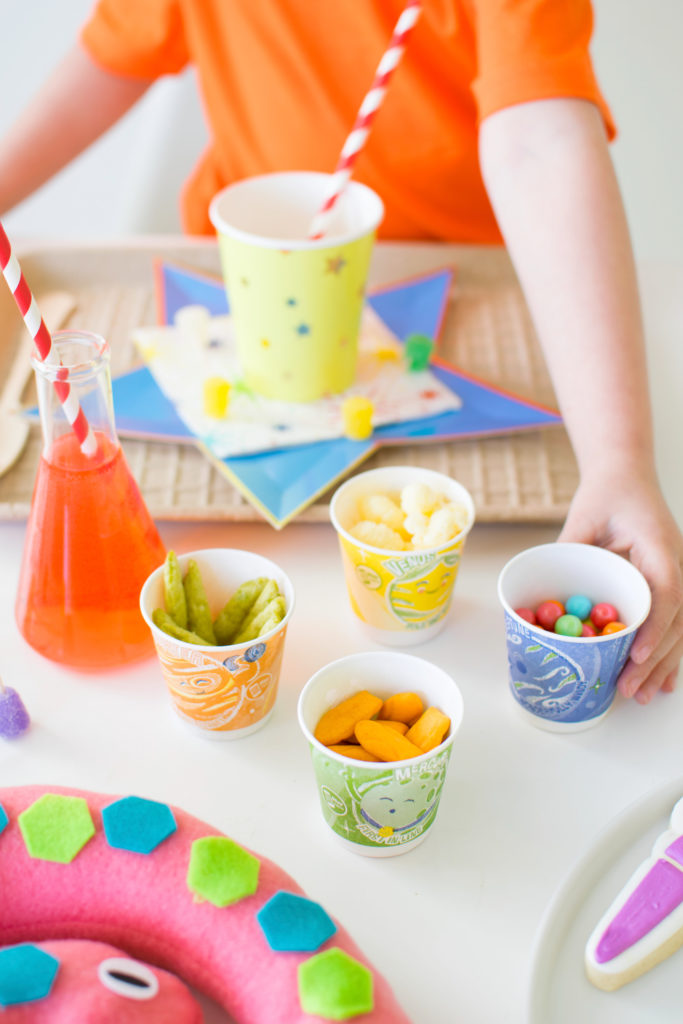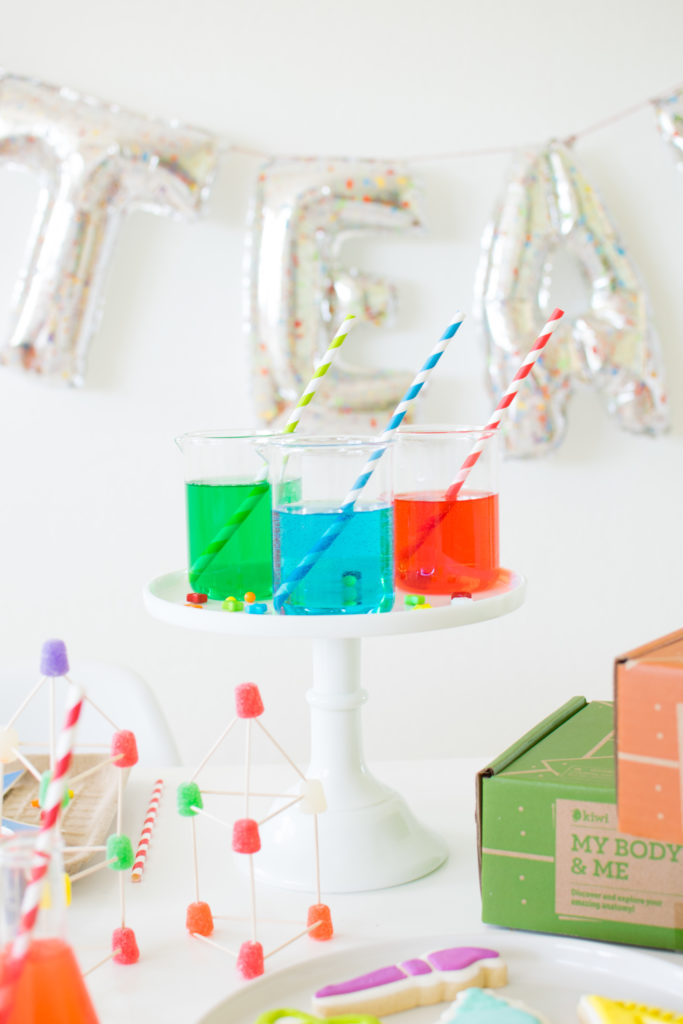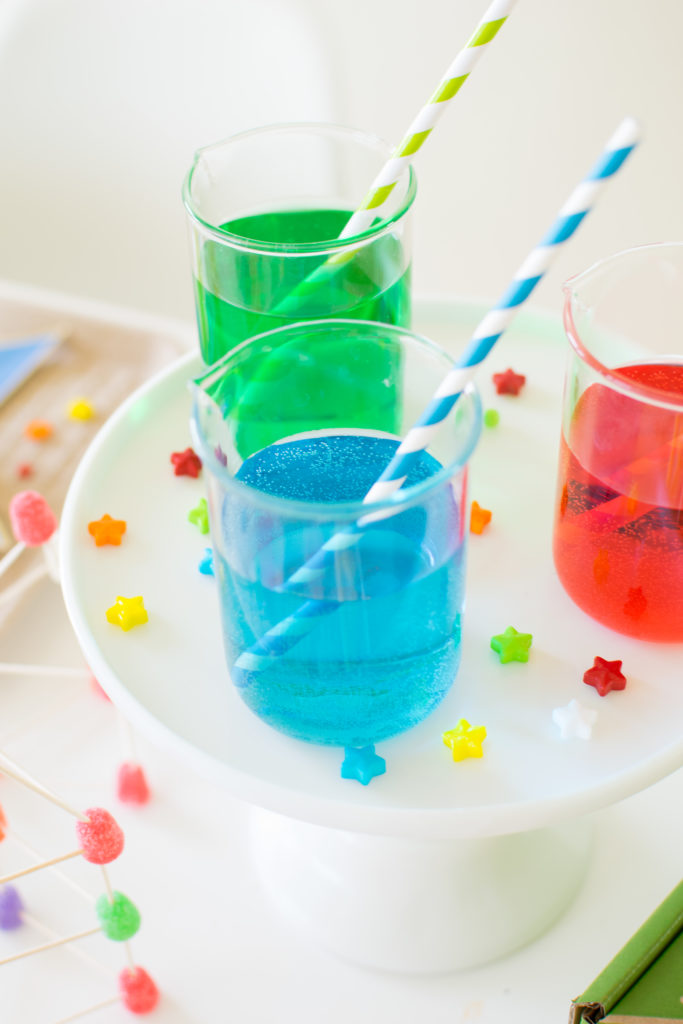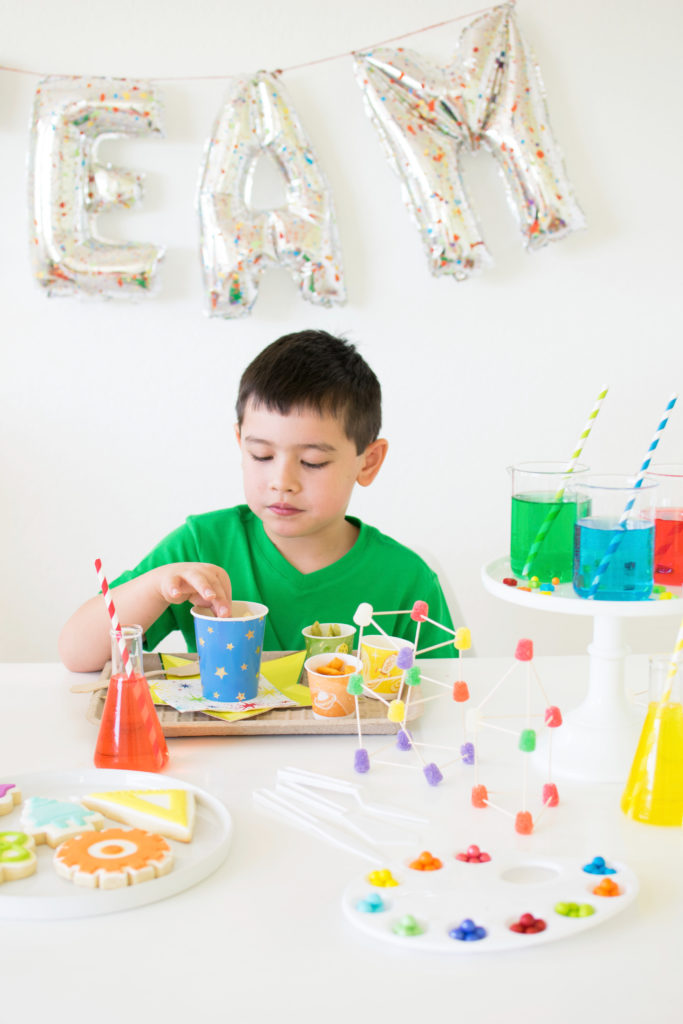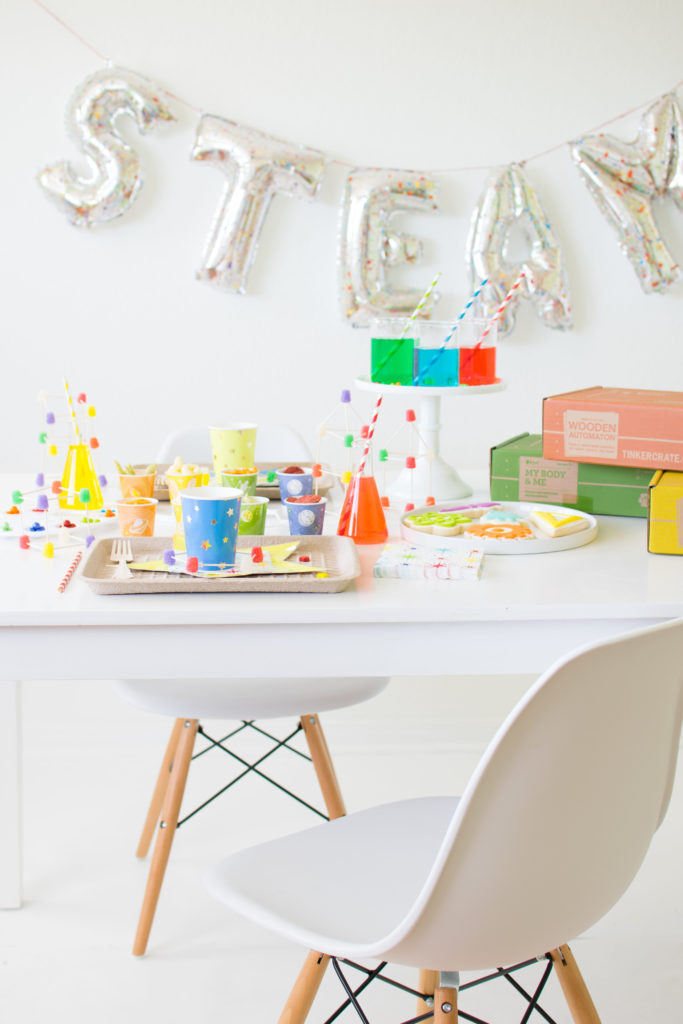 Concept and Photography: Andressa Hara of Twinkle Twinkle Little Party
Star plates & cups and trays: Party Hat Paper Co.
STEAM decorated cookies: Cherry On Top Sweets
The kids are excited to explore our next crate and learn all about the human body in a few days!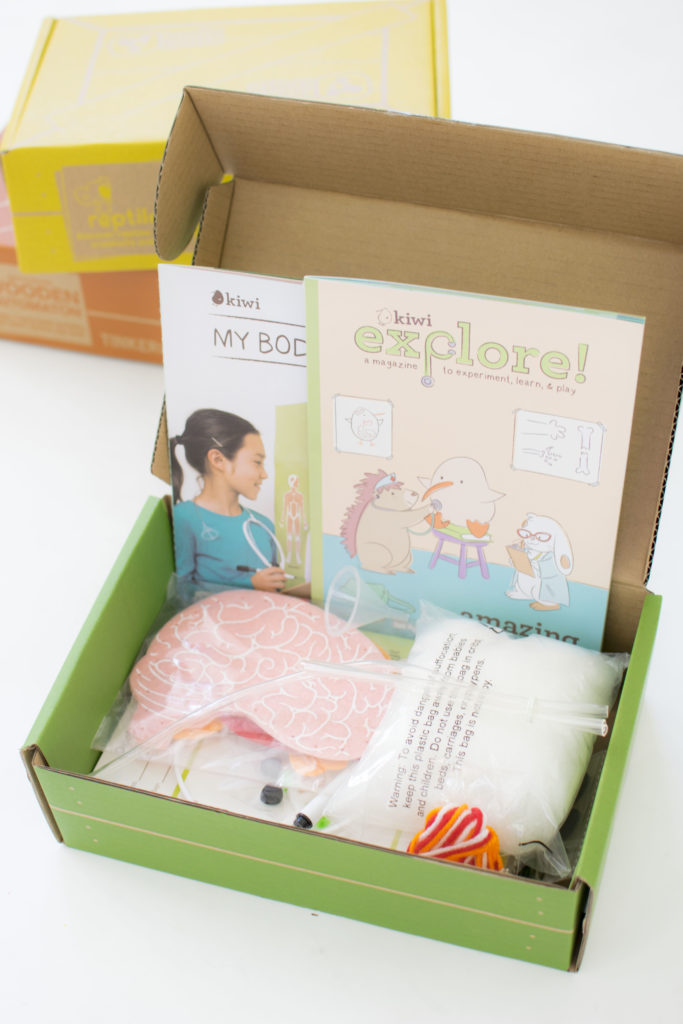 I hope you feel inspired to host a STEAM play date/party for the kids!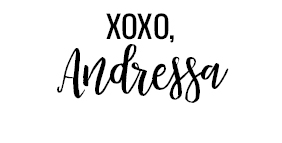 LOVE THIS POST AS MUCH AS WE DO? PIN FOR LATER!