Have you tried dragon fruit? If not, you should! It's SO good. My family loves having dragon fruit for breakfast on the weekends! As I was planning our Boss Lady Mother's Day Breakfast/Brunch, I decided to incorporate our favorite Dragon Fruit Salad Bowl!
Dragon Fruit Salad Bowl is not only perfect for a special family breakfast or brunch on the weekends, it also makes the perfect entertaining idea if you are hosting a fun get-together! It's delicious, refreshing and so easy to put together!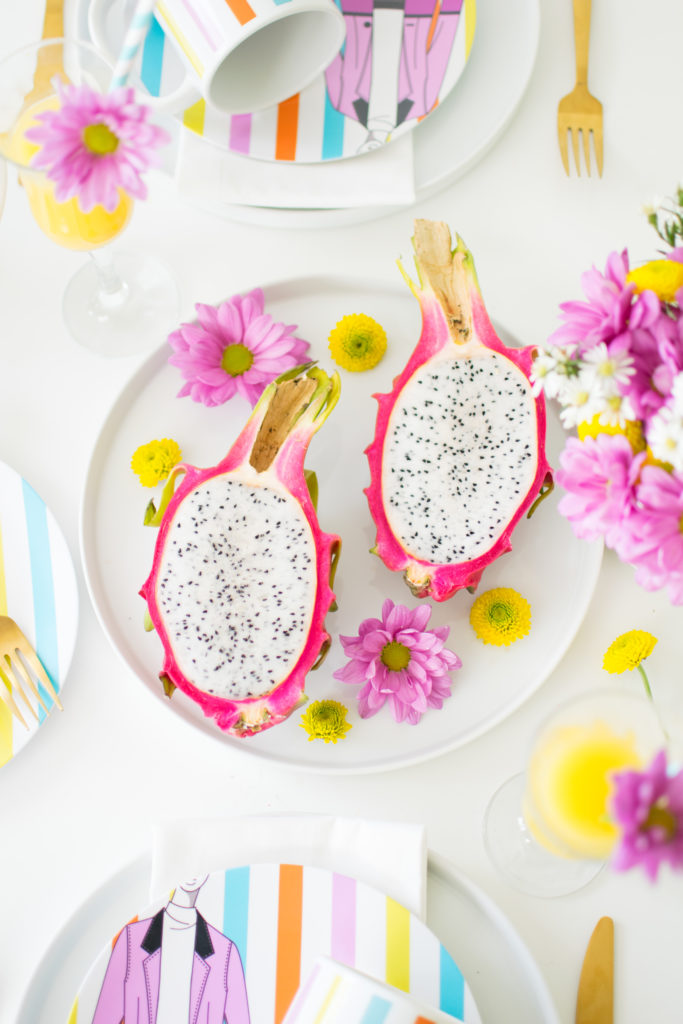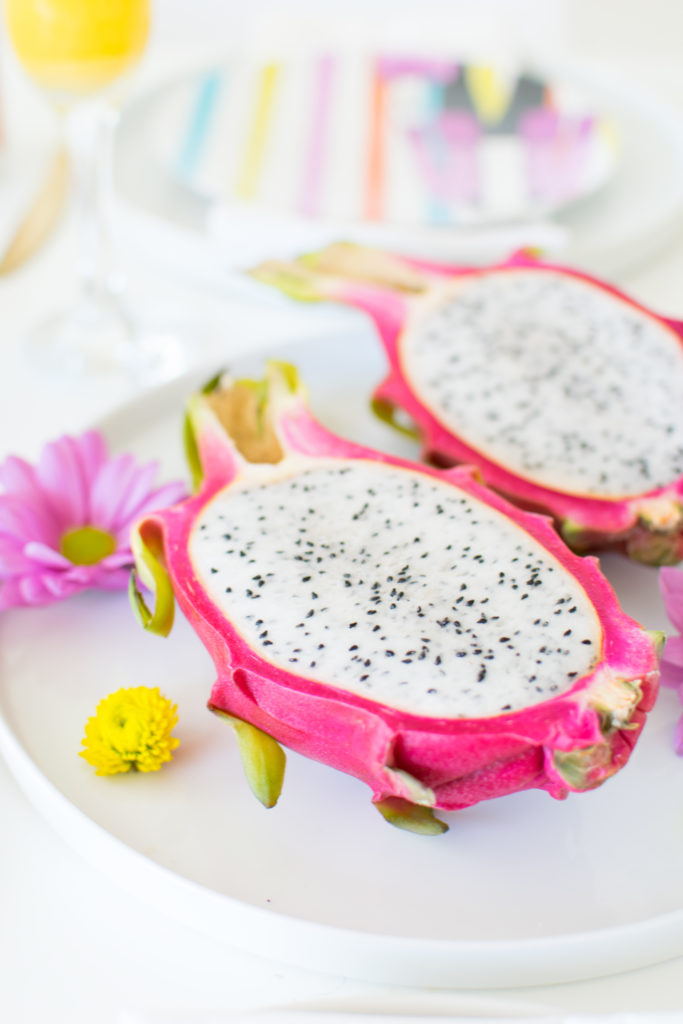 Dragon fruit is also known as Pitaya. It is part of the cactus family, and is high in fiber, vitamin C and B vitamins. You eat a dragon fruit by simply slicing it lengthwise. You can either scoop out the flesh, or quarter it and peel back its bright red leathery skin. Dragon fruit is a low-calorie fruit that contains less sugar and fewer carbs than many other tropical fruits. You can use this exotic fruit to make shakes, smoothie bowls and fruit salad bowls like this one I am sharing with you today!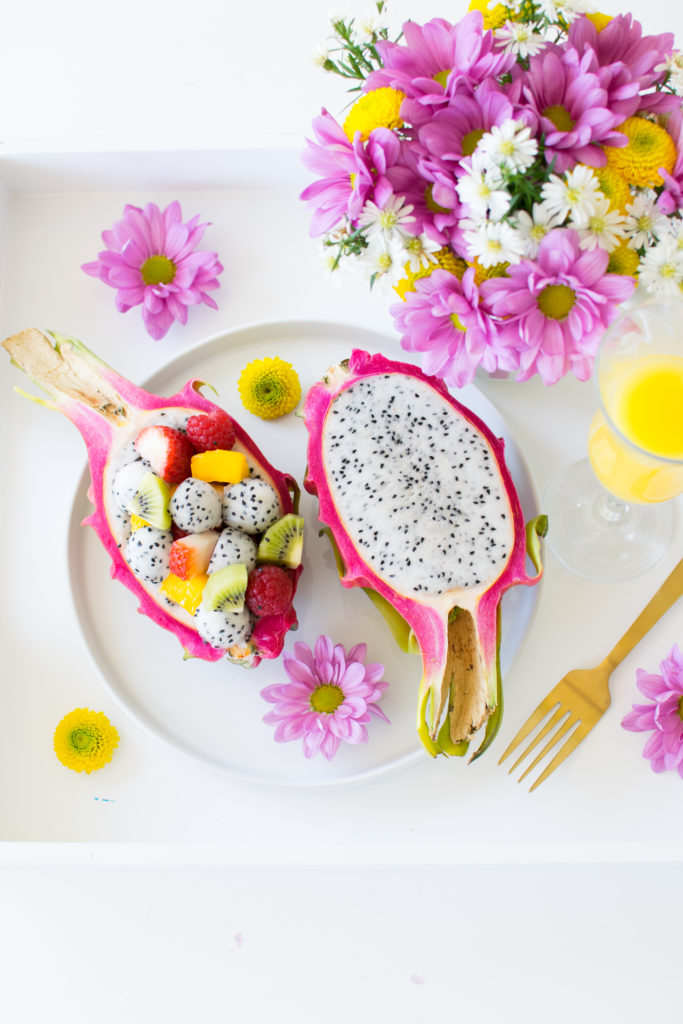 Dragon fruit pairs well with most tropical fruit. I didn't have any pineapple in the fridge but I had the sweetest mangoes, so I decided to chop some for our fruit salad bowl! It adds such a wonderful pop of color! My husband and I love to leave our bowls in the fridge overnight. The sweetness from the mangoes makes the salad even better. We don't even need to drizzle our fruit with honey!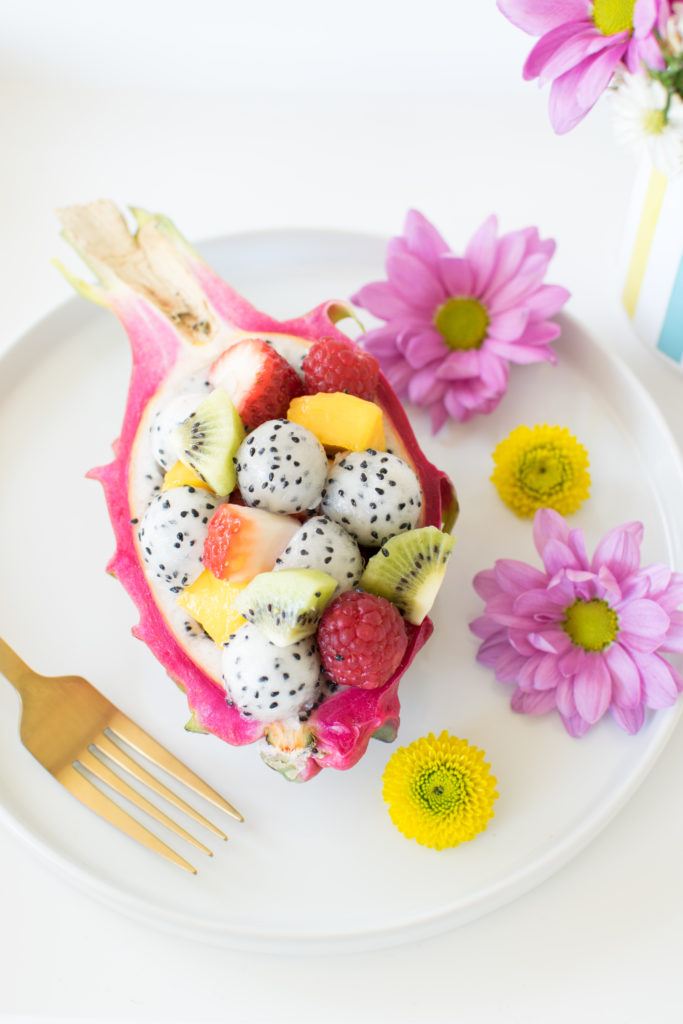 How to make delicious Dragon Fruit Salad Bowl
INGREDIENTS:
Note: You can use any fruit combination you would like.
2 dragon fruit
1 cup mango (balled or cubed)
1/4 cup kiwi
1/4 cup raspberries
1/4 cup pineapple juice
Honey
Cut dragon fruit in half and use a baller to scoop out the fruit in mini balls.
Cut all of the other fruit in small cubes except for the raspberries. (Do not cut the raspberries in 1/2 as they will get mushed once mixed with the other fruit.)
Place the dragon fruit balls, mango, raspberries, kiwi and pineapple juice into a bowl and toss until all of the fruit is well coated.
Layer the fruit into the dragon fruit skin.
Place in the fridge to chill and enjoy with a drizzle of honey!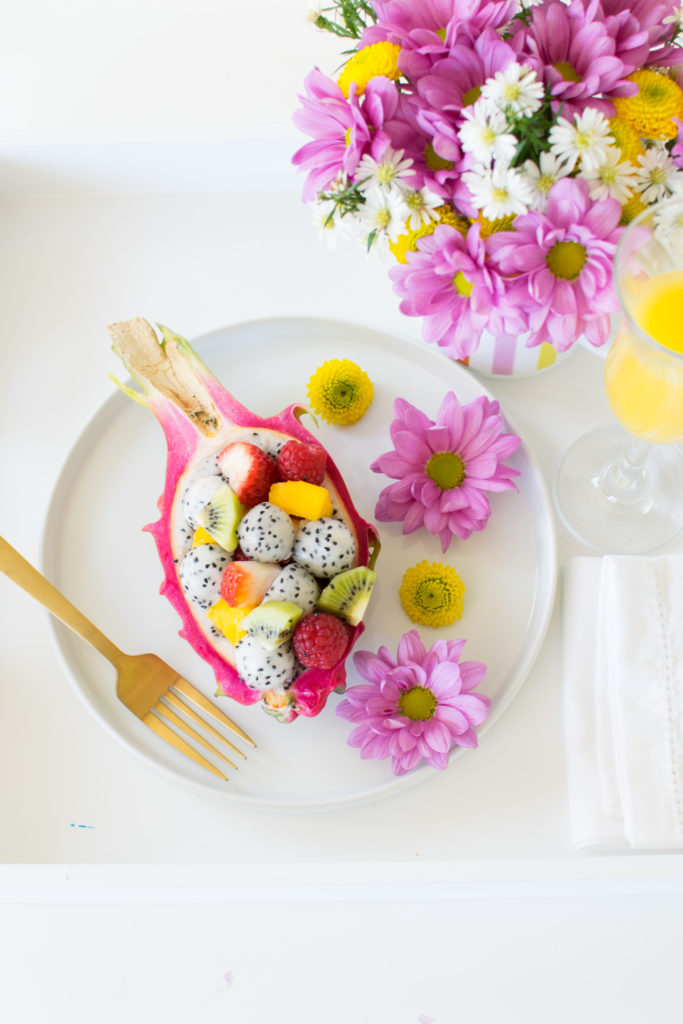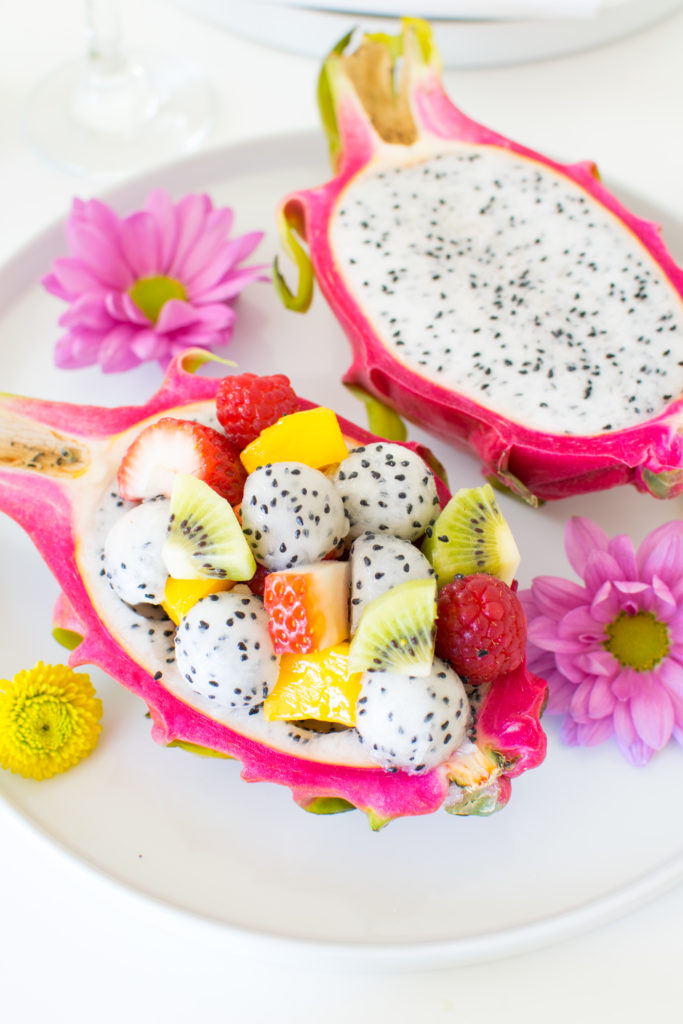 Here are some helpful tips for best results with your dragon fruit salad bowl
TIP 1: Select the perfect dragon fruit for your bowl by gently pressing your finger against the skin of the dragon fruit. A perfectly ripe fruit will give slightly to the pressure, much like a ripe avocado or mango. If your finger presses into the fruit too easily, choose another dragon fruit. The color should be bright red with no brown spots. Splotchy can be a sign that the fruit is overripe.
TIP 2: When you scoop out the fruit with a baller, leave a layer as the dragon fruit skin tends to get soggy once you add more weight to it.
TIP 3: If you are using the skin as a cup for your dragon fruit salad, trim off the long green shoots so that the fruit sits upright and all the fruit doesn't start to fall out. *I have bought dragon fruit I didn't have to trim. Once you cut the fruit in half, you should have a better idea if you need to trim it or not.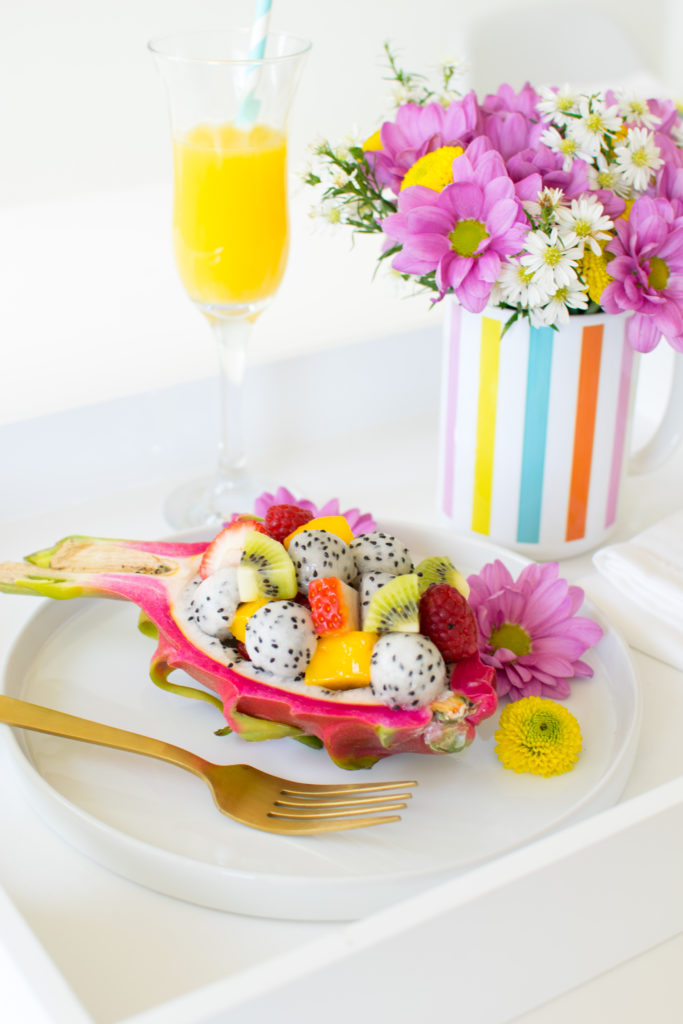 Styling & Photography: Andressa Hara of Twinkle Twinkle Little Party
Doesn't it look so fresh and delicious? I hope you make some for your next gathering or for your family as a special breakfast on the weekends!
Don't forget to pin this recipe to your Pinterest Board!
CLICK HERE TO FOLLOW TWINKLE TWINKLE LITTLE PARTY ON PINTEREST