Hello, friends!
I am so excited to start sharing party ideas for Saint Patrick's Day with you! I know many of you don't even celebrate it, but my family absolutely loves it! We love all the festivities, fun parades and of course, the food! Oh gosh, we make a delicious soda bread from scratch, corned beef and cabbage. We make Shepherd's Pie (Yum!). I mean, we love to cook to celebrate this holiday!
My sweet mother-in-law is from Belfast and immigrated to the United States in her early twenties and my father-in-law was born and raised in NY, son of Irish immigrants. Needless to say, when I met my husband, he only ate potatoes (ha! Just picking on him!) Seriously, I feel so blessed for being exposed to the Irish culture. My mother-in-law taught this Brazilian girl over here how to make soda bread, a family recipe. Comes Saint Patrick's Day I miss her so much! I miss the days we used to live only 15 min away from each other in Naples, FL. She used to host a big Saint Patrick's Day party for family and friends every year. Good times!
Since my family loves Saint Patrick's so much, I decided to put together an easy tablescape you can recreate in a few easy steps for your own Saint Patrick's Day Dinner! Best part? You can use pieces you already have at home!
What you will need:
Your favorite set of plates
Glasses
Gold flatware
Green Fabric Napkins (see tutorial for Shamrock Napkin Folding)
Mini Champagne Bottles
Good Luck Coins
Lucky Banner (double as table centerpiece)
Gold & Green Festive Picks
Let's start by turning your green fabric napkins into a Four Leaf Clover!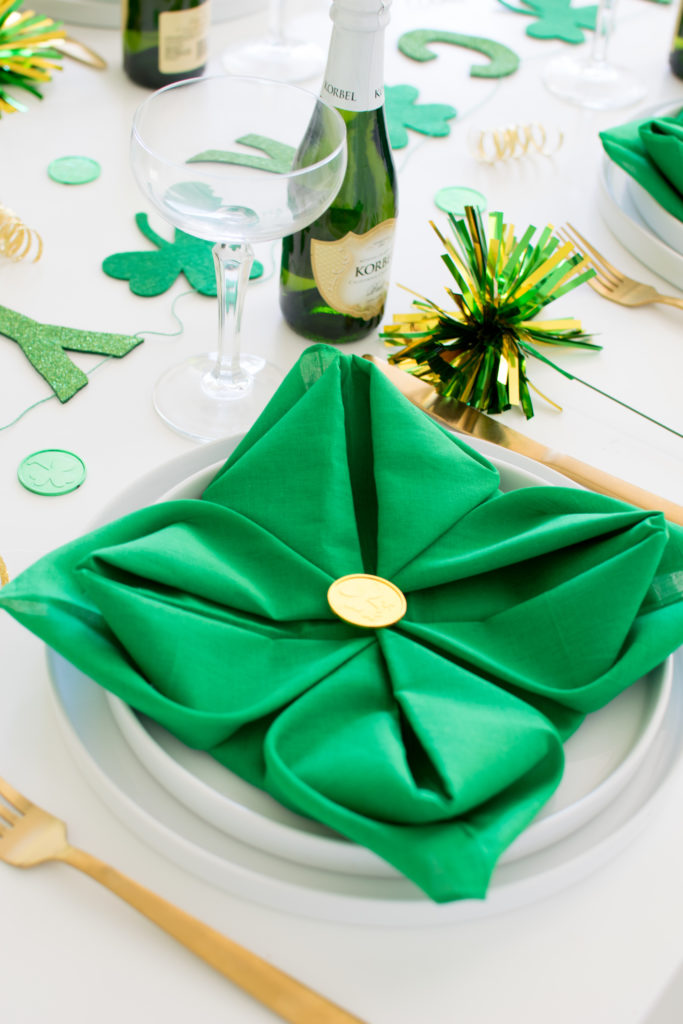 Just follow our simple 4-leaf clover napkin folding tutorial below: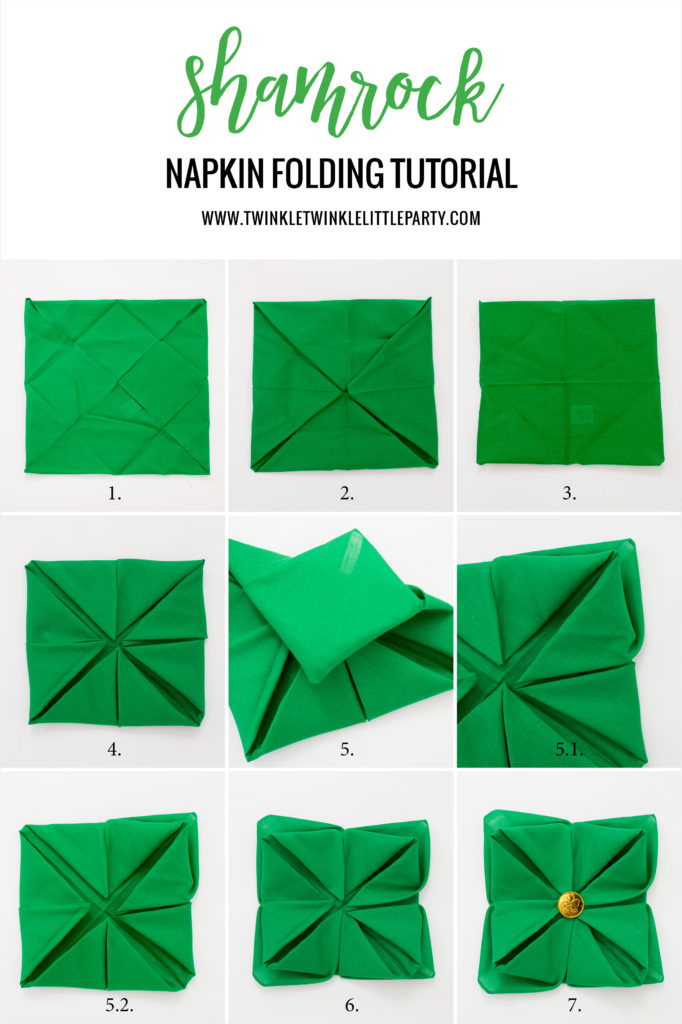 Place your napkin on a flat surface with its seams facing up. Fold sides, top and bottom inward toward the center.
Fold corners inward toward the center.
Flip napkin.
Fold sides, top and bottom inward toward the center once again.
The back of each corner should look like this (5.1 & 5.2 Gently pull the back piece of each corner)
All corners should look like this.
Place a gold luck coin in the center. Ta-da! A fun four-leaf clover napkin!
These napkins will add such a festive touch to your tablescape! You can make mini champagne bottles available for your guests or you can make your favorite green cocktail or juice for a kid-friendly gathering!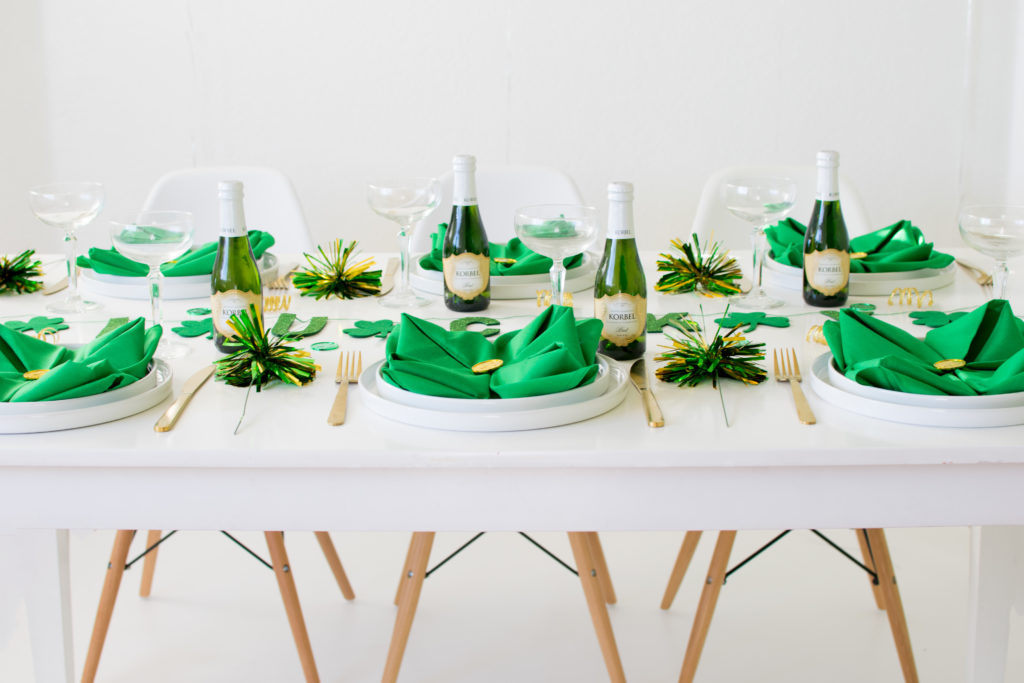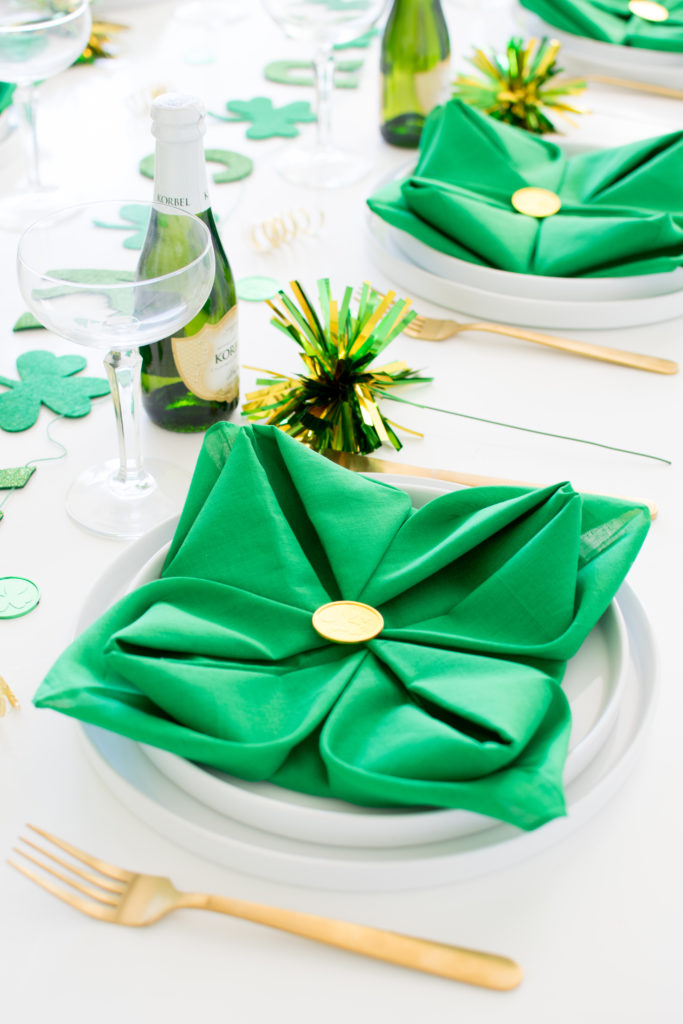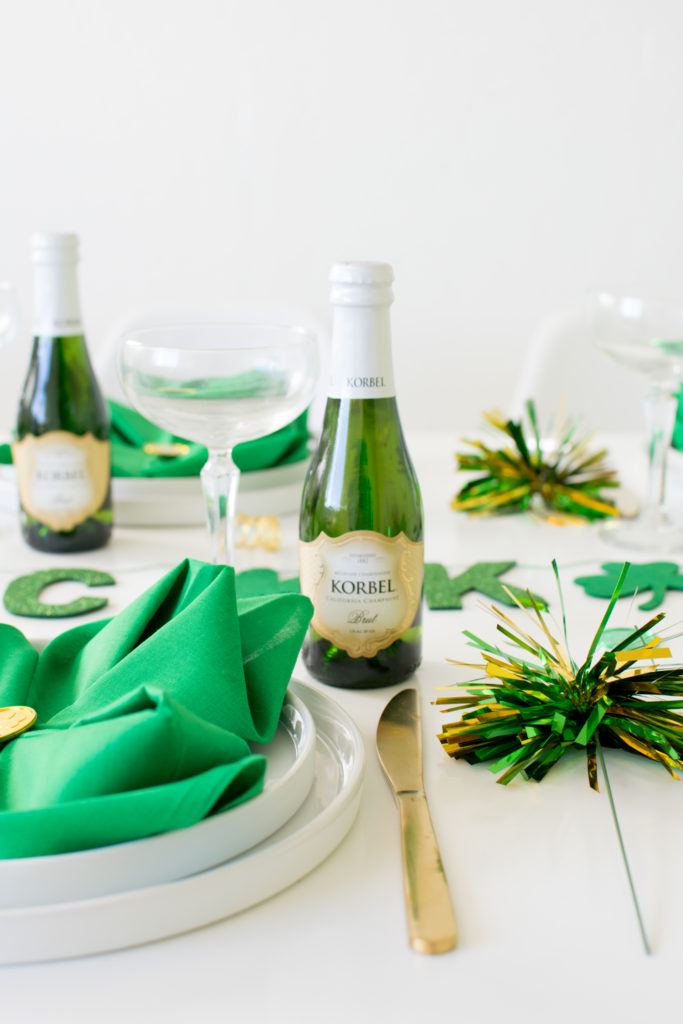 Styling and Photography: Andressa Hara of Twinkle Twinkle Little Party
I hope you recreate this easy tablescape for your own Saint Patrick's Day Party! Tag @twinkletwinklelittleparty on Instagram if you do!
 CLICK HERE TO GET YOUR BAR CART READY FOR SAINT PATRICK'S DAY!