Hello, friends! Saint Patrick is around the corner (amazing) and Twinkle Twinkle Little Party wants to make sure we've got you covered with a few fun ideas! As I have mentioned before, my husband and I love celebrating this fun holiday. We absolutely love cooking corned beef & cabbage, baking soda bread and enjoying green drinks! A few days ago I shared on the blog how to set up an easy and on-the-budget Saint Patrick's Day Inspired Tablescape by turning simple fabric napkins into four-leaf clovers. They really add instant charm to your table! So don't forget to check it out. Today, I am happy to share Saint Patrick's Day Bar Cart Ideas to complement your tablescape set up!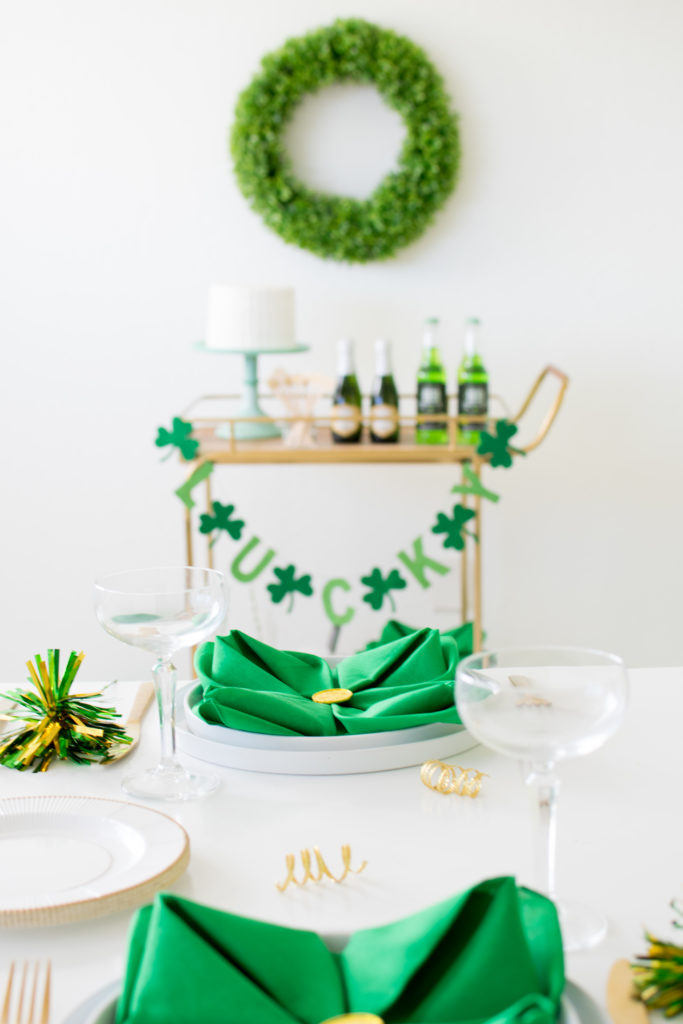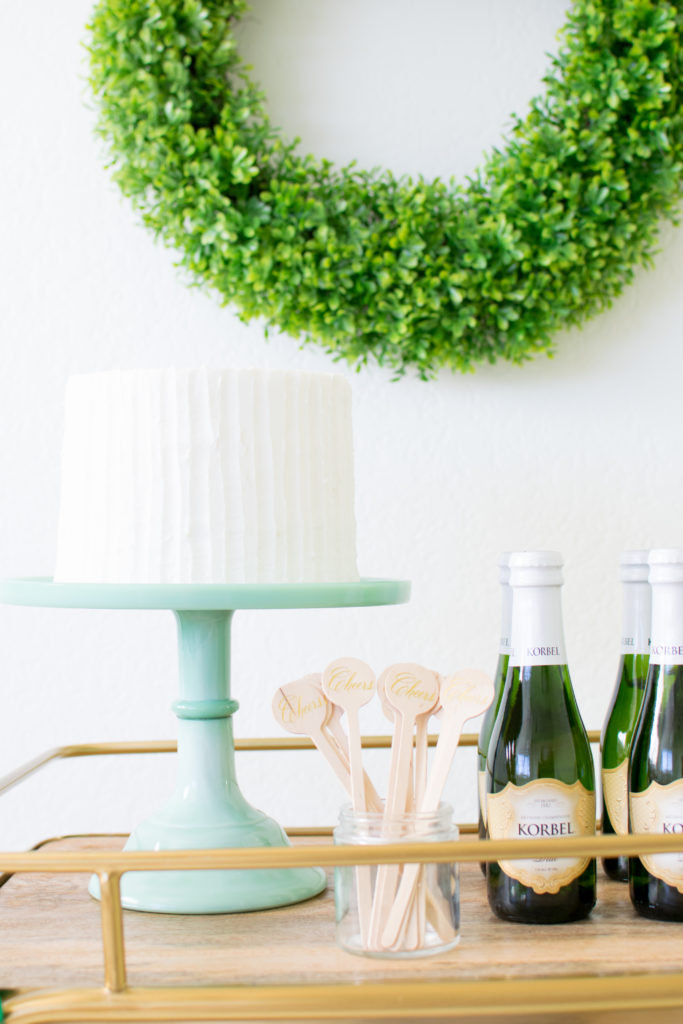 In addition to the tablescape, how about getting your bar cart ready for Saint Patrick's as well? If you have small kids like me, you can absolutely make it kid-friendly. And if you don't have a bar cart, you can improvise by using a small table!
Dress your bar cart with a green wreath. It's a beautiful and effortless decor idea. For the front of your bar cart, you can hang a Saint Patrick's banner to add a fun festive touch!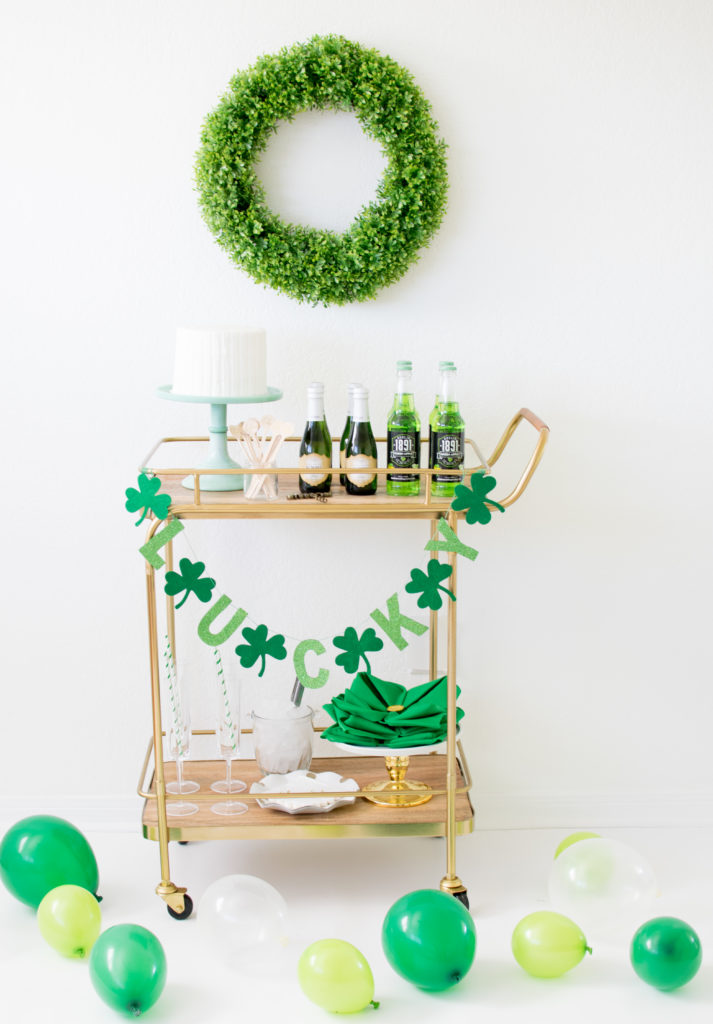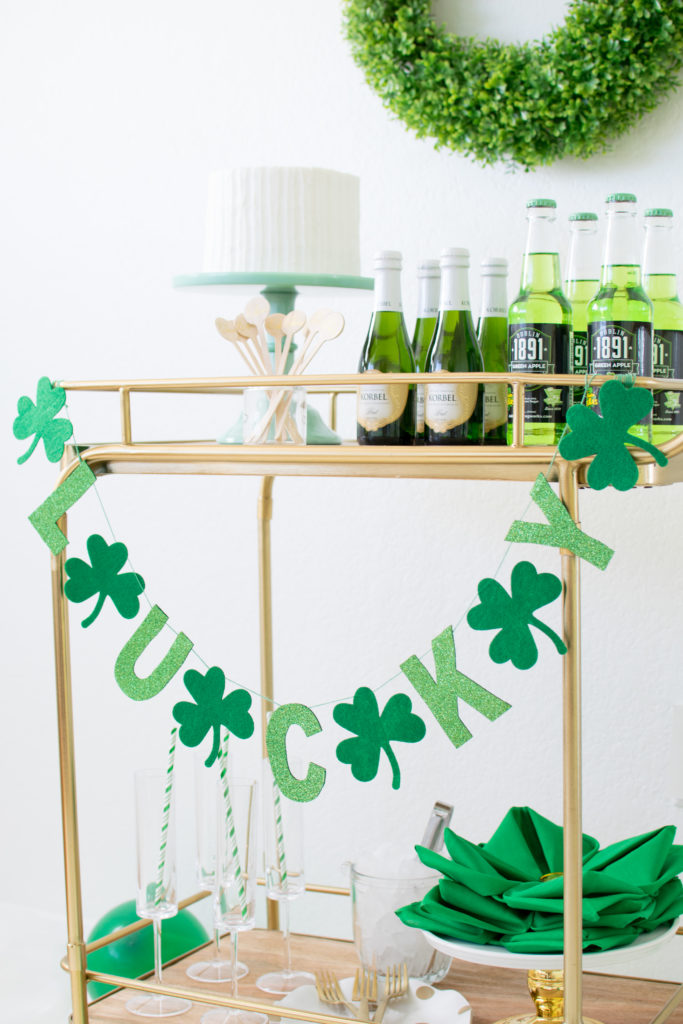 2. Visit your local shop and see what fun drinks you can find that would be perfect for Saint Patrick's. The green soda bottles are a great choice if you are having kids around.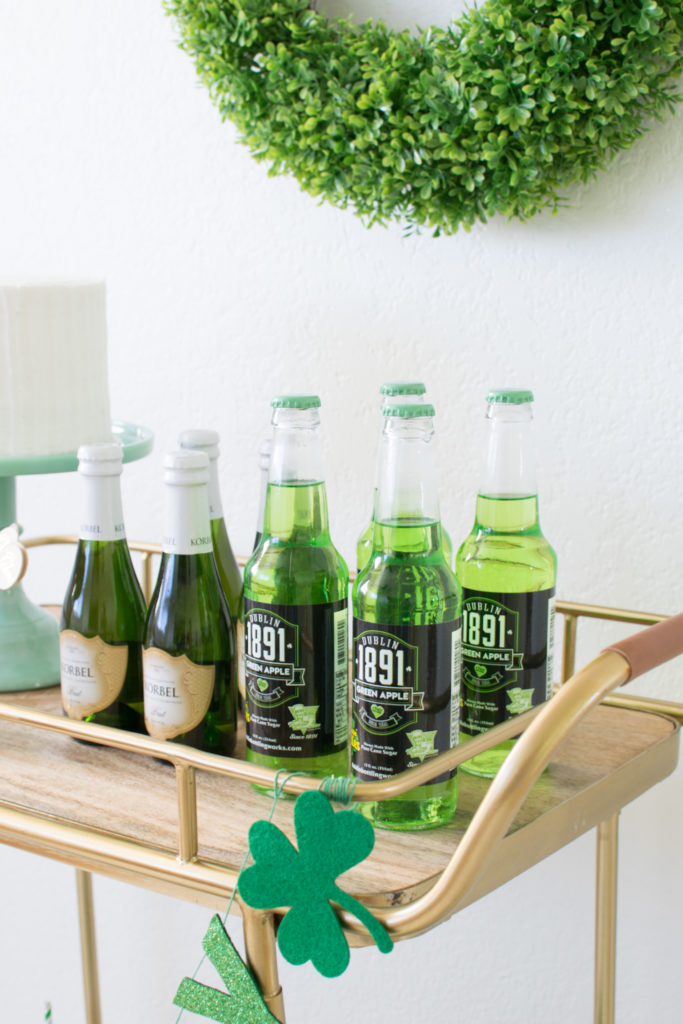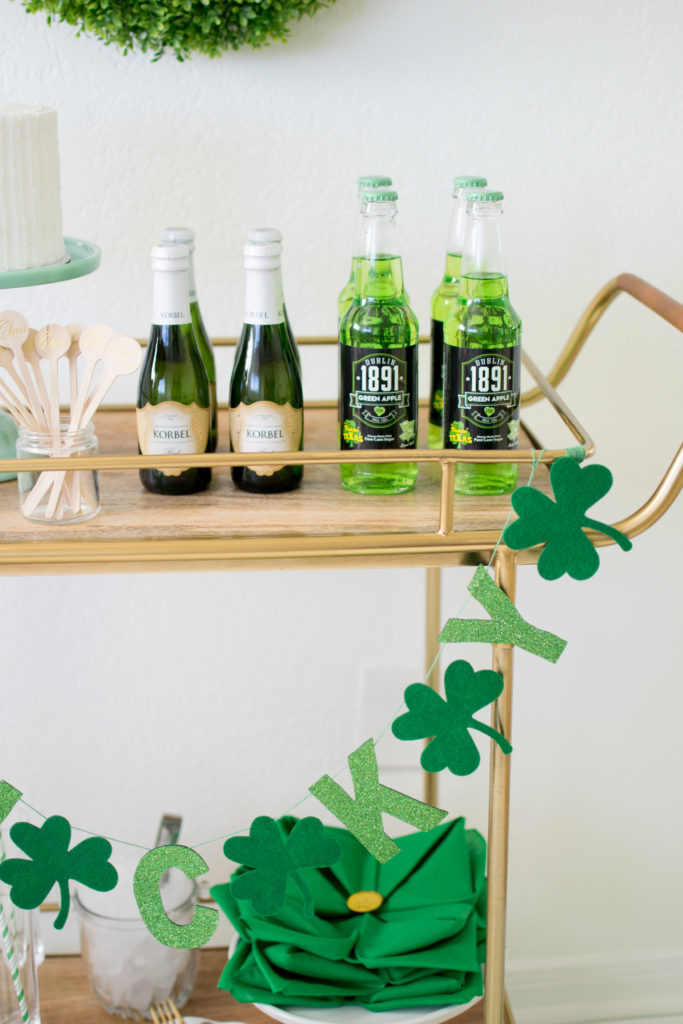 3. Let's not forget some of the bar cart essentials: drink glasses, drink stirrers, ice bucket and napkins. And if you are making an appetizer or dessert available, don't forget to include dessert plates and flatware.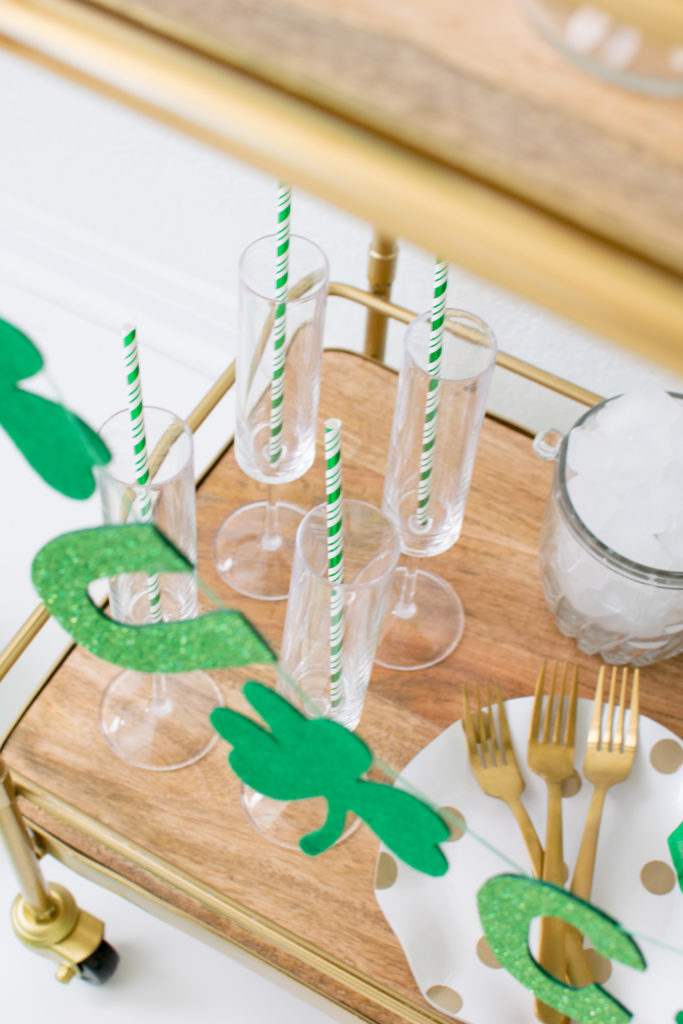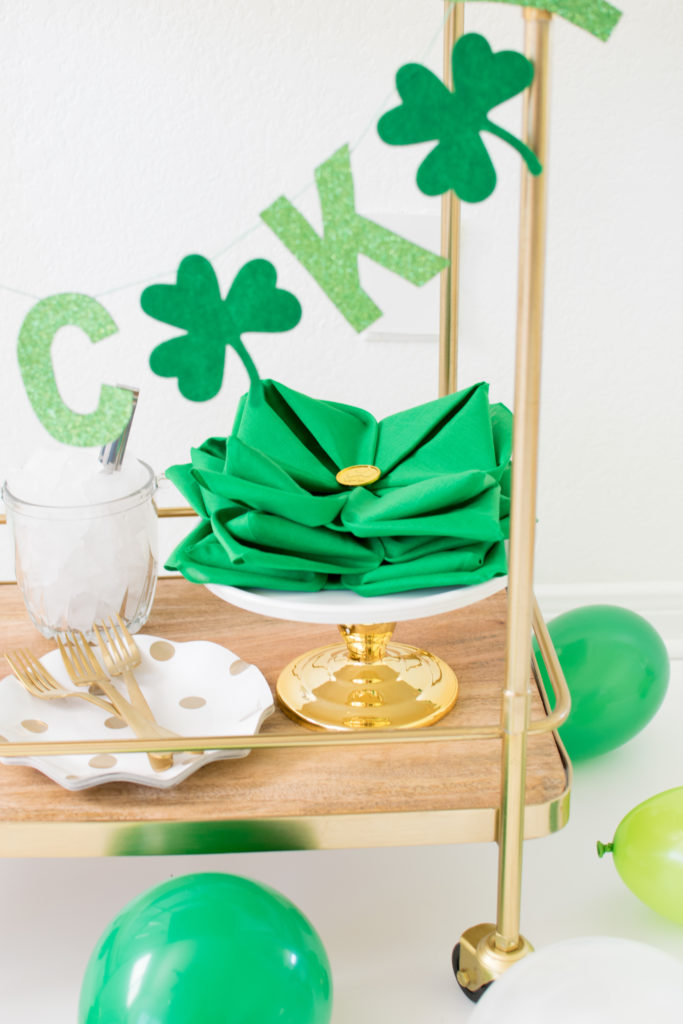 4. Complete your bar cart look by throwing coordinating balloons on the floor. They will keep the kids happy & entertained while the adults mingle and enjoy a drink or two (wink, wink).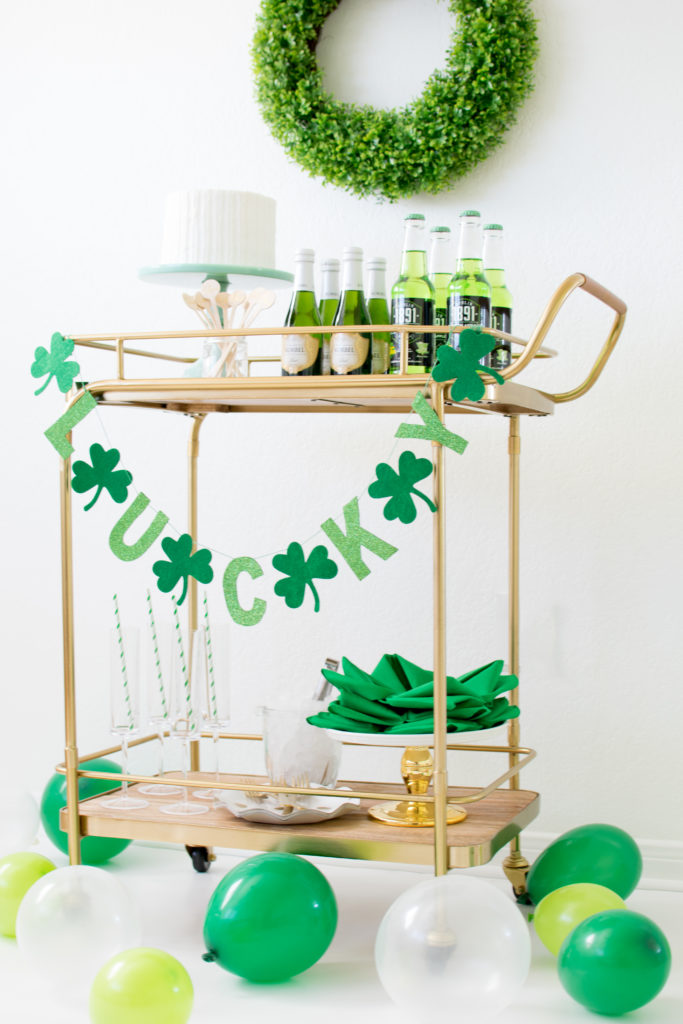 I hope this Saint Patrick's Day Bar Cart Idea gets you in the spirit to celebrate at home with your family and friends!
Tag @twinkletwinklelittleparty on Instagram so we can join on the fun and don't forget to subscribe to our site and be the first to get updates when a new post hits the blog!
CLICK HERE TO SUBSCRIBE TO TWINKLE TWINKLE LITTLE BLOG.
Happy Planning, friends!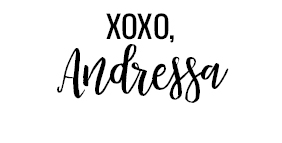 STYLING & PHOTOGRAPHY: ANDRESSA HARA OF TWINKLE TWINKLE LITTLE PARTY
LOVE THIS POST? PIN FOR LATER!