This post is in partnership with Acorn Influence and Don Victor Honey.

Spending time in the kitchen with my kids is my favorite thing to do this time of year. We have been cooking and baking up a storm this summer.
Our latest creations are these fun and delicious honeycomb sugar cookies. If you are a sugar cookie lover, this recipe is a must-try! They are tender and chewy and oh, so good!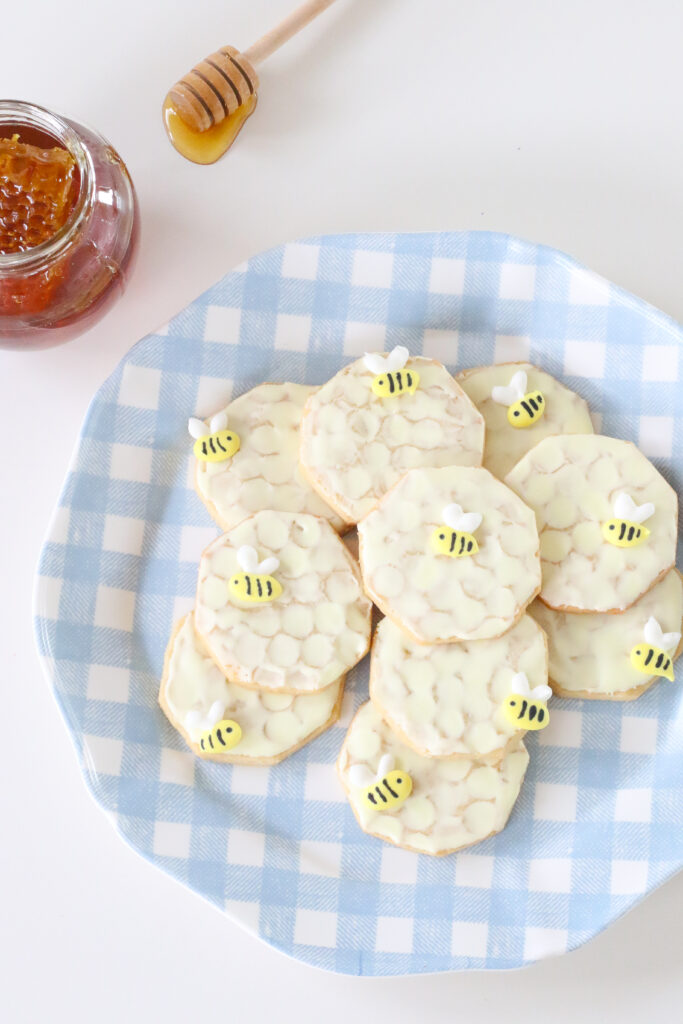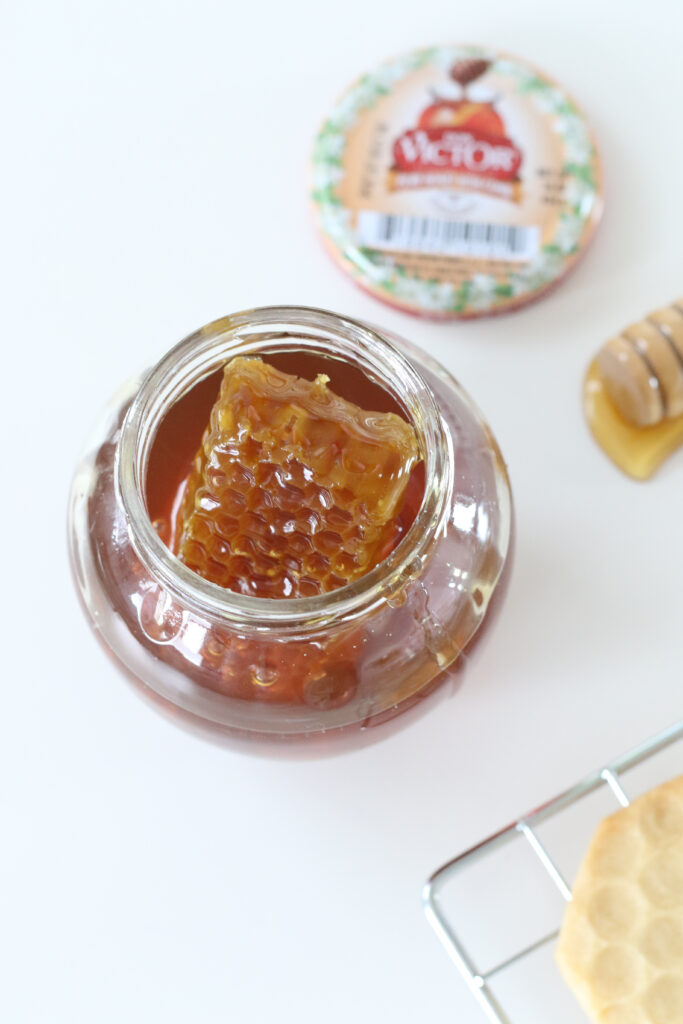 We absolutely love incorporating honey into our baking. I love the fact we can make these honeycomb sugar cookies using simple ingredients from our pantry, and that my kids can easily help with measuring and pouring into the bowl.
The dough needs to be refrigerated for at least an hour before cutting into shapes, so just plan ahead if you would like to bring these yummy honeycomb sugar cookies to a get-together.
I made these bumble bee sugar decorations using royal icing. They are completely optional. I was just feeling a little extra creative.
To create the honeycomb texture on the cookies, we used bubble wrap. That's right. Bubble wrap! This DIY idea works like a charm! Just make sure you use a new and clean piece of bubble wrap if you give this idea a try.
We had to improvise and use a square cookie cutter to cut out shapes and then turn them into hexagons. A little extra work but worth it.
We love to enjoy our honeycomb sugar cookies with a cup of tea. The pairing is simply perfection! How would you enjoy these cookies? We would love to know!
Honeycomb Sugar Cookies
Yield: Approximately 24 cookies (depending on cookie cutter size)
Ingredients
Cookies:
1 cup unsalted butter, softened
¾ cup sugar
¼ cup Don Victor Honey with Comb
1 tsp vanilla extract
pinch salt
2½ cups flour
Icing:
¾ cup powdered sugar, sifted
1 Tbsp Don Victor Honey with Comb
1 Tbsp milk
¼ tsp vanilla extract
3-4 drops yellow gel food coloring
Instructions:
For the cookies:
Preheat oven to 350° F. Line baking sheets with parchment paper. Set aside.
In a bowl of a stand mixer, cream butter and sugar.
Add honey, vanilla extract, and salt. Mix until well combined. Scrape down the sides of the bowl.
Add flour gradually, mixing just until well combined. Form dough into a disc, wrap in plastic, and chill for at least one hour.
Roll the dough out to about ¼" thickness on a floured surface.
Using the rolling pin, gently press clean bubble wrap on top of dough to add texture. Cut out hexagon shapes and place them on the prepared baking sheets.
Refrigerate hexagon shapes for 10 minutes before baking.
Bake them for 8-10 minutes. Allow them to cool on the pan completely before transferring to a wire rack.

For the icing:
Whisk together all of the ingredients until smooth. Use squeeze bottle or just spoon icing on the center of the cookie. Use an offset spatula to spread it to the edges. Allow cookies to dry completely.
After icing our cookies, we dressed them up with my bumblebee sugar decorations, but honestly, these cookies are delicious on their own. No need for decorations. Enjoy, friends! xoxo,
Save 25% off your order of Don Victor Honey (donvictorfoods.com) with code: TWINKLETWINKLELITTLEPARTY
xoxo,
Andressa