Calling all reindeer lovers! I compiled compiled these adorable reindeer party and craft ideas I have created in the past few years with my kids. They are fun and inexpensive to craft, making wonderful ideas to create a magical holiday season.
Reindeer Cookies
Using your favorite store bought cookies, create cute reindeer cookies with the kids. All you need is cookies, mini decorative eyes, chocolate chips, mini colorful candies, such as sixlets. You can create a festive cookie platter for your holiday get-together or bag them for the kids to share with their friends/classmates as holiday gifts.
Reindeer Cake
We love decorating store bought cakes. For this DIY reindeer cake I simply ordered a chocolate buttercream cake at local supermarket, used a red gumball for the nose, black icing for the eyelashes and glitter cardstock for the antlers.
Reindeer Marshmallows
It's amazing what you can create with marshmallows, chocolate melts and candies. Using a jumbo marshmallow, draw eyes using melted chocolate and add a sixlet in the color of your choice to create the nose. For the reindeer antlers, simply make them using a toothpick and melted chocolate on wax paper. Allow chocolate antlers to harden completely before attaching them to the marshmallow. Make our delightful pink hot cocoa for the ultimate holiday drink.
Reindeer Hot Cocoa Kit and Matching Holiday Pajamas
If your kids are big hot cocoa lovers like my kids, this reindeer hot cocoa kit idea is a must this holiday season. You can watch the DIY Rudolph jar step-by-step video on our instagram page. We even created the matching jammies because why not.
Reindeer Cookie Decorating Party
Get the kids excited with a reindeer cookie decorating party. Set up a decorating station featuring everything they need to create their own reindeer cookies.
The reindeer cookies below were created using mini shortbread cookies, white buttercream, pretzels, red gumdrops and black decorating pens.
Reindeer Hot Cocoa Bar
No holiday party is complete without a hot cocoa station. If you are planning a reindeer themed party, consider setting up a reindeer inspired hot cocoa bar. We had adorable reindeer and candy cane dec-ons available as toppings for the kids to create the ultimate hot cocoa.
Reindeer Tablescape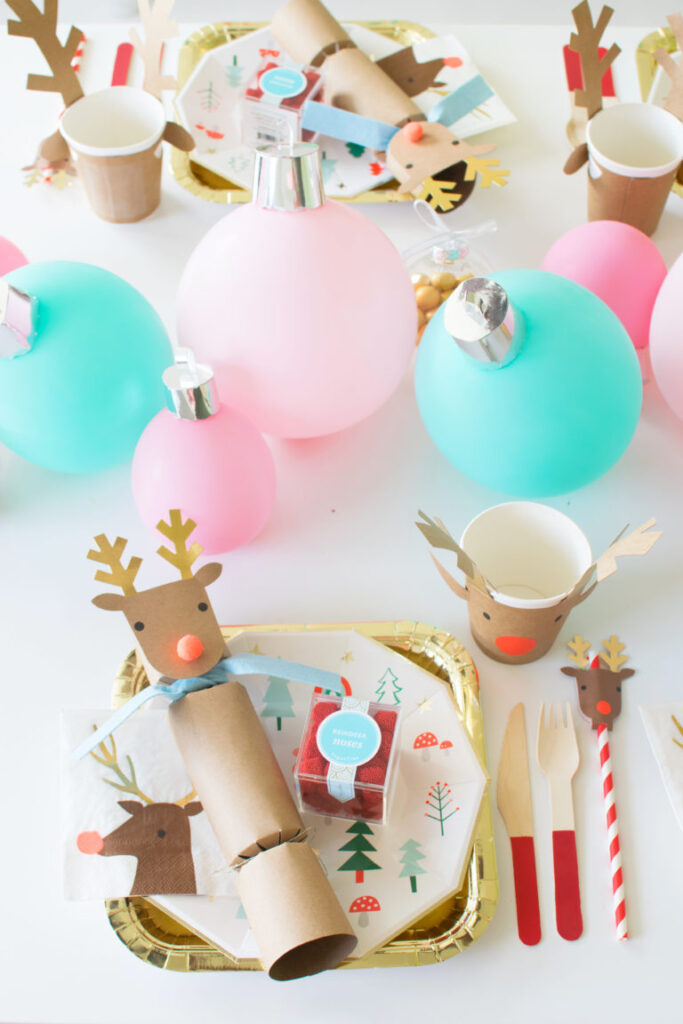 If you are throwing a reindeer themed party, a kids tablescape is a must. We layered festive paper plates and complemented each table setting with reindeer crackers, cups, napkins and straws.
I hope you give these holiday reindeer party ideas and crafts a try!