Transportation themed birthday party ideas sponsored by Merrilulu. All opinions stated are my own. No affiliate links are included in this post.
Looking for transportation themed birthday party ideas? Look no further! We are sharing how you can quickly plan and host the cutest transportation party in a few easy steps.
First things first, make sure you have your transportation birthday party invitations ready. It's essential to set the tone to your party and let your guests know what to expect.
Transportation Party Banner and Garland
Transportation birthday party banner and garland are a wonderful addition to set the theme for your event. All you need is tape to hang them on the wall…that's it. To make it extra festive, create your own balloon garland to add extra pop of colors to your party backdrop.
Transportation Birthday Party Tableware
No kids birthday party tablescape is complete without themed paper goods. Take the kids table to the next level by incorporating themed transportation paper plates, cups and napkins.
How adorable are these taxi plates? They complement the hexagon plates so well which feature a variety of vehicles, such as police car, ambulance, recycle truck and even a vespa.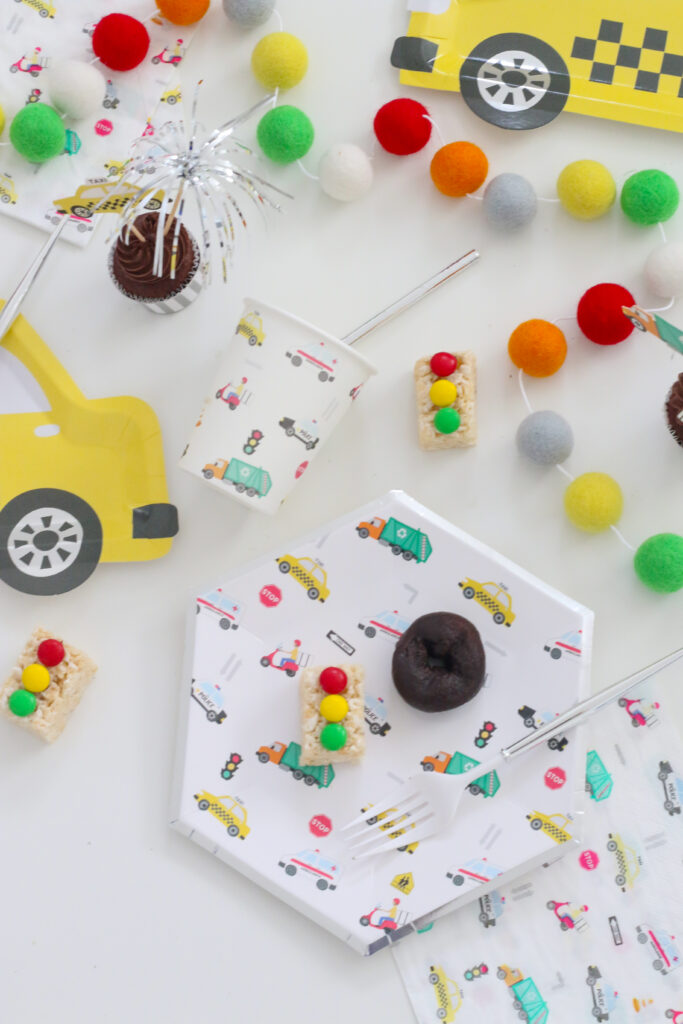 To complete the look of your transportation party, you can add extra texture to the kids table with a coordinating felt garland and party confetti. I encourage you to always get creative with what you find in your inventory before shopping for extra party decor.
Transportation Birthday Cake Decorations
If you prefer DIY ideas to decorate birthday cakes rather than ordering intricate fondant cake designs, you are my spirit animal. You can choose to bake and decorate a buttercream cake on your own or order it at your local bakery, then adorn it with ready-to-use transportation birthday cake decorations. Voila! Stress-free birthday cake ready to party!
If you really enjoy baking your kid's birthday cake from scratch, these 32 quick and easy birthday cake recipes offer you wonderful ideas to make it special. The list includes flavors , such as confetti cake, classic chocolate cake, coconut lemon ice cream cake, cherry dream cake and more!
Transportation Themed Cupcake Toppers
Cupcakes are a must when throwing a kids party. They are easy to decorate for any theme you have in mind. Simply embellish simple cupcakes with transportation cupcake toppers. I love this set that comes with coordinating cupcake liners so you don't have to go the extra mile to find the perfect ones to match your decor.
I added extra pizzazz to my cupcakes by embellishing them with fringe fireworks party picks. You can easily find them online if you would like to recreate this idea. I found similar ones on Amazon.
Transportation Themed Party Treats
Keeping the ideas simple and fun is the way to go when planning a birthday party for the kids. Busy kids love yummy treats that are easy to munch on so they can have extra time to play with friends.
To create the ultimate transportation themed party treats, purchase mini chocolate donuts (spare tires) and rice treats to create traffic lights using chocolate candies, such as M&M's. Display them on small pedestals to elevate your tablescape.
Looking for more unique party ideas for your transportation party? These are yummy and creative food party ideas for kids to help you add extra excitement to you transportation party menu.
Transportation Party Tattoos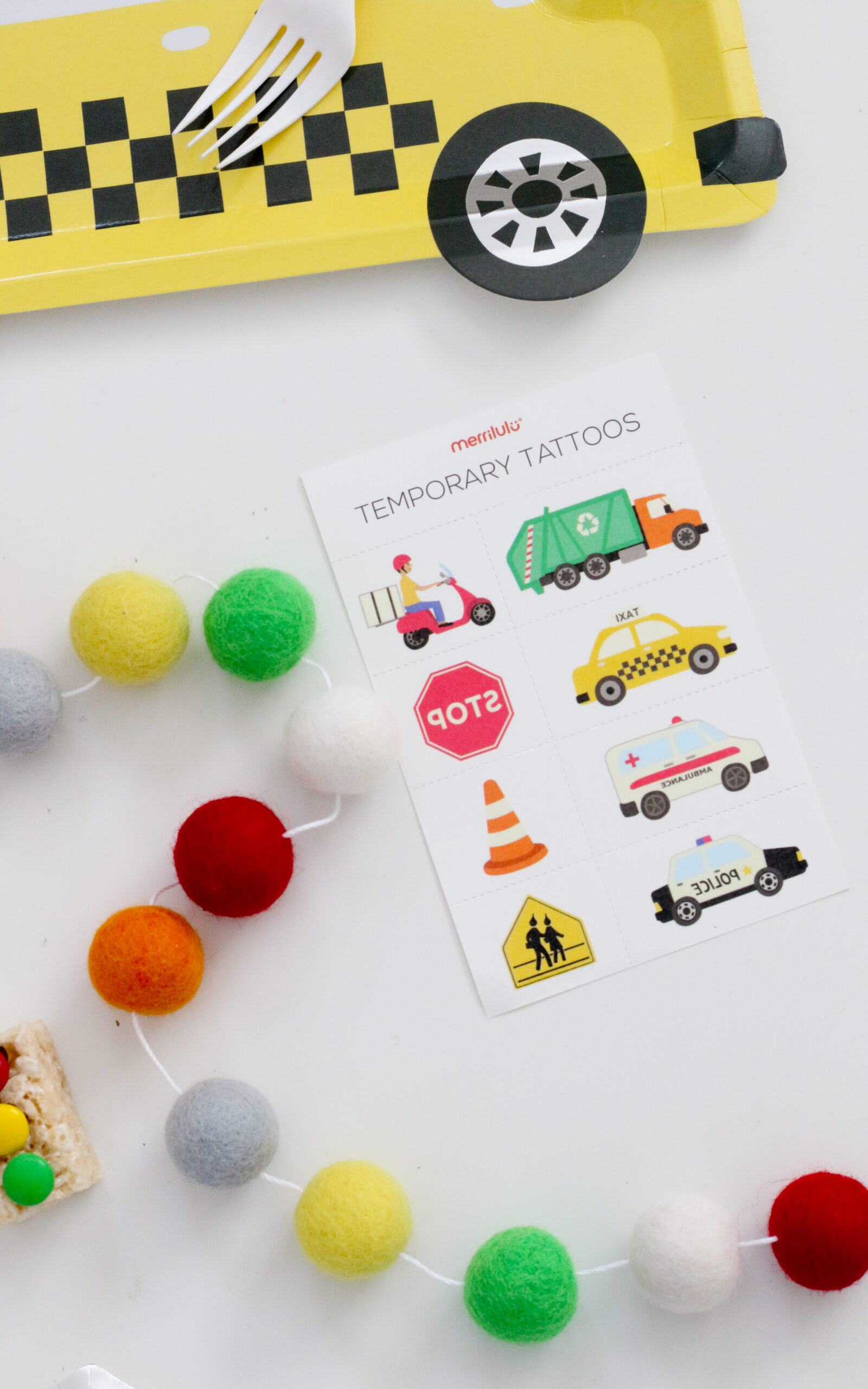 Last but not least, consider setting up a tattoo station with an assigned adult to assist the guests. The kids will have fun choosing their favorite transportation tattoos.
And if you have extra tattoos available, send the kids home with a few extra tattoos, mini chocolate donut spare tires and traffic light Krispie treats in transportation themed cups as take-home favors.
If you love treating your guests to special party favors when you host a party, here are a few transportation party favor ideas you can consider:
Transportation Crayons: add these car and truck crayons to your party favor bags or even better, you can set up a coloring station at your transportation party to keep the little ones busy.
Car Themed Keychain Kit: this DIY car keychain kits make an excellent idea as party favors. The kids can create their own key chain for their backpacks.
DIY Construction Cone Goodie Bags: Fill up plastic cones with candies or mini toys, then tie the caution tape through cone holes to create a unique transportation themed party favor. You can find the plastic cones and caution tape at your local Party City store or even Dollar Store.
I hope you enjoyed these fun and easy for a fun-filled transportation themed party!
See our Gymnastics Birthday Party ideas also featuring Merrilulu!
Styling & Photography: Andressa Hara of Twinkle Twinkle Little Party
Transportation Tableware and Decorations: Merrilulu
Felt Garland: Feltley