Hello, friends!
If you have been following me for a while now, you know I am originally from Brazil! I am so thrilled to share with you today a delicious recipe of one of my favorite treats growing up – Brigadeiros! My friends keep asking me "When are you going to teach us how to make them? They are so amazing!" I might be biased, but brigadeiros are one of the most delicious treats indeed! They are like chocolate truffles, but better. I would say gooey truffles or chocolate fudge balls. The best part? You can make these scrumptious treats with only 3 easily available ingredients!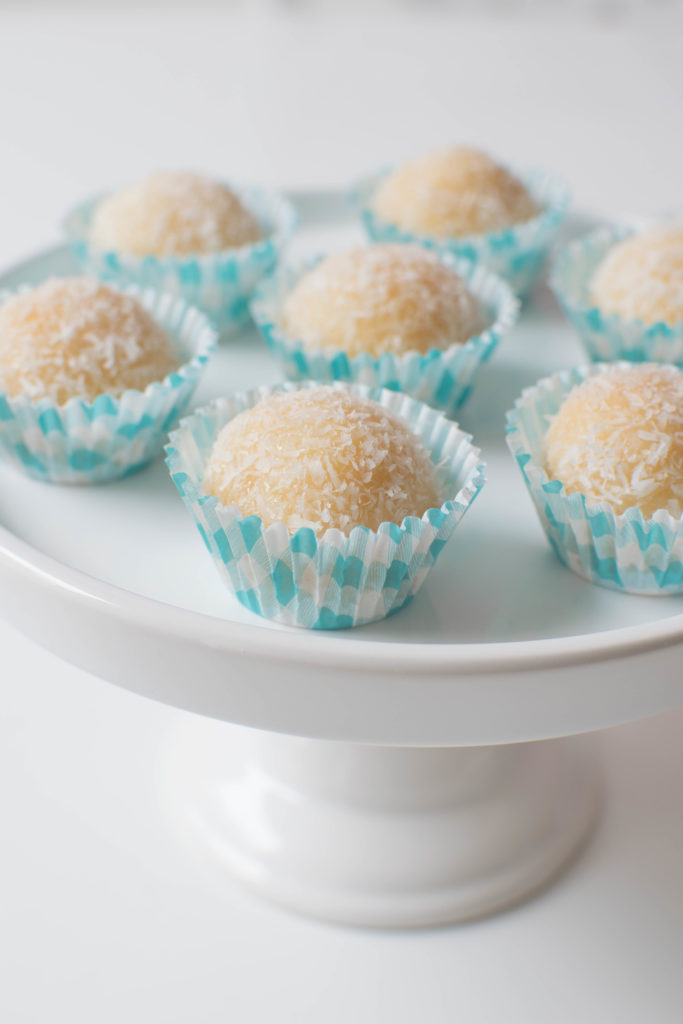 In my country, there's no party without Brigadeiros. My folks like to party big and if you ever go to a Brazilian birthday party, you will see thousands of these yummy treats on the dessert table. I am not exaggerating!
At home, I try not to make them too often because they are too good! My post-baby body appreciates it (ha!) My kids though ask every now and then "Mommy, can you make us some bregaderos? (They haven't mastered mommy's accent yet! Too cute!)
My little ones love them and I love having them in the kitchen while making Brigadeiros. It brings me back fond memories of my childhood. When I was little, I used to sit and patiently wait to lick the wooden spoon covered in warm Brigadeiro! It was my favorite part and it warms my heart I can pass this tradition to my own kids today.
Alright, my mouth is watering already! Let's make some brigadeiros….shall we? I am sharing a Gourmet White Chocolate kind. Simply delish! I am also showing you how you can dress them up for your Easter celebrations! Look how cute they look with bunny ears!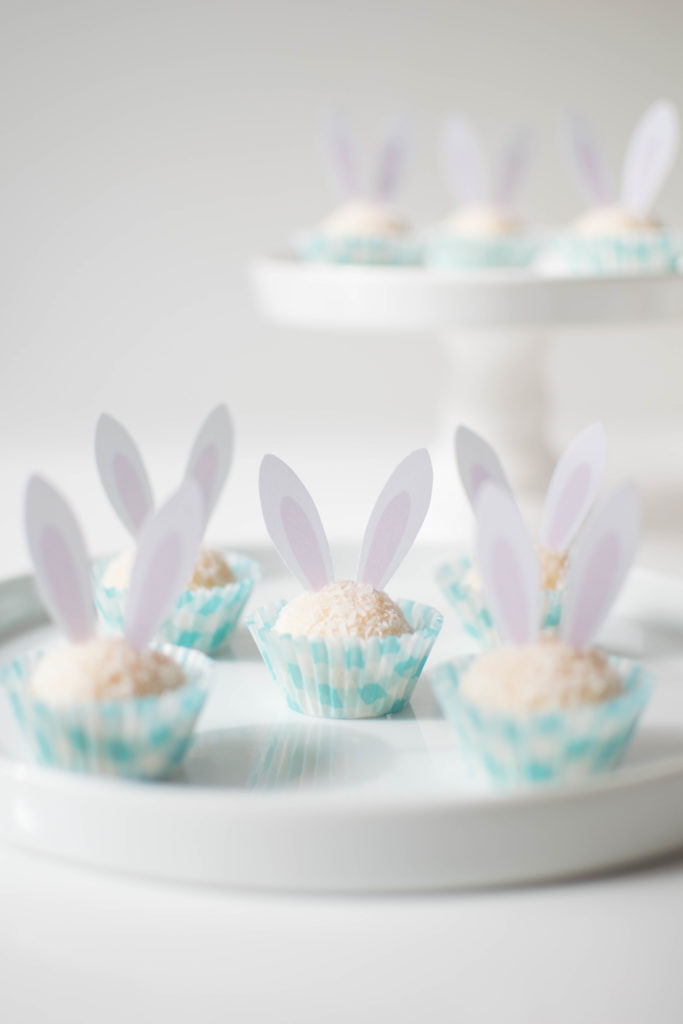 Gourmet White Chocolate Brigadeiros
What you will need:
1 can (14 oz) sweetened condensed milk *All Brazilians use this one. You can find it at any supermarket! I also tried the organic one by Trader Joe's.
1 tablespoon of unsalted butter
2/3 cup good quality white chocolate cut into small pieces *The best one is Callebaut but I have used chocolate chips and other chocolate bars. They turn out delicious either way!
100% organic shredded unsweetened coconut for coating (fine shred sticks better)
Truffle liners *If you can find non-grease ones even better!
Directions:
Grease a shallow plate or platter with butter. Set aside.
On medium heat, melt the butter and chocolate pieces in a small nonstick heavy saucepan. Add condensed milk. Reduce the heat to medium-low. Stir constantly with wooden spoon.
Cook for about 10 to 15 minutes, stirring constantly, until mixture is thick and shiny.
TIP: Tilt the pan and when you see the mixture is pulling away from the bottom of the pan, the brigadeiro is ready!
Pour mixture into shallow plate. Allow to cool completely in the refrigerator.
It should look like this: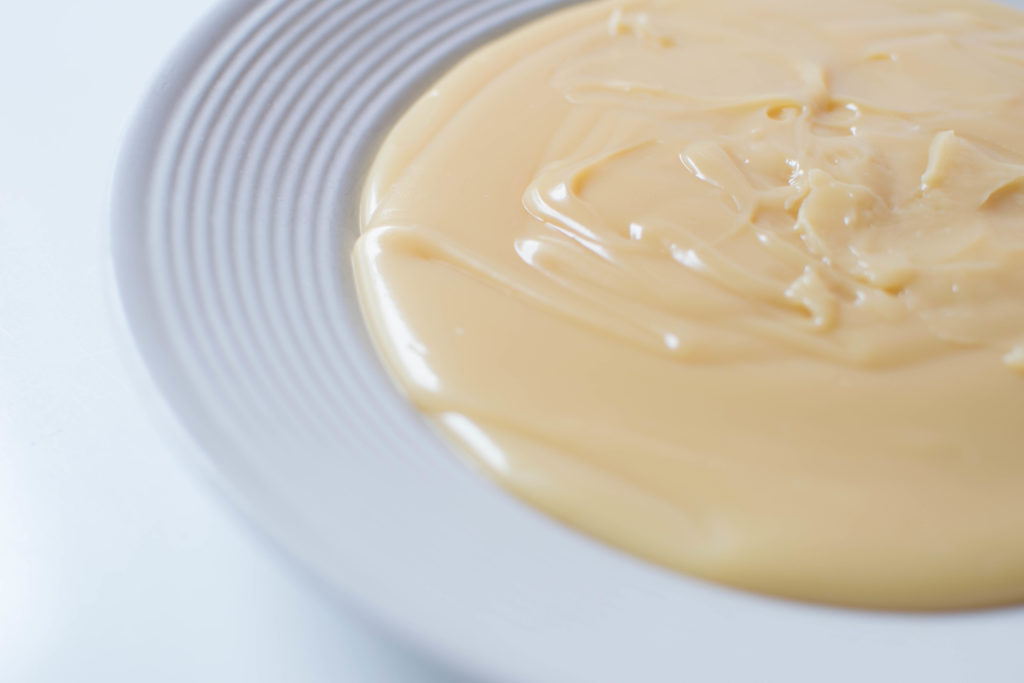 Grease your hands with butter (make sure it's not too greasy). Using a tablespoon or teaspoon, scoop brigadeiro mixture. Roll it into a ball and coat it with shredded coconut.
TIP: A tablespoon is ideal to fit truffle liners since it's not easy to find the smaller sizes used in Brazil. Unless you can find a Brazilian Market near you! Using a tablespoon you can make about 15-18 brigadeiros.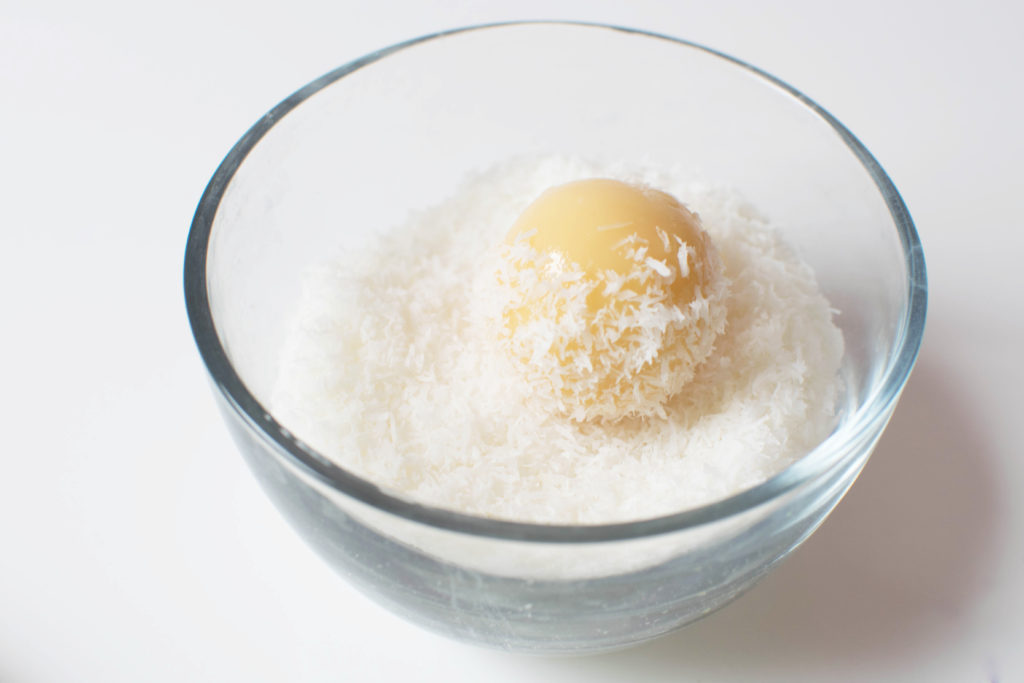 Place the brigadeiro balls in truffle liners.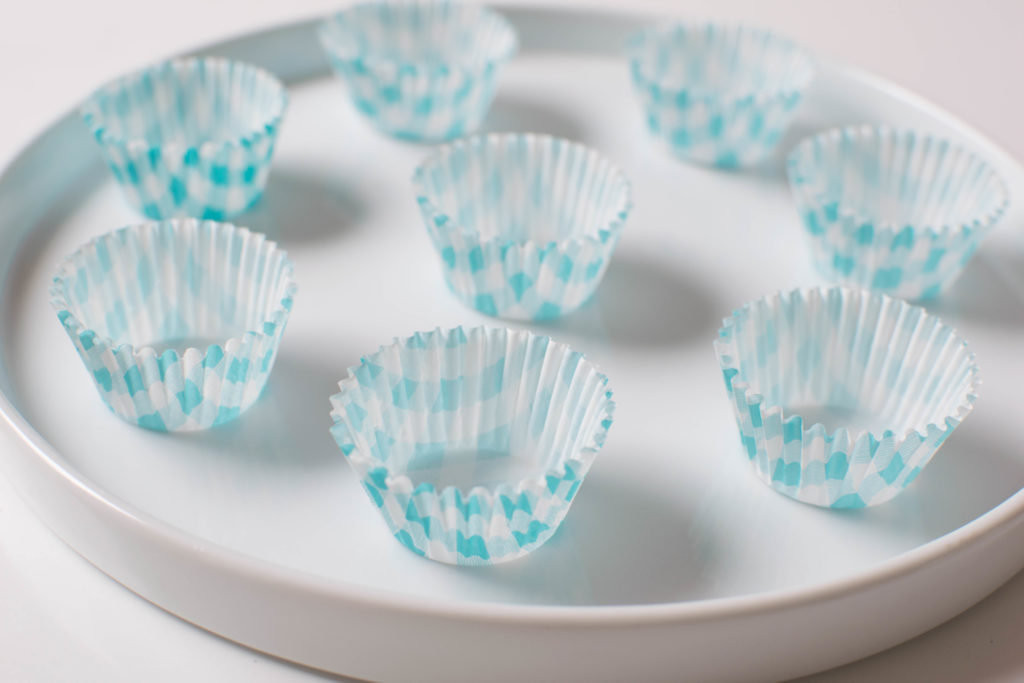 Ta-da! Delicious Brigadeiros for you to enjoy and share with family and friends!
TIP: You can consume them right away or place them in a container (not in the fridge) and wait 2-3 days. They will get a little crunchy on the outside and soft in the inside. My favorite!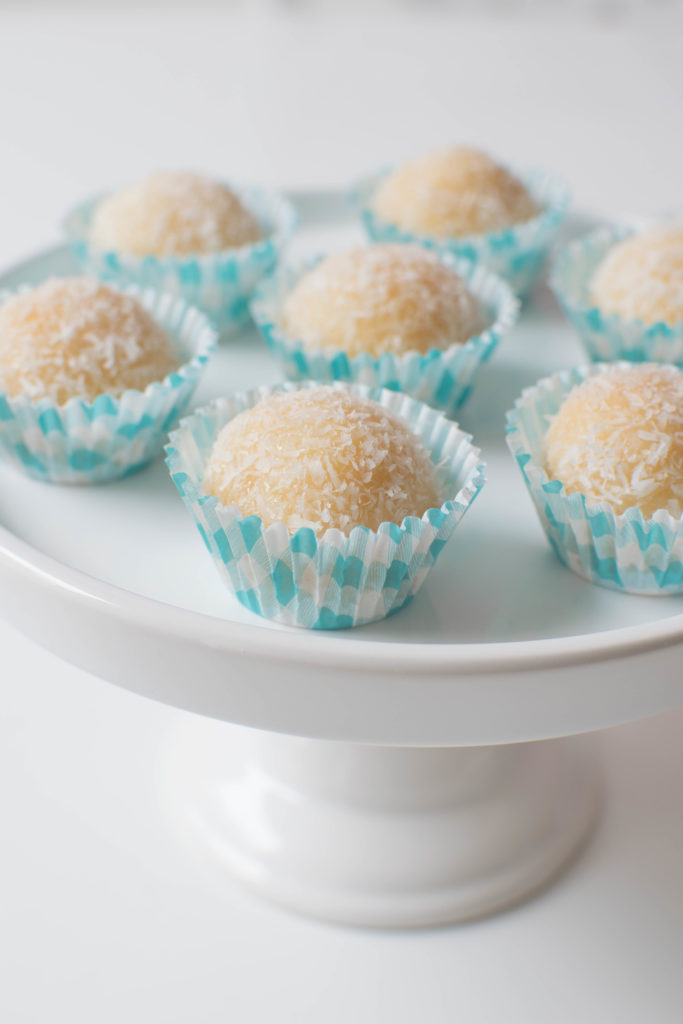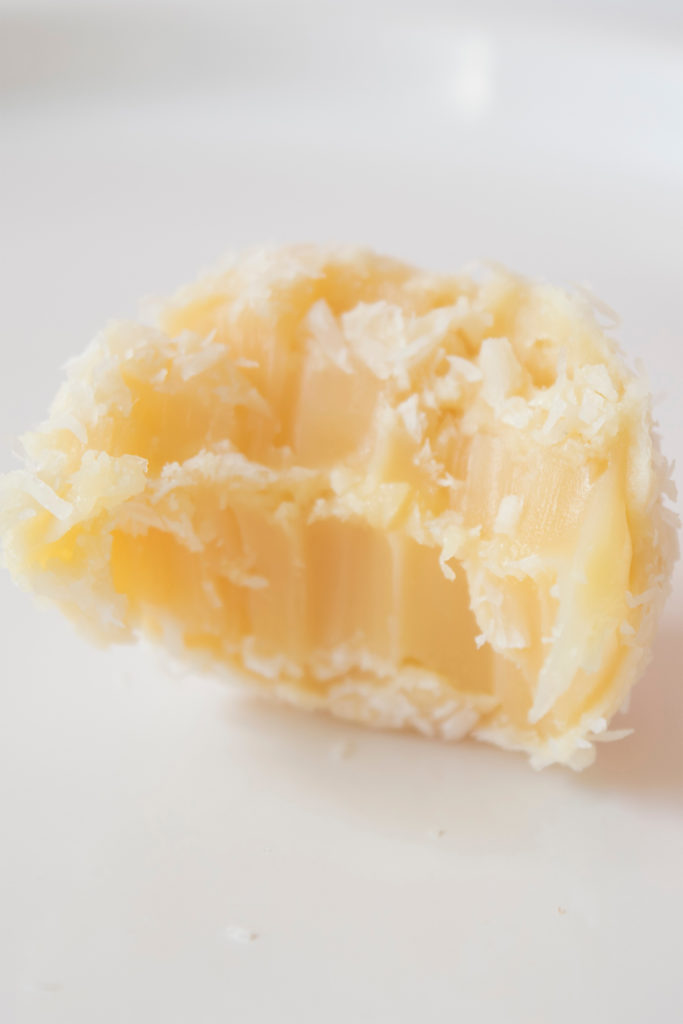 Since Easter is here, I decided to dress them up with cute bunny ears! You can make them for your guests to enjoy if you are hosting a get-together. Simply download and print our freebie here and have fun decorating your brigadeiros! Display them on your favorite dessert stand for a simple yet pretty presentation!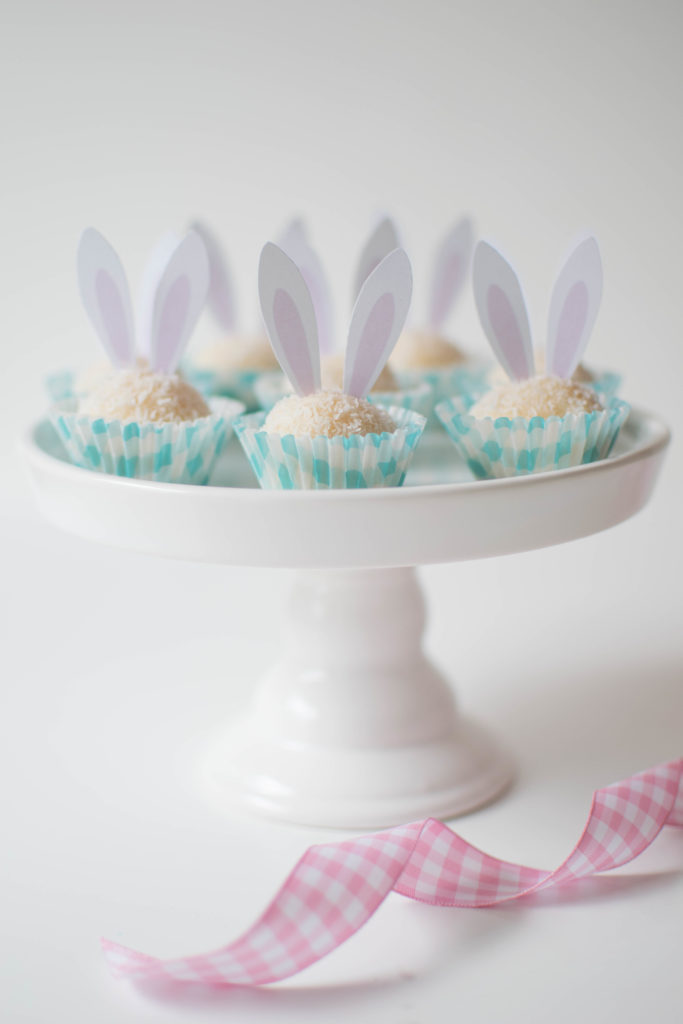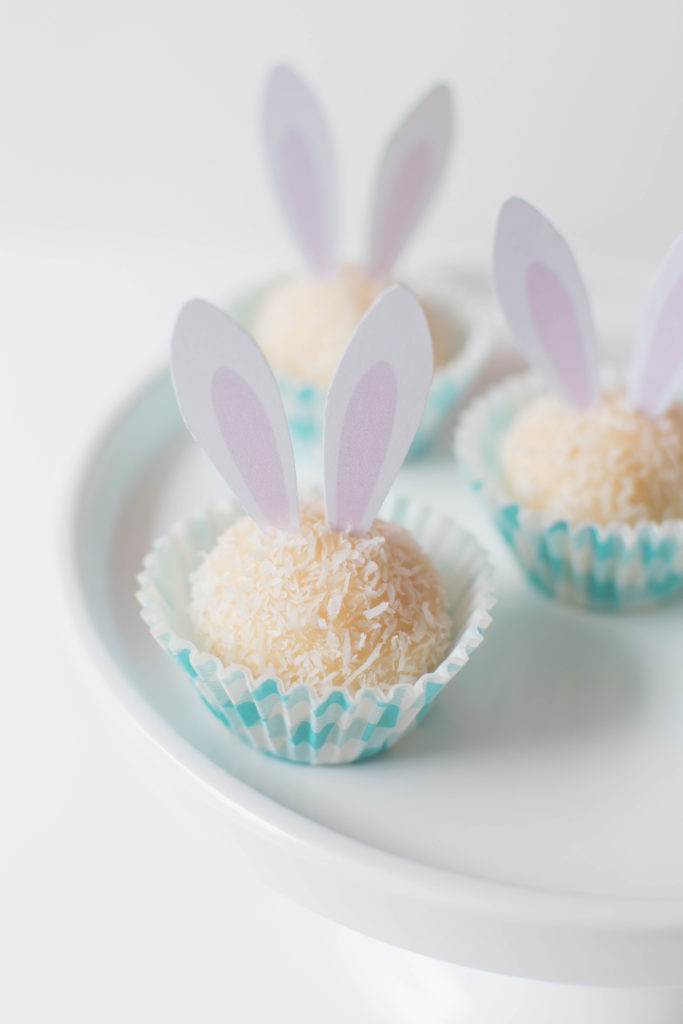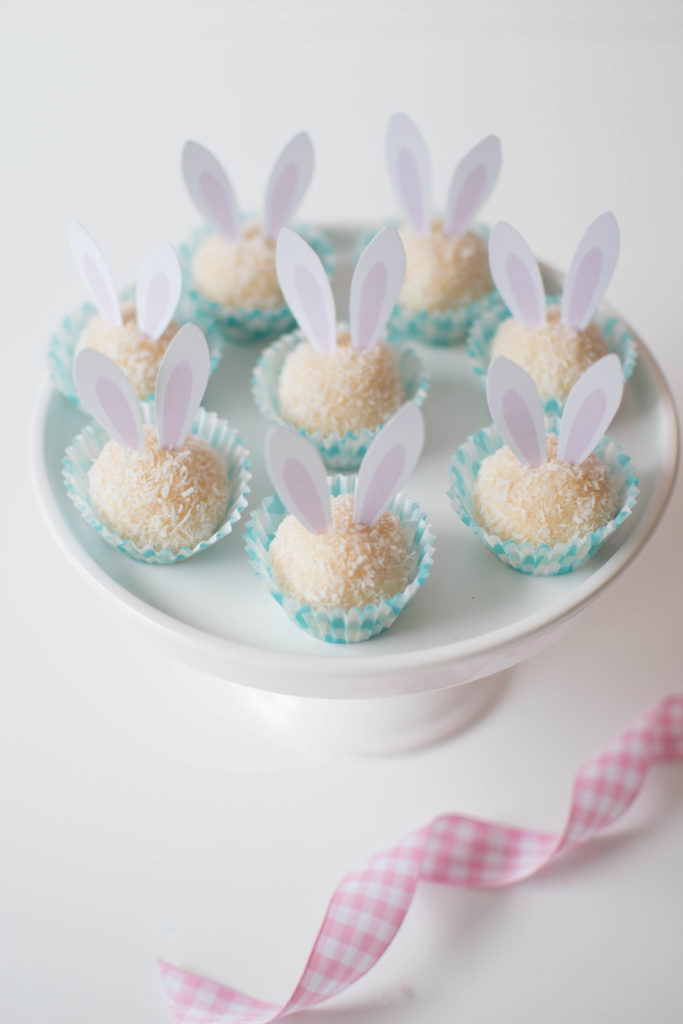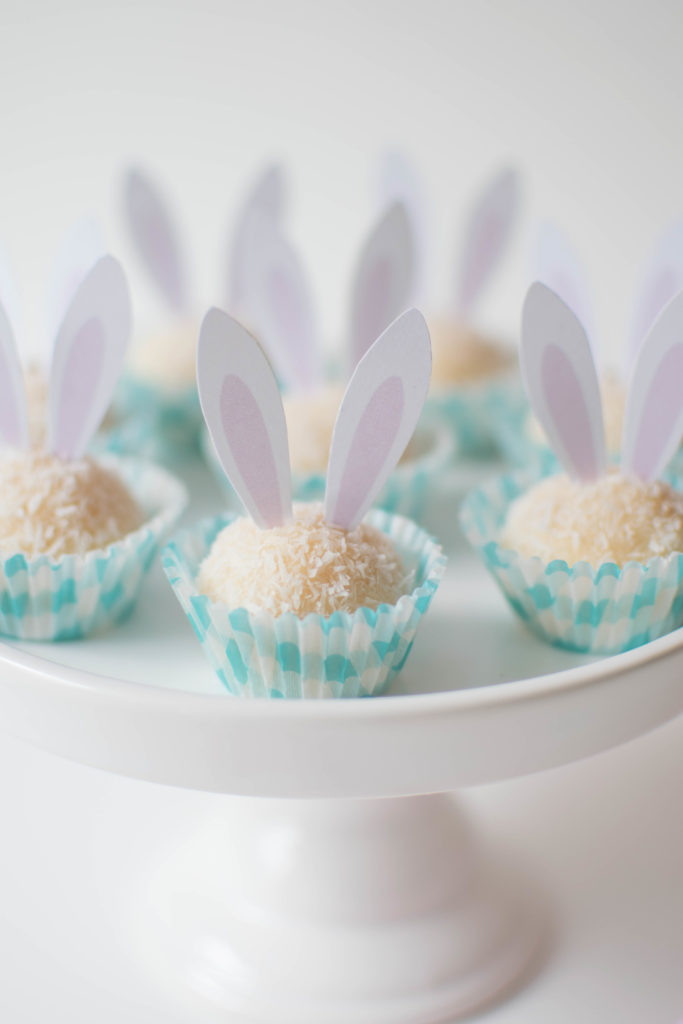 Brigadeiros make the perfect gift for any occasion. Anyone would be thrilled to receive a box of these sweet treats. As Easter gifts, place them in small egg cartons (you can find them at your local craft store this time of the year). Add a cute bow to make it more special!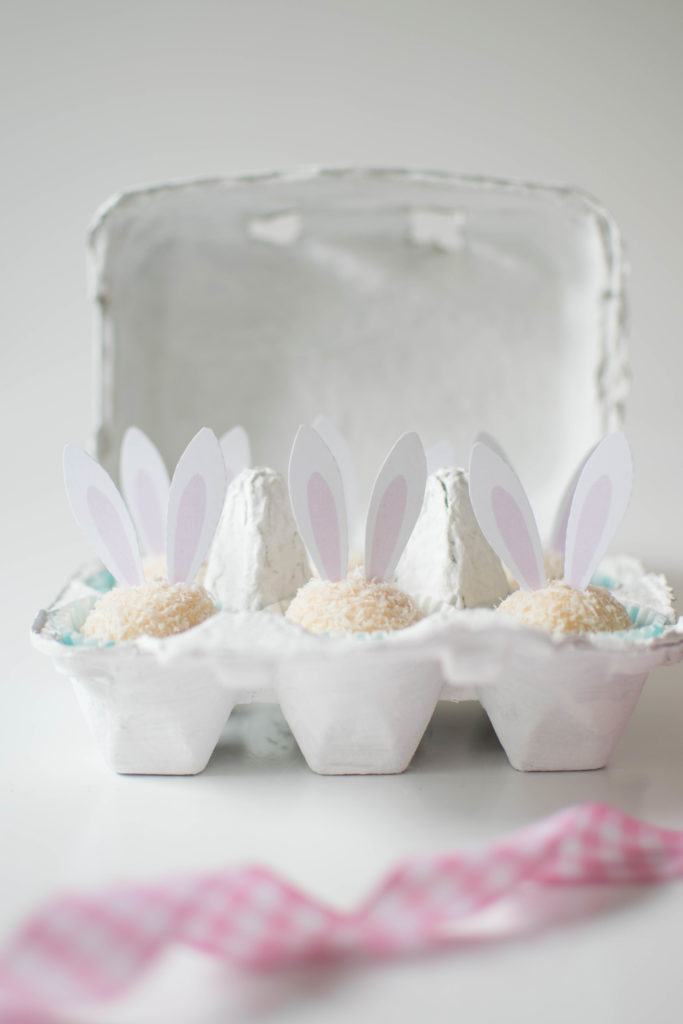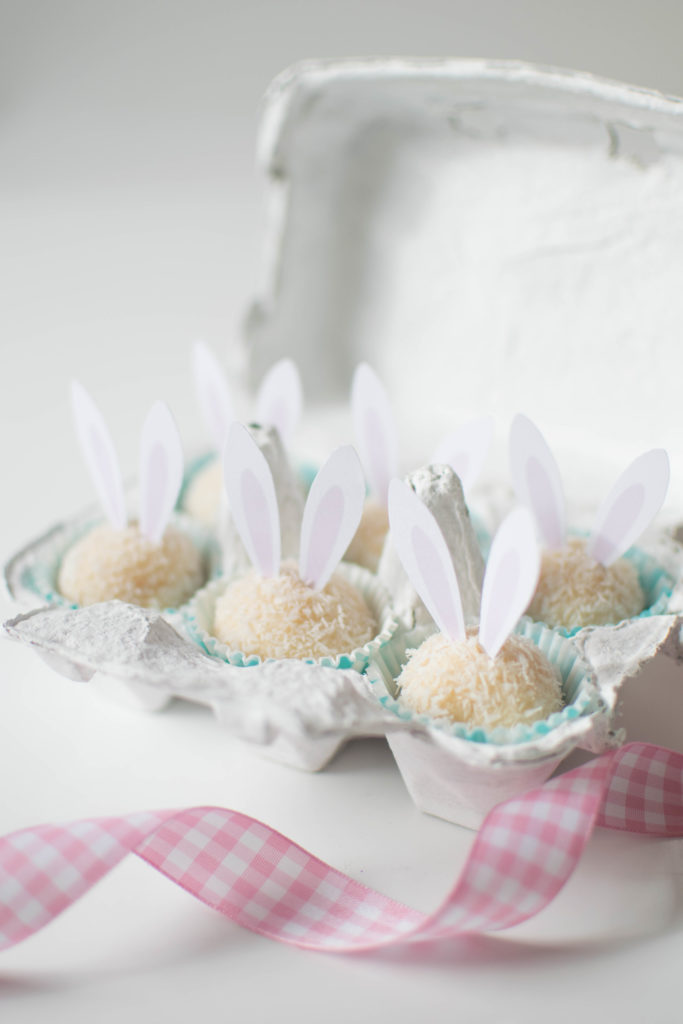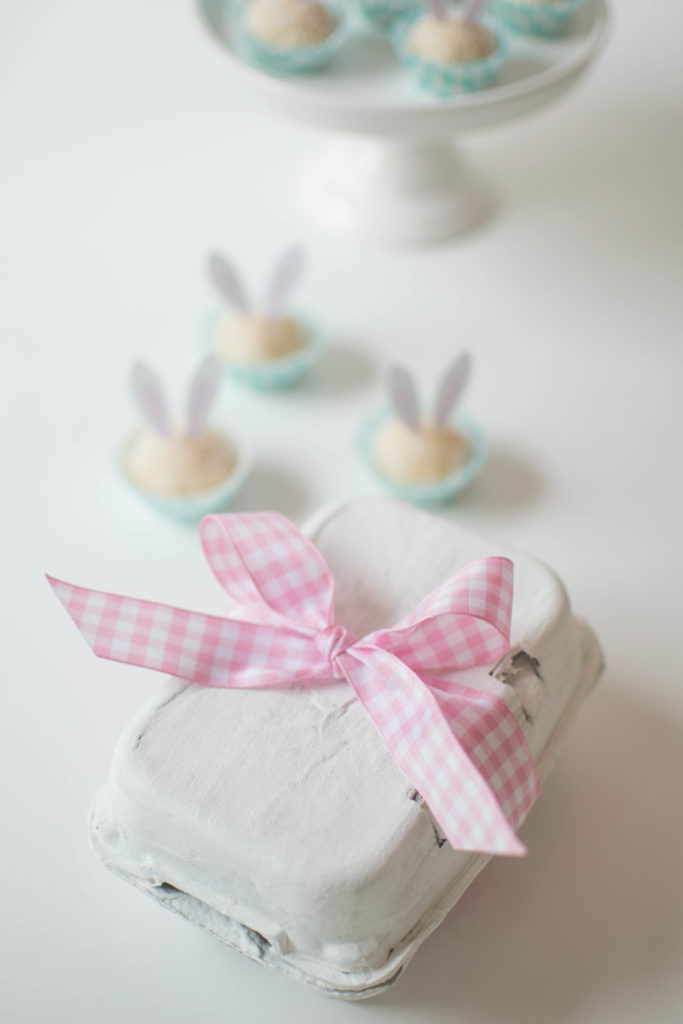 I hope you enjoyed these ideas!
Happy Easter, my friends!