Twinkle Twinkle Little Party may have received payment, trade and/or products for this post. However, I only promote products I love. All opinions stated are my own.
What's better than cupcakes? Cupcakes topped with mini glazed donuts! You guys…I am so excited to share these delicious Baked Vanilla Donut Cupcakes with you today. They make the perfect treats for your next celebration. Best part? They are quick & easy to make plus they are organic! That's right. Organic!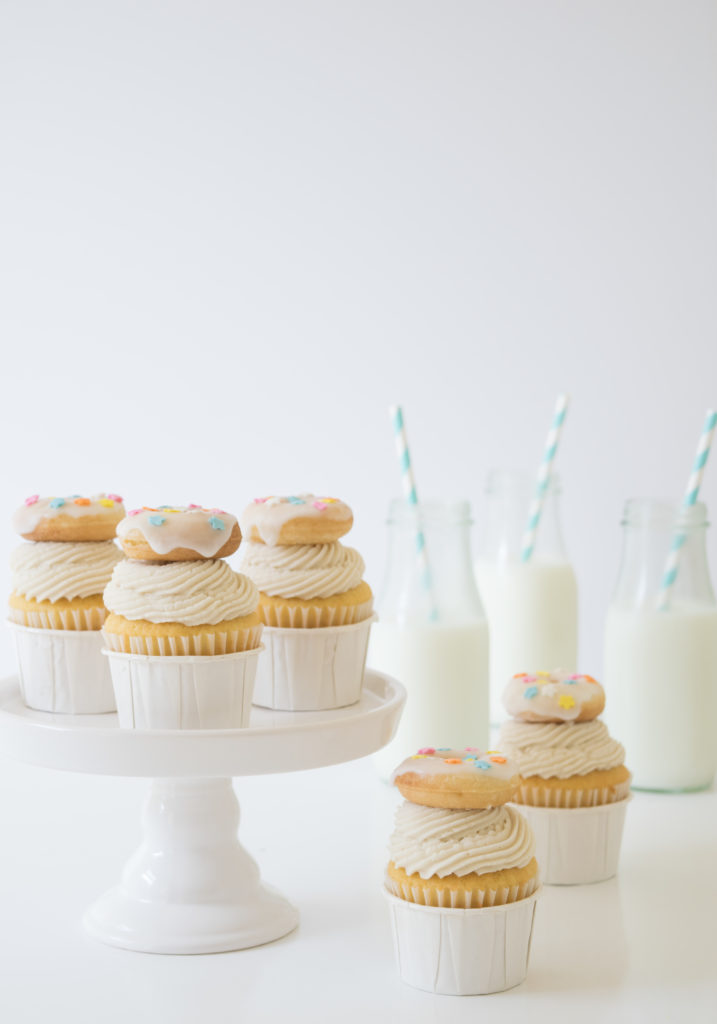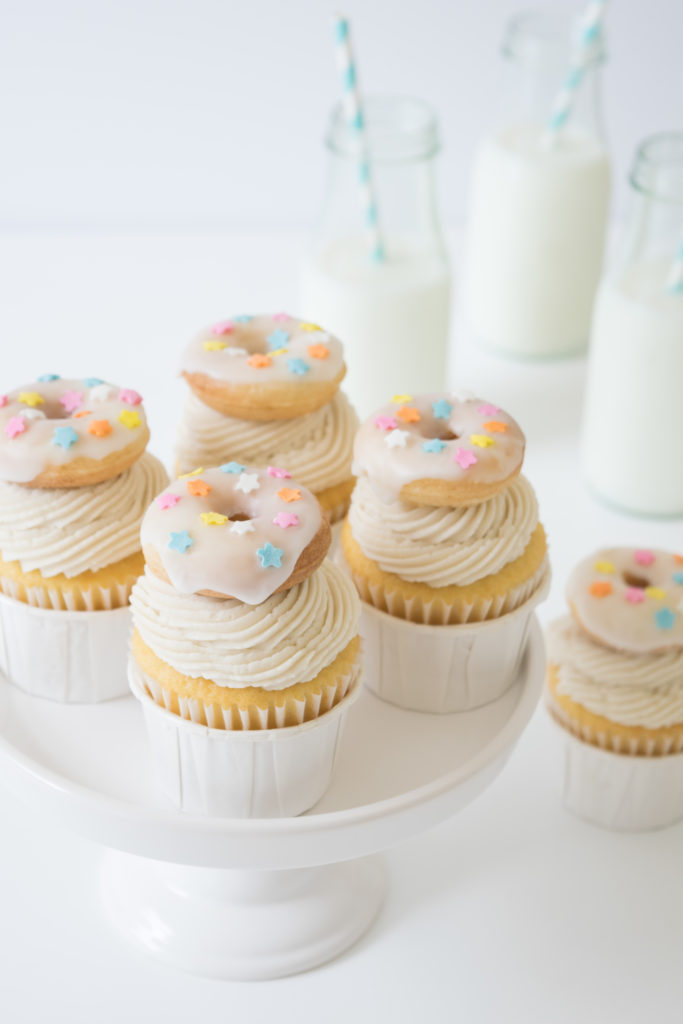 I always try to incorporate cupcakes into my set ups. The fact I can get cupcakes ready in less than 20 minutes is a huge help! Seriously, it can't get any better than this!
Simply bake cupcakes using Miss Jones cake mix. Allow them to cool completely before frosting.
I am completely in love with this organic frosting. It's SO delicious! It's made with coconut oil. How awesome is that?
For the mini donuts, I mixed a box of Miss Jones cake mix, 3 eggs, 1/4 cup vegetable oil and 1/2 cup milk. I baked them using my donut maker. You can absolutely use your donut pan. I dipped them in vanilla glaze and finished the look with fun star sprinkles.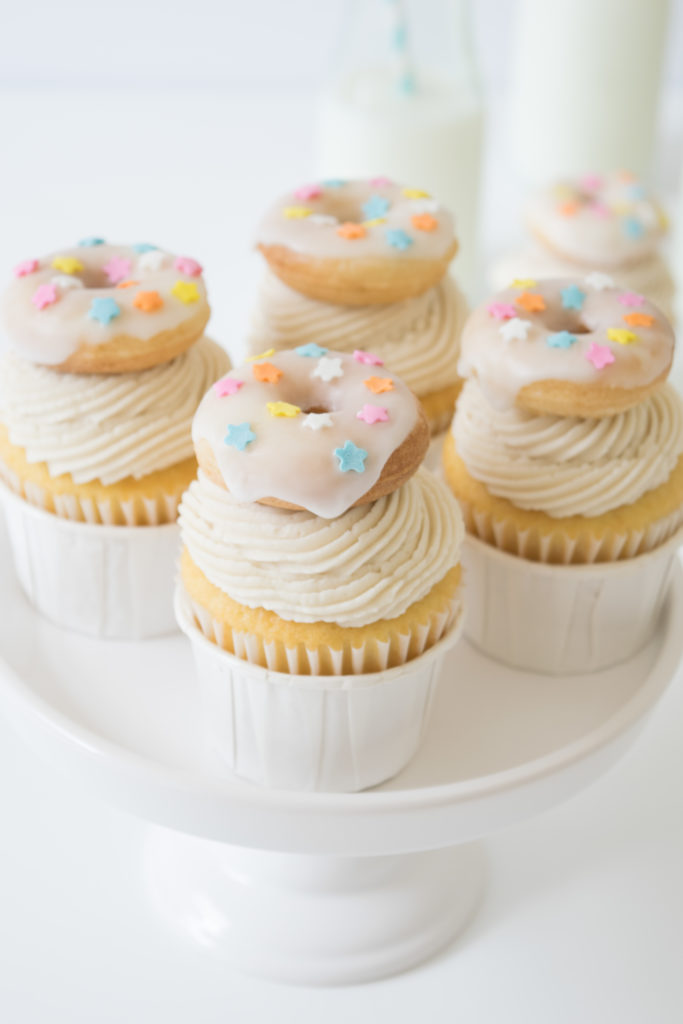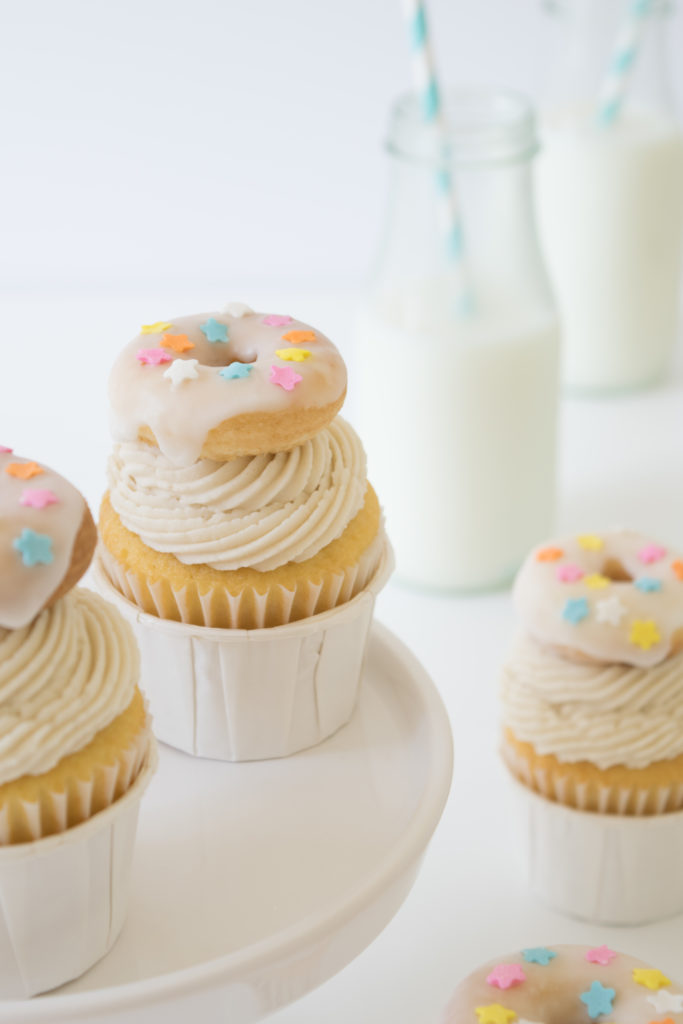 Don't they look super cute? The sweetest idea for any celebration!
Ready to make some delicious donuts?
Mini Vanilla Glazed Baked Donuts
Donuts
Mix all the ingredients together until there are no lumps. Bake mini donuts using your donut machine (following the manufacturer's instructions). Place donuts on a cooling rack. Allow them to cool completely.
Vanilla Glaze
1/2 cup

powdered sugar

1/2

teaspoon

vanilla extract

1

small pinch salt

1 or 2

tablespoons

milk

Sprinkles (optional)
In a medium bowl whisk together the powdered sugar, vanilla extract and salt. Add 1 tablespoon of milk, and whisk to combine. If the glaze is too thick, add additional milk, 1/2 teaspoon at a time until you reach the desired consistency.
Tip: Add food coloring if you wish to match the theme of your party.
Dip donuts into vanilla glaze. Return them to the cooling rack and add sprinkles of your choice.
Once the glaze sets, top your frosted cupcakes with the mini donuts. For a fun presentation, display them on your favorite dessert pedestal.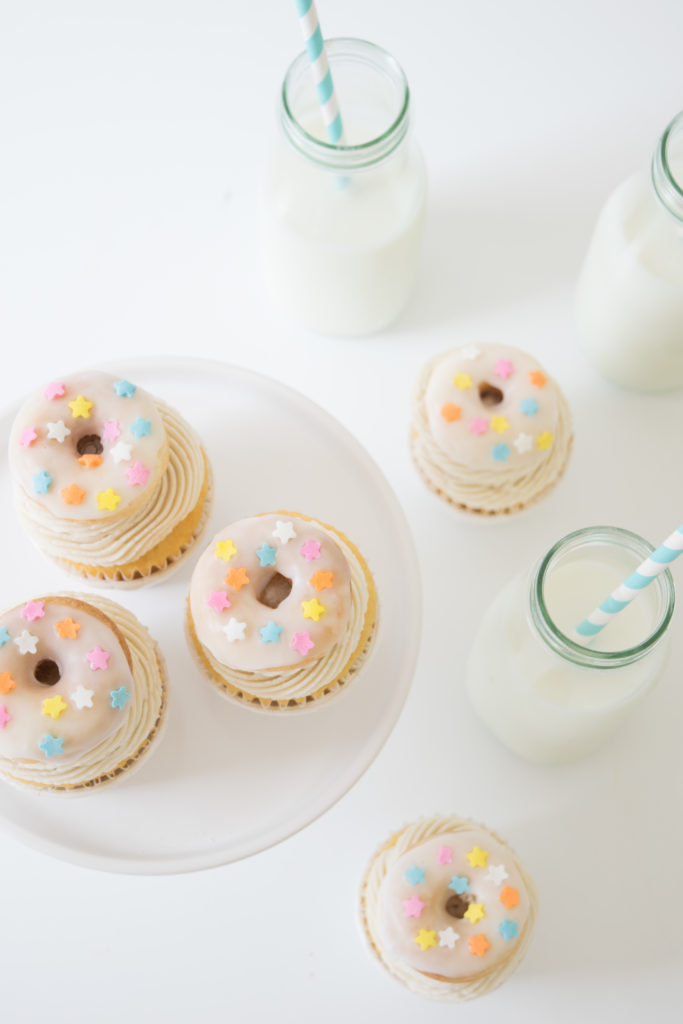 Or simply add them to milk bottles. My kids always get excited about this idea!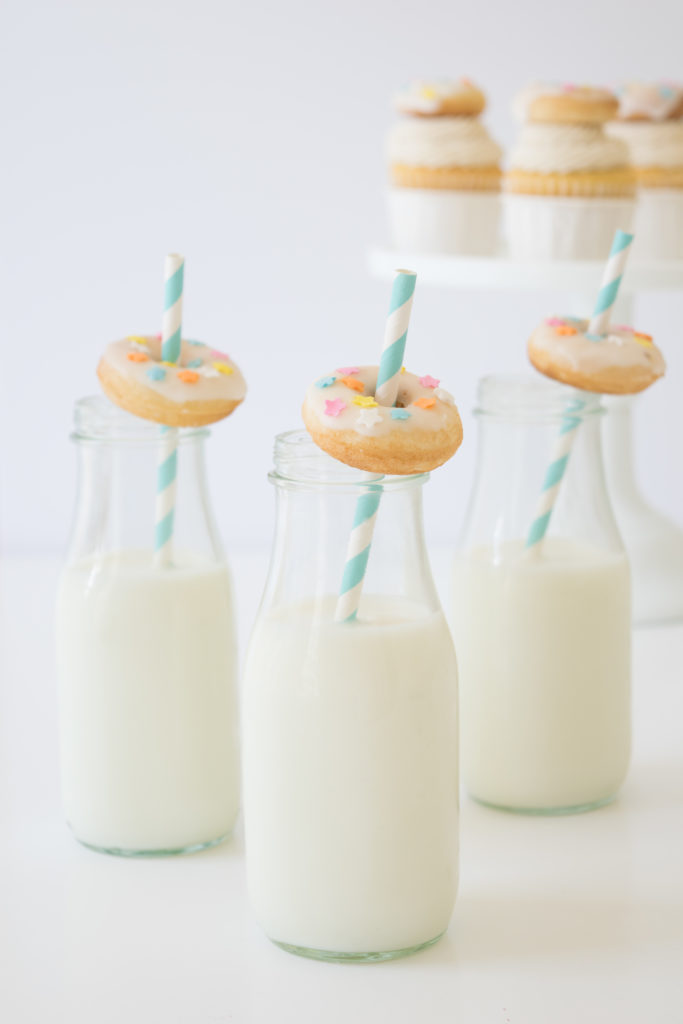 The good news? Miss Jones is giving away a super fun Cake in a Box to ONE lucky winner! Yay!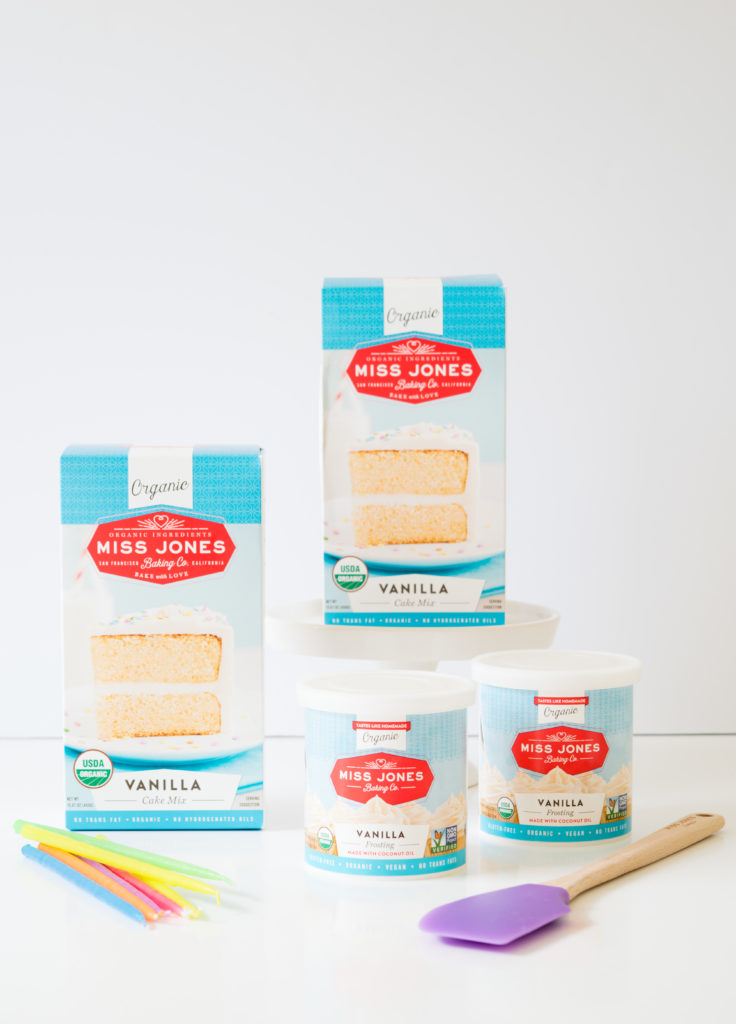 To enter this giveaway, simply go to our Instagram page and leave a comment under the 'Celebrating with Miss Jones' post! Make sure you follow Twinkle Twinkle Little Party and Miss Jones Baking Co.!
Contest starts on Monday, June 5th 8:30 p.m. EST. Must be older than 18. USA entries only. Winner will be picked randomly on Thursday, May 8th.
Styling & Photography: Andressa of Twinkle Twinkle Little Party
Good luck, friends!