This post is sponsored by Nellie's Free Range Eggs. All opinions stated are my own.
Sugar Plum Fairy Nutcracker Parties are the sweetest and we are so excited to share this fun holiday theme with you today! We are sharing a purple swirl meringue kiss recipe and an adorable craft: DIYlollipop holiday ornaments using upcycled egg carton cups.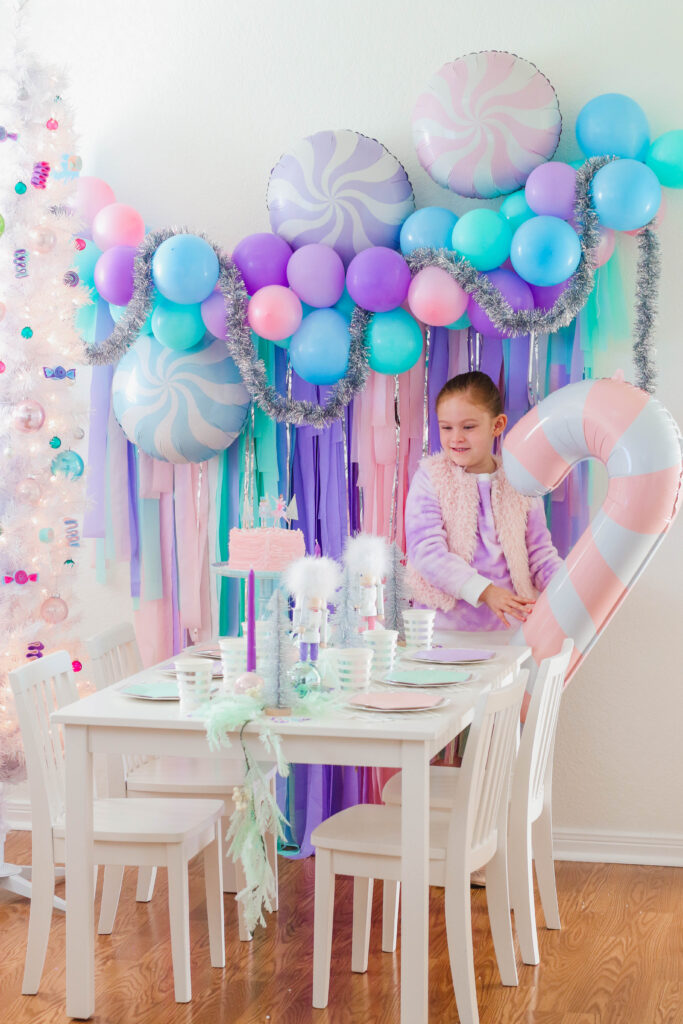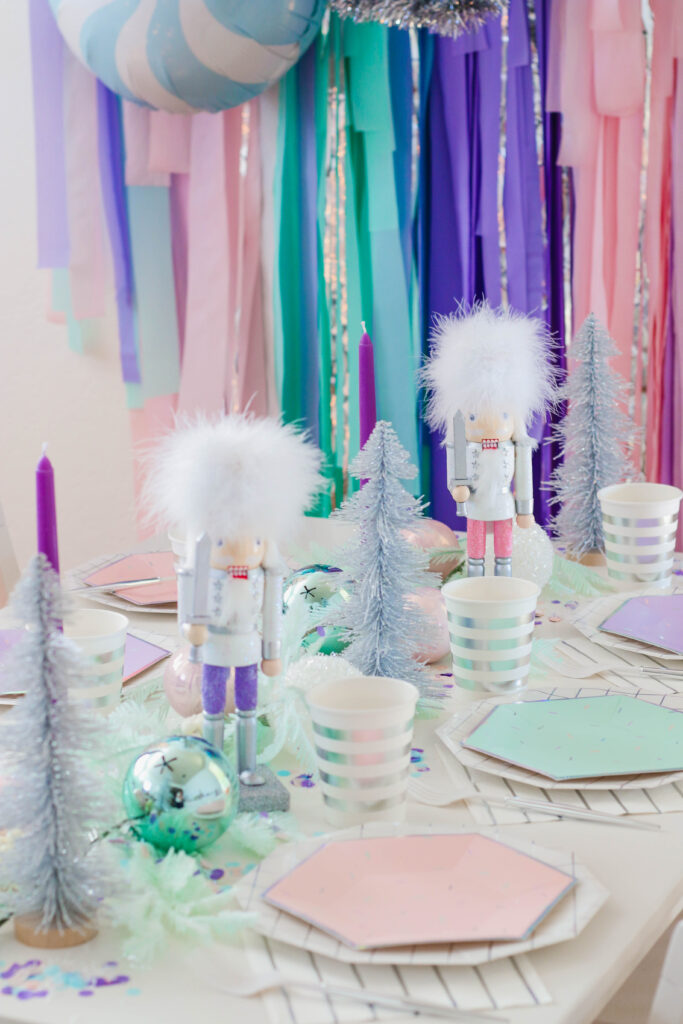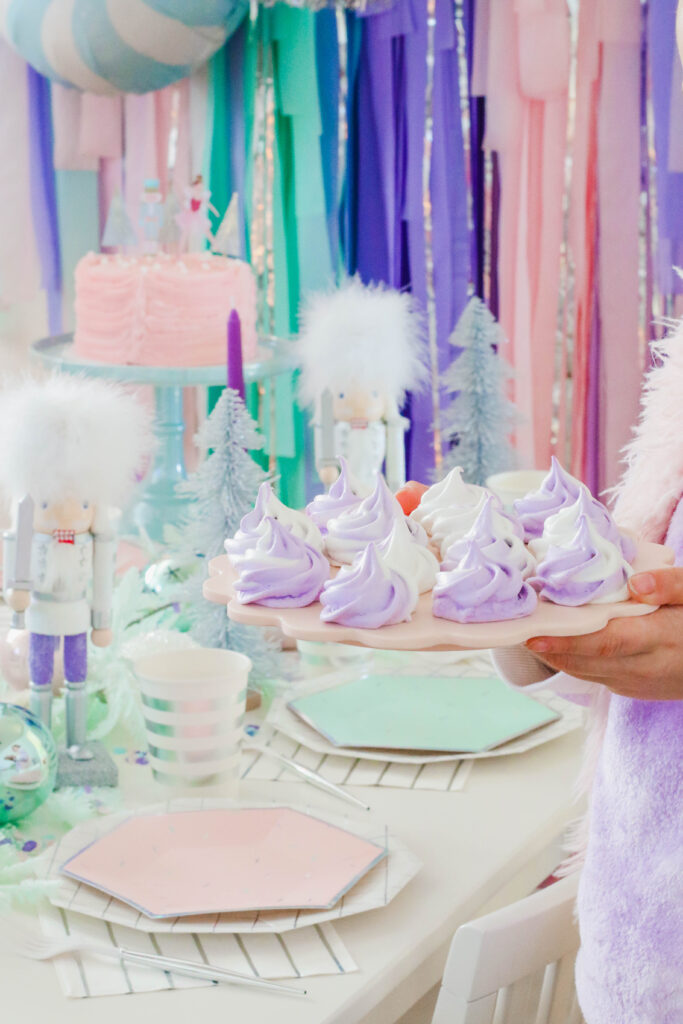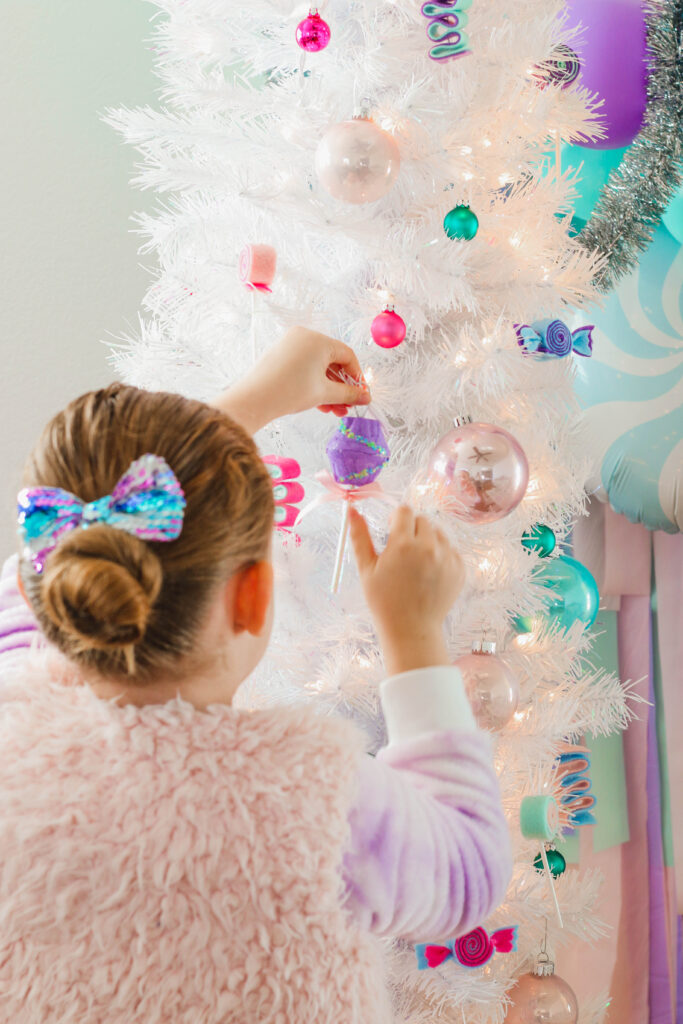 Meringues make the perfect treats for a Sugar Plum Fairy Nutcracker themed party. They are so dainty and so delicious. I love the fact you can create the swirls in any color to match your party decor. I obviously decided on the purple to match those purple Nellie's Free Range Egg cartons that we always have stocked in our fridge!
To make the perfect meringues, always make sure the eggs are fresh and free range!
At Nellie's, the hens are raised on small, Certified Humane® Free Range farms, which means the hens spend their days outside in the sunshine. A better life for the hens means that you and your family can count on their gold standard of quality and nutrition when it comes to feeding your family this holiday season!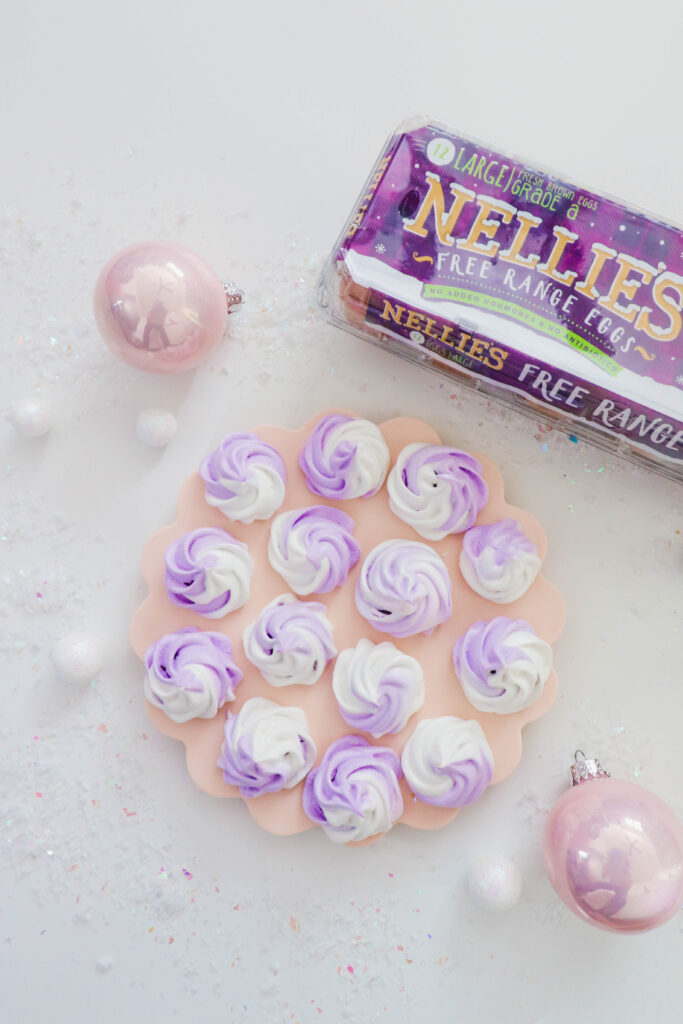 Ready to make your own delicious meringues?
PURPLE SWIRL MERINGUES
INGREDIENTS:
Yield: 50 meringues
6 oz Nellie's Free Range Eggs, whites only, room temp (the whites of about 6 large eggs)
1 1/2 cups granulated sugar
2 teaspoon vanilla
1 teaspoon distilled white vinegar or large pinch of cream of tartar
Gel food coloring
Decorating bag
Star tip
Thin brush
INSTRUCTIONS:
Heat oven to 200 degrees F.
Line baking sheets with parchment paper.
Place egg whites in the bowl of a stand mixer fitted with a whisk and beat on high speed until soft peaks begin to form. With the mixer on medium, gradually add in sugar and then vanilla and vinegar. Increase speed once all ingredients are added and beat until stiff, glossy peaks form.
Using a small paintbrush, paint 3 vertical stripes of food coloring inside a pastry bag fitted with a star tip. Note: You can add food coloring to the meringue and gently fold it in instead.
Fill bag with meringue, and pipe 1 3/4-inch swirly shapes, 2 inches apart on parchment-lined baking sheets. As you finish piping each shape, apply less pressure to pastry bag, and swirl the tip off in a circular motion.
Bake meringues until crisp on the outside but still soft inside, about 1 hour 15 minutes. Let cool completely on a wire rack.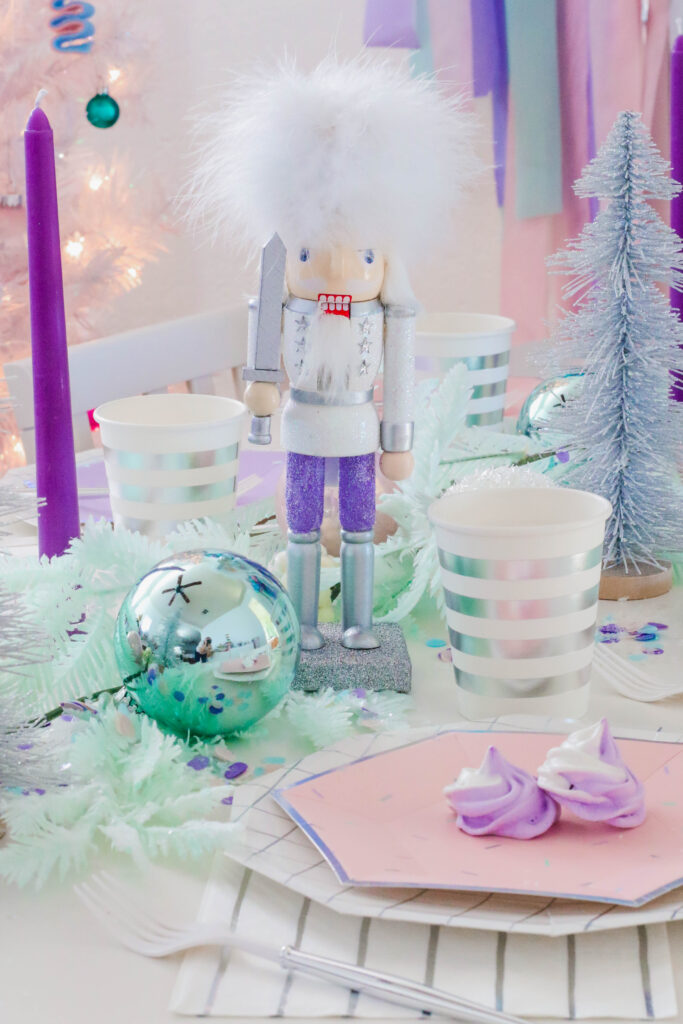 My daughter absolutely loved creating her own DIY Lollipop Holiday Ornament. She was so excited to hang it on the tree. It turned out super cute! We are excited to share the easy steps so your kids can create their own ornaments as well.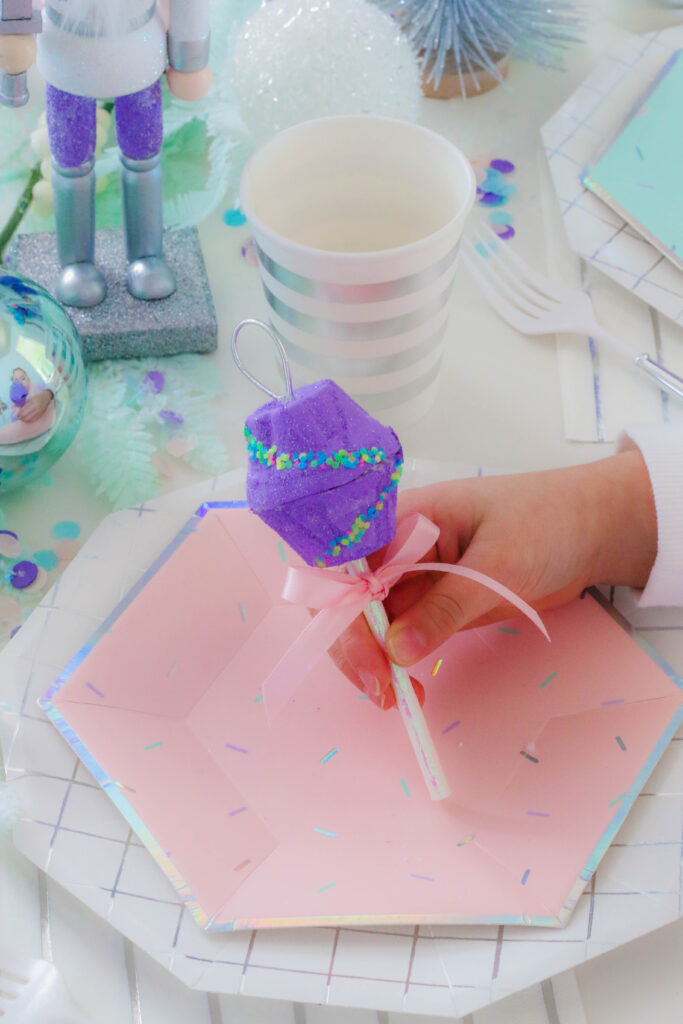 DIY LOLLIPOP HOLIDAY ORNAMENT
What you will need for this fun craft:
Acrylic paint
Fine Glitter
Chucky colorful glitter (optional)
Paint brush
Mini cups (disposable or whatever you use for crafting)
Scissors
Glue
String
Paper straws
Ribbon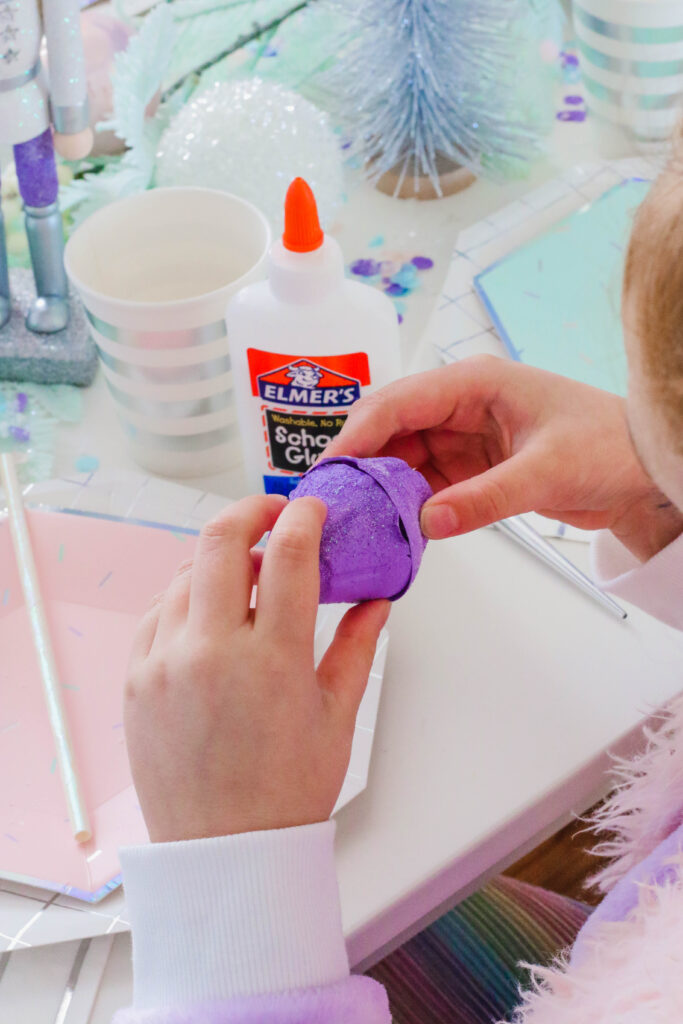 INSTRUCTIONS:
Cut out individual egg carton cups. Paint them in the colors of your choice and sprinkle with fine glitter. Let them dry completely.
Glue two painted egg carton cups together. Allow to dry.
Cut a piece of paper straw and glue it to one of the egg carton cup bottoms.
Using glue, create a swirl on your painted egg carton cups and add chunky glitter.
Cut a piece of string, create a loop and glue it to the top of the egg carton cup.
Tie a ribbon to your lollipop stick to finish the look!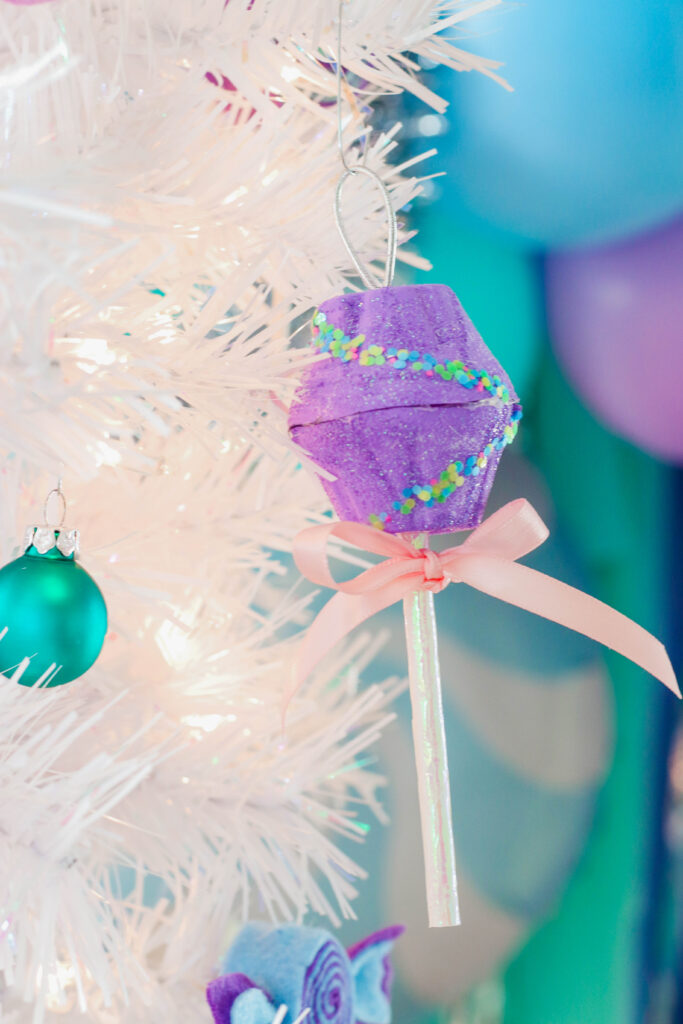 Bring the theme to life by creating a festive party scene using a colorful fringe backdrop, coordinating balloon garland, peppermint and candy cane balloons in pastel colors. Let's not forget the tinsel! Adding a Christmas tree to your party set up is a plus!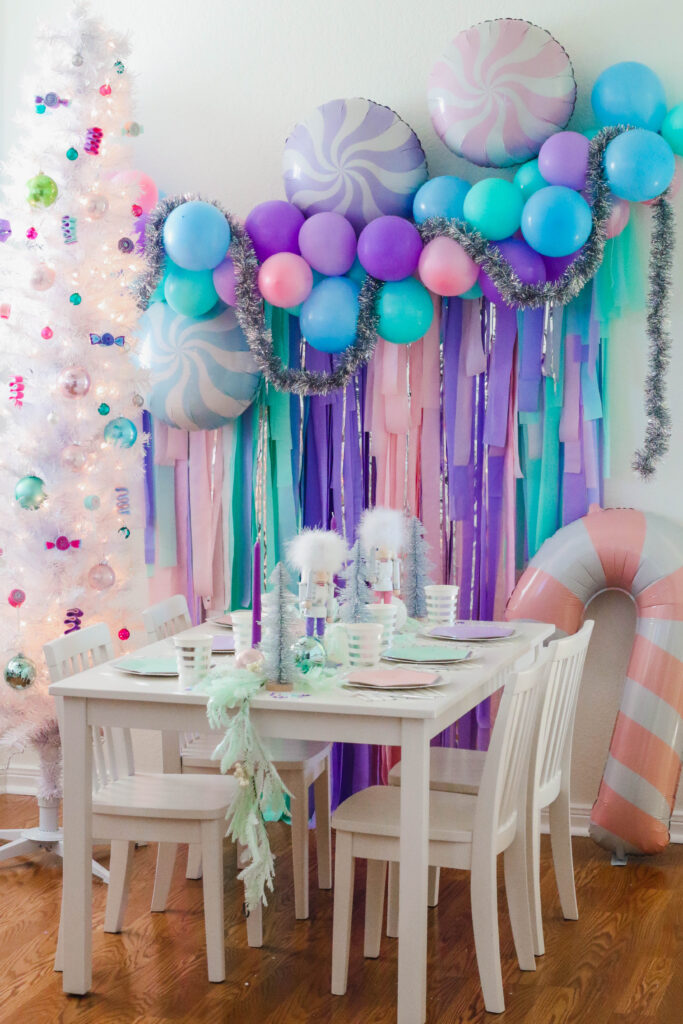 For a whimsical tablescape, incorporate Nutcrackers, brush trees, Christmas bulbs, tall candles and a holiday garland to add texture to your table.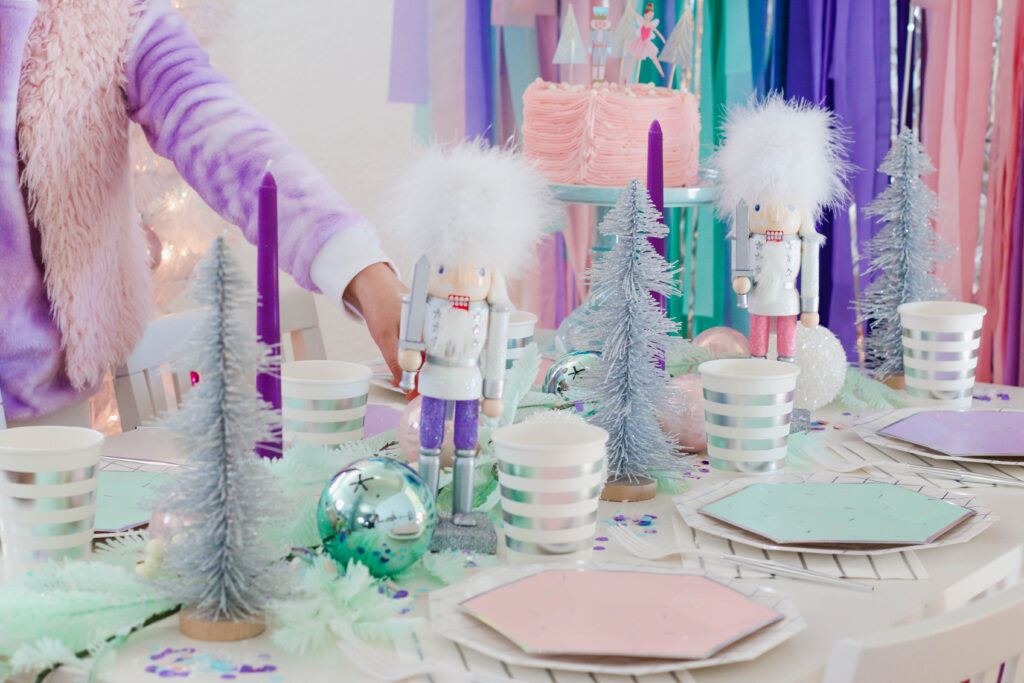 Pastel partyware with silver accents will make your table sparkle!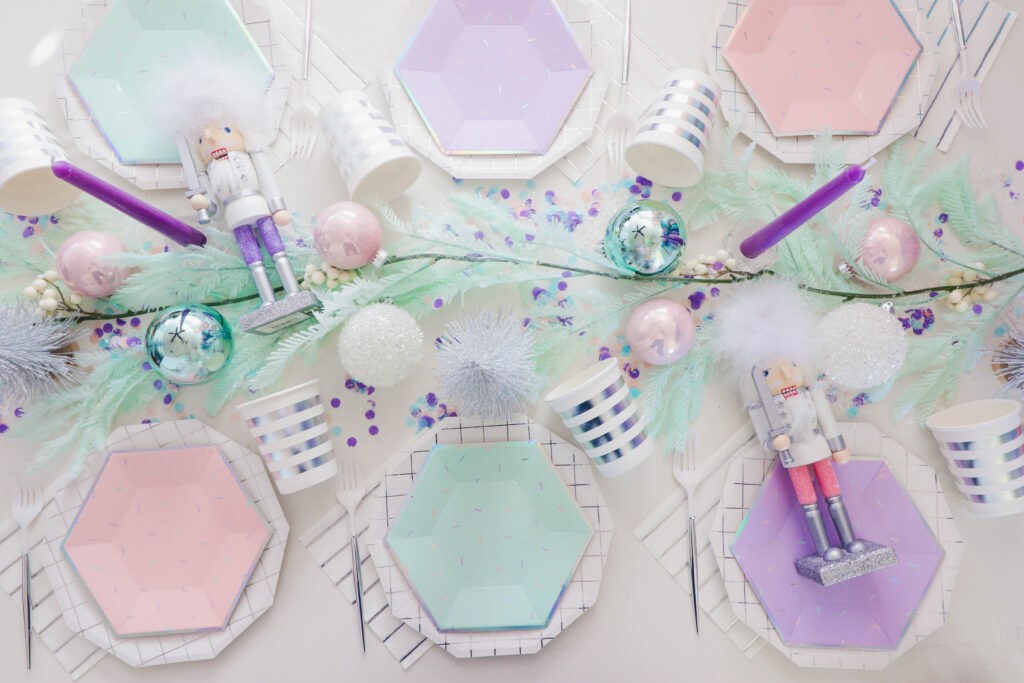 Another easy way to bring the theme to life is by dressing up your party sweets with Sugar Plum Fairy Nutcracker themed cake toppers! They add instant fun!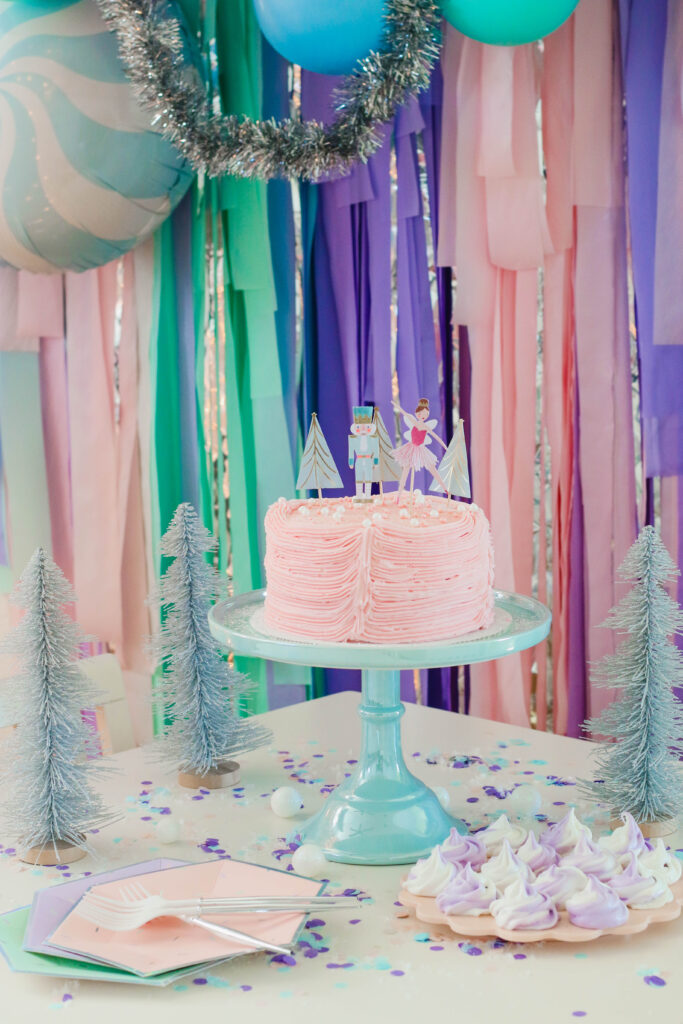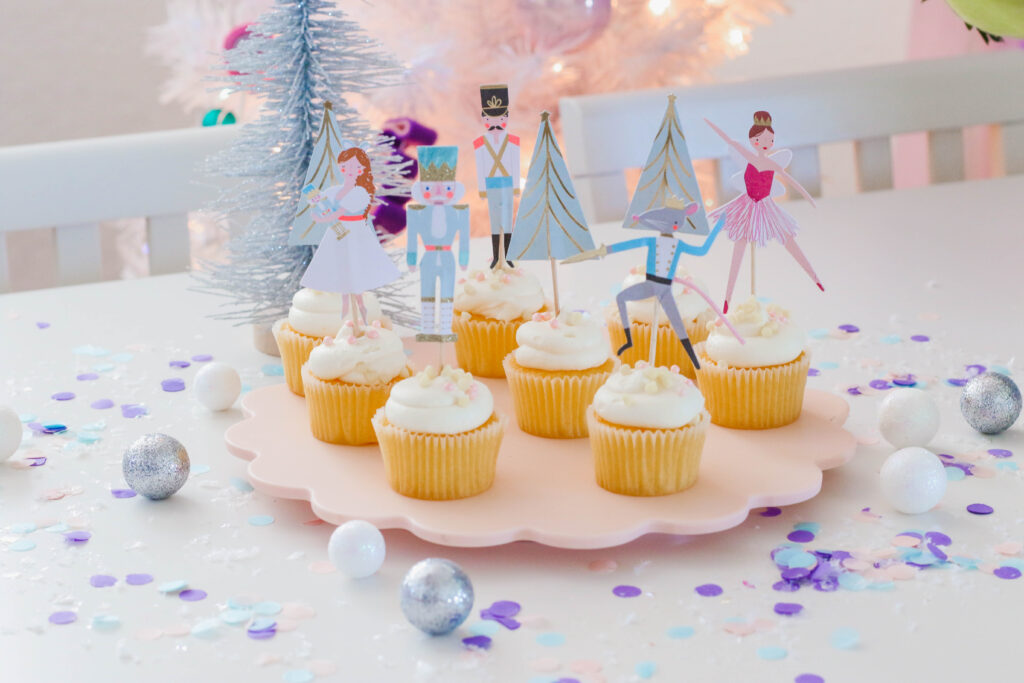 Last but not least, there's no winter party without a yummy cup of hot cocoa. Jazz it up with mini white and pink peppermint marshmallows. You can find the recipe for our Pink White Chocolate Hot Cocoa here.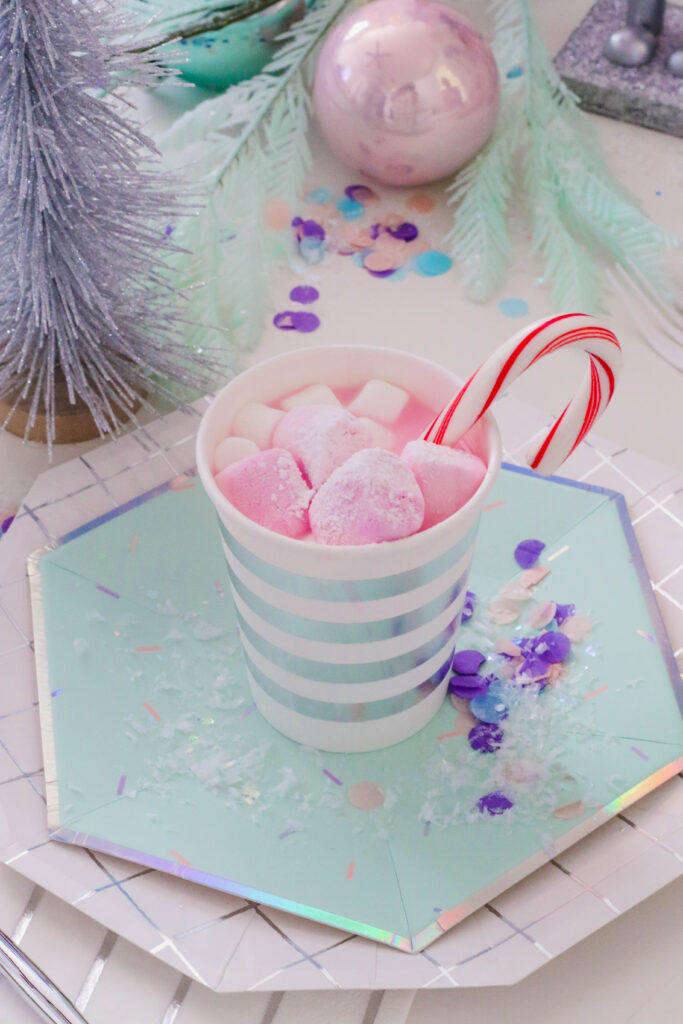 Happy planning, my friends! I hope you recreate our party ideas and enjoy this magical season with your children!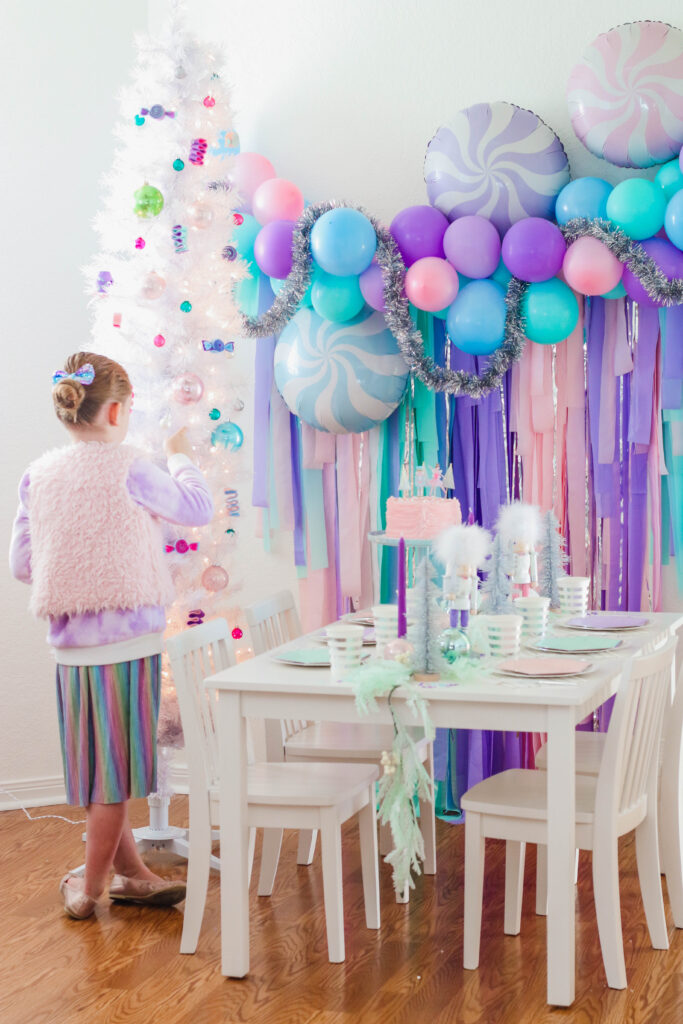 Styling & Photography: Andressa of Twinkle Twinkle Little Party
Partyware and Balloons: A Little Confetti Shop
Custom Fringe Backdrop: The Stylish Detail