This post is sponsored by Nellie's® Free Range Eggs. All opinions stated are my own.
I am so excited to kick off the holiday season with some winter party ideas on the blog, friends! I've teamed up with Nellie's Free Range Eggs once again to share a few deliciously sweet ideas for hosting an adorable winter wonderland party for the kids!

This is my 5th party post celebrating Nellie's, and it's been an absolute pleasure to work with them. I have been able to create the type of content I truly love, which is doable yet fun and creative parties that inspire parents to create sweet moments for their kids at home. I feel blessed that I get to do this weekly with my kids, and it makes me extremely happy to know I can help you do the same for your little ones as well!

Ready to get this party started?
This Winter Wonderland party is a fun, magical theme the kids will absolutely love! Instead of working with the usual all-white color palette, I opted for white, soft pink, and shades of purple. I really enjoyed how it turned out!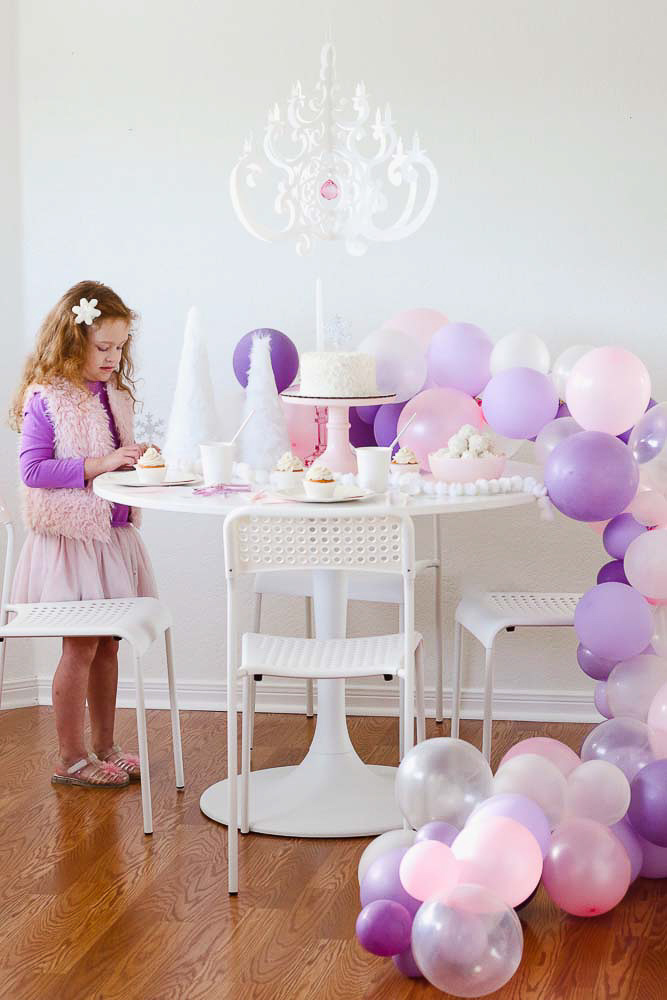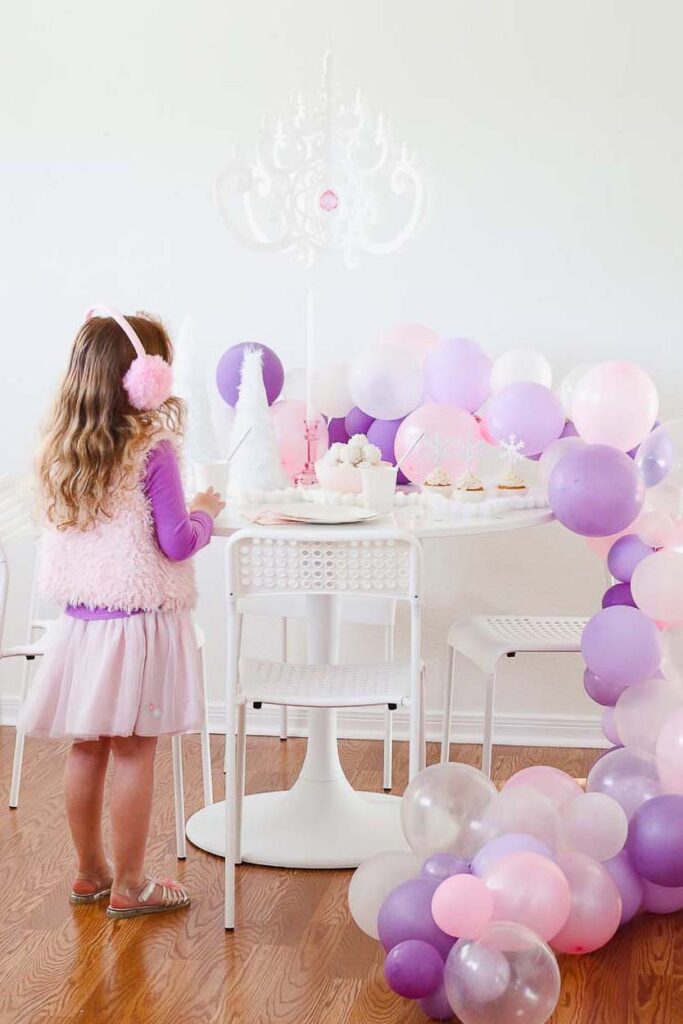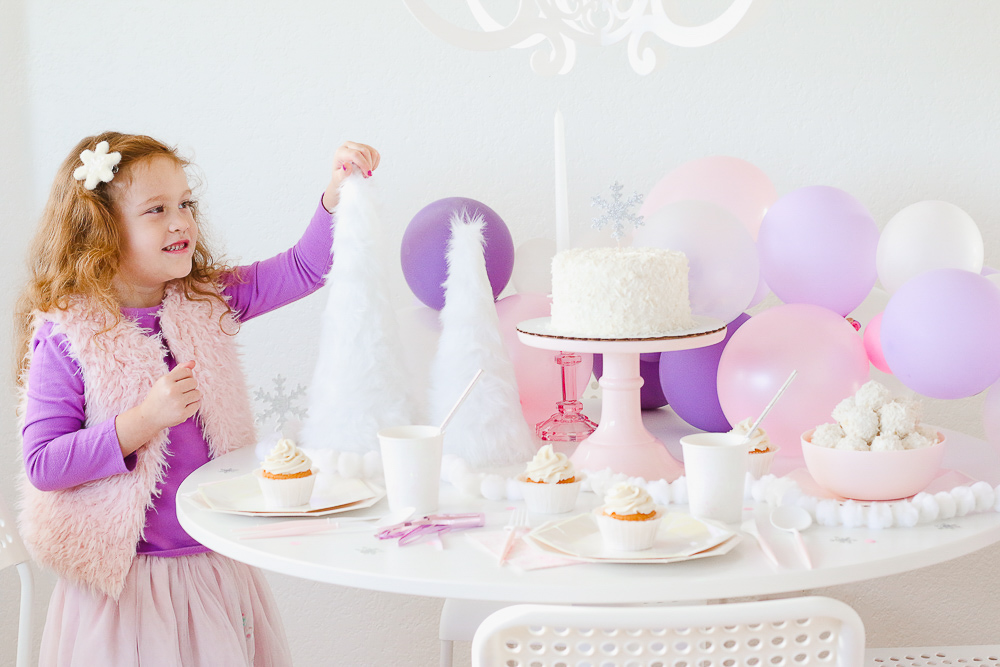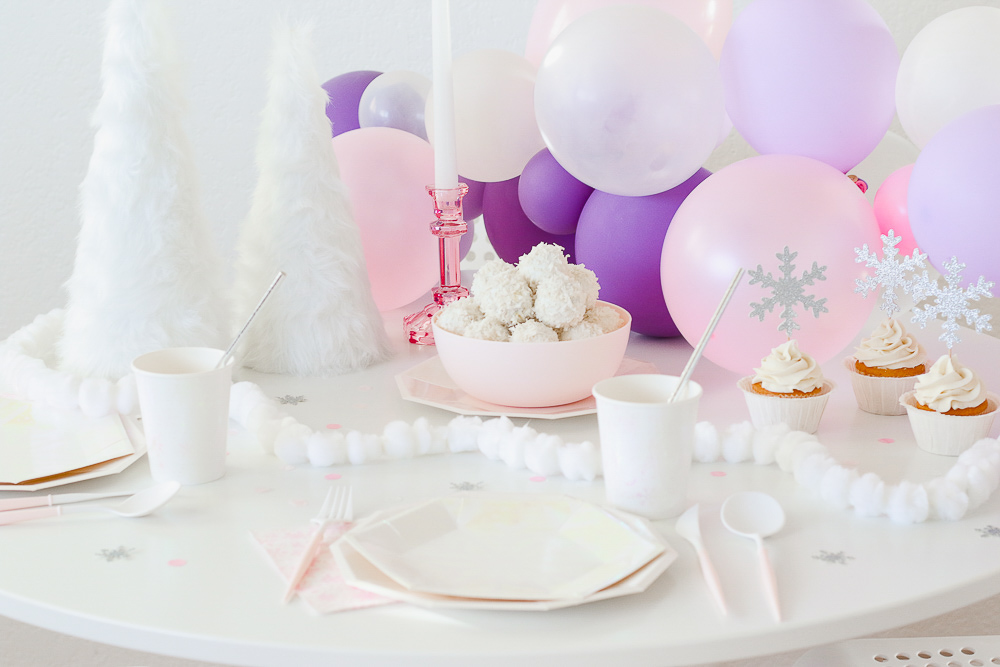 I was so inspired by this beautiful Frosted collection from Daydream Society so I had to include it! Iridescent has been so trendy lately. It is definitely a must have for winter parties!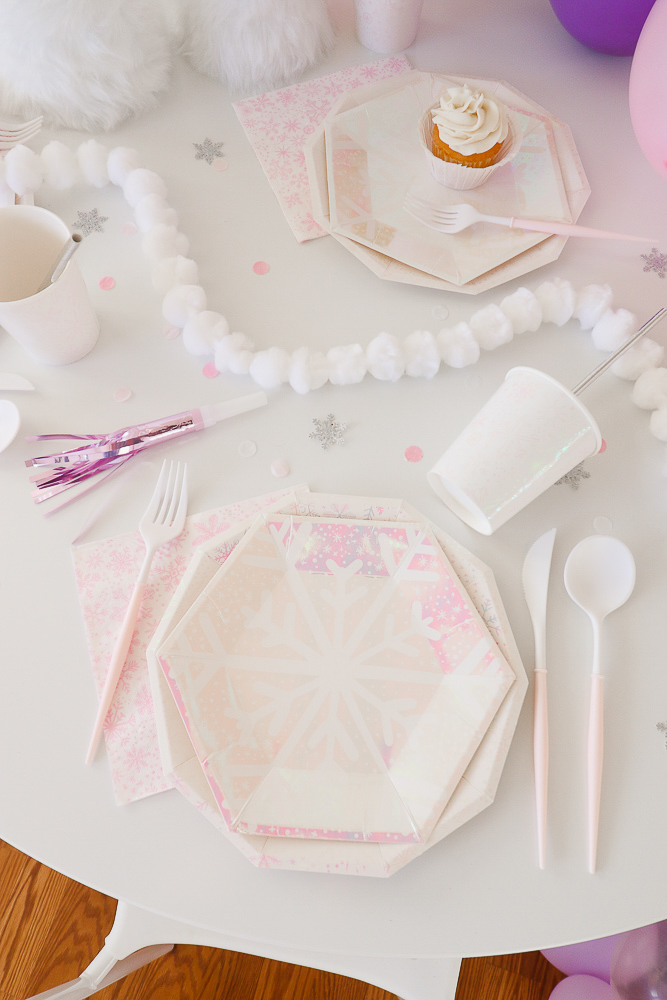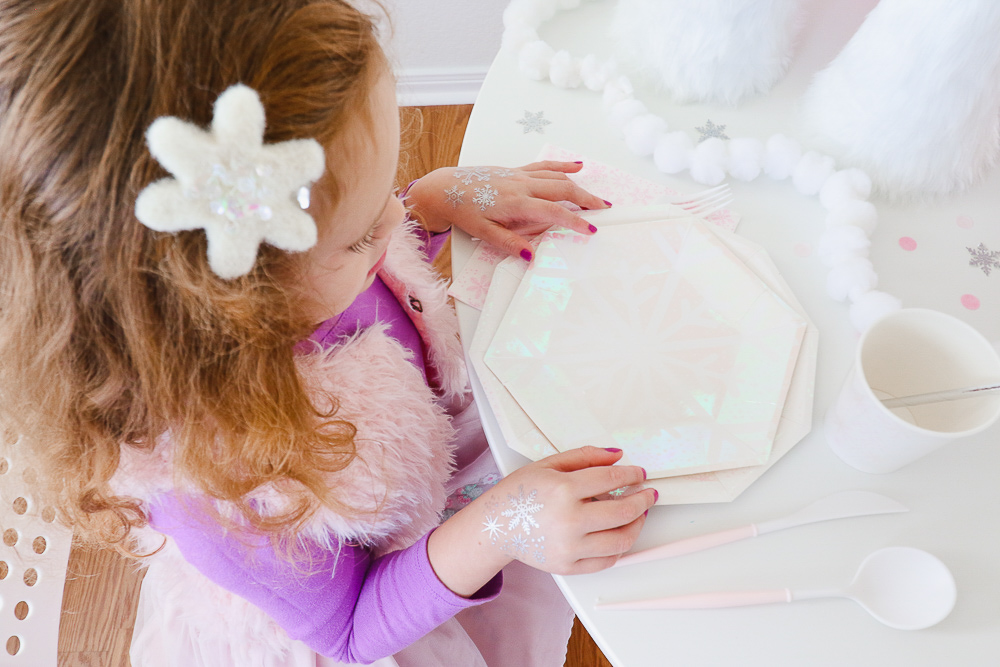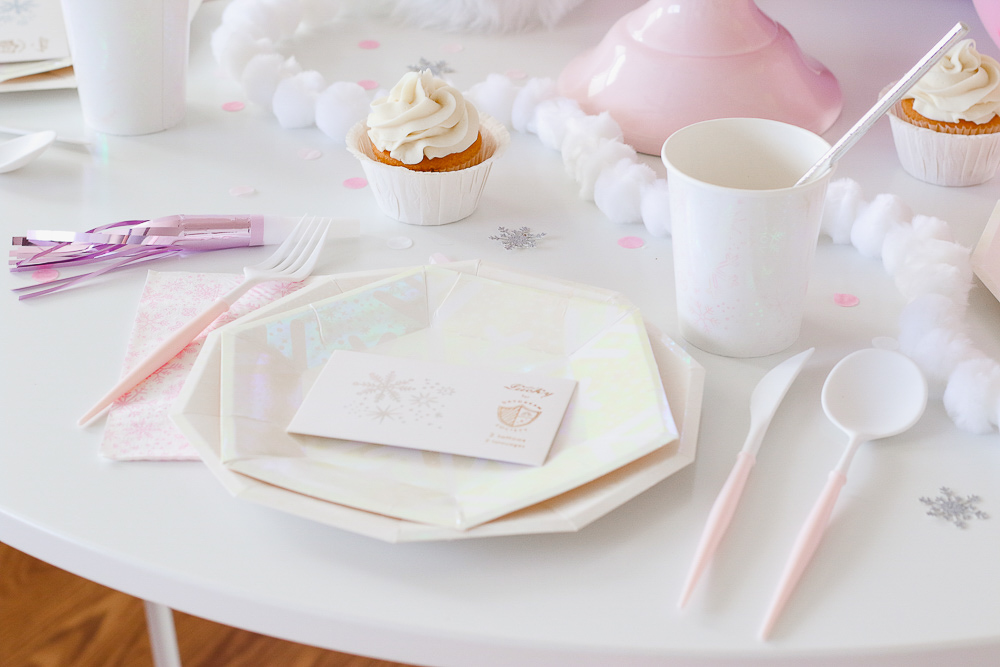 For my winter tablescape, I created a balloon cascade and hung my beautiful white acrylic chandelier above the table. To add height and a winter feel to my set up, I incorporated two faux fur trees. In addition, I used a white pompom garland that resemble snowballs as an accent fixture.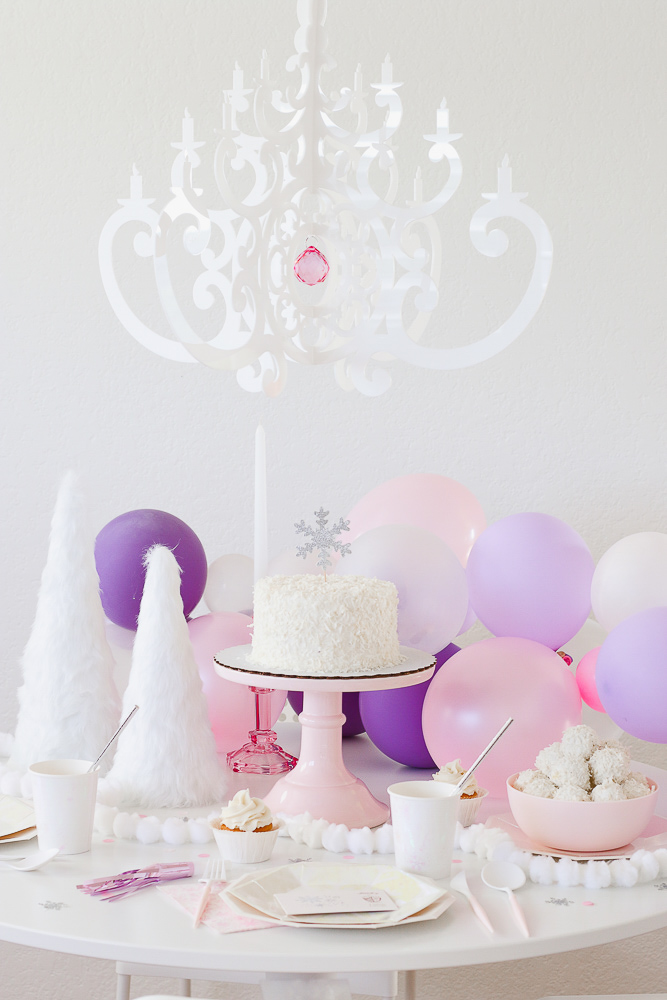 Speaking of snowballs, I made coconut snowball treats to tie the theme together. They are super easy to make, and they will look absolutely beautiful as part of your winter wonderland tablescape.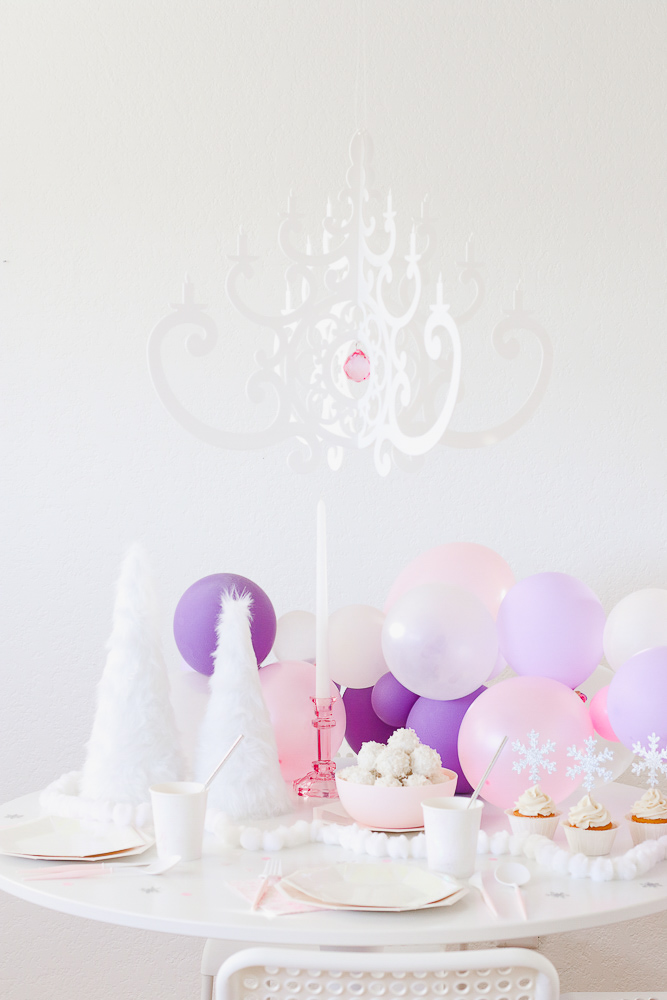 For this dish, I wanted to ensure that the base ingredient, eggs, are high quality since the flavor and texture will be noticeably better when made with good ingredients. I reached for Nellie's Free Range Eggs at the store because they're Certified Humane and free-range. This means that the hens are healthier, because they spend time outside on grass instead of in cages. As a result, their eggs are more nutritious eggs and simply taste better.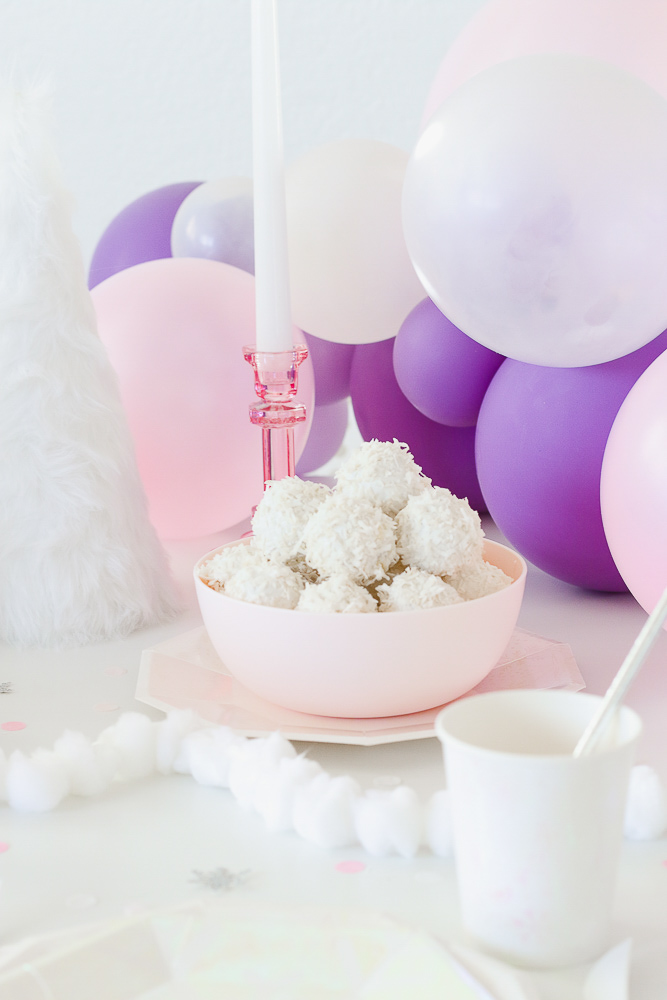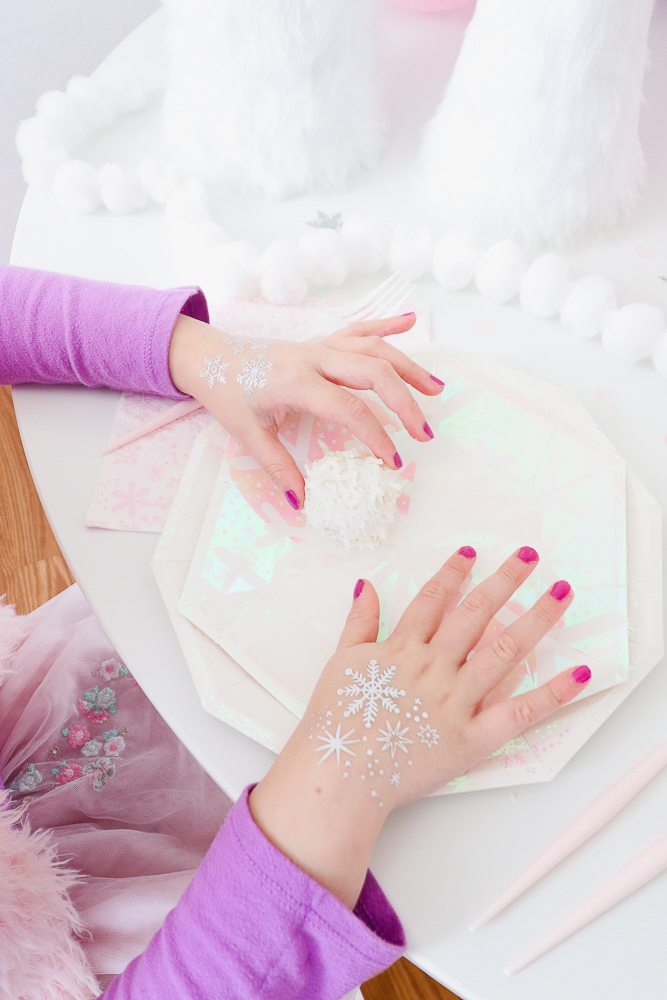 How to make Snow Cake Balls
Yield: about 25 cake balls
Ingredients:
1 box vanilla cake mix plus ingredients as instructed

3 large Nellie's Free Range Eggs

1 15.6 ounce container of vanilla frosting

1 12 ounce bag of white chocolate melts

1 7 ounce bag of shredded coconut

Making the cake balls
· Cook cake in a cake pan according to directions on the box. I used 3 large Nellie's Free Range Eggs as well as the other listed ingredients. Let it cool completely.
· Crumble the cake using a fork while it's still in the baking sheet.
· Transfer to a deep bowl. Add frosting 1 spoonful at a time to the cake crumbs, mixing together until desired consistency is achieved. It should be soft, but still firm enough to form into bite-sized balls without falling apart (you may not need an entire jar).
· Roll cake into about 25 1-inch round balls.
· Place balls on a wax paper lined baking sheet and freeze for 1 hour.

Coating the cake balls
· Heat white chocolate melts according to instructions on the package.
· Coat the cake balls in chocolate. Roll them in shredded coconut, covering the entire surface, and place them on a wax paper lined baking sheet. Note: I used a lollipop stick to dip the cake balls in chocolate and gently tapped the stick to remove any excess ingredients. Tip: add a little coconut oil to your melted chocolate if necessary, 1 teaspoon at a time, mixing well until the consistency softens slightly. It makes dipping a little easier.
· Place cake balls in the fridge until chocolate hardens.
Arrange your snow cake balls on a dessert stand or in a bowl. They make the perfect bites for a Winter Wonderland Party!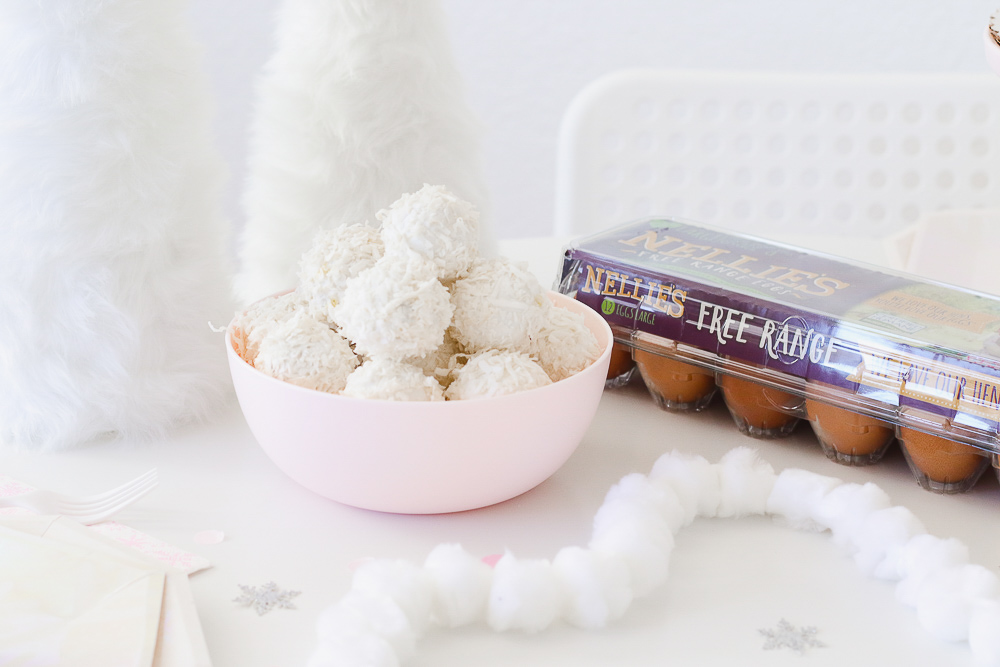 No winter party is complete without hot cocoa. Make my favorite pink hot cocoa to coordinate with your party décor!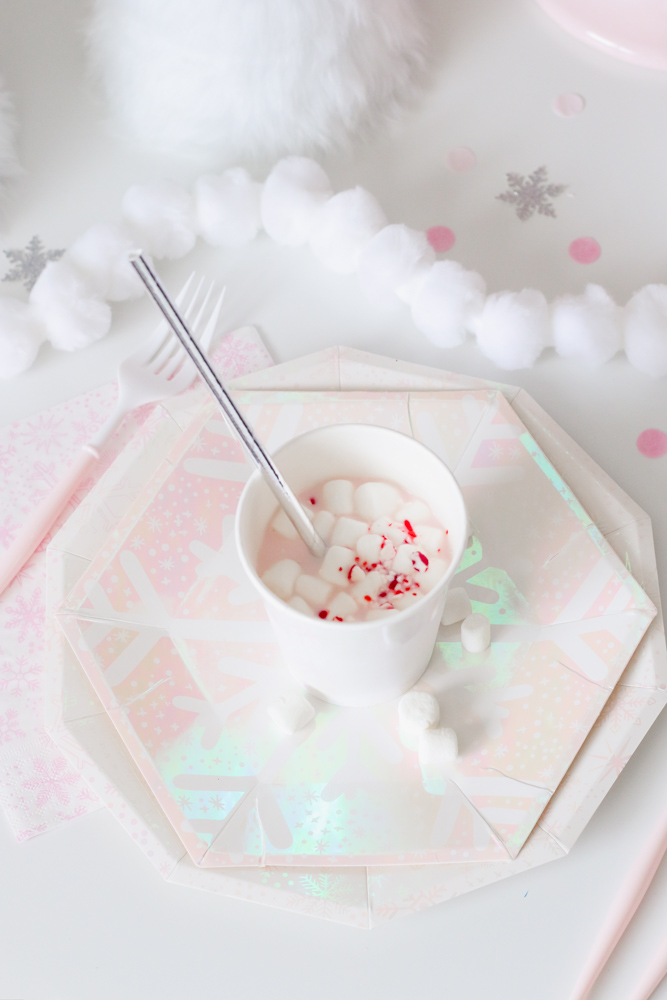 If you would like to include a craft idea, my daughter and I made a snowflake mobile using Nellie's Free Range Egg cartons and we are obsessed! It's such a fun winter craft idea for the kids (and adults)!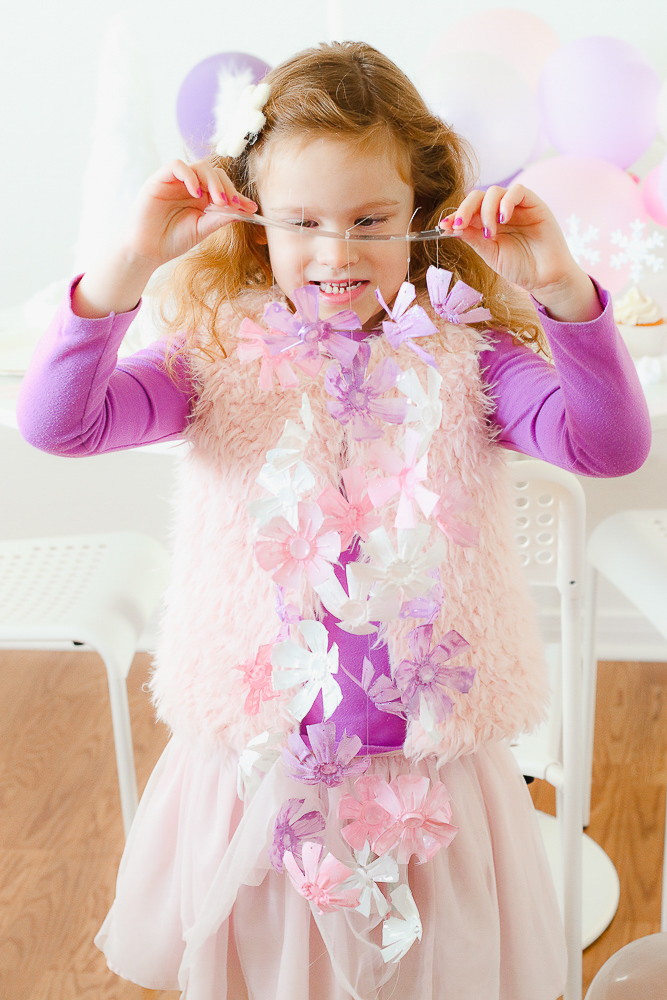 We painted our "snowflakes" using acrylic paint and sprinkled them with glitter. We created five garlands using strings and attached them by poking holes on a rectangle, also made out of a Nellie's Free Range Egg carton.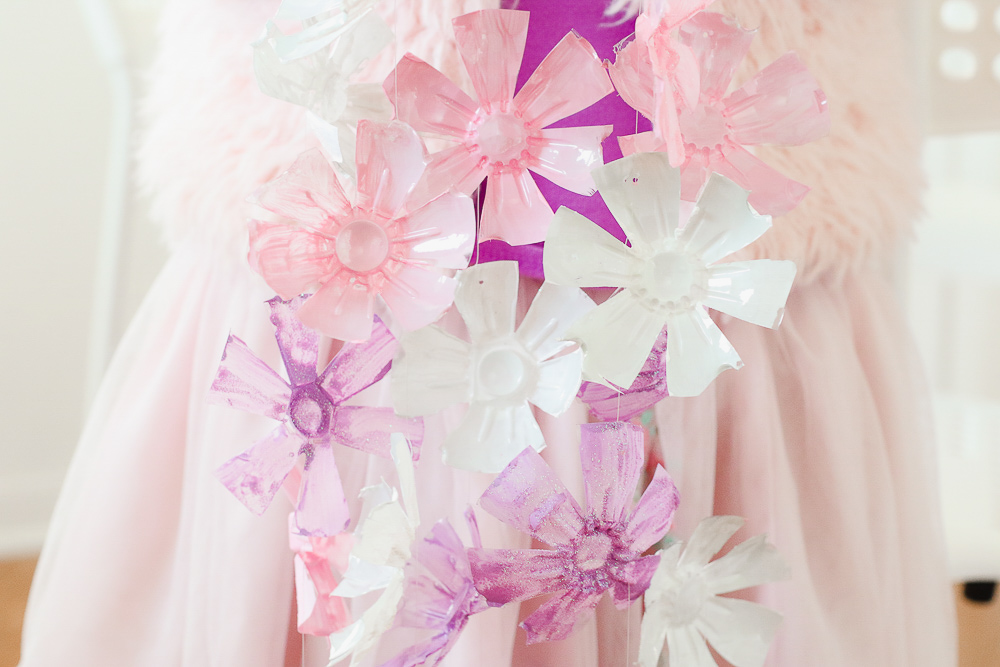 For this craft we used:
· Nellie's Free Range Egg cartons
· White, Pink and Purple Acrylic Paint
· Paint Brush
· Clear String
· Scissors
· Hole Puncher or Needle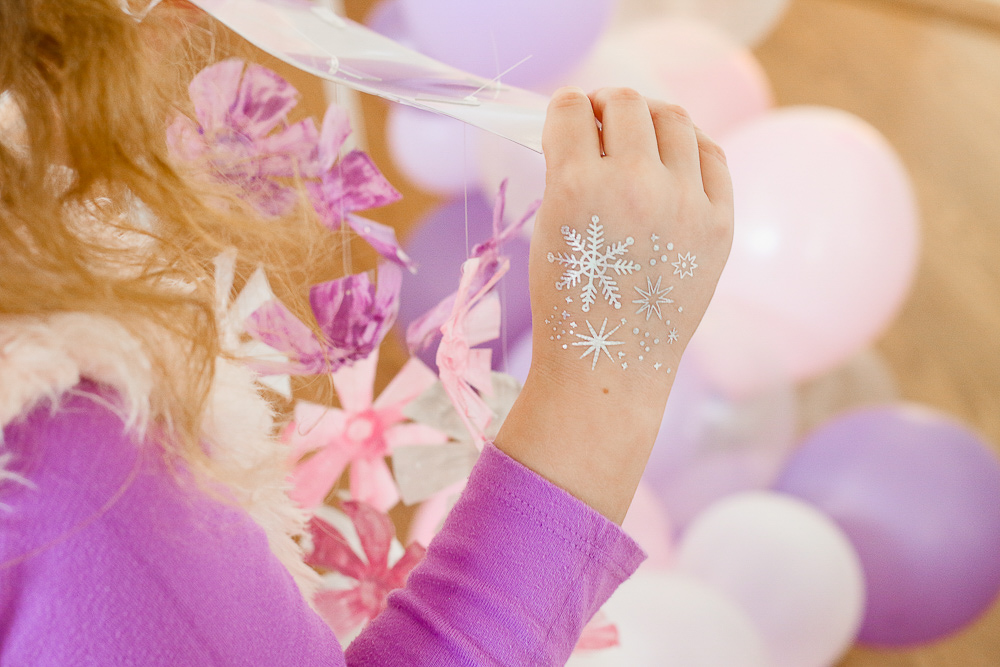 Don't they look fun?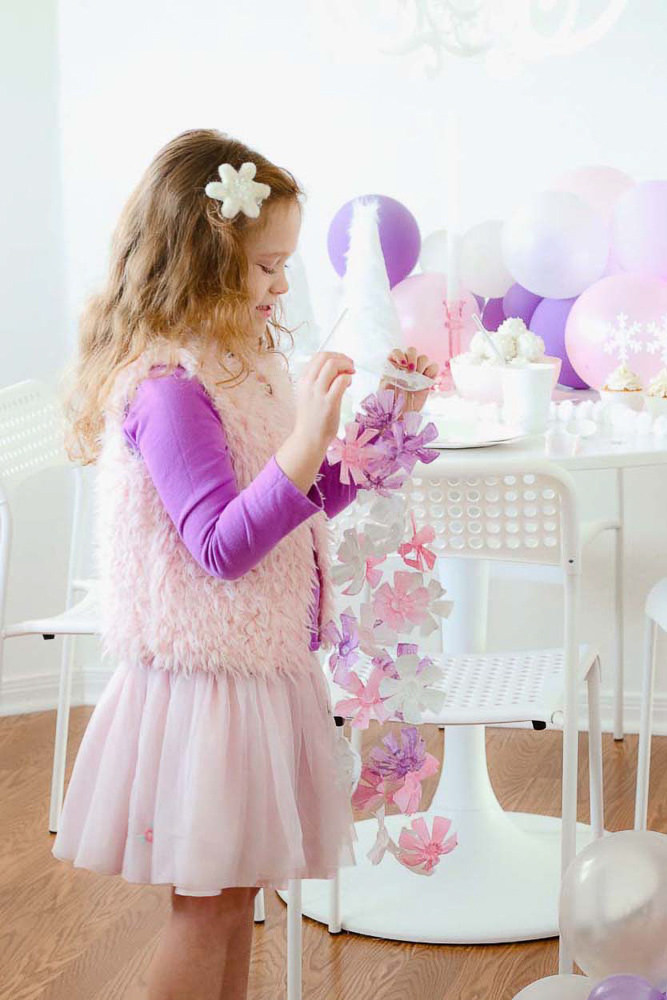 I hope you feel inspired to create your own Winter Wonderland Party!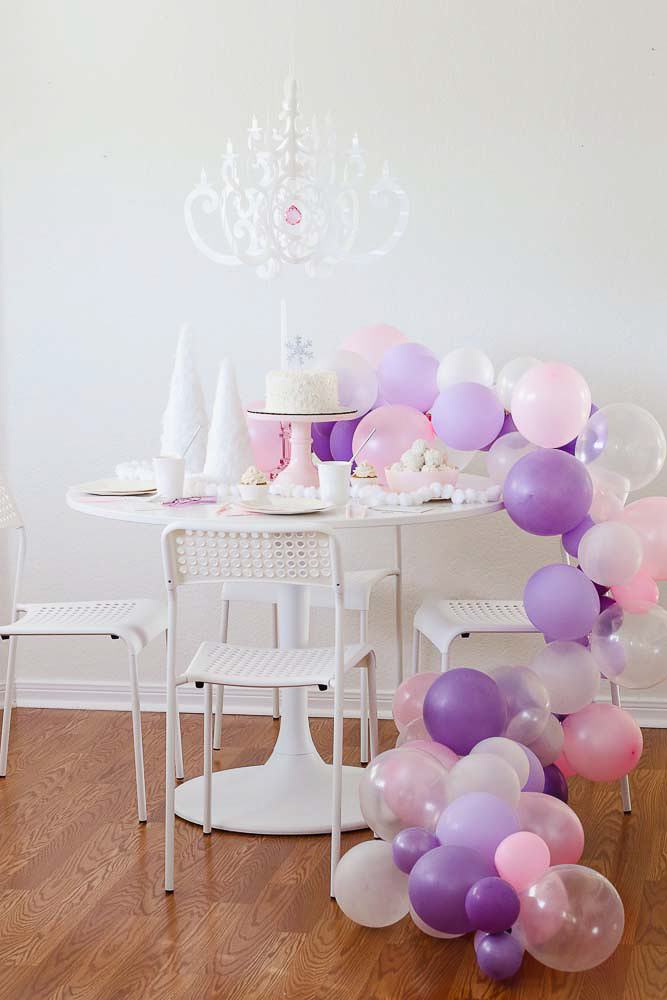 Happy planning, my friends!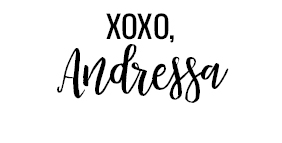 Styling & Photography: Andressa Hara of Twinkle Twinkle Little Party
Snowflake Hair clip: Lule Bloom
Partyware & Tattoos: Hey Girl Decor