This post is sponsored by Black Twine. All opinions stated are my own.
These awesome mad scientist party ideas will inspire you to throw an unforgettable birthday party for your STEAM loving child. From DIY molecule balloon hanging party decor to hands-on science activities complete with the coolest party printables, these Science party ideas will surely impress your guests.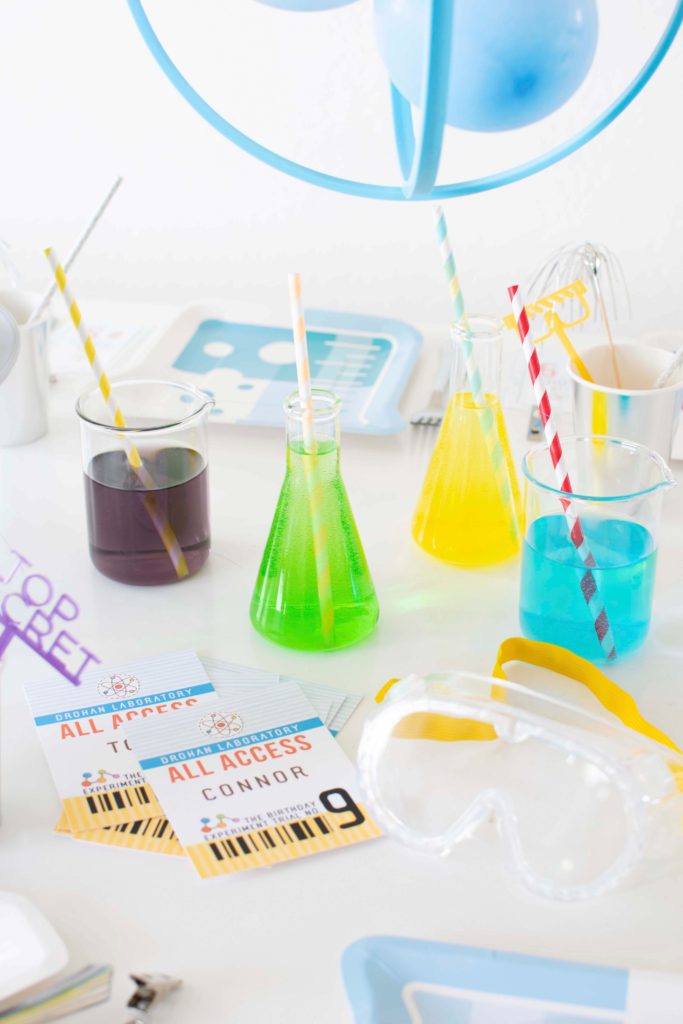 Mad Scientist Party Inspiration
My son is a Science and Math lover. Lately, he's been obsessing about The Periodic Table and doing his own research to learn more about all of its elements. It's pretty amazing to see how passionate he is about it.
This Mad Science theme was the perfect fit for my boy. I was so thrilled to plan and execute this party he has been asking for so long.
Selecting the Perfect Invitation
We set the theme with a fun & unique invitation suite complete with top secret acesss, lab cards and badges.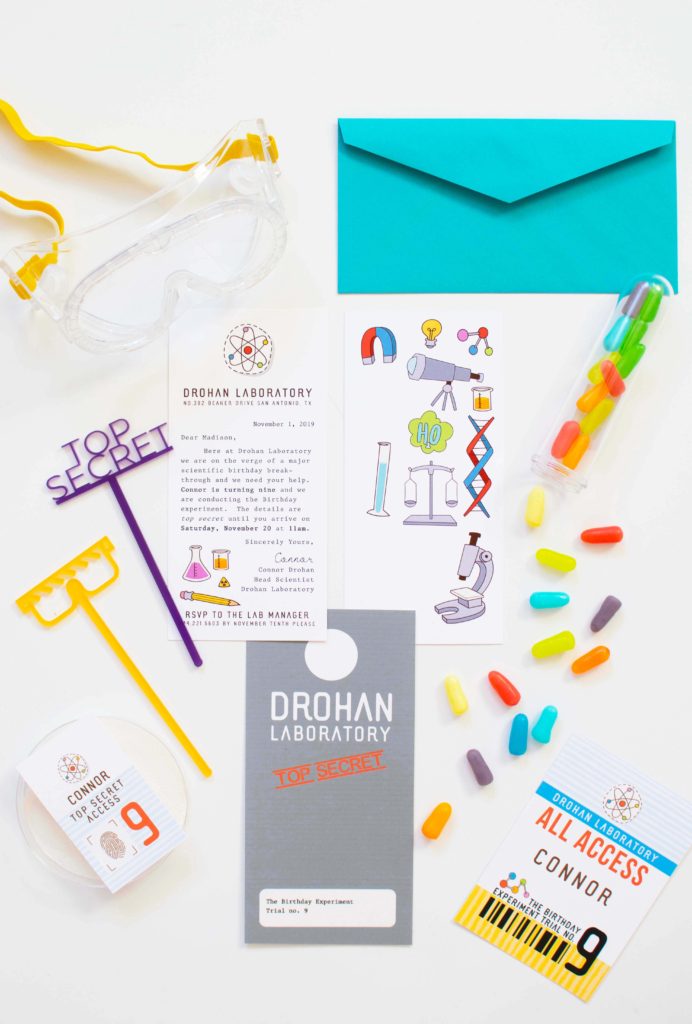 Science Lab Outfits and Accessories
No Mad Science party is complete without a white lab coat and safety goggles for all the concoctions the little scientists we will be experimenting. If the budget permits, you can gift your guests with one of each.
Set up a Creative Science Party Tablescape
For this theme, I planned a very clean set up with a modern feel to it. As a fun and easy party decor, I created molecule balloons that were hung from the ceiling using mini balloons and embroidery hoops. I simply loved how they turned out and how they added such an eye-catching detail to our tablescape.
The modern stack stools in different colors also helped adding that modern feel to our party set up as well.
Periodic Table Inspired Birthday Cake
A birthday cake that perfectly brings the party theme to life is always a great idea. How cool is this Slime Periodic Table inspired cake design?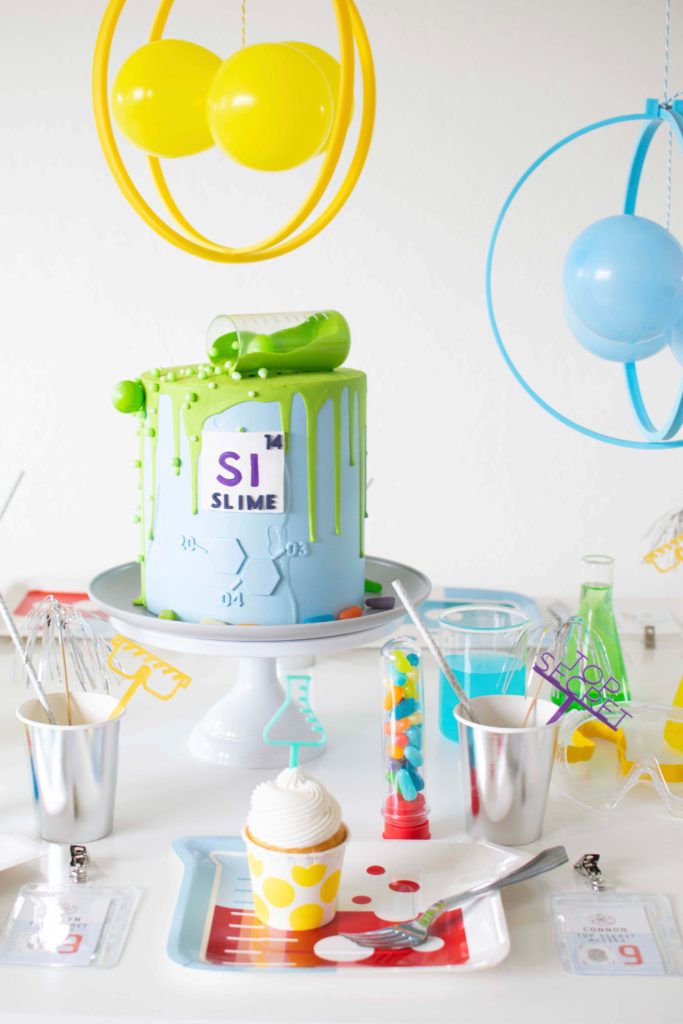 Science Cupcake Toppers
Acrylic toppers have been a popular and fun way to spruce up simple party treats. These beaker and molecule toppers added that special touch to our simple cupcakes.
Science Themed Cookies
Periodic table element and beaker decorated cookies made the perfect themed party favors displayed in petri dishes along with test tubes filled with colorful candies.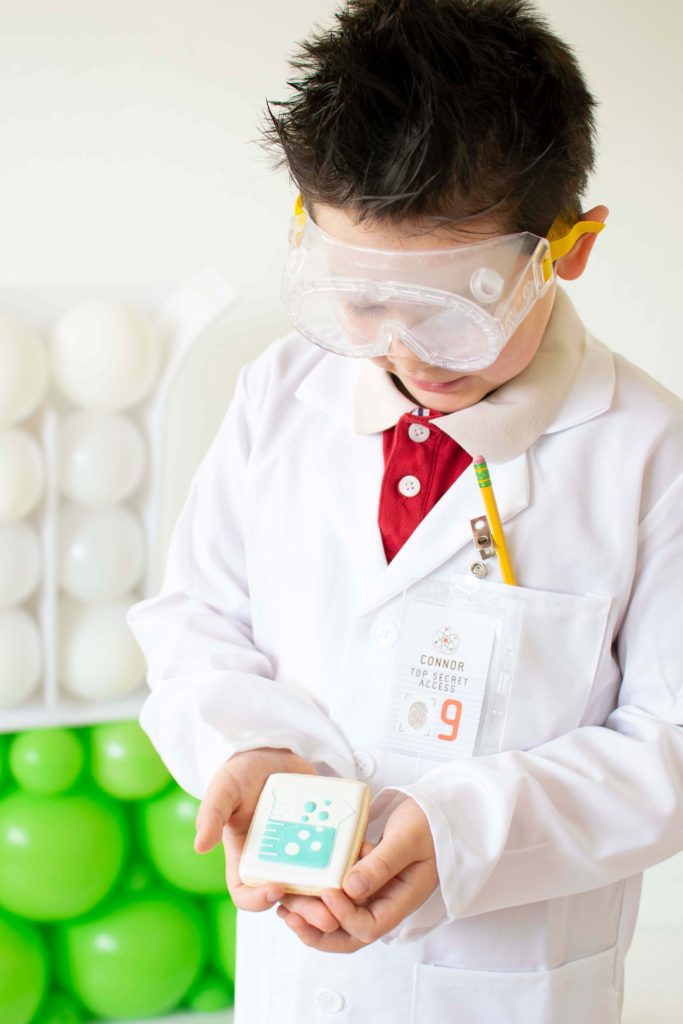 Science Beaker Party Plates
These cool Science Paper Plates were the cherry on top to the kids tablescape. Pair them with fun paper cups and acrylic drink sticks to complete the look.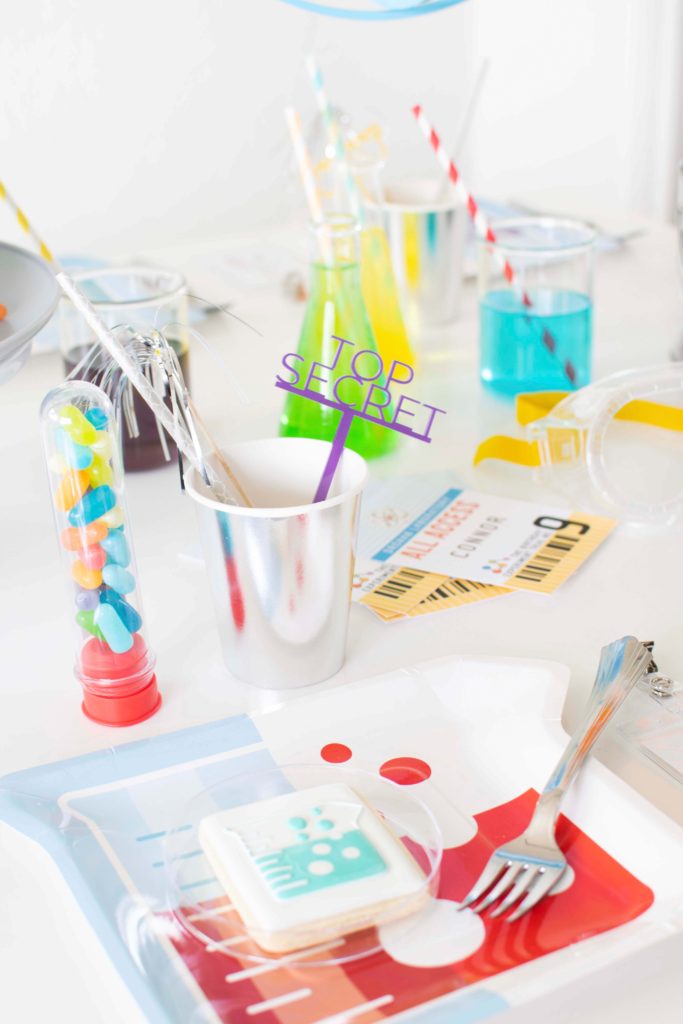 Science Hands-On Activities
Keep the special guests busy with a fun hands-on activity. Set up a 'Build your own molecule' activity station by making available printable molecule cards, gumdrops and toothpicks. Promise it will be a big heat among the kids!
Mad Scientist Take-Home Party Favors
Every special guest deserves special take-home favors. Send them home with awesome periodic table element crayons in bucket favor containers. Don't forget to include each guest's All Access cards to remind them of such a great birthday experiment!
Balloon Mosaic for Photo-Op Station
Having a special spot for guests to have fun taking photos during the party is a great way to create a memorable experience for the guests. We built a giant beaker balloon mosaic using a pre-made kit. How cool does it look?
Little sister joined in on the fun! She made the cutest little scientist wearing her own goggles, lab coat complete with own badge.
Get your Little Scientist Involved
Get your little scientist involved in the party planning process from beginning to end. It is very rewarding to see our child's own brilliant ideas coming to life through a unique birthday party celebration.