This post is sponsored by Crunch Pak. All opinions stated are my own.
Hello, friends! I've teamed up with Crunch Pak to share fun Halloween party ideas including a super yummy hand pie recipe made with their party-size apple slices bags! Who doesn't love the convenience of having pre-sliced apples to make delicious apple pie filling? Definitely a time saver! Can we also talk about how amazing your entire house is going to smell? Heavenly!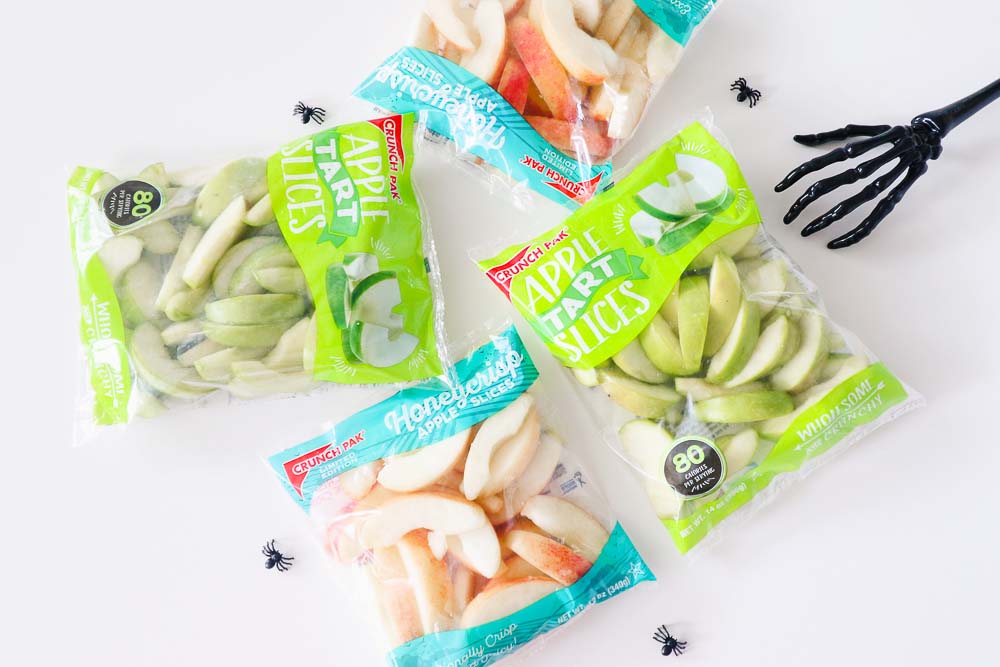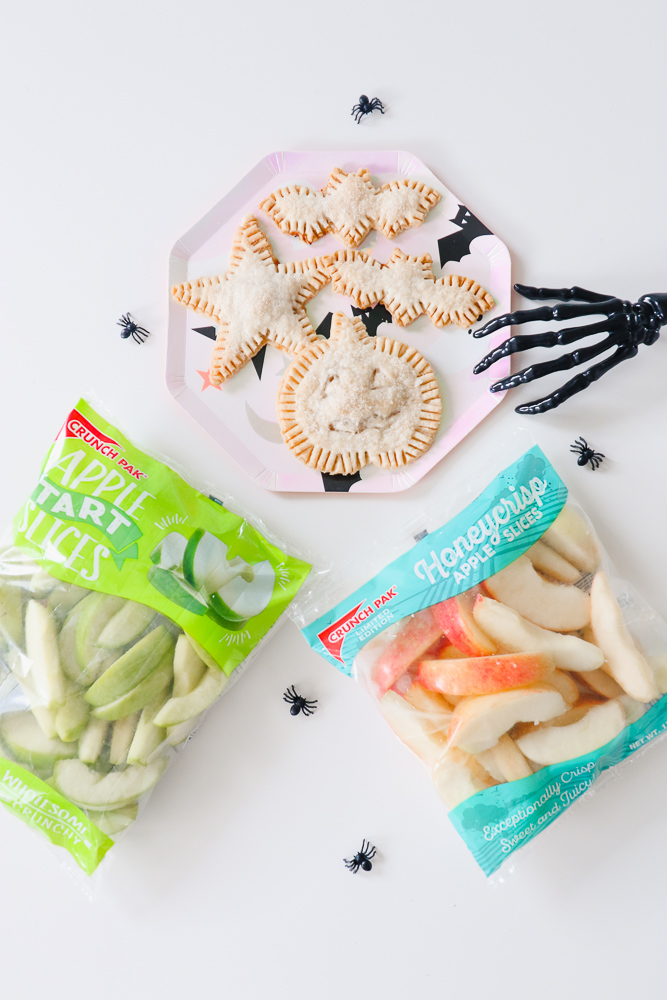 I loved how our little Halloween pies turned out and I am so excited to share them with you! They are super easy to make and the kids will be extra excited about the Halloween shapes!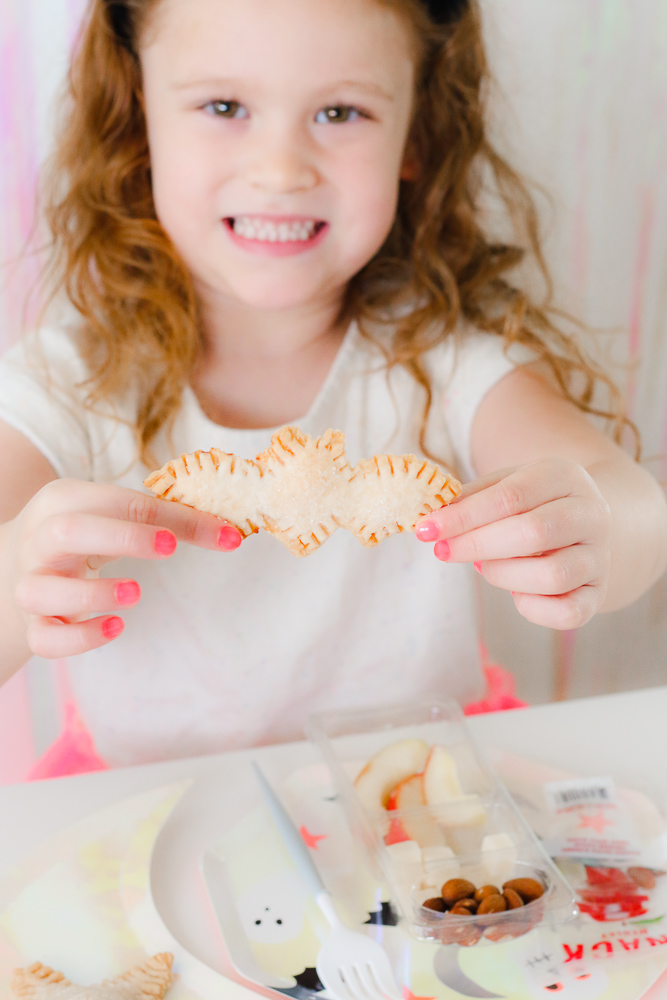 We are also sharing how you can incorporate Crunch Pak's Snack Medley into your Halloween Party!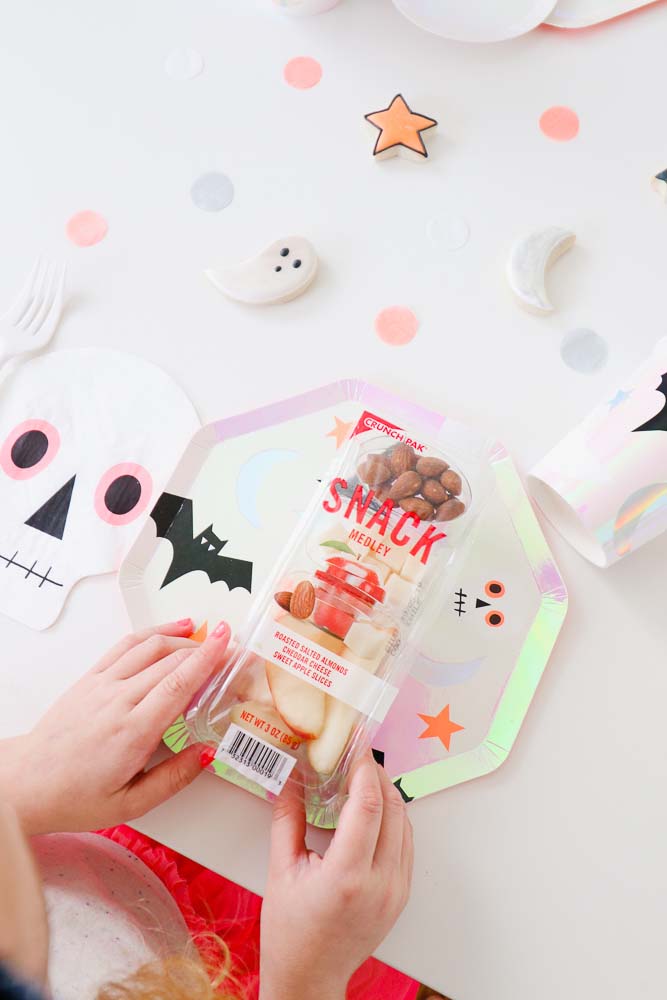 Ready to plan the cutest Halloween Party for the kids?
MAKE HALLOWEEN INSPIRED APPLE HAND PIES
Gather your cookie cutters and let's have fun in the kitchen making Halloween hand pies! I used Honeycrisp and Tart Apple Slices!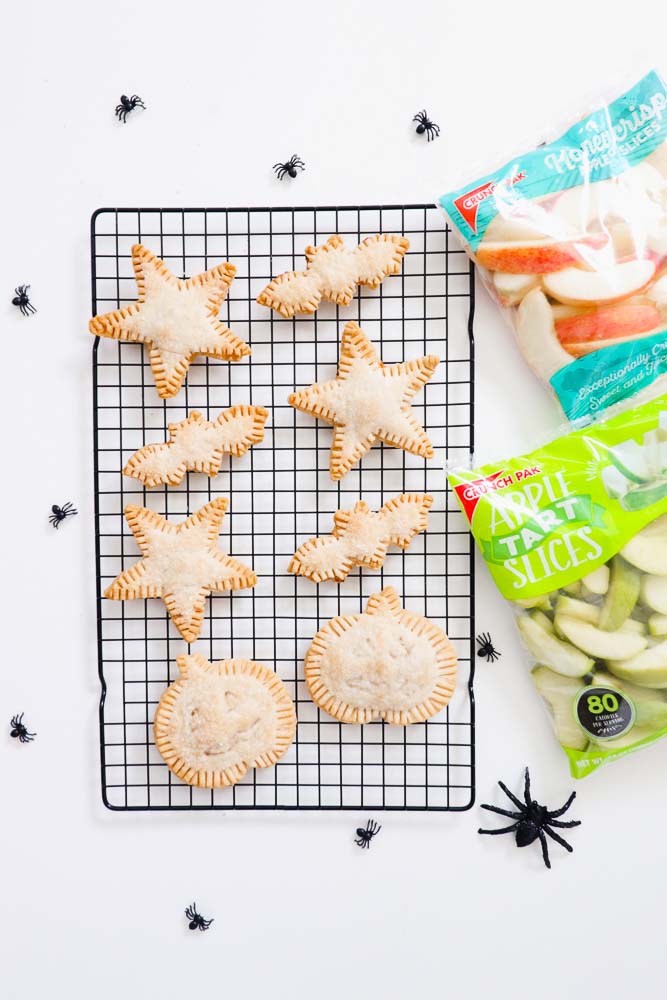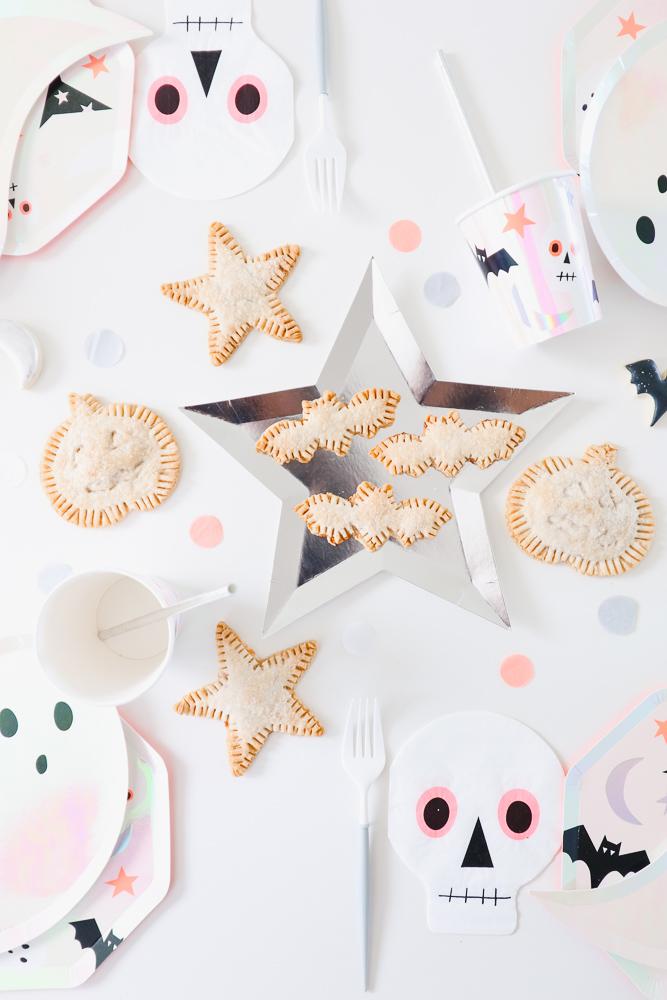 HALLOWEEN APPLE HAND PIES
Ingredients:

4 store-bought pie crusts Note: (The number of pies depends on the size of your cutters. I used 3 different sizes)
4 cups Crunch Pak sweet or tart apple slices peeled. Note: I mixed both, 2 of each kind 1/2 tablespoon lemon juice
1/4 cup water
1/4 cup granulated sugar
2 tablespoons flour
1/4 teaspoon ground cinnamon
1/8 teaspoon nutmeg
Sugar for sprinkling
Directions:

Pre-heat oven to 400 degrees F
Line two large baking sheets with parchment paper. Set aside.
Lightly flour a flat surface to roll your dough. Use cookie cutter to cut out shapes. Place the cut-out shapes on the baking sheets and transfer to refrigerator to chill.
In a large pot, combine apples, lemon juice, water, sugar, flour, cinnamon and nutmeg in a large mixing bowl until all apples are coated with the mixture.
Bring to a boil on high heat, then turn to low and cover. Maintain a low simmer for 30 minutes or until the apples are completely soft and cooked through.
Once fully cooked, remove from heat. For a chunky apple filling, mash the apples in the pot. For a smooth apple filling, add to a food processor or blender and blend until smooth (if using a blender, work in batches and allow time to cool).
Remove cut-out dough from the fridge, distribute the apple filling between half of them. Make sure to leave room on the edges.
Place the other 1/2 on top of the cut-out dough shapes which contains the apple filling. Dampen the edges with water if needed and crimp the edges with a fork. Sprinkle with sugar.
Bake pies for 18-20 minutes.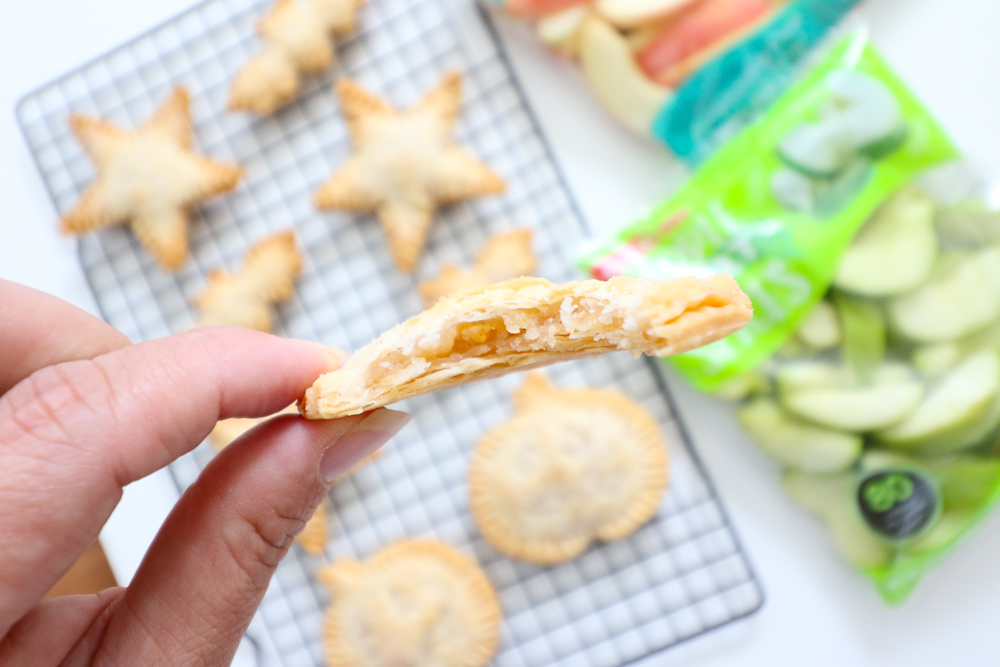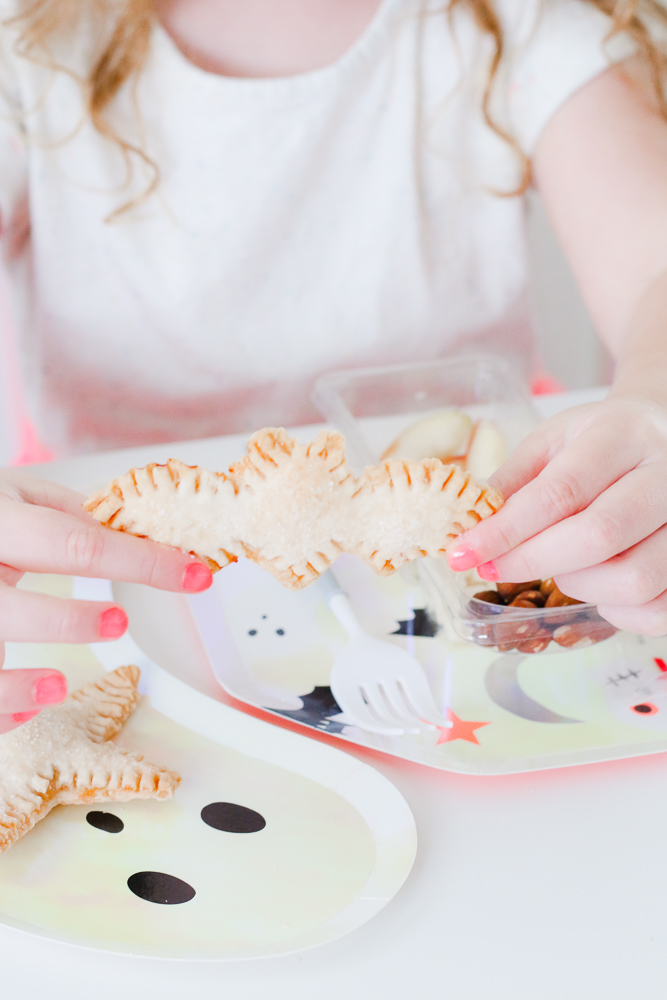 SET UP A FESTIVE HALLOWEEN KIDS TABLE
Setting up a festive Halloween table for the kids is a must! Make it spooky and fun with DIY party décor and adorable iridescent partyware!
I created spider balloons (inspired by Oh Happy Day's giant spider balloon wand) and hung them from the ceiling over the kids table. I added my own spin by splattering my spider balloons with pink, metallic and orange paints. Look how cute they turned out!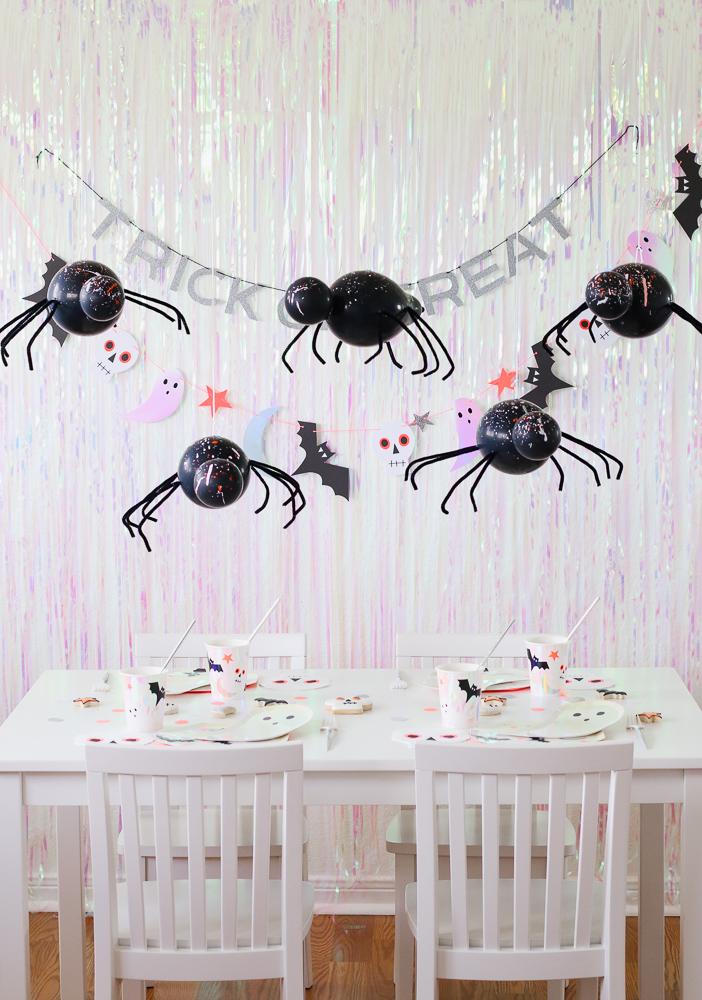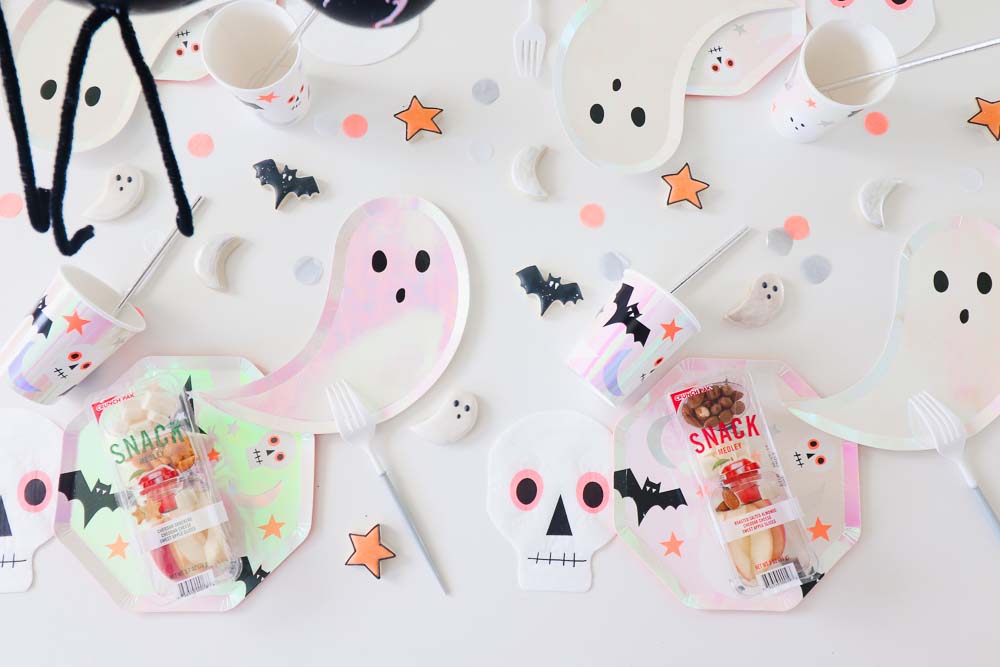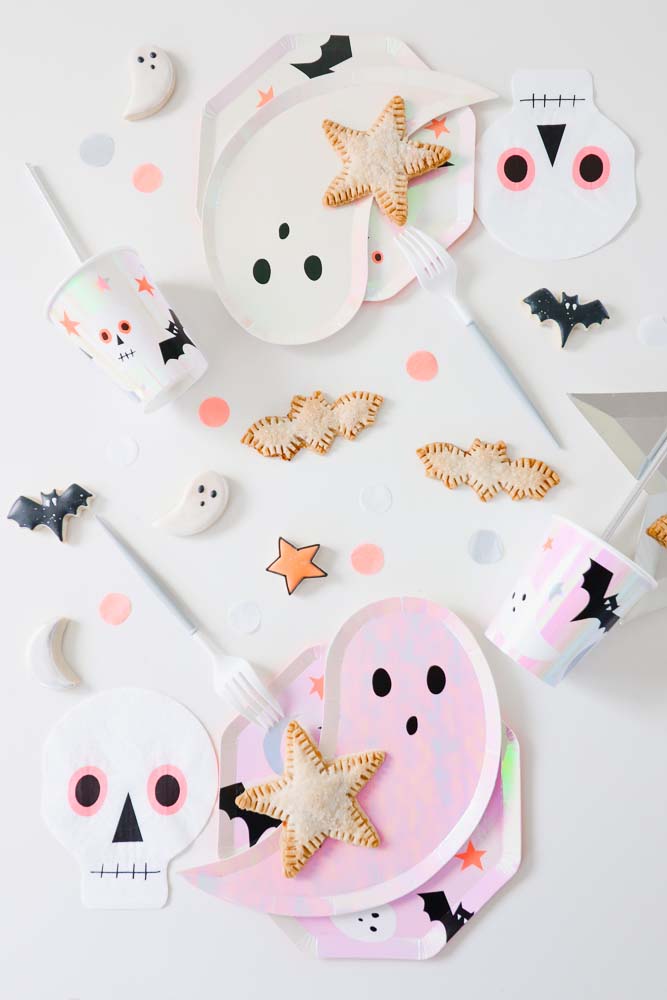 MAKE SIMPLE PARTY SNACKS FUN FOR THE KIDS
Make snacks fun for the kids by jazzing up Crunch Pak's Snack Medley. Turn their individual snack containers into mummies! Simply wrap the snack containers with gauze, add two googly eyes using craft glue and wrap them once again using stretchy spider web for extra spookiness!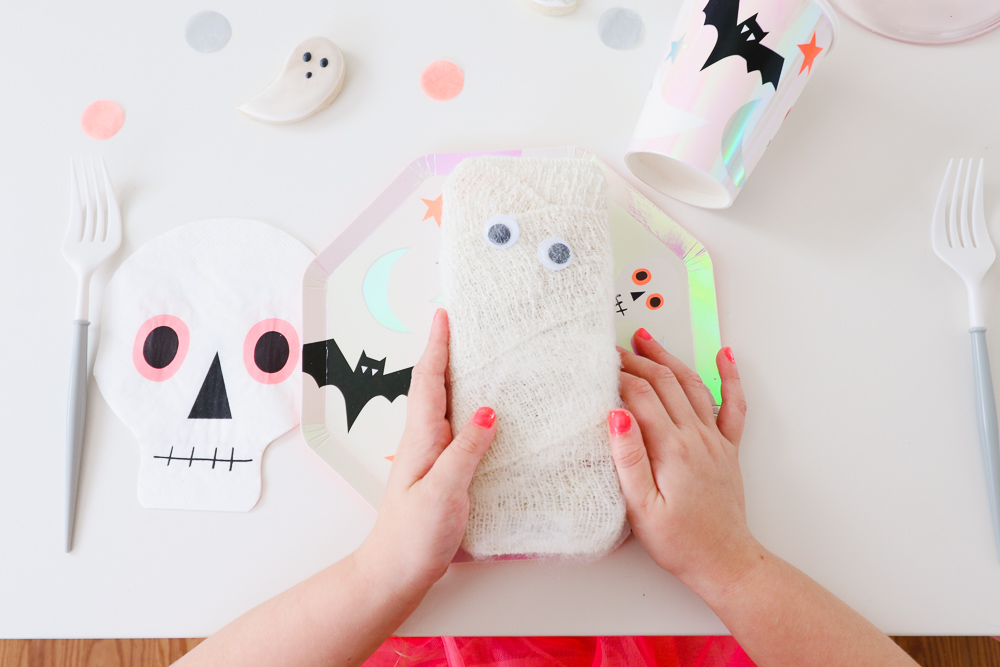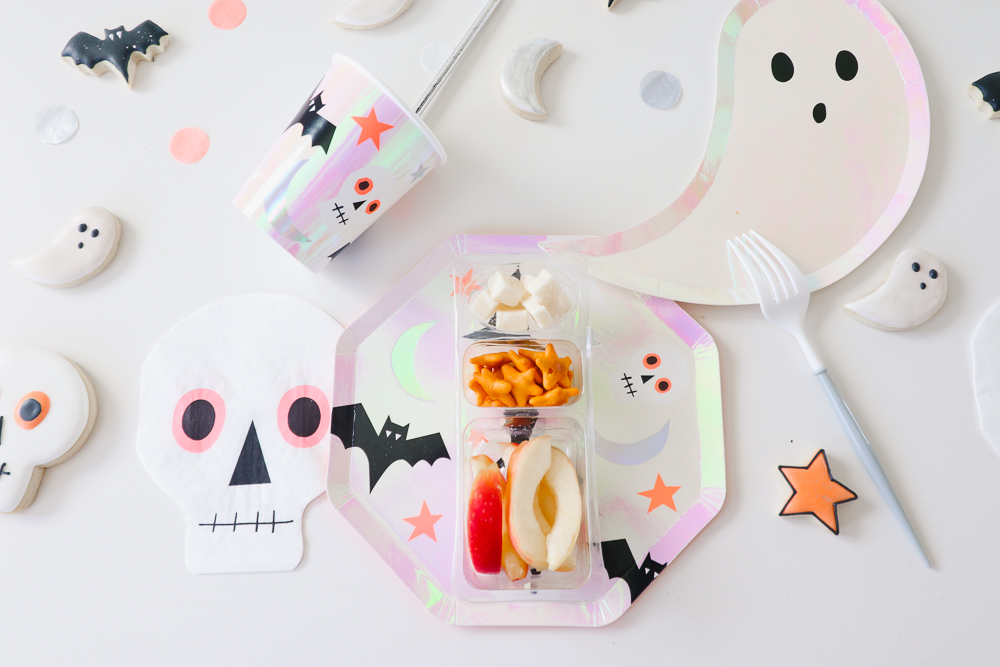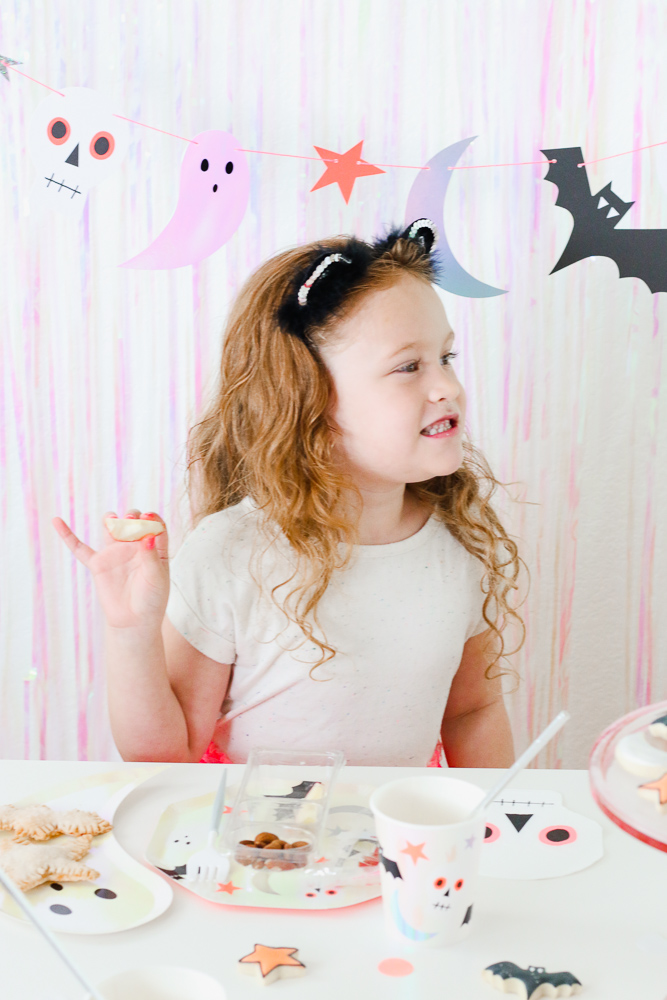 I hope you feel inspired to recreate this party and throw a memorable Halloween celebration for the kids, my friends! Find Crunch Pak near you.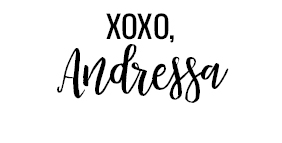 Styling & Photography: Andressa Hara of Twinkle Twinkle Little Party
Partyware: Momo Party Kids
Cookies: Frosted & Confetti