This post is sponsored by Nellie's® Free Range Eggs. All opinions stated are my own.
Where are our camping lovers? If you love camping or glamping you will love these beary cute party ideas you can easily recreate to throw a super fun camping party for the kids!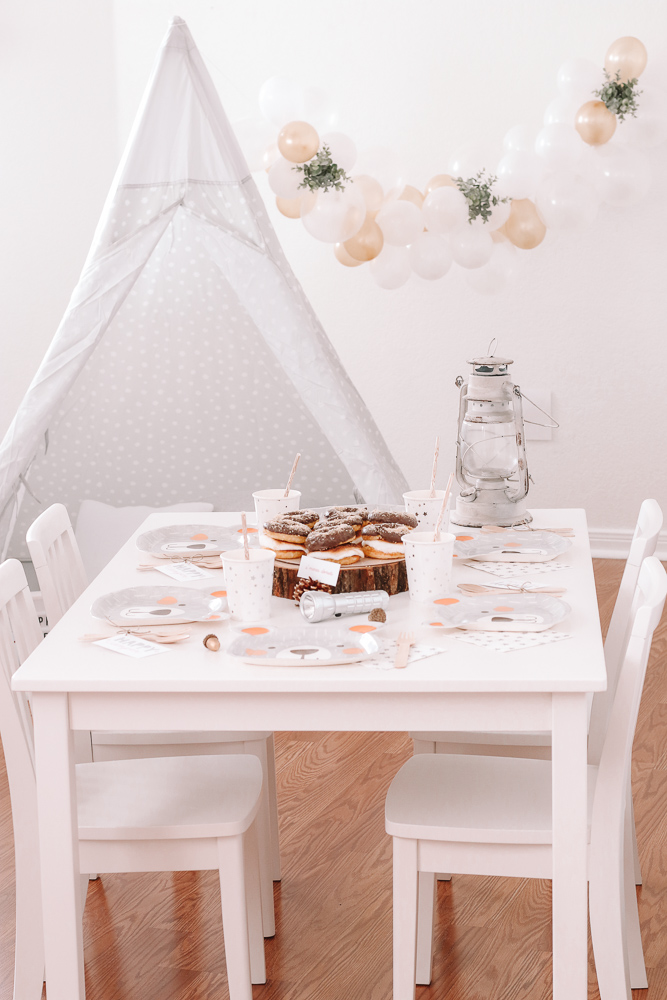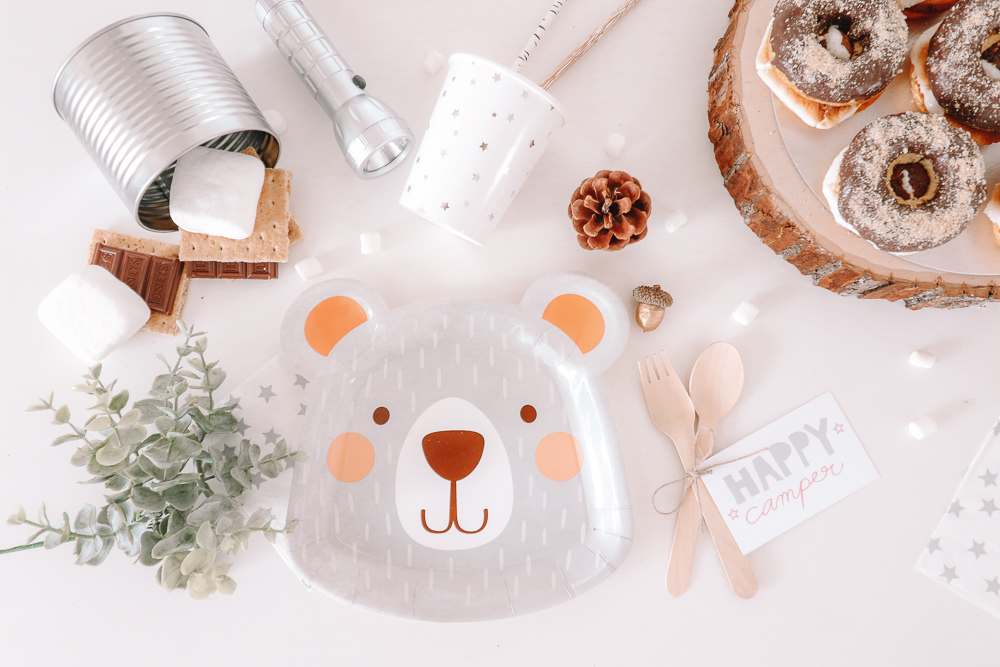 I am also sharing a delicious s'mores donut sandwich recipe which takes only 5 minutes to prep and 10 min to bake! They are so easy even the kids can help! They make the perfect campfire treats and trust me, the kids (and adults) will be raving about them!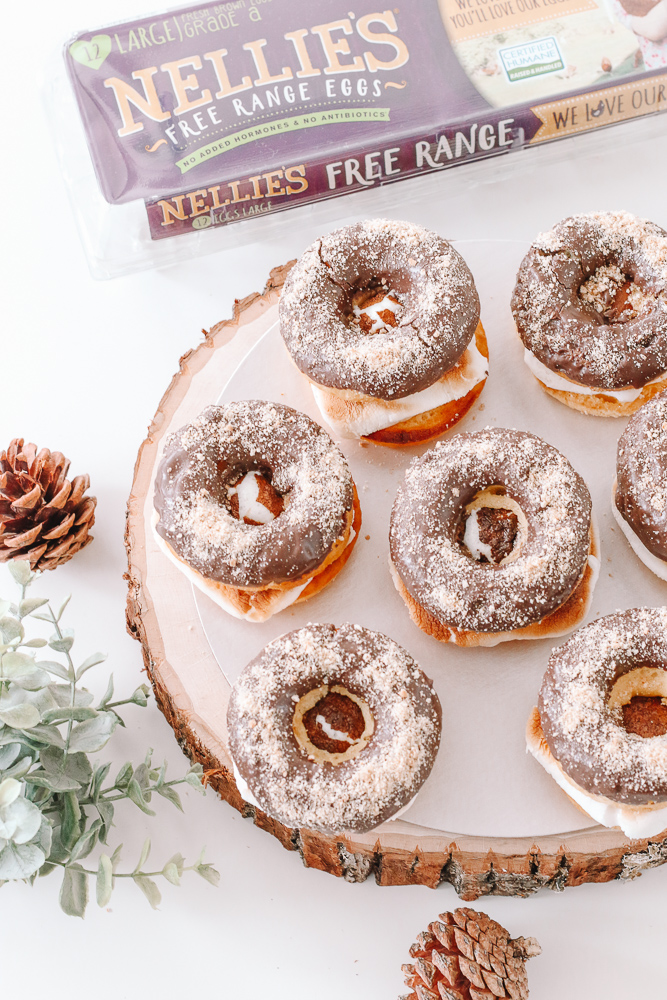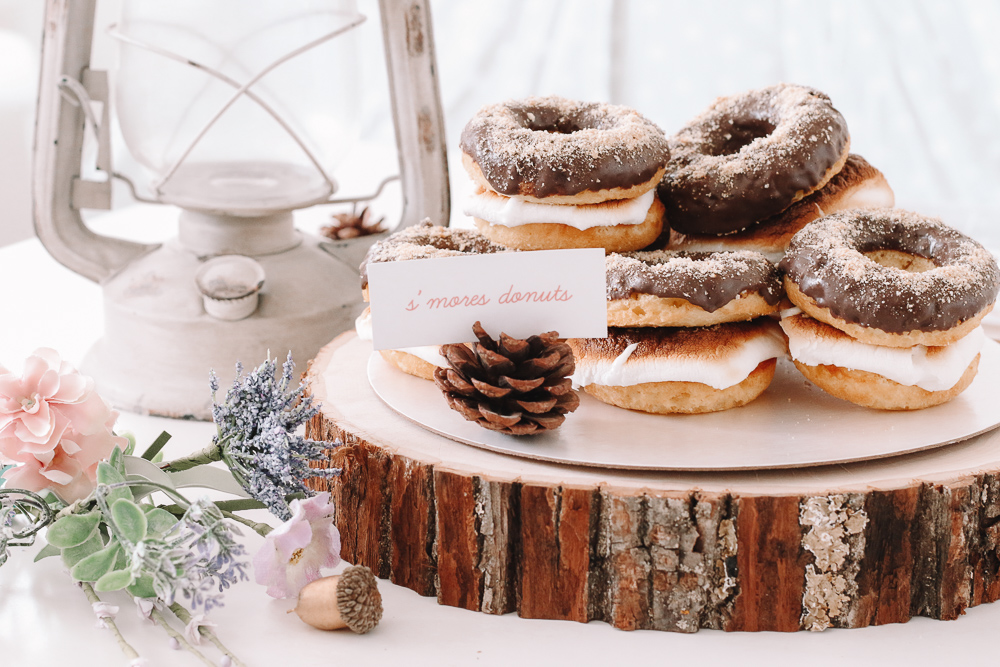 This camping party is in partnership with Nellie's Free Range Eggs. Nellie's encourages everyone to live life as free [range] as their Certified Humane hens, and this post is the second in a series promoting just that! Whether you set up camp at a campsite, your backyard, or even in your living room, this party allows kids' minds to roam free and be creative. We set up our camping party indoors as it was over 100 degrees the day of the party! This year, summer in Texas has been so long and extremely hot.
We used Nellie's eggs for our delicious s'mores donut sandwiches! If you know me and my family well, you know we consume a lot of eggs. We always start our day with a great egg, kale and tomato skillet, so it's important for me to know that the eggs I'm feeding my family come from a happy, healthy animal! You guys, you can totally tell the difference between "regular" eggs and Nellie's. I encourage you to give their free-range eggs a try. They simply taste great! I would love to hear your thoughts in the comments below!
Shall we get this party started?
Set up a camping tent
For our camping party, we set up our camping tent and added a soft accent rug and comfy pillows. It was perfect for enjoying some reading time while sipping on hot cocoa and munching on trail mix. It was so cozy my daughter even took a quick nap in the tent during the party. True story!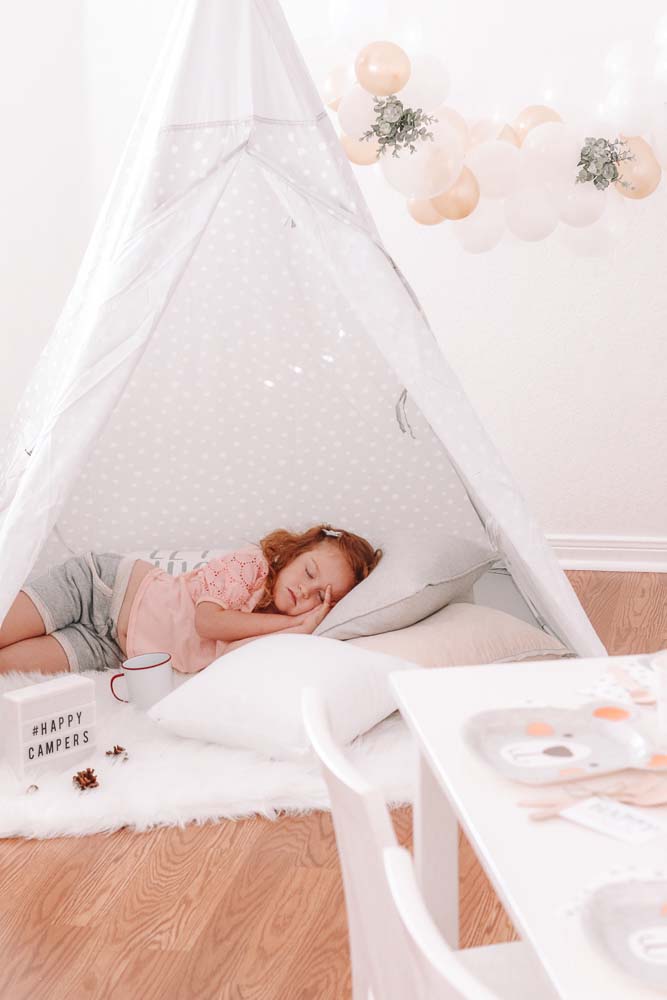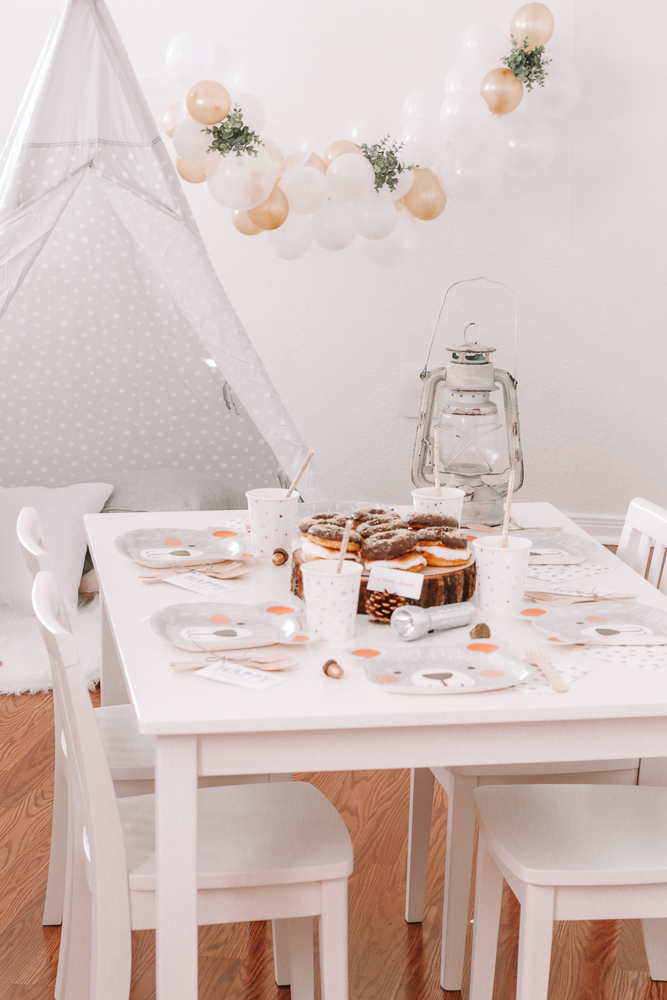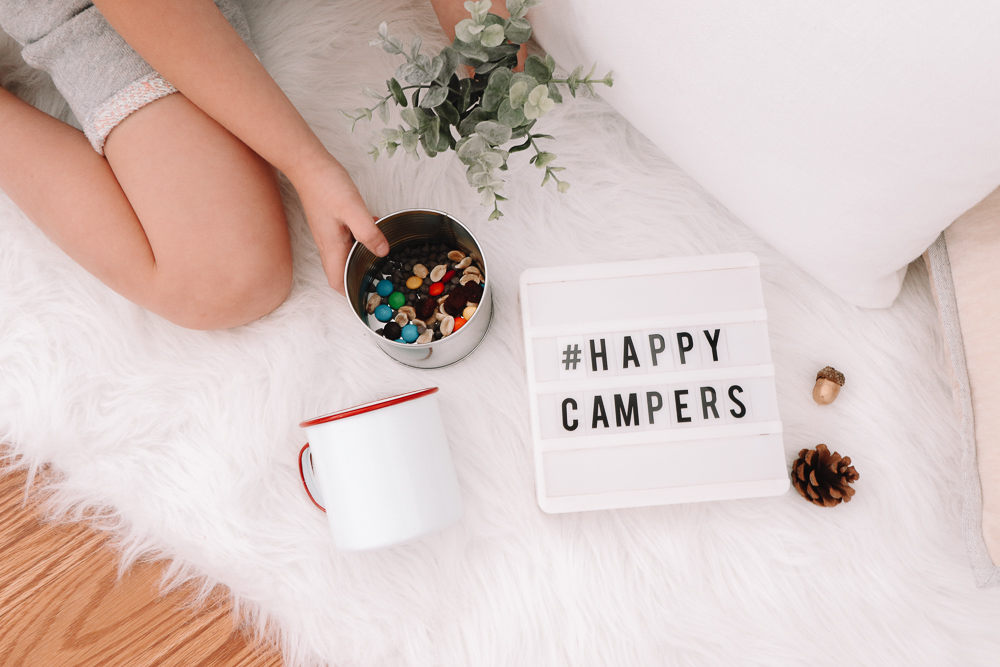 I created a fun balloon garland and added some greenery to complete the atmosphere. It was perfect to decorate our tent!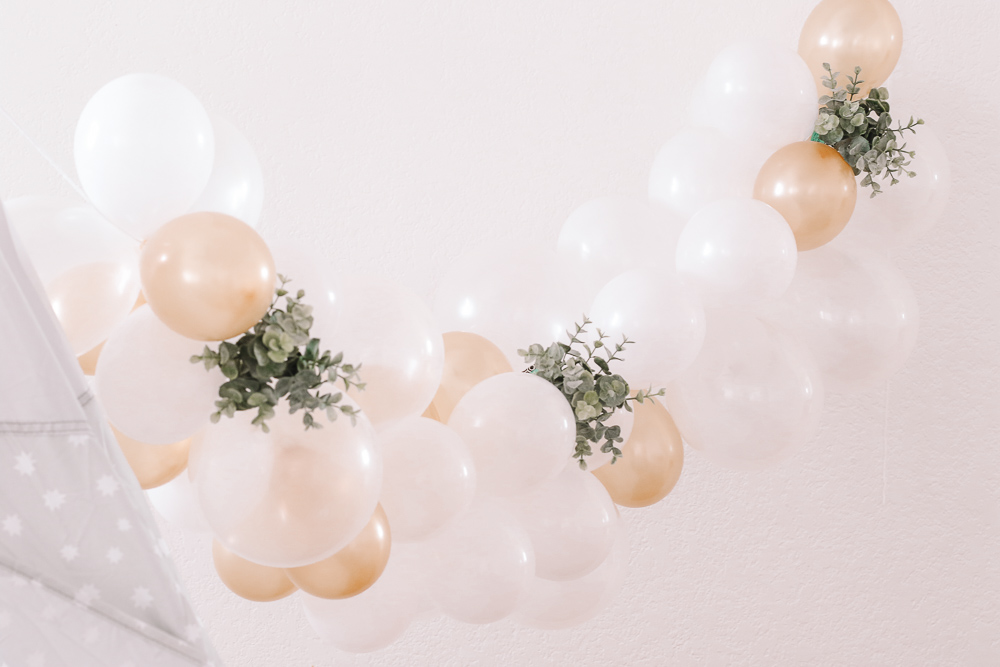 A Beary Sweet Kids table
I set up the kids table with the cutest bear plates, wooden utensils and star cups. I visited the floral department at my local craft store to purchase artificial flowers and greenery to design a pretty arrangement. It made the perfect centerpiece for the kids table. I also designed Happy Camper tags for each place setting.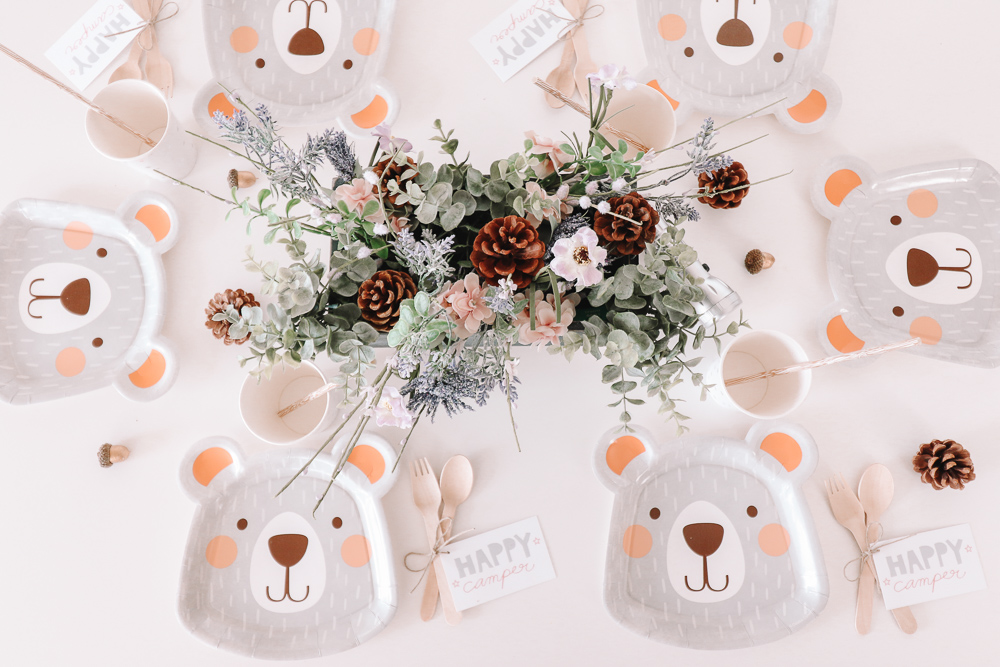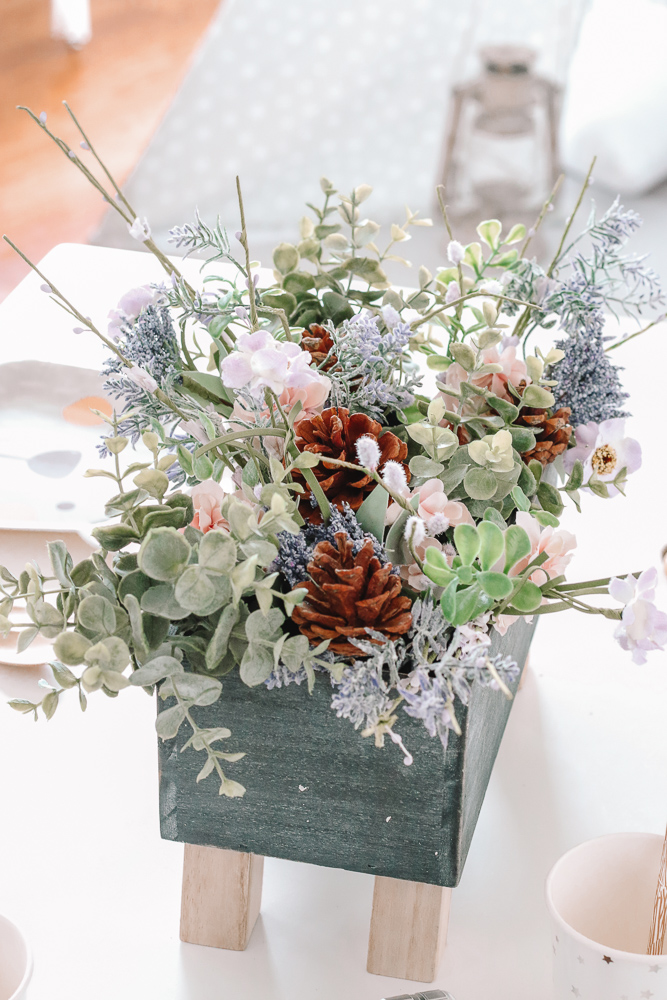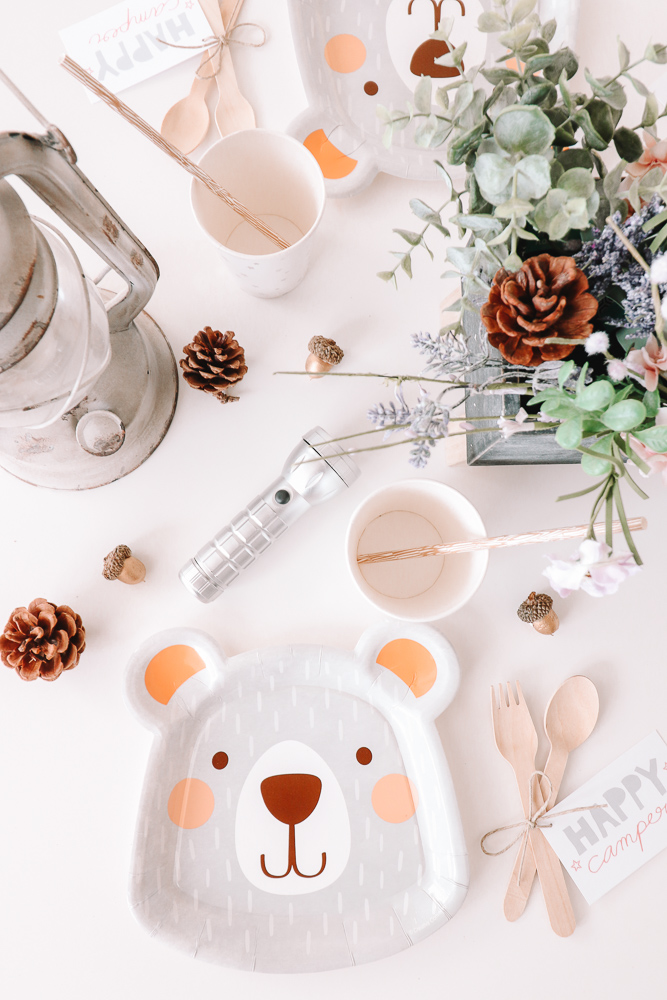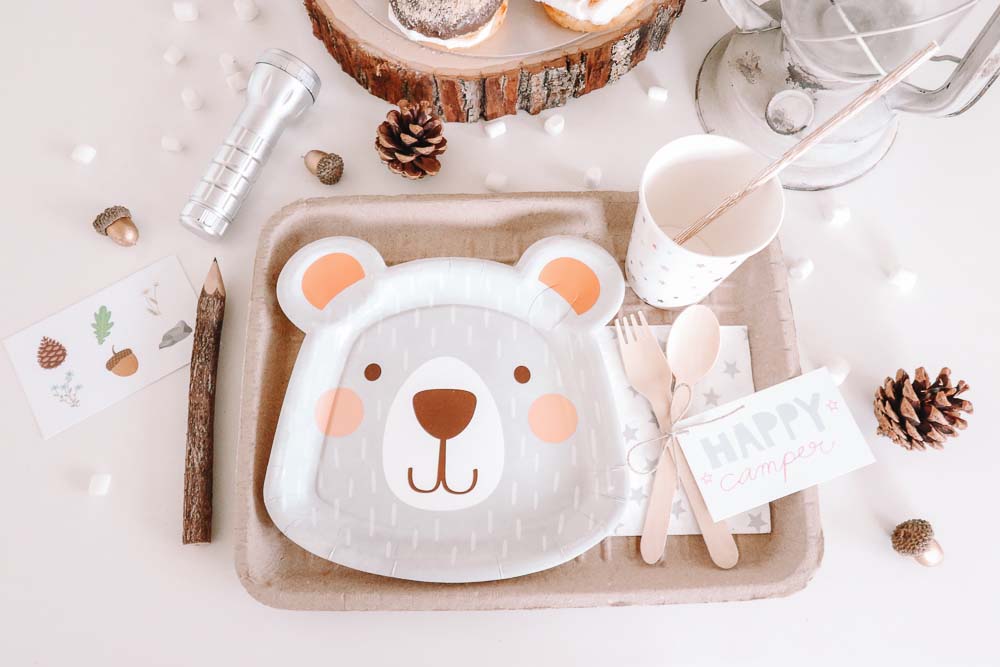 Campfire treats
There's no camping party without a campfire treat. For a change, how about serving these delicous s'more donuts? They are easy to make and they will be a crowd-pleaser at your party!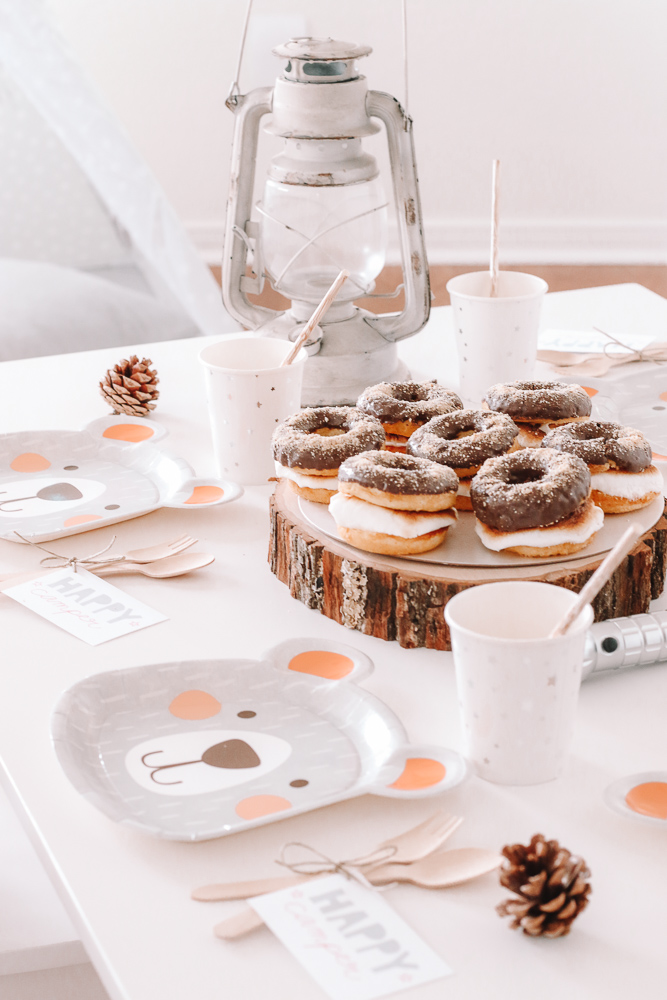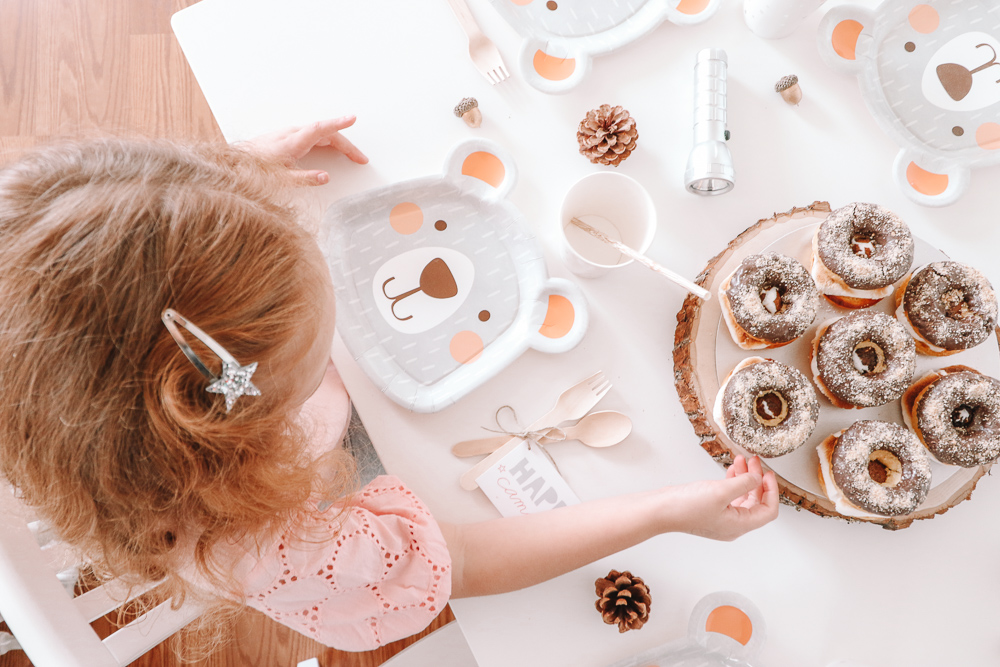 Campfire S'mores Donut Sandwiches

Prep Time: 5 mins
Cook Time: 10 mins
Servings: 24 s'mores donuts
Ingredients:
2 2/3 cup organic yellow cake mix
2 large Nellie's Free Range Eggs, beaten
2 tbsp canola oil
2/3 cup milk
Cooking spray
For Donut Toppings and Filling
· Chocolate chips – melt chocolate according to packaging instructions.
· Graham crackers – crumble the crackers in a food processor or place them in a Ziploc
bag and use a rolling pin.
· Large marshmallows
Instructions:

Baking the donuts
· Pre-heat oven to 350 degrees.
· Spray donut pan cavities with cooking spray.
· In a deep bowl, add cake mix, eggs, oil and milk. Mix them together until well
combined with no clumps.
· Fill up each donut pan cavity 1/2 full. Note: You can use an icing bag filled with
batter. I used this donut tin.
· Bake them for 10 minutes.
· Let donuts cool down.
Assembling the donuts
· You will need one top and one bottom to make one s'mores donut "sandwich".
· Dip 12 donuts (tops) in melted chocolate, sprinkle them with graham cracker
crumbles. Set aside for later.
· Arrange 12 donuts (bottoms) on a baking sheet. Place a large marshmallow on top of each donut. Broil them until you see the marshmallows are turning brown. Note: Watch this step closely. The marshmallows will turn brown very quickly!
· Place tops (donuts dipped in chocolate) on top of the marshmallow donuts. Press them gently so they look like fun s'mores donut sandwiches. Place them on a platter or dessert stand for a pretty presentation. Enjoy!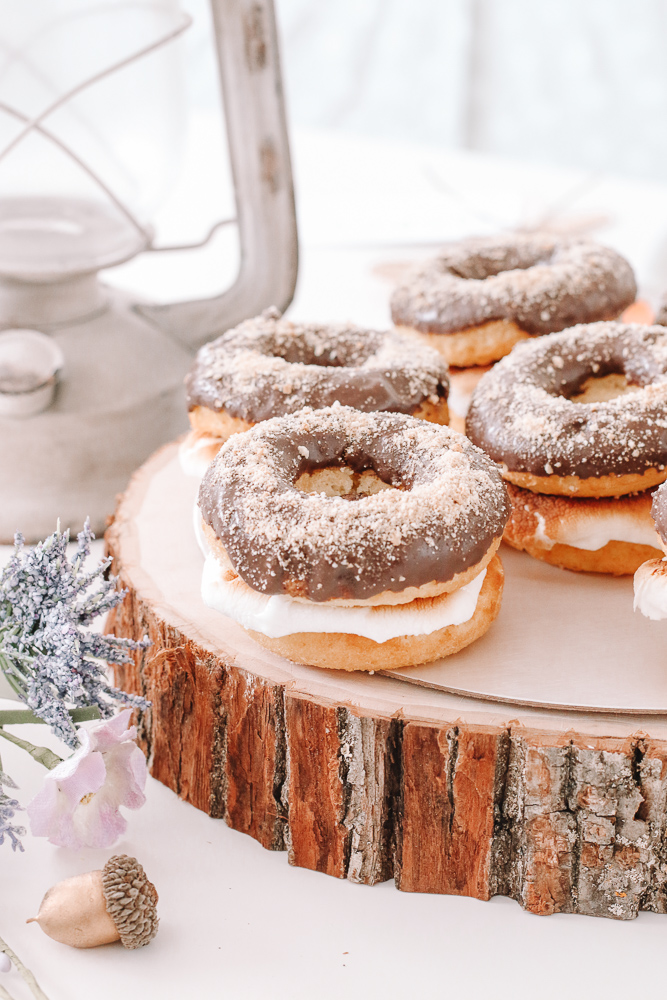 If you are celebrating a birthday party, be sure to include a camping themed cake. Our naked cake was decorated with a fun bear holding a camping light. Too cute!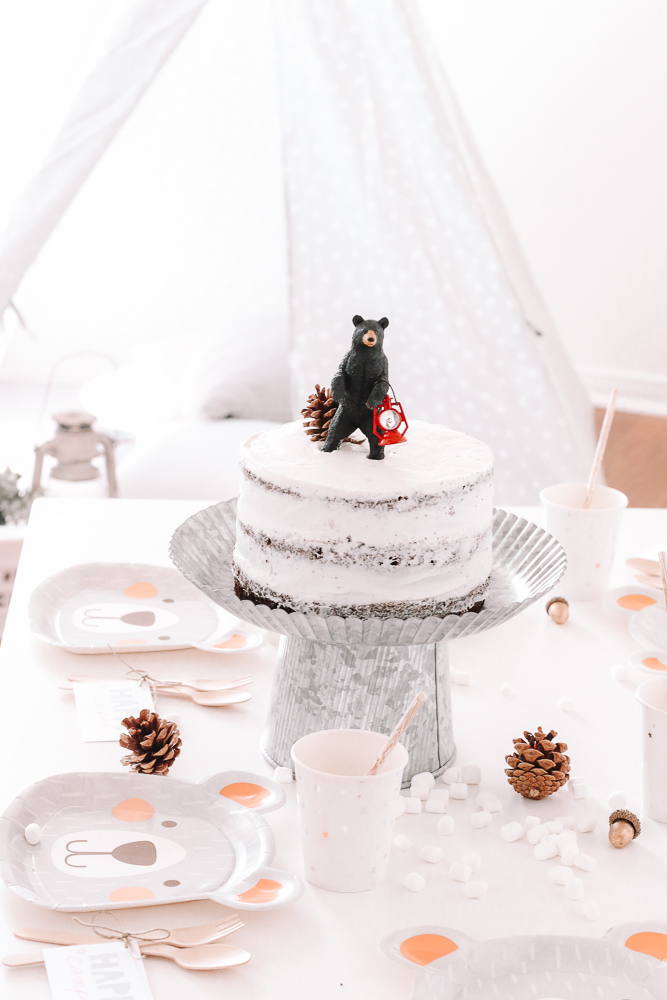 Set up a fun Trail Mix Bar
For a camping theme, a Trail Mix bar is a must. It's easy to set up and I promise it will be the highlight of your party! Definitely a fun experience for the kids!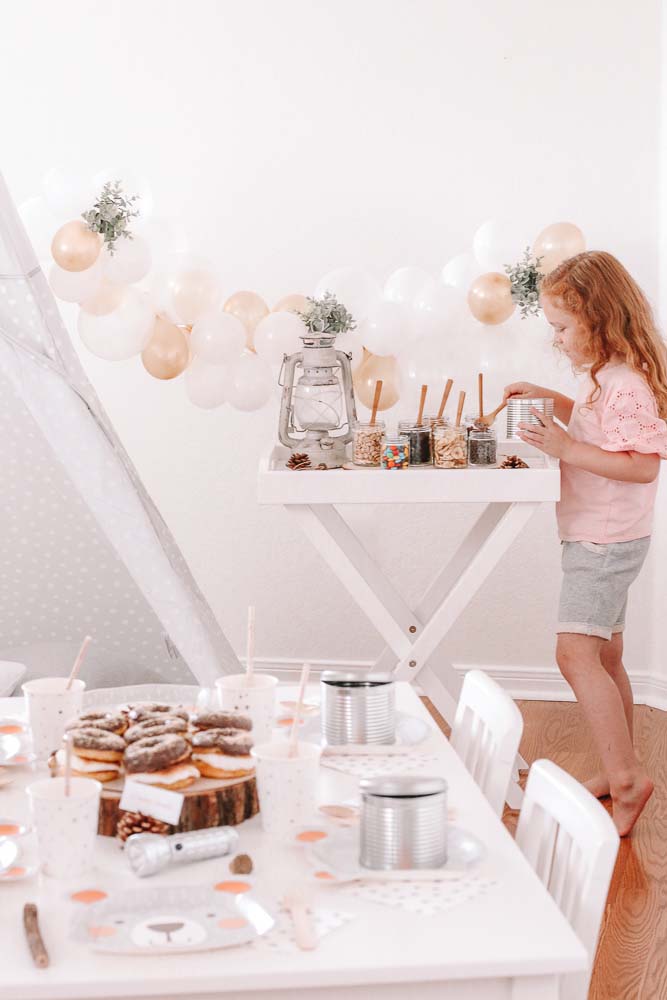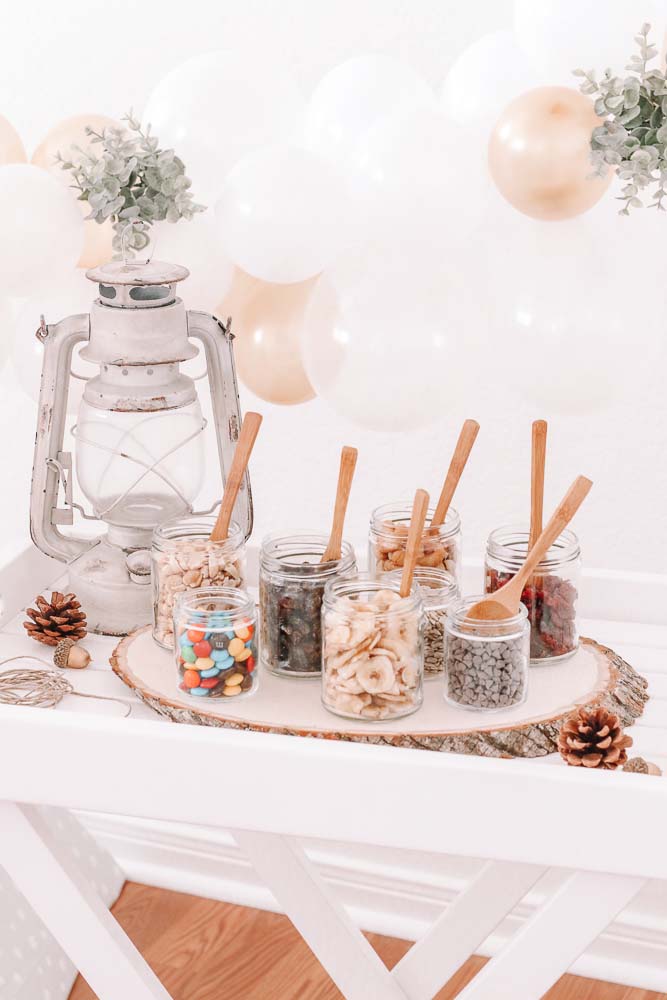 Simply fill up jars with dried fruit, nuts, chocolate chips and seeds. Make mini cans or treat bags available so your guests can help themselves.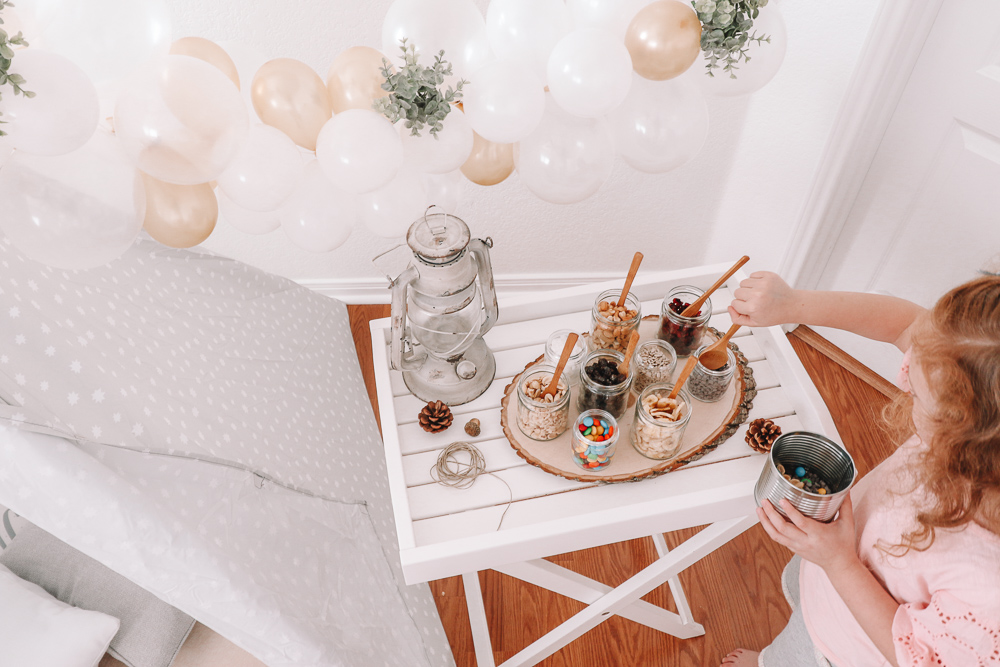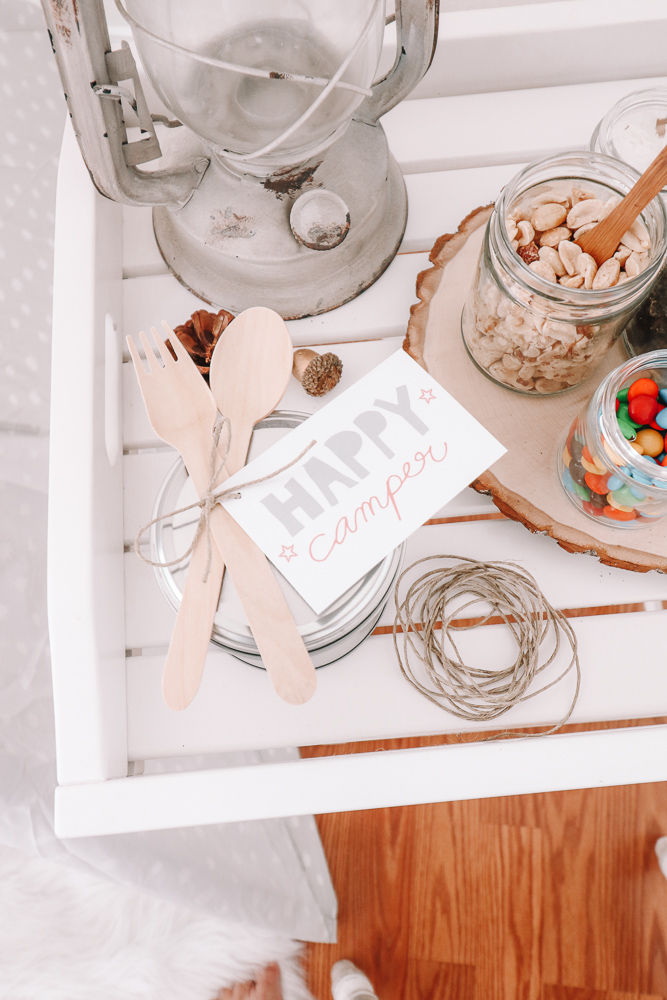 Last but not least, let's not forget the hot cocoa. For the perfect campfire hot cocoa, put together the dry ingredients, such as cocoa powder, sugar, cinnamon and salt in a sealed bag for the guests. Make marshmallows available in a separate container. Allow your guests to mix the ingredients with warm milk to provide the ultimate hot cocoa making experience.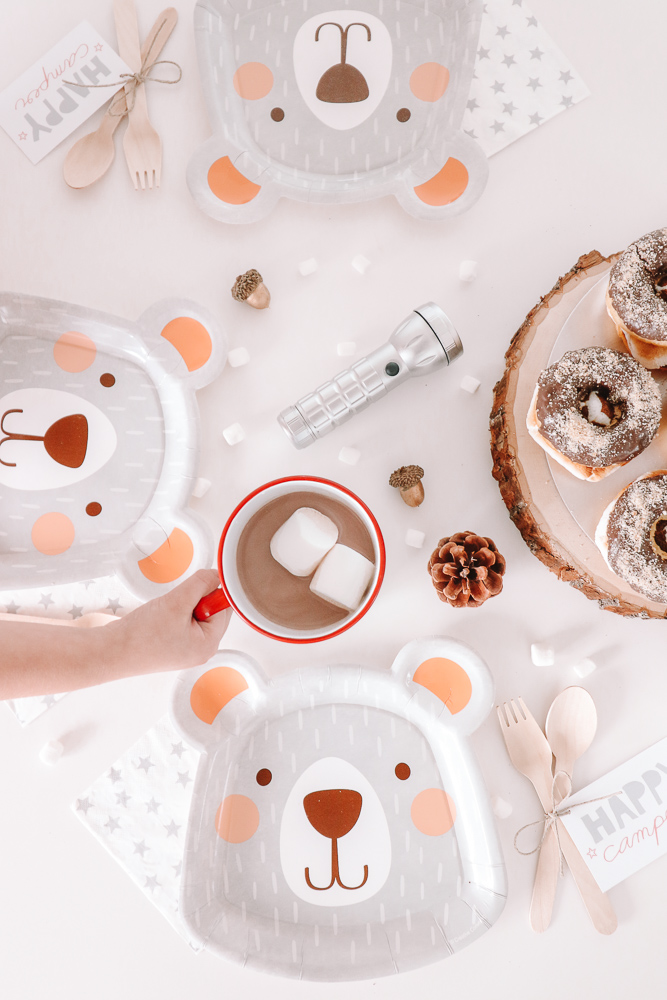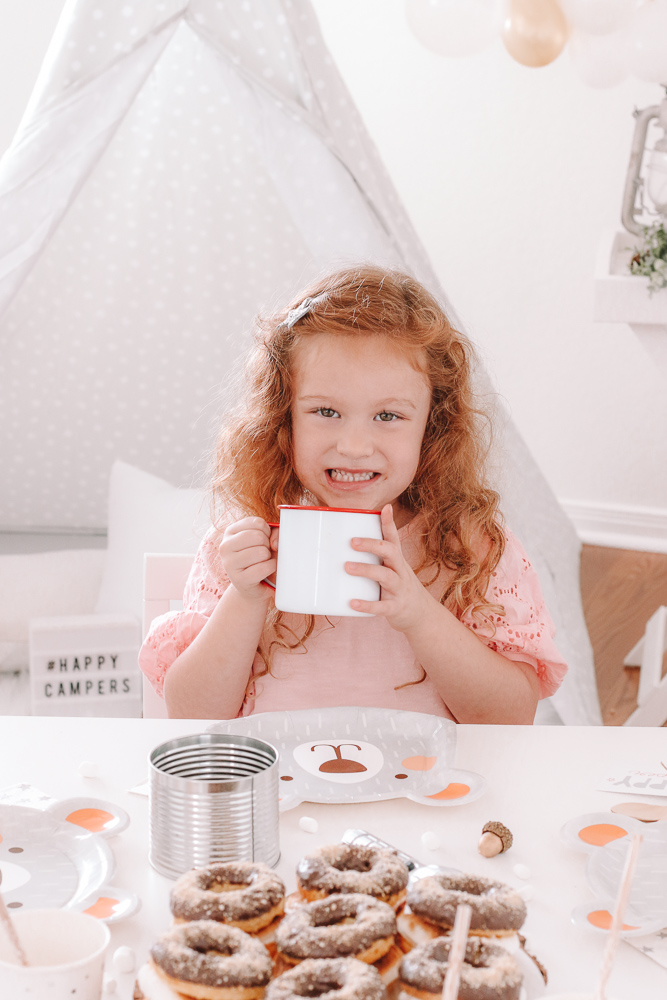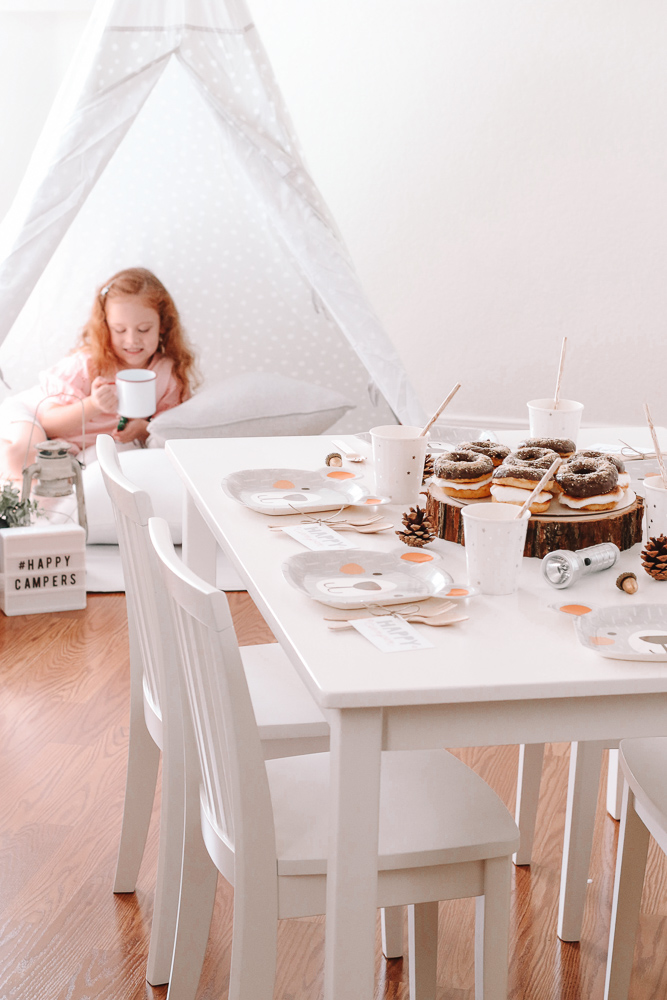 Scavenger hunt activity: create fun treasure boxes
After everyone has time to enjoy your party indoors, it's time to take the kids on a fun nature walk for a fun Scavenger hunt activity. I used Nellie's egg carton to create fun camping treasure boxes for the kids. Simply print our free Scavenger Hunt activity cards out – front and back and attach them to the egg carton. The kids will have fun filling up each egg cavity with their findings.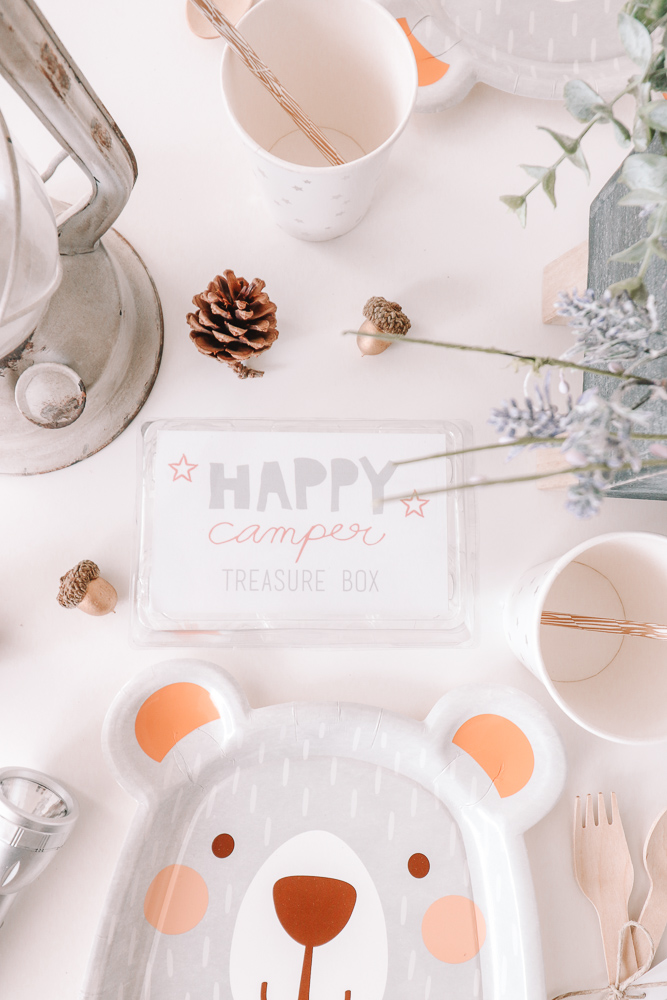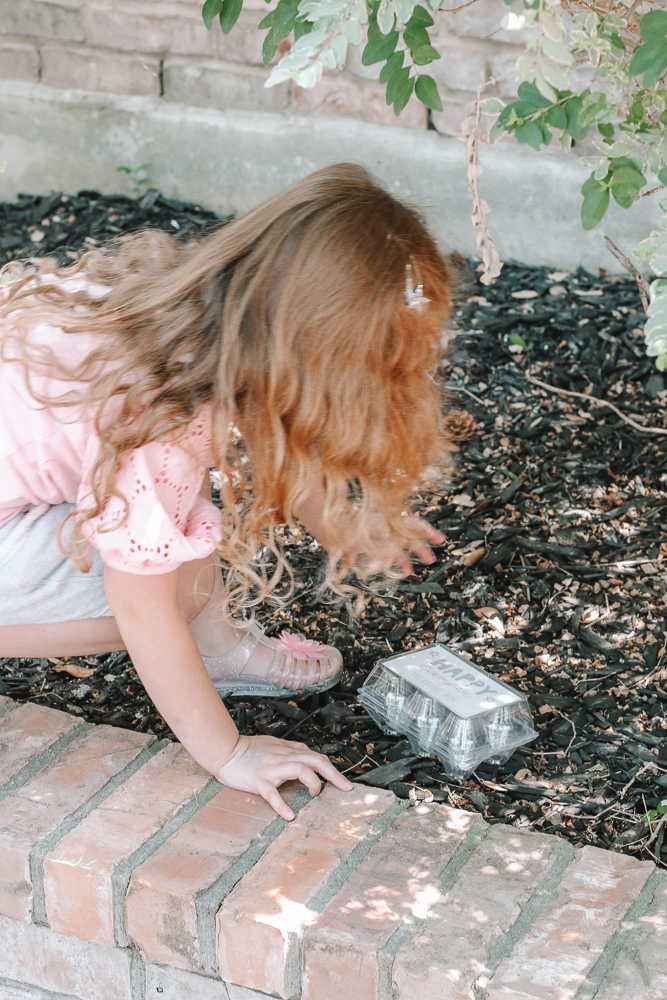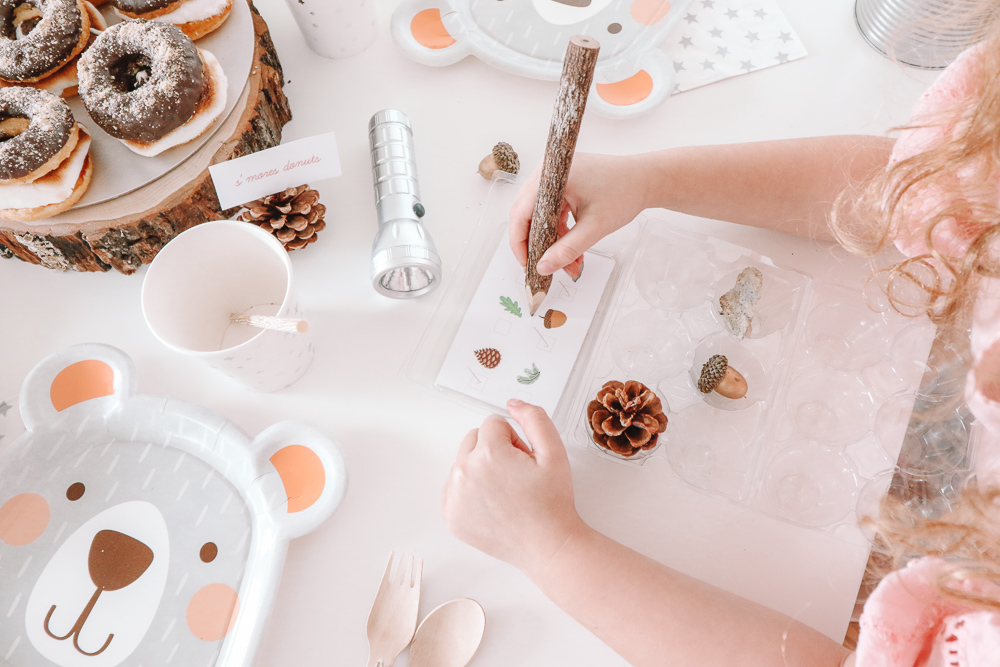 I hope you enjoyed these fun camping party ideas, friends!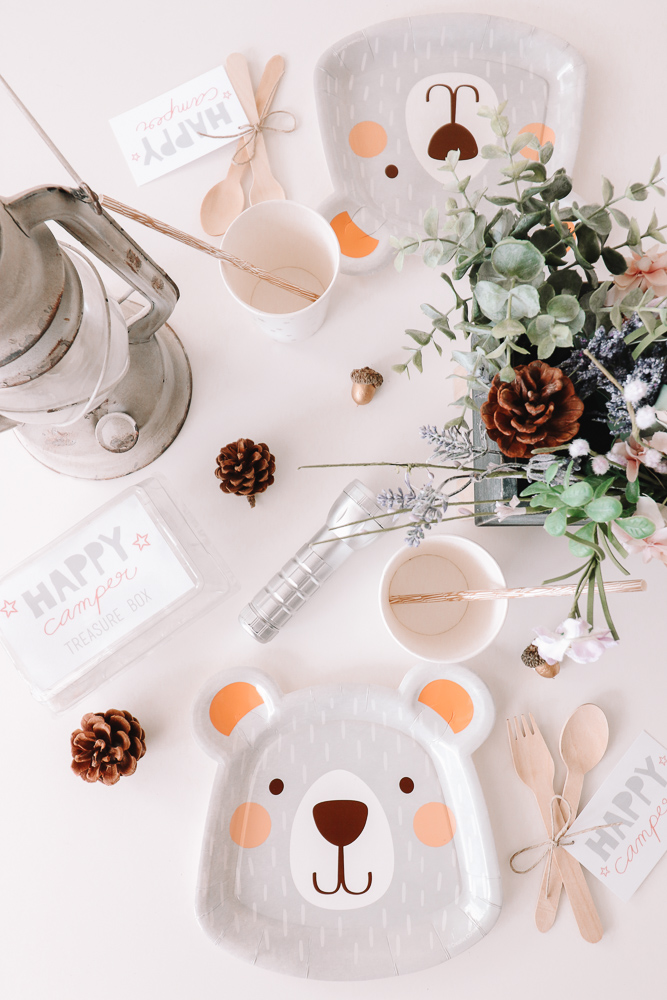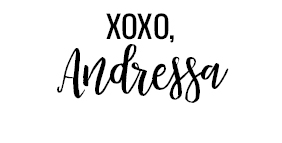 Styling & Photography: Andressa Hara of Twinkle Twinkle Little Party
Bear Cake Topper: WM Couture Designs