Hello, friends!
Spring is here and it is such a beautiful season! I love going to the markets and enjoy all the pretty blooms available. I also love when all the pretty party inspirations start to pop up! Such a fun season, isn't it?
Because Spring is so special, I have teamed up with a group of awesome talented ladies, 13 amazing entrepreneurs who share the same passion! We are sharing beautiful Spring Party Ideas and we would love you to join us on this fun Spring Blog Hop! I promise you will love all the gorgeous ideas!
Our sweet Deanna of Mirabelle Creations got the party started! Please stop by to check her beautiful intro!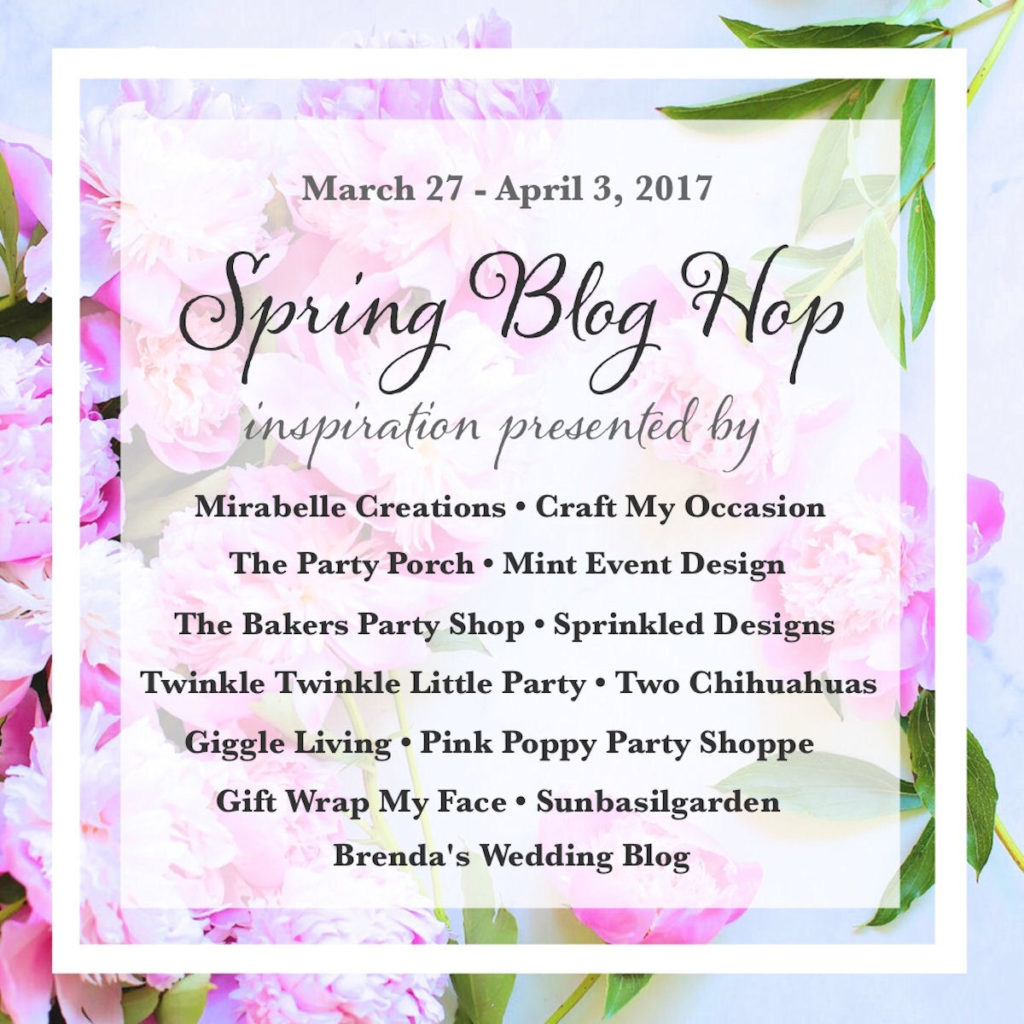 A warm welcome to those who are coming from The Bakers Party Shop! So happy to have you here! I am pretty sure you absolutely enjoyed Esther's Spring Cookies & Cocktails Bridal Shower! Such lovely ideas!
I am sharing simple yet pretty entertaining ideas on how to host a lovely DIY Mother's Day celebration/Mother's Day Brunch! I would love to hear how you celebrate each year. Do you plan something special? If you love to celebrate in style without breaking the bank, you came to the right place! (wink wink)
These ideas can be used for either a breakfast/brunch or you can skip the brunch ideas and do desserts only. We got you covered with both!
Let's get this party started!
BRUNCH IDEAS
Set up a simple table with a few yummy brunch items.
Bagels for lox and cream cheese sandwiches
Cinnamon donuts for those moms who have a sweet tooth
Thin whole grain cocktail bread for delicious Greek yogurt and fruit mini toast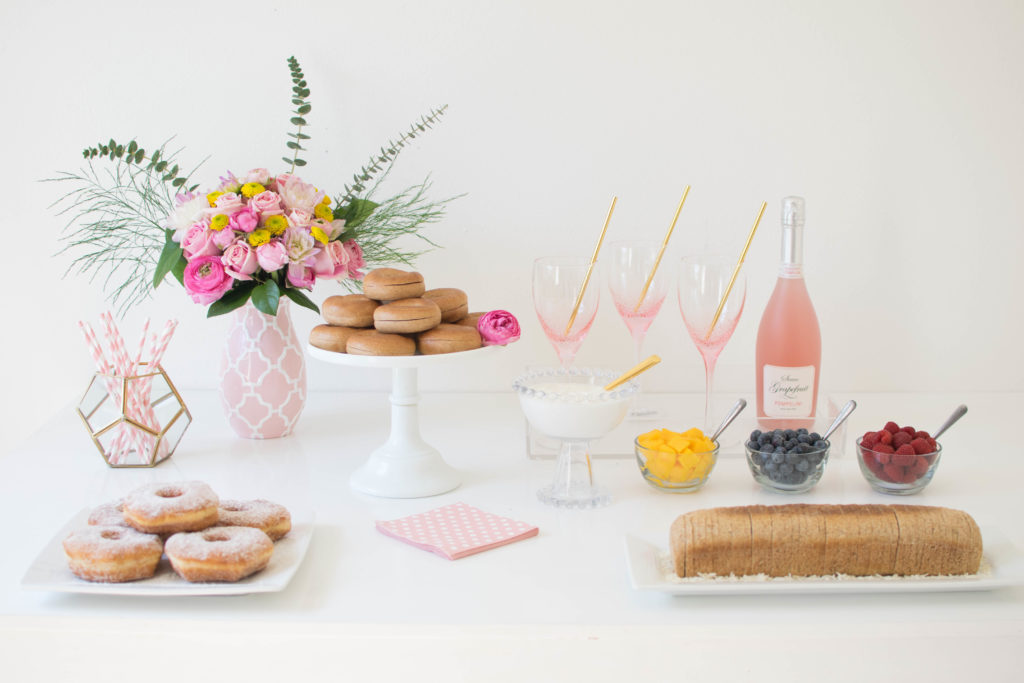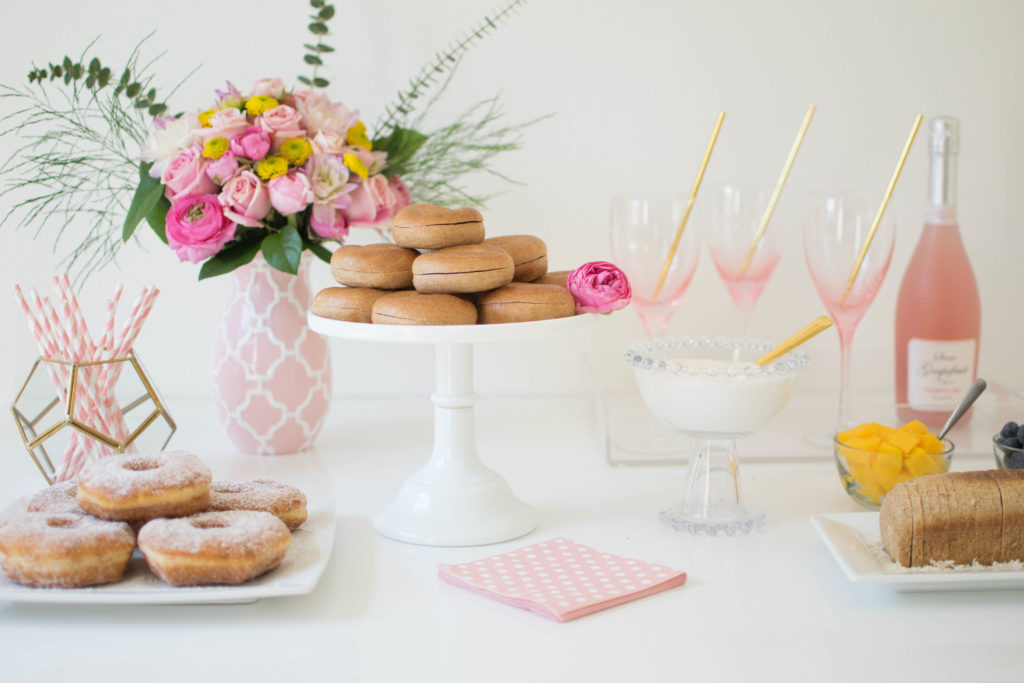 Lox & Cream Cheese Bagel Sandwiches
I absolutely love these sandwiches. No secrets here. All you need is bagels, cream cheese and smoked salmon (you can find it at the seafood section of your supermarket) The salmon already comes pre-sliced. Just make sure you keep the cream cheese and salmon refrigerated. You can make the sandwiches right before the guests arrive, so they are fresh and ready to eat!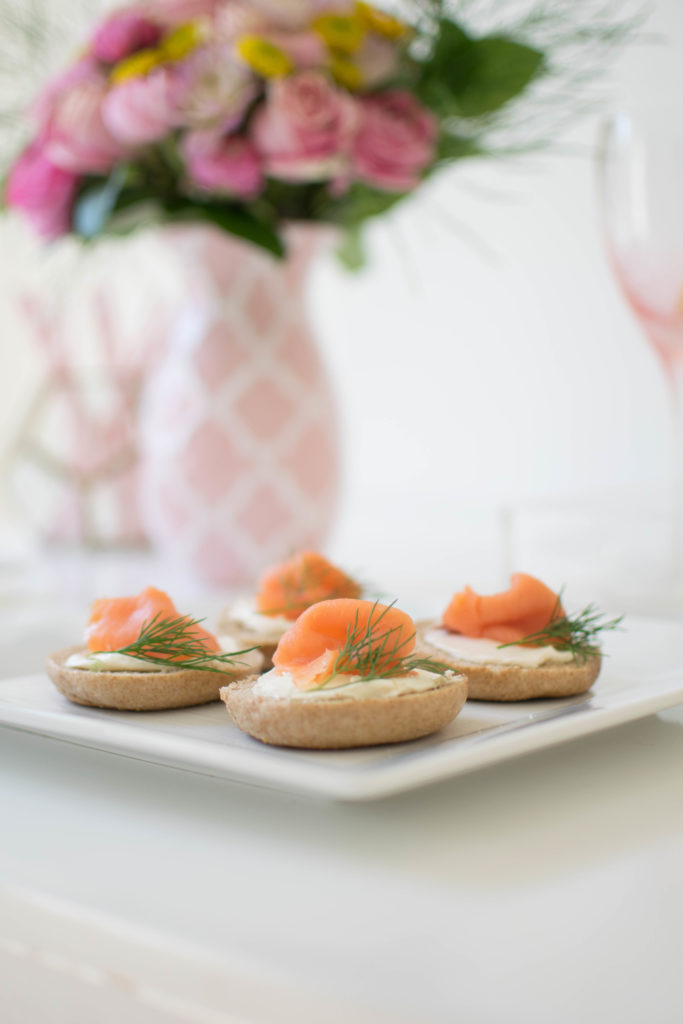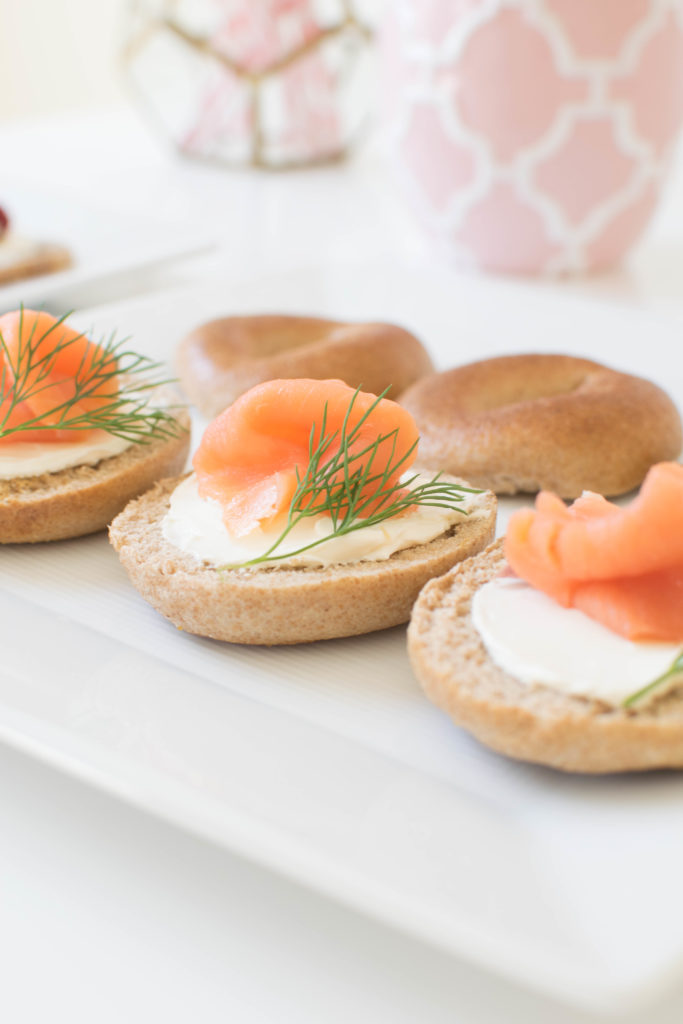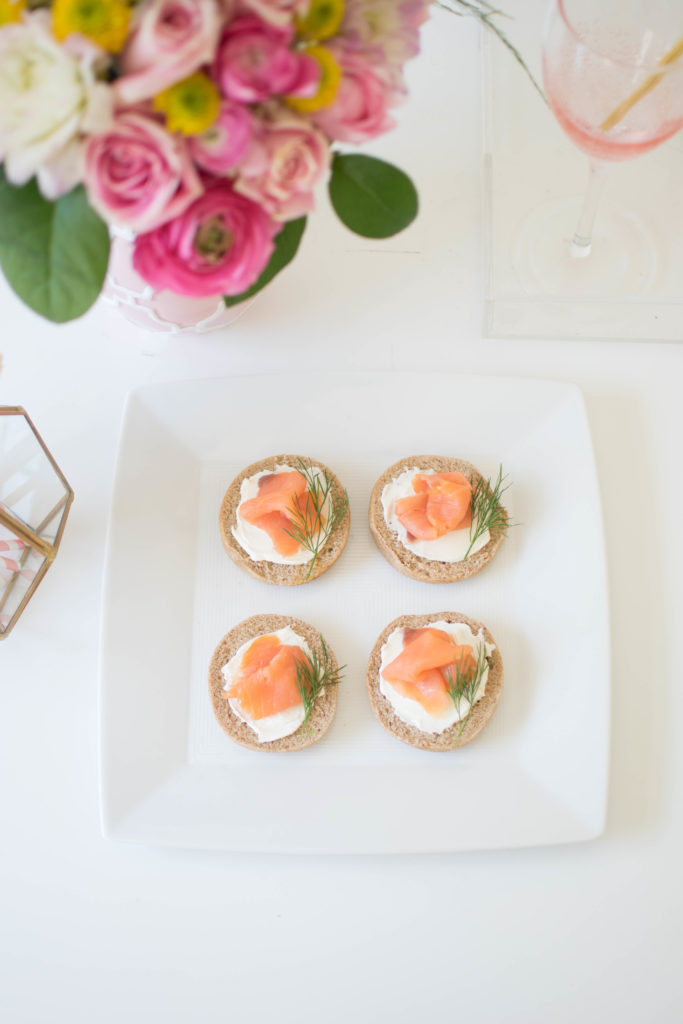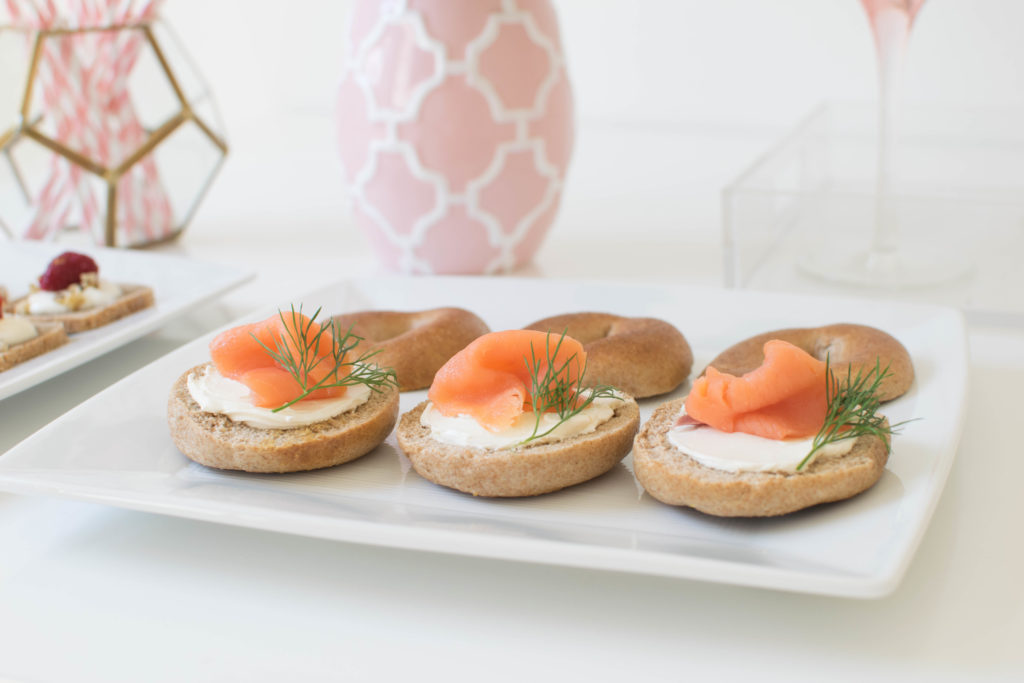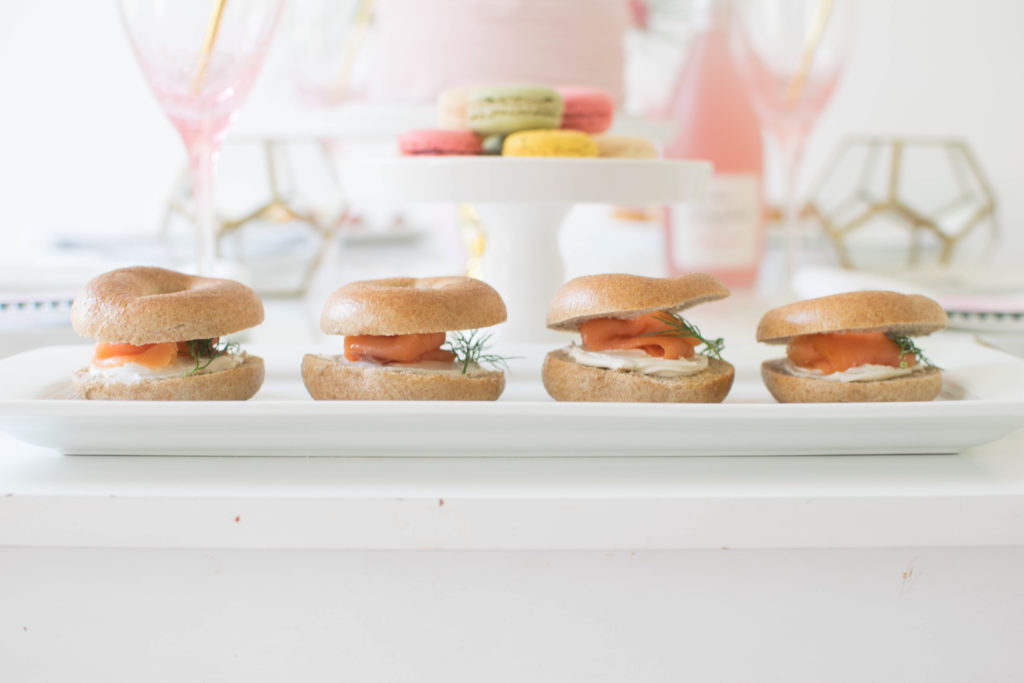 TIP: Neatly display the bagels on a pedestal for a pretty presentation for when the guests arrive!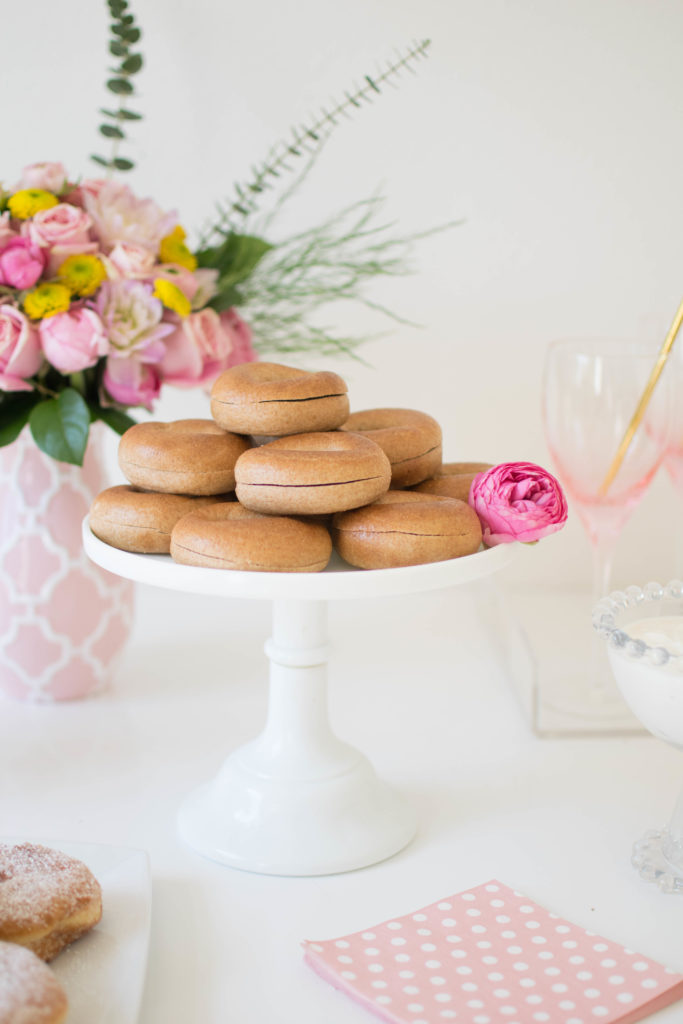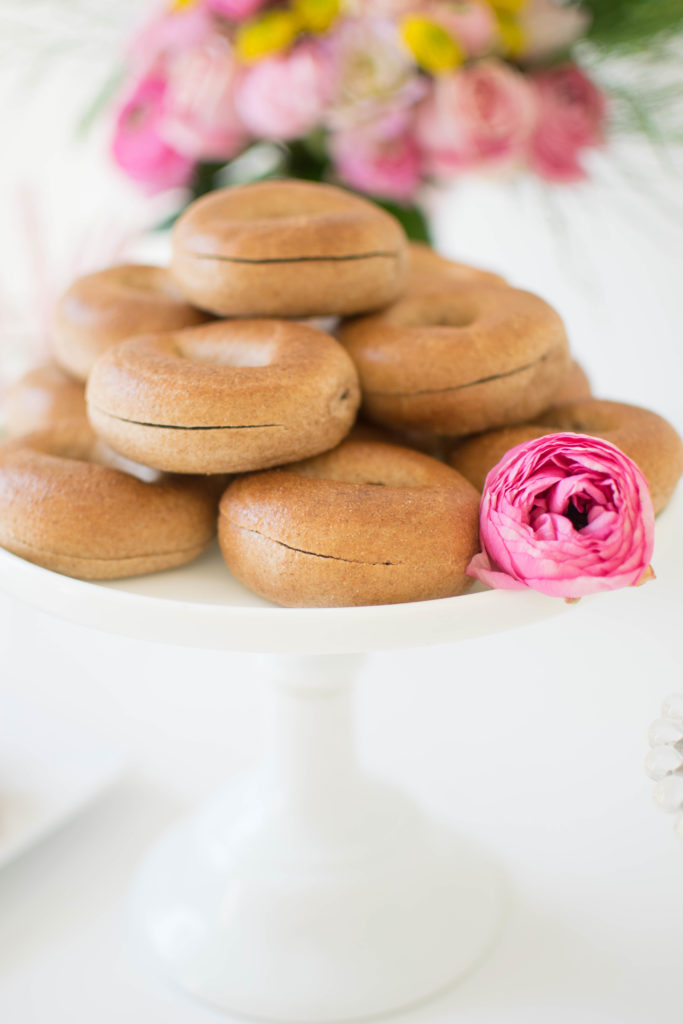 2. Mini Greek yogurt + fruit toast
These whole grain cocktails slices are wonderful. I love the fact they are super thin and only 130 calories for 5 slices (Trust me, you are going to eat more than one). I heat them up in a skillet to make them slightly crispy (both sides), then top with Greek yogurt, berries and any other fruit of you choice. Drizzle with honey and sprinkle them with chia seeds, coconut flakes or nuts!
To make it even more fun, set up a bar the guests can help themselves!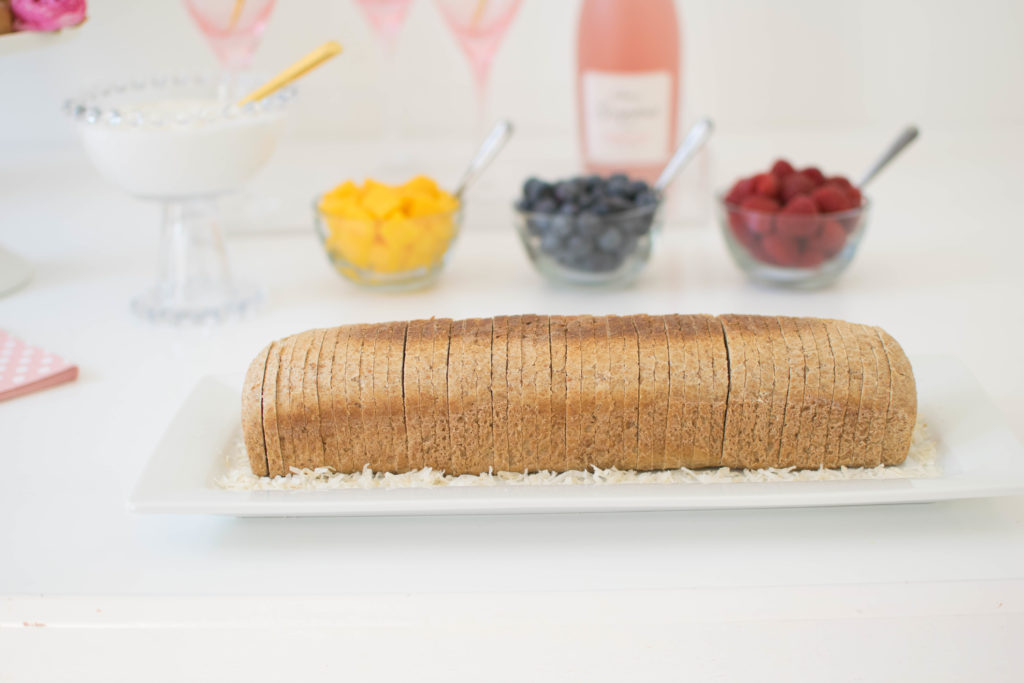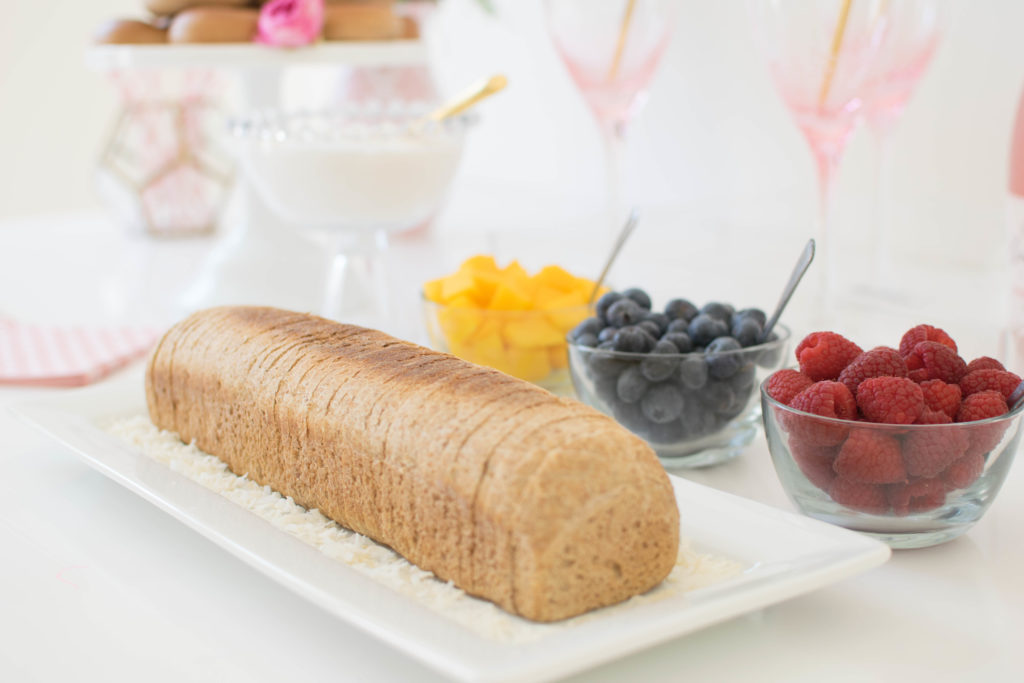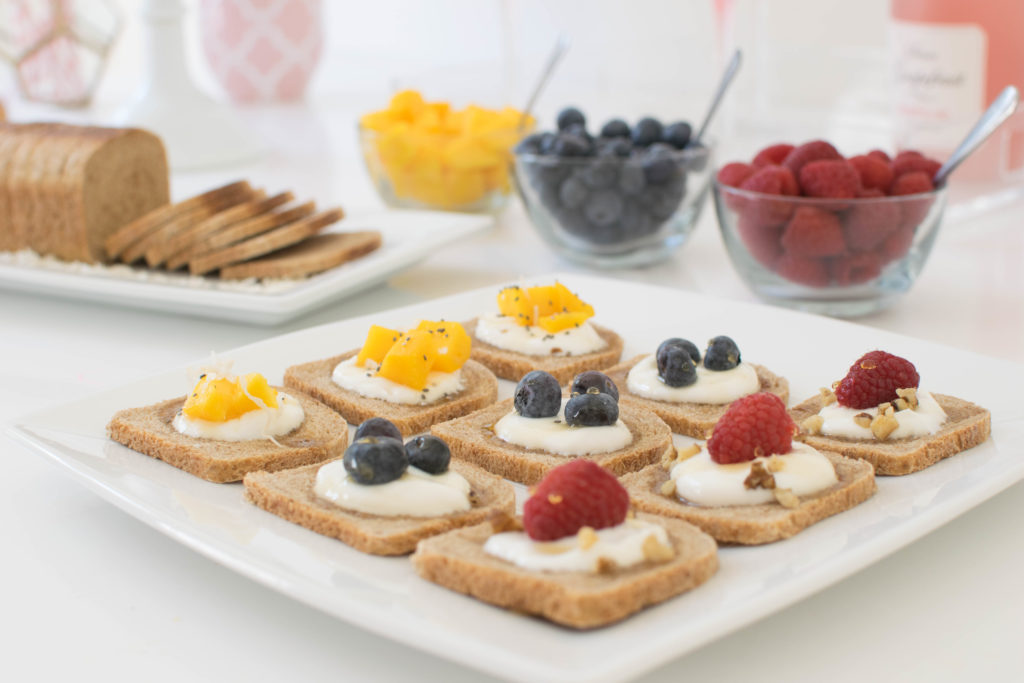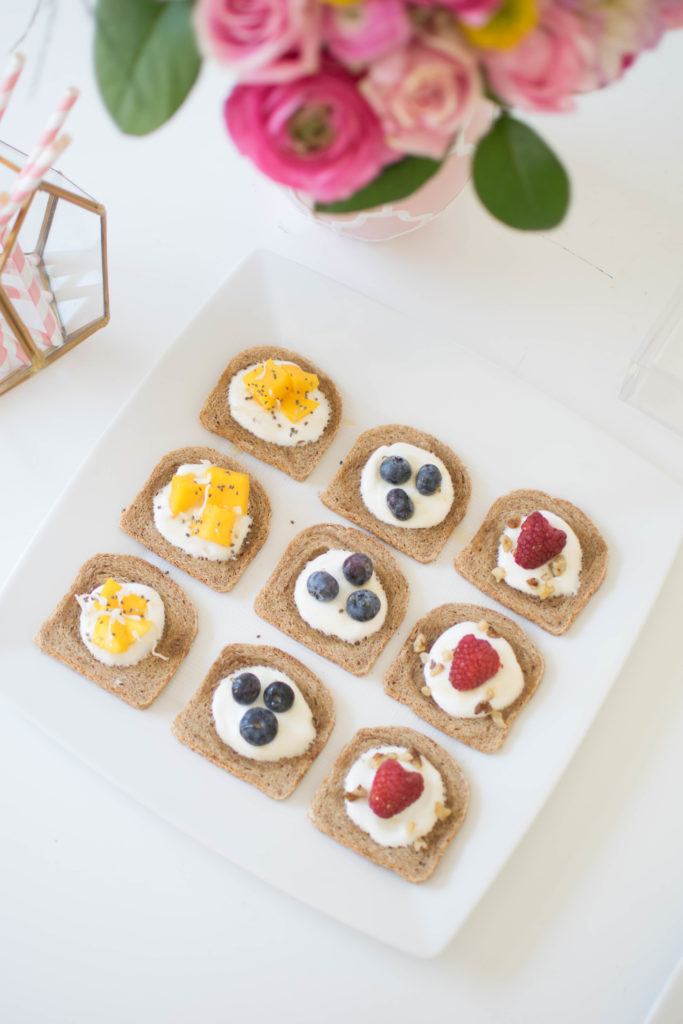 3. Cinnamon Donuts
You can't go wrong with yummy donuts. They are always a big hit. Stop by your local donut shop and save yourself some time!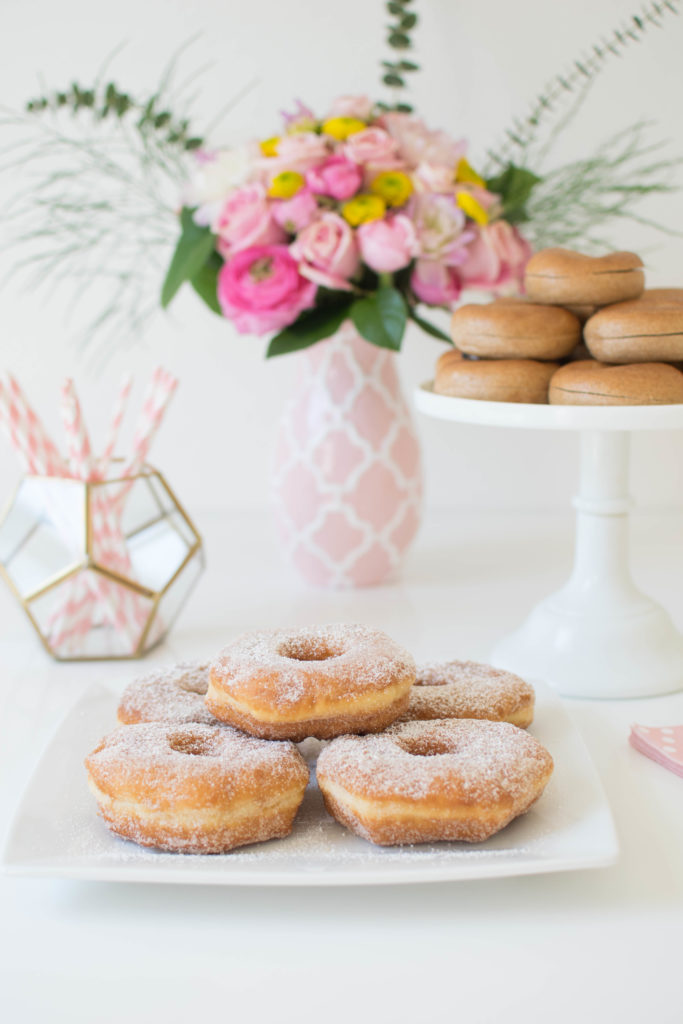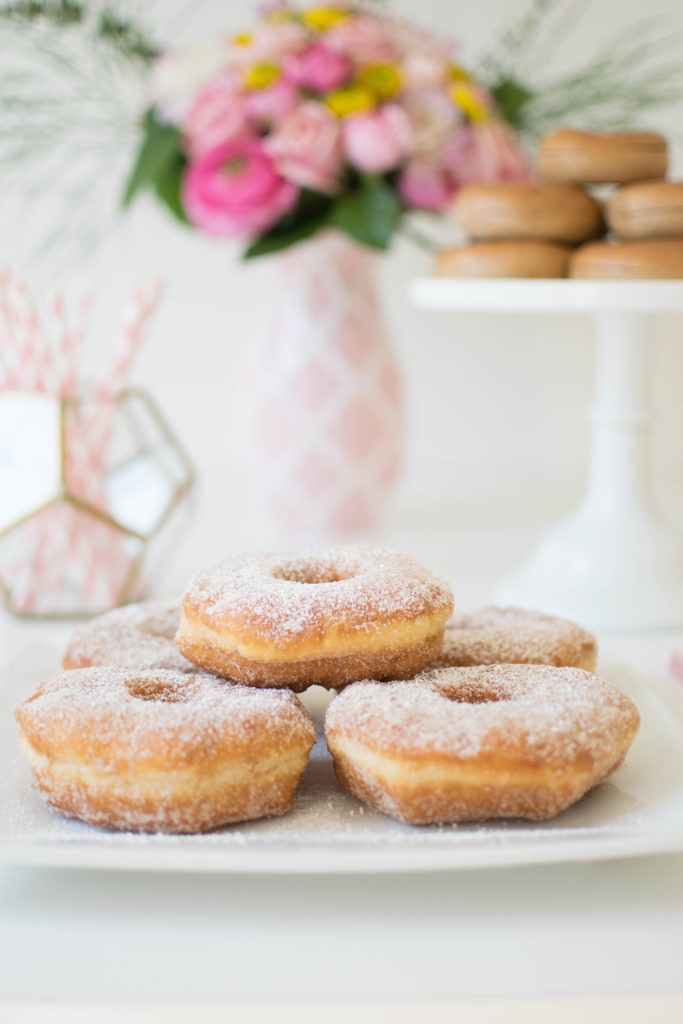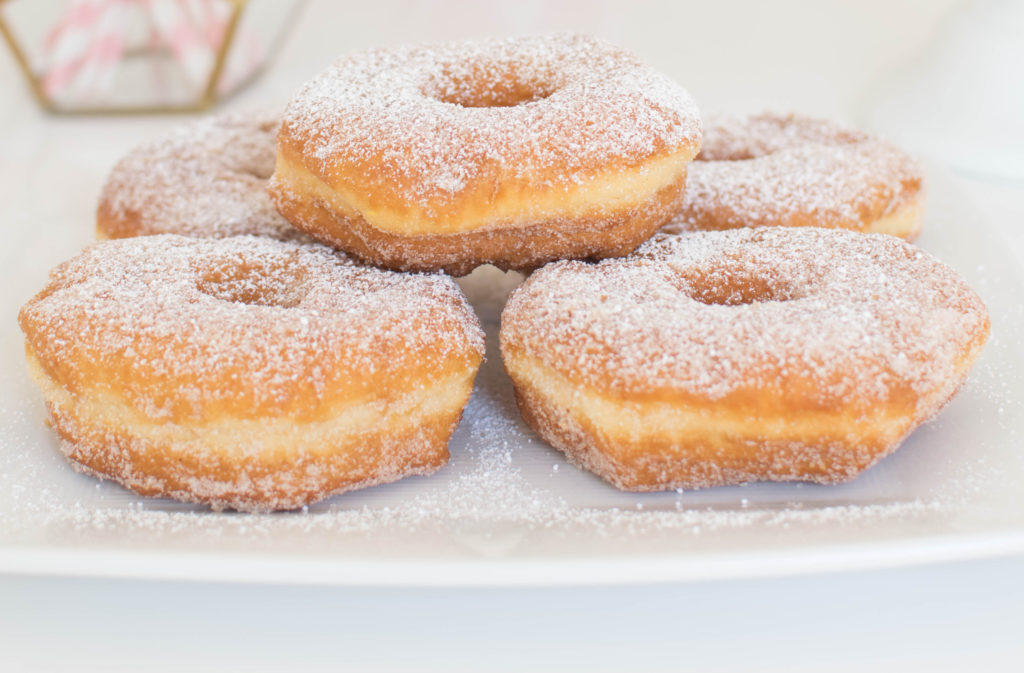 TIP: Serve a grapefruit pompelini. It's a wonderful light wine perfect for brunches, picnics and cocktail parties! Your guests can enjoy a chilled wine glass and add fresh berries for extra fun!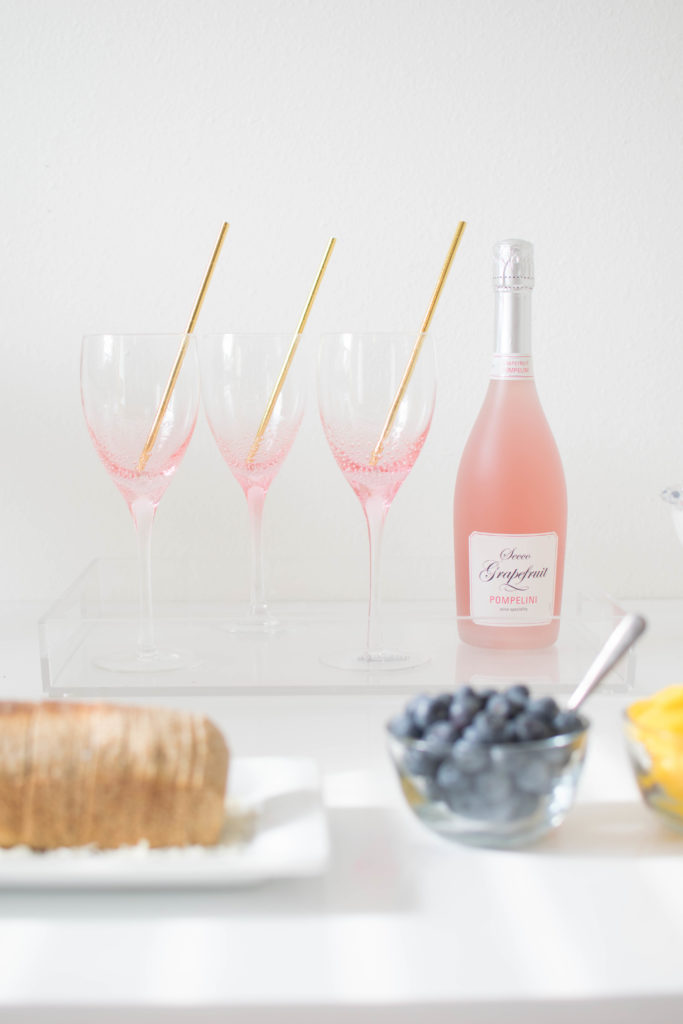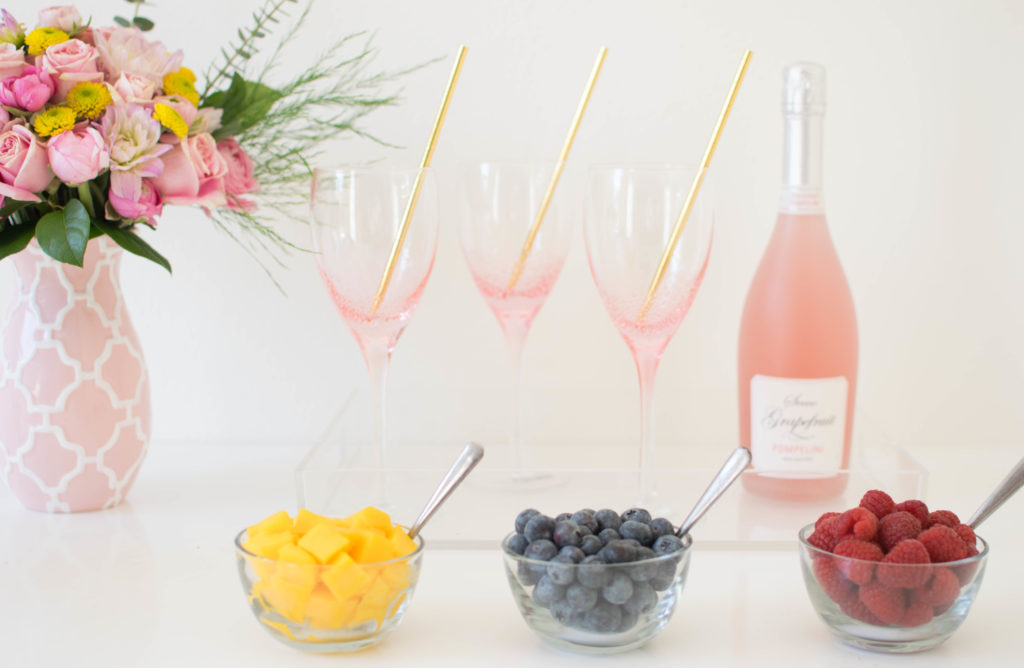 DESSERT IDEAS
Sweeten up your Mother's Day celebration with a delicious cake, French macarons in different flavors and cake pops! They were all ordered from my local bakery. It can't get any easier than that!
TIP 1: Simply decorate a pink buttercream by adorning it with a ranunculus bud or any other fresh bloom available!
TIP 2: On a mini dessert stand, arrange delicious macarons in several delicious flavors for a pop of color.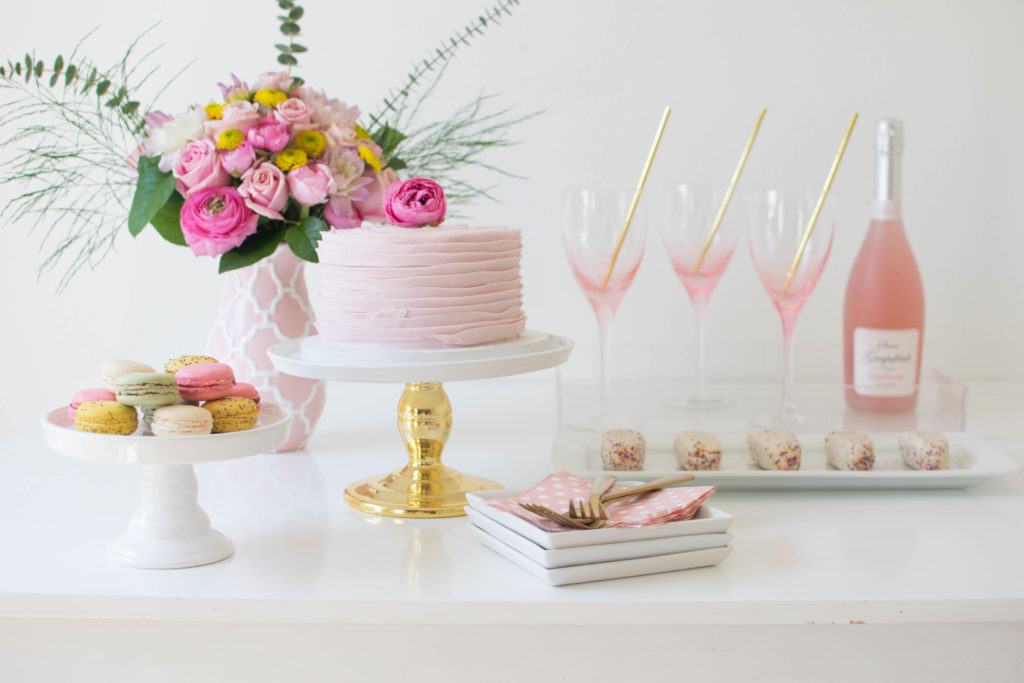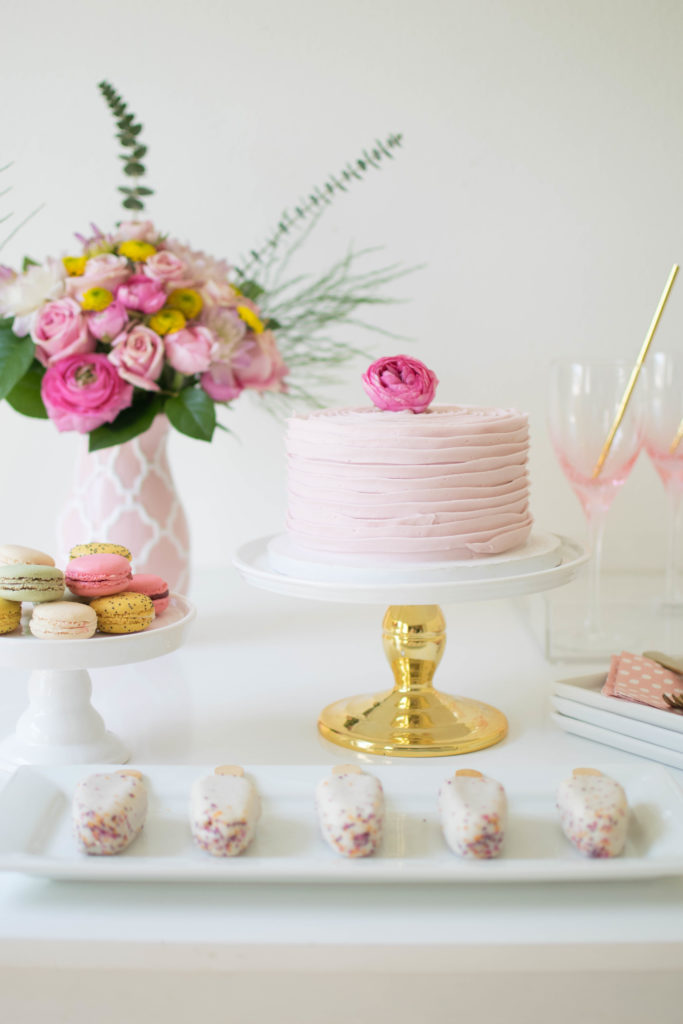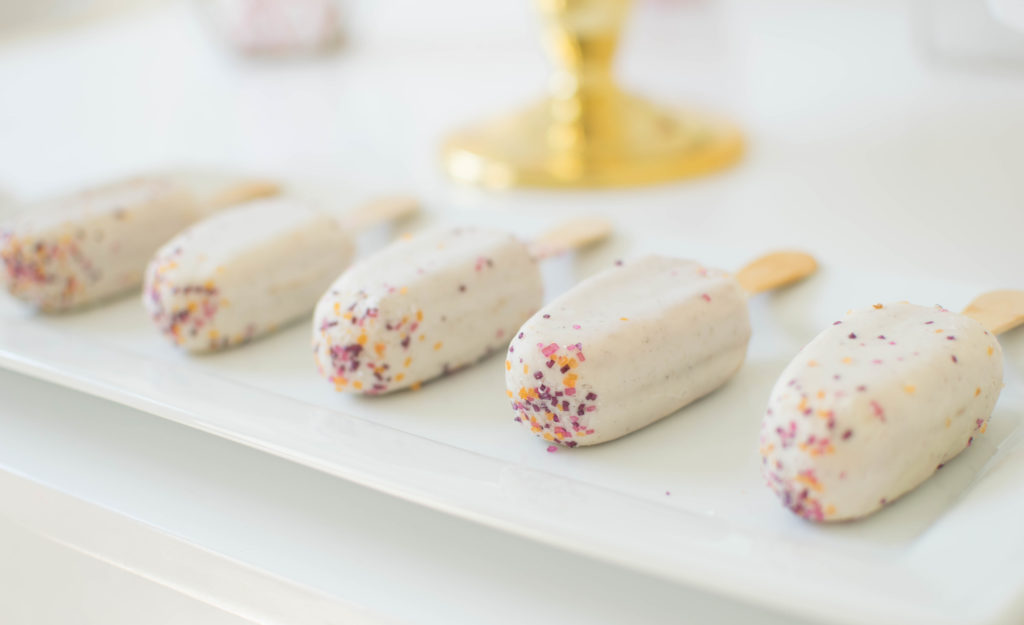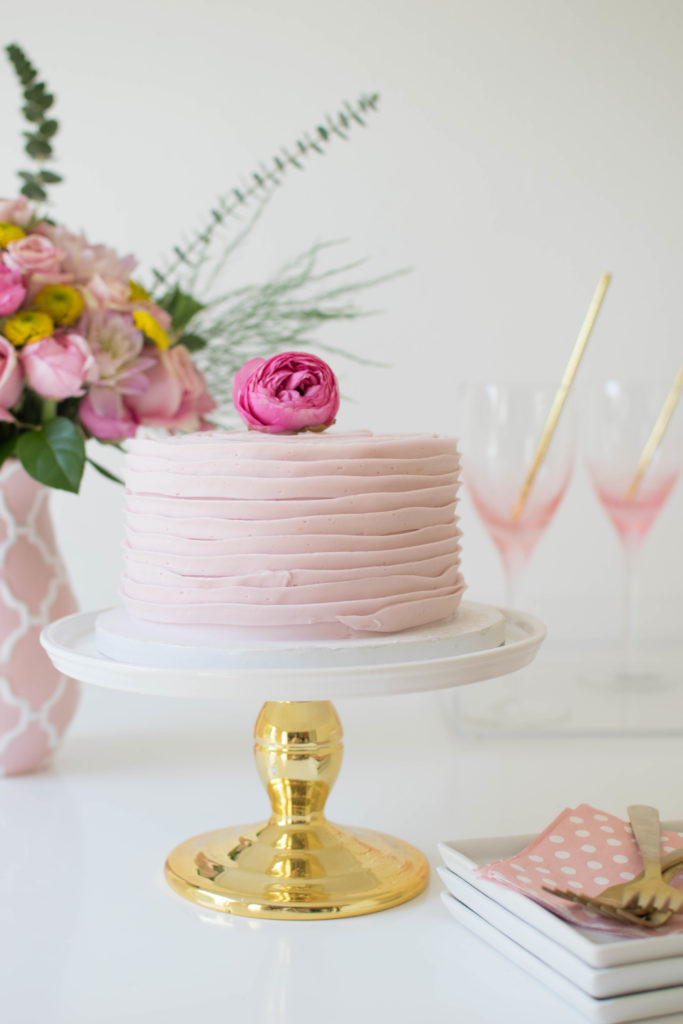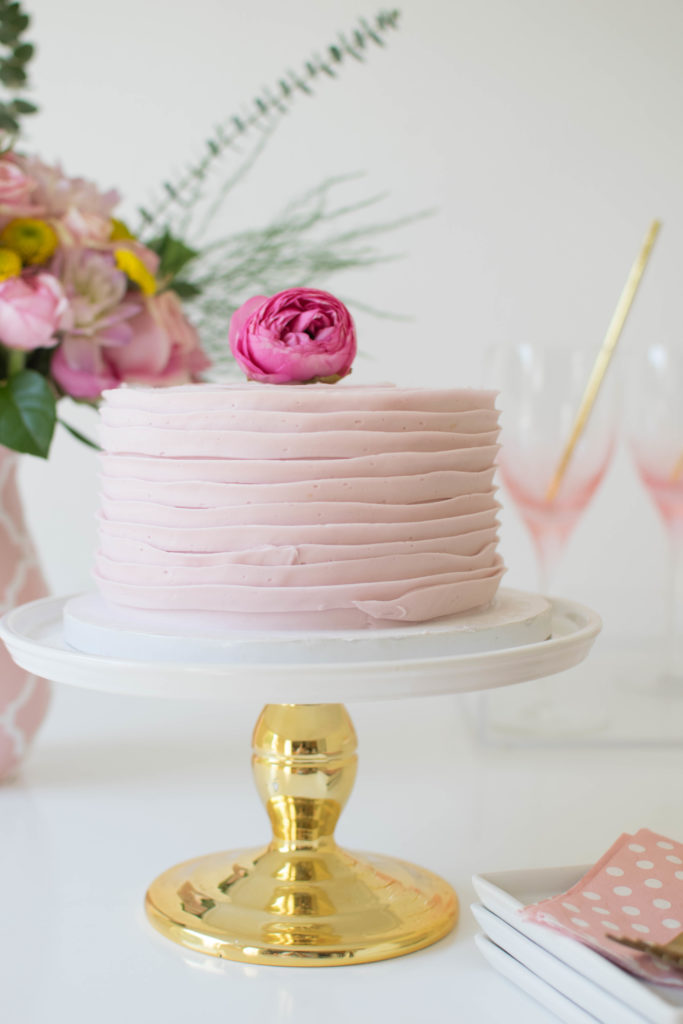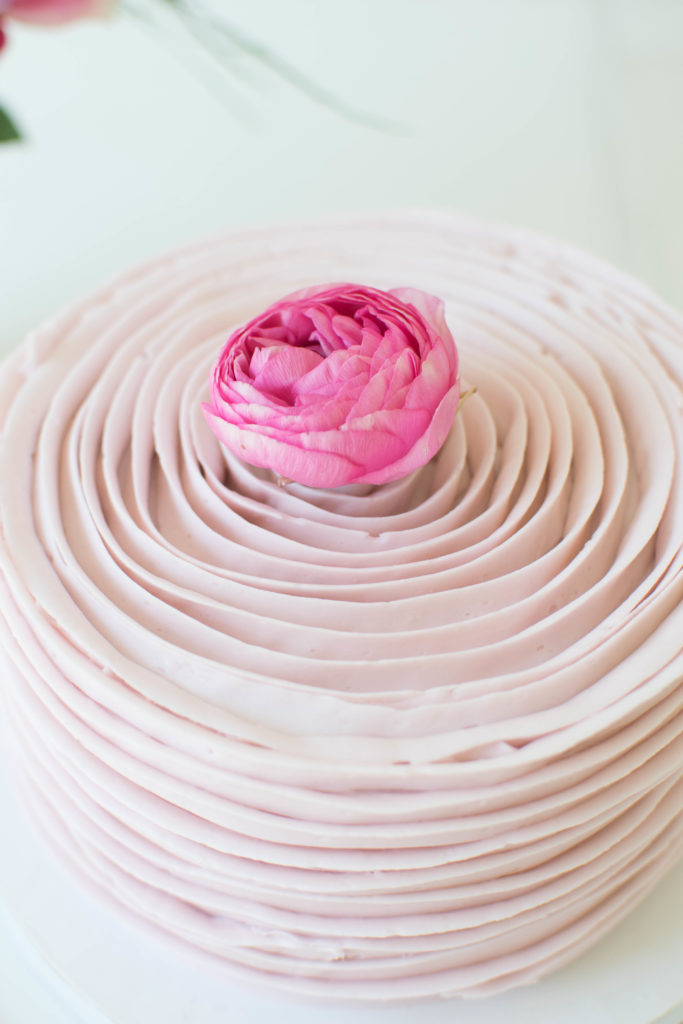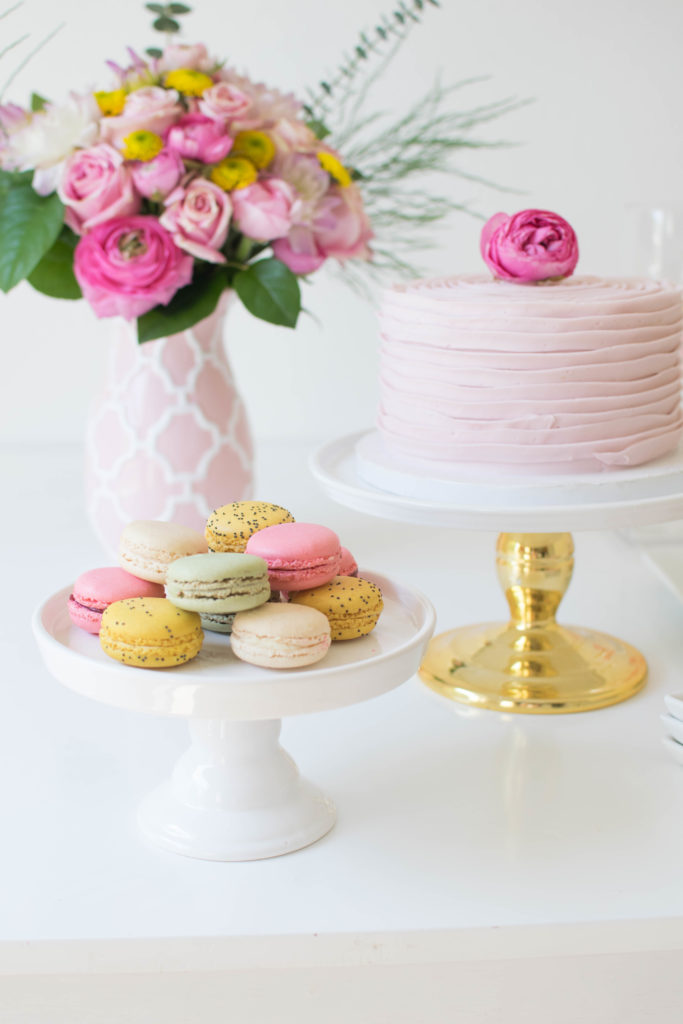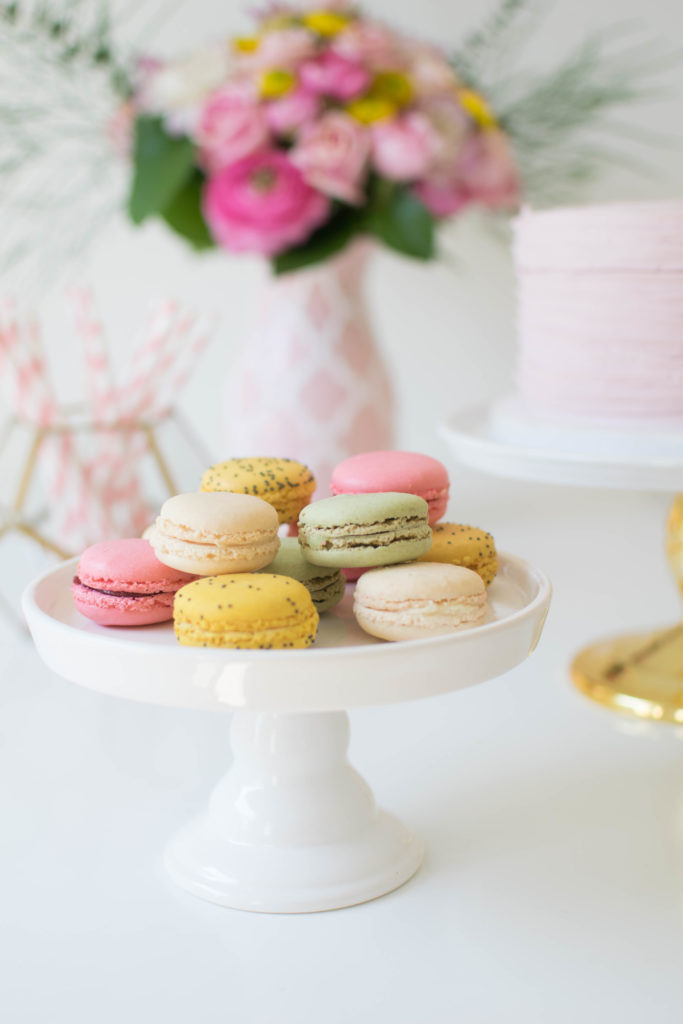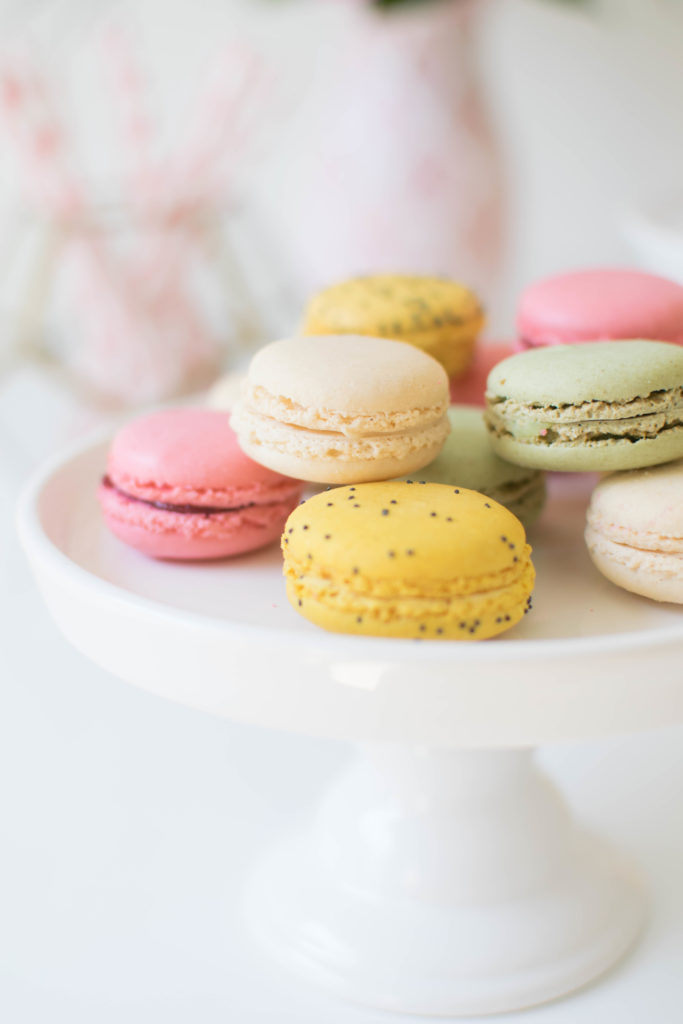 TABLESCAPE
Put those fancy plates & silverware to great use and impress your mom by setting up a lovely tablescape she can sit and enjoy her special day with loved ones.
Incorporate a DIY floral arrangement into the decor. I know, it's not the easiest thing to put together, but your mom deserves the extra work, right? And you will be proud of yourself when you see the final result!
TIP: Decide on a pretty vase first before shopping for fresh blooms. You will have a better idea on how many flowers you should purchase for your centerpiece.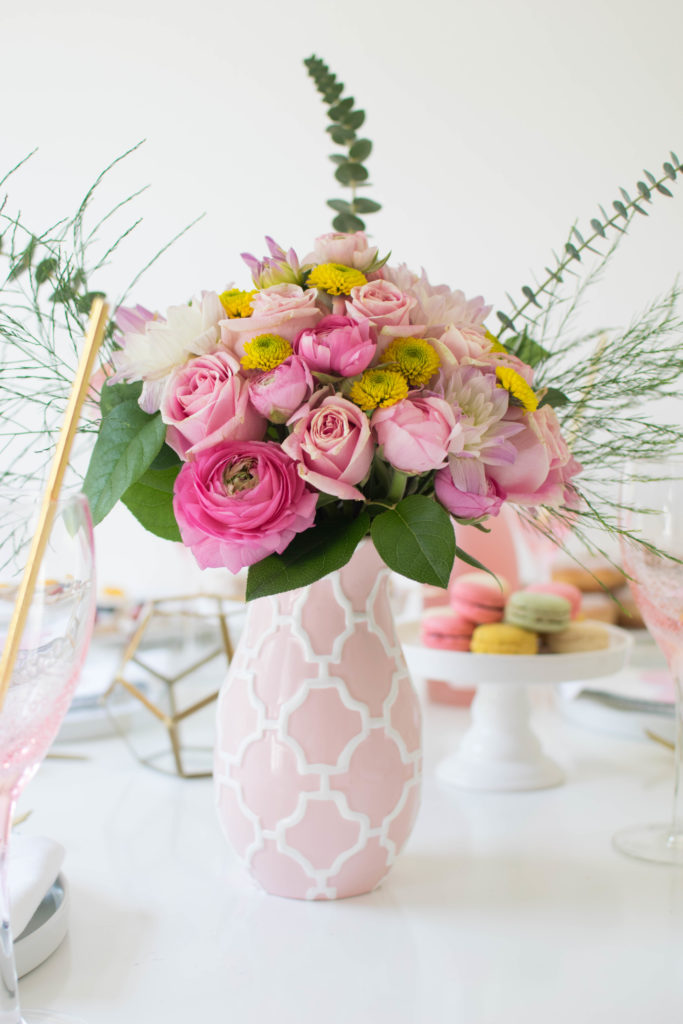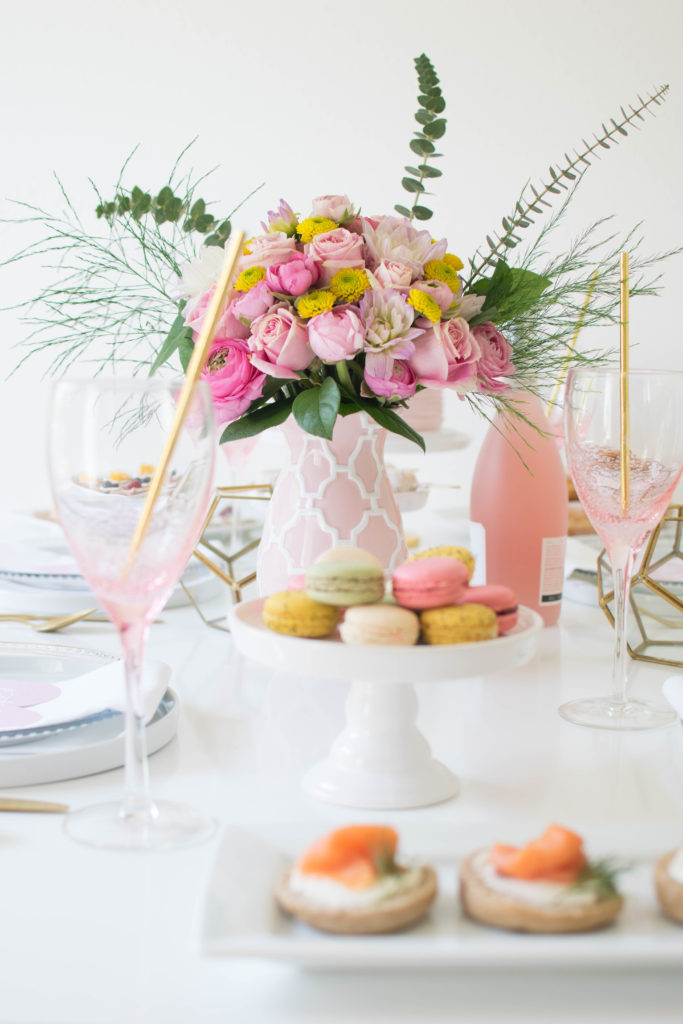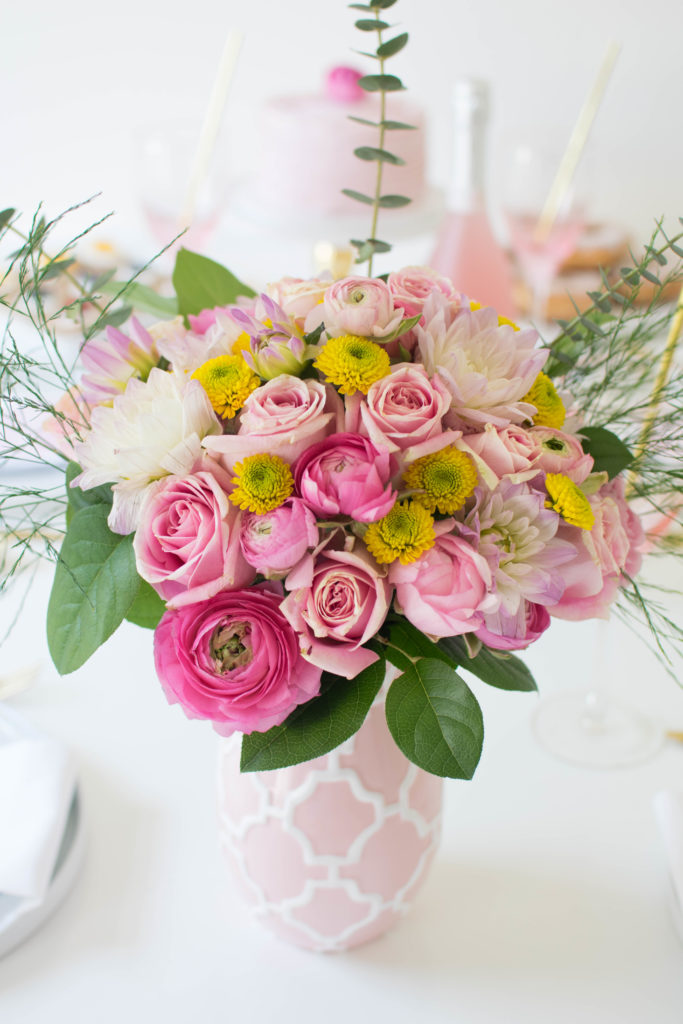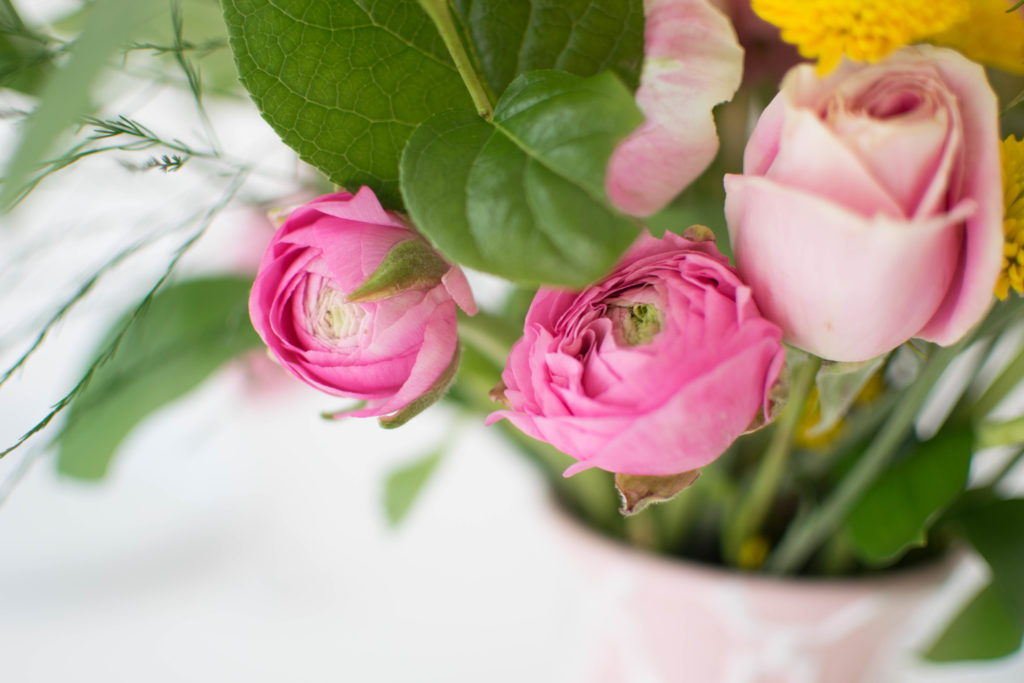 A DIY tablescape you can recreate in no time? Doesn't it look fun?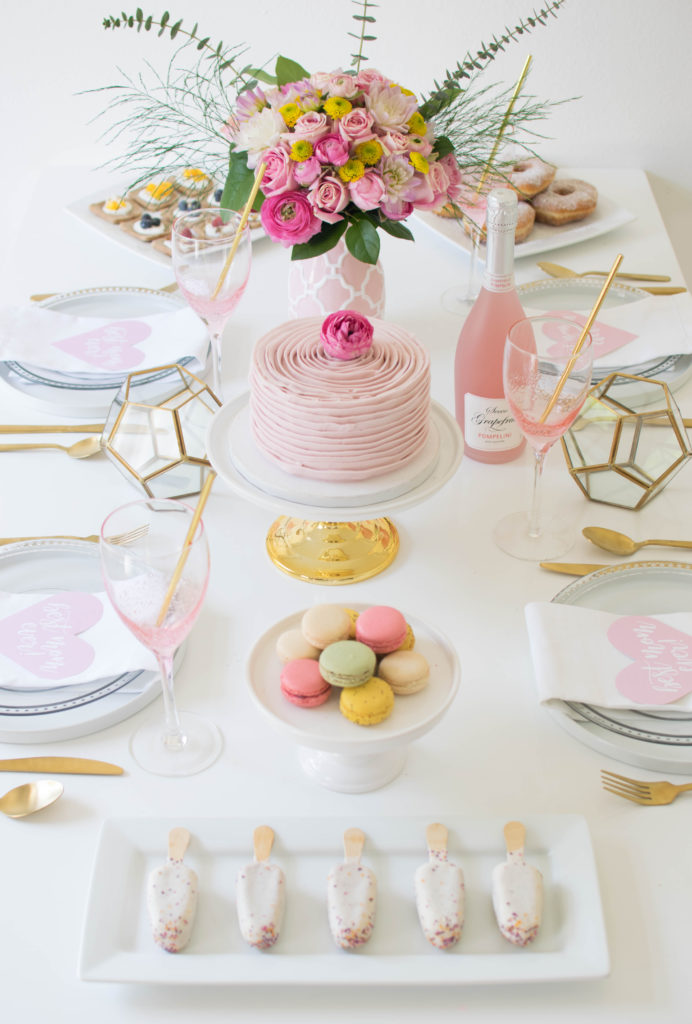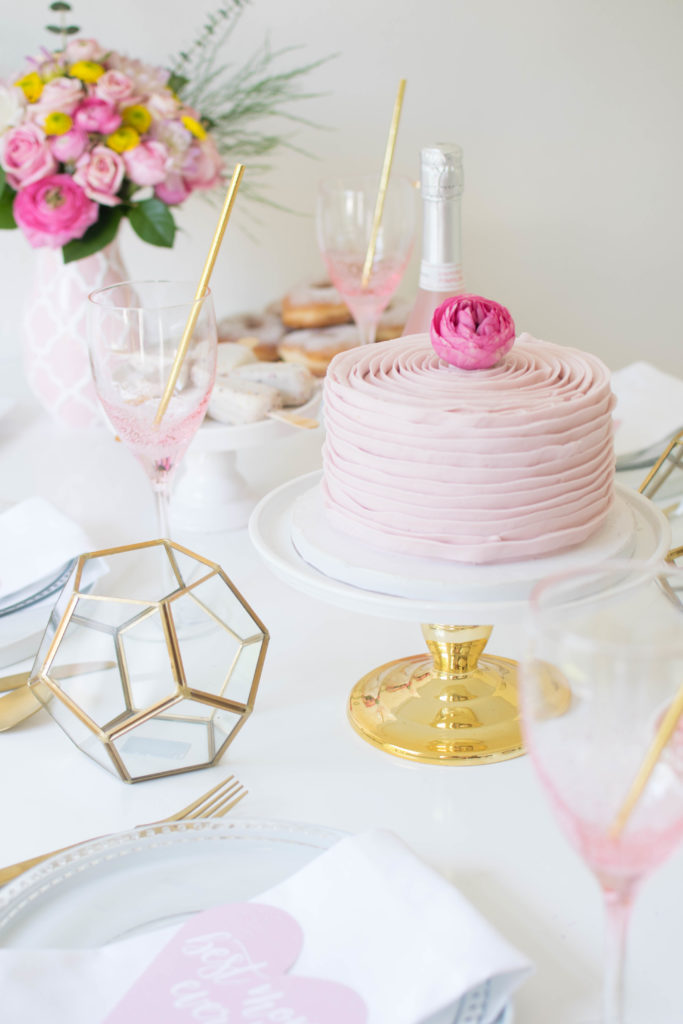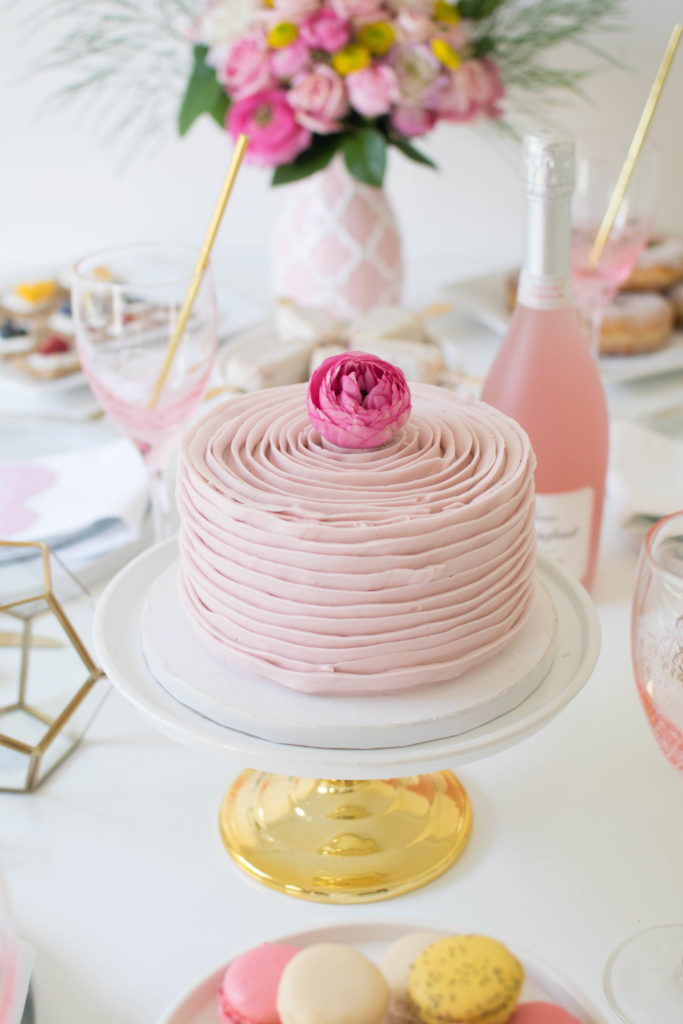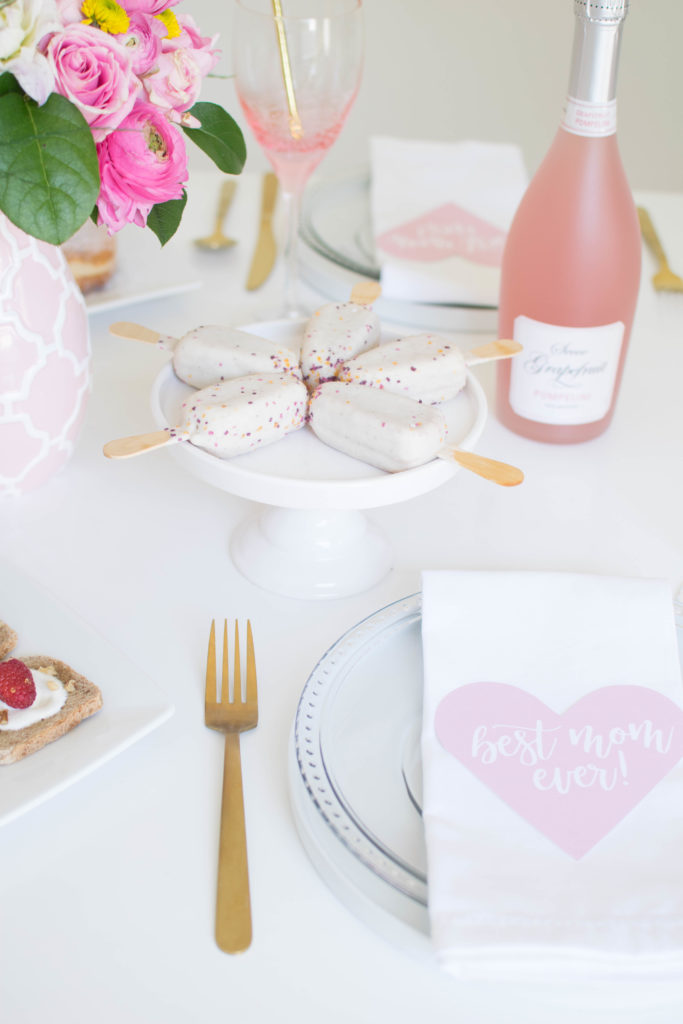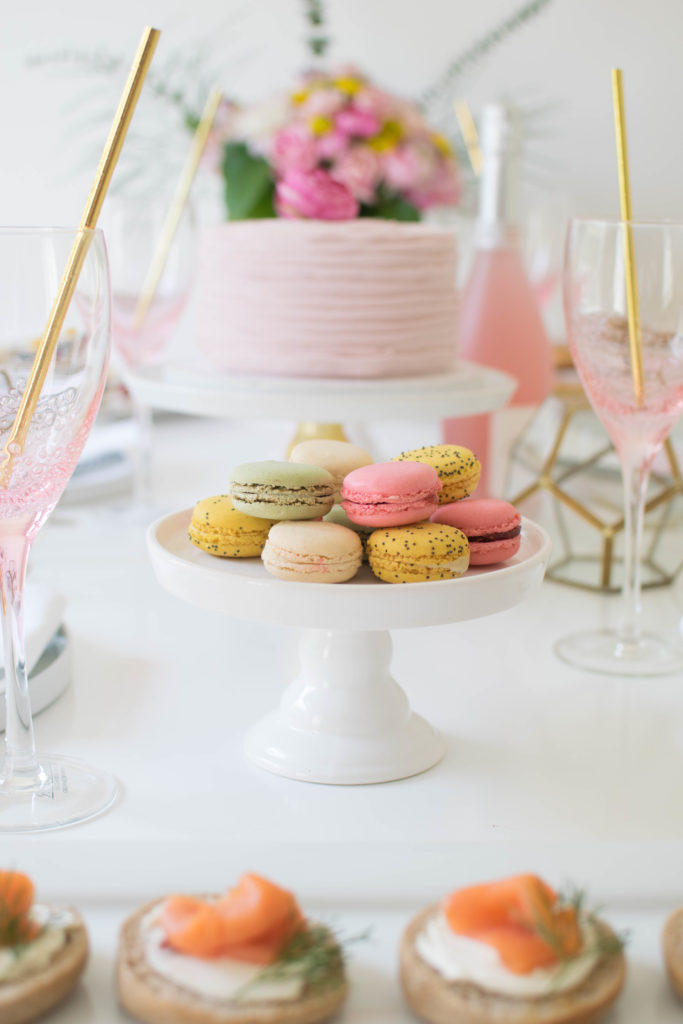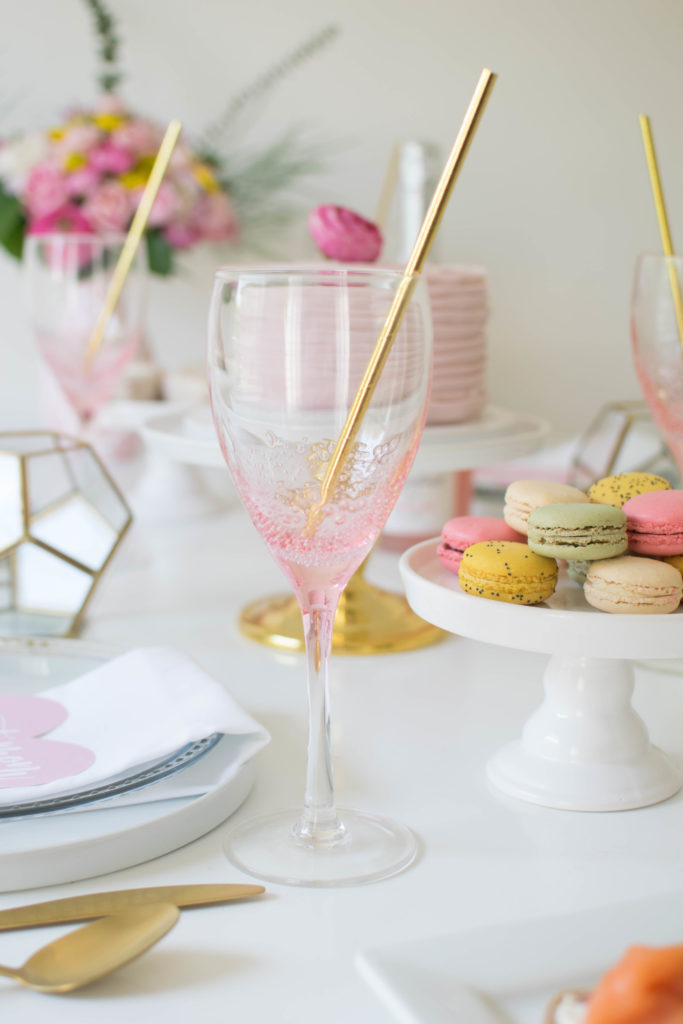 Add a printable pink heart that says 'Best Mom Ever'. It's an inexpensive way to add a special touch to each place setting.
Download the 'Best Mom Ever' hearts here.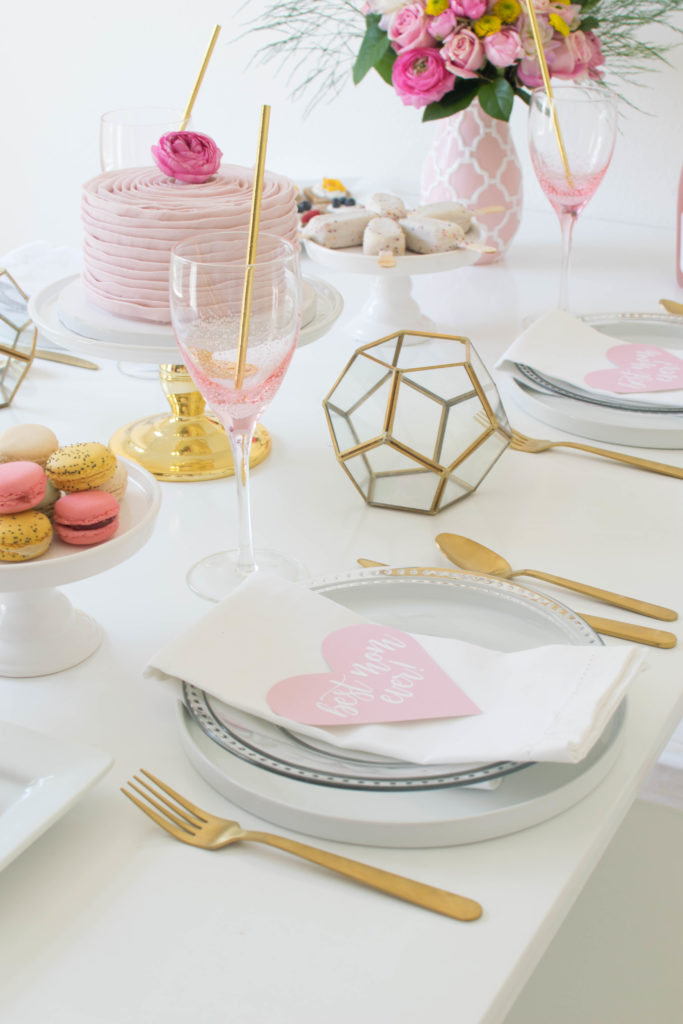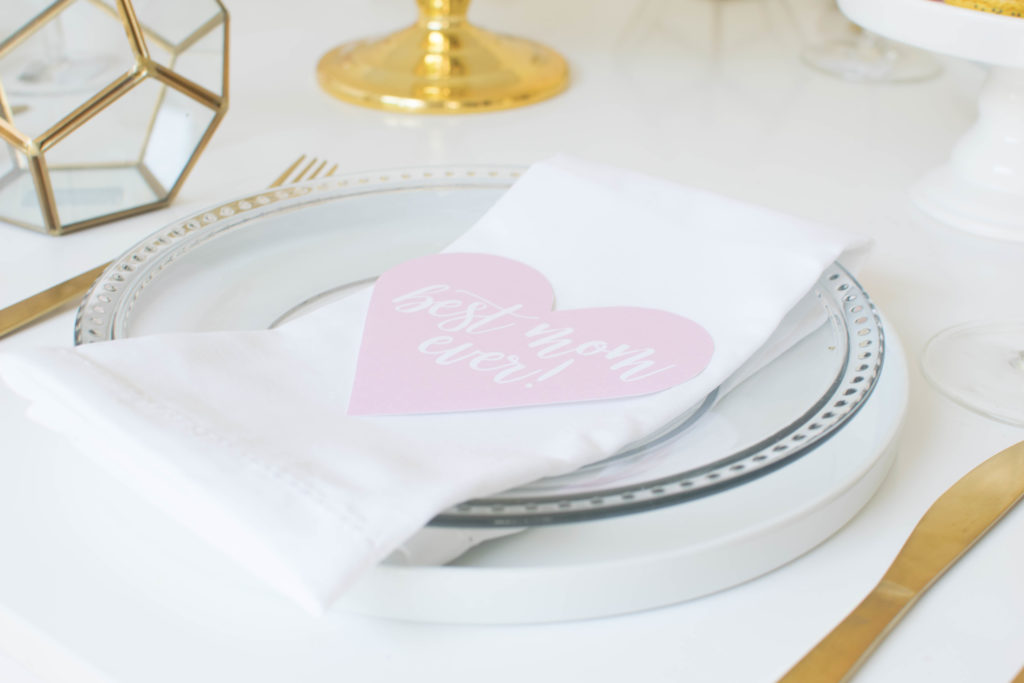 Styling & Photography: Andressa of Twinkle Twinkle Little Party
Next one up is our sweet Lori of Giggle Living! She is sharing adorable ideas on how to set up a Shortcake Station. How lovely and unique is this idea?
I hope you enjoy this super fun Spring Blog Hop as much as we all did planning and putting these ideas together!
See more Mother's Day Brunch ideas HERE.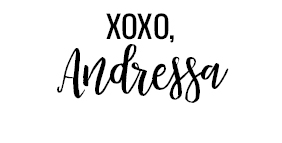 PIN IT FOR LATER