Whether you are hosting a small or large holiday get-together, a hot cocoa bar can be a wonderful addition to your event. From delightful spiked hot chocolate and fixings, these holiday hot cocoa bar ideas are sure to get your guests into the holiday spirit.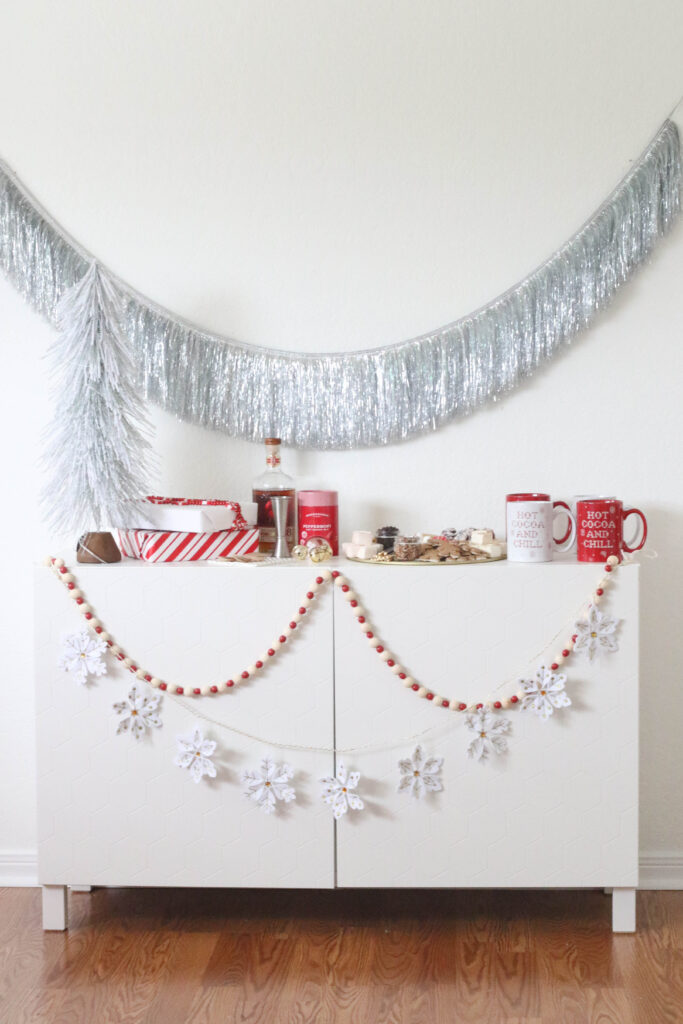 Spiked Hot Cocoa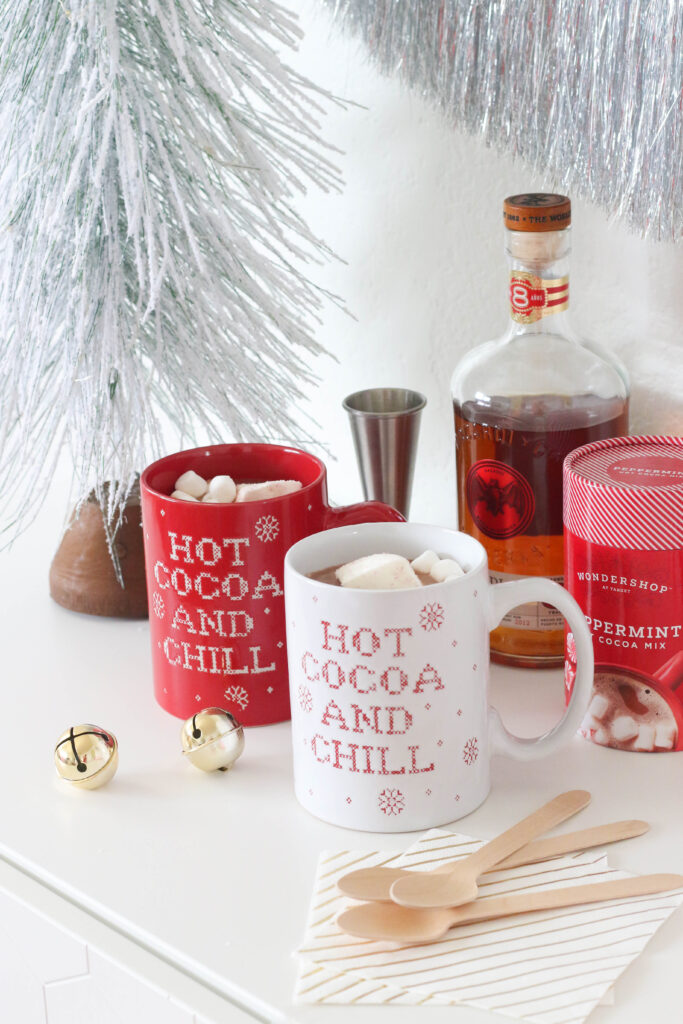 Nothing like a steaming cup of hot cocoa to instantly get you on holiday party mode. If your guests enjoy spiked hot cocoa, be sure to have a few options they can use to jazz up their hot chocolate – peppermint Schnapps, chocolate liqueur, rum, vodka, or cognac are excellent choices to create the perfect holiday drink.
Make it extra festive with holiday inspired mugs. The store shelves are always overflowing with beautiful holiday mug designs this time of the year. Not willing to go the extra mile? You can keep it budget-friendly by purchasing festive paper cups in bulk.
Hot Cocoa Toppings and Pairings
Impress your guests with the ultimate hot cocoa board. You can either use a large serving platter or wooden board to display delicious holiday treats, such as shortbread and gingerbread man cookies.
Be sure to include a variety of hot cocoa fixings – gourmet marshmallows, nuts, chocolate chips, peppermint candies, coconut flakes, chocolate sticks and the ever so popular hot cocoa bombs for extra fun. The possibilities are endless when it comes to creating the perfect hot cocoa board. Just have fun with it!
Holiday Hot Cocoa In a Jar Party Favors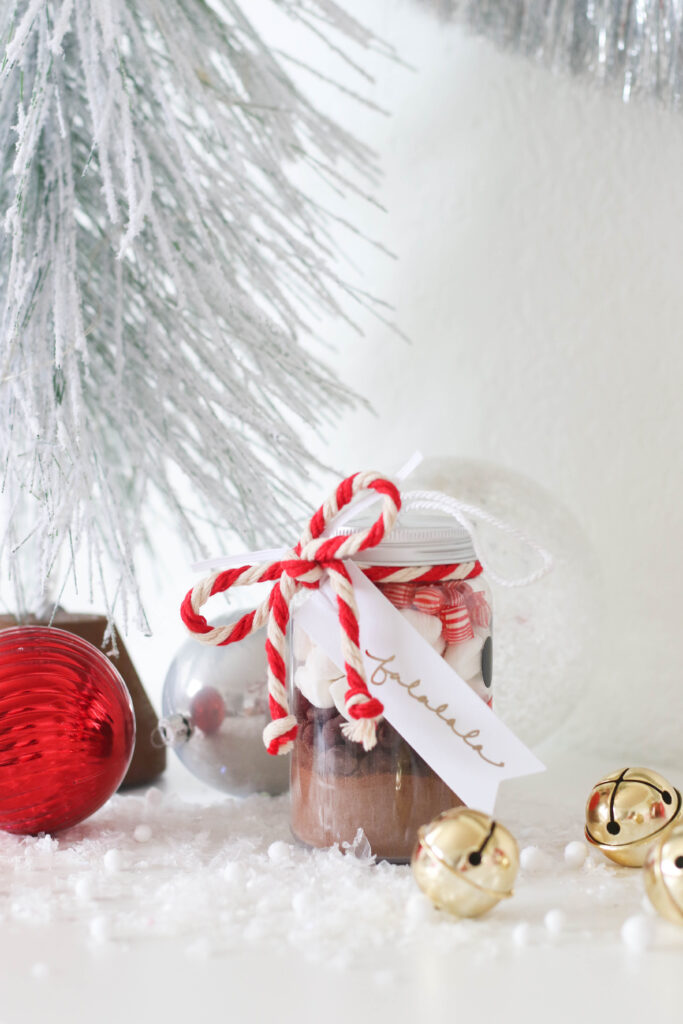 Don't let your guests go home empty handed. Create fun take-home holiday favors like this hot cocoa kit idea that's easy to put together.
Hot Cocoa in a Jar
Supplies needed:
5 oz small plastic or glass jar with lid
1/4 cup sweetened milk chocolate powder
1/4 cup chocolate chips
Mini marshmallows
Peppermint candies
ribbon or twine
holiday tags of your choice
Instructions:
Wash jars with soap and water. Allow them to dry completely.
Using a small funnel, pour in sweetened milk chocolate powder. Carefully add chocolate chips, then marshmallows and peppermint candies to your liking.
Close jar tightly. Add ribbon and tag of your choice.
Preparation:
Take peppermint candies and marshmallows out of the jar. Set aside.
Mix chocolate powder and chocolate chips with 4 cups of hot milk.
Stir well until chocolate chips are completely melted. Note: You can use the stove to make it extra hot.
Top with marshmallows and peppermint candies. Enjoy!
I hope you enjoyed these holiday hot cocoa bar ideas! You can also watch the video on how I easily built my hot cocoa board.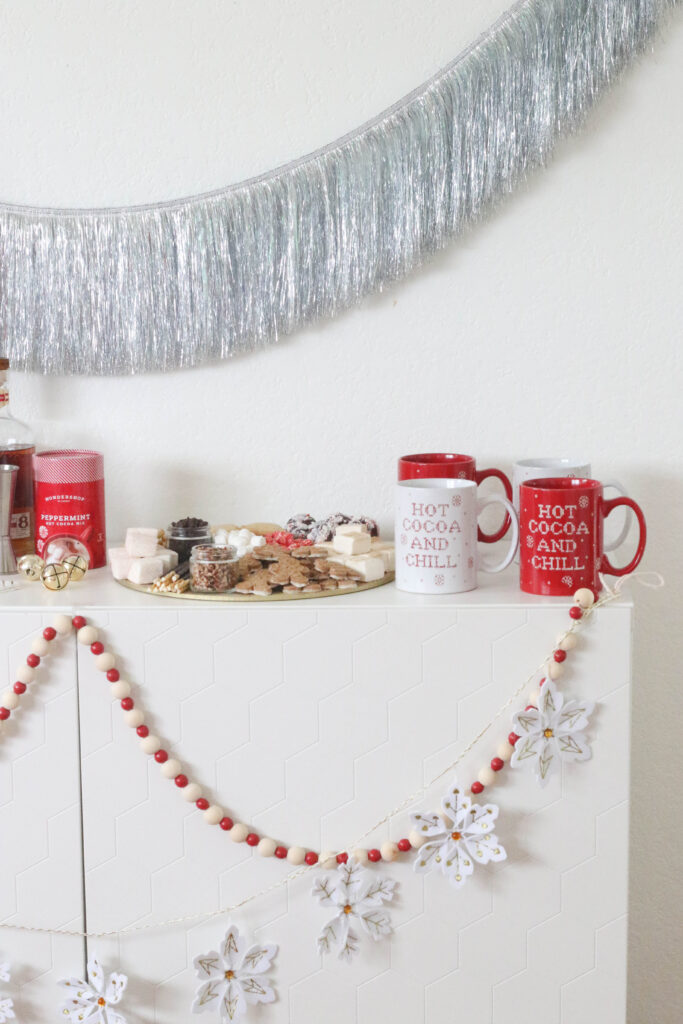 Concept, Styling and Photography:
Andressa Hara of Twinkle Twinkle Little Party