This post is in partnership with Black Twine and Kikiboxes. Twinkle Twinkle Little Party was compensated to host a Circus Animal Parade Party featuring Kikiboxes Circus Party Box. However, Andressa only promotes products she loves and would use them herself.
Hello, friends!
If you are planning a Circus Party, I have adorable and easy ideas to share with you today to help you plan the ultimate celebration!
Circus themed parties are seriously the best kind of parties to plan and at the same time they can be a little overwhelming to pull it off. The best thing to do is to narrow down your ideas. For a fresh spin, I decided to focus on the Animal Parade, rather than the usual circus tent element. Having a circus party box containing everything I needed for this party set up saved myself a lot of time. I only had to add the sweets and of course, the animals to bring the theme to life!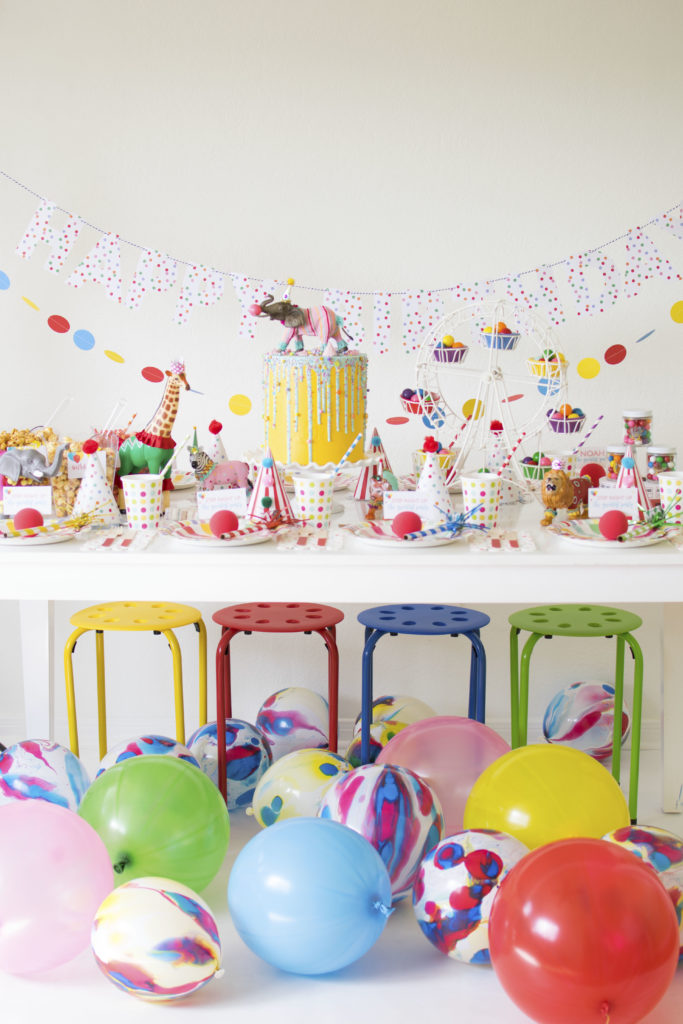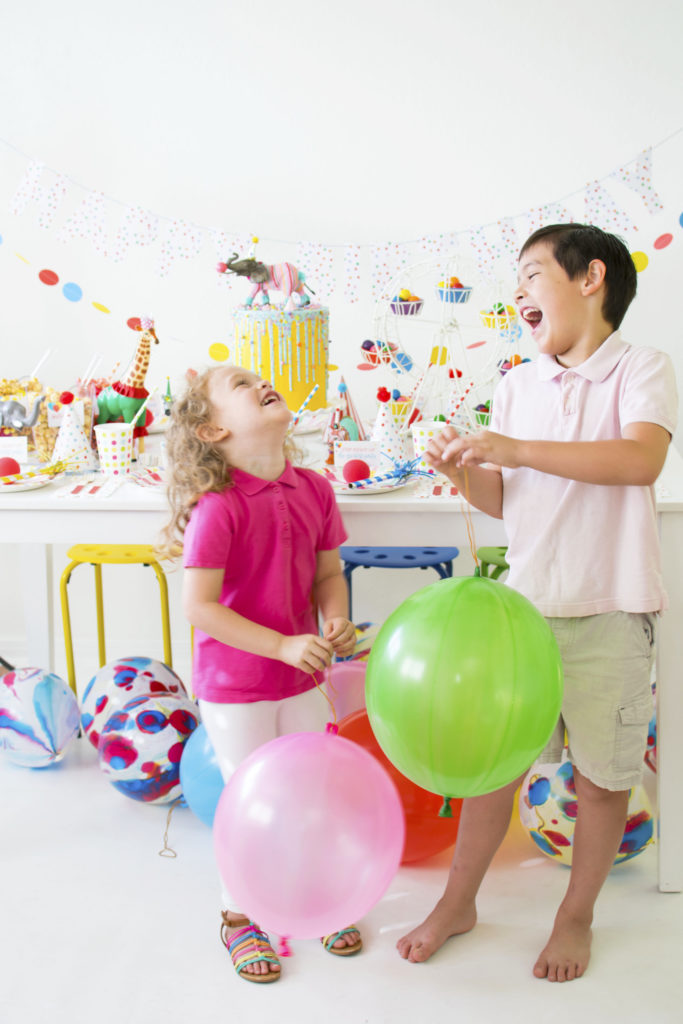 The stars of the party
Put on The Greatest Show by incorporating a spectacular Animal Parade into your party set up! They make a wonderful centerpiece for your table. They will also keep the little guests occupied. Promise they won't stop playing with them!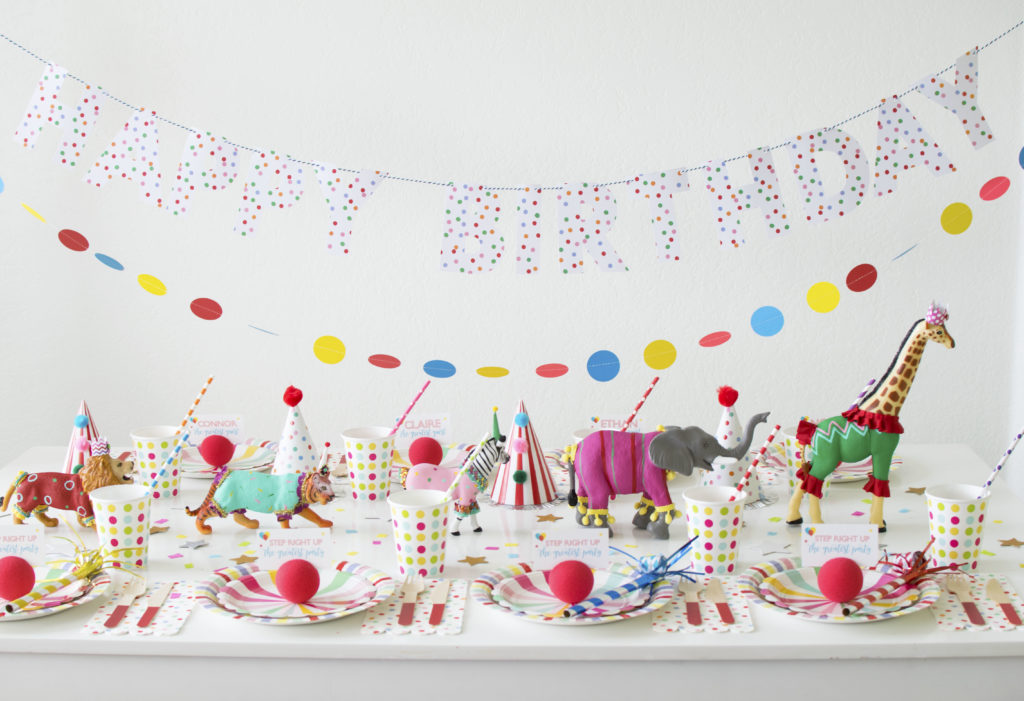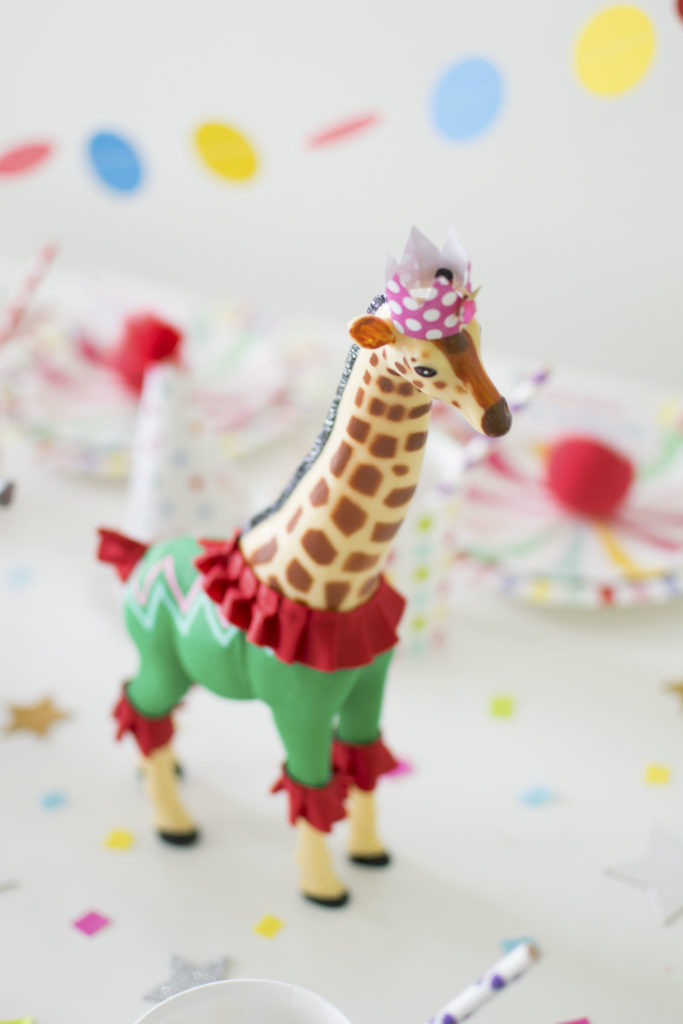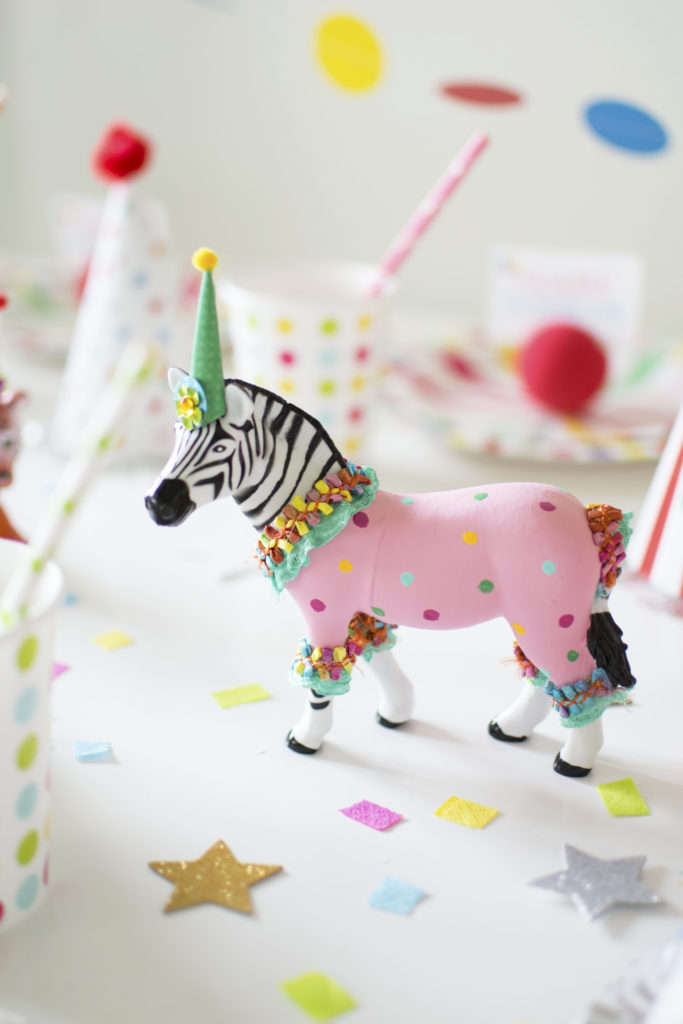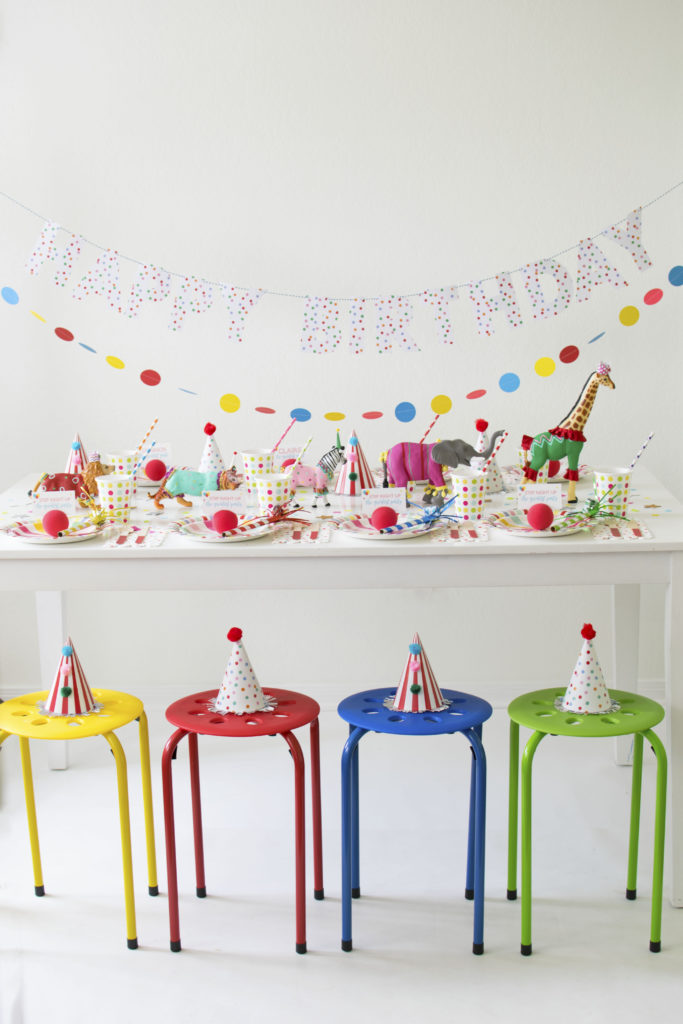 Set up a festive kids tablescape
When space is limited, I love to display my sweets right on the kids table instead of setting up a separate dessert station. It works like a charm. Not to mention the kids get so excited to sit and stare at all the fun sweet treats! The super adorable kids stack stools are my favorite find from Amazon!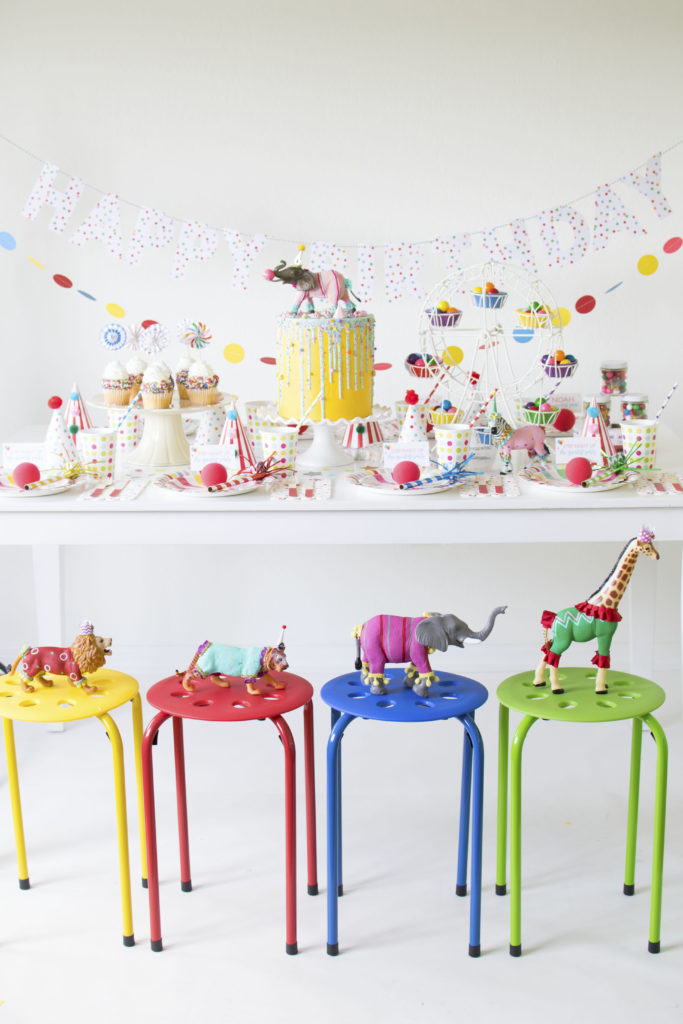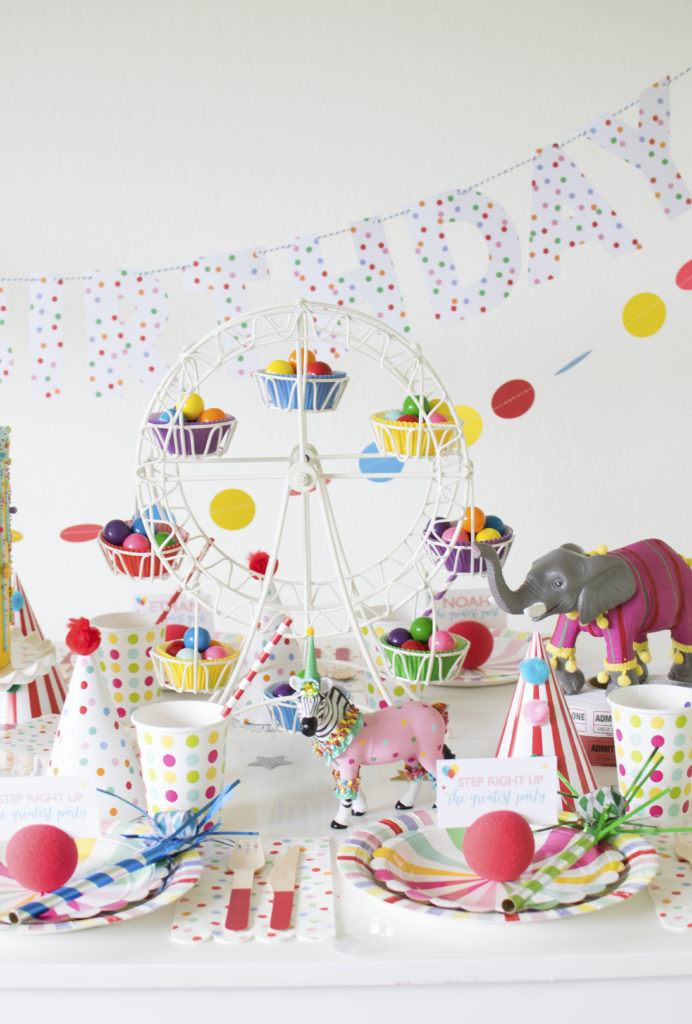 Have fun playing with paper supplies
Setting up the kids table is my favorite. Planning a circus inspired tablescape gives you the opportunity to work with fun different bold colors. Layer festive paper plates and make each guest feel extra especial by putting together these fun place cards using clown's noses and our free printable cards. Be sure to complete the look with other party essentials, such coordinating napkins, cups, utensils and fun birthday hats that scream party time!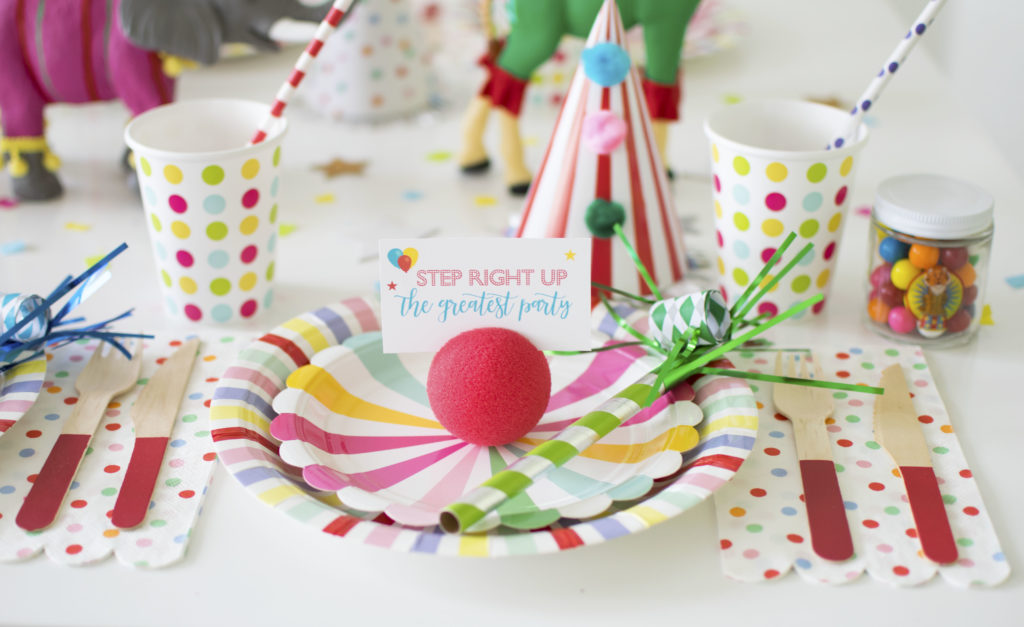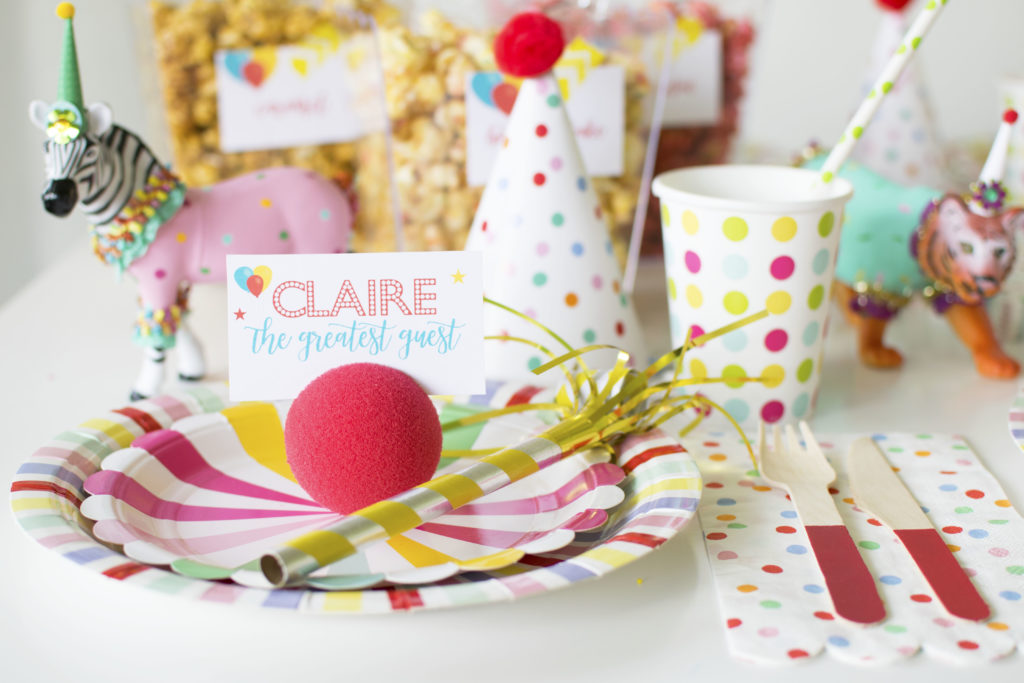 Choose a simple yet eye-catching birthday cake
A fun cake is a must and I simply love simple cakes that can still make a statement. If you are familiar with my style by now, I am not a big fan of anything over the top for the kids. I always encourage moms who love to celebrate at home to simplify as much as they can.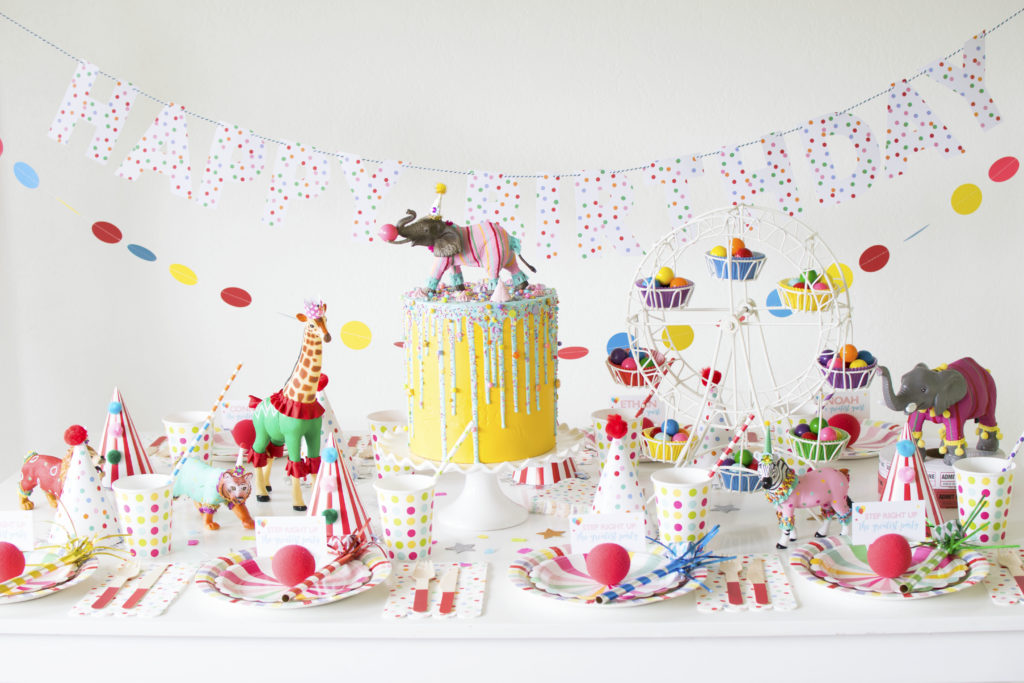 Drip cakes are still going strong. The addition of colorful sprinkles just goes with the theme perfectly. Top it with a circus animal of your kid's choice and your cake will be ready for showtime!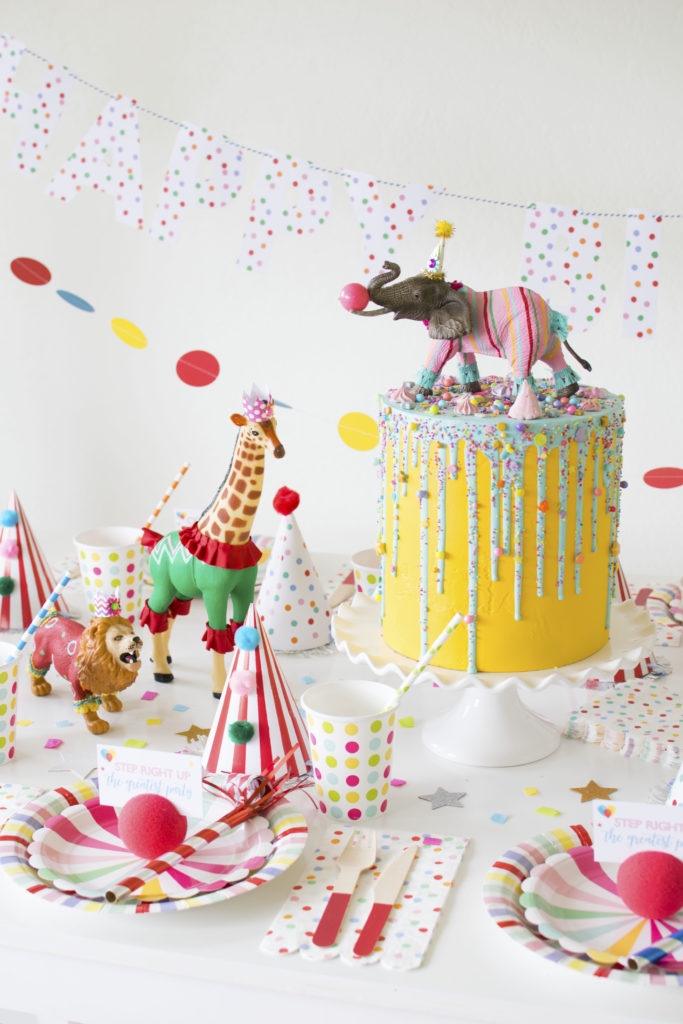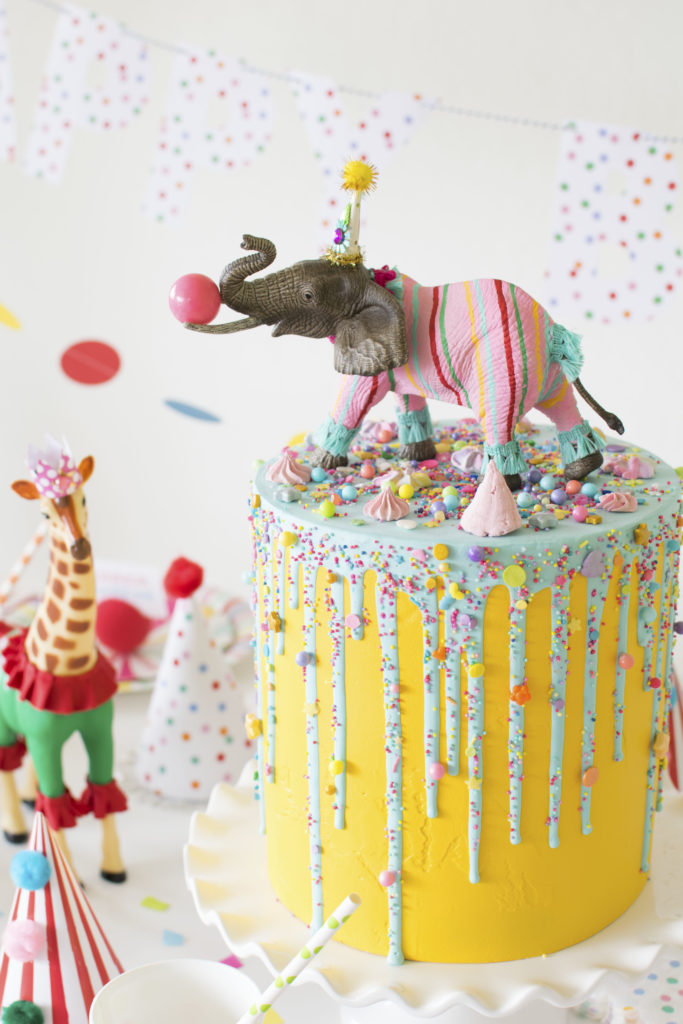 Let's not forget the carnival inspired treats
There's no circus party without a few carnival treats. Chocolate covered apples are easy to make and add a bit of a nostalgia to your table. Simply insert a wood stick, dip the apples in melted chocolate and cover in colorful sprinkles!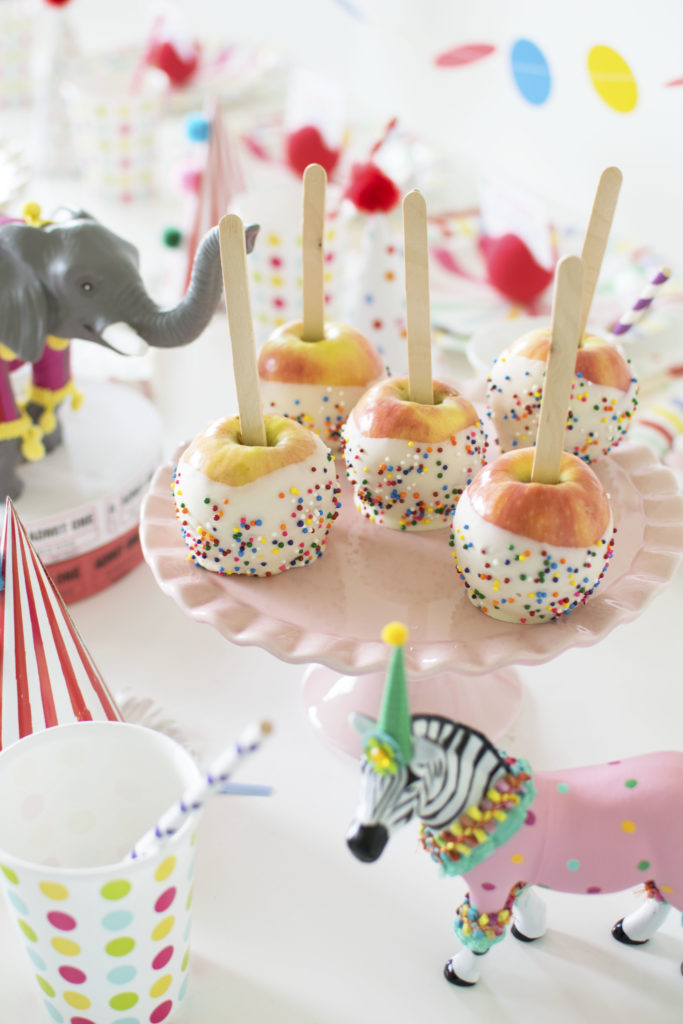 Popcorn is a must. Select a variety of flavors to get your guests excited! Don't forget to label your containers with our free printable popcorn labels to make serving a breeze.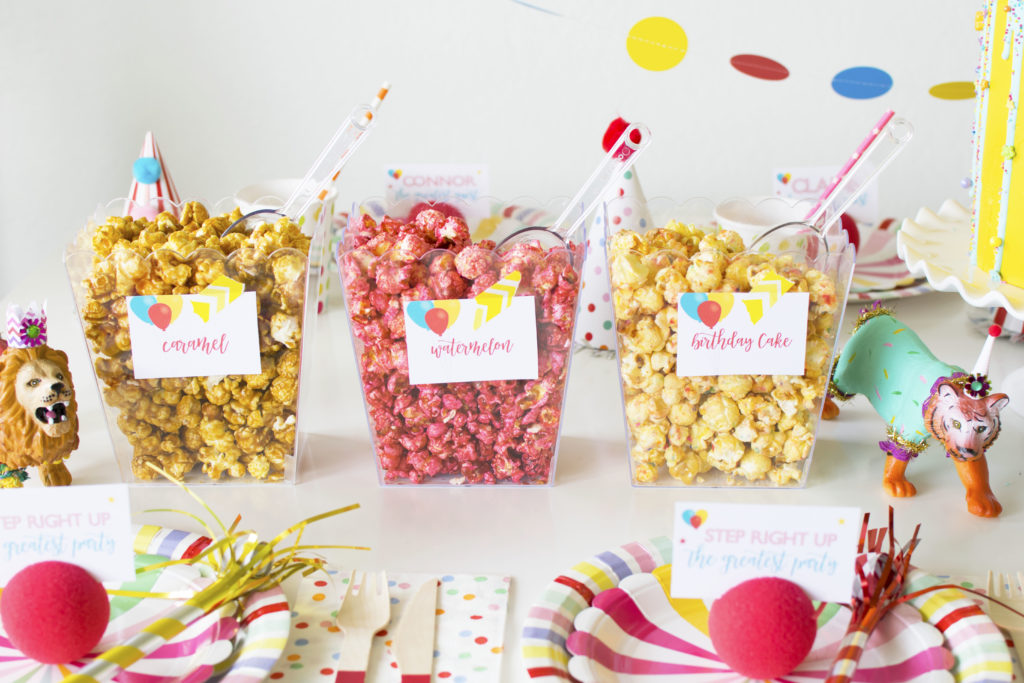 Make your own popcorn concession tray
Turn a simple crate into an adorable concession tray. Let the kids use their imagination and play pretend for a few minutes. To make your own is simple. Sand a small wood tray and paint it in your color of choice. Make a strap using thick ribbon and secure it with hot glue.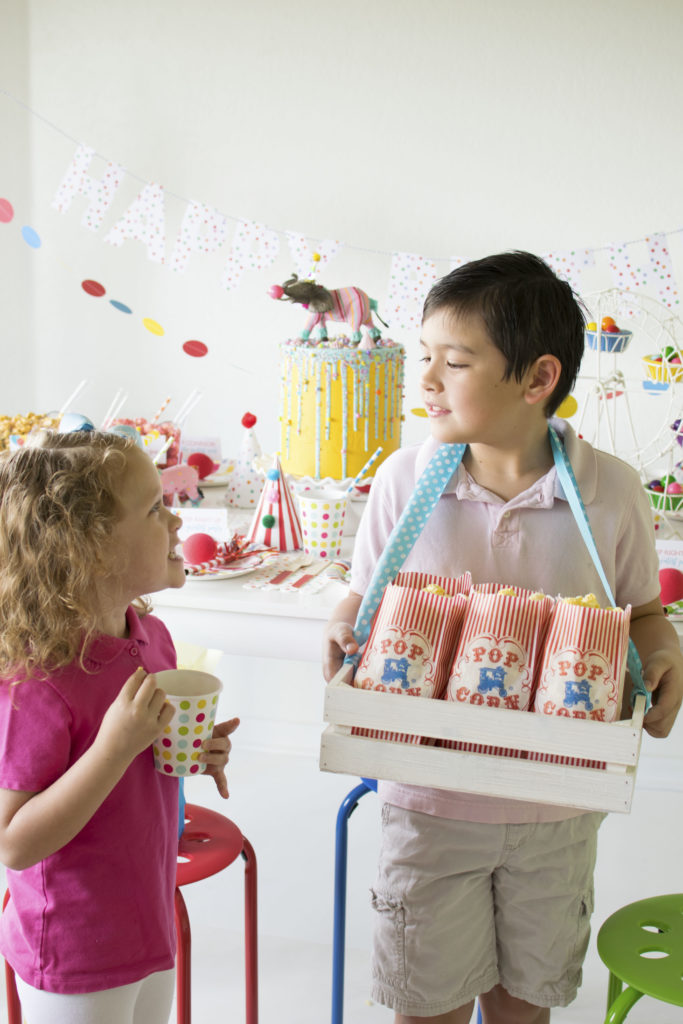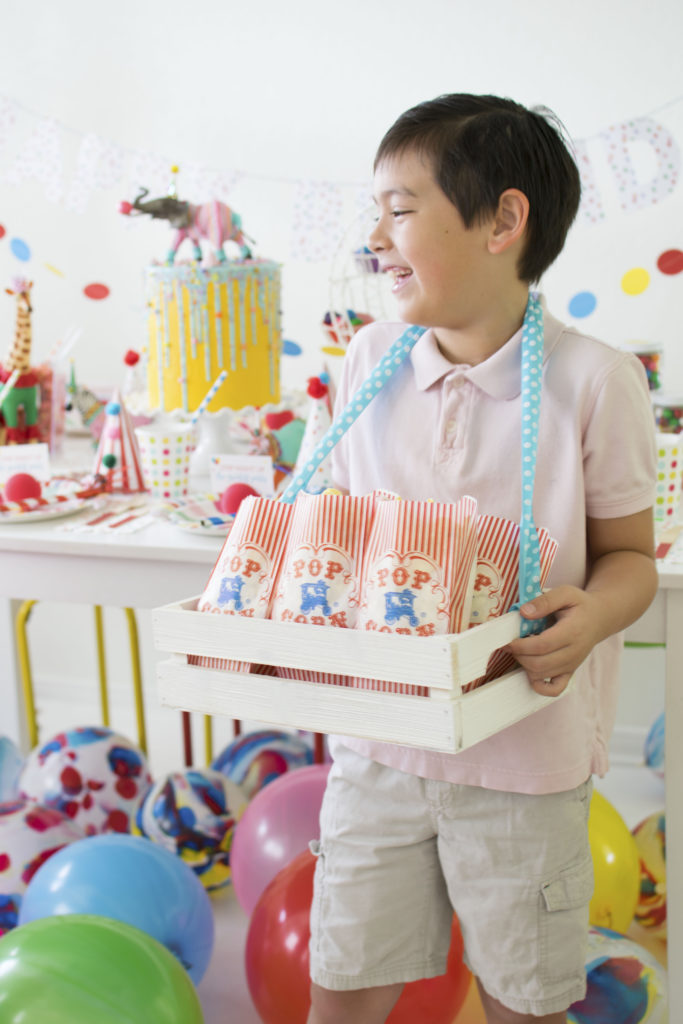 Jazz up the usual party sweets
Cupcakes and candies are mandatory for a kids party. Spruce up cupcakes with adorable paper fan toppers (They come in the party box. Yiipee!) They add instant pizazz to any cupcake!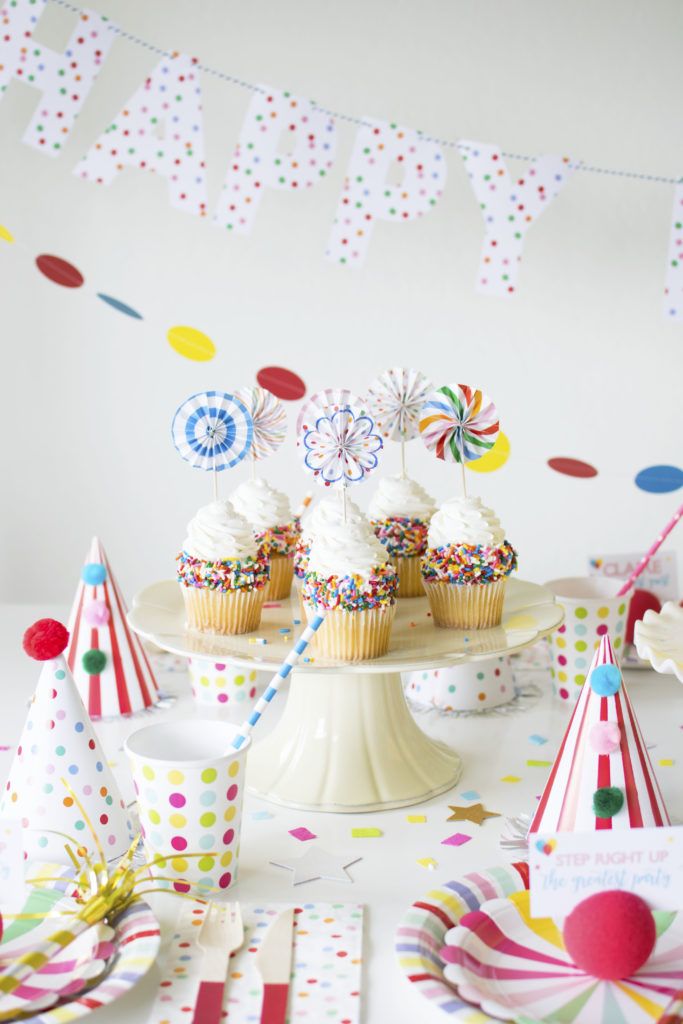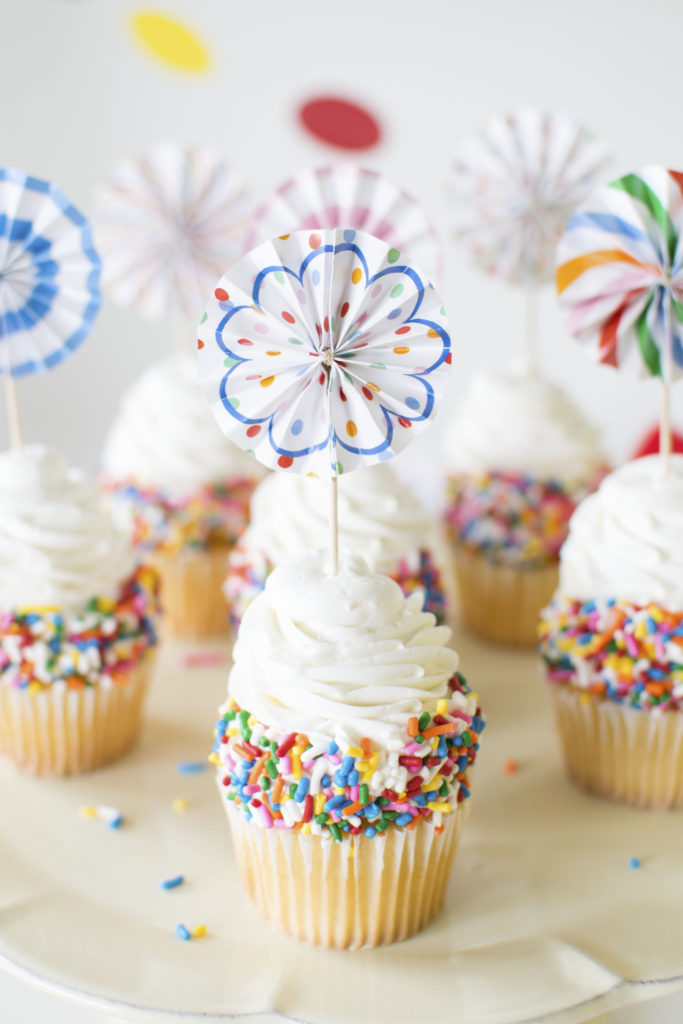 Pouring candies in a bowl is not for my creative audience (wink, wink) If you would like to add a nostalgia touch and impress your little guests, display candies in a fun Ferris Wheel.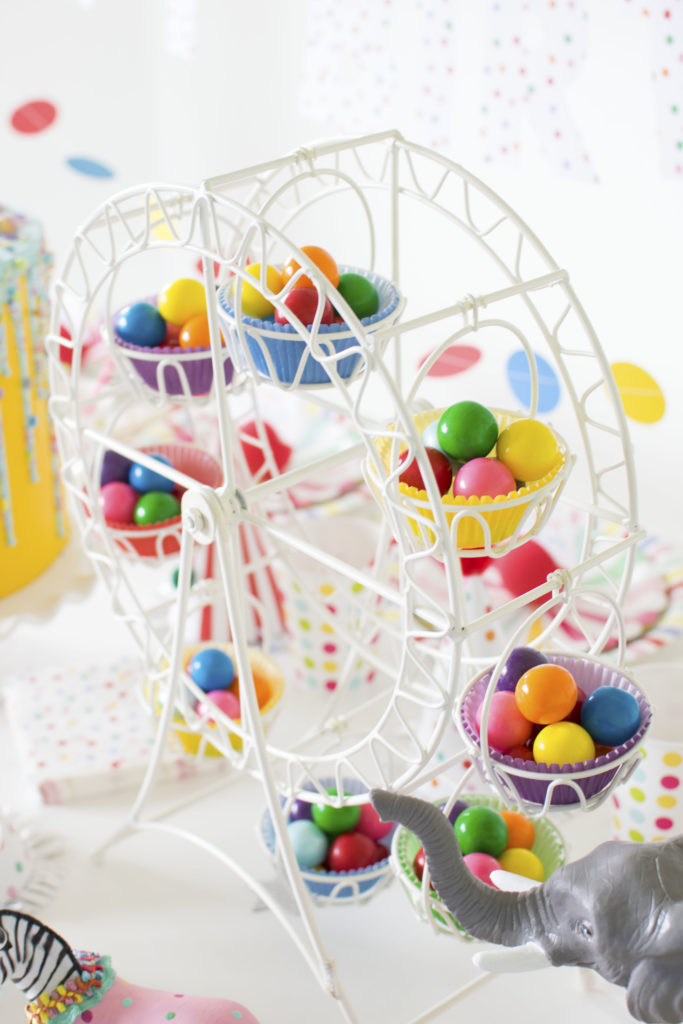 If you are not willing to invest in a Ferris Wheel, simply display them in paper cups and decorate them with our printable circus inspired toppers!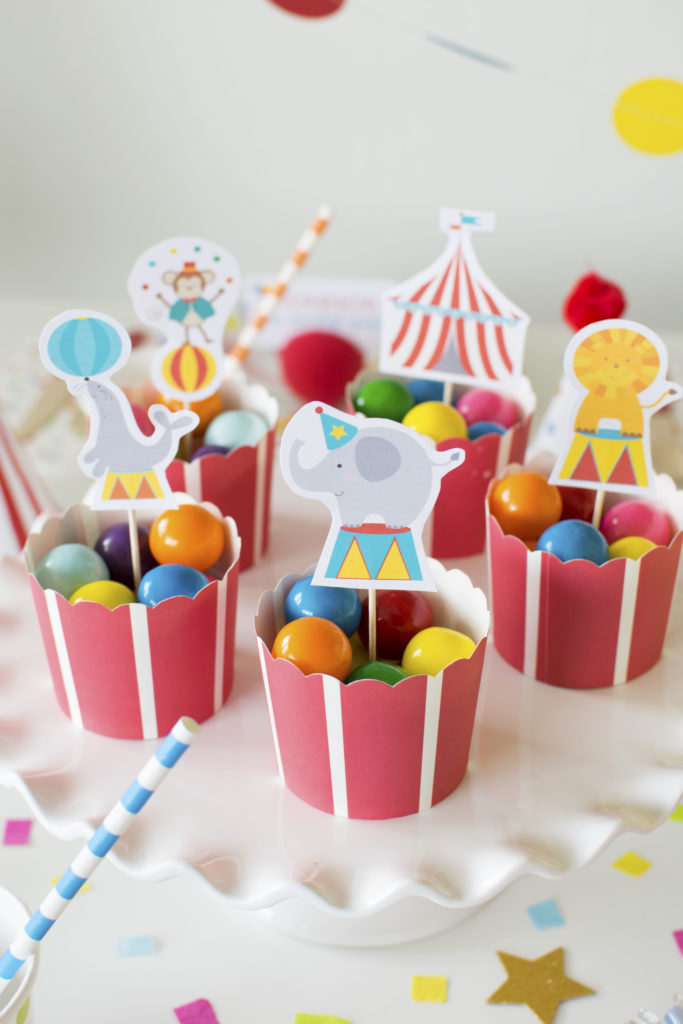 Another fun idea is to place candies in mini jars. Using circus themed tattoos from the party box, you can turn simple clear jars into something to match your party theme. How fun is that?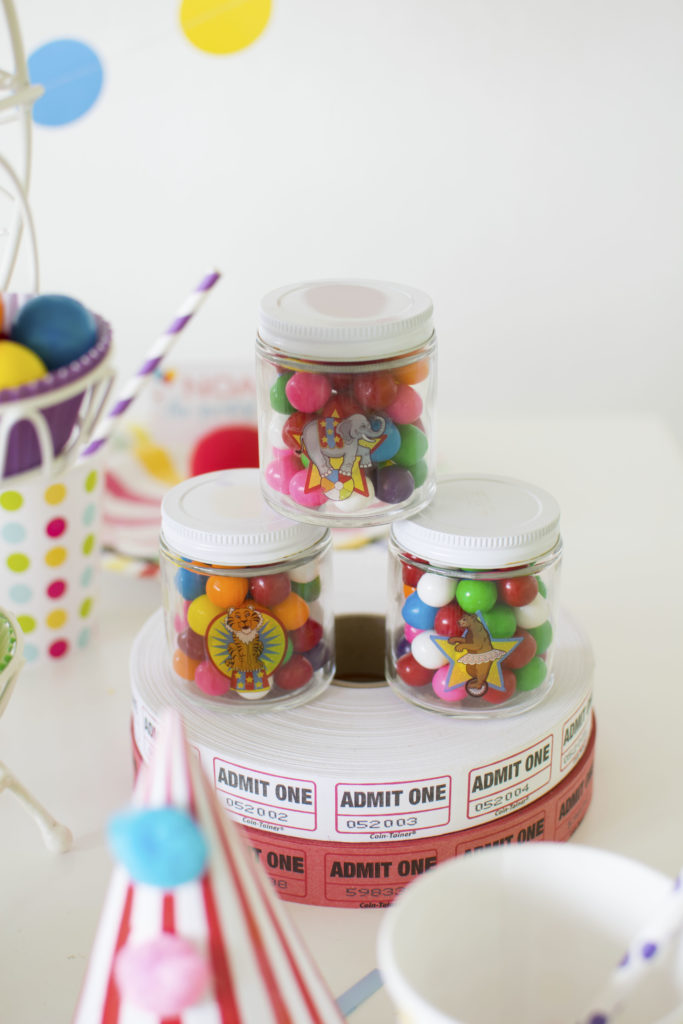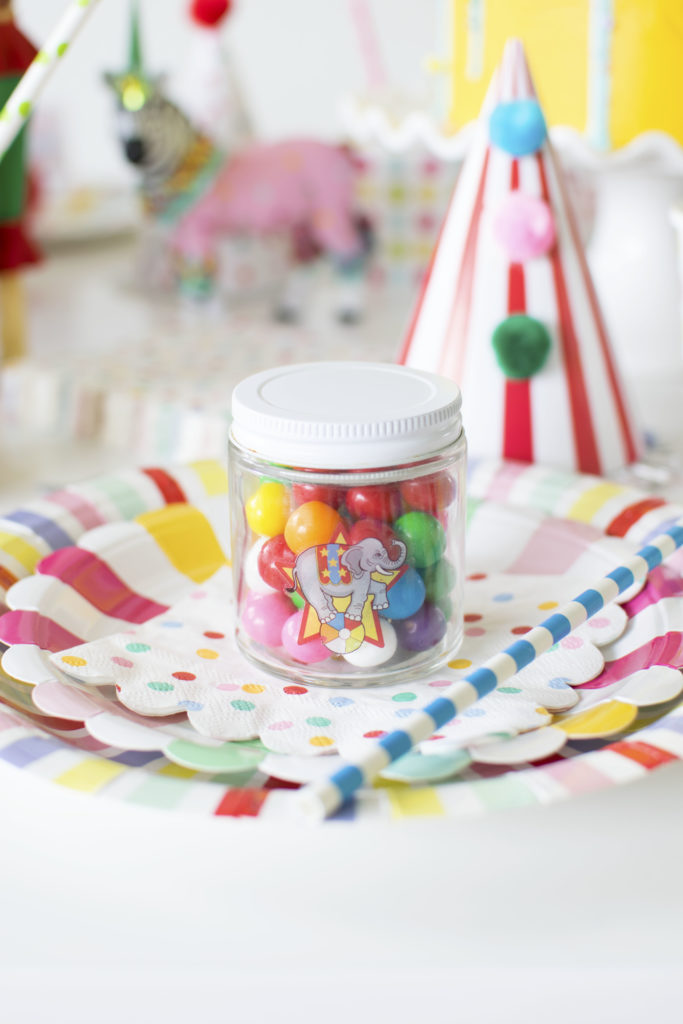 Circus themed cookies? Yes, please!
Finding a cookie designer to bring a theme to life through a set of cookies is one of the first things I cross off from my party planning list. The kids (and adults) love receiving them. Let the parents decide if their kids can enjoy a cookie during the party or take home as a party favor.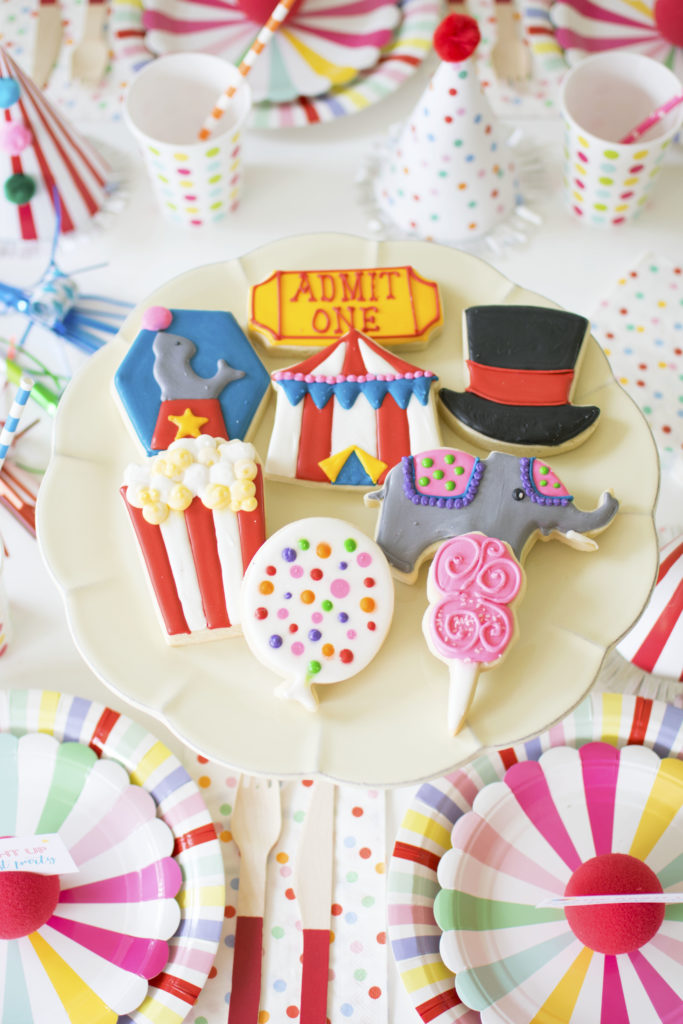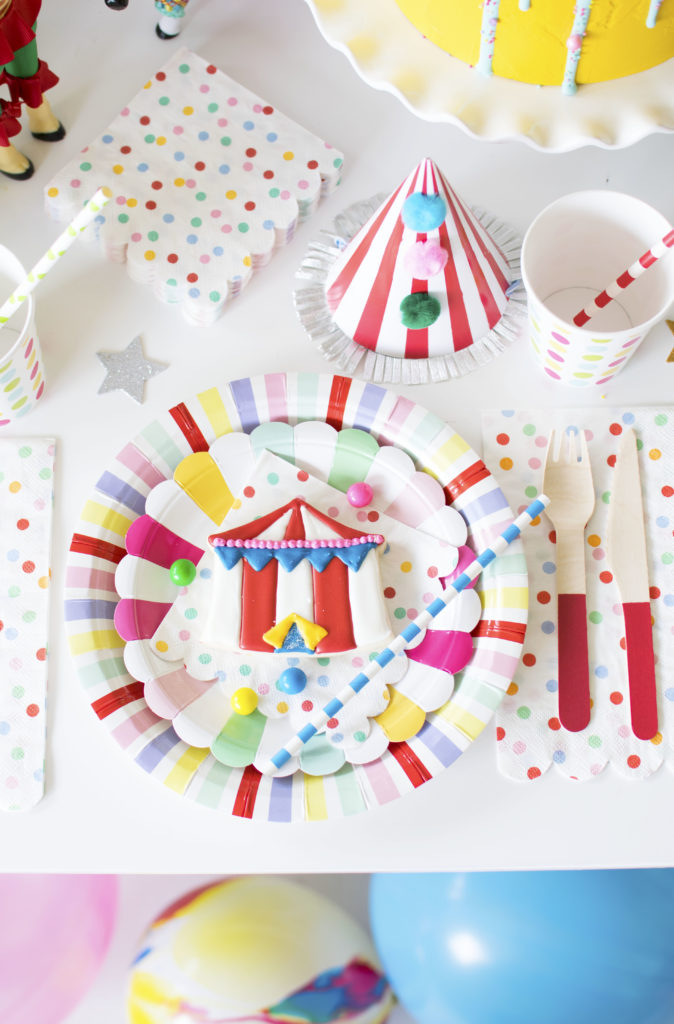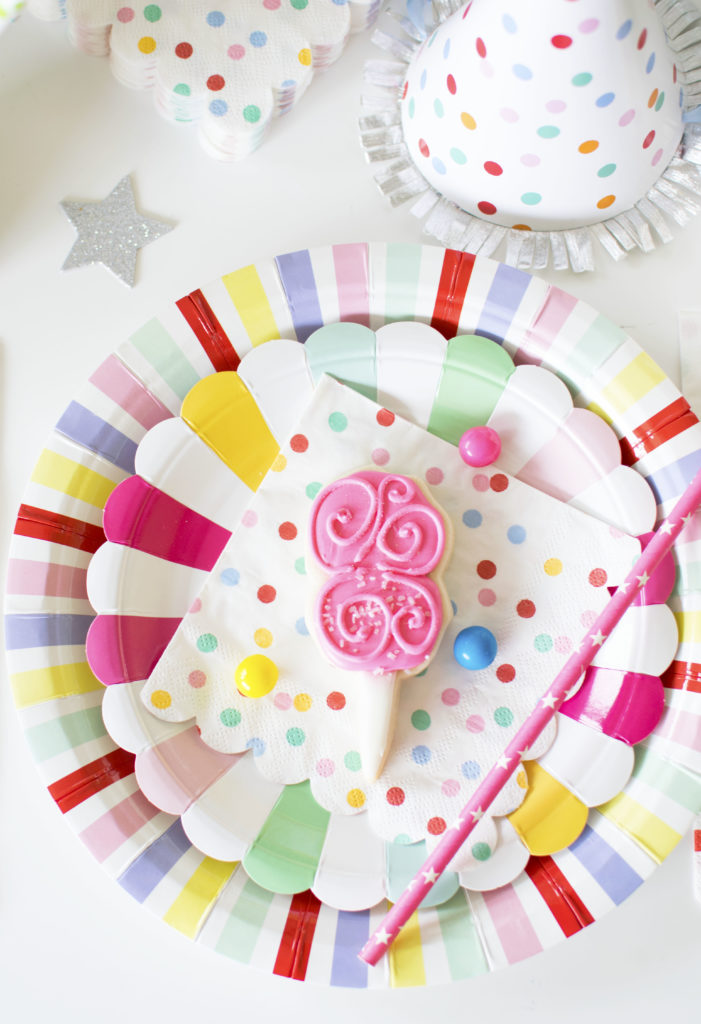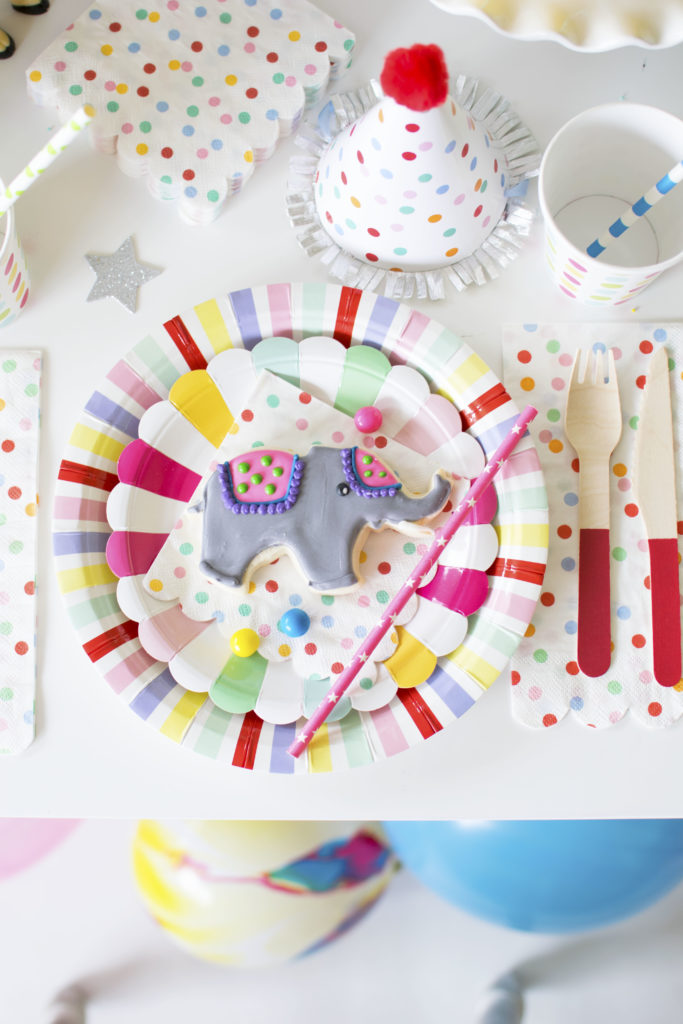 Keep things organized
Be a creative and organized hostess by displaying extra party essentials in a circus wagon. How cute does it look?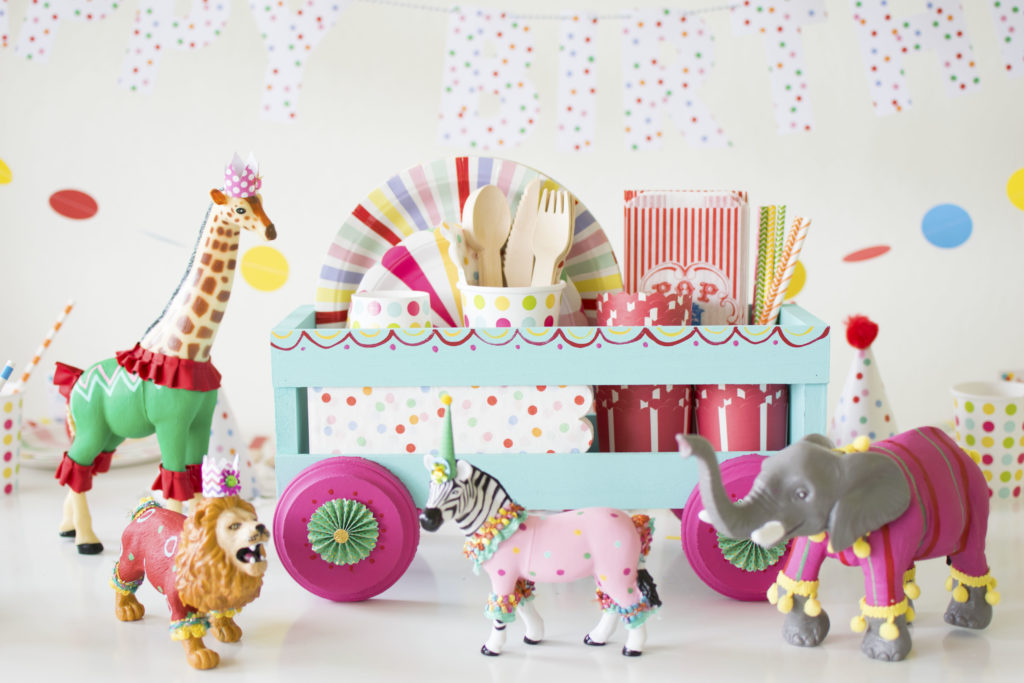 Send guests home with a thank you
Receiving a goodie bag was my favorite thing growing up. It's always nice to send guests home with something sweet as a 'thank you for celebrating with us'. To make things easier for you, I designed these thank you favor tags as a free download. Just print, cut and attach to your party bags!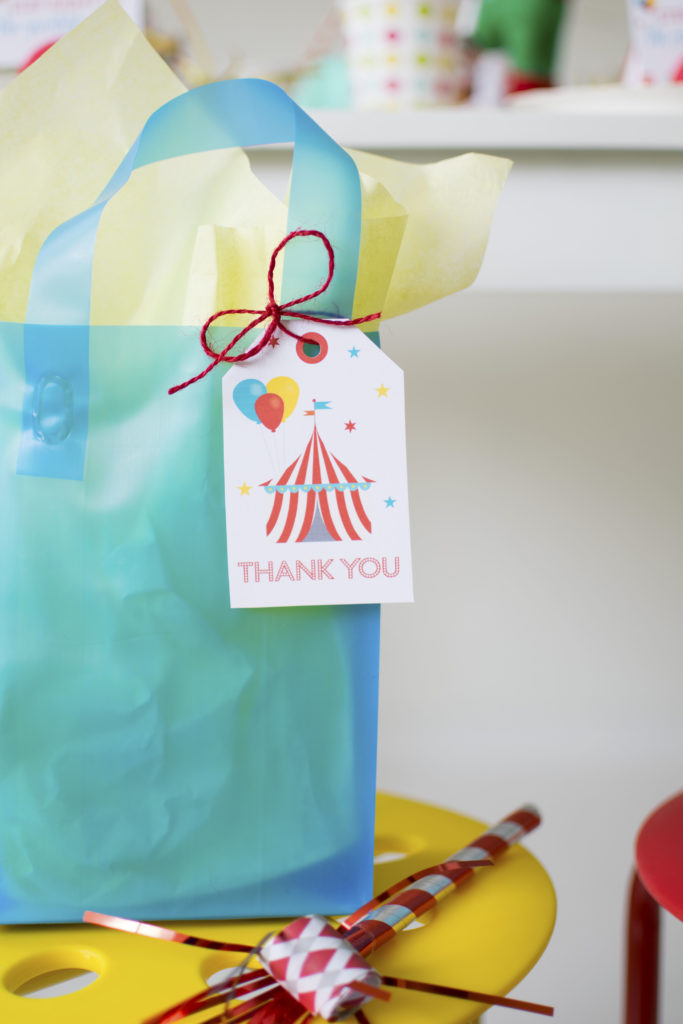 I hope you enjoyed this post and feel inspired to recreate this fun Circus Animal Parade Party!
Click here to see the Circus Party Blueprint on Black Twine to make this party a reality!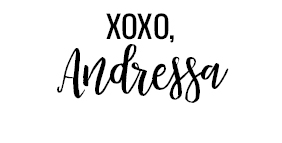 Styling & Photography: Andressa Hara of Twinkle Twinkle Little Party
Creative Partner & Party Blueprint: Black Twine
Party Box: KikiBoxes
Cookies: Baked Goodness
Animals & circus wagon: Painted Parade
Faux cake: Confection Deception
Popcorn: Grand Rapids Popcorn Co.