This post may contain affiliate links. Twinkle Twinkle Little Party may have received payment, trade and/or products. However, I only promote products I love and all opinions stated are my own.
Hello, friends!
It's time to start planning for the sweetest holiday of the year! Yay! I love how my feed on Facebook and Instagram went from Christmas to Valentine's Day! Party ideas, home decor, classroom gifts…I love them all! The ideas popping up in my feed definitely get me excited about Valentine's Day!
How about you? Do you celebrate Valentine's Day? Do you have any special tradition for this sweet holiday? I would love to hear!
I hope this post inspires you to create something special to celebrate! I am sharing how you can set up a quick and easy Valentine's Day Tablescape two ways to celebrate with your loved ones without breaking the bank (the best part!) and still wow your special guests.
The first one is perfect for those who are looking for a more generic theme and the second is a Galentine's Day, which is perfect for a 'girls only' get-together.
Shall we get started?
THE TABLESCAPE
The polka dotted table runner adds a whimsical touch to this table, but it's the beautiful stack of plates in white and blush pink + coordinating flatware by Sophistiplate who steal the show! Can you believe these beautiful plates are all disposable and the flatware are plastic? True story, friends! Who wants to do the dishes after a fun party? Me, either!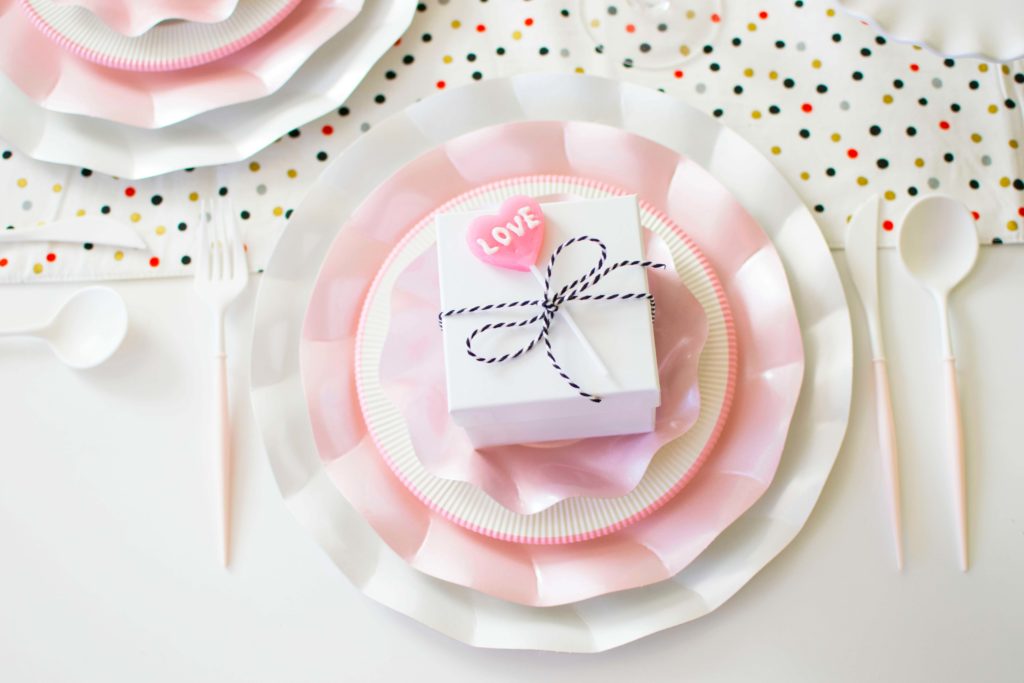 BALLOON HEART BACKDROP
I was looking for something eye-catching and also inexpensive. I decided to DIY a large heart using clear, white and pink balloons from my stash. I just love how this Balloon Heart Backdrop turned out!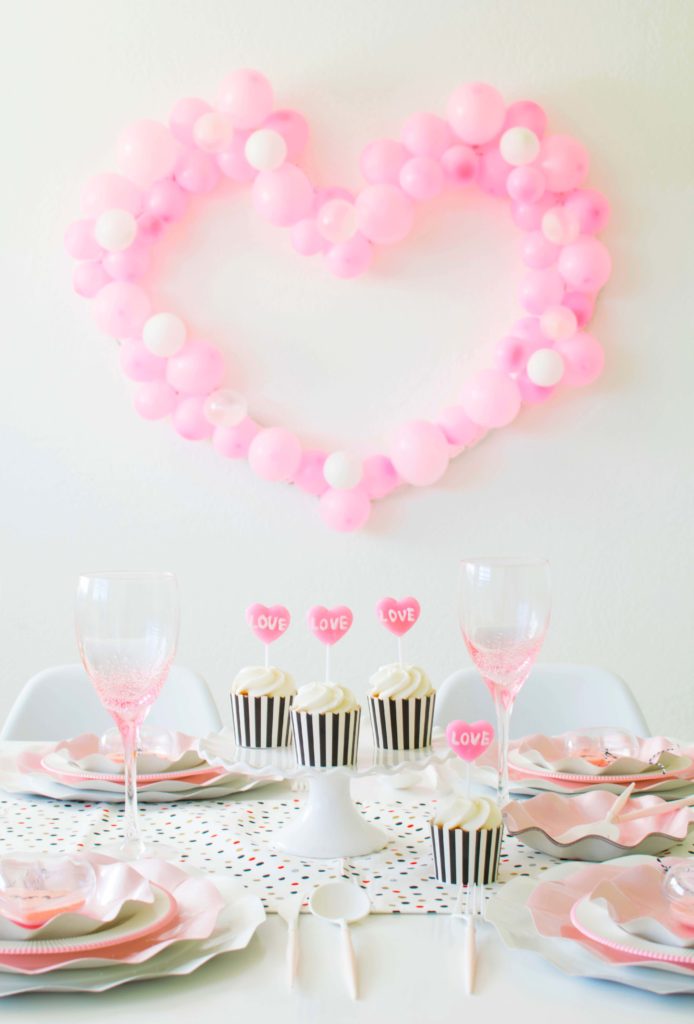 Follow the tutorial below to create your own!
DIY BALLOON HEART BACKDROP
What you will need:
Cardboard
Sharp knife
Balloons Note: I used 5"
Balloon Pump
Low temp glue gun
Instructions:
Fold a large piece of cardboard in half and draw half of a heart.
Cut along the line using a sharp knife.
Fold the heart once again and draw an inner line.
Cut along the line to create a heart shaped wreath. It should look like this:
Glue balloons in different sizes and colors using low temp glue gun until you cover the cardboard heart. Note: I painted the cardboard heart before adding the balloons.
You might be asking why all this cardboard work? I wanted to use what I had. I could probably have used wire, but I didn't have any. Feel free to adapt. Make it easier for you!
DRESS UP YOUR SWEETS
This time of the year you can find the cutest Valentine's Day lollipops pretty much at any store. I jazzed up simple cupcakes with pink heart shaped lollipops I found at my local supermarket. Aren't they super cute?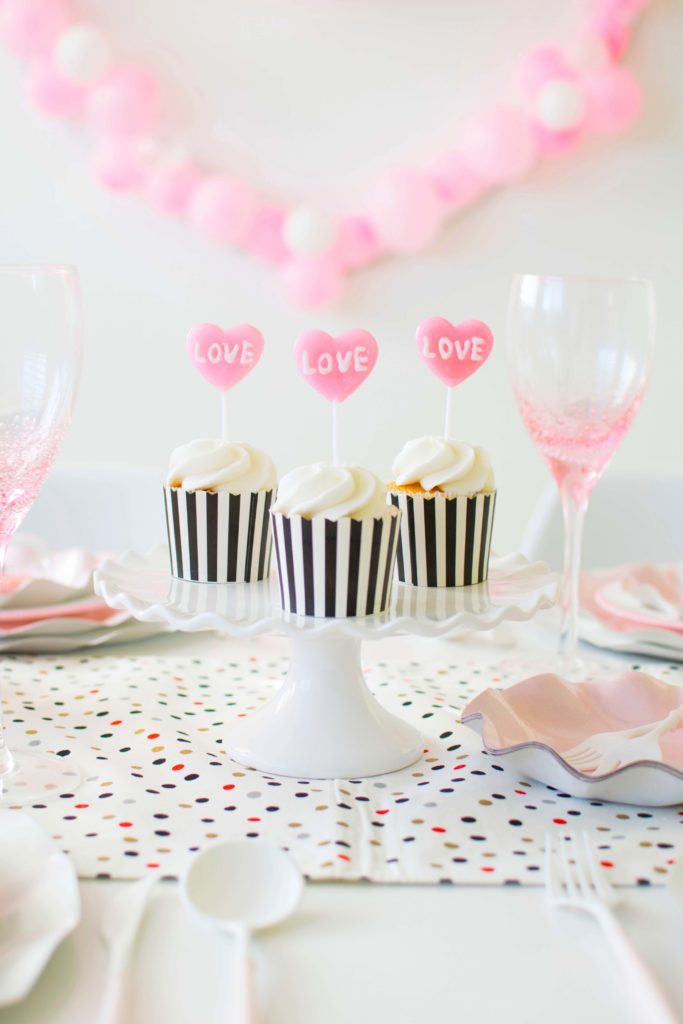 VALENTINE'S DAY GIFT BOXES
I decided to dress up my take-home favor boxes with the same adorable lollipops. It adds such a cute touch! Simply attach the lollipop using coordinating baker's twine.
Note: I removed the plastic for better pictures. Please keep them in their actual packaging.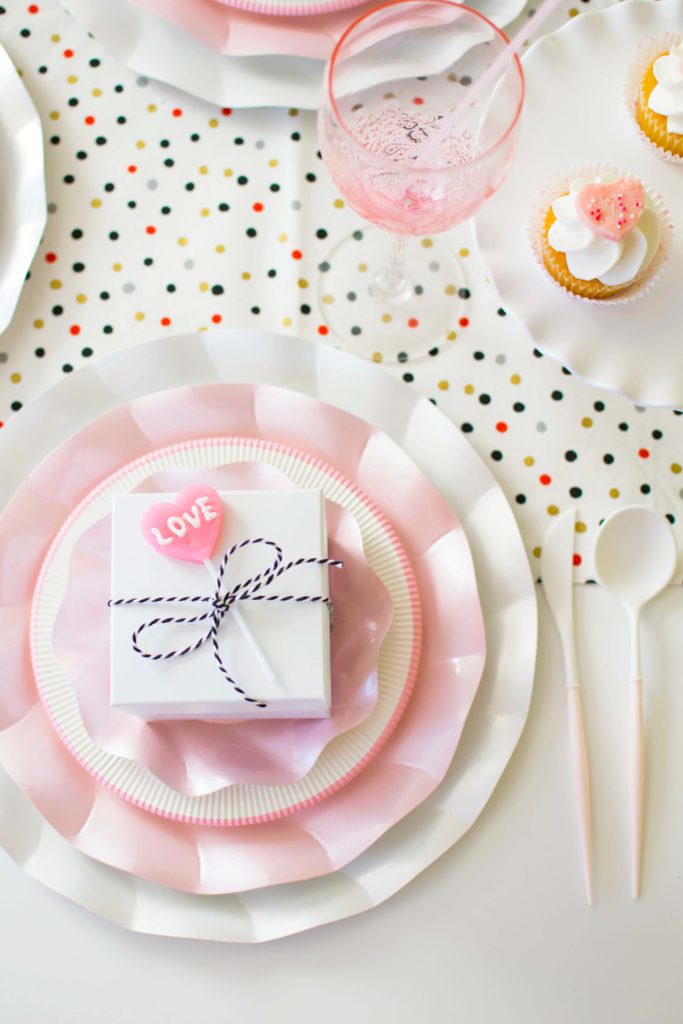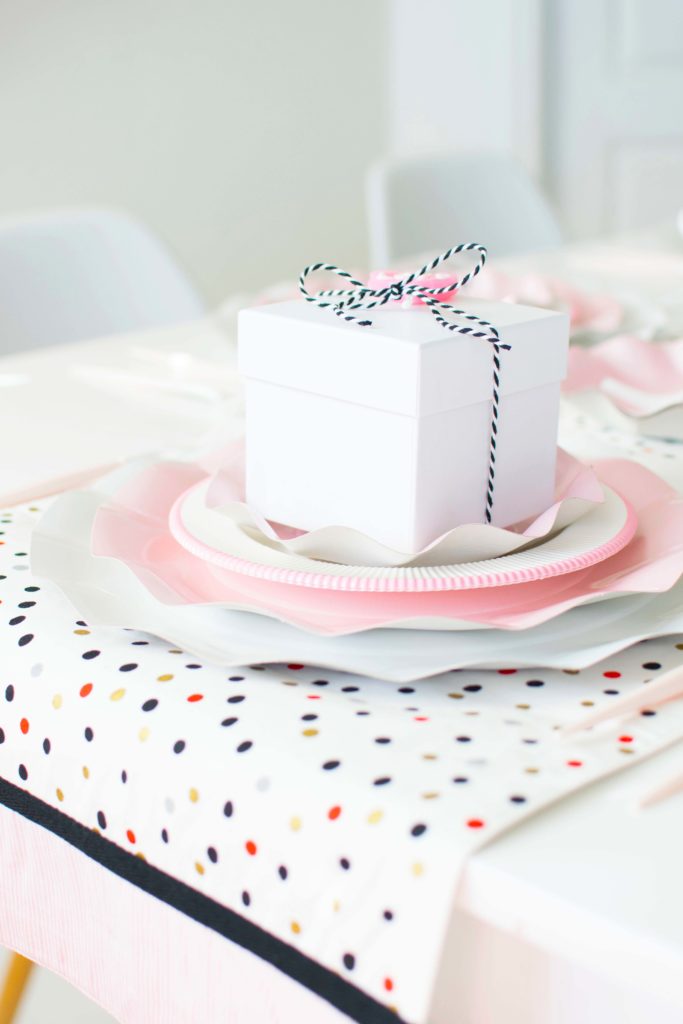 GAME IDEA: THE PROSECCO PONG
Last but not least, the Prosecco Pong. It's the newest trend for parties! Crack open the bubbly and have some prosecco pong fun with your friends on Valentine's Day!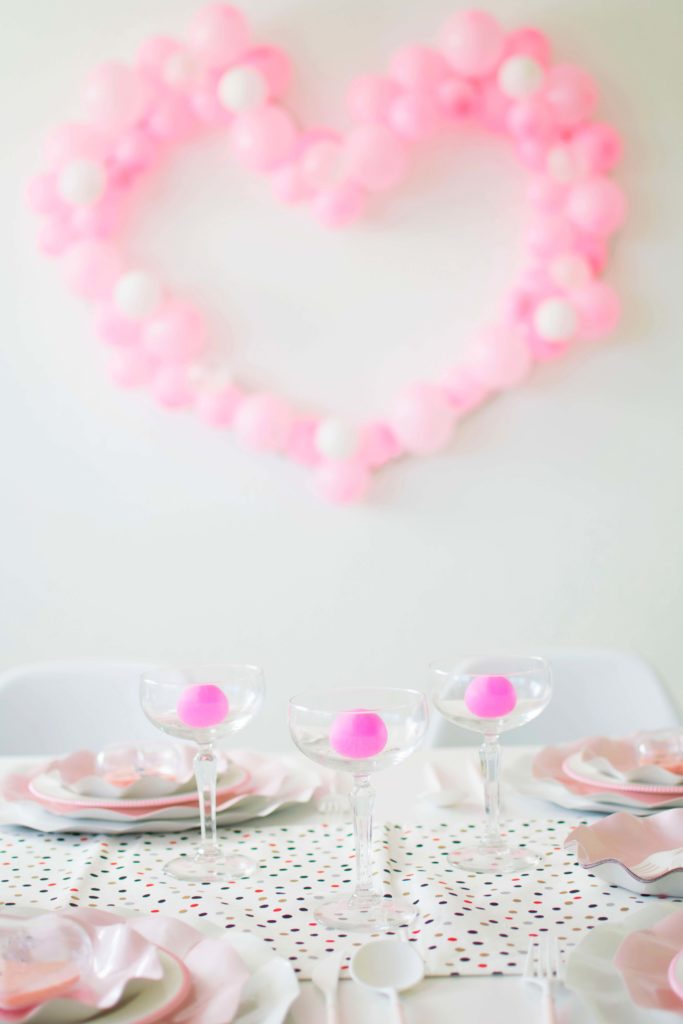 Styling and Photography: Andressa Hara of Twinkle Twinkle Little Party
Plates & Flatware: Sophistiplate
Recreate this tablescape for your own Valentine's Day Party! Here's your shopping list! Use code TWINKLE2 and receive 10% off. No expiration date.
Have fun planning your party, friends! Can't wait to see what you create!
Don't forget to check out the second tablescape:
CLICK HERE FOR OUR GALENTINE'S DAY TABLESCAPE IDEAS