This post is sponsored by Nellie's® Free Range Eggs. All opinions stated are my own.
Fall is here and we are SO excited! We love everything this beautiful season brings! Inspired by our family's love for pumpkin patches and apple cider, we hosted this sweet fall party, complete with a fun craft idea – DIY pumpkin patch cards using Nellie's Free Range egg cartons!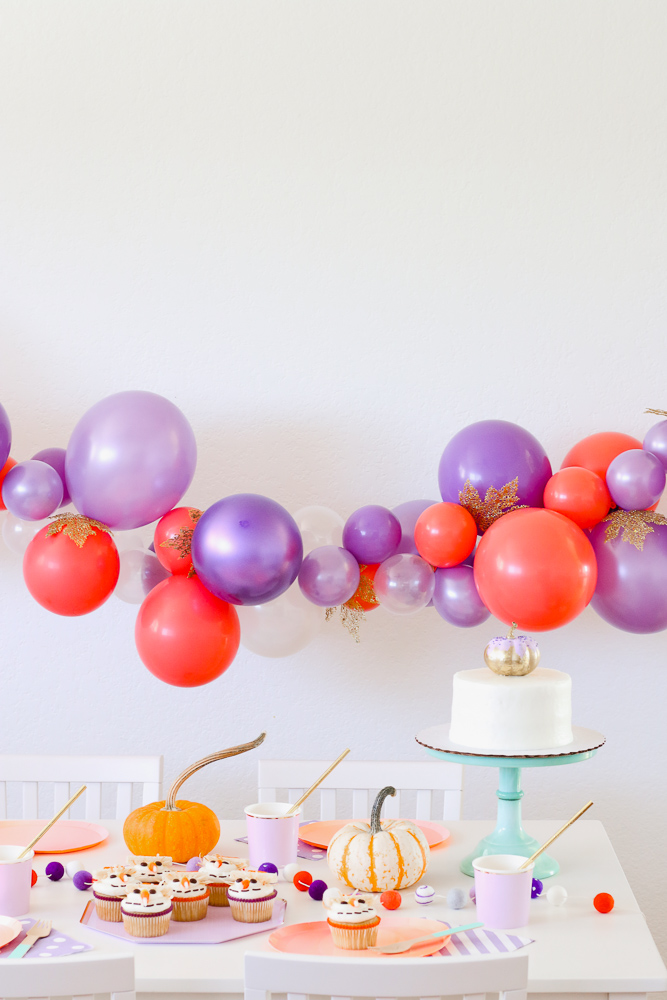 Finding fun and creative ways to repurpose packaging was a really great way for the kids and I to make a good choice for the environment, while also enjoying our time together! I love being able to feel good about the choices we make, and that's why I loved partnering with Nellie's Free Range on this – I can feel good buying their eggs knowing that the hens spend their time on Certified Humane farms, where they're given the opportunity to free range and enjoy high quality feed!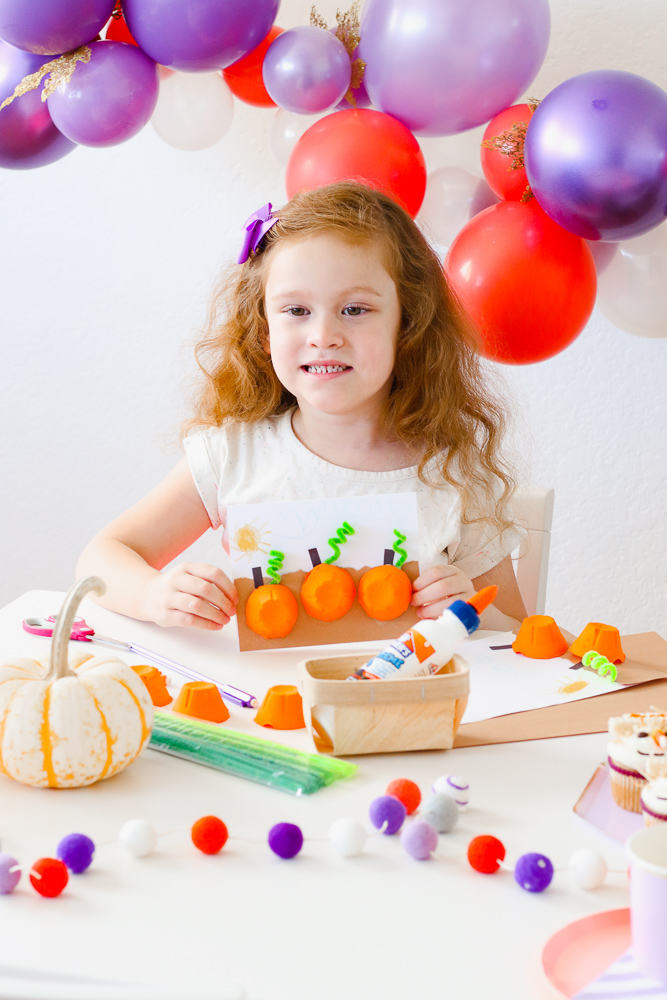 We also created a pumpkin spice cupcake recipe and outlined everything you need to decorate your own scarecrow cupcakes. I mean, how cute did they turn out?!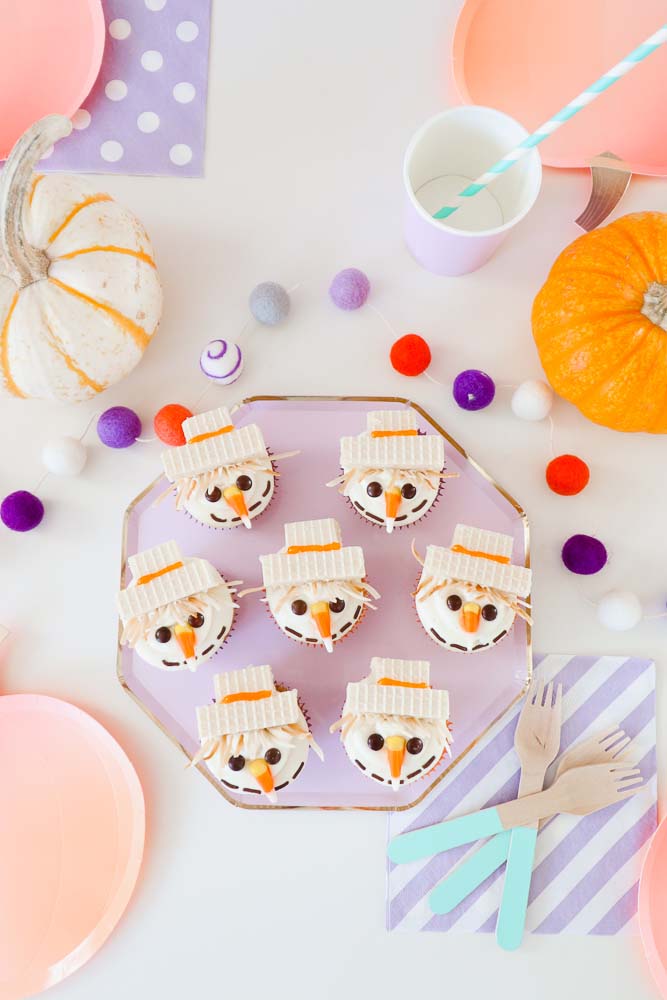 I set up a kids' table and made it fun by incorporating pumpkin plates to carry on the fall/pumpkin patch theme! I used real pumpkins as centerpieces and a darling pom pom felt garland for a fun pop of color.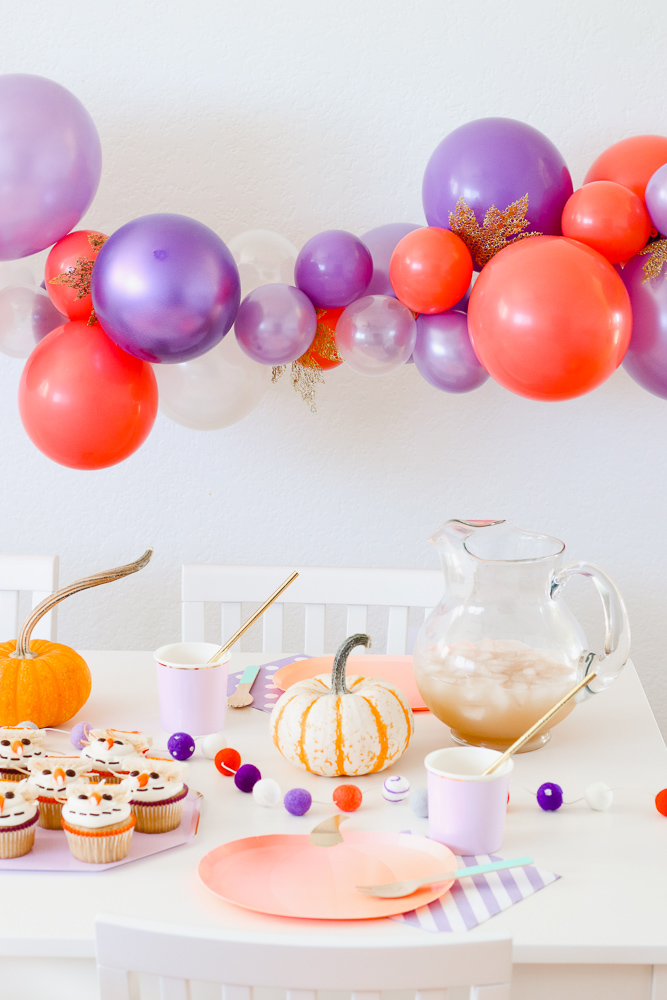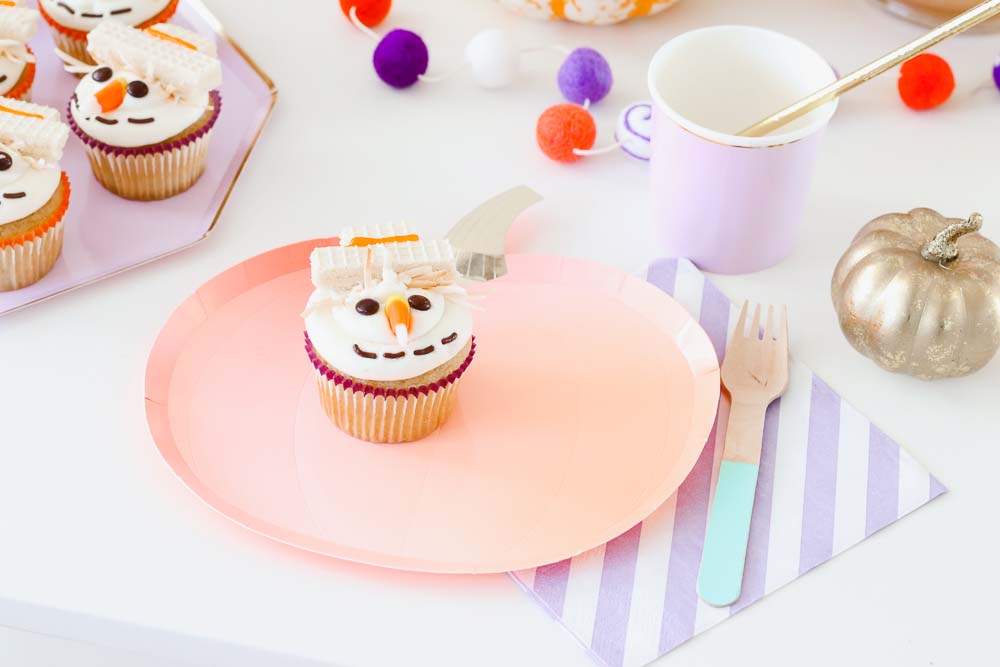 For our backdrop, I created a balloon garland and added gold glittered fall leaves I purchased at my local craft store.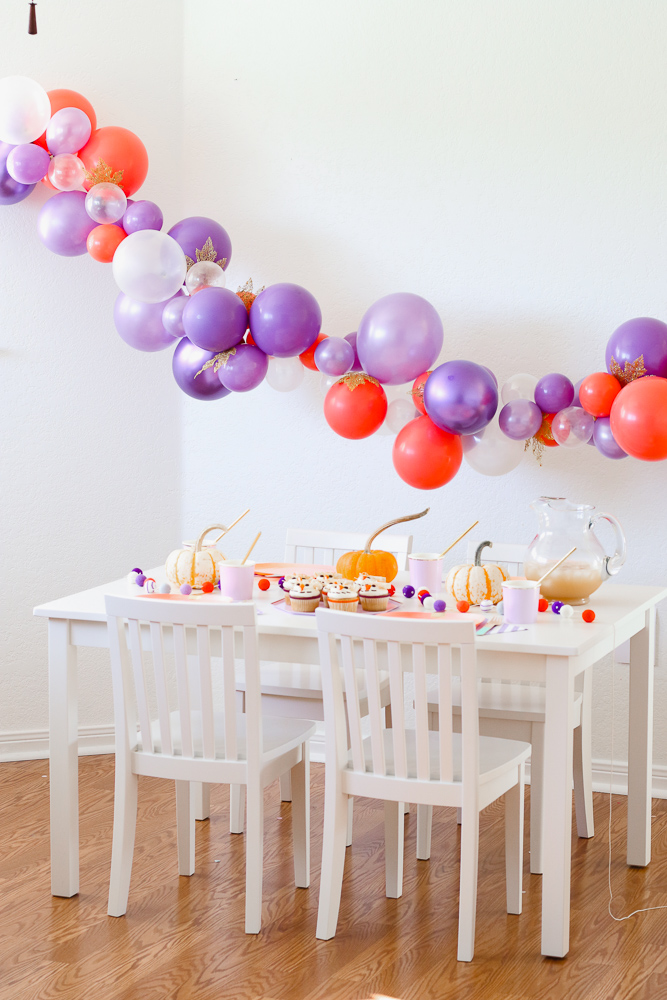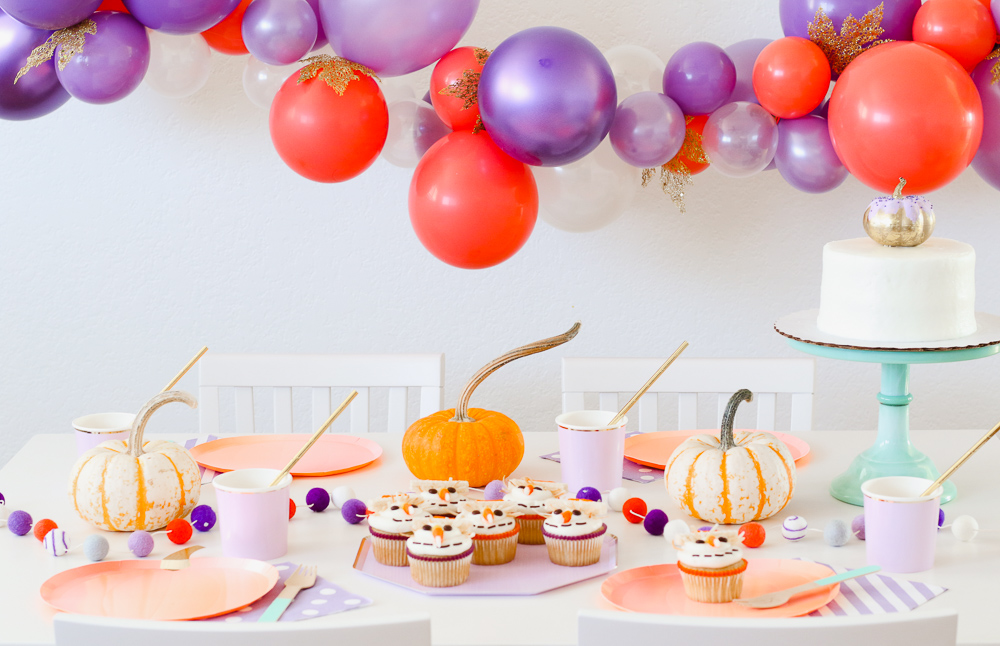 The kids enjoyed cake, scarecrow pumpkin spice cupcakes, and apple cider – we have to make the most of these delicious seasonal flavors before winter.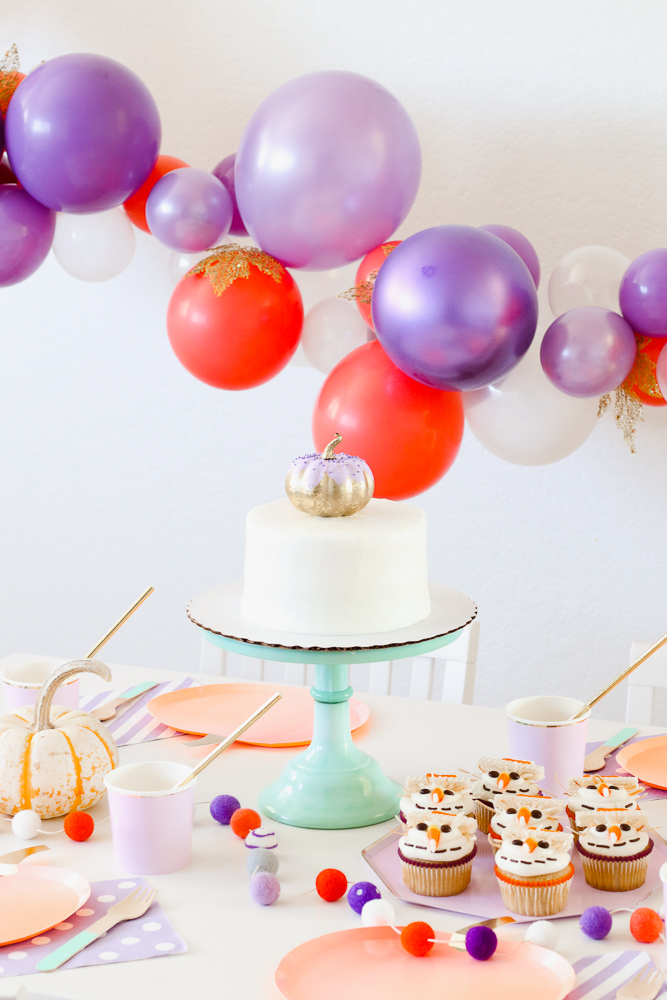 I also used a faux gold pumpkin I had in my inventory and added a fun touch by hand painting part of it purple. I used purple sprinkles to add texture. It made the perfect cake topper!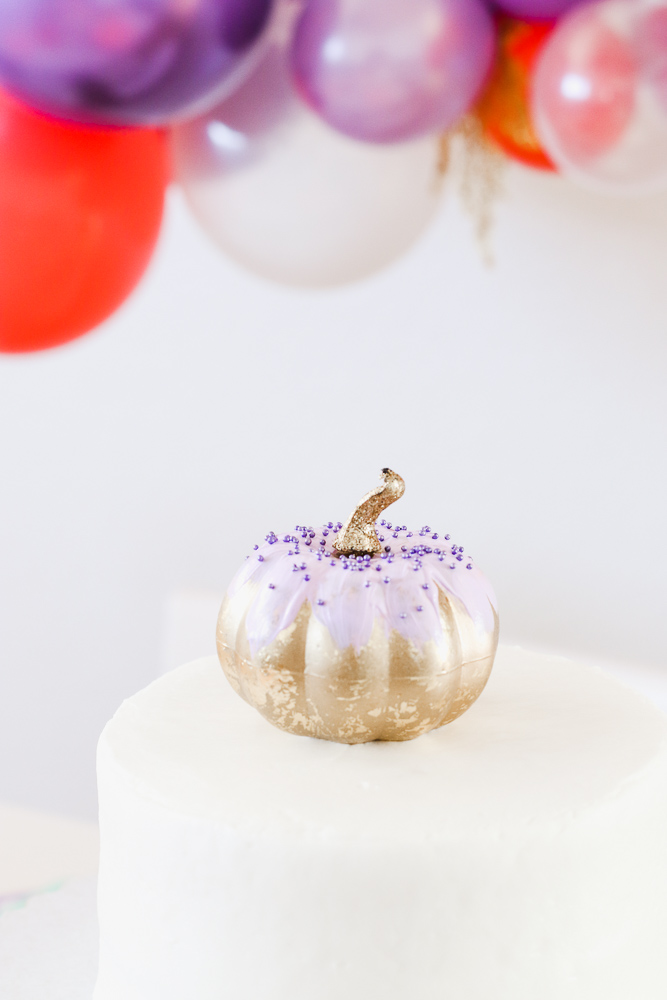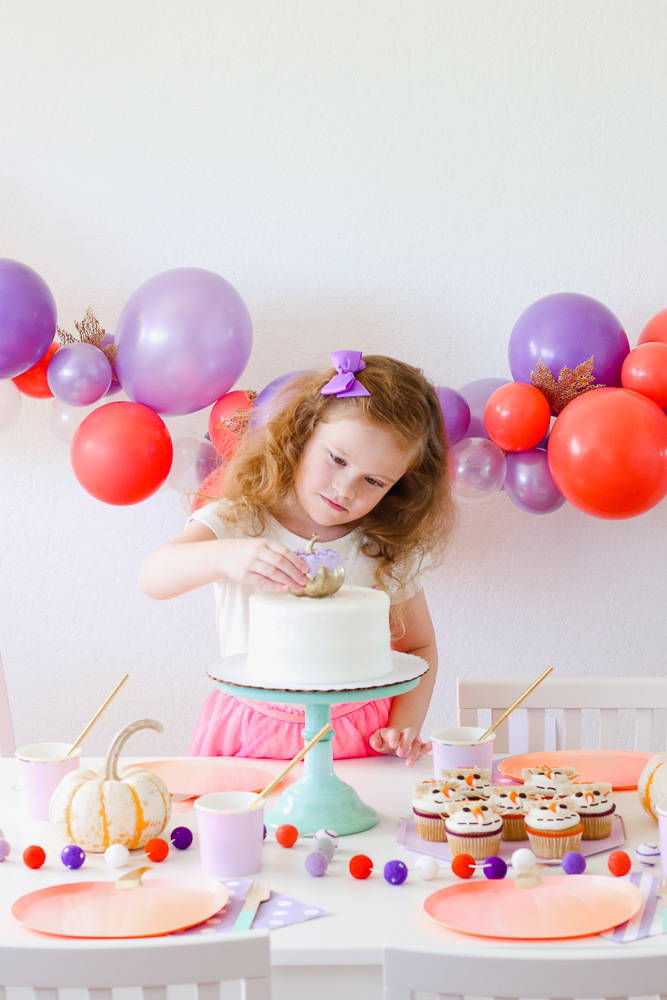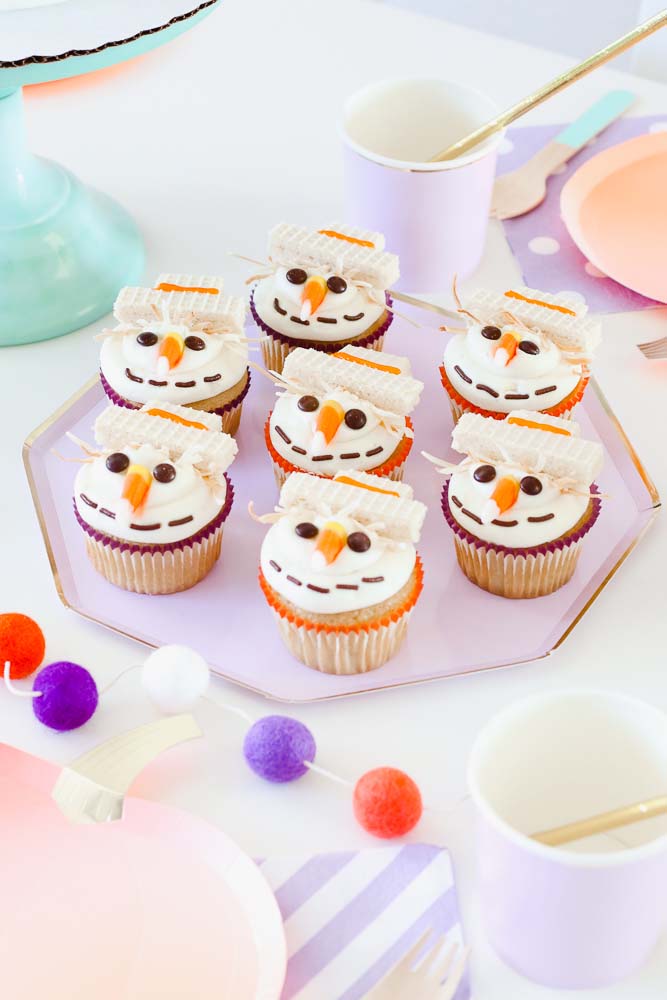 Ready to make these adorable scarecrow cupcakes?
SCARECROW PUMPKIN SPICE CUPCAKES WITH CREAM CHEESE FROSTING
Yield: 24 cupcakes
Ingredients:
3/4 cup unsalted butter, softened
2-1/2 cups sugar
3 Nellie's Free Range large eggs, room temperature
1 can (15 ounces) solid-pack pumpkin
2-1/3 cups all-purpose flour
1 tablespoon pumpkin pie spice
1 teaspoon baking powder
1 teaspoon ground cinnamon
3/4 teaspoon salt
1/2 teaspoon baking soda
1/2 teaspoon ground ginger
1 cup buttermilk
Directions:
Preheat oven to 350°. In a large bowl, cream the butter and sugar until light and fluffy. Add eggs, one at a time, beating well. Add pumpkin.
Combine flour, pie spice, baking powder, cinnamon, salt, baking soda and ginger.
Add combined dry ingredients to creamed mixture alternately with buttermilk, beating well after each addition.
Fill 24 paper-lined muffin cups. Bake 20-25 minutes or until a toothpick inserted in the center comes out clean. Allow to cool completely before frosting.
Frosting:
1 package (8 ounces) cream cheese, softened
1/2 cup unsalted butter, softened
4 cups confectioners' sugar
1 teaspoon vanilla extract
2 teaspoons ground cinnamon
In a large bowl, beat cream cheese and butter until fluffy. Add confectioners' sugar, vanilla and cinnamon; beat until smooth.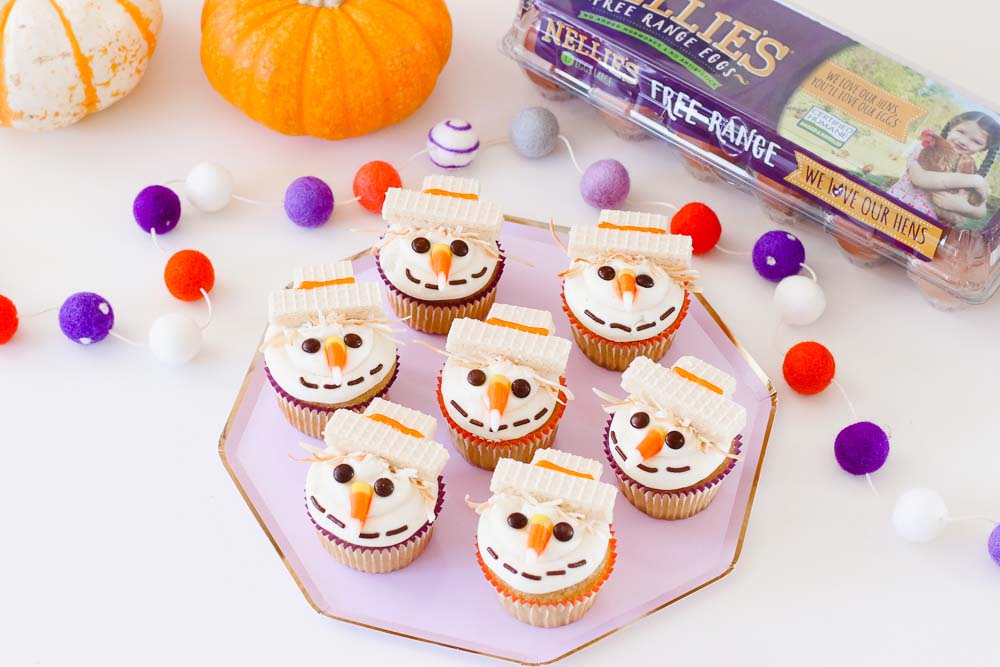 To decorate the cupcakes I used:
Wafer cookies for the hats
Decorating orange gel for hat detailing
Mini M&M's for the eyes
Candy corn for the nose
Chocolate sprinkles for the mouth
Toasted coconut flakes for the hair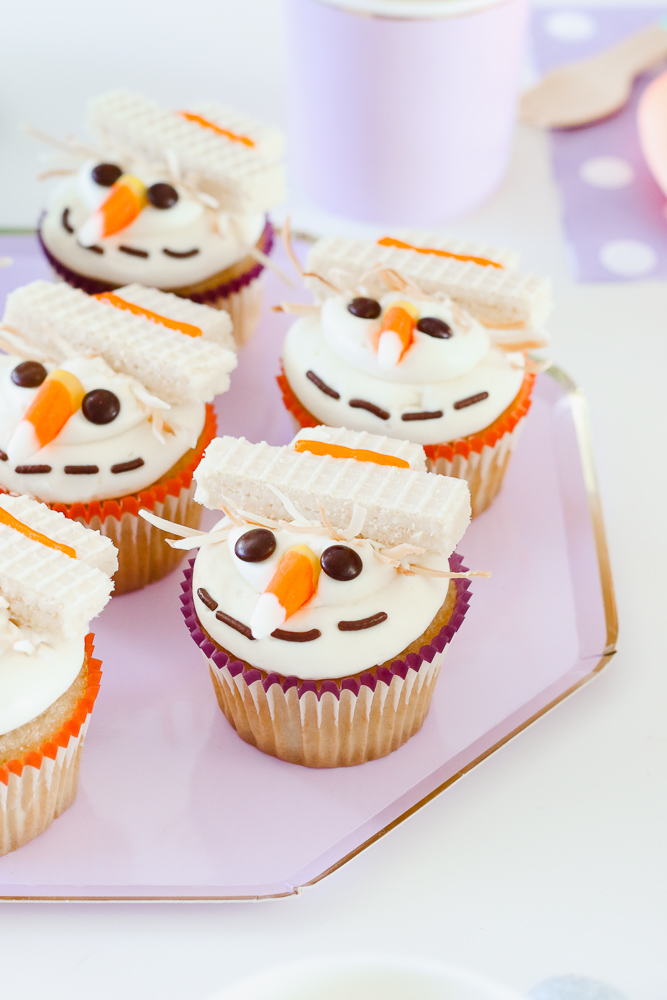 FALL CRAFT IDEA: PUMPKIN PATCH CARD
Keeping the kids happy and entertained during a party is always our top priority. The kids had fun creating their own pumpkin patch cards.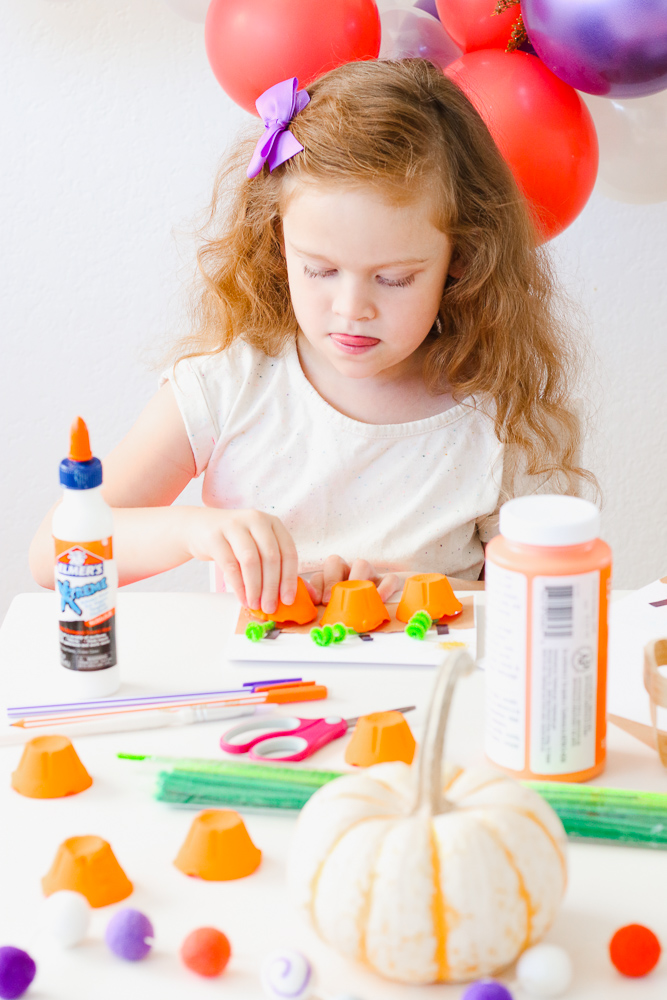 For this craft we used:
Nellie's Free Range Eggcartons
5×7 blank card
Orange paint
Paint Brush
Green Pipe Cleaners
Construction Paper
Crayons
Scissors
Glue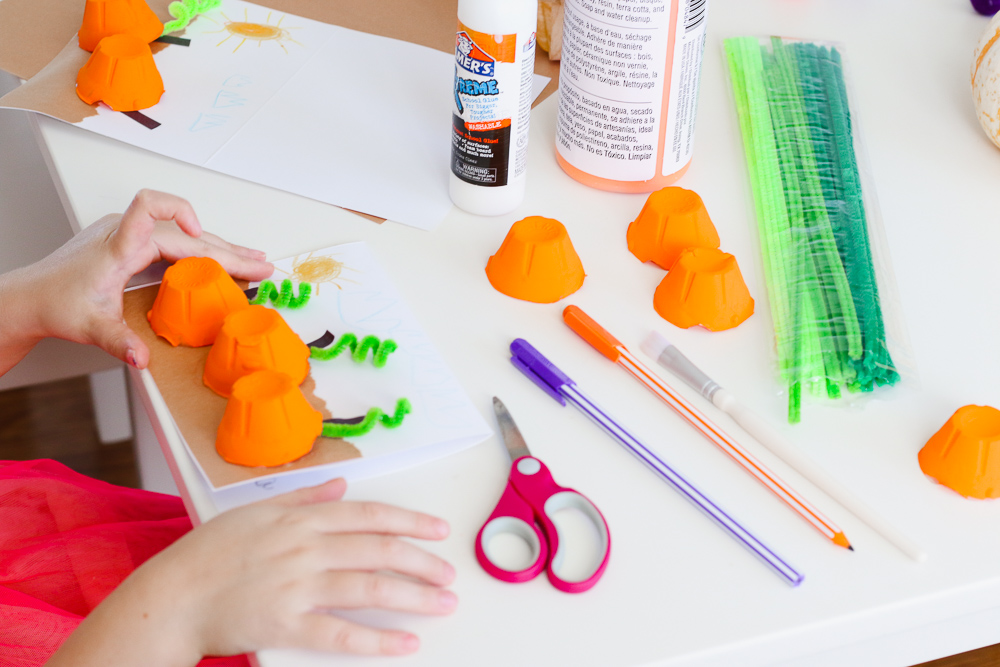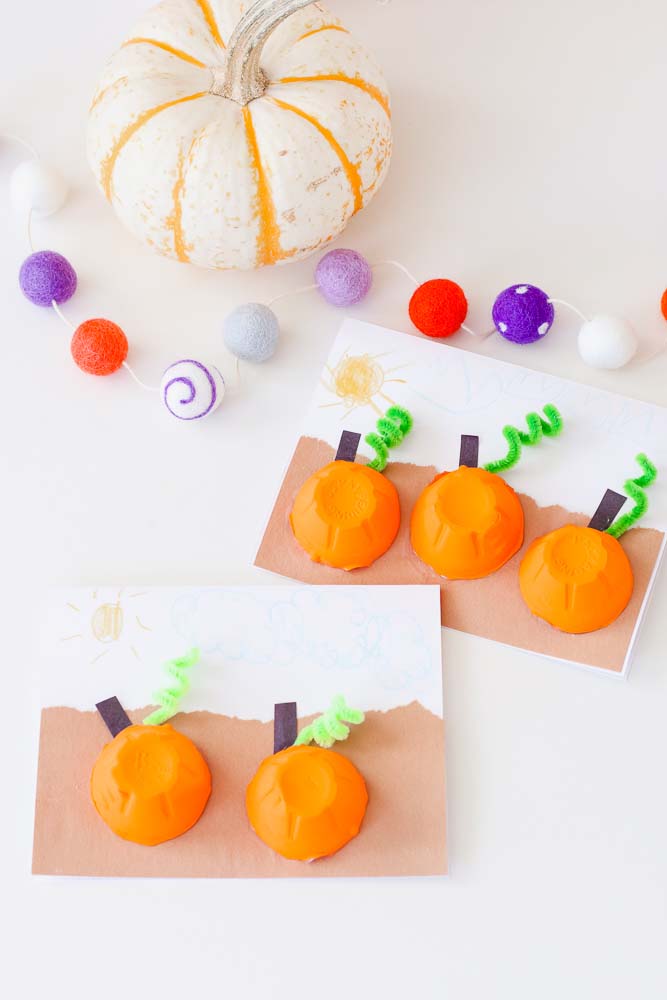 After the kids were finished their pumpkin patch cards, they wrote Thankful notes to someone special. They can't wait to hand the cards to Nana & Papa, who are coming to town to spend Thanksgiving with us!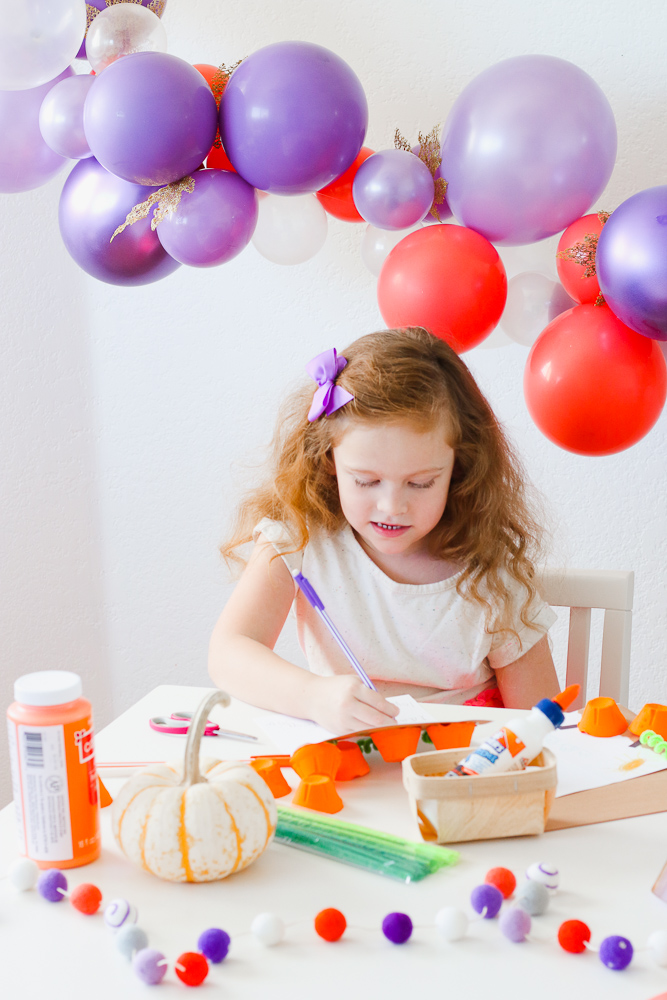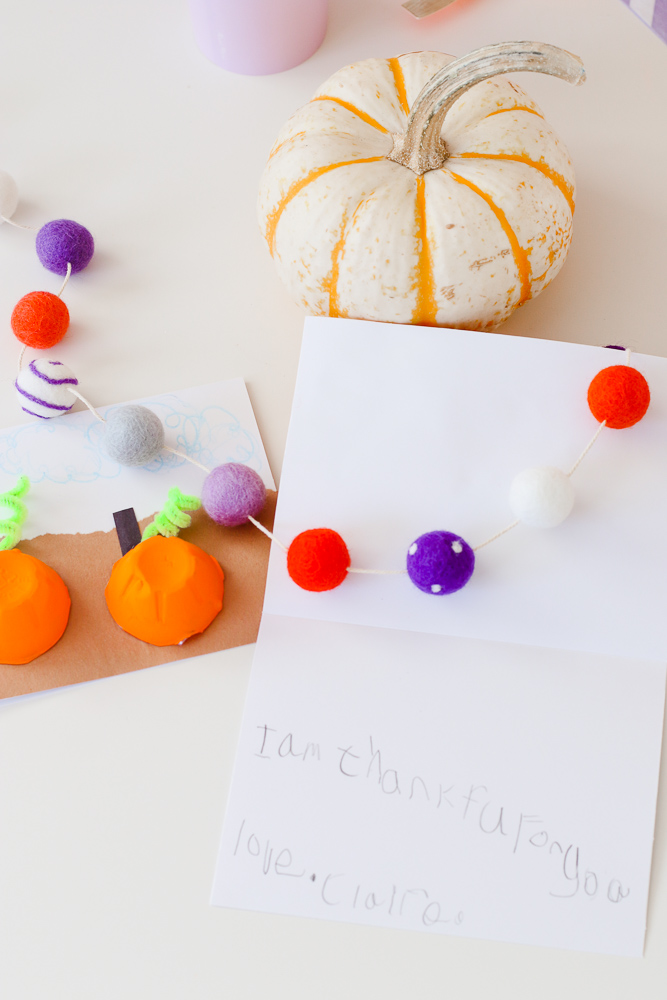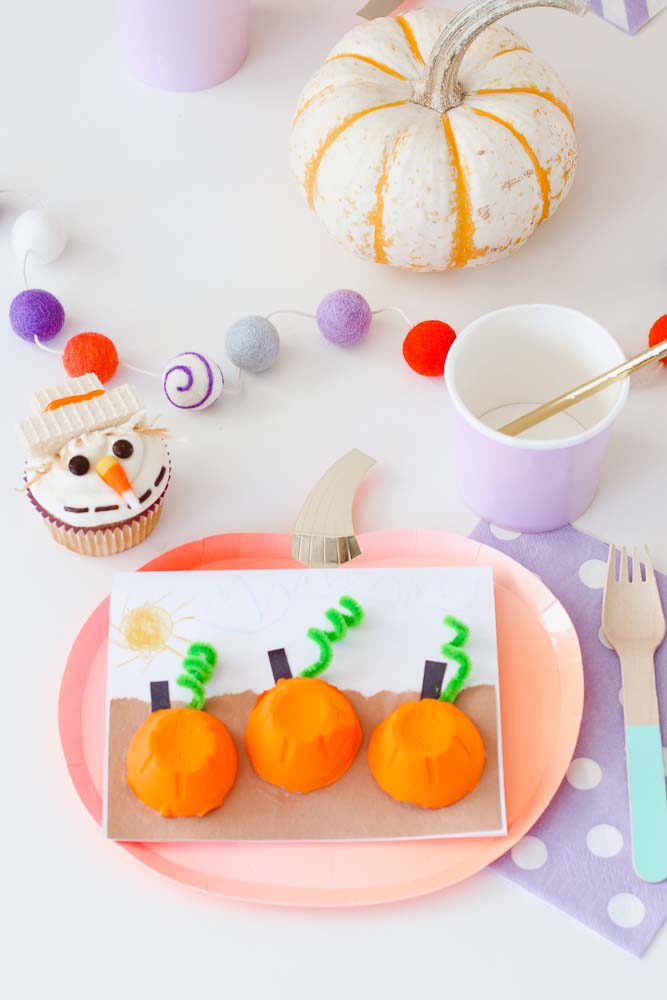 I hope you are as excited as we are about Fall and can create sweet memories with your little ones this season, my friends!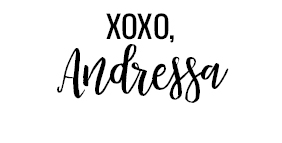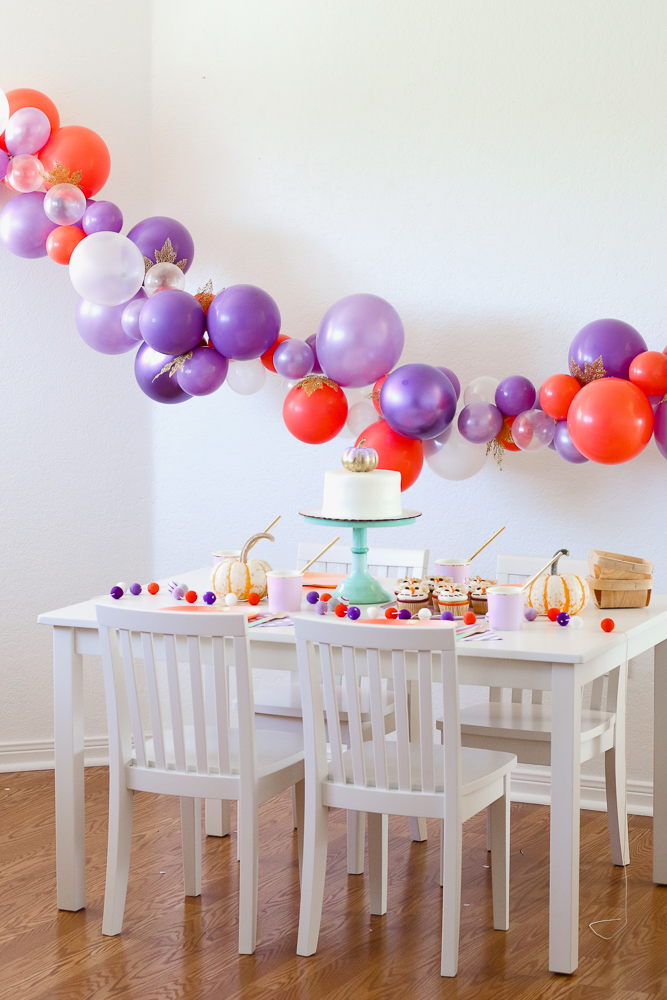 Styling and Photography: Andressa Hara of Twinkle Twinkle Little Party
Plates, cups and balloon garland kit: Momo Party Kids
Felt Heart garland: Elizabeth & Lo