This post is sponsored by Nellie's® Free Range Eggs.
Hello, friends! I am excited to share that I've recently teamed up with Nellie's Free Range Eggs for this modern farm-themed party that's perfect to keep the kids happy and entertained during the last days of summer. Between a delicious quinoa bites recipe made with Nellie's, DIY décor and party treats, we've got you covered with fun ideas you can easily recreate to celebrate at home in style! Bring the party indoors and let the kids enjoy an afternoon filled with fun, friends and delicious food!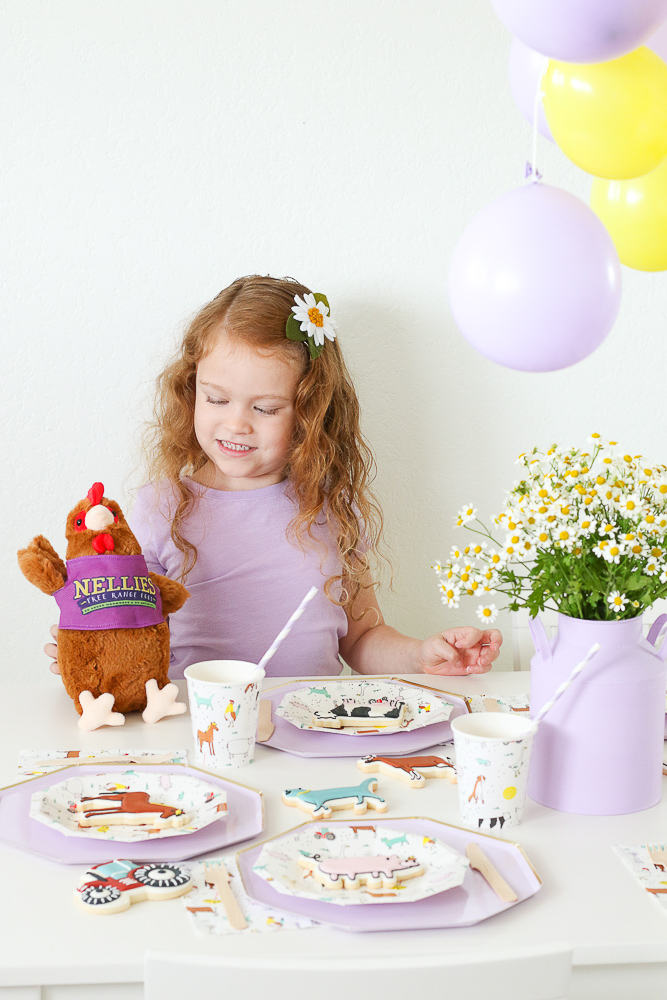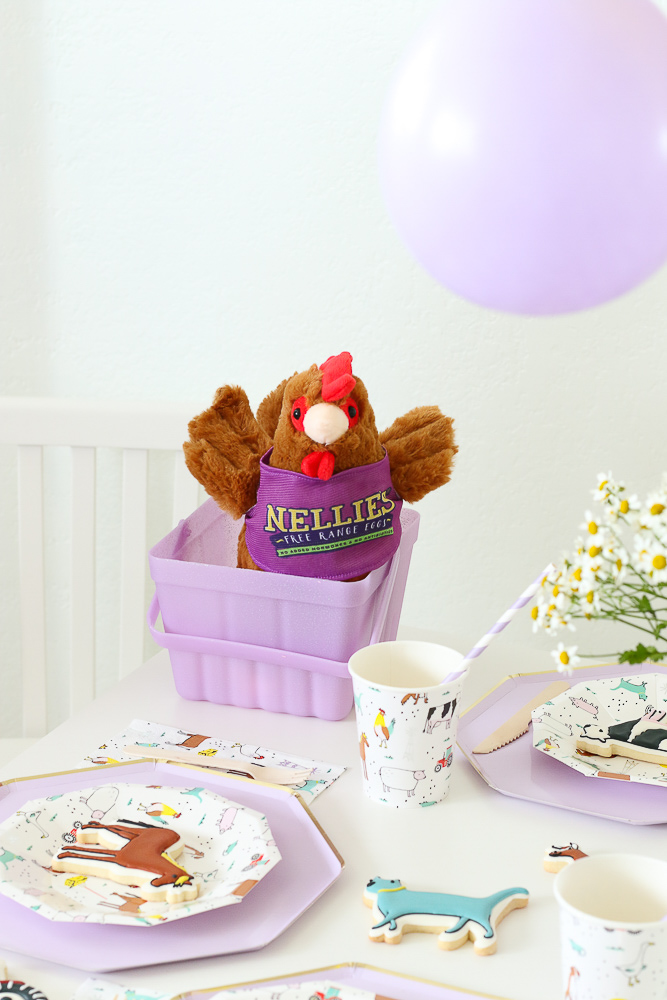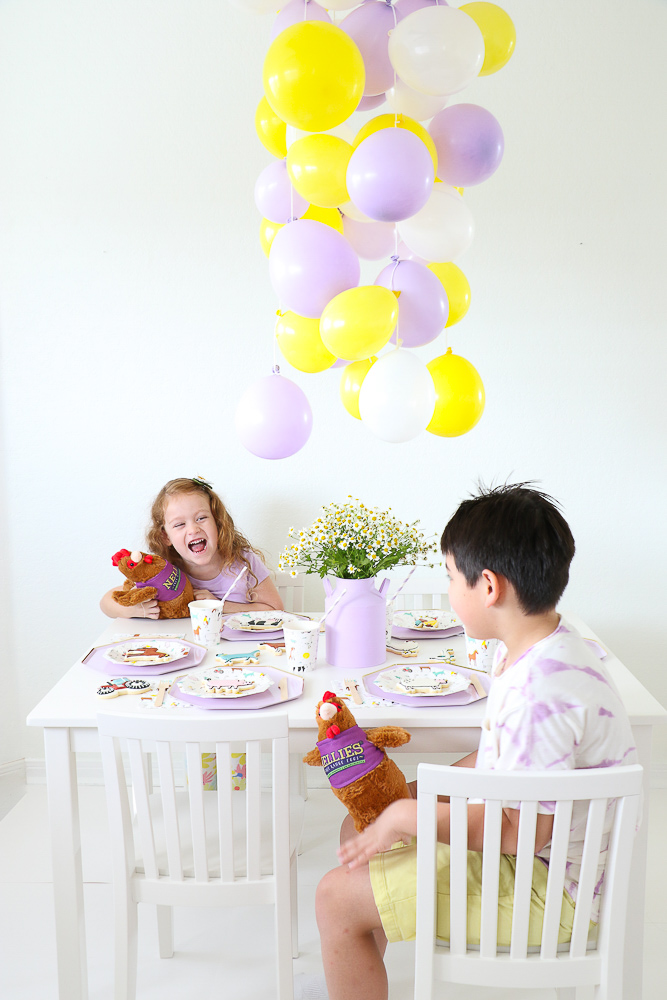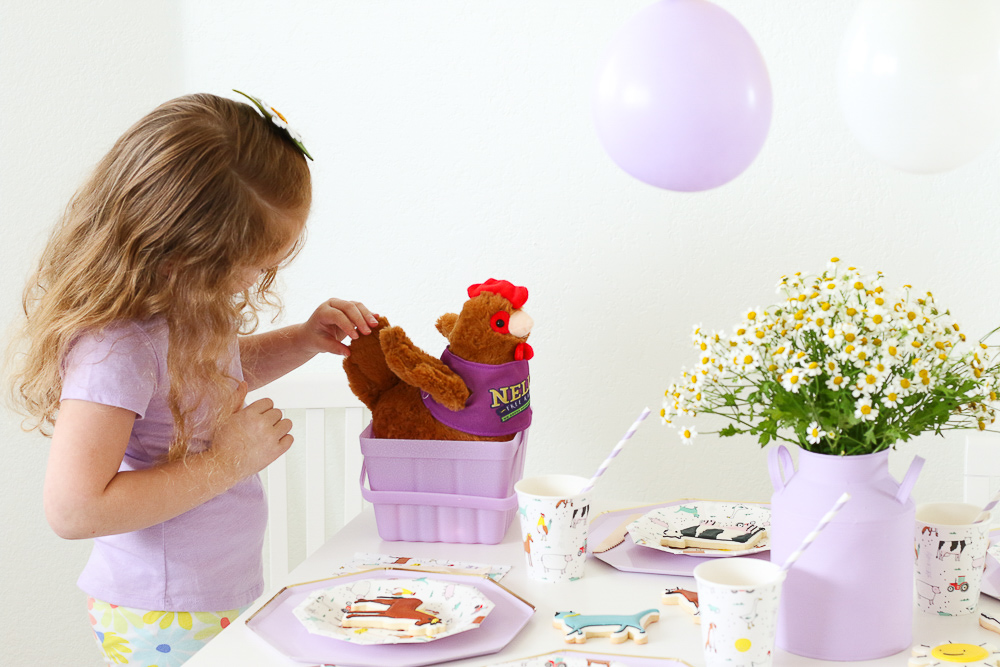 DIY PARTY DECOR – BALLOON CHANDELIER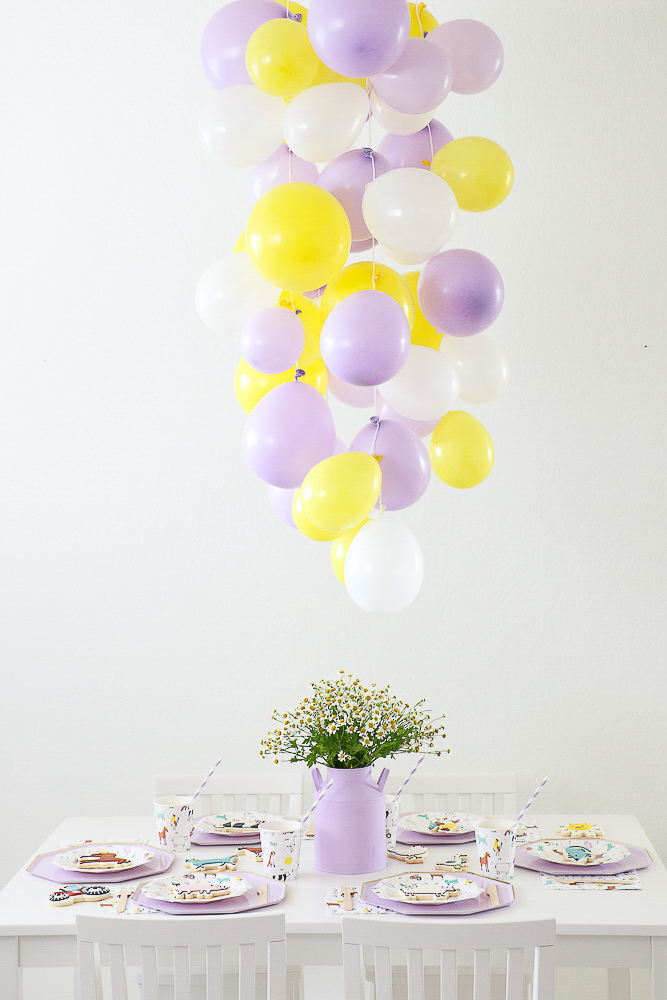 I created a fun balloon chandelier to display over the kid's table, and what's great is that it's extremely simple and inexpensive to create this balloon chandelier. Just attach strings of balloons to a large ring and hang it from the ceiling. It creates such a pretty and eye-catching detail to any party set up – from the farm and beyond!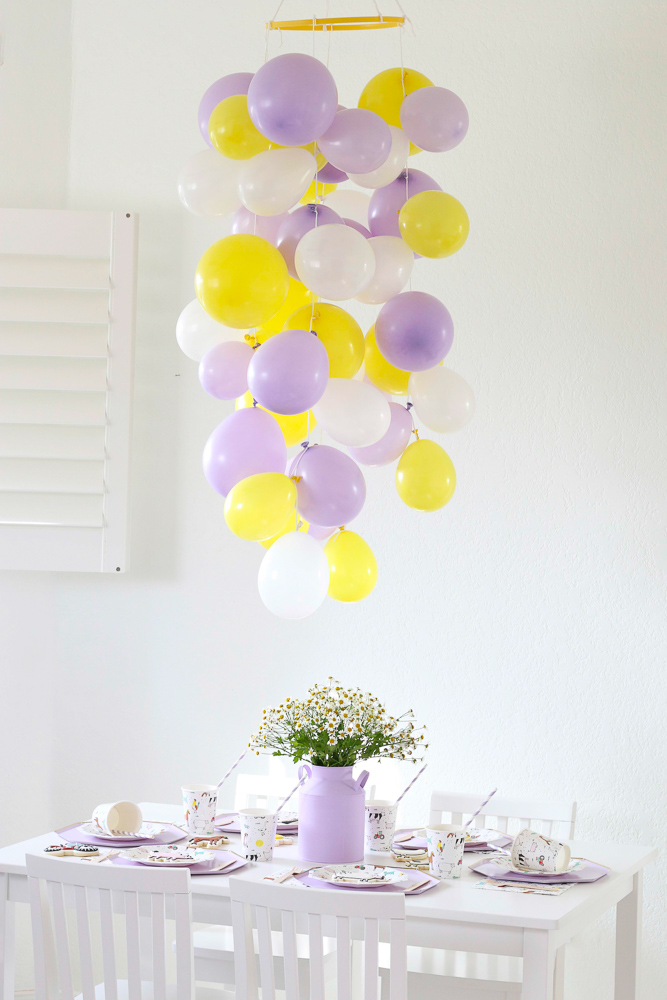 FARM INSPIRED TABLESCAPE
To bring the farm theme to life, I incorporated an adorable 'On the farm' set of plates, cups and napkins. I layered small themed plates with large purple plates used as plate chargers for a pop of color. How cute is the barn paper plate? You can also use them as platters to serve food.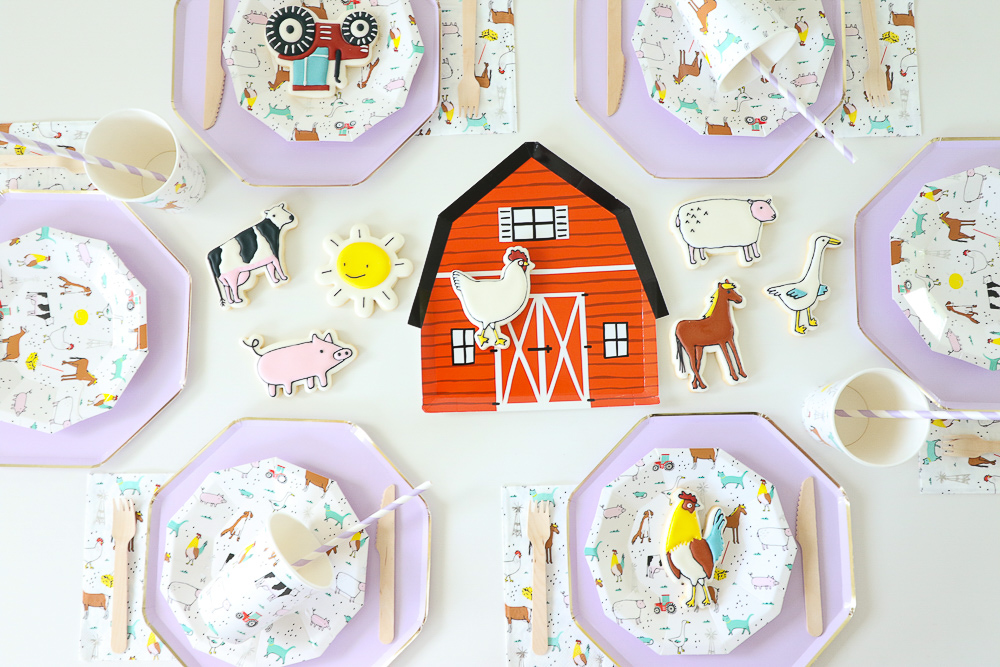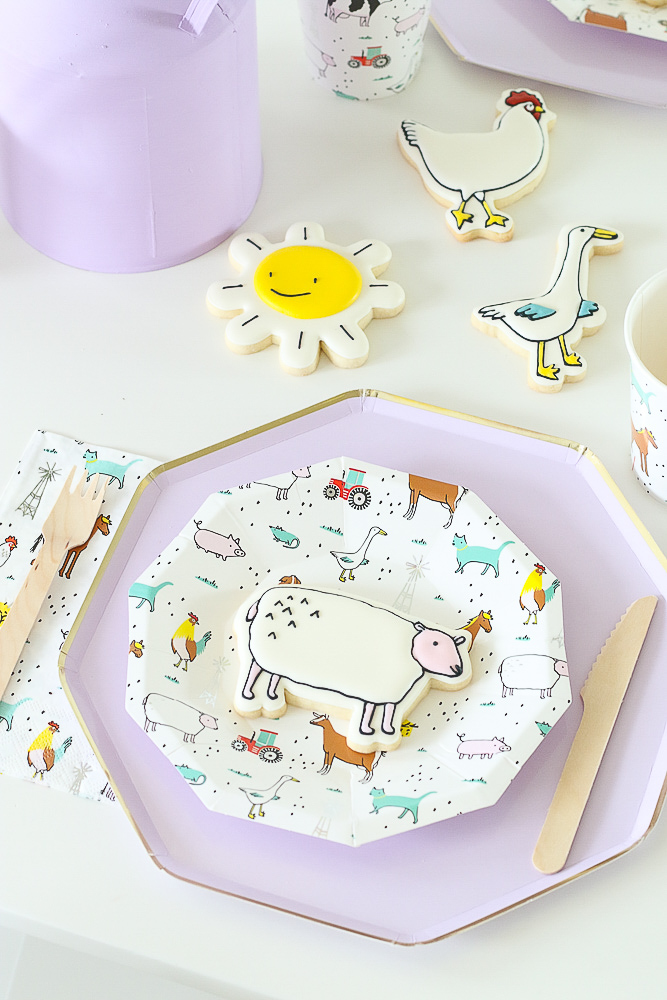 For an easy and instant table centerpiece, be sure to visit your local floral shop for fresh blooms. Display them in your favorite vase or the always-classic Mason jar and you are all set! The one featured for this fun farm party I purchased at my local craft shop and quickly painted to match my
party décor.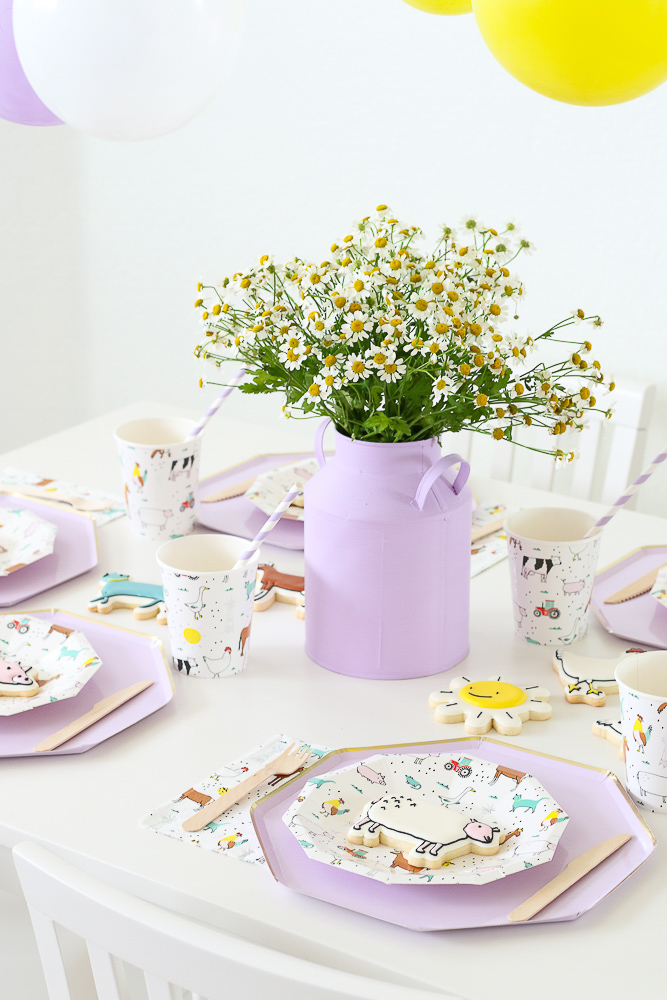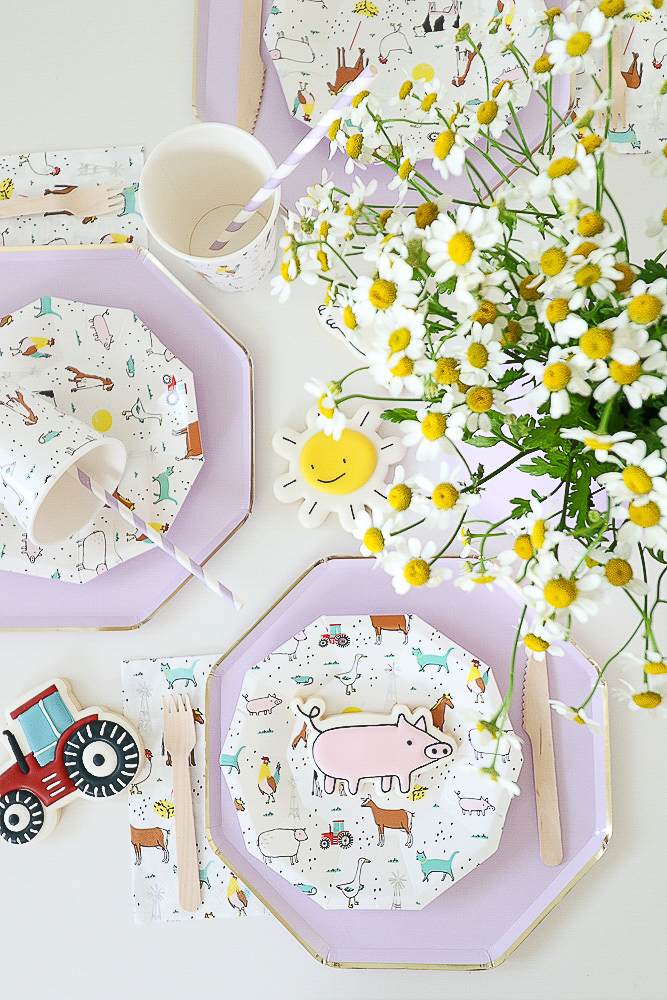 To get the kids excited, coordinating themed cookies are always fun to have and double as table décor and party favors! And better yet – I created adorable brown hen cake bites inspired by Nellie herself!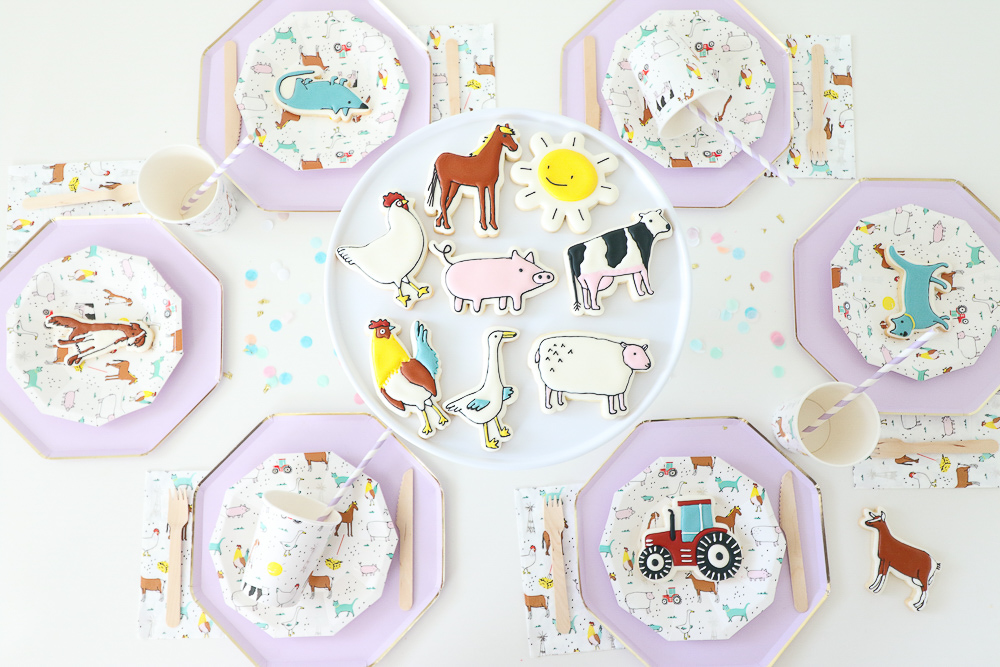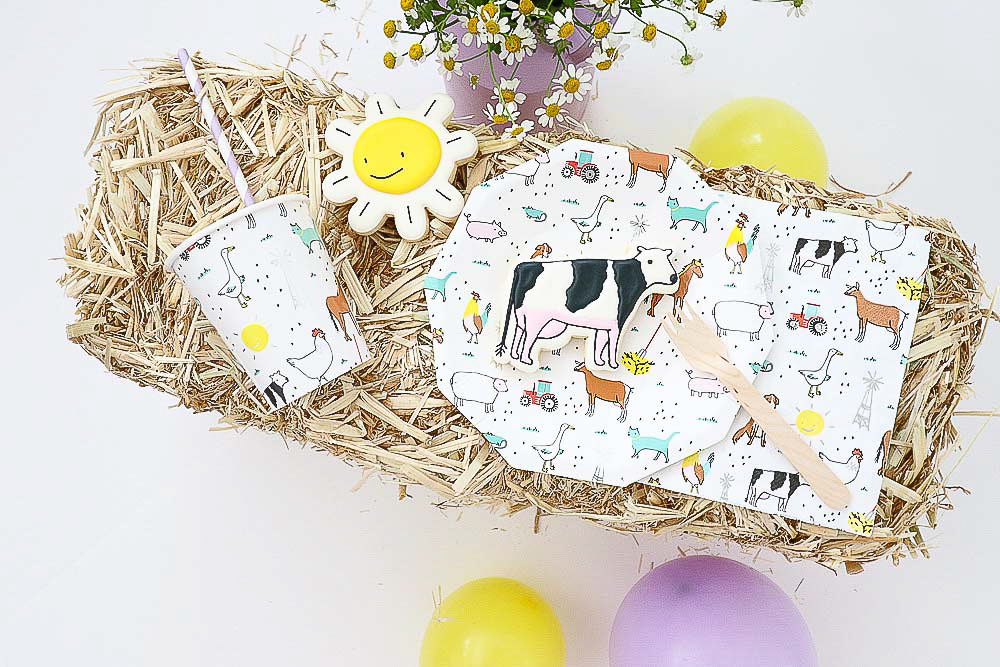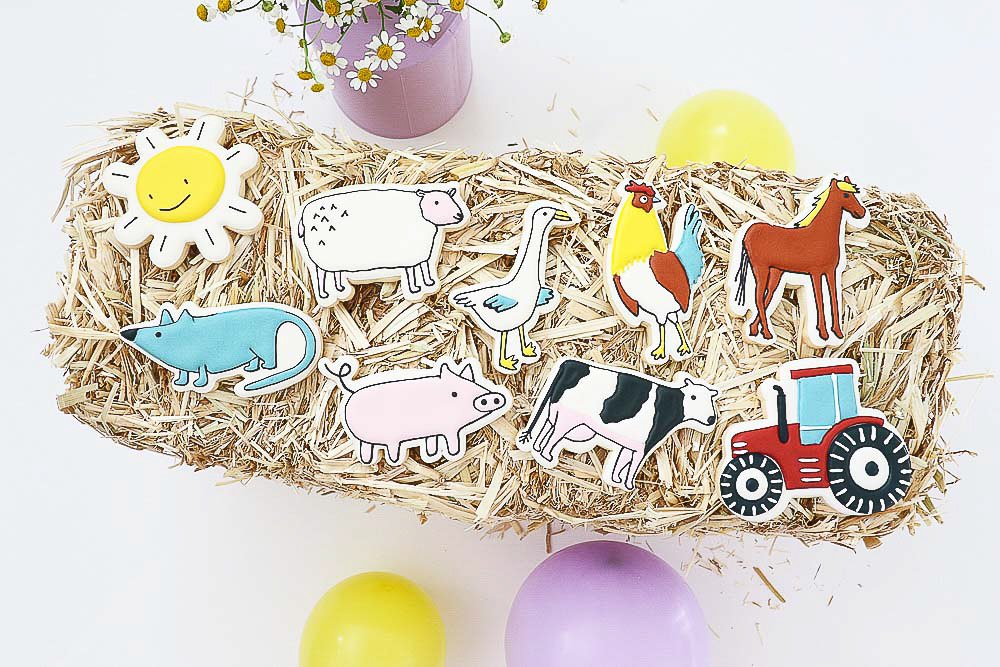 DIY Brown Chicken Cake Balls
You can make adorable hen cake balls to go perfectly with the theme! Use your favorite cake pop recipe, roll in mini balls and dip in chocolate mixed with thin coconut flakes. For the eyes, I used candy eyeballs you can find at your local craft shop or baking aisle at supermarkets. Red heart sprinkles for the comb, white heart sprinkles for the feet and large pearls for the nose. Then, use your Nellie's Free Range Eggs carton to display your creations! It's a great way to reuse the cartons in a crafty way.
One reason I was inspired to create this treat is because Nellie's hens truly do live happy, healthy lives where they're free to roam outdoors and frolic to their heart's delight! This is because Nellie's hens are free-range and Certified Humane. You can even tell by the deep gold color of the yolks, which indicates a more nutritious egg from a healthy hen.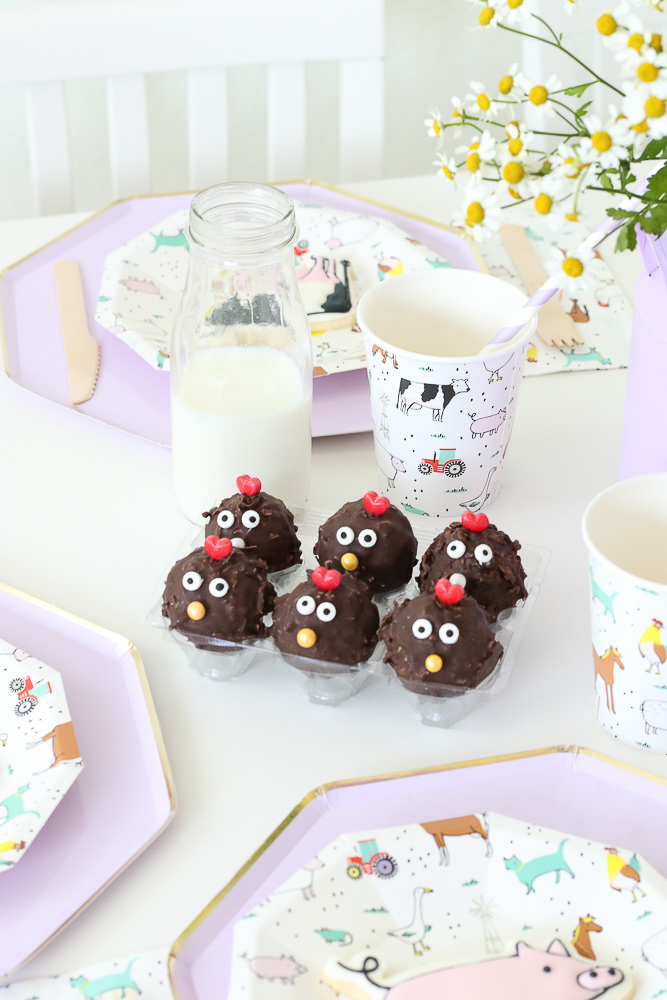 PARTY FOOD
Besides the sweet treats you will definitely serve at your party, it's nice to have something yummy and healthy for the kids. Nutrition is also important! How about these veggie quinoa bites? You can make them in under 20 minutes with minimal prep. They make the perfect finger foods for the kids (and parents)!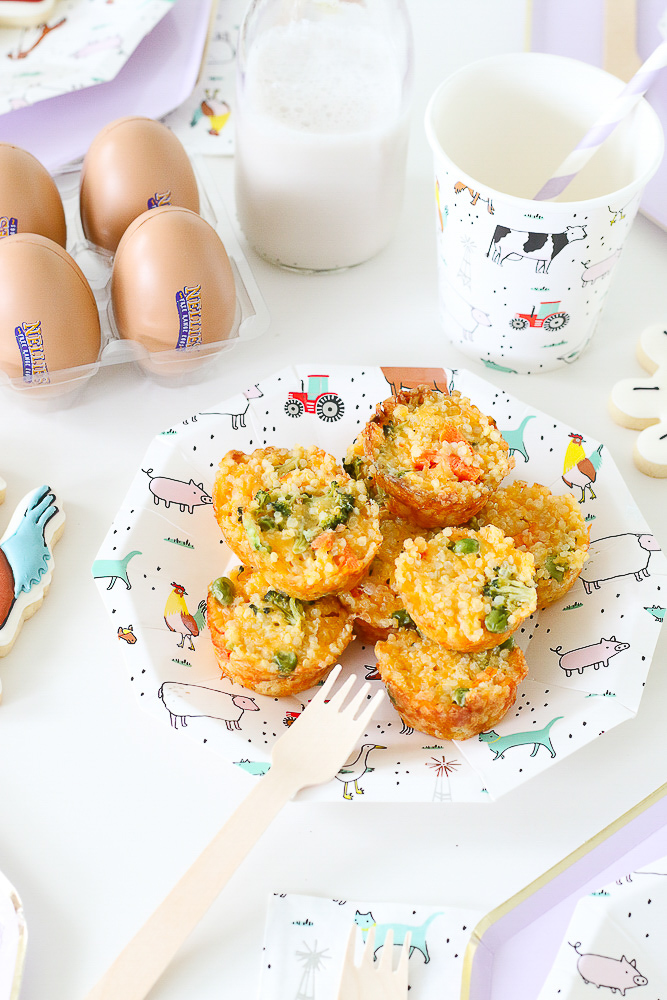 VEGGIE QUINOA BITES
INGREDIENTS:
2 cups cooked organic quinoa
2 cups cheddar cheese, shredded
2 cups of cooked veggies of your choice
2 Nellie's Free Range Eggs
1 tsp kosher salt
INSTRUCTIONS:
· Preheat oven to 350°F.
· Spray mini muffin baking sheet with cooking spray.
· In a deep bowl, mix all ingredients until well combined.
· Divide the mixture evenly in the mini cavities. Make sure you press down to pack it in firmly.
· Bake for 15-20 minutes until golden brown and crispy. Note: every oven is different. It takes 20 min for my quinoa bites to get brown and crispy. Enjoy!
Also, by using free-range, Certified Humane eggs, your final dish will actually taste better and be more nutritious! Hens that have a varied diet and outdoor access live healthier lives and in turn produce healthier eggs. That's why I recommend choosing Nellie's Free Range next time you are at the store!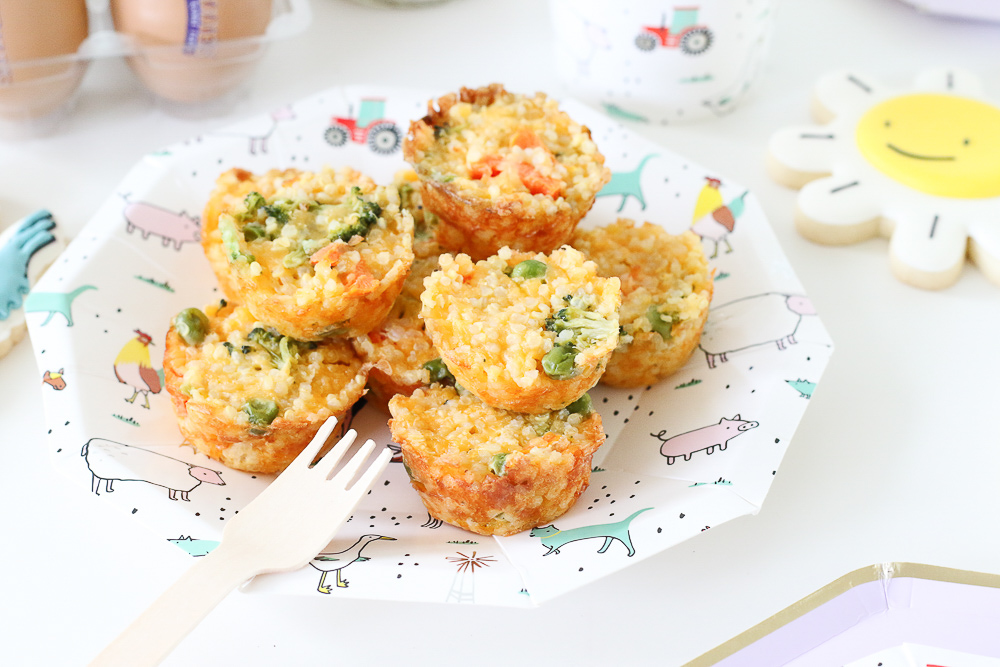 Mini pies are also perfect for this theme. You can either bake them from scratch or get them at local markets.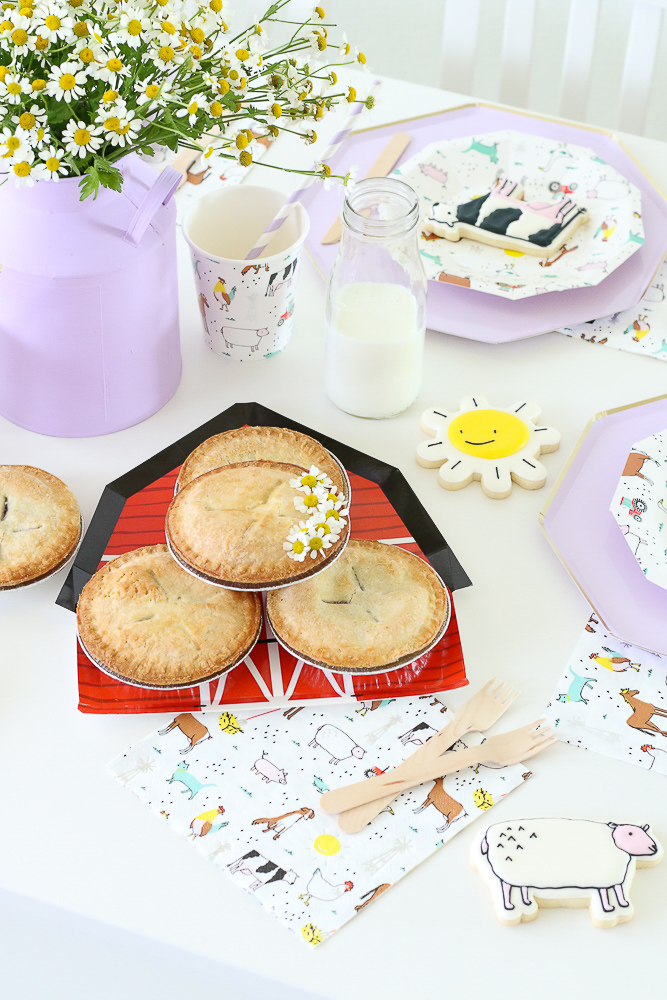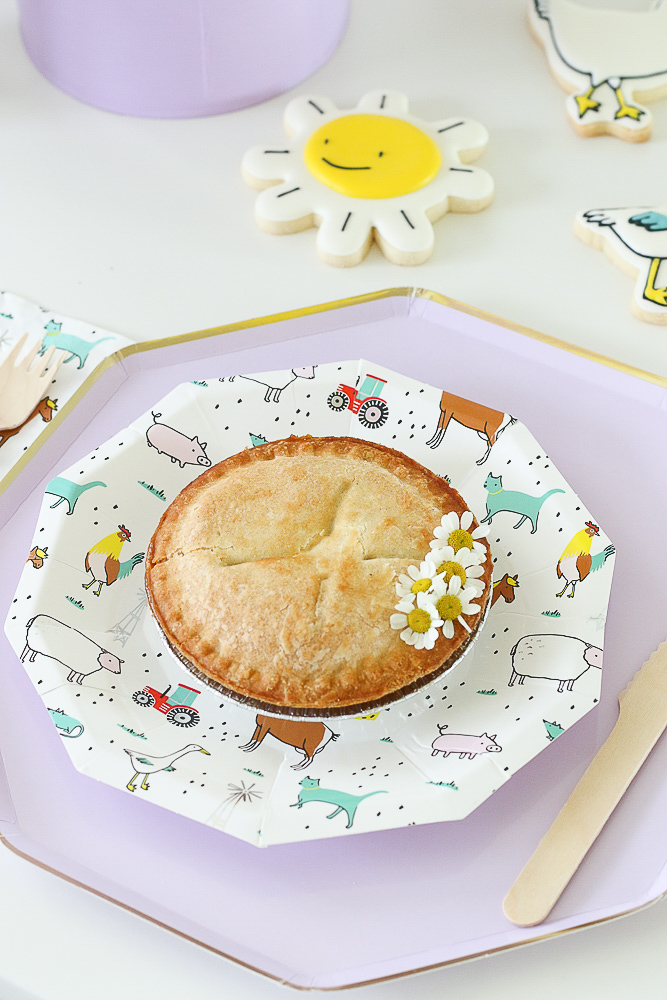 Another fun DIY idea is dressing up your cupcakes for the occasion! Using pink frosting, wafers and marshmallows, you can create the cutest piggie cupcakes for your party! The kids will fall in love with them!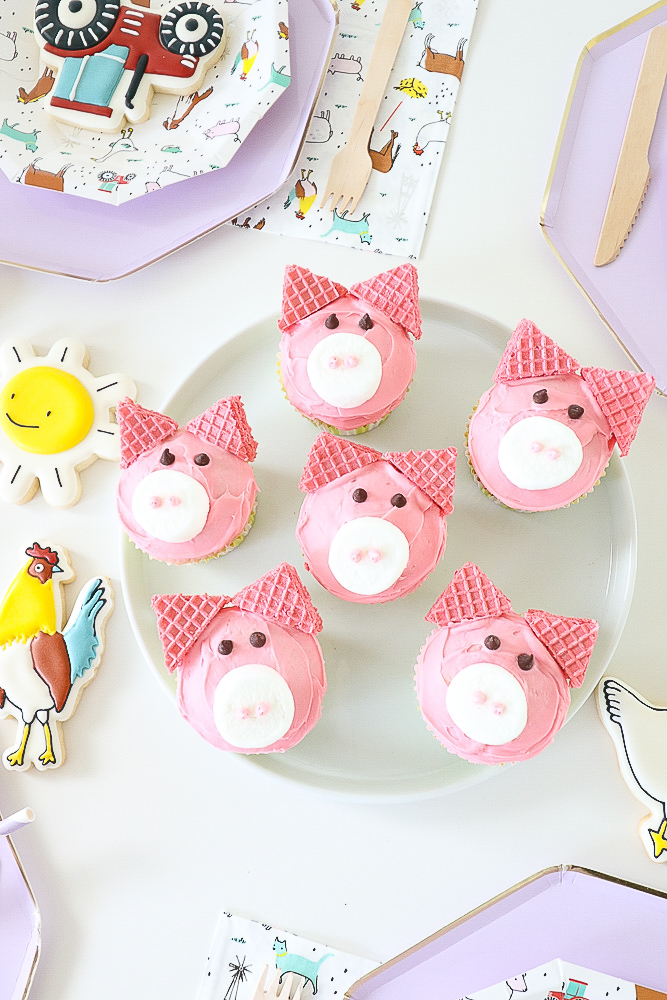 It's time to dig in!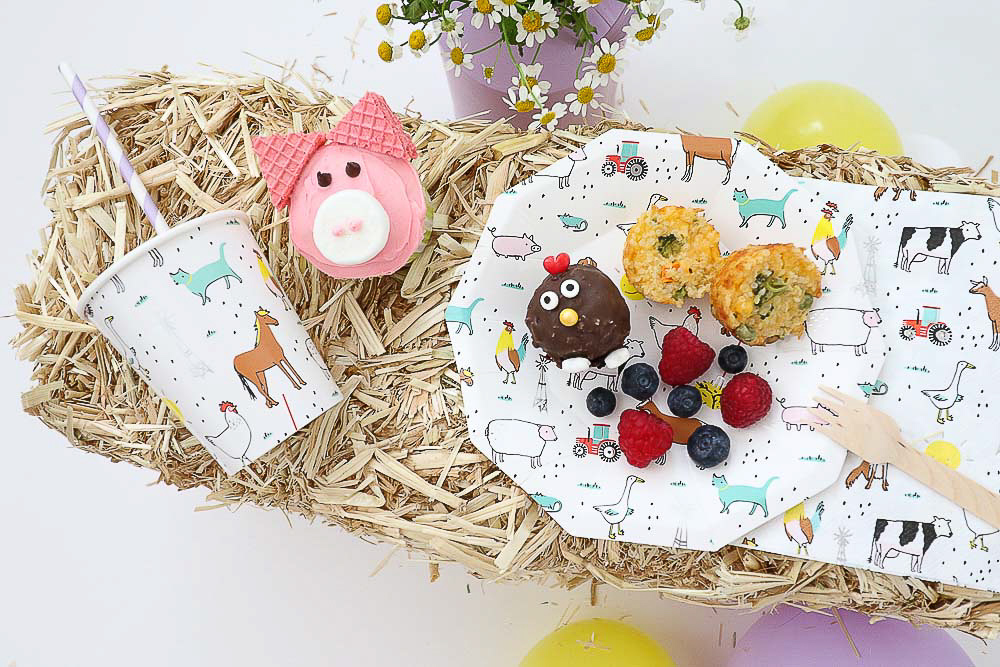 KIDS ACTIVITY IDEAS
Let the kids get inspired and create their own farm animal balloons. You can get the templates here, print & cut ahead of time. I don't own a cutting machine so I had to cut the pieces by hand.
Templates courtesy of Delia Creates for personal use.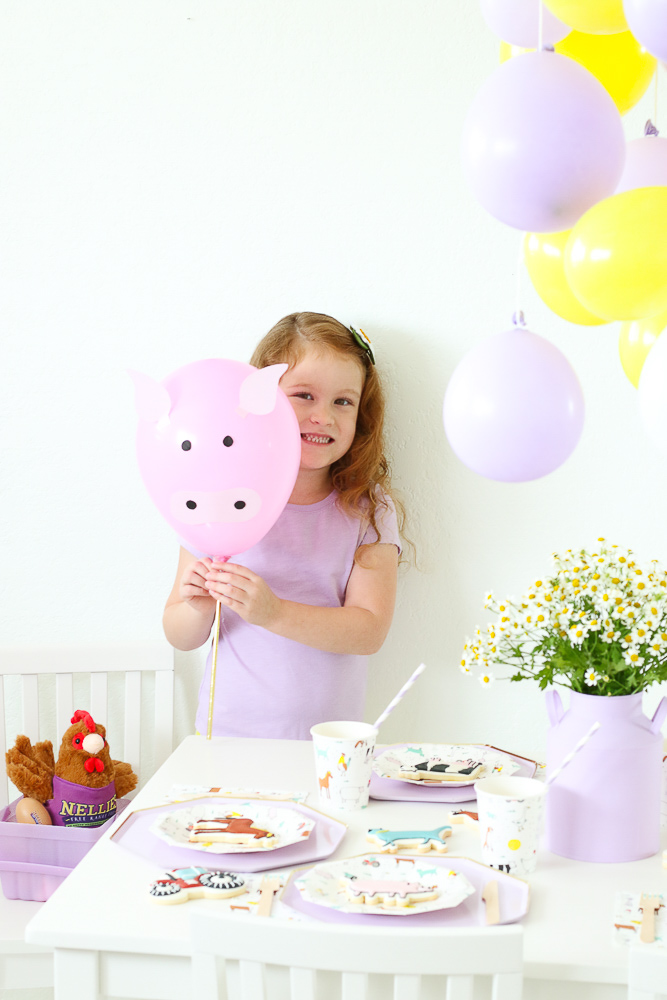 The kids can also have fun with farm themed tattoos!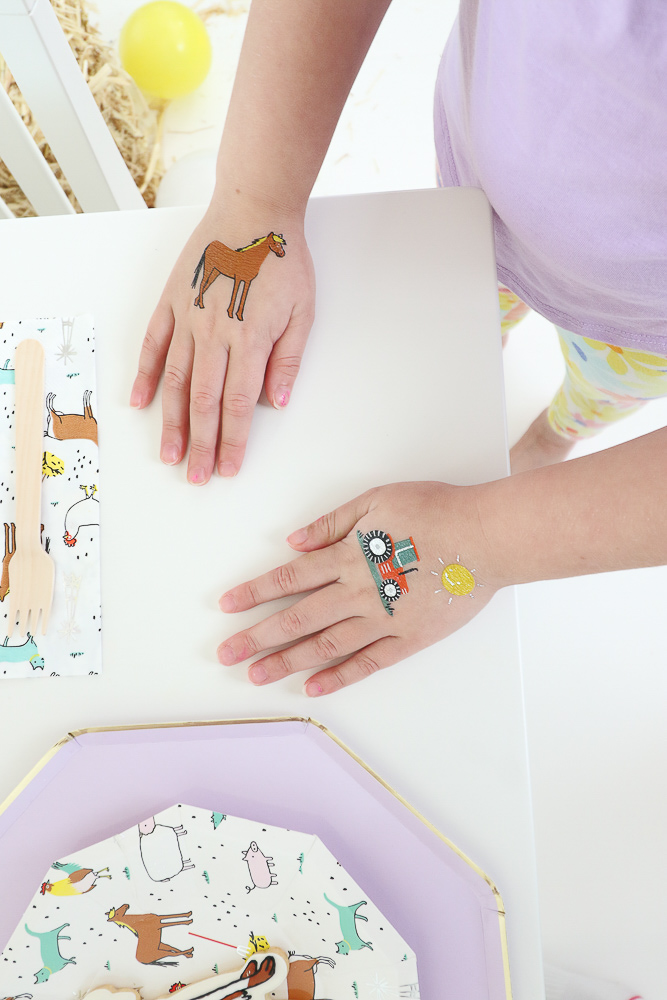 I hope you enjoyed these farm party ideas, friends!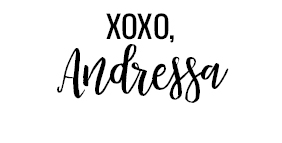 Styling & Photography: Andressa Hara of Twinkle Twinkle Little Party
Cookies: Alicia Long Design
On the Farm Party Ware & tattoos : Daydream Society
Purple chargers: Sprinkles & Confetti
Flower hair clip: Oh Be Joyful Shop