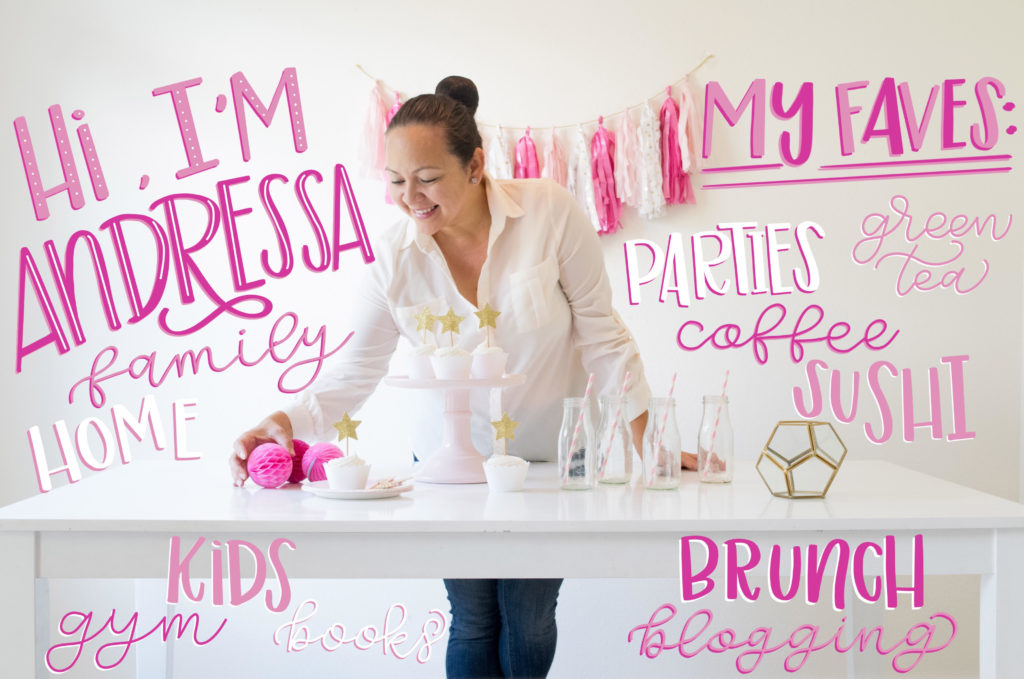 Andressa Hara is the party stylist behind Twinkle Twinkle Little Party Blog & Twinkle Twinkle Little Party Magazine – two wonderful sources for all things pretty and party related! After getting her Bachelor's degree in Communications from Florida Gulf Coast University and completing her internship with FOX, she and husband welcomed her first child and became a full-time mom. As much as she was thrilled about being a stay-at-home mom, she still felt she needed a creative outlet. Andressa opened up a shop for digital party printables and her passion for styling her own products only grew each day.
In Spring 2013, Andressa started to dream up an exciting project while expecting her second child, Claire. This beautiful project finally came to life in the Fall of 2013 when she launched the Premier Issue of Twinkle Twinkle Little Party Magazine, which is an online party magazine that features not only Andressa's work, but also many other professionals who share the same passion. Twinkle Twinkle Little Party Magazine has successfully released 11 issues.
In February 2015, Andressa rebranded from being a local event planner to being a full-time blogger. She launched her lifestyle/party blog on February 10th, 2015.
In May 2015, Andressa won the title of  Evite (evite.com) Top Party Pro 2015 Competition in which she competed with 3 other talented stylists.
Andressa's work has been featured in many popular blogs, such as Style me Pretty, Martha Stewart, Lauren Conrad, 100 Layer Cake, Wayfair and many others. She was also interviewed by Canva to share how she turned TTLP into a profitable business.
Andressa also contributed to nationwide magazines, such as Yum Food & Fun For The Kids Magazine (Winter 2013, Spring, Fall and Winter 2014 Issues) and Mingle. She's been currently focusing on creating inspiring content for national brands.
Companies/Brands Andressa has created content for:
Disney Books
Warner Bros.
Paramount Pictures
Mattel
Tiny Prints
Shutterfly
Paper Eskimo
Kiwi Co.
Coca-Cola
Starbucks and many others.
After living in Florida (Naples then Tampa) for over 10 years and Boise, ID for 2 years, she now resides in San Antonio, Texas with her supportive husband, Brian, their two kids Connor & Claire and their two dogs.
Say hello to Andressa [email protected]